Winter has sadly moved on from Florida. With Spring already here, we are experiencing slightly cool temps one last time before it gets sweltering out. It happens every year, one cold front comes in for a few cool days and then bam, just like that's it's insanely hot out and 100% humidity. I am taking full advantage of the weather and wearing my faux-leather pants and over the knee boots a few times before summer temps creep in. There's one secret I have when styling faux-leather pants. Keep on reading to find out what it is!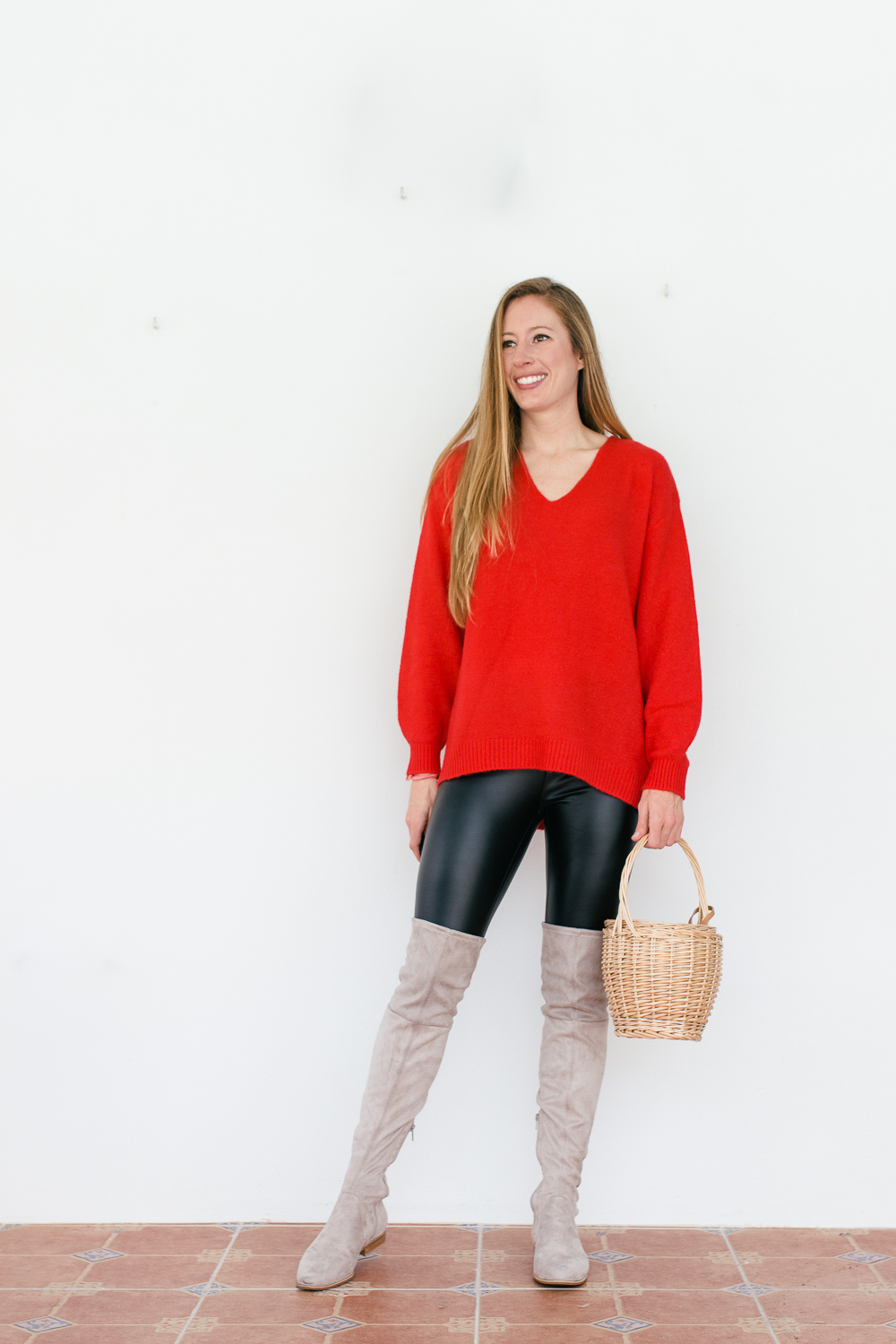 Can anyone say little red riding hood? That's exactly how I feel wearing my adorable basket bag and red sweater. I cannot wait to break out my straw bags for Spring and Summer. Their my favorite accessory to wear and so easy to match with everything in my closet, even a wintery look like the one I'm wearing. With Spring right around the corner there are so many cute new basket bag arrivals. Shop some of my faves here, here and the sweetest mini wristlet here, all under $70.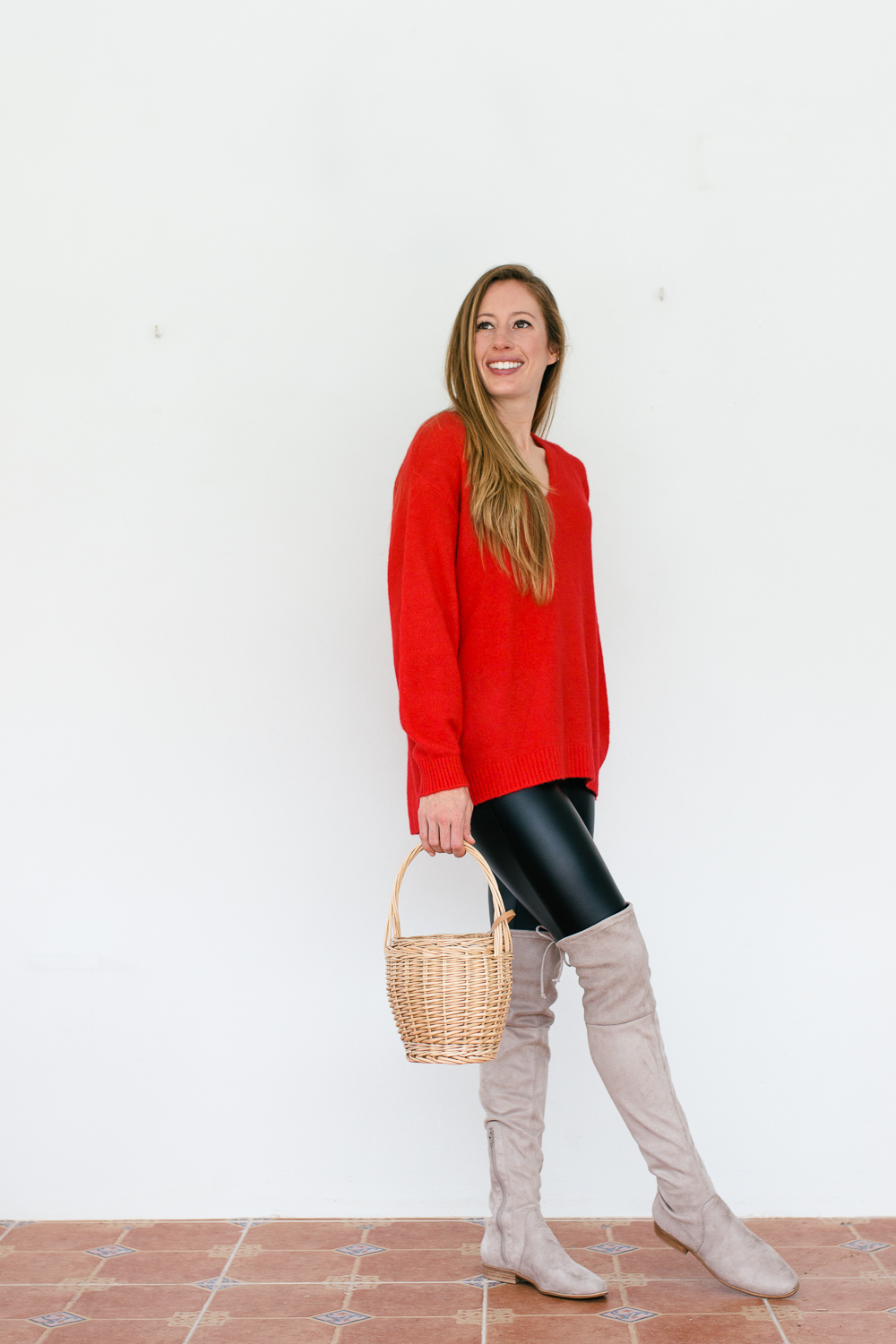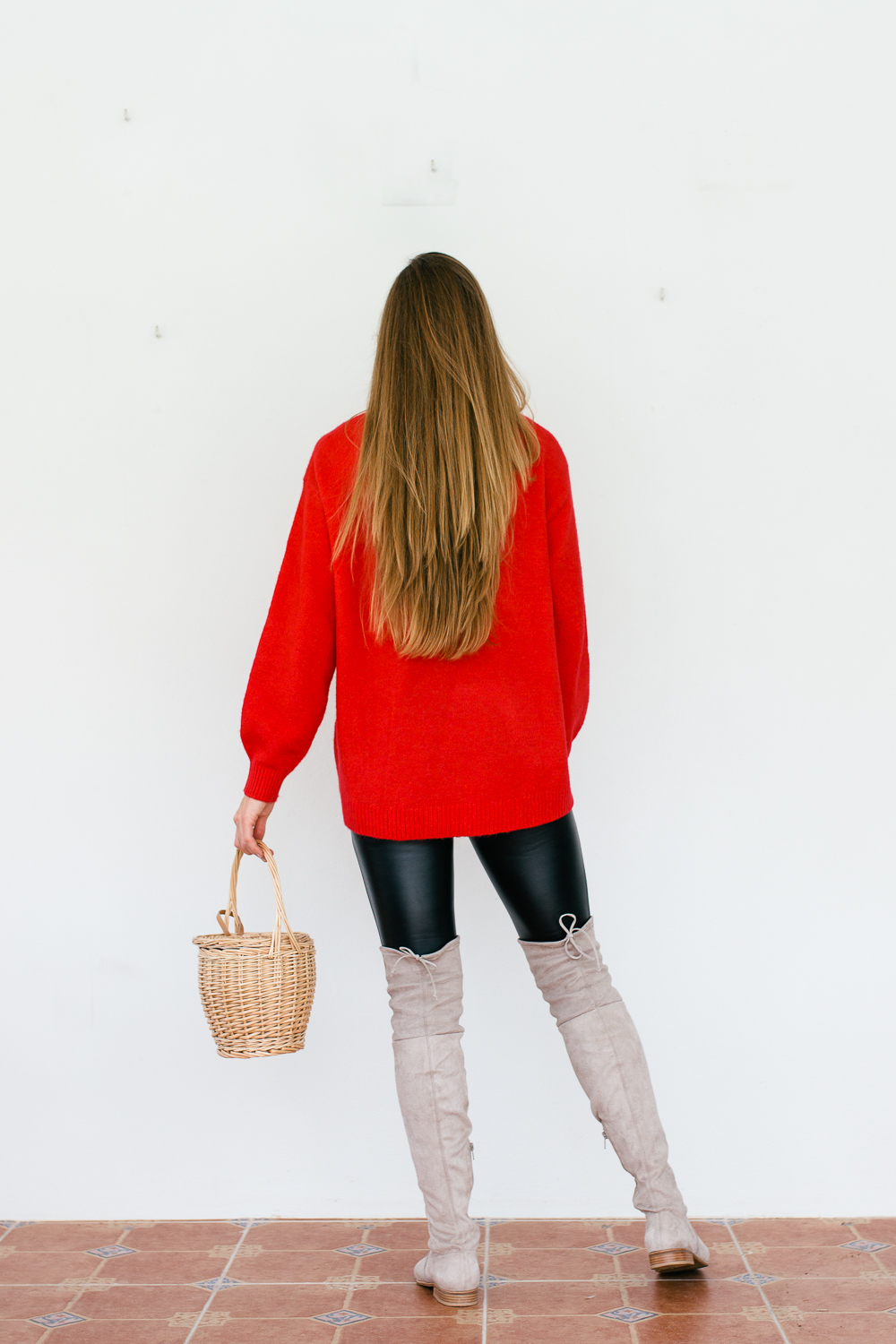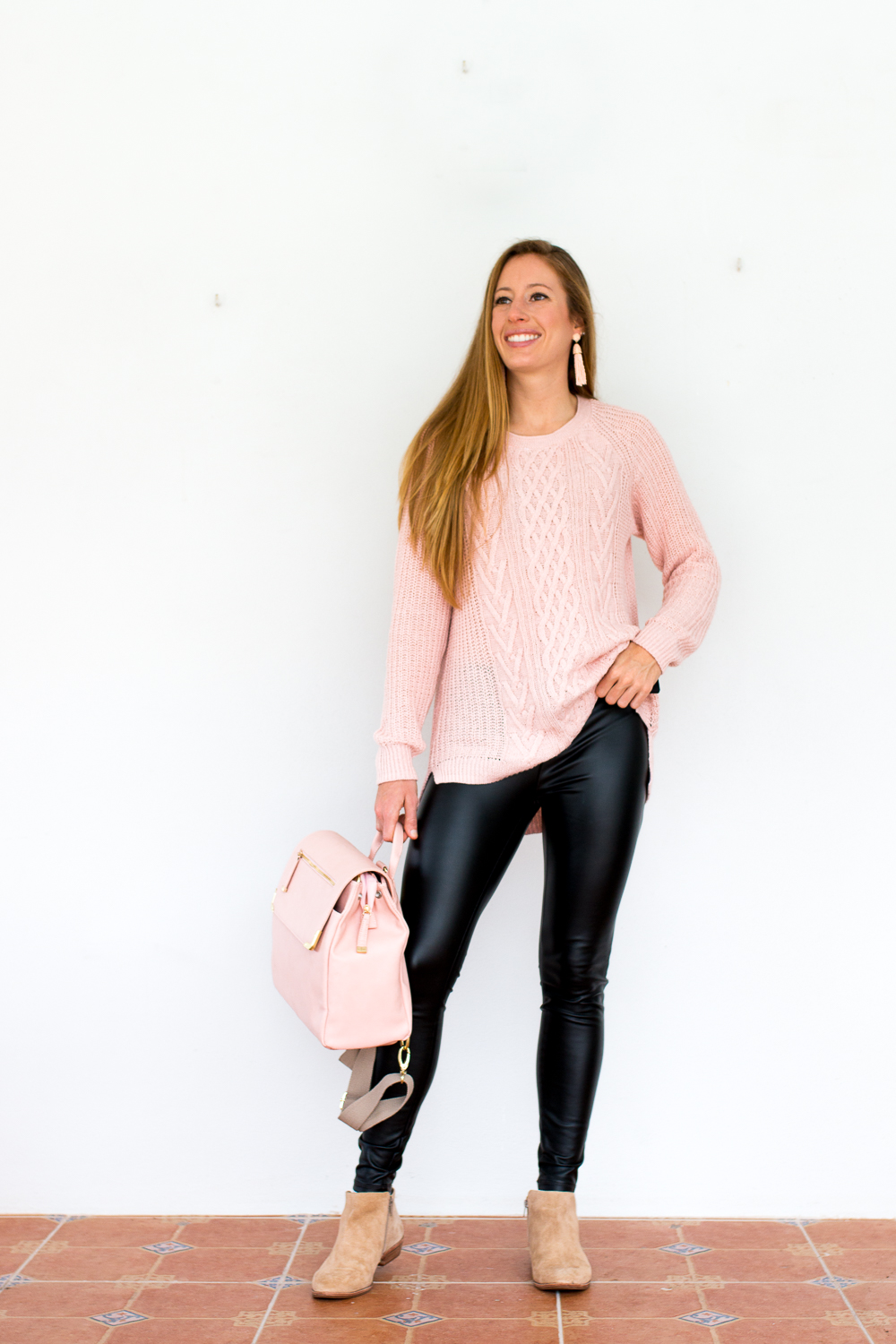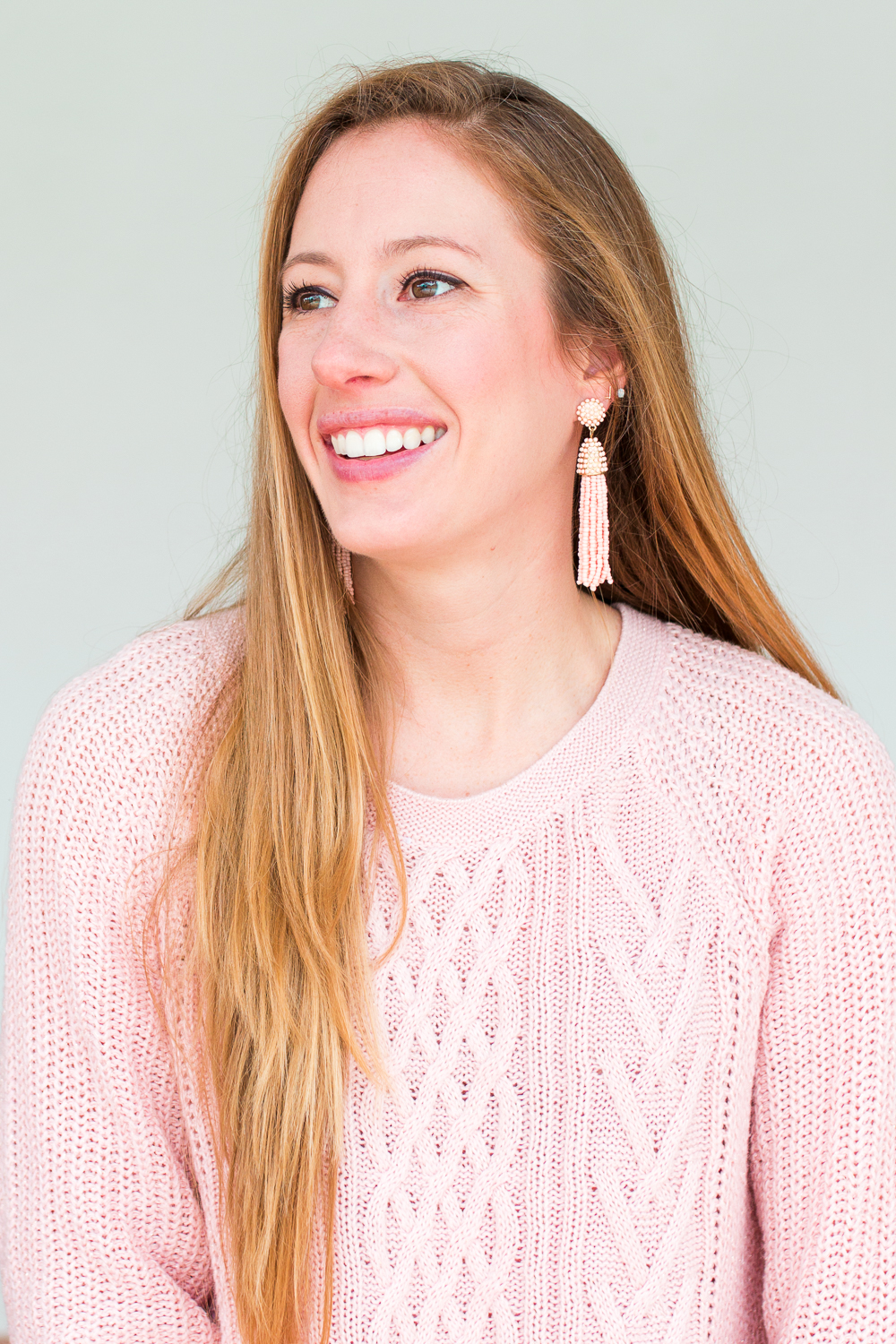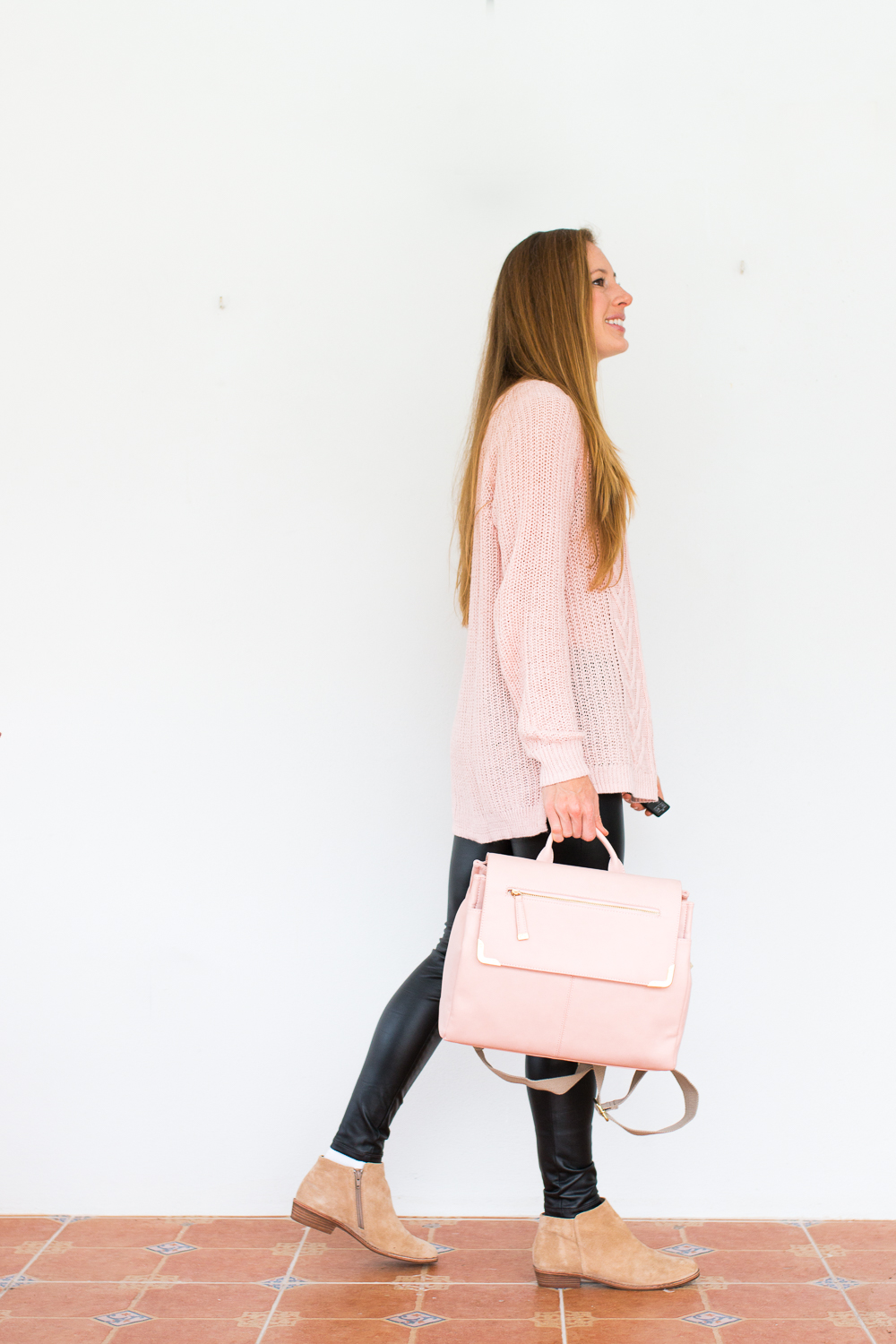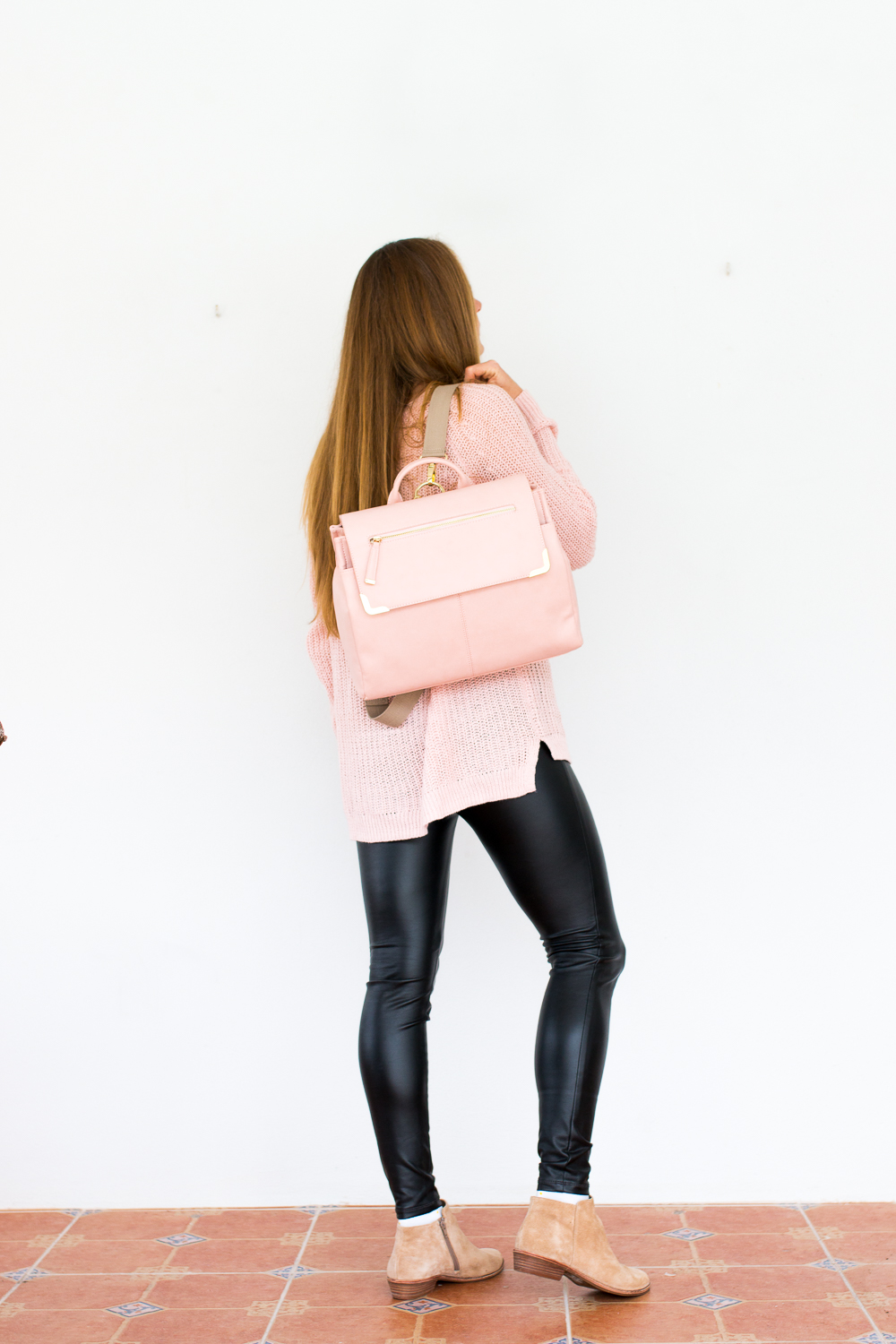 Shop the Look:
Look 1: H&M Sweater, Faux-Leather Pants, Over the Knee Boots, Basket Bag
Look 2: Sweater (sold out, similar here), Faux-Leather Pants, Suede Booties, Pink Earrings, Pink Camera Bag
Before I get into what my secret is, I need to give a bit of a backstory! I have always been a super modest dresser. Never wanting to wear clothing that was to tight, low or revealing. My one exception is when I wear swimsuits or probably shorts ha. Just what I have always felt most comfortable in. Over the years I've stretched myself and really gotten out of my comfort zone but there's one rule I just refuse to break. When I wear faux-leather leggings I must cover my booty. Or any legging in general. To me leggings and t-shirts are not clothes that should be worn in public! Again that just a preference but one I stand against strongly!
What is my Faux-Leather Styling Secret?
My one secret to styling faux-leather pants is wearing an oversized sweater. Simple as that! There's just something about tight leather that hugs your every curve. When I wear them I already feel sexy enough, especially with OTK boots (see the latest post for styling boots for winter here), I don't need my bottom hanging out for everyone to see. Just my personal opinion but I truly believe it makes the world of a difference! I only wear faux-leather leggings with oversized sweaters that are both long enough in the front and the back.
Believe me, if it was appropriate to wear these babies to work I totally would! My eighth grade students already comment on every outfit I wear and have very strong opinions on my wardrobe. They have even told me I need to wear more "tight pencil skirts". C'mon guys, I'm your teacher! Exactly the reason I cover up from my neck to my ankles! There's no way I'd step foot on campus in faux-leather pants!
What's so great is that oversized sweaters are sold everywhere! You don't need to go far to find similar options. I always hate to admit it but the pink sweater was from Walmart for only $10 and I bought the red v-neck sweater from H&M for under $20. Both are stores I don't prefer to shop at for clothes but I stumbled upon the sweaters one day and the rest was history. Right now all stores are having the greatest sales on their winter sweaters. Shop more below all under $70!
Shop more oversized sweaters:
Related Posts: