Channeling my inner leopard girl with my favorite leopard printed pieces for fall! Leopard is back and I am not mad about it! The Cheetah sisters Disney channel show should really create a squeal called Leopard sisters so I can endlessly quote that movie in this post!
Every fall, I love to pull out my fall pieces and style them! It's therapeutic for me and feels like I got an entire new wardrobe. Seriously, just yesterday I was telling my sister how I just loved the teal dress I was wearing because it felt brand new even though I wore it a million times last year. One way that I plan on "fallifying" my outfits this year is adding leopard accessories. My fall/winter wardrobe is very small since our season is so short, so it's truly so fun to be able to add leopard accessories in small doses that don't break the bank!
It's so funny because leopard never truly goes out of style but it does seem to be more popular some years. In like 2012/2013, leopard was the thing. I remember being so influenced by Kim from Eat, Sleep, Wear because she wore the cutest leopard print shoes I had ever seen. Immediately, I searched the internet high and low and ended up buying leopard loafers. This was before loafers were cool and I wore them all.the.time. Maybe a year ago I got rid of them because they gave me bad blisters. Now I am kind of regretting that decision since the shoes were so cute. Fashion over comfort, right?!
My mom yesterday showed me an advertisement with a few leopard shoes by Jack Rogers and I asked her to pick out my favorite. There was a sneaker, loafer and sandal and she choose the loafer and I told her she knew me so well. So happy leopard is back and loafers are cool!!! Keep reading to see my other fav leopard finds!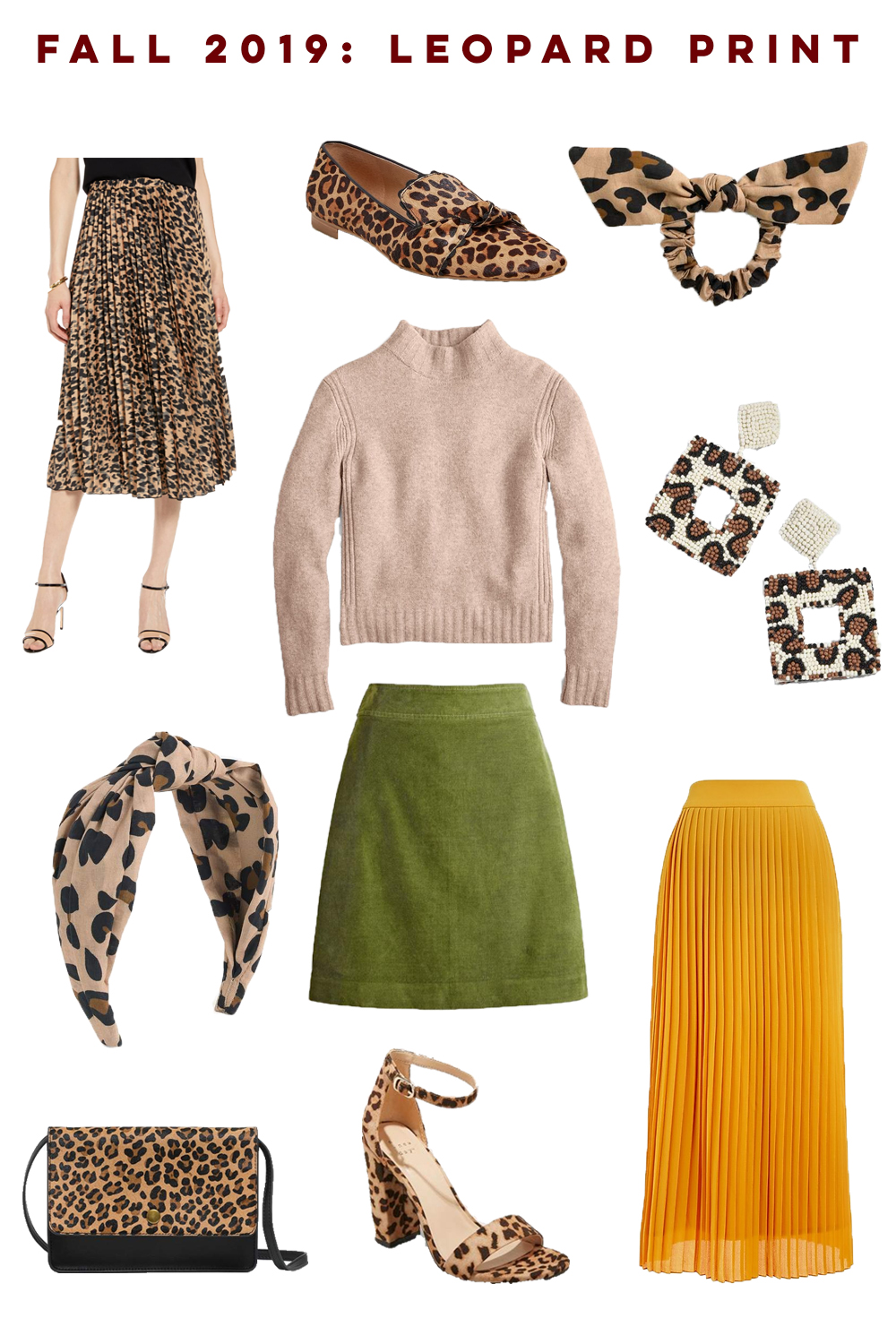 Leopard Skirt: Just scooped up a leopard skirt from LOFT for fall and I am in love! My good friend Alina just bought an entire lepoard print dress from Talbots and it looks stunning! I'd love to pair a neutral sweater with a leopard skirt for a simple fall look!
Loafer: Remember my loafer story? These loafers look almost identical and are very budget friendly! I think they'd be so cute with skinny jeans or skirts!
Mockneck Sweater: Turtlenecks are way to warm to wear in a warm climate but mock necks are the next best option! Their great to ease into fall! Totally would style it with a mustard yellow or emerald green skirt and a leopard crossbody bag.
Bow Hairtie: How adorable is this?! Just the slightest way to add leopard into your wardrobe without going overboard.
Knot Headband: Adore! Totally not sure if this is a style I can pull off but I want to try!
Green Corduroy Skirt: With our Florida fall being so warm, I just love being able to wear fall colored bottoms to get in the fall spirit! When the weather starts to cool down, I can't wait to style the skirt with a mocknect sweater.
Square Statement Earrings: Love these statement accessories yet still simple. A great way to dress up a romper or dress!
Crossbody Bag: The bag of my dreams! Only $40 too!
Block Heel: Recently I styled and modeled a Christmas look for a local magazine and wore a pair of old leopard heels. If I didn't already own a pair, these $30 block heels would have been my go-to's!
Pleated Yellow Skirt: I think leopard pops so well with yellow gold, emerald green and neutral hues! The midi length is easy to style for fall and can be worn with booties once the temps drop!
Shop My Favorite Leopard Pieces
I am truly so excited to add small leopard accessories to my fall wardrobe! There might even be a head to toe leopard dress in my future! What are your thoughts on adding animal prints into your wardrobe?! Are you a bold girl or go for more simple pieces?
Recent Sunny Posts