Believe it or not, velvet has made a huge comeback. The last time I wore velvet was when I was a little baby. Now that it's gained popularity (in way cuter ways might I add),  I know what your thinking. How on earth do I get away with wearing velvet, especially a velvet top? Today I'm here to share two ways on how style a velvet top and look amazing! One day look and one evening look.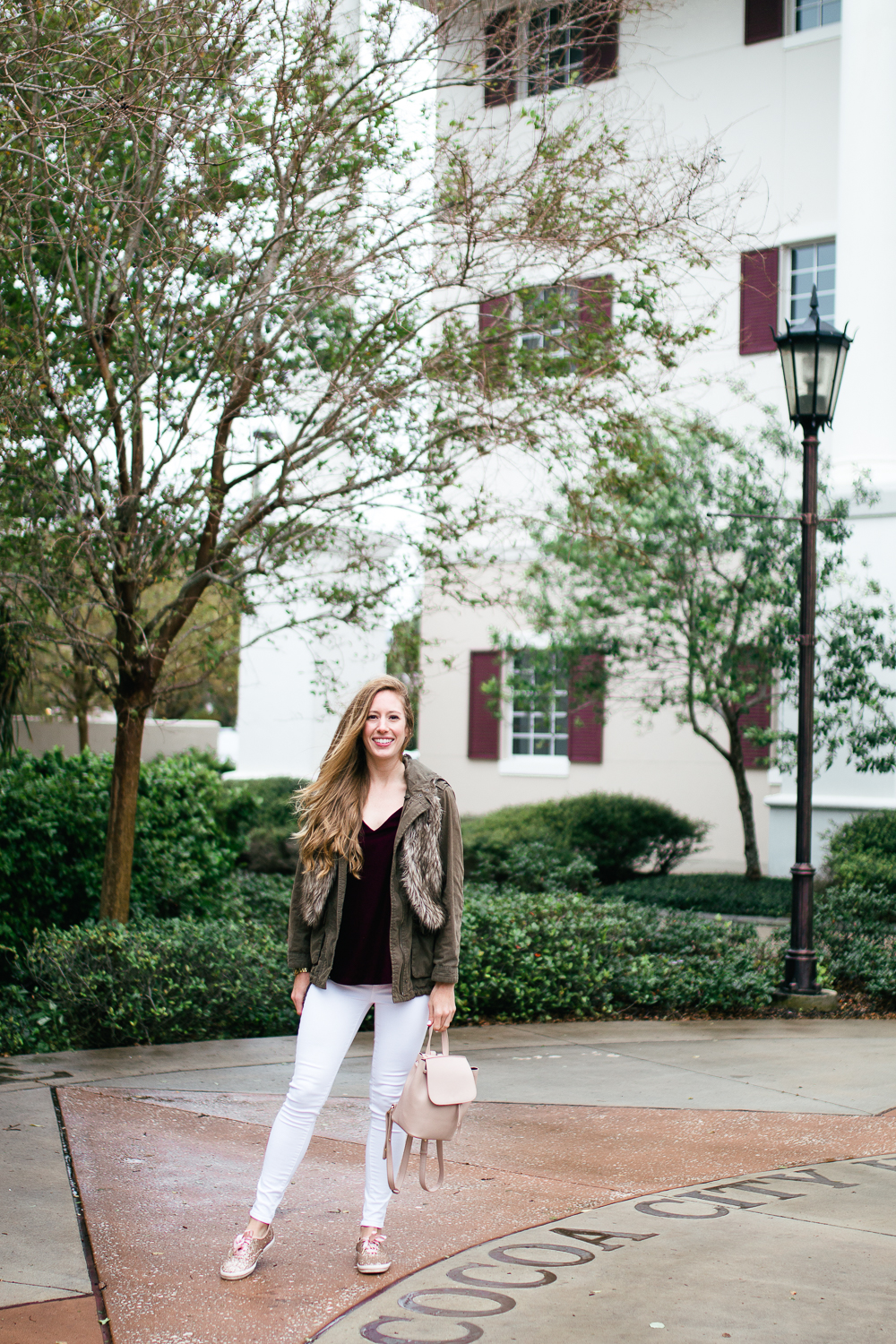 First up is a casual day look. Velvet to me has a bit of sexiness to it, especially this velvet top with a plummeting neckline. While I don't necessarily want to look like I'm going to a fancy dinner during the day time, making sure the velvet top is stealing the show is most important.
To tone down the fanciness, I paired it with a utility coat (a must if you live in a warm climate), a fur vest for added warmth (it was barely 50 outside), my sparkly Kate Spade x KEDS shoes and a backpack to really keep it casual. I am all about backpacks!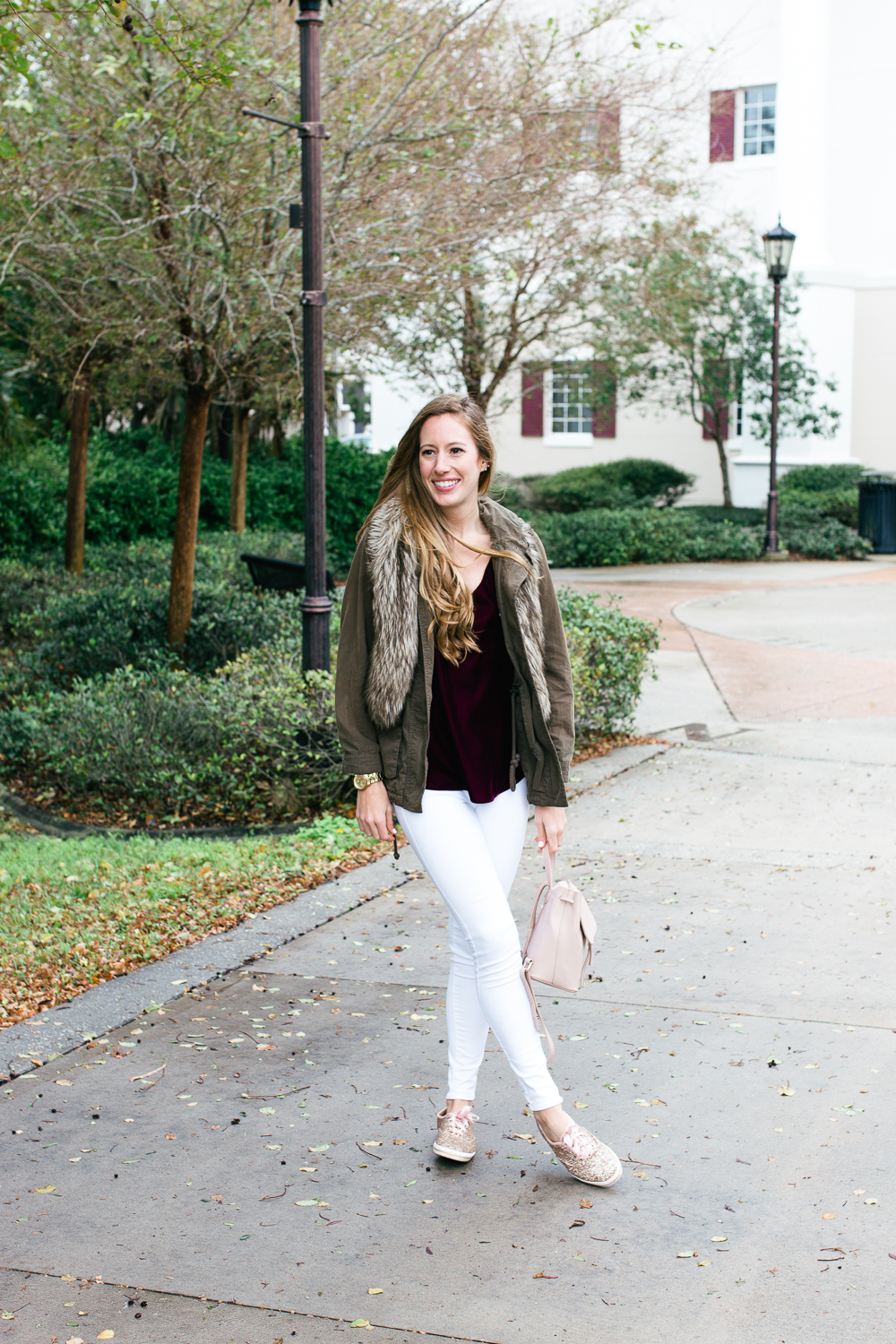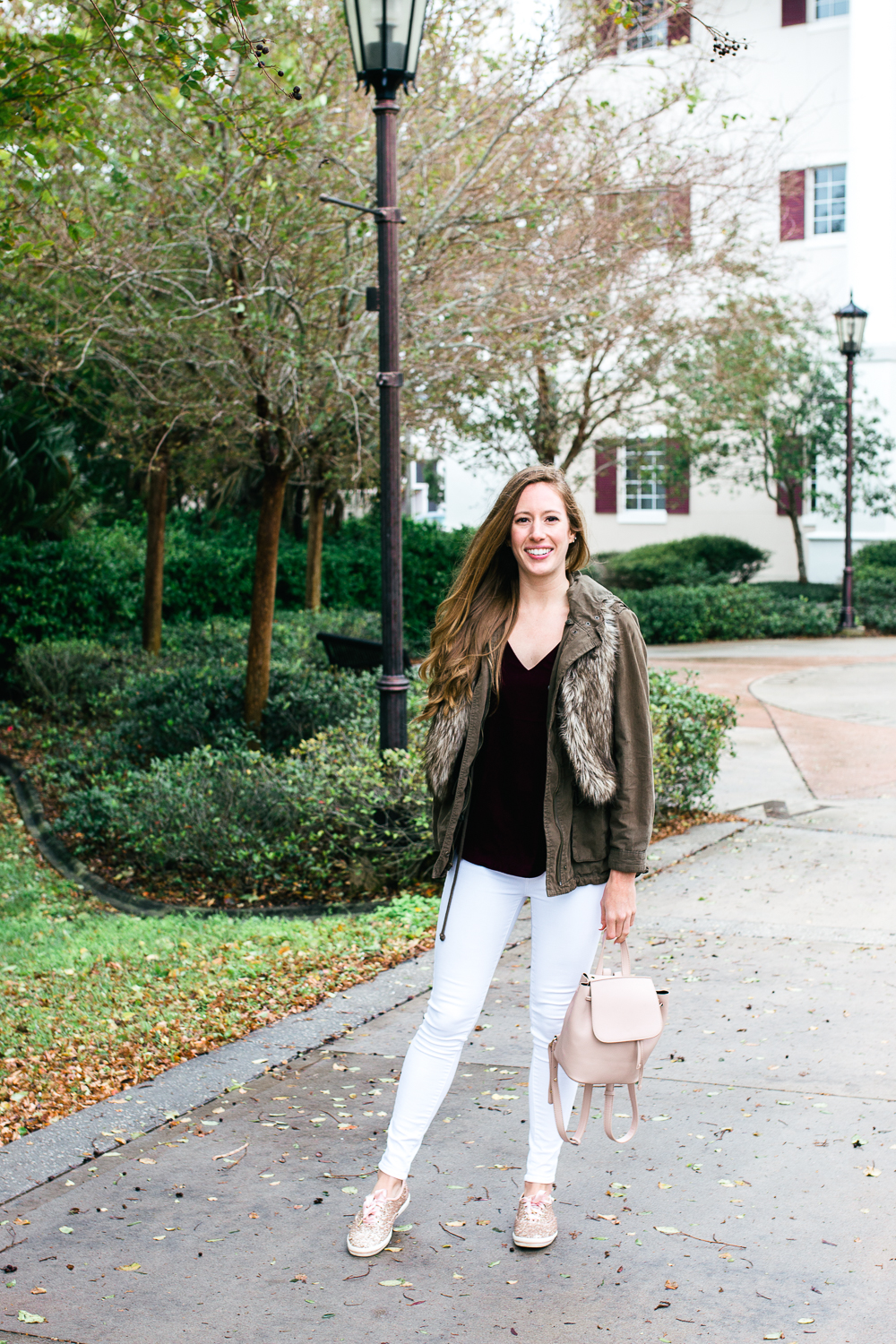 How to Style a Velvet Top During the Day
Layer with a jacket. My biggest tip is to keep it casual. Velvet automatically makes anything dressy. In order to keep it a bit relaxed, layering is a must. The easiest way to do that is with a utility jacket. What I love about these jackets is that their lightweight, have a military type vibe and look good over literally anything! I pull mine out practically every weekend. There are so many cute options available right now that come in colors like burgundy, navy, olive green and khaki. Here's a budget friendly option under $25 in blush pink!
Pair with skinny jeans. One of my favorite and easiest ways to wear a strappy velvet top is with skinny jeans. Make sure your shirt color contrasts with your bottom. For this look I paired white skinnies with the burgundy top to really make it pop! As I slowly add more ethical brands to my wardrobe, I really want to try this pair from Everlane!
Add a flat shoe. My absolute favorite shoe to add fun to any outfit are my Kate Spade X KEDS sparkly shoes. They are comfy, cute and will make you shine wherever you go. I chose the pink shoes because pink is still in the same color family as burgundy and red, plus it adds a bit of girliness to the total outfit.
Accessorize to emphasize the top. You never want your accessories to overpower. The goal is to always give all the attention to the key item, like the velvet top above. Backpacks are my go-to accessory to wear during the day or over the weekend. Simple and easy is what I am all about! Try to also add different velvet accessories like a pink backpack, velvet hair tie or necklace.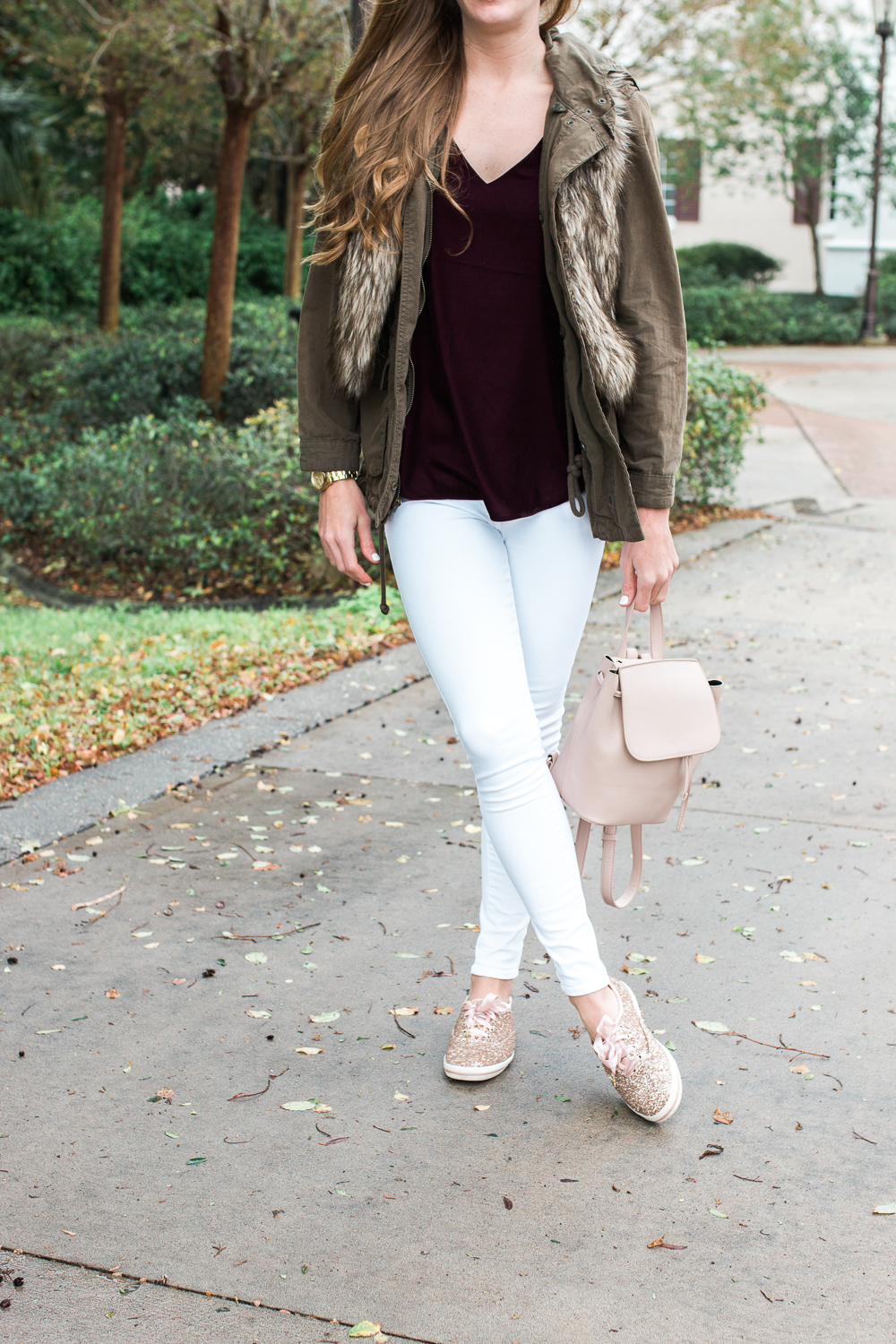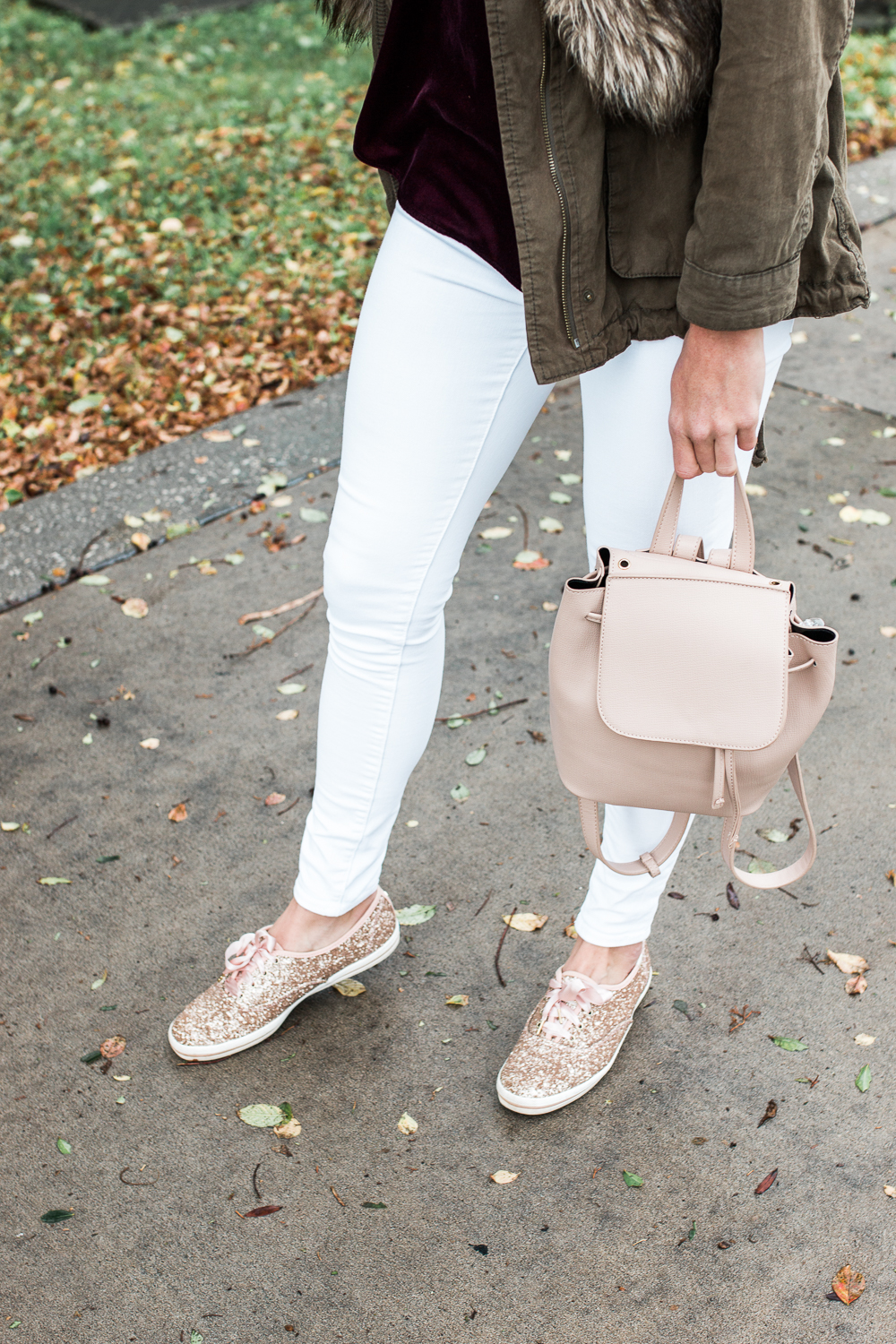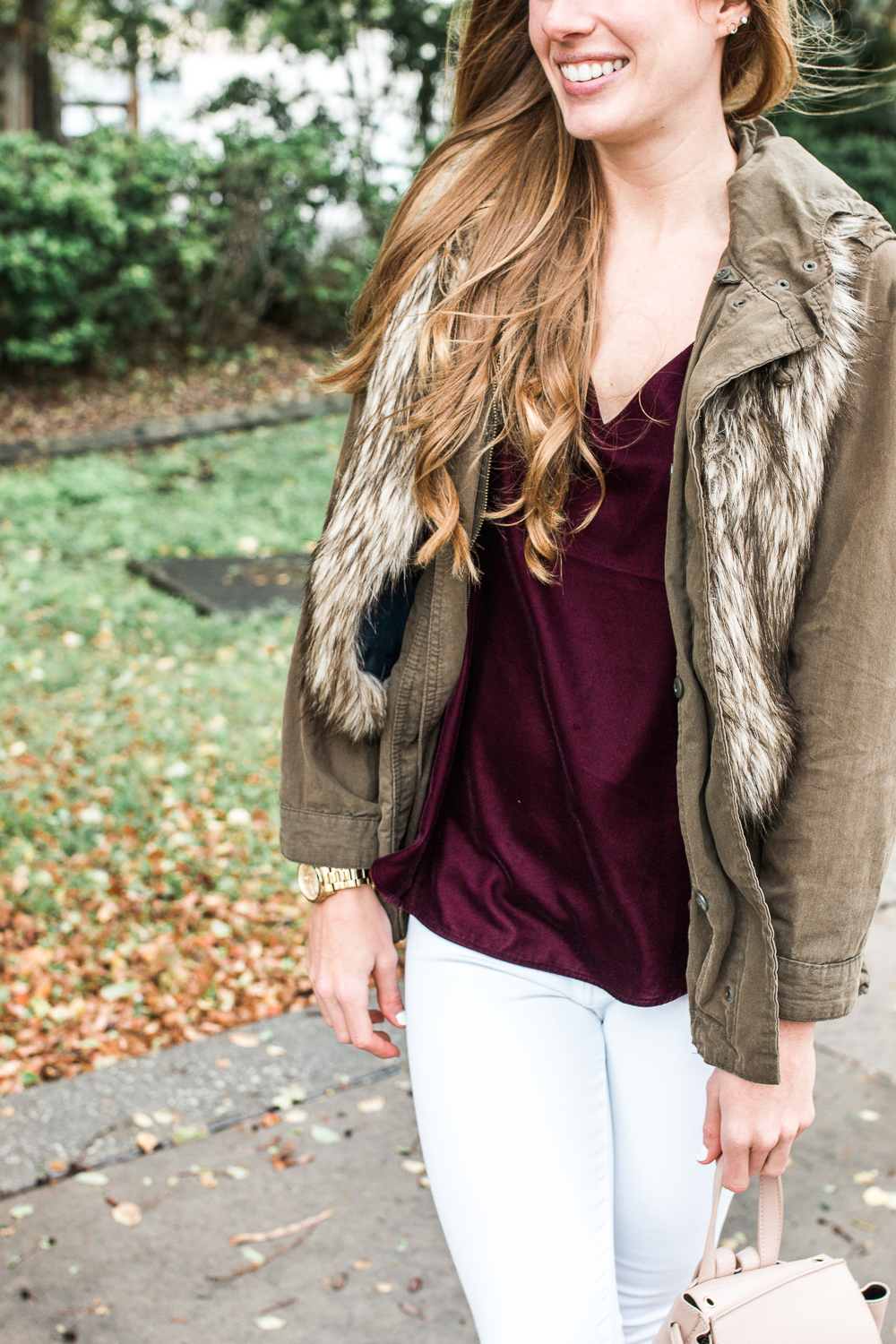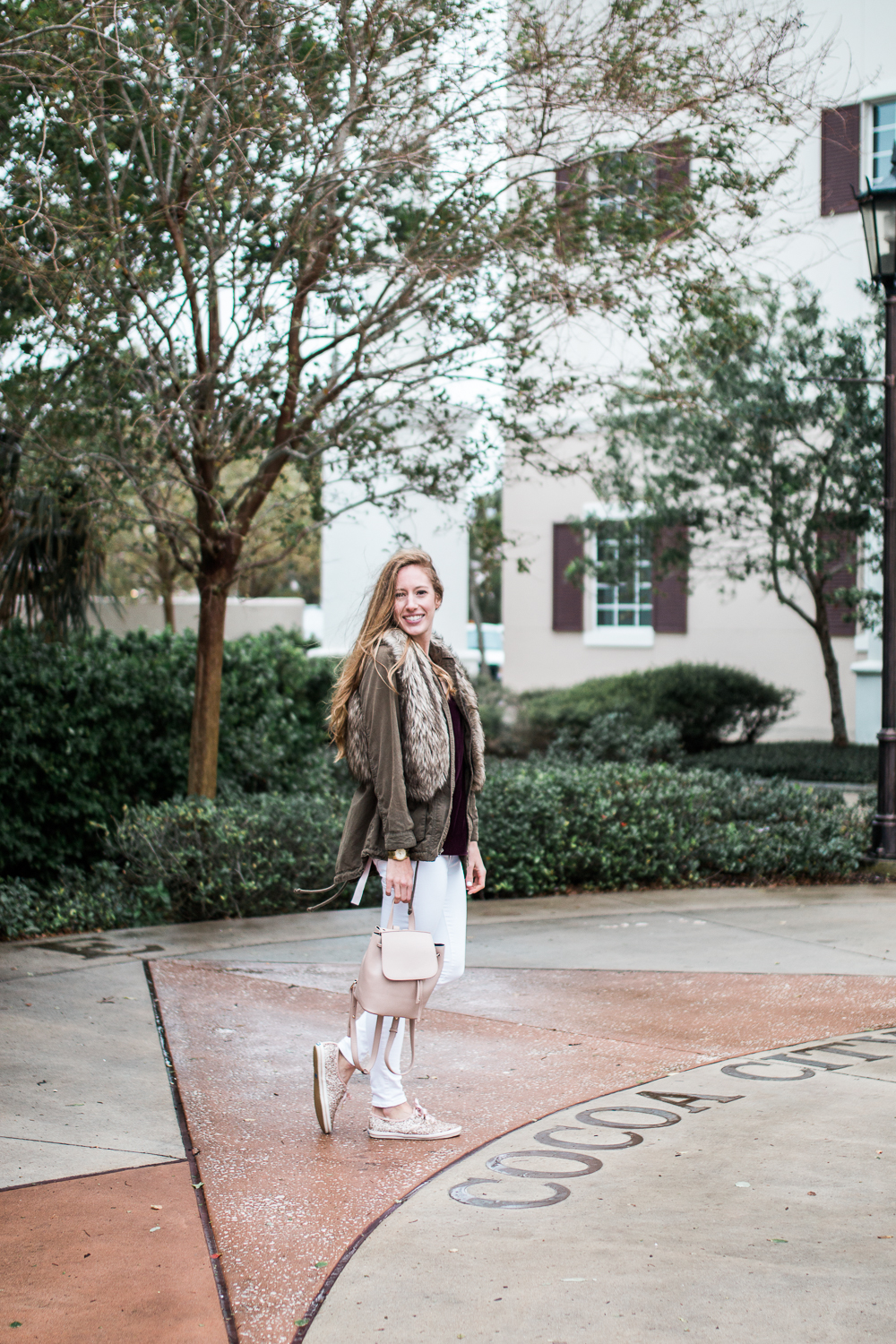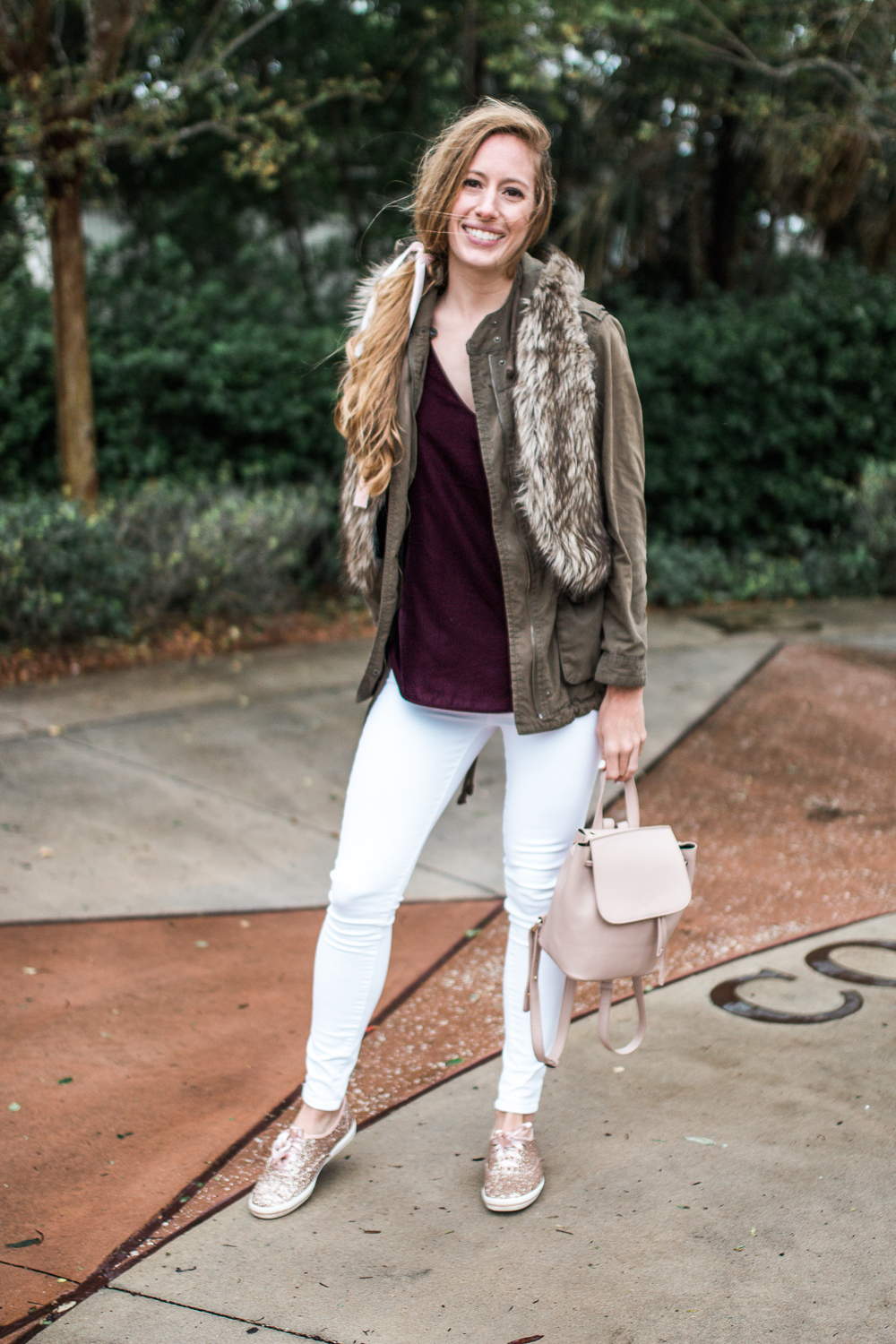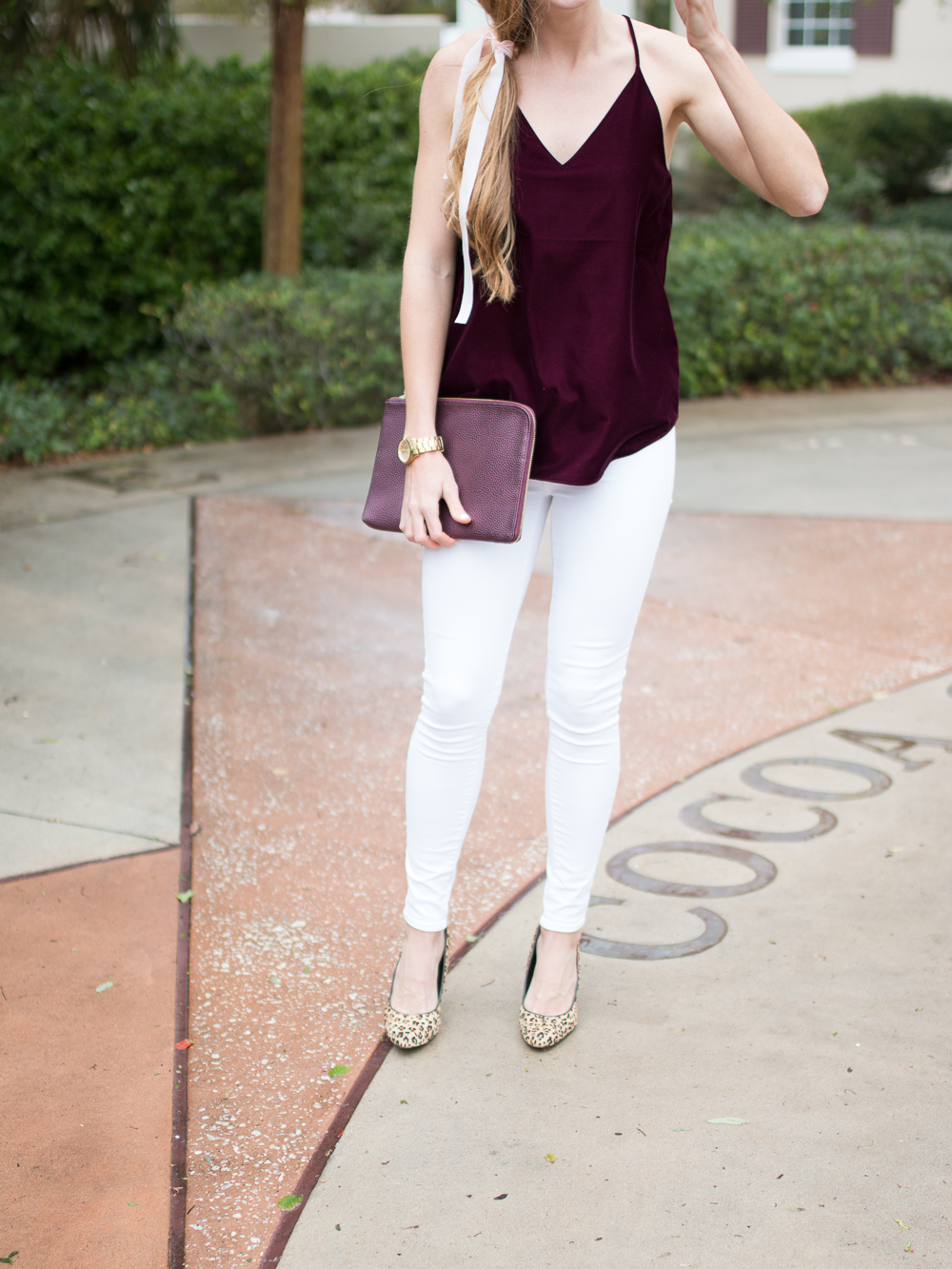 How to Style a Velvet Top for the Evening
Although I love a great casual outfit, the evening look is my absolute favorite! What I truly love about this top is the plummeting v-neck. Lately I have been referring to it as my going out top. I feel sexy which is usually not a typical word I would ever use to describe my wardrobe. Double HA!
As a girl with almost no chest, low neck lines are usually way to revealing and loose. This top however is so flattering on my shape and really pushes me out of my comfort zone. It's slim in all the right spots like the chest and a tad flowy around the waste. Tops are usually short on me (I'm 5'8) but this one is actually long and makes me so happy! There straps also turn into a racer-back detail on the back.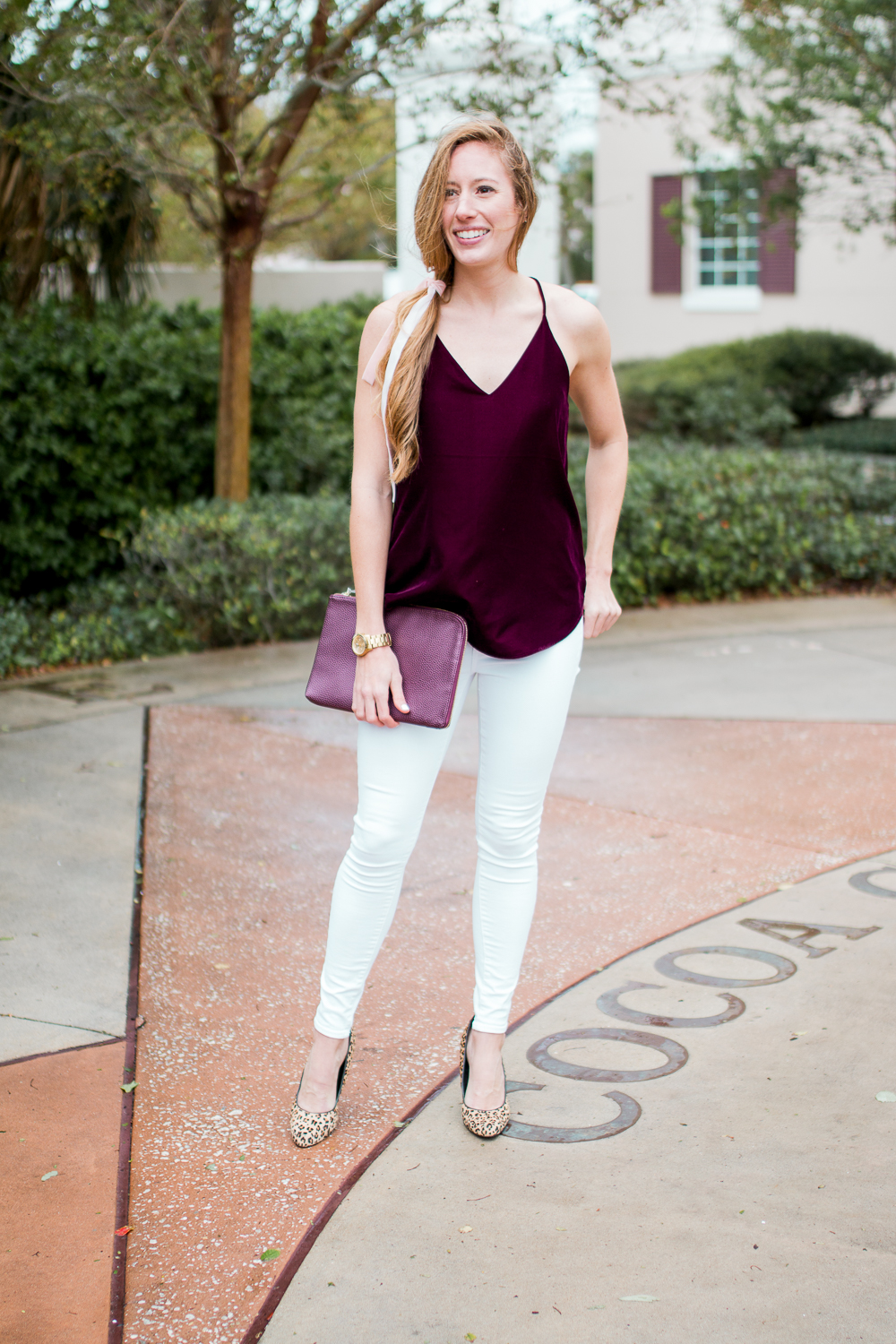 Add a clutch. A clutch will always make any outfit go from day to night. Why did I choose burgundy? Because it's what I had in my closet, plus it contrasts well against the white pants and matches my top.
Style with heels. These are your power shoes. Instantly you will feel on top of the world when you slip on a pair of elegant heels. Leopard heels are just one of those items that you never need to get rid of! Here's a super budget friendly pair under $30 (which I think are adorable!) Not a huge leopard lover? Try pairing the top with a solid color heel like burgundy, pink or a nude!
Go big or go home with accessories. Your accessories should be a bit louder for a evening look. Just don't overpower the velvet top or key piece you are wanting to show off. Originally I planned to wear pretty pink statement earrings but it ended up being way to windy. Long hair, wind and earrings just don't mix.
Instead, I tied it back with a pink piece of velvet ribbon I bought from a craft store. Cheaper than the velvet hairties they are selling in stores and I can cut at least 5-10 pieces from the strand I bought! Give them away to girlfriends as a inexpensive gift also!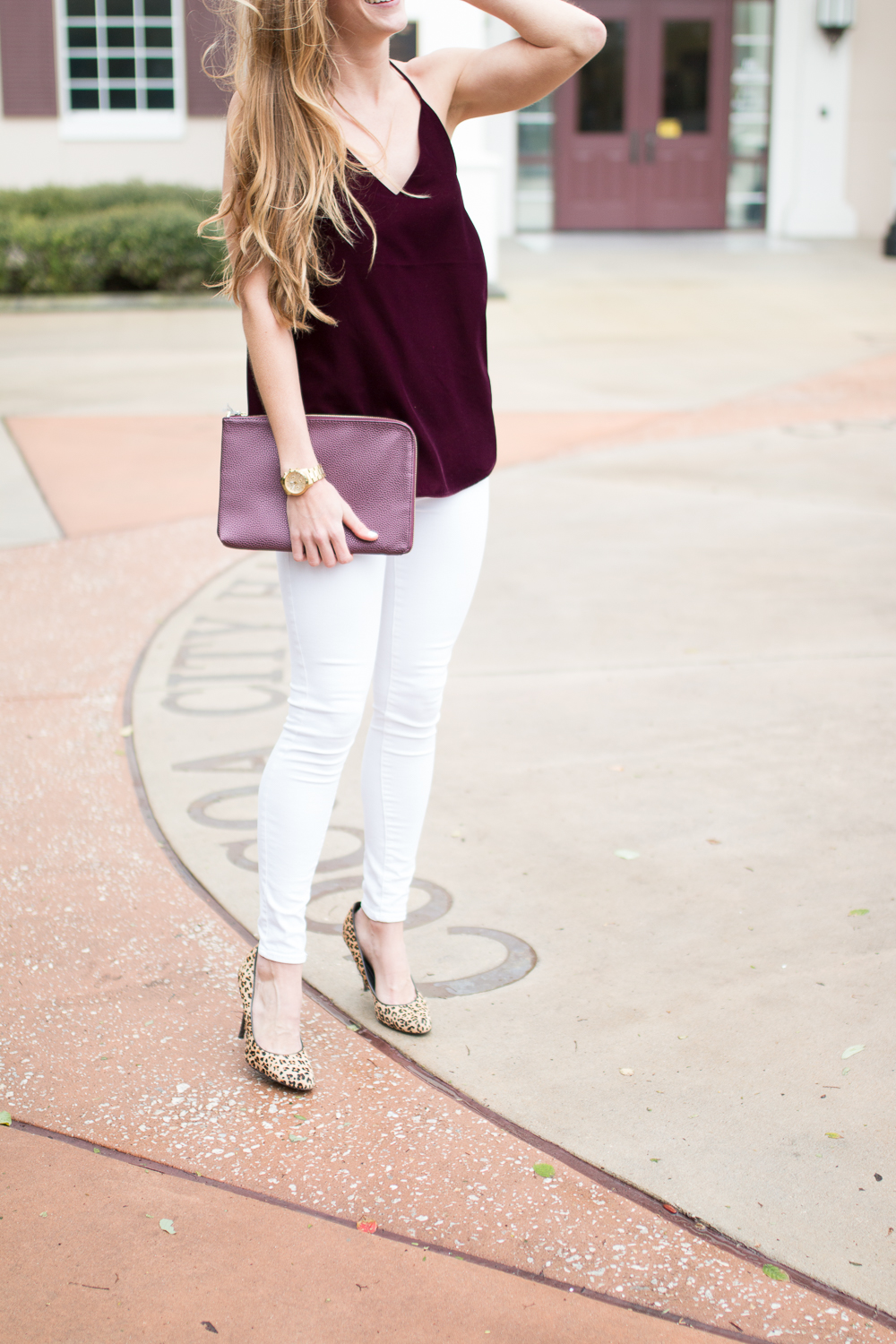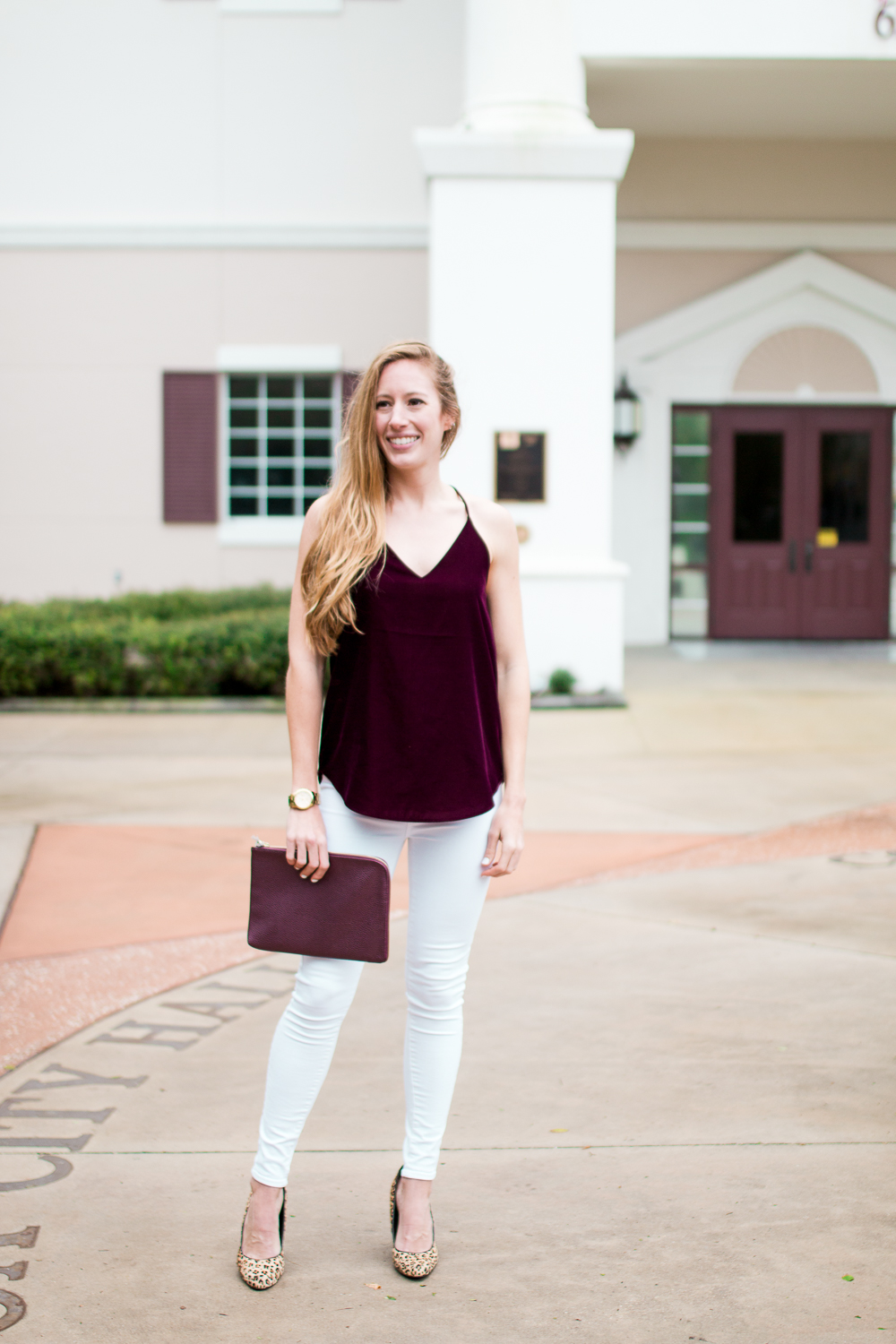 Tip: Keep colors in the same color family and you can never go wrong. For example, red and pinks. Don't be afraid to swap out colors and try different accessories. Mixing and matching color with different prints and textures is what makes an outfit interesting!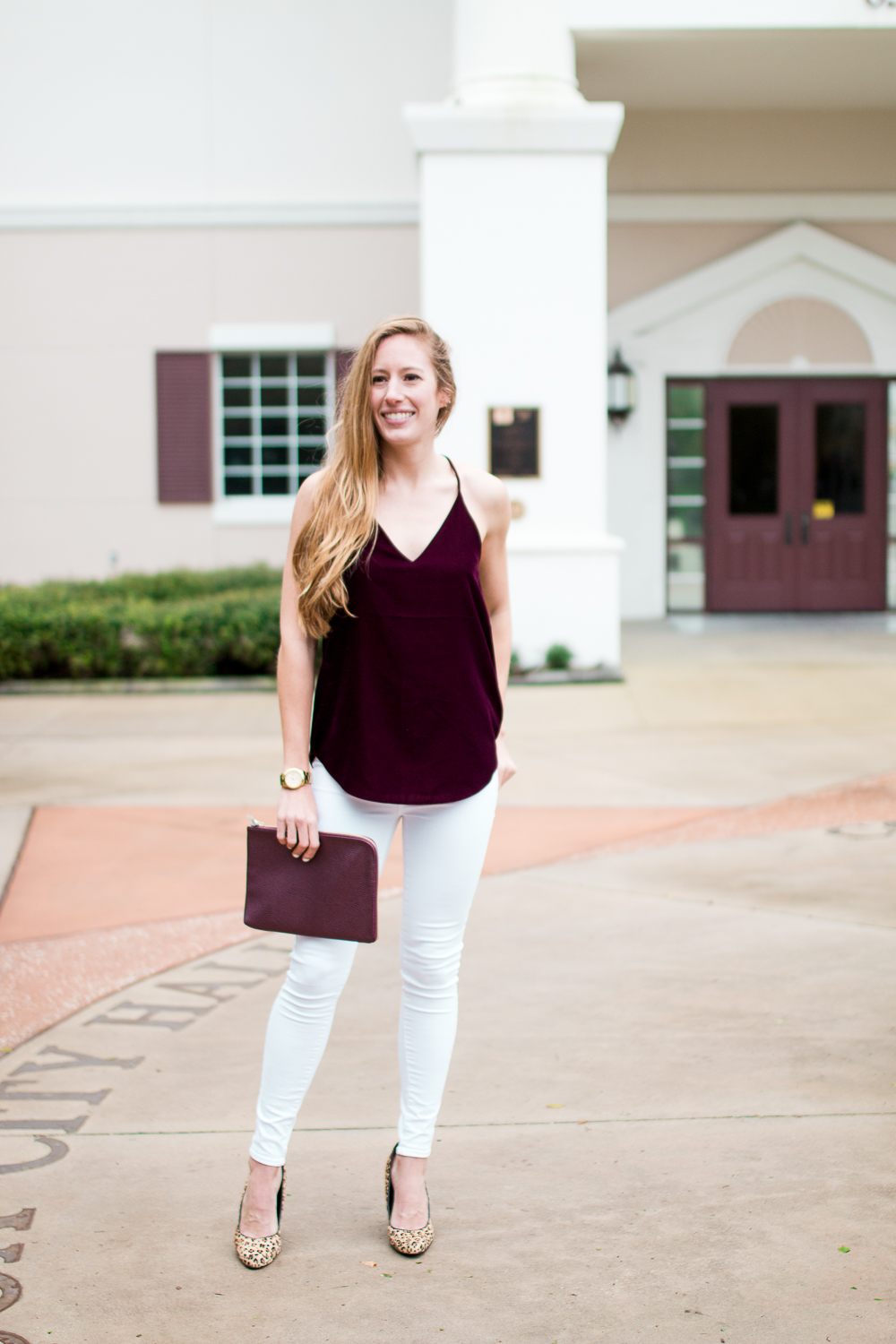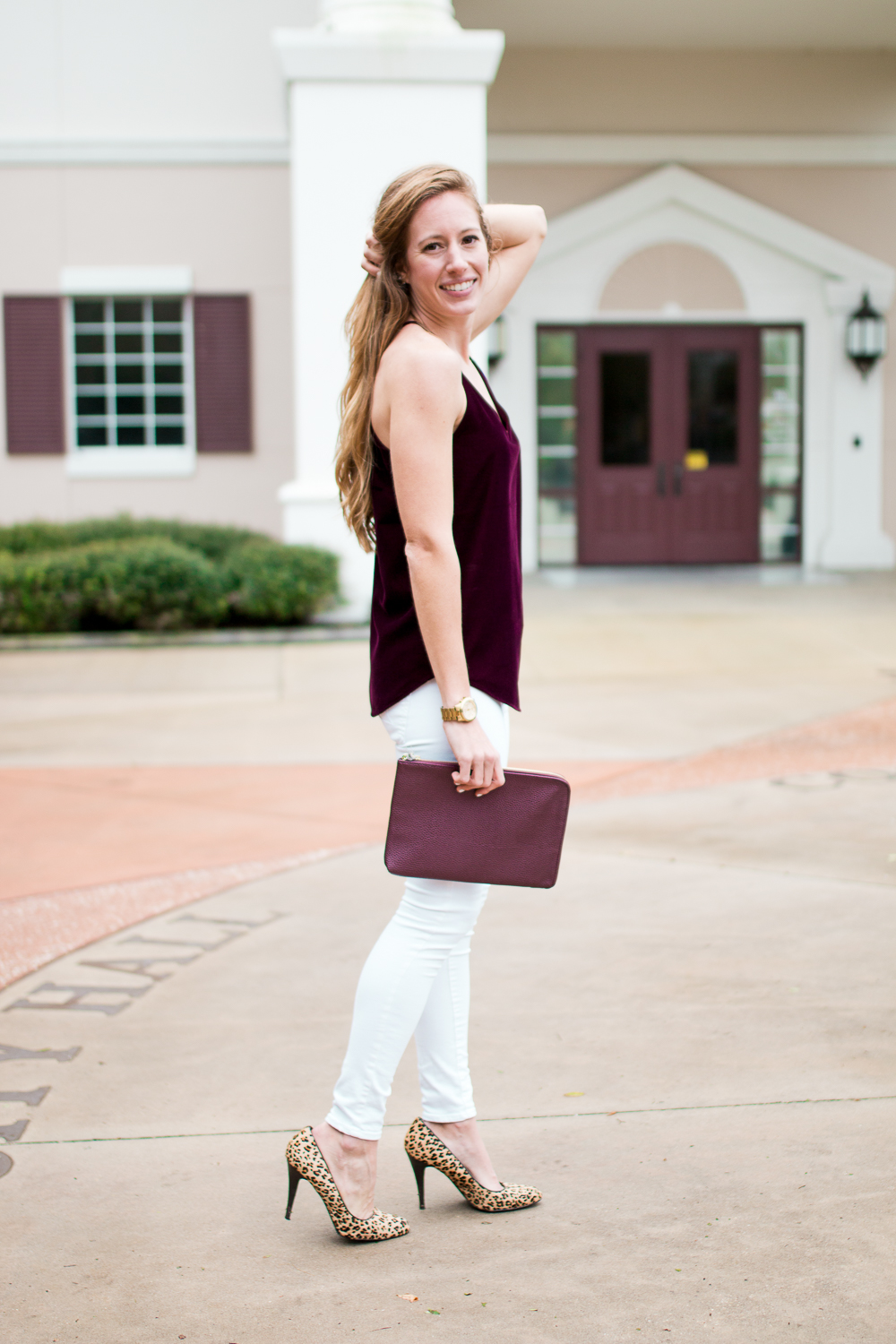 Shop velvet tops here:

Outfit Details
Day Look: LOFT Velvet Top | American Eagle Skinny Jeans | Utility Jacket | Kate Space x KEDS Shoes | Pink Backpack
Night Look: LOFT Velvet Top | American Eagle Skinny Jeans | Old Leopard Heels (similar here) | Burgundy Clutch | Velvet Hair Ribbon
Shop Velvet Look:

General Rules When Wearing Velvet
Now that you saw how to style a velvet top from day to night, I want to share some general rules when wearing velvet. Here are a few do's and dont's.
Do's
Buy a piece that is versatile. Meaning you can wear it year round. Velvet is hot material wise. For example, I bought a velvet tank top because it's hot in Florida 9/12 months of the year. The tank top will get much more use out of it than a blazer or long sleeved sweater because I can wear it more than once. A tank top allows me to still wear it during the spring, summer, fall and winter seasons.
Find a velvet piece in rich colors. Jewel tones like emerald, turquoise and mustard yellow are great for fall and really stand out.
Add pops of velvet with accessories. This is a great way to test out the velvet trend without diving completely into the deep end. There are so many adorable options available right now like this blush pink purse or this budget friendly clutch under $20. Go for a velvet hair accessory like the ribbon I am wearing above.
Mix velvet with different textures and prints. It will help the fabric and color pop! If your going to take the plunge and try velvet, you might as well go all out! Differen't textures really make key items stand out. Try mixing velvet with leopard, faux-leather, glitter and jean material.
Dont's
Don't mix velvet on velvet. This is one of those rules that may be arguable. For one I'm all for a good jumpsuit. Then again, I am also against looking like a giant tapestry. In my personal opinion, I would stick to one wow velvet item. Add velvet accessories like a bag or necklace if you are itching to wear more than one velvet item.
Was this post helpful? Let me know in the comments below! Have you jumped onto the velvet bandwagon already or are you excited to try out the trend?
As I mentioned in my last post about re-branding my blog, I really want to bring you guys helpful style content this year. Anyone can post an outfit of pretty and perfectly styled clothes all day long. At the end of the day I have to ask myself, "does that actually help you my readers dress better?". My heart is for you to come here for your style related questions and to leave feeling confident, stylish and shining bright everyday! Be on the lookout for fashion posts that not only help you but also explain why and how an outfit works.
Pin this Image to Pinterest for Reference!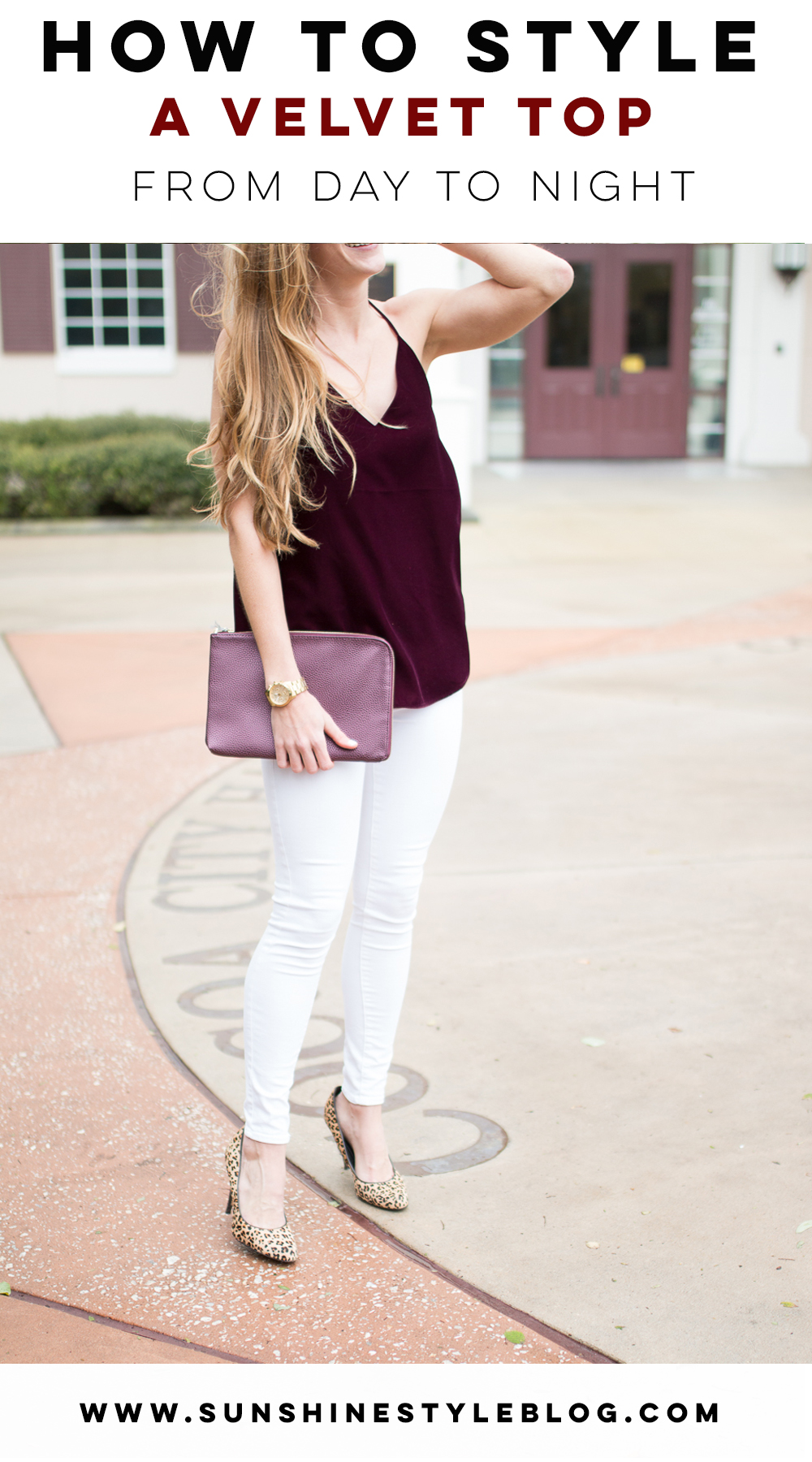 Shop over 50 of my fav velvet pieces:
My favorites are this blush pink clutch, this sophisticated blazer, and this going out top that comes in four colors!