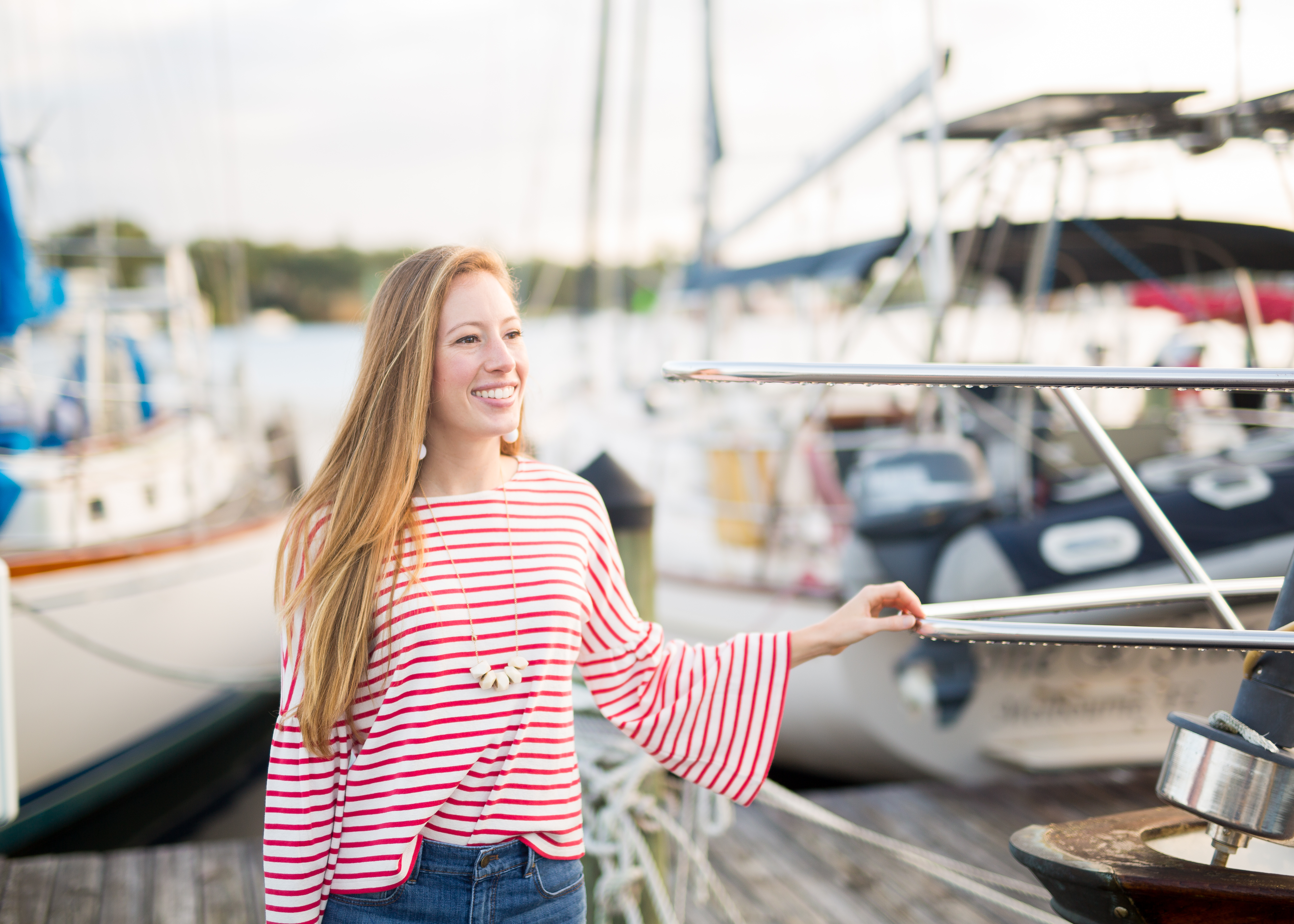 Sunshine Style is an online source for awesome and helpful fashion advice based in sunny Florida. Our goal is for every woman to leave feeling beautiful, bold and shining confidently in their everyday lives while looking stylish.
With our strong Florida roots, you can expect to find classic and preppy style with a huge coastal influence. We are big fans of bright colors, stripes, and warm weather style for every season. We hope you leave with a bit more sunshine added to your day!

_________________________________________________________________________________________________________________________

Previously known as Katie's Kronicles, Katie wanted to take the focus off of herself and re-brand her blog to focus on helping others find inner confidence and dress their best. As a lover of the color yellow, alliterations, style and her Florida upbringing, she then combined those four items to create, Sunshine Style.
Sunshine according to Merriam-Webster.com means "joy, happiness and cheerfulness" and embodies Katie's joyous and fun personality. Sharing her style expertise is what she is most passionate about and brings her the most joy in life. When you combine the two together, you get a blog that emulates joy, helps you find your inner confidence and allows it to shine through in your personal style.
She's confident, adventurous and wants to look stylish everyday! She shops on a budget but is not afraid to take risks and splurge when necessary. She loves to try new trends and is constantly refining her personal style. While comfort is key, she is most concerned with looking and feeling her best. Most importantly, she seeks to find sunshine in the everyday and lets it shine.
Hi!!!!!! My names Katie and I was born and raised in Melbourne, Florida. Yep, that's right, I am a rare Florida native and spent the majority of my childhood swimming in the ocean, eating way to much ice cream and popsicles and only changed out of my swimsuit when it was absolutely necessary.
People have been known to call me "Sunshine" and often comment on my joyous and cheery personality. Hang out with me for a few days and you will surely find out what they mean. I've even been known to smile throughout a whole cross fit workout. As a follower of Jesus, weather rain or shine, I'm a firm believer that life is about choosing joy every day.
As a super shy child, I struggled with confidence. I quickly found fashion as a great way to express my awesome personality and boost my confidence. Throughout the years, I became known as the" fashionista" by all of my friends and family. Just ask if I remember what I wore the first day of school from Kindergarten to Senior Year. You may be pleasantly surprised by the answer!
Since I was a little girl I have always wanted to work in the fashion industry and had dreams of starting my own fashion line. I attended Florida State to pursue those dreams where I majored in Fashion Merchandising with a Minor in Communications. Now it's my biggest dream to grow this blog into a thriving business and eventually use it as leverage to start my own clothing company.
On the weekends I love love love being outside and doing something active. Swimming in the ocean is my favorite but I also love paddle boarding, surfing (currently trying to learn but it's hard!) or enoing. You will always find me soaking up the sun and seeking out fun new adventures. On any given day you can find me baking gluten free desserts, working out at Trinity Fitness, hanging with my friends and family or spending precious time with God.
5 Fun Facts about me:
-Throughout High School I was a competitive All-Star Cheerleader for 4 years. I also cheered on my High School Varsity Cheer team for one short year.
– Avocados are amazing and I could eat them with a spoon for breakfast, lunch, and dinner.
– Pugs are the cutest animals alive. I used to have one named Muffin.
– A month before I started 7th grade I broke my arm and had to wear a giant plaster cast to school that was so huge, none of my clothes would fit over it.
– My BFF and I used to nickname all of our boy crushes in high school hilarious names and would refer to them all the time like we were close friends with them. We still laugh about it to this day. And we still refer to them sometimes by their nicknames. HA!
If you want to send a quick shout out, have any questions or you want to collaborate, I'd love to hear from you! sunshinestyleblog AT hotmail DOT com.
For the latest sunny and bright fashion follow me on Instagram, Facebook, and Pinterest!
Save
Save
Save
Save
Save