Every winter I try to take advantage of wearing boots as much as possible. As soon as the weather man announces the first cold front is coming, it's time to hit the ground running. AKA, style and wear all of my boots as much as possible in a super short time span. There's only about 3-5 months of "cool" weather in Florida. Once April hits, it's way to hot wear to wear anything but sandals.
Over the years I have accumulated a collection of booties that I continuously wear during winter. After a ton of trial and error, I have found a few different styles of boots to wear and match my entire winter wardrobe. Below I'm giving you the low down on exactly which boot styles to invest in and how to style them.

Before we dig in, I just want to clarify that this guide is what I have found to work best for me. Although I don't live in a place that is super "wintery" and cold (currently it's sunny and 80 degrees outside as I type this, haaaapl it's only February!), there are still enough cooler months that allow me to wear boots. This list is for anyone who wants inspiration and help in how to style their favorite winter boots.
As a fashion blogger, I believe boots can be styled right and wrong but there's one item they all work well with. Of all the boots pictured above, every pair styles extremely well with skinny jeans. No matter which style boot you choose to purchase or already own, I can guarantee you, you cannot go wrong with styling them with jeggings, skinny jeans or straight leg pants.
So without further ado, here's the ultimate boot guide on how to style and wear boots in the winter: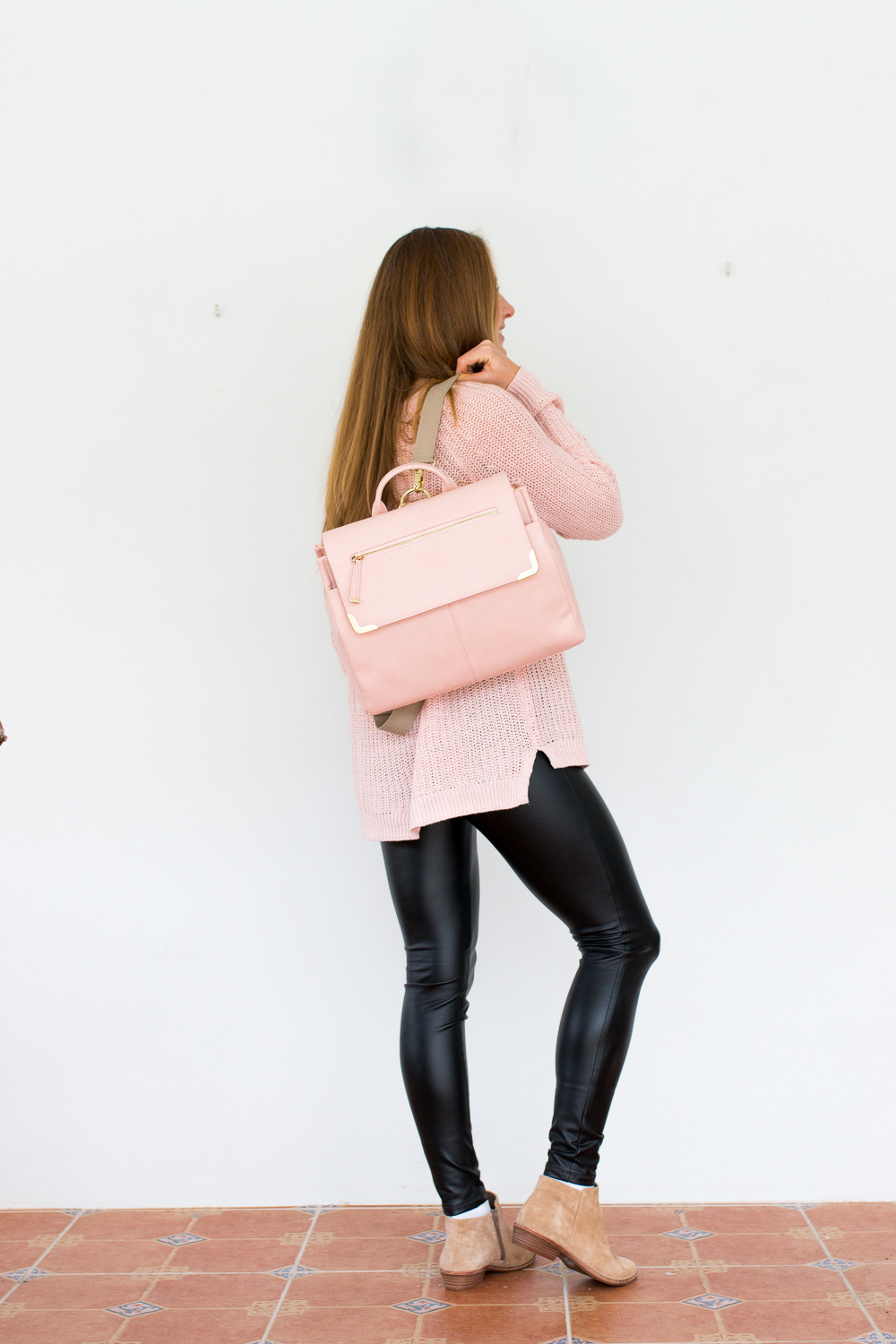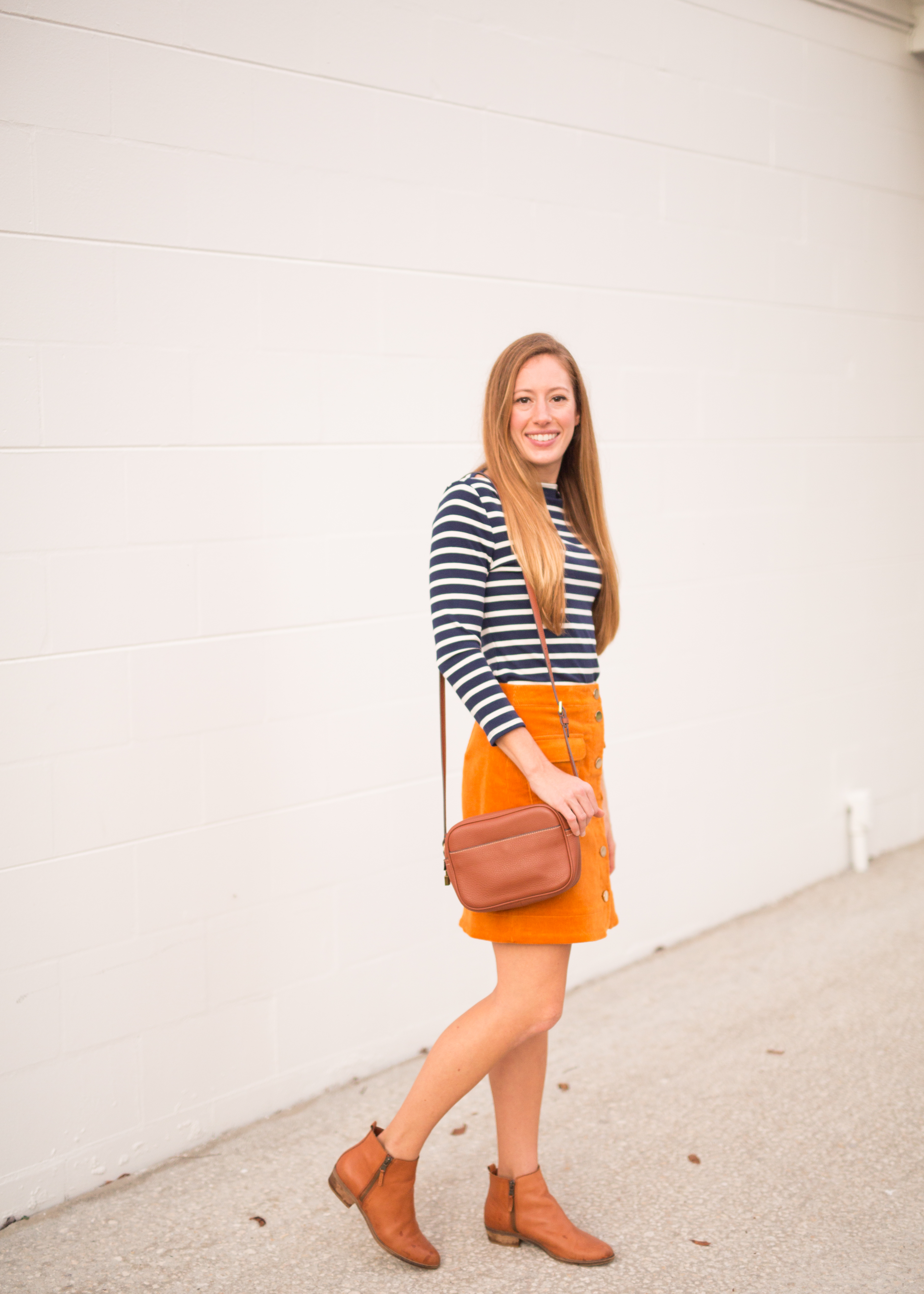 Ankle Bootie
First up is the ankle bootie. They make me feel so cute when I prance around in them and I love how they hit just above or right at the ankle. They are my most worn style of boots during the winter. Want to know the secret to styling ankle booties? Buy two pairs. It's my golden rule to own (almost) two of everything. One dark and one light. This way you can alternate the two pairs throughout the winter months. They will match with more and make it easier when you get dressed.
Leather: Out of all my boots I own, my trusty leather ankle boots (shop a similar version here, under $40!) are my favorite and most versatile boot. Why are the my favorite? Because they are a neutral, durable and go with everything I own (last worn here and here). I usually wear them multiple times during the week. They are definitely geared towards more casual outfits. I wear them hiking, on the weekends and to work when I have busy days with my kids in the kitchen or sewing. Protecting my feet from sewing needles and pots and pans is a must!
Suede: These would be considered my more dressy ankle boots (shop this pair here for under $45.). Suede is super soft and classy but they get dirty very easy. This light tan color looks best when contrasted with dark skinny jeans or dresses in colors like black, navy or cobalt blue. I also love styling them with more girly colors like blush pink and white for a feminine look in the Spring.
Shop a few budget friendly options here, here and here.
In my personal opinion, they look best when paired with skinny jeans, skirts and and denim shorts. Throw on a oversized sweater, a pair of skinny jeans, crossbody bag, add an ankle bootie and your all set to go!
Best styled with: dresses, jean/denim cutoff shorts, faux-leather pants, oversized sweaters and casual outfits.
Looking for more inspiration? Brighton from Brighton the Day has a great guide on wearing ankle booties.
Shop ankle boots:
Block Heel Bootie
These are a step up from a casual ankle bootie and a heel helps add more glam to your look. Because the block heel adds a bit of height, they work well with a great pair of wide leg pants. It does hide the boot but allows you to easily wear pants with a longer hemline. Win win.
The pair I'm wearing here were purchased a few years ago and are also my most complimented on shoe I own. I can't leave the house without a handful of people asking me where I bought my boots from. Precious heel booties, how I hope you never get old. You do feel like a rock star when you wear shoes with glitter on them! Shop a similar version here and here.
Also works great with: flowy skirts, floral dresses for Spring and distressed denim overalls.
Shop Block Heel Booties:
Cut Out Boot
Currently I do not own a pair of cutout boots but am dying to get my hands on this white pair here, under $30. These are a mix between a flat ankle boot and a block heel boot. If you want something a tad more dressy than the causal ankle boot, these are a great alternative that adds a really unique and pretty detail to any winter outfit. If you want to feel a bit more edgy, add these to your wardrobe!
The only negative is that the cut out often shows your socks, so you must make sure you buy socks that match the color of the shoe or just wear no show socks (these are my favorite no show socks!).
Best styled with with: cut off denim (jeans or shorts), jean jackets, and skirts.
Natalie from Natalie Borton Jewelry who has great minimal style always creates super cute outfits with her laser cut out boots.
Shop Cut Out Boots: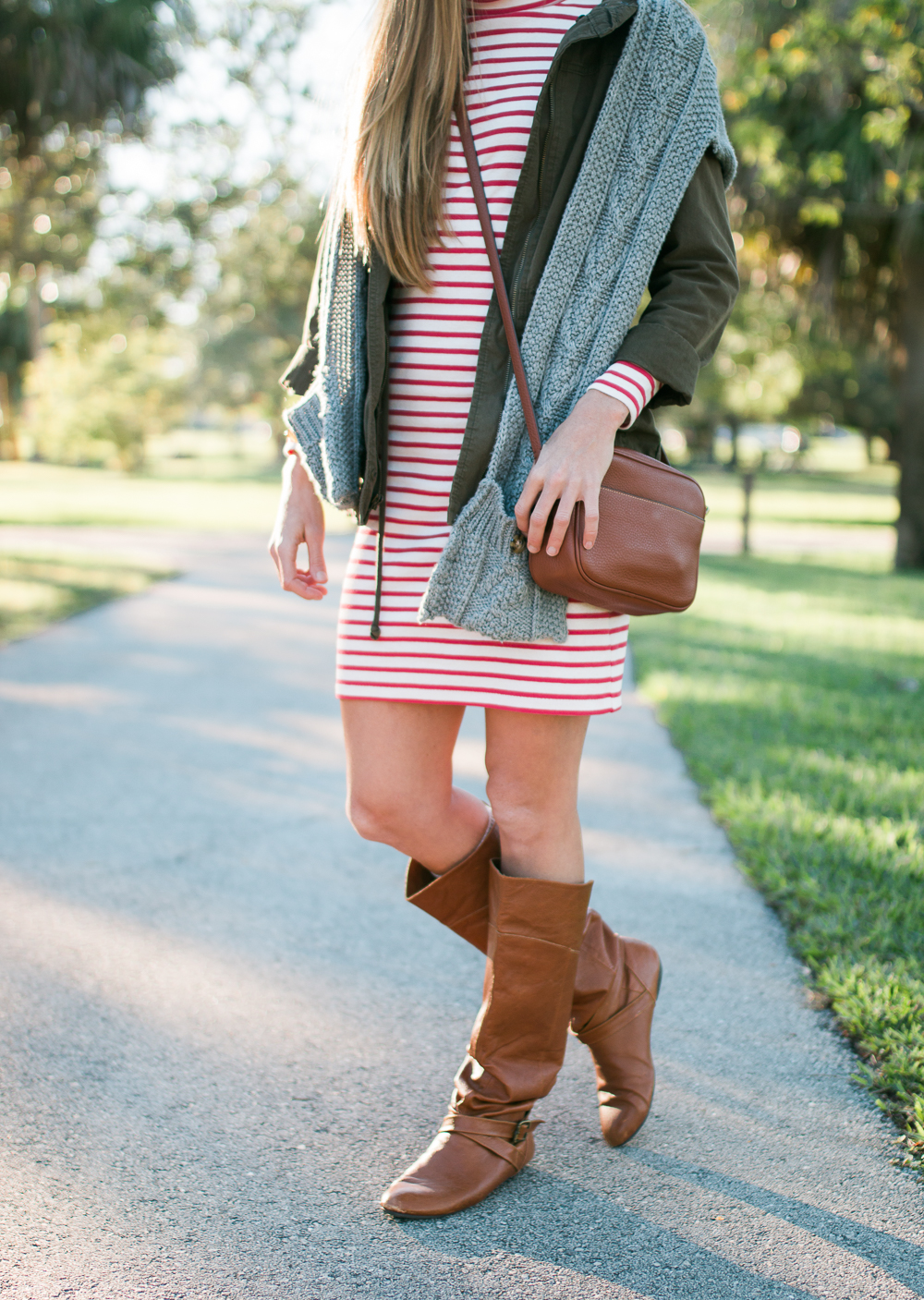 Riding Boot
Riding Boots will always bright back memories of my college days at FSU. Honestly, I had no idea what riding boots were or that they were so popular. That was until I saw one of my Sorority sisters rocking them with confidence. (Remember, I am a Florida girl and never had a need for warm boots until I live in Tallahassee. Their winters are surprisingly frigid.) Instantly I became hooked with the classic style of the boot and how sophisticated they looked when styled correctly!
My favorite way to style them are with dresses, skinny jeans and flowy skirts. Know that a good pair of riding boots are an investment. They are made to resemble a true horse riding style boot. When I make the plunge to invest in a new pair, I'll make sure to buy a more structured fit, like this pair here, as it is more true to a legit riding boot style. This style from J.Crew is on my wish list!
Best styled with: jeans, fitted dresses, flowy skirts and, leggings.
Shop Riding Boots:
Rain Boot
Ahhhh rain boots. There's so much to say about you and your yellow sweetness. These yellow rain boots have been on my wish list for the longest time. As often as it rains here, I don't even know why I have not purchased these yet. They come with a rather hefty price tag but will last for years to come. Tons of bloggers I follow (like Classy Girls Wear Pearls and Carly the Prepster) and friends alike rave about the Hunter rain boots and how great they are for rain and snow.
They look super cute with dresses and skirts. Go for a more casual look by styling them with skinny jeans or jeggings. With Spring just around the corner, I can already picture so many cute outfits wearing this pastel pair here!
Best styled with: above the knee dresses, skinny jeans, tall socks, and mini/pencil skirts.
Shop rain boots: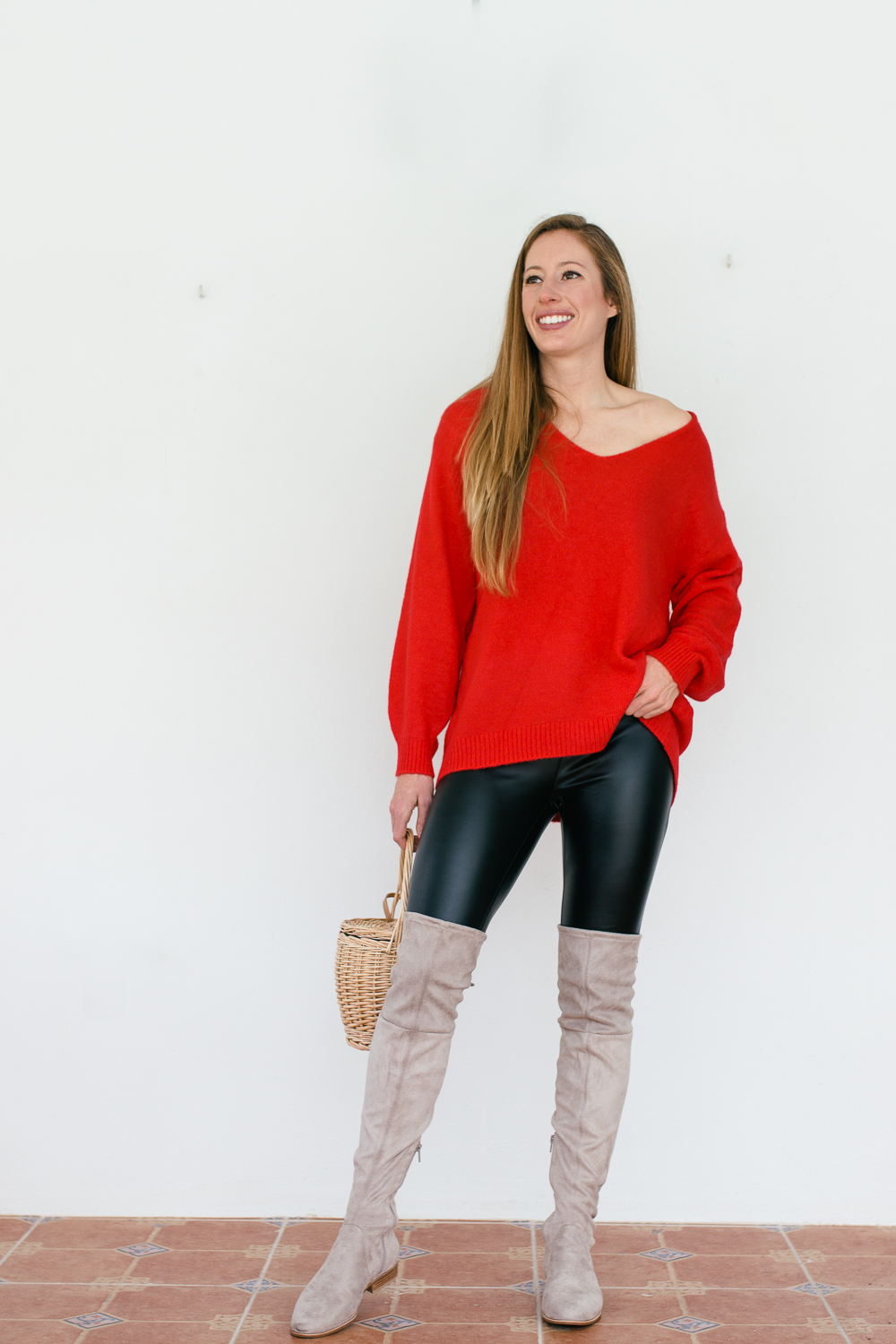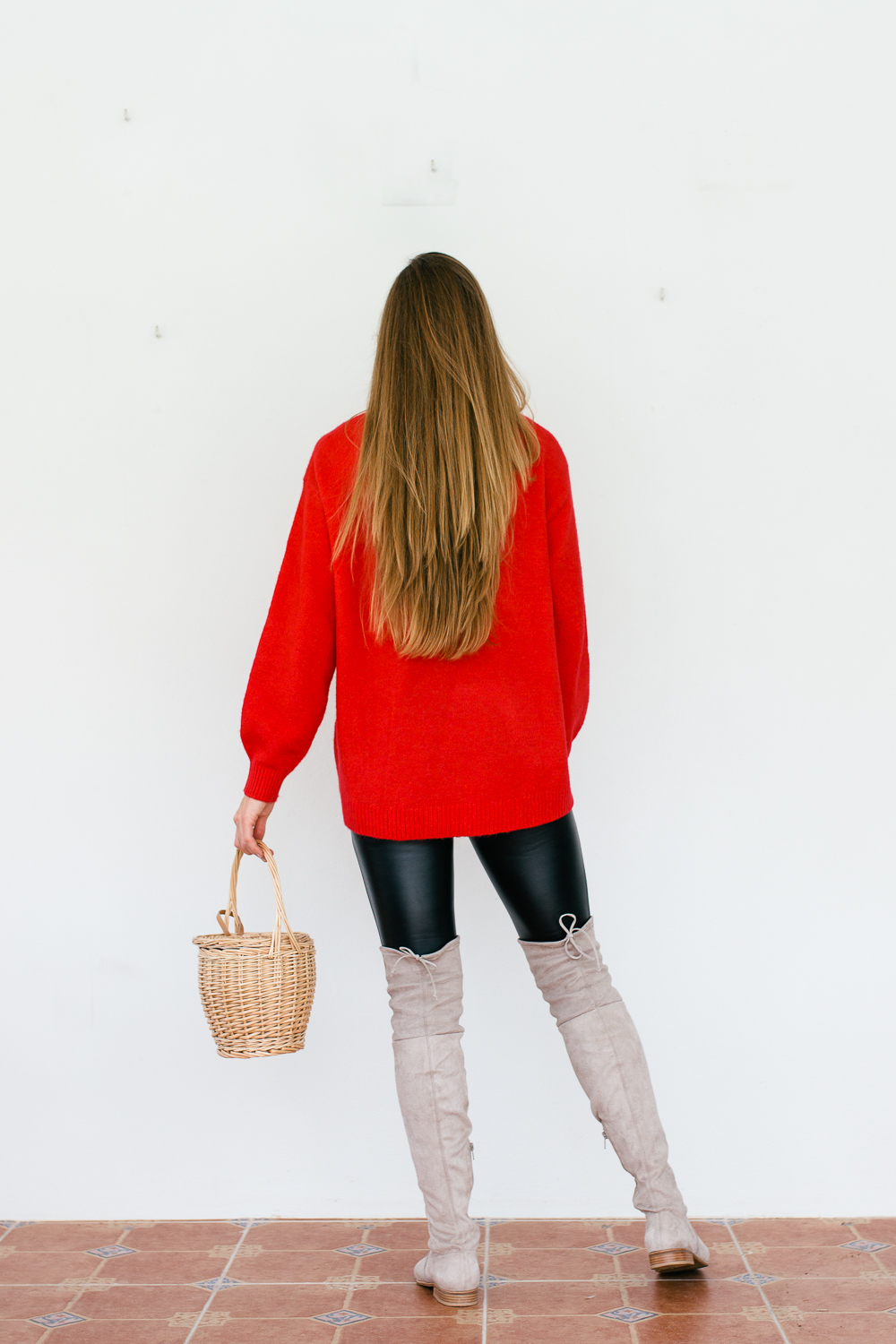 OTK (Over the Knee) Boot
Last but not least we have the ever popular OTK Boot. Oh Oh Over the Knee Boots, how I love you so. Meet my newest boot I've recently added to my collection. After much searching for a budget friendly pair of over the knee boots, I finally found these!
The reason I wanted to find an inexpensive pair is because I won't wear them as often as my other pairs, especially my leather ankle boots. It's not that I don't love them. That's far from the truth. I love them a ton but their also extremely warm. Great for super cold days, but not so great for the awkward in between warmer days. If you live somewhere that's frigid, I'd tell you to buy them in a heartbeat! It's like adding an extra layer x 10.
I didn't realize how much I resembled little red riding hood until I started editing them. Don't mind me, I'm just little red riding hood running through the forest wearing my red sweater and basket bag ha!
Best styled with: mini skirts, faux-leather leggings (or skinny jeans) and sweaters or above the knee dresses!
Shop Over the Knee Boots
Boot style tips to leave with:
Invest in boots slowly over time. Boots often cost the most out of all winter items. Take your time and choose wisely. There's no race in accumulating a giant boot collection. I own less than 10 pairs or boots. They will last you a long time. I'd rather spend over $100 on one pair of quality boots than on three pairs under $30.
Keep the majority in the neutral family. Don't go crazy with color. Buy boots in neutral colors (tan, grey, beige, taupe, or black)
Invest in one colored pair of boots. Yellow is my most worn color, so I know if I buy yellow boots, they will match with most of my wardrobe. Pick an accent color that you wear most often if you are going to buy a boot in a color.
Don't be afraid to try a new boot style! Sometimes it takes a step of courage to jump out of your comfort zone and try a new way to style a bootie you currently own. Or to purchase a new style of boot in general. Don't compare yourself with me. Find a boot style that works best for your body type and clothing you already own! You will feel better and you will look absolutely stylish! I never thought I could pull off OTK Boots but look at me. If I can wear them, you can to!
Wear all of the boots pictures above with skinny jeans. Like I mentioned earlier, you can never go wrong with skinny jeans and a great boot!
I hope this list was helpful! What are your go to winter booties? Have you made the plunge and tried out over the knee boots yet? Let me know in the comments!
Recent Posts:
Cute and Adorable Valentines Day Pajama Sets Under $100
Look for Less: Valentine's Day Look Under $100