Dresses are my most worn item (besides shorts). Most of the time when I shop for dresses, I prefer to buy styles that can be worn for multiple seasons and ways. Especially as I get older and narrow down my personal style, I like dresses that can be worn for years to come. Simple grey dresses have been my go-to for all seasons. What I love about a neutral palate is that you can style them with color to add more cheer to your look!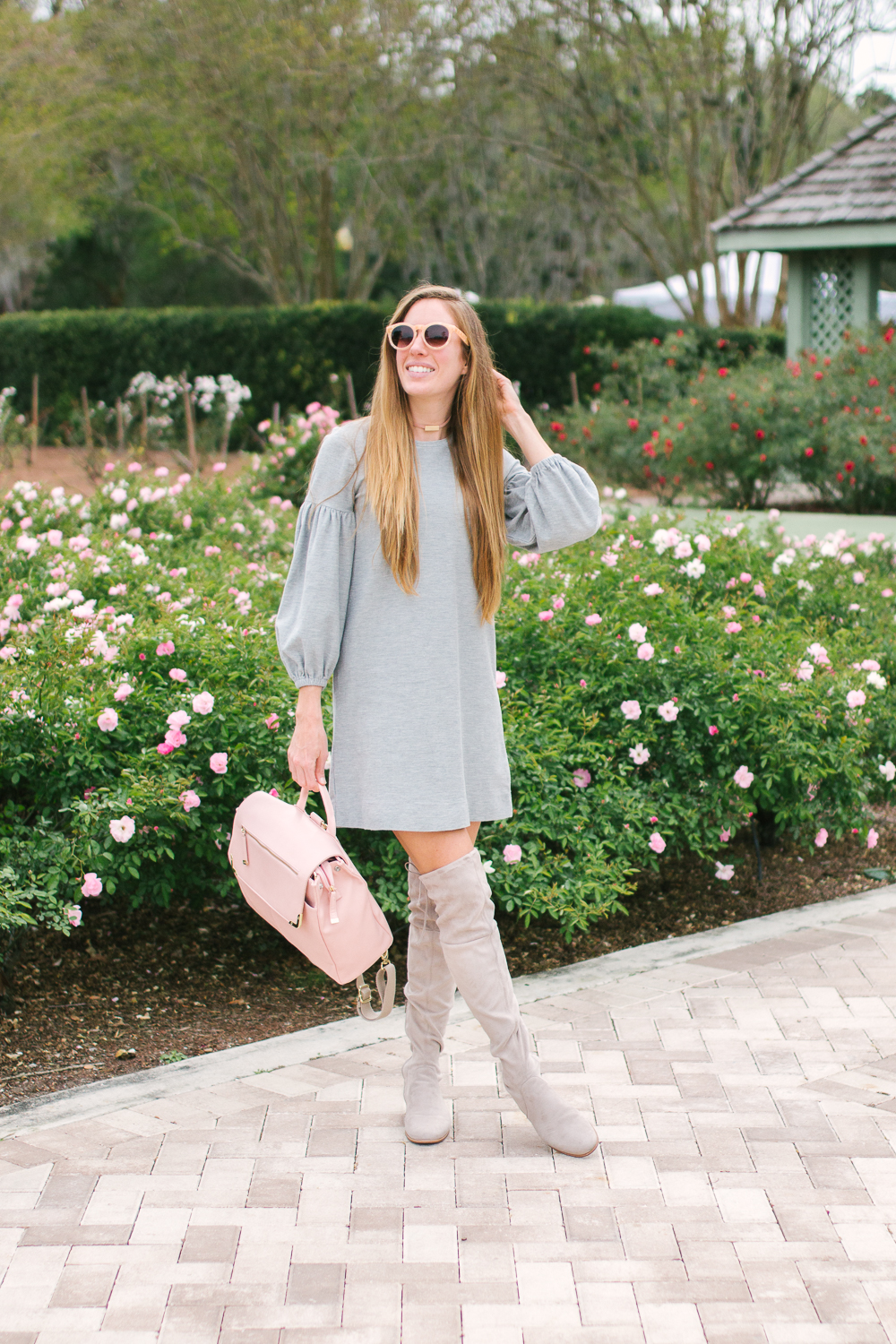 Outfit Details:
LOFT Dress (similar) | Gianni Bini Over the Knee Boots (similar) | Kelly Moore x A Beautiful Mess Camera Bag | Francesca's Choker Necklace (similar)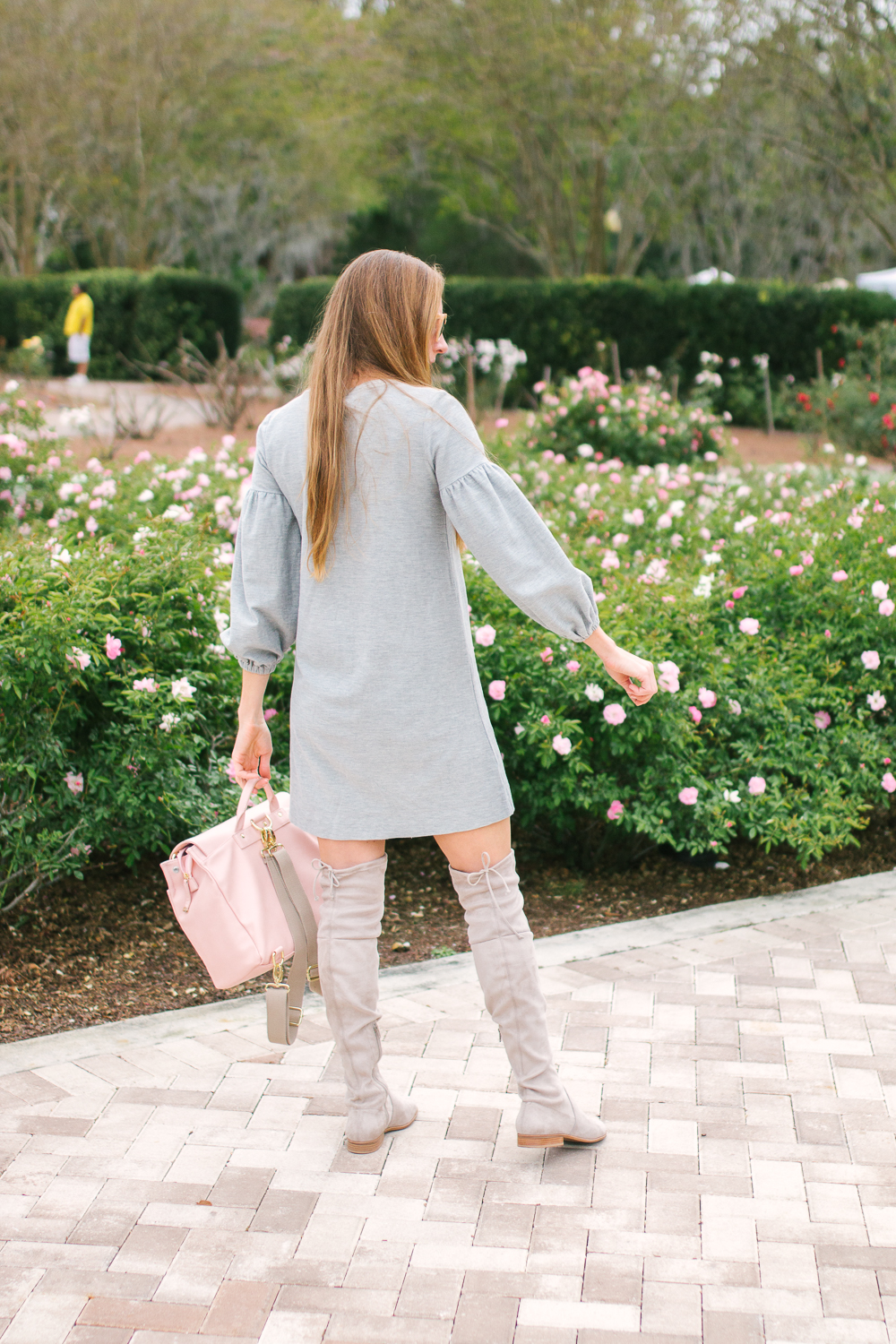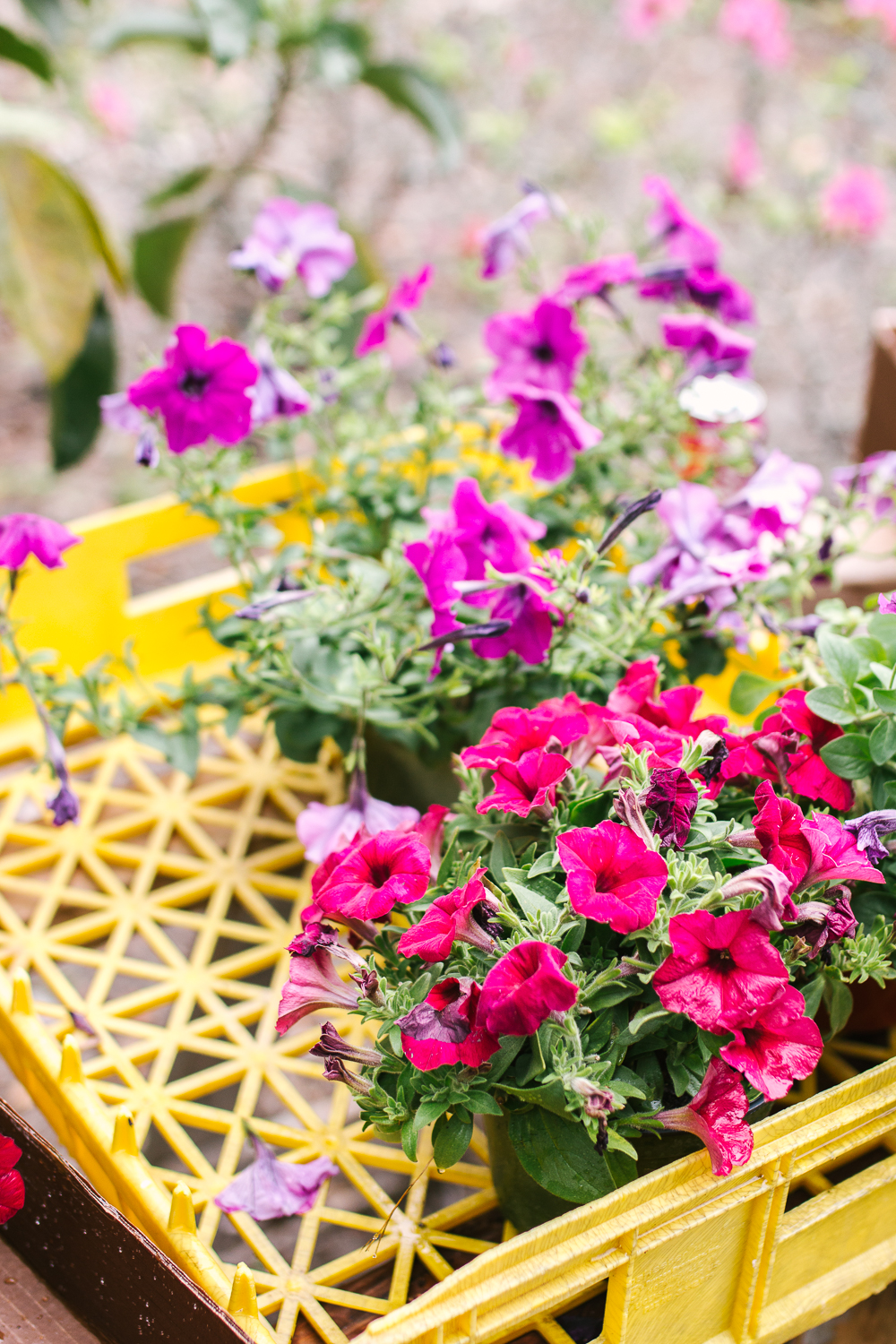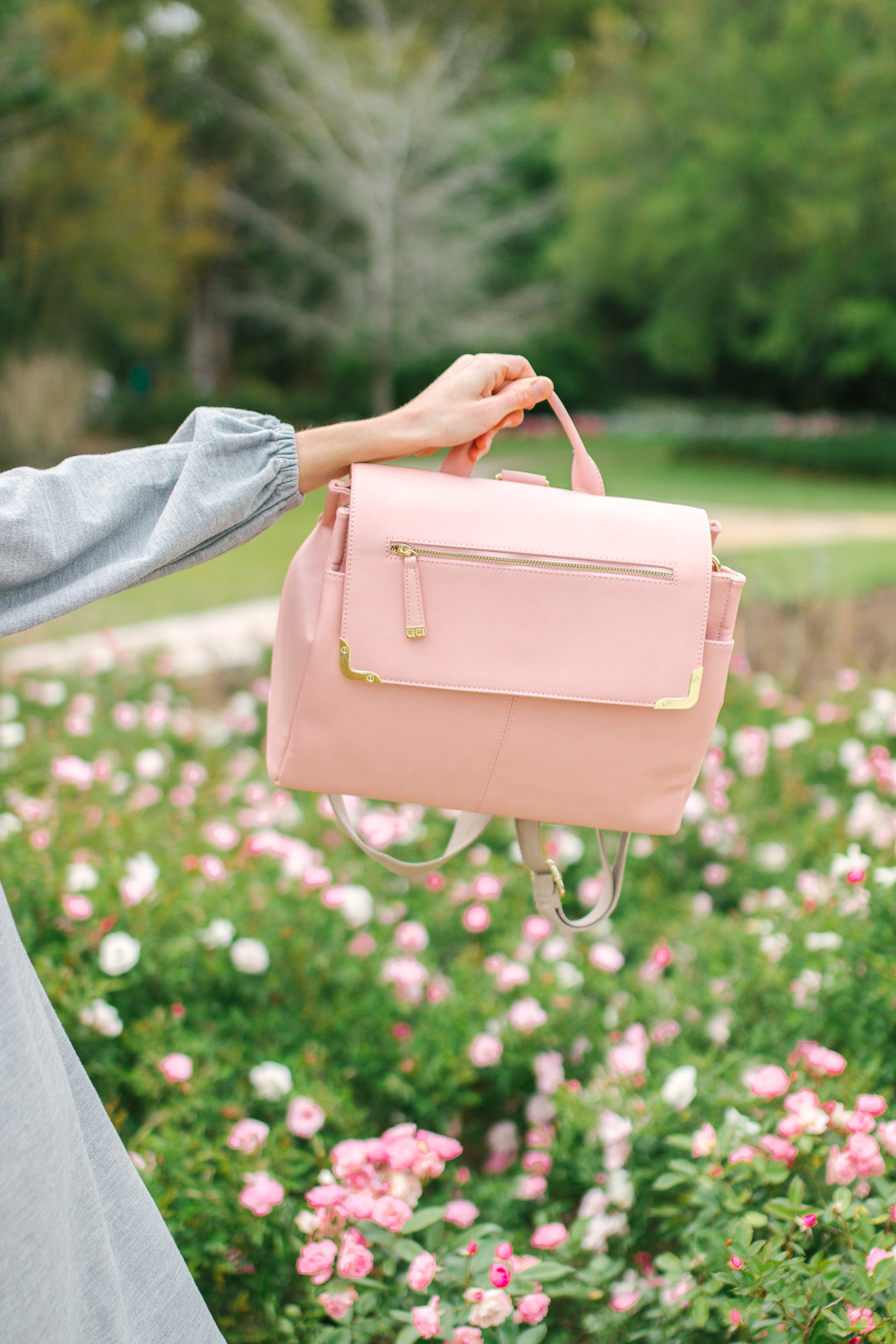 As much as I love color (I dedicated a whole post to styling color for each season), grey is one of my favorite neutrals to wear. When I look back at my #ootd (outfit of the day) photos, I notice myself gravitating towards grey several times a week. Normally I mix grey with a bold color and add colorful accessories. For this look I chose blush pink accessories including my camera bag and choker necklace.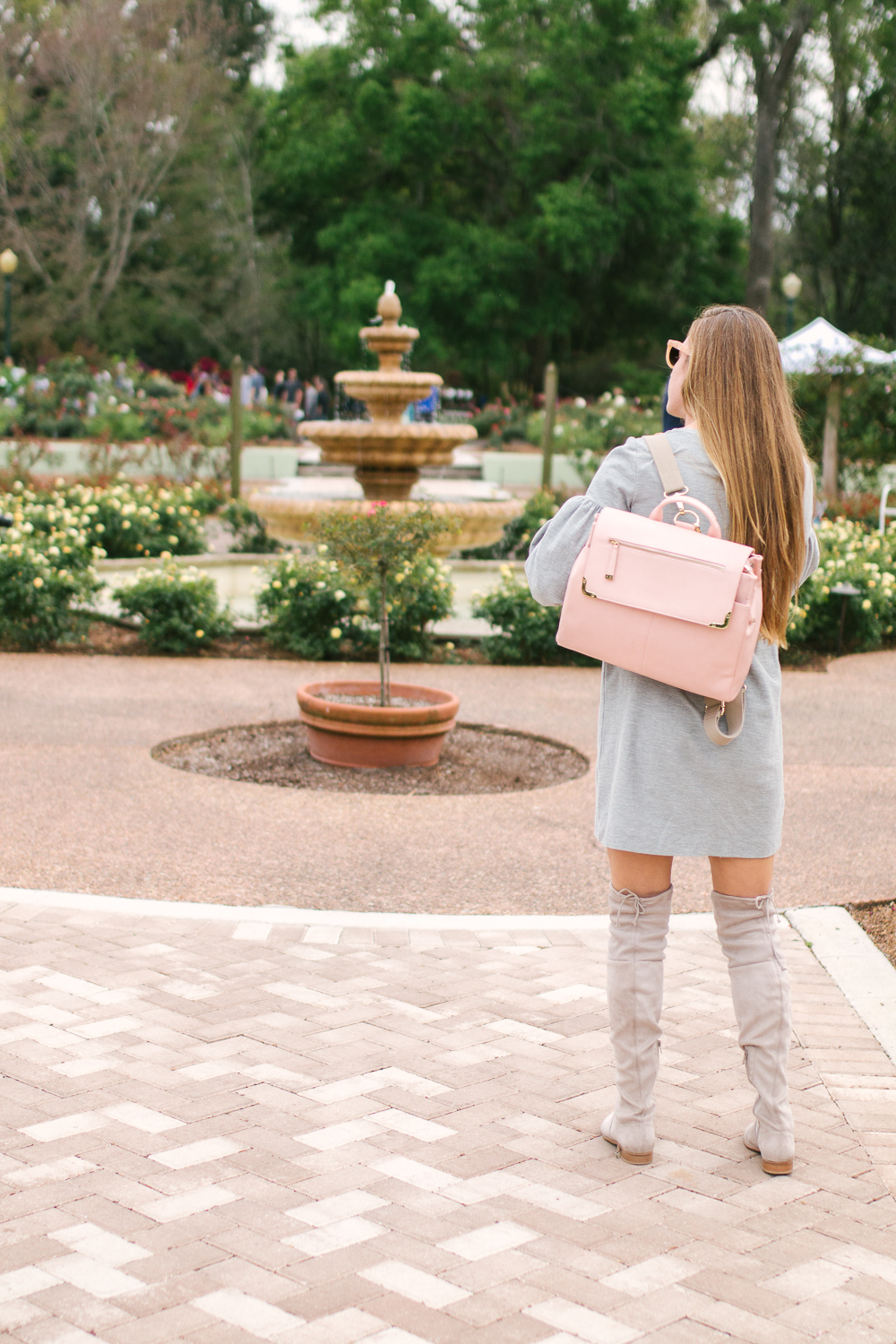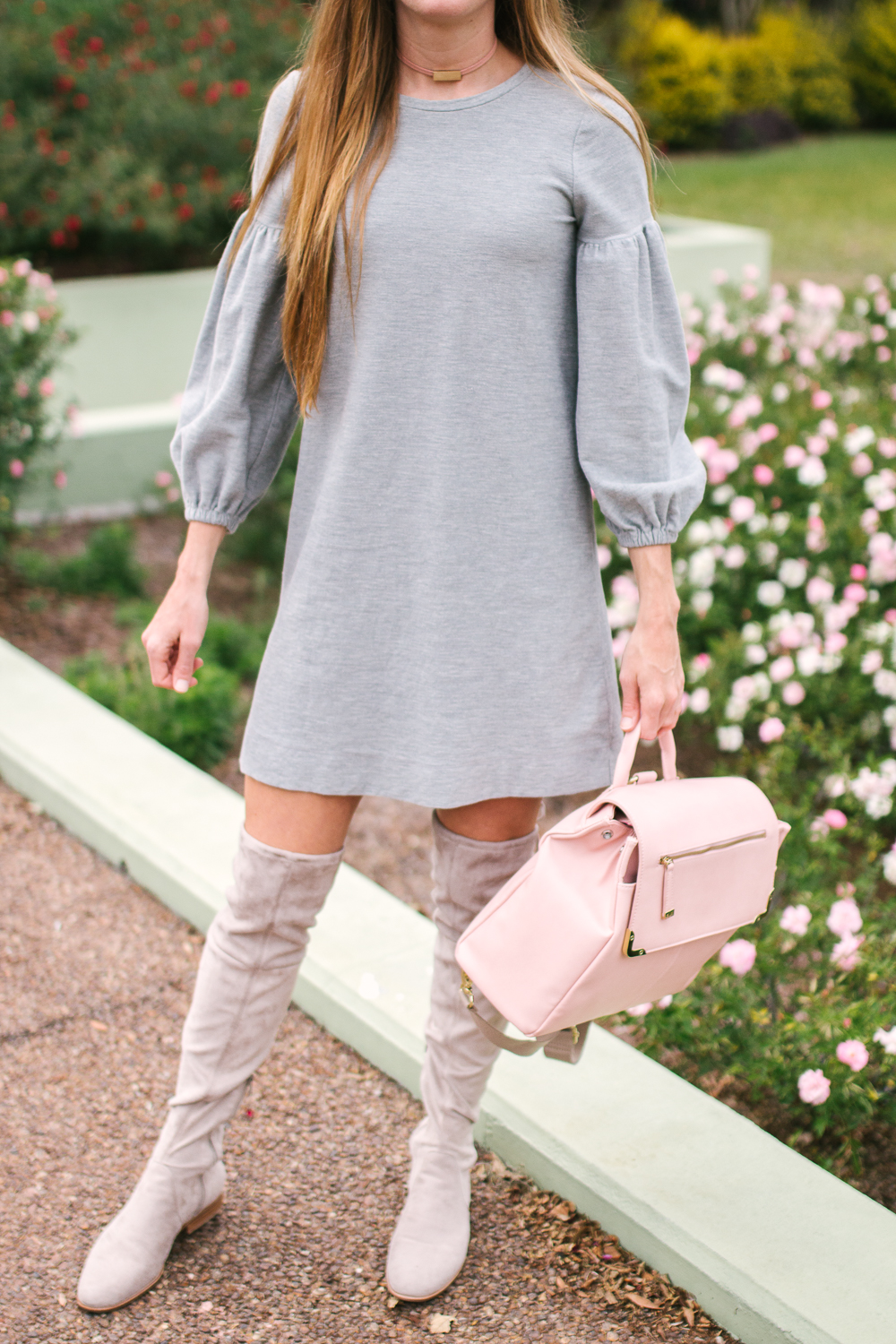 Every time I put on my over the knee boots, I feel like a rock star. You would not believe how confident OTK boots make you feel! All of the time people tell me, "I could never pull off those boots", but that's not true! All you have to do is give it a try and wear them with confidence! If your worried about the leg size, don't worry, most OTK boots are adjustable!
Now is the best time to buy boots because of all the winter sales! Here are a few OTK boots I found for under $50 here, here and here. In case you need help styling your boots, I created this easy to use boot style guide here!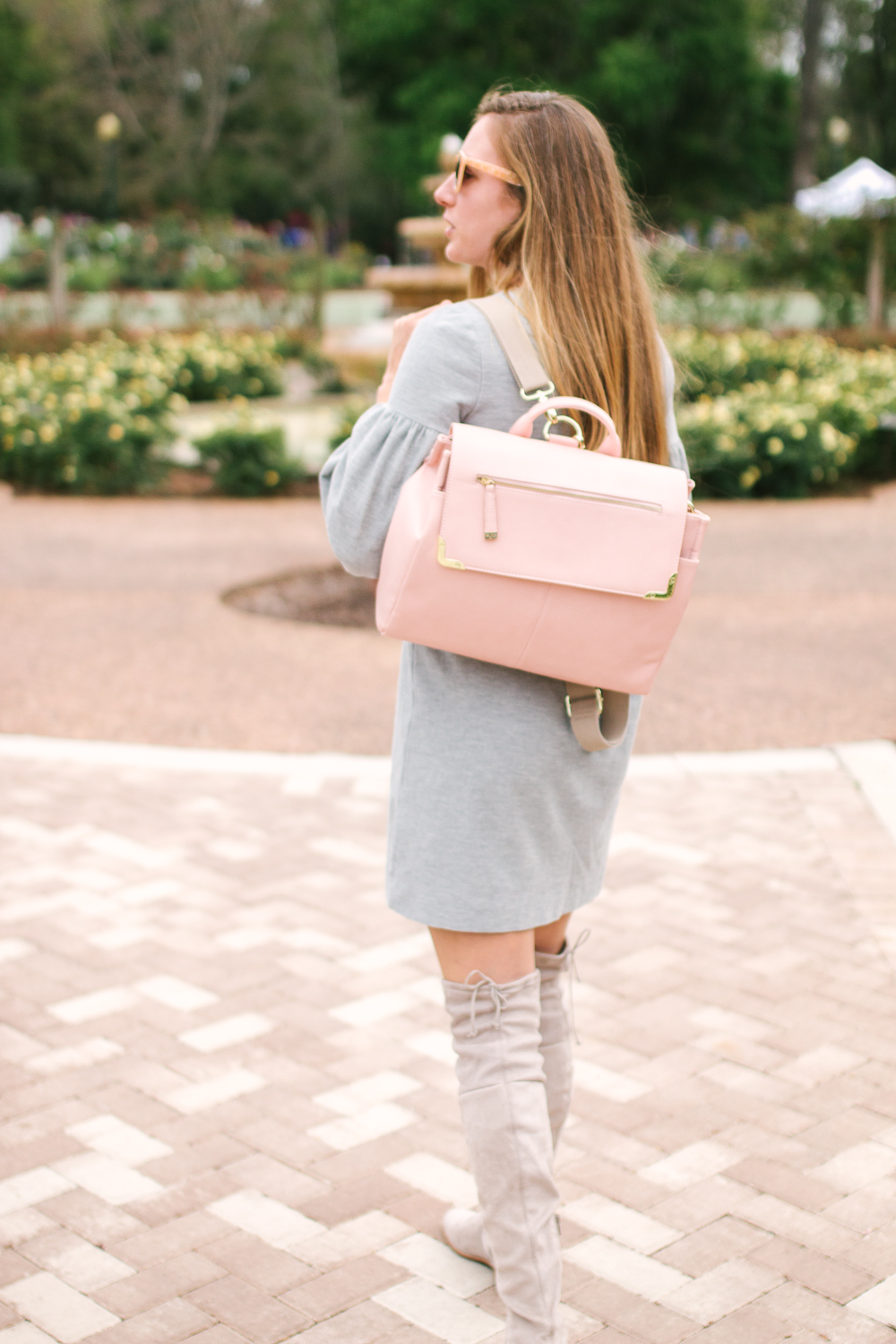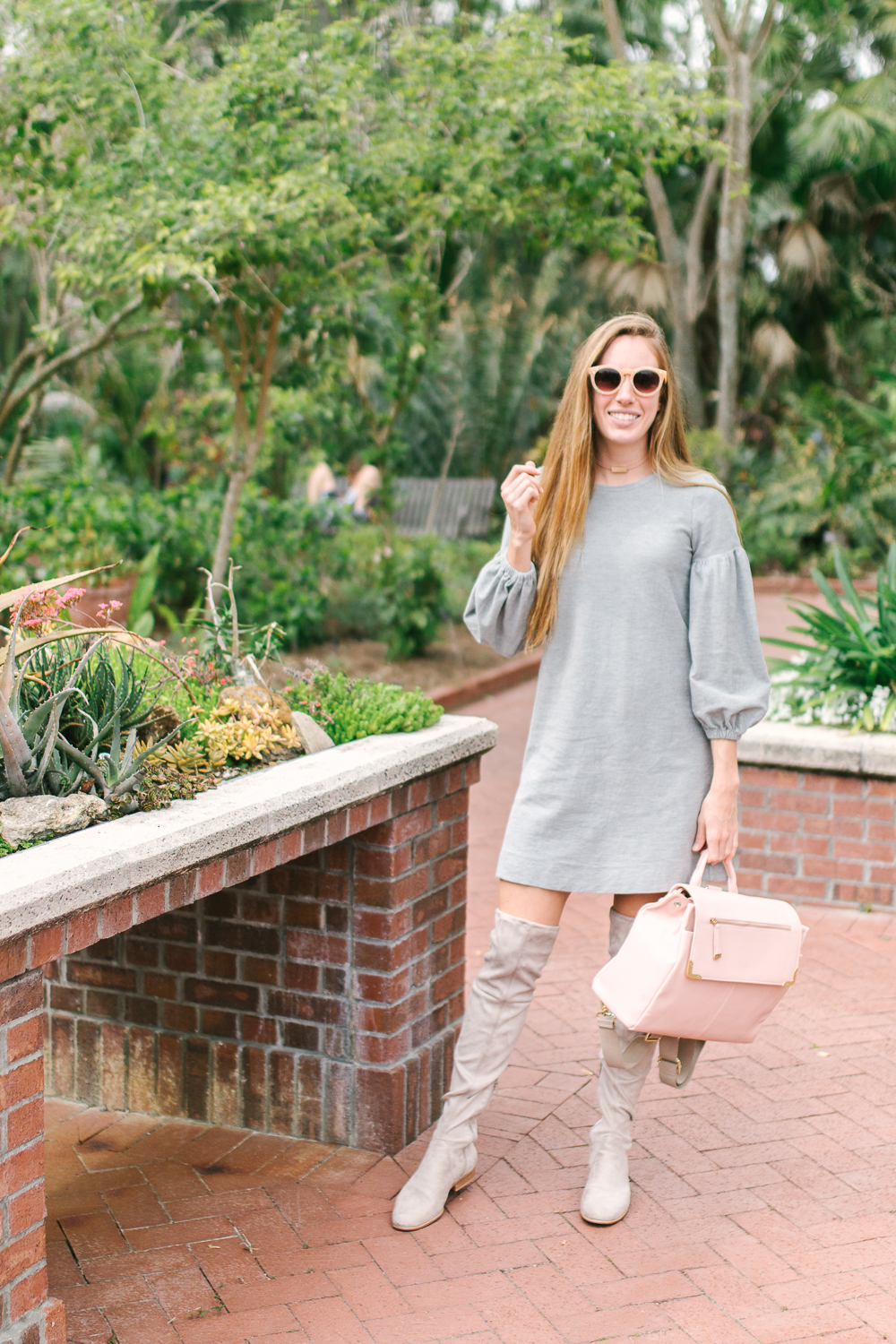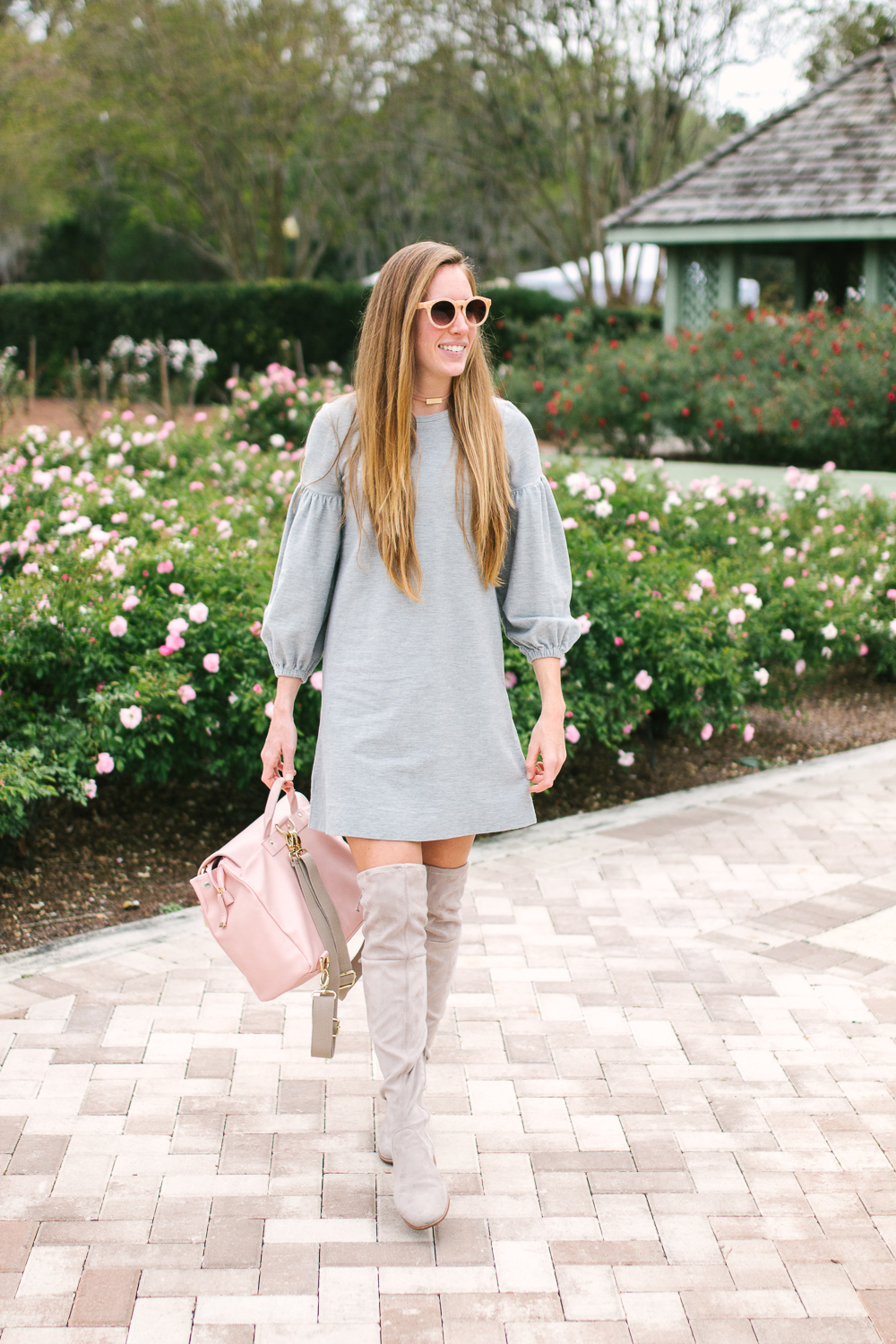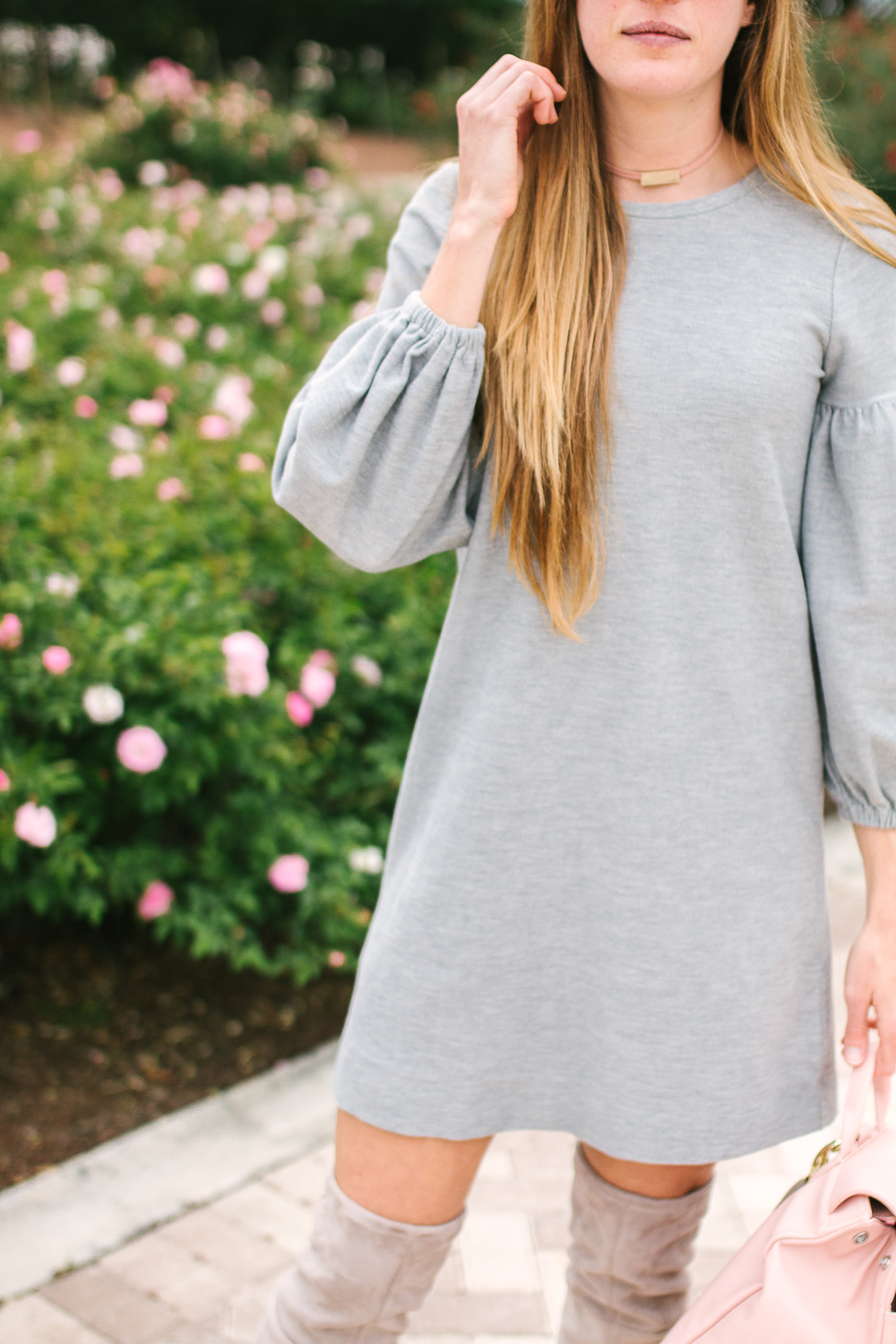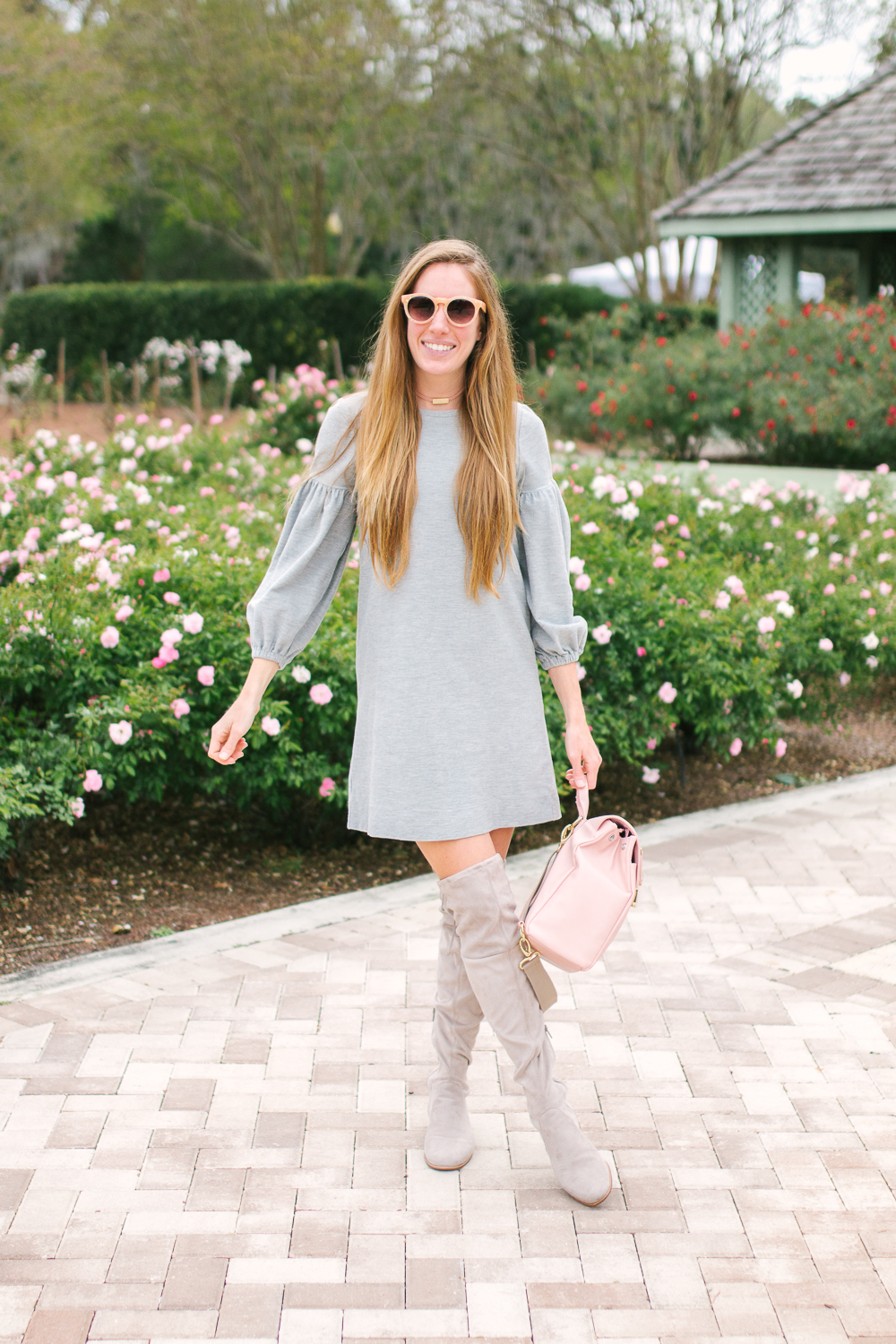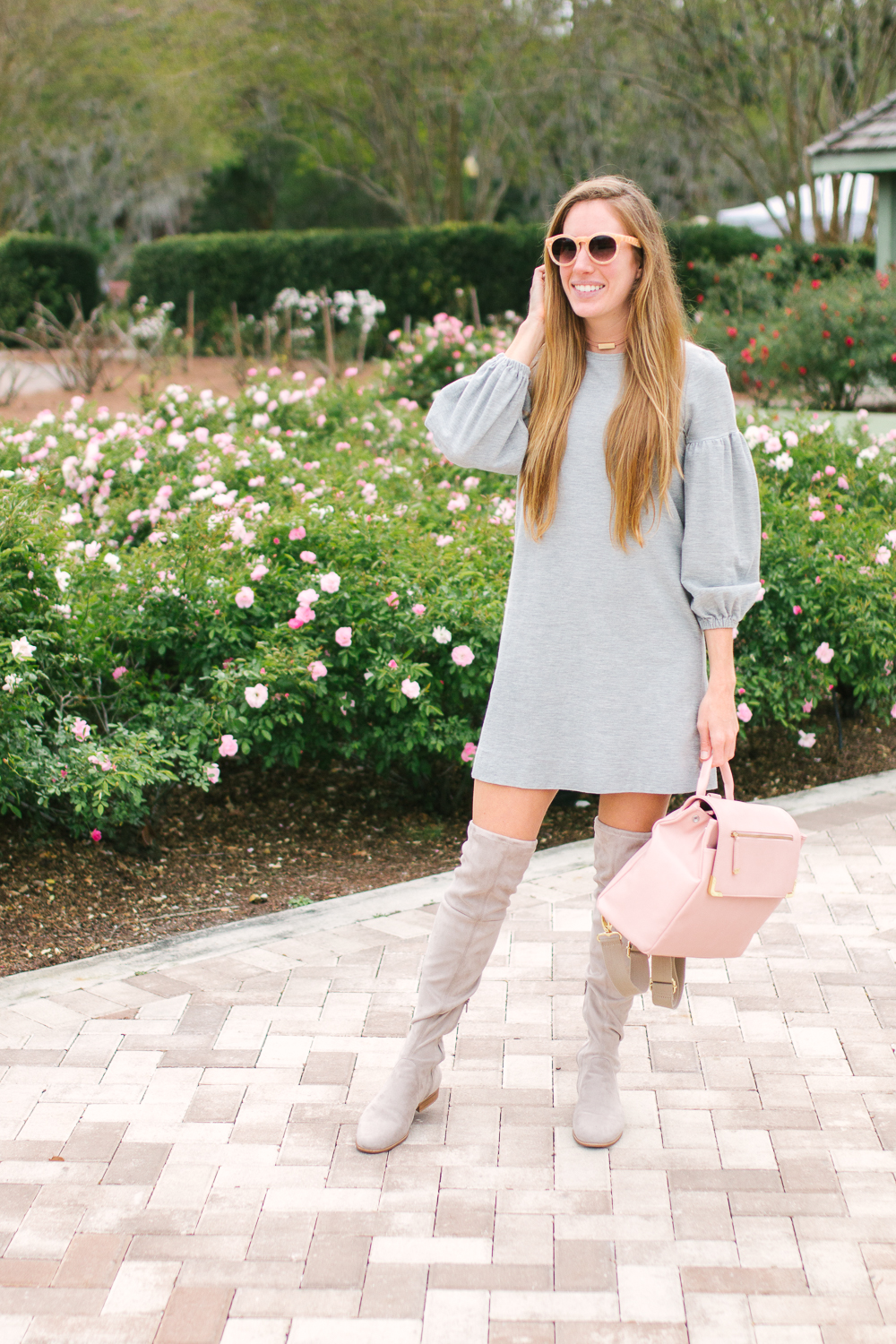 Outfit Details:
LOFT Dress (similar) | Gianni Bini Over the Knee Boots (similar) | Kelly Moore x A Beautiful Mess Camera Bag | Francesca's Choker Necklace (similar)
The dress is a mix between terry cloth and t-shirt material which gives it a casual vibe. What I love about the dress is that although the dress is fairly casual the bold sleeve helps to spice up a somewhat mediocre piece. When styling neutrals, treat the grey dress like a blank canvas and add colored accessories. I went for a very feminine color scheme and choose blush pink and grey.
Grey t-shirt and sweatshirt dresses, both short sleeve and long sleeved, are super popular right now. I can see why because there are a million ways to style them. Check out this pretty striped one for $25 and this tie front t-shirt dress under $50.
Can we note the choker necklace I am wearing? Never in a million years would I have though I'd be a girl who wears choker necklaces. Turns out I really like them and feel super edgy when I wear one! Did you know that when you wear them, you initially feel like your being choked. I was shocked. Shocked! Most likely this will be a trendy piece that I won't wear forever but it's fun while it lasts and very inexpensive. Here's a similar choker under $15.
I hope you all are having a great week! Friday is a student holiday (all teachers rejoice) and I have to catch up on tons of paperwork and grocery shop for our upcoming cooking days. In case you didn't know, I'm a middle school fashion/culinary teacher. We're going to be making waffles, quesadillas and brownies in the coming weeks. I'm also going to meet up with a local photographer in town that I have been meaning to connect with for months!
Over the weekend my sister, BFF and I plan on hanging out and enjoying the pretty outside weather. Most likely it will involve a trip to Target ha! The rest of the time I will clean, relax, catch up on reading and rest up for the coming school week. My weekends tend to be much more low-key now that I'm a teacher. Come soon summer break! What are you up to this weekend?
Shop Grey Dresses all under $100: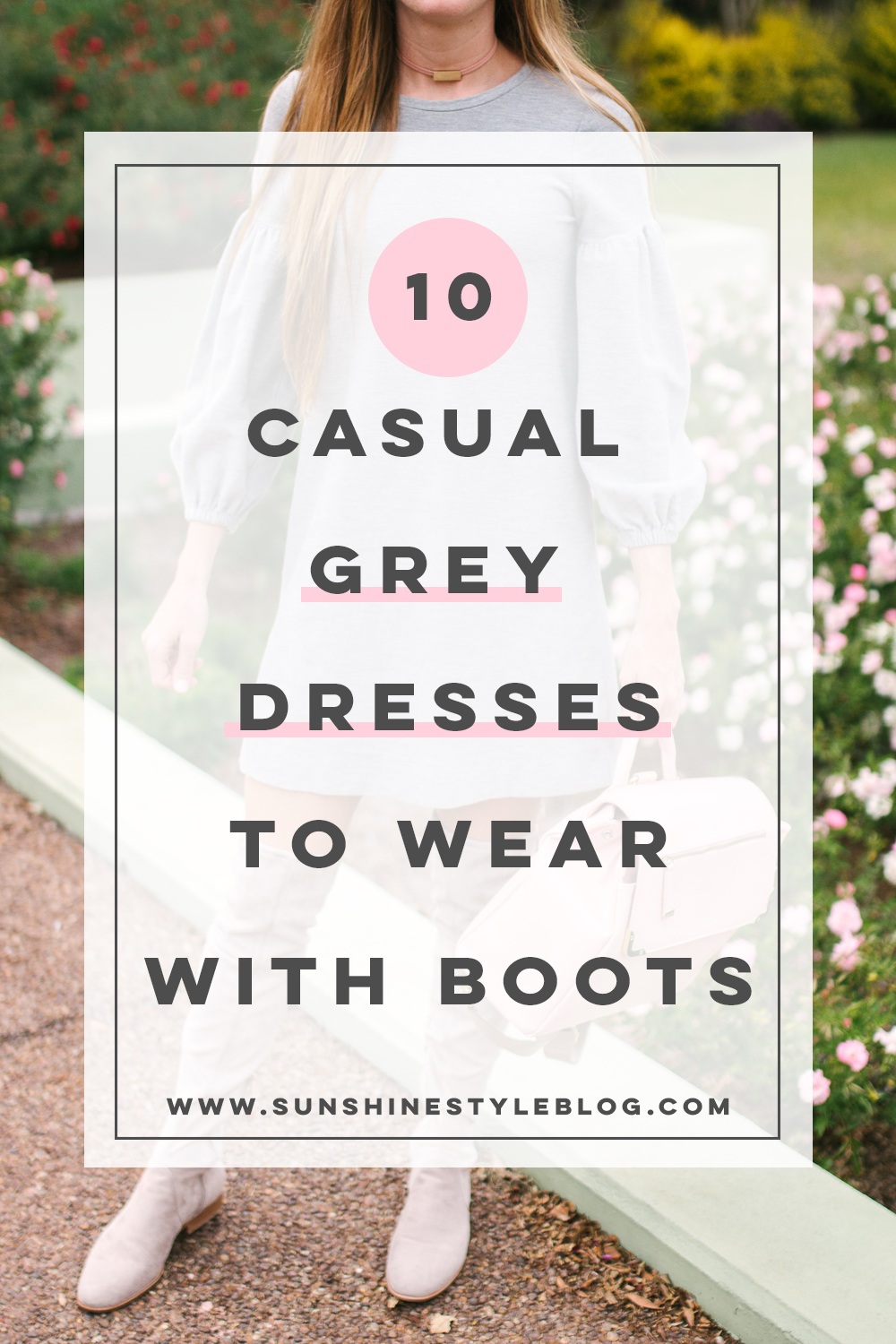 Check out my latest posts: