Wide leg pants also known as culottes are one of my favorite trends to style right now, especially in this beautiful Spring weather. They are so fun, a spin on the classic pant and can be worn so many ways! The hem and flare can seem a bit extreme but when styled right, they are super flattering!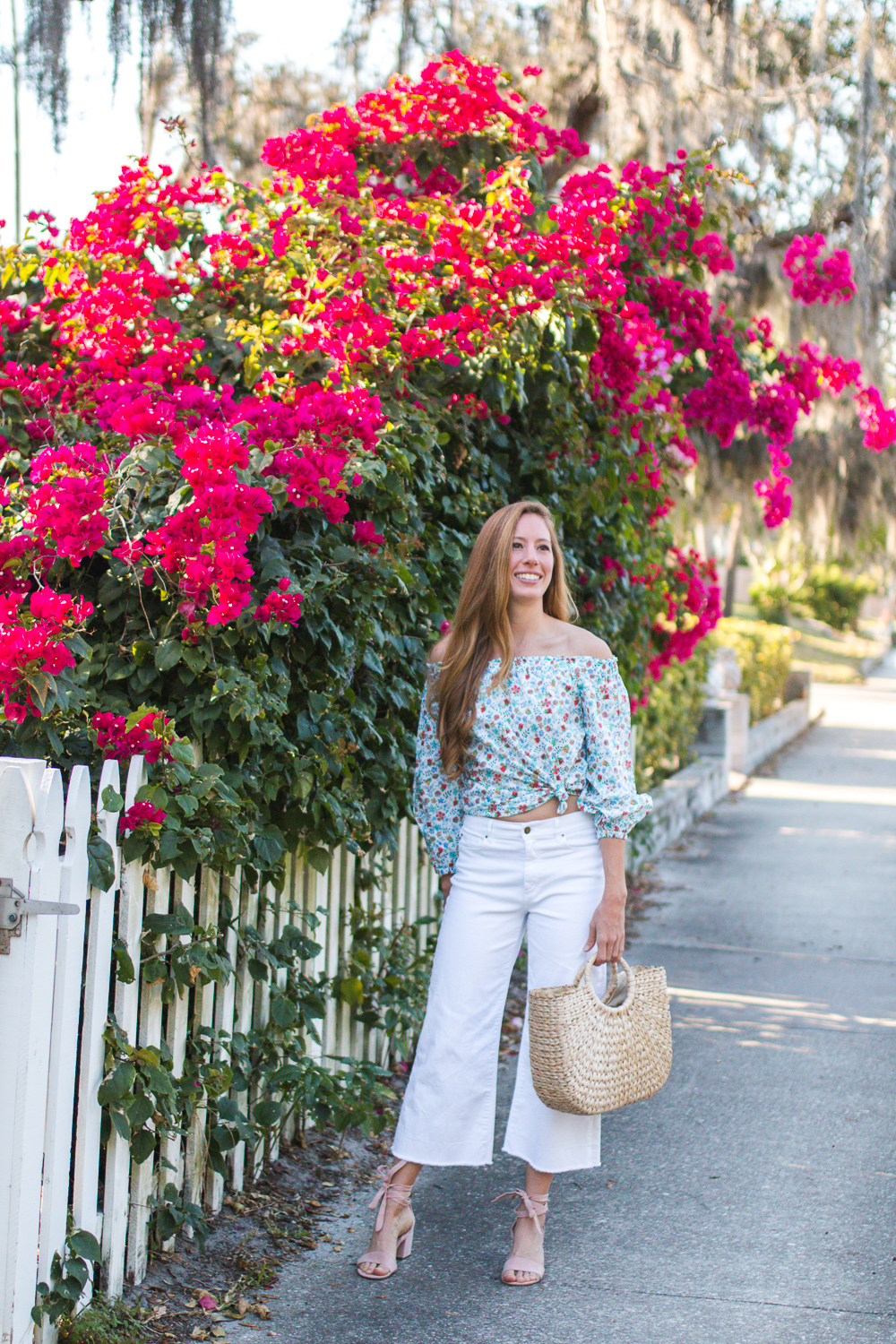 J.Crew Top (last season, super cute similar spring top here) | LOFT Pants (last season, similar style here) | Similar Pink Heels | Straw Bag
My favorite way to wear them is with a cropped or fitted top. Instead of going out and buying a whole new Spring wardrobe, I decided to style my floral J.Crew top from last season in a new way (similar style here under $30). By cinching the waist on my top, it helps my body appear it has an hourglass shape and also accentuates the wide leg pant. I have a very straight/athletic body, so enhancing any curve is absolutely necessary!
Shop Floral Spring Tops
These pants indeed steal the show! Funny thing is when the wide leg style first came out, I hated it but then the more I saw other bloggers wear them, they grew on me. Now I love wearing them. Everlane makes the most beautiful wide leg pants that comes in over 8 colors under $70!
My kids (I'm a teacher and call all 120 of my students my kids) just don't understand how stylish these pants are and always laugh when I wear them. They usually ask me really funny questions about them. Their comments about my clothing choices always make me laugh. But when you are confident in yourself and wear what you like, you just learn to have fun with the comments. Like when I wear gingham or overalls and they tell me I look like a farmer. You know what, I probably do ha!
Shop Wide Leg Pants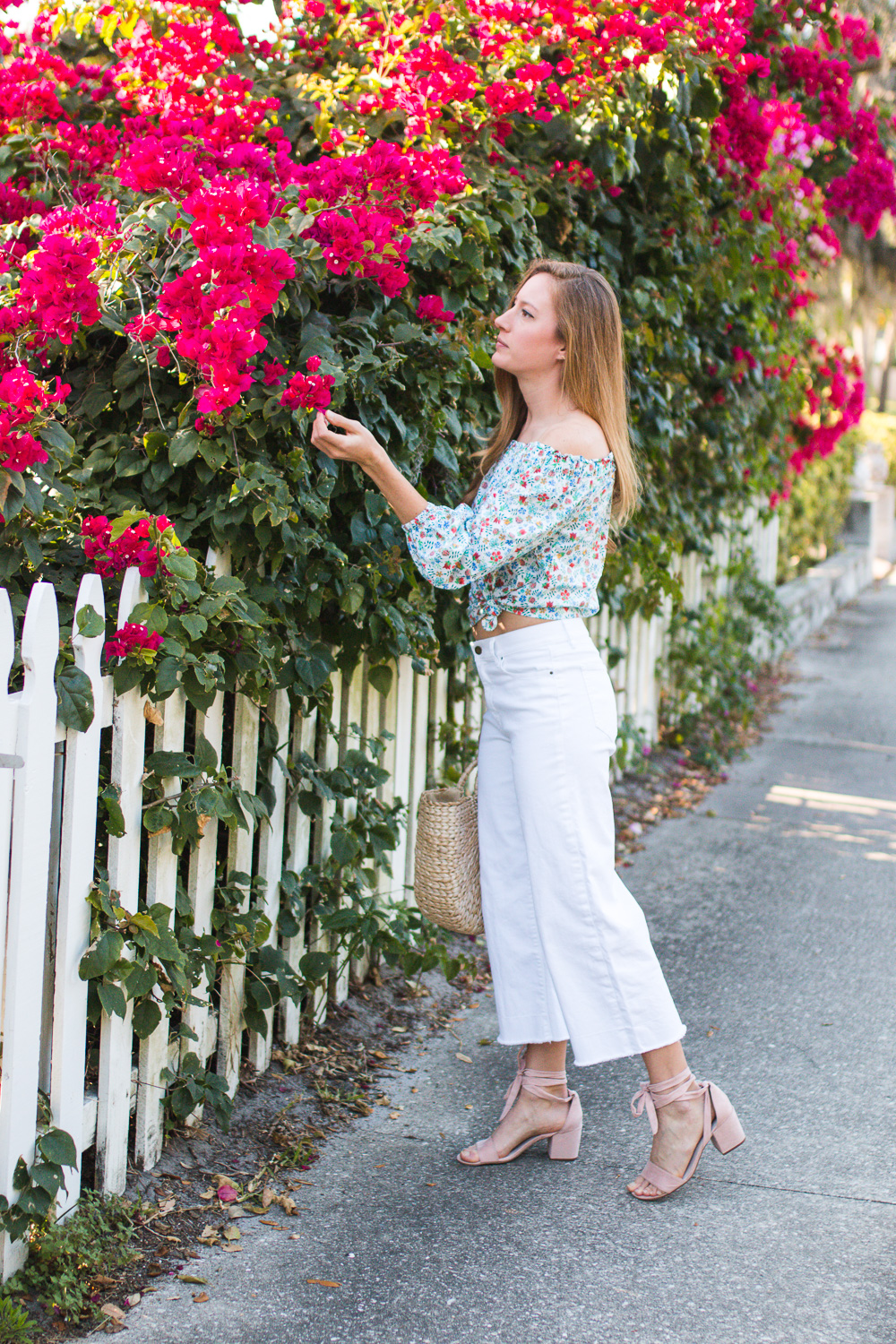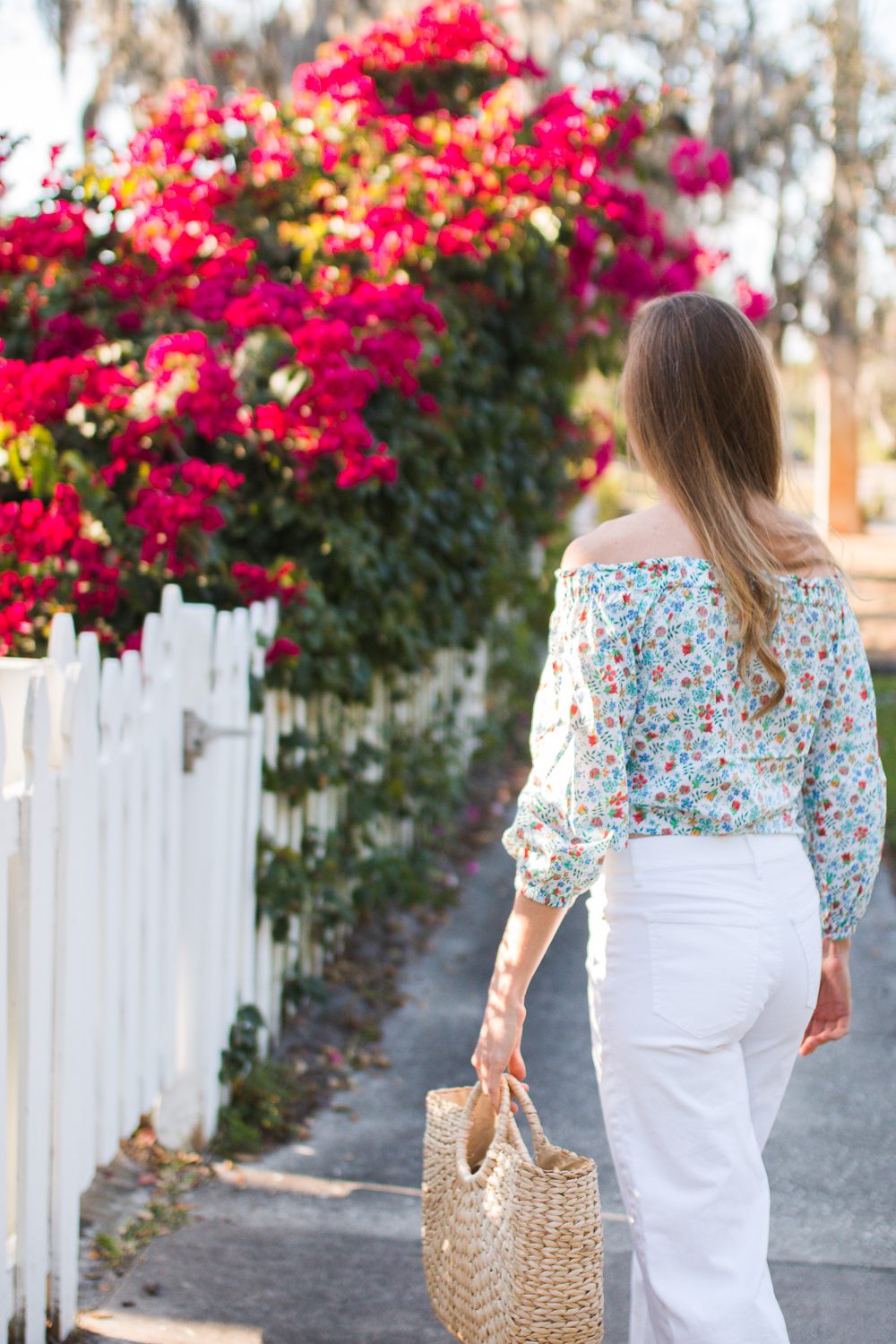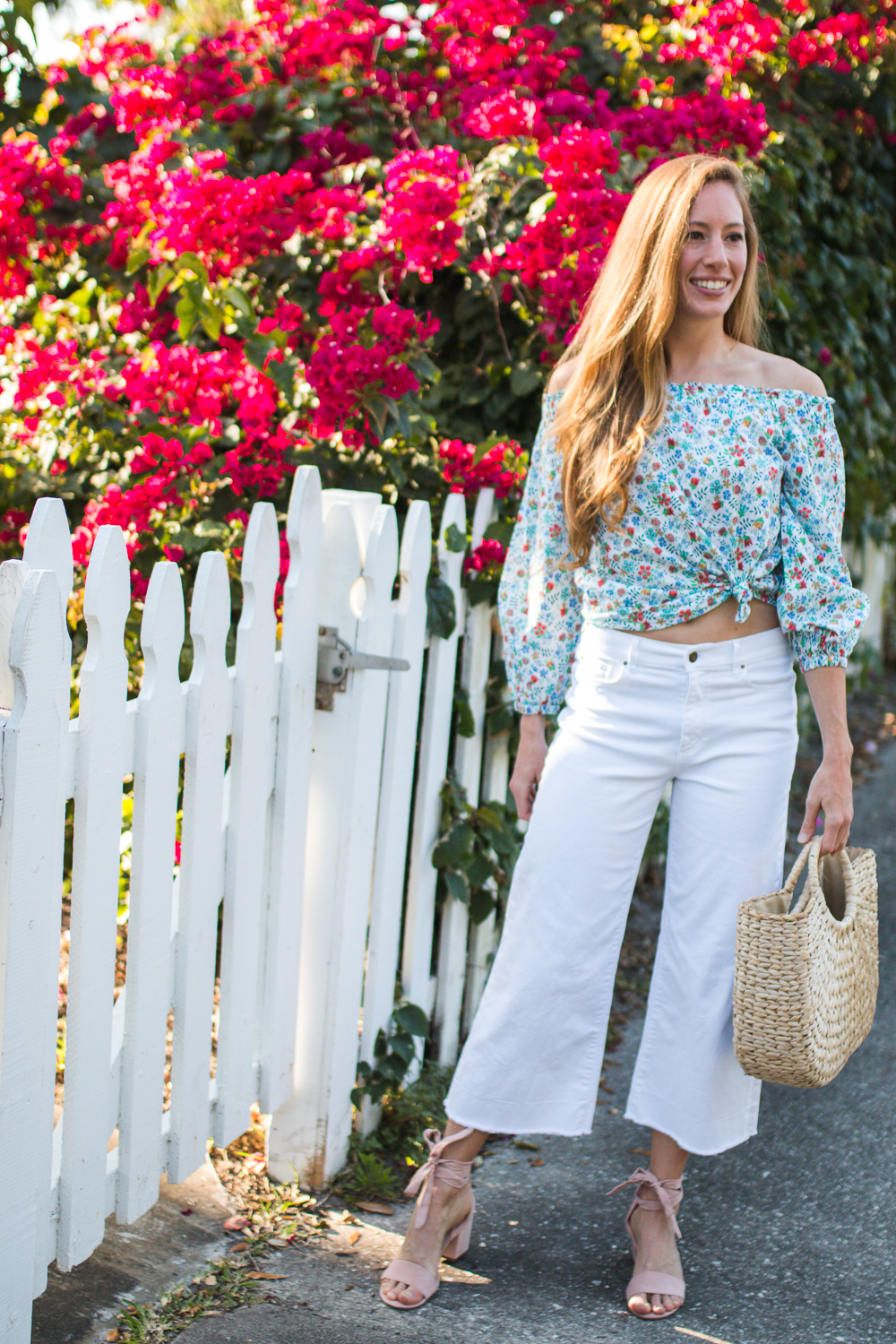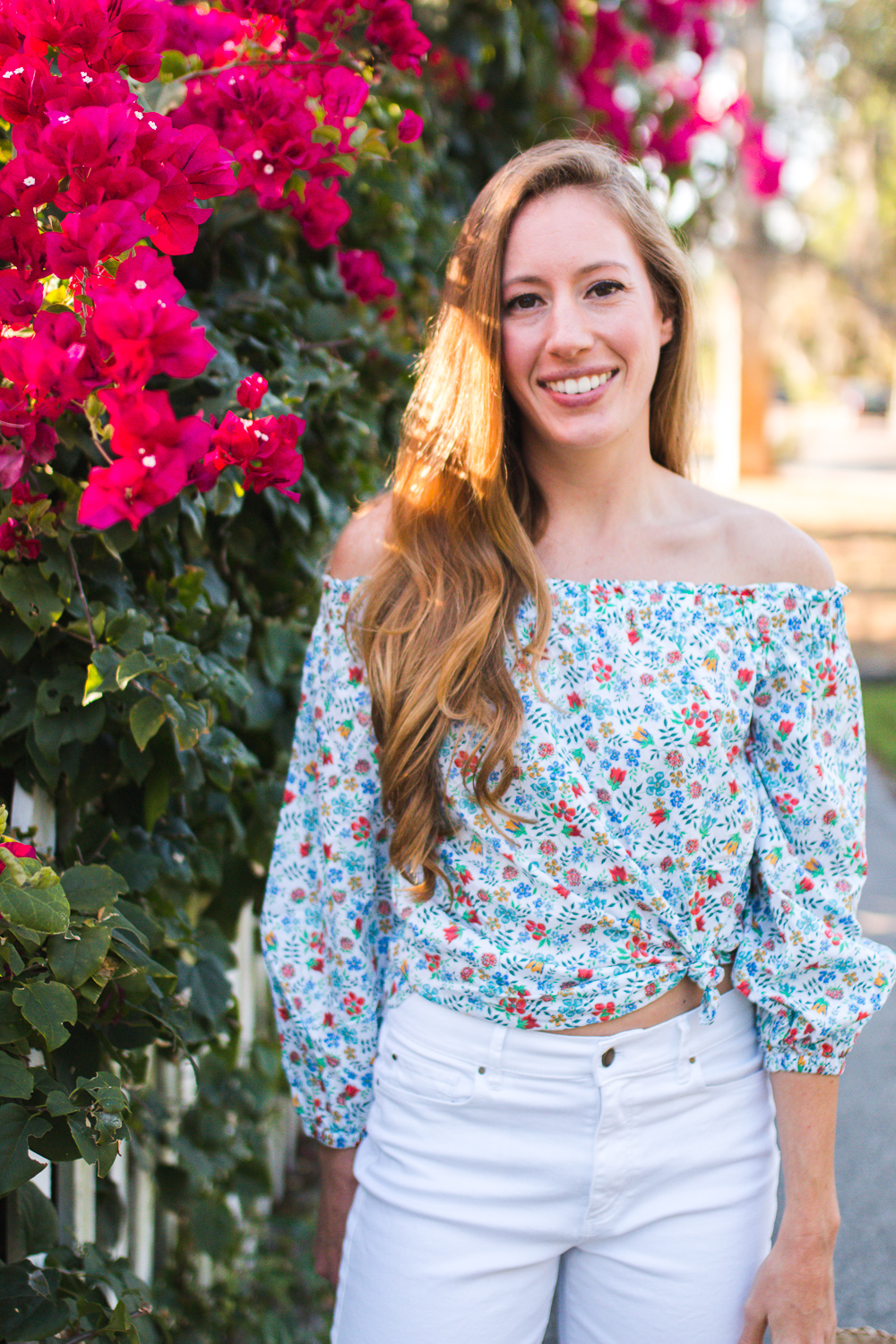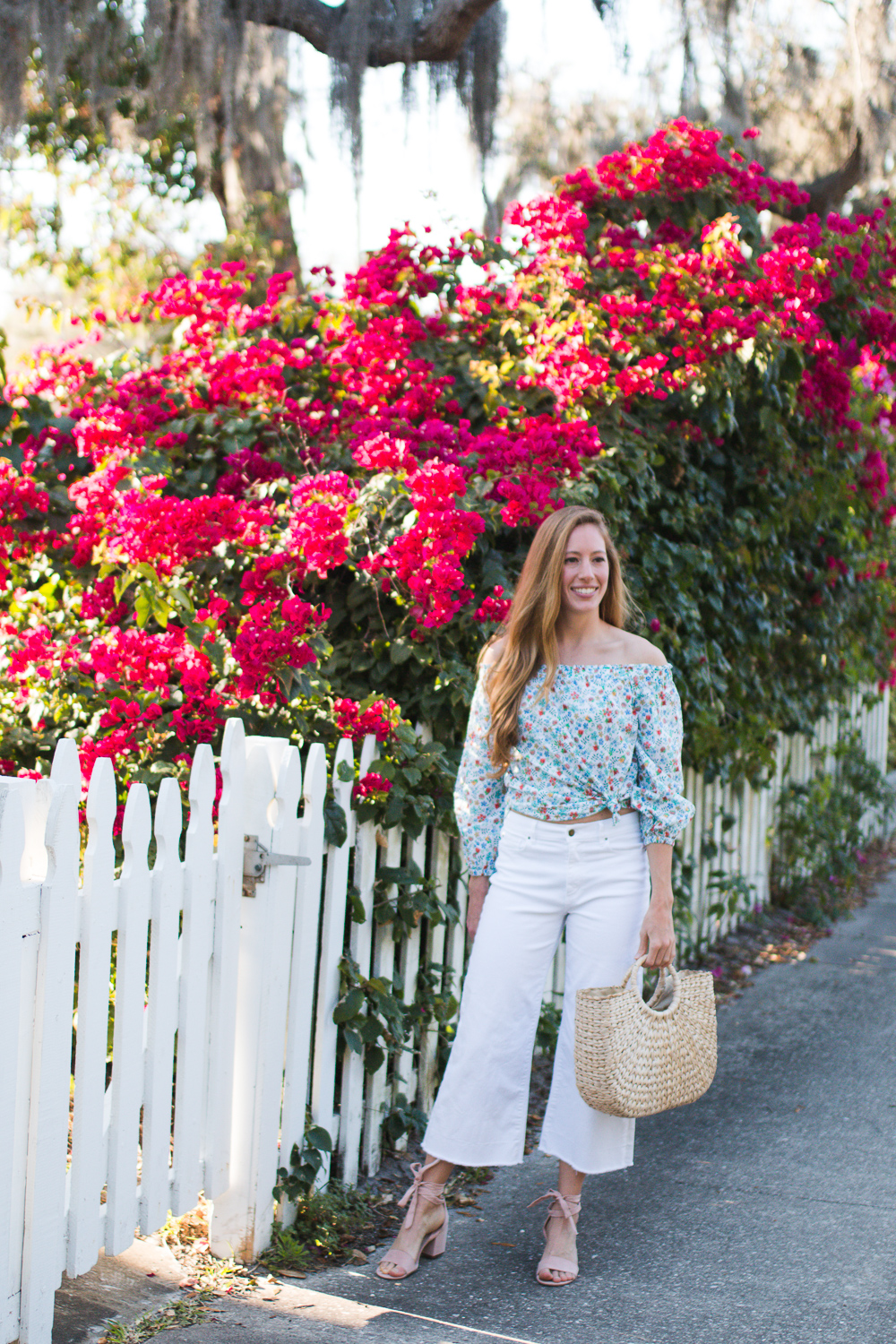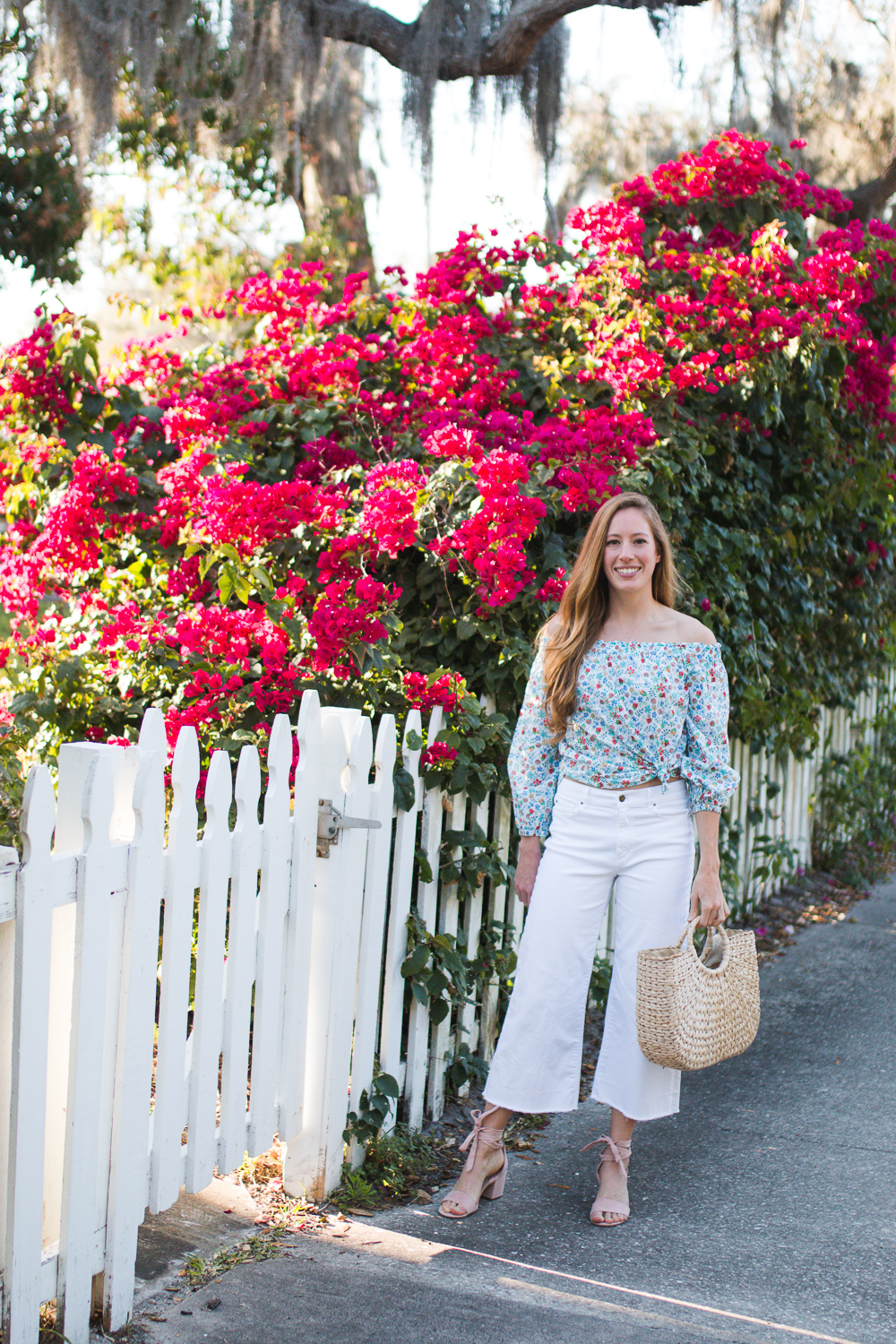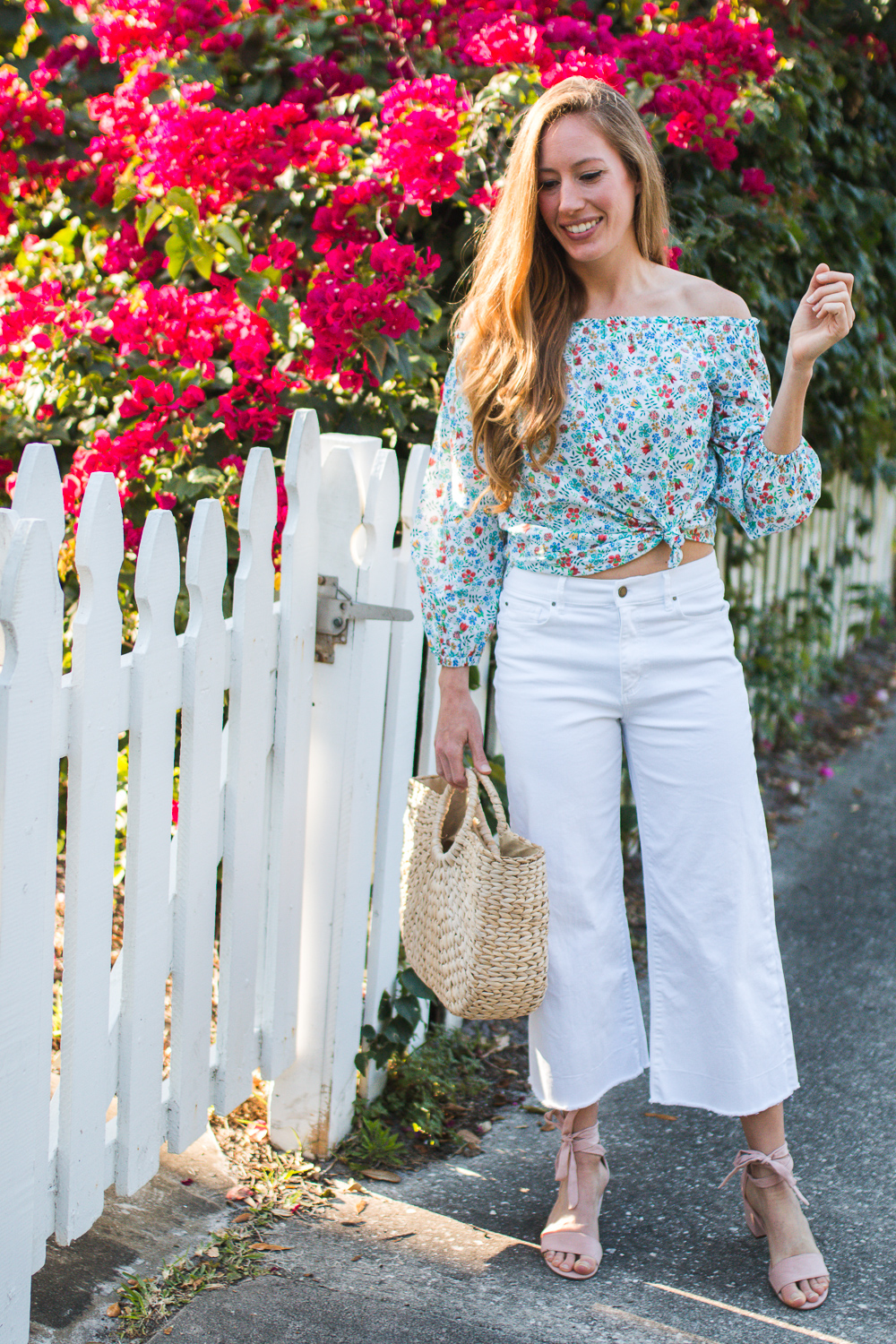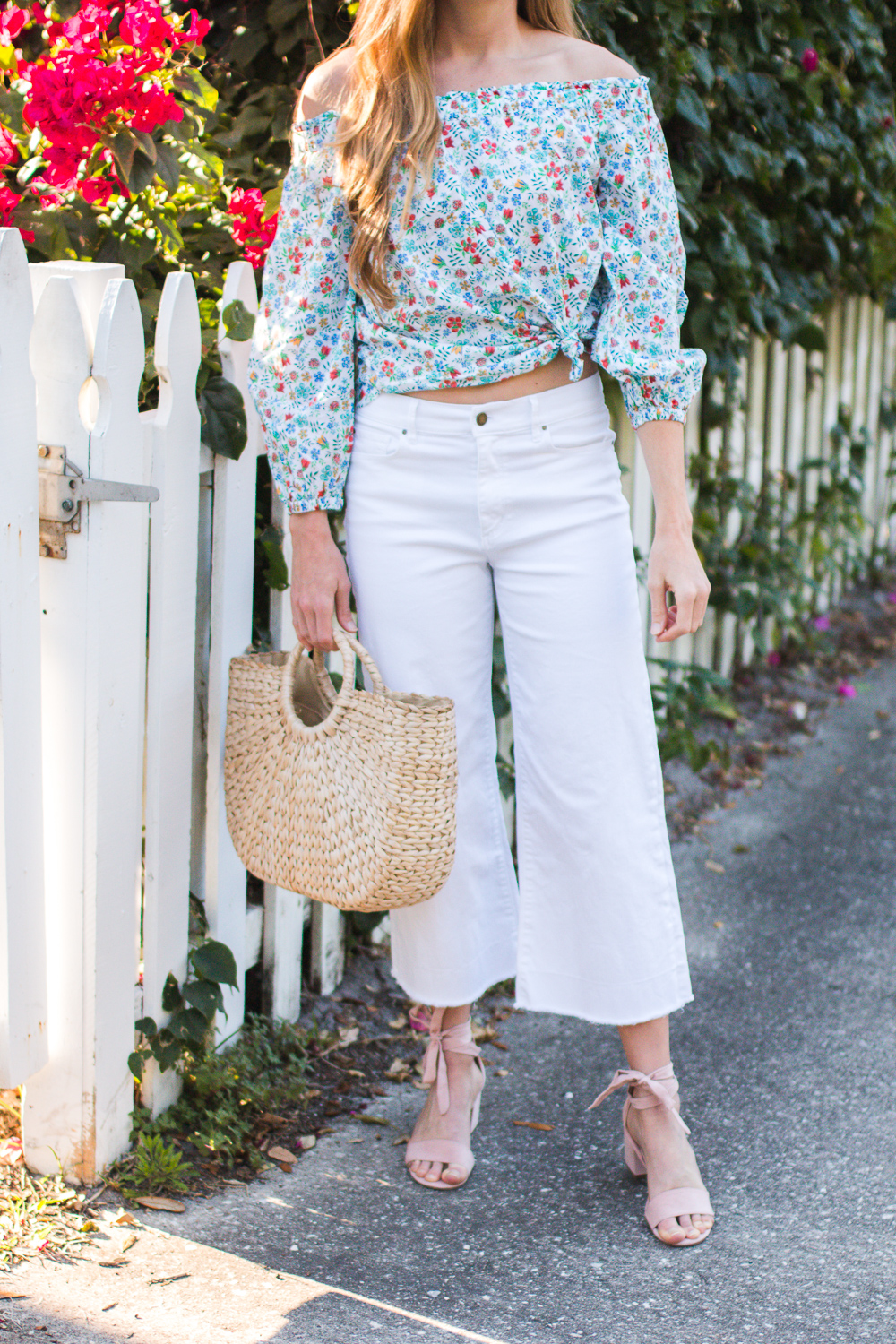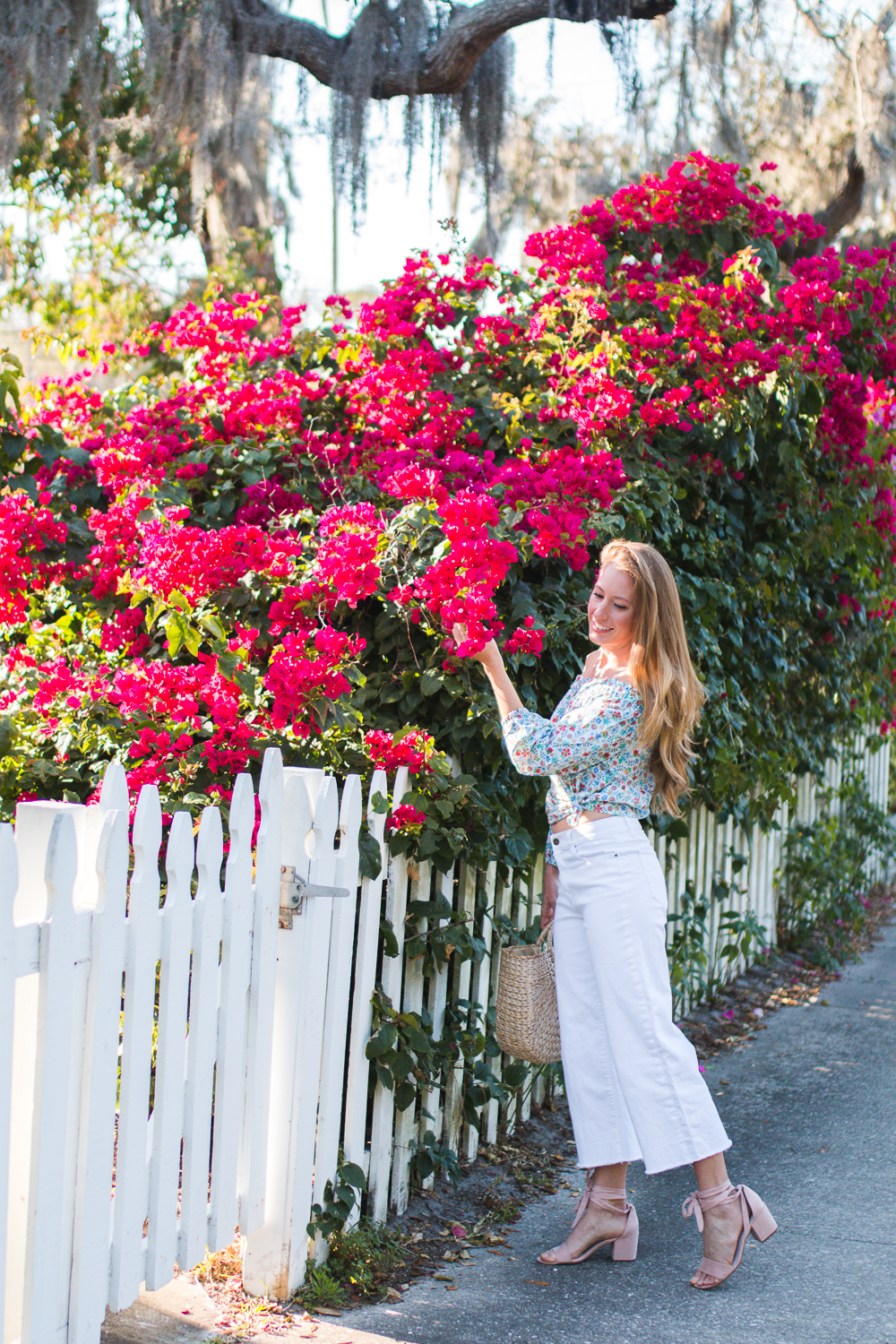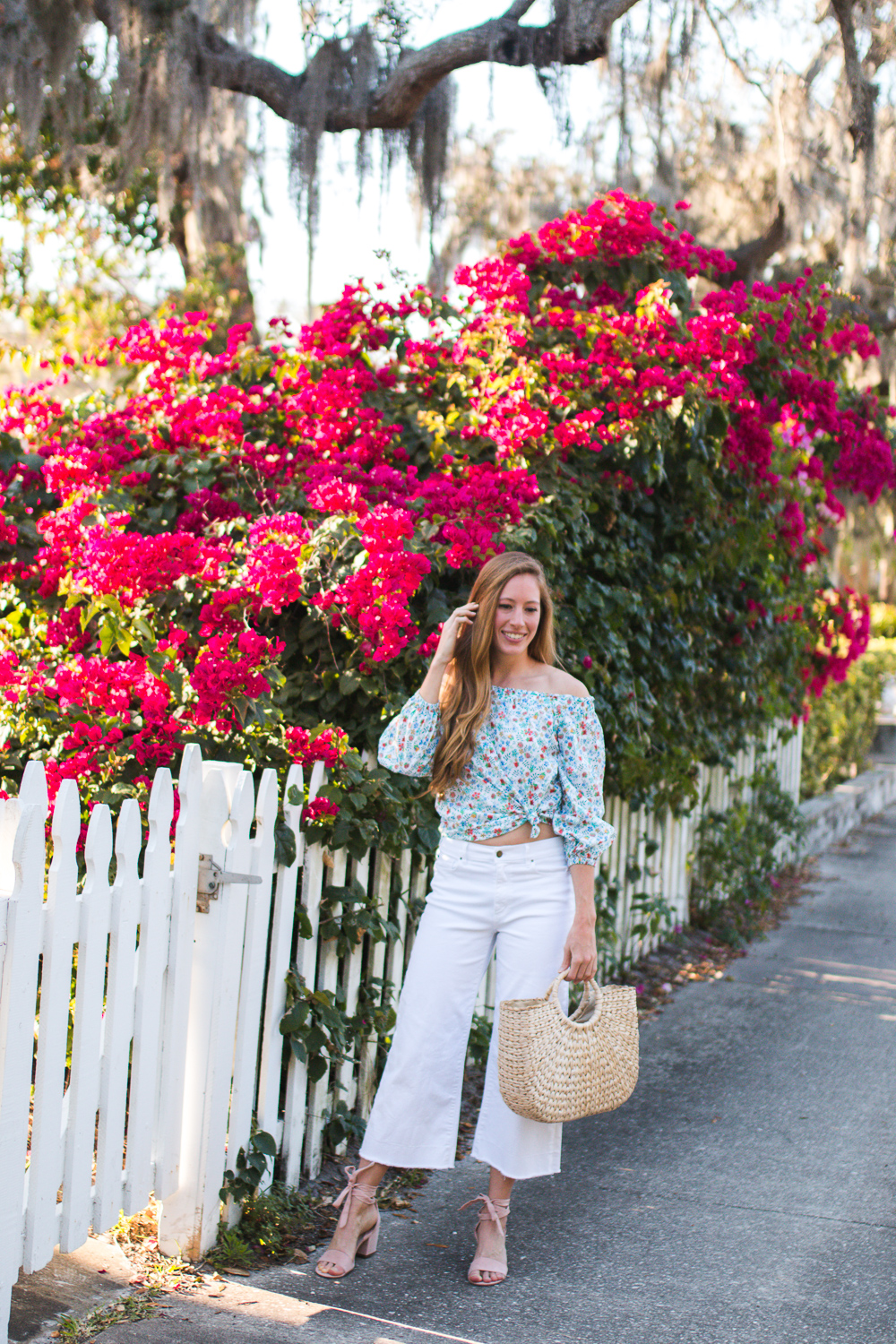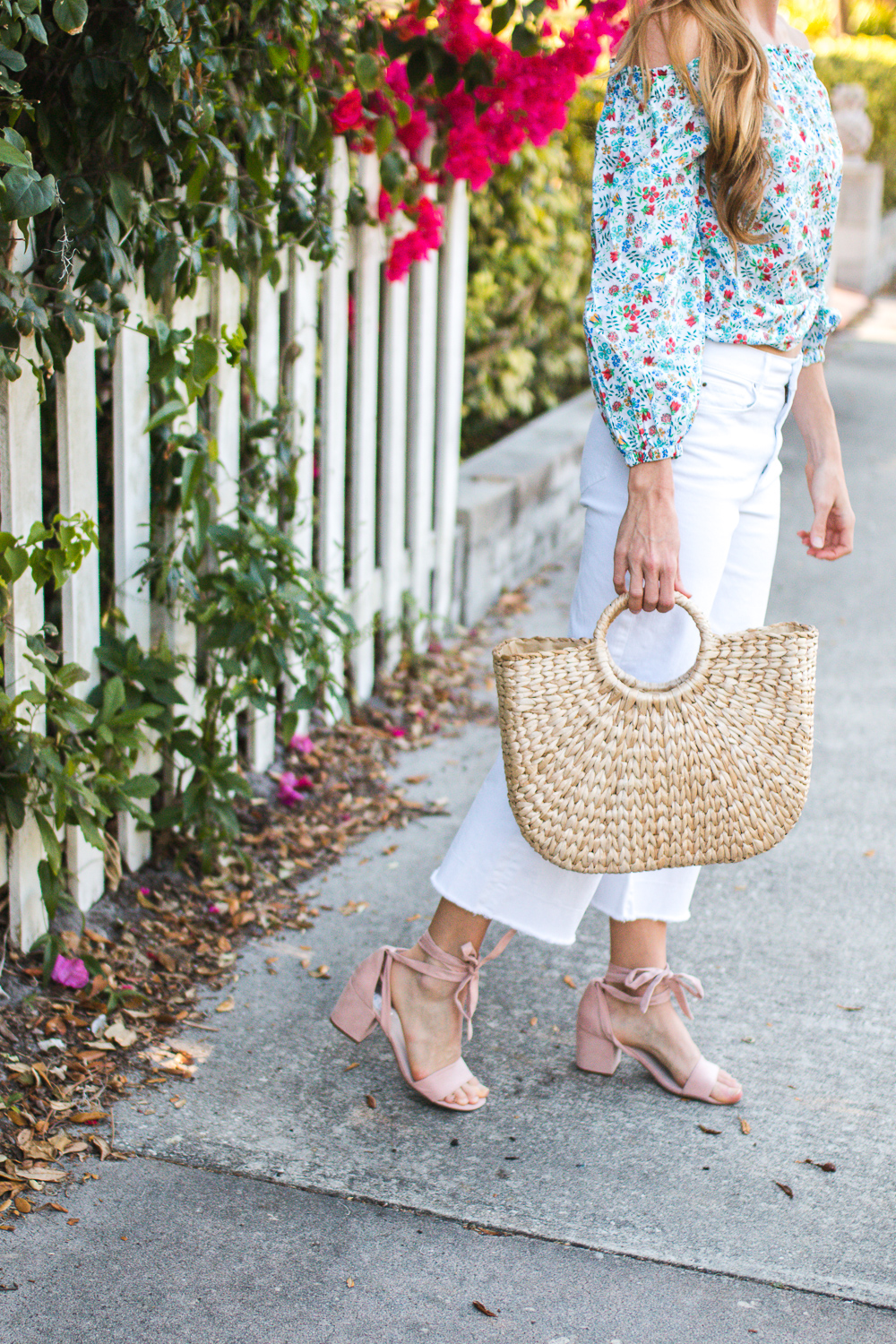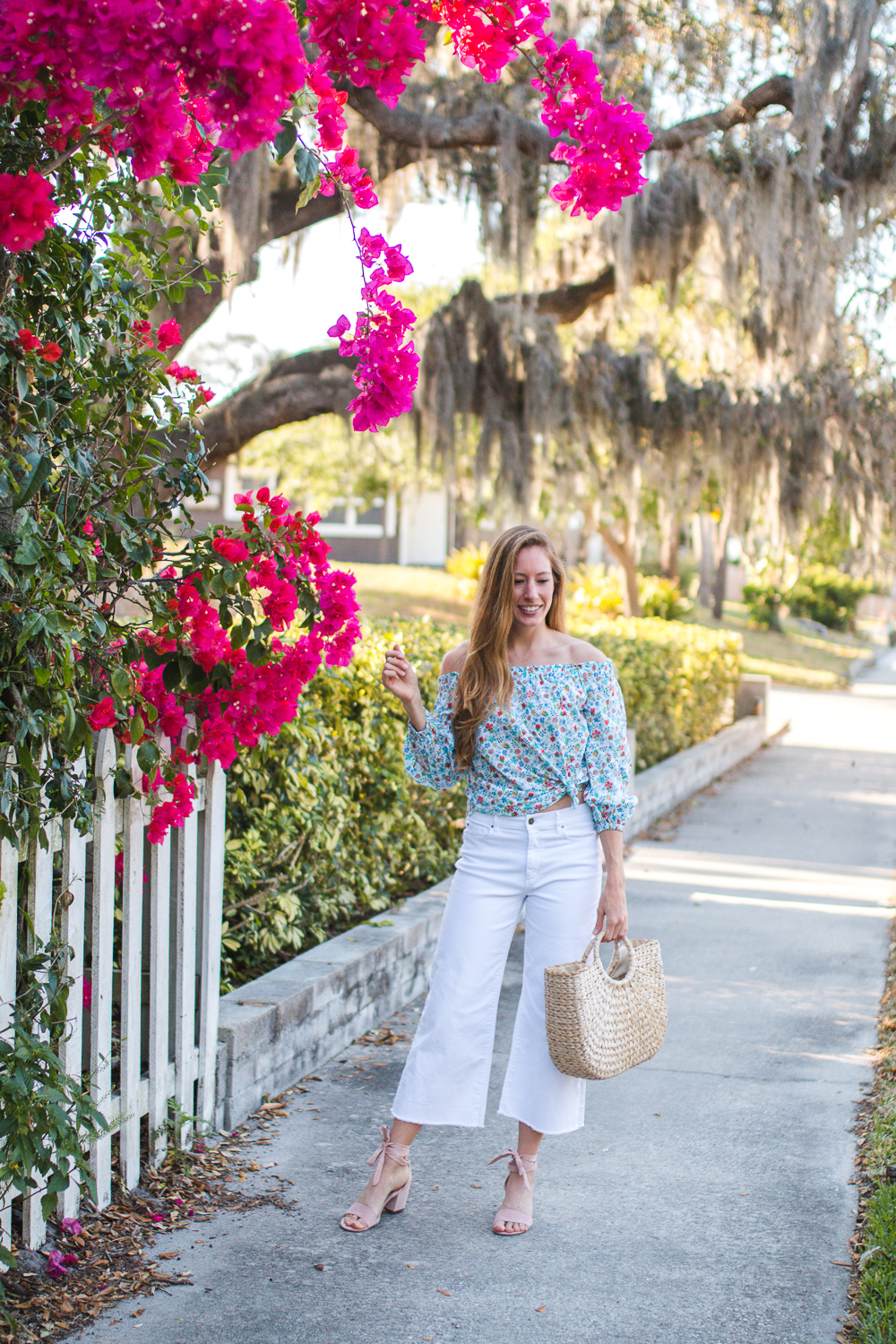 J.Crew Top (last season, super cute similar spring top here) | LOFT Pants (last season, similar style here) | Similar Pink Heels | Straw Bag
Aren't the flowers in these photos absolutely beautiful? Every week when I drive to the gym, I pass the newly blooming flowers. It's on a street called Pineapple located right on the river and of course its a beautiful scenic drive with big houses overlooking the water. A street called pineapple you say? Yes, I can't believe it either. There is literally a street called Pineapple where I live and I love it! One day I persuaded my sis to come take photos of me near the pretty flowers I see everyday. There's really nothing more humbling than parking at a park, walking a short distance and posing in front of a strangers house with beautiful blooming flowers while cars drive by.
How to Style Wide Leg Pants
Wear a fitted top. Anytime I wear my wide leg pants, I tend to tuck in a fitted shirt or do a simple front tuck.
Get a bit more fancy with a crop top. The pants are high rise, so I can even get away with wearing a slightly longer crop top to work and not worry about any skin showing or being dress coded (only slightly kidding ha). Try an off the shoulder or a ruffled top to give it a "date night" or more dressy look.
Pair with heels or backless loafers. I find that these two types of shoes help keep the look feeling classy and fun at the same time. I'm 5'8, so naturally the pants are shorter on me but heels will always make my legs appear longer than they are. If you are petite, heels or loafers both work. Cori of Dress Corilynn is only 4'11 and she looks adorable in her wide leg pants every time she wears them!
Rock the pants with confidence! The style is made to stand out, not blend in. Don't be afraid to try! Everlane makes the most beautiful pair of wide leg pants that come in over 8 colors. I am thinking about purchasing the pretty pink color for Spring/Summer. Looking at the reviews, it seems people of all shapes, sizes and heights seem to love them and have only positive things to say about their pants.
I am so happy because I am officially on Spring Break (#teacherperks!) and my birthday is in one week! That's 10 free days to do whatever I want! What exactly do I plan on doing? Everything ha! I have plans to go to the beach as much as possible with friends, lots of spring cleaning (aka getting rid of clothes I no longer wear), visiting my newly married friends in Tampa, doing some outlet shopping, celebrating my Birthday, eating at my fav local restaurants and resting!
What's something fun you used to do when you were on Spring Break? Do you plan on hopping on the wide leg pant trend? Let me know in the comments!
Recent Posts:
J.Crew Factory New Spring Arrivals