When it comes to buying new shoes, I am so picky. They need to meet my shoe standard and let me tell you, I have mighty high standards for shoes. First off they need to match with at least half of my closet, must last for more than one season and lastly they need to be extremely cute! Comfort is important but I have no desire for fancy Dr. Scholz  padded type shoes if you know what I mean. HA! As long as they are cute and don't make my feet bleed, I'm pretty laxed in that area!
I don't tend to buy tons of shoes in the winter but come Spring/Summer, it's so hard to not want them alllll! That's because it's now warm here for the next 8 months and sandals, heels and sneakers will be absolutely necessary. This season there are so many adorable pastel colored pairs I want to add to my Spring shoe collection including these favorite floral sneakers from a local company, these pink Sperry's boat shoes and these yellow bow sandals. Below I have included my absolute favorite shoes for Spring.
Shop My Favorite Spring Shoes
1. American Eagle Yellow Bow Sandals / 2. Target Blue Heels /  3. Target White Backless Loafer / 4. American Eagle Pink Sandals / 5. Blue Floral Keds x Rifle Paper Co. Sneaker / 6. Yellow Tie Wedge / 7. Gap Pink Backless Loafer / 8. Nude Woven Sandal / 9. White Floral Keds x Rifle Paper Co. Sneaker / 10. Pink Sperry Shoe / 11. Talbots Pom Pom Sandal / 12. Old Navy Nude Multicolored Sandal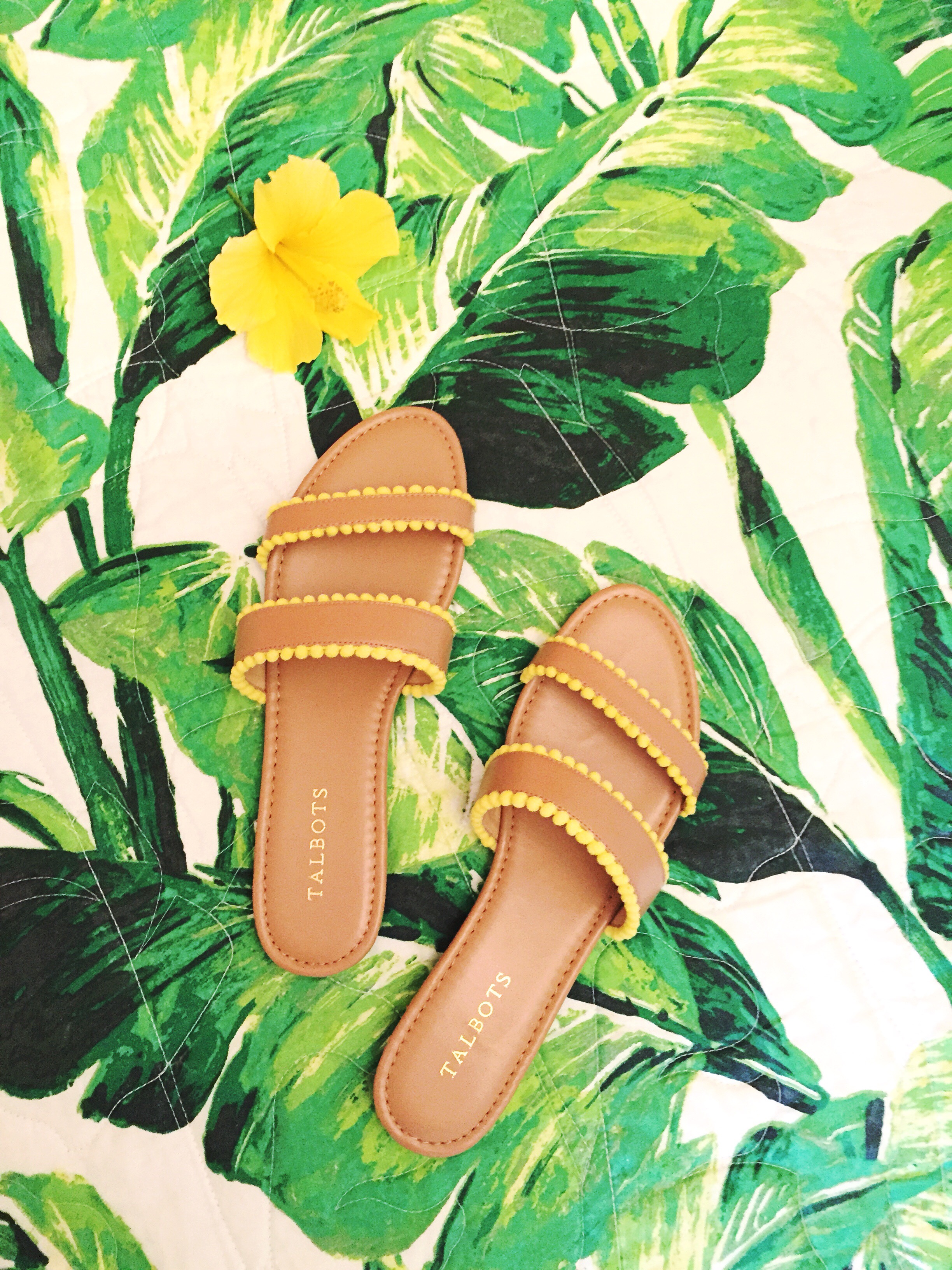 Before it's officially summer, I plan on buying these adorable yellow tie wedges because duh, their yellow and will literally match my entire closet and can be styled with summer dresses, shorts and wide leg pants. I already own these pom pom sandals that come in 4 colors pictured above (under $30) and plan to pair them with these J.Crew shorts, skirts and maxi dresses!
Keds and Rifle Paper Co. have collaborated and created the most beautiful Spring shoes you will ever lay your eyes on. My favorite from their collection are these white sneakers and these blue floral print sneakers, both under $80. They even make matching pairs for toddlers and babies. My heart could melt the little shoes are to darn cute. Rifle Paper Co. is actually based out of Winter Park, Florida, so it's always super fun to see local companies growing big!
All of these shoes can be dressed up, especially these adorable pastel blue heels you can wear during Spring and Summer!
Shop Spring Shoes:
Anyone else extremely excited for Summer? I'm dying to know your favorite pair of shoes. Let me know in the comments!