Incorporating color into my wardrobe is a no-brainer. I live for color. Like I mentioned in my blog re-branding post, I want to try my best to bring you, my sunny readers, useful and helpful style advice. Instead of just telling you how adorable this J.Crew skirt is (which is absolutely is), I am here to give you advice on exactly why these colors work well together.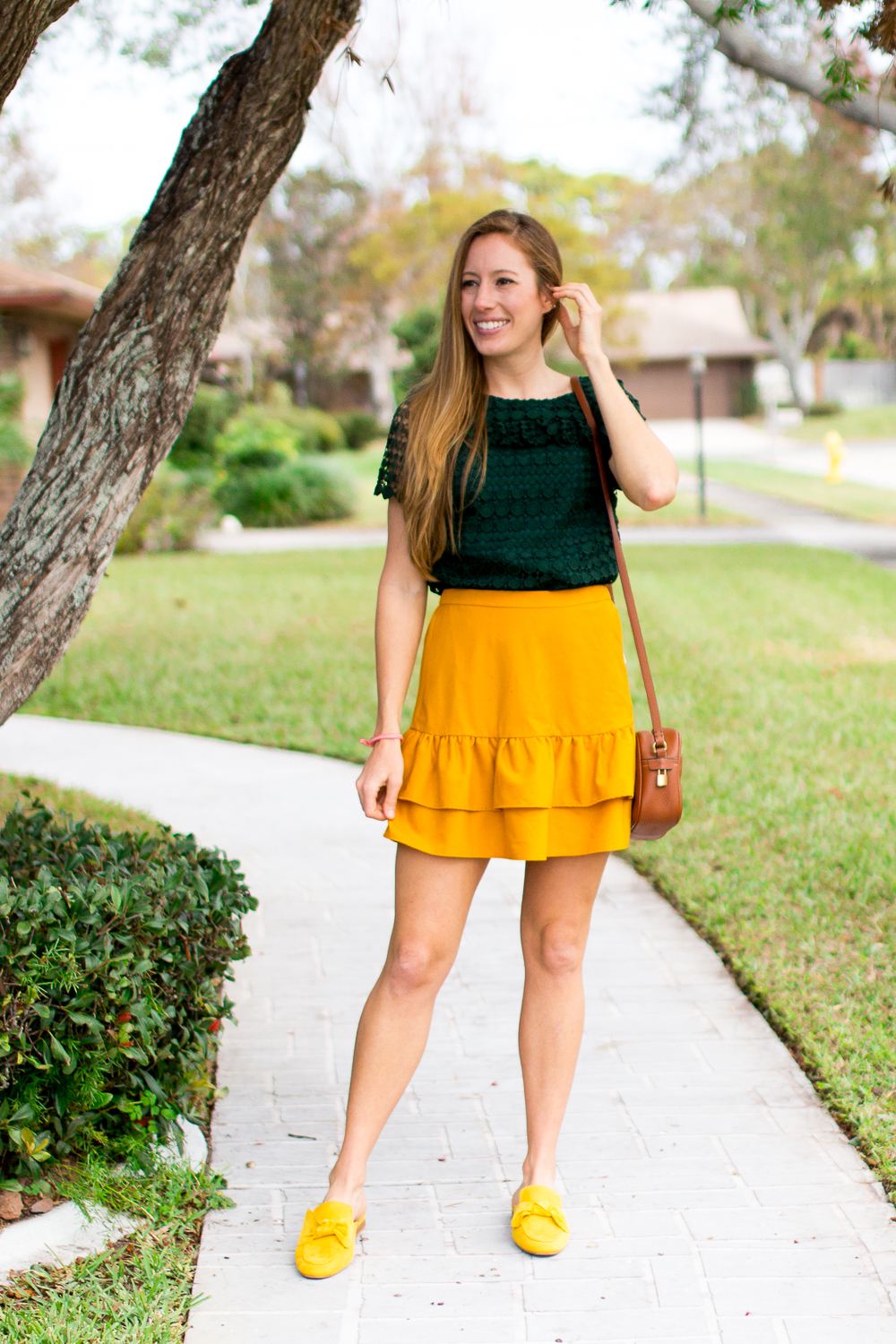 Outfit Details:
Talbots Top (similar here) | J.Crew Skirt | Simialar Backless Mules | J.Crew Bag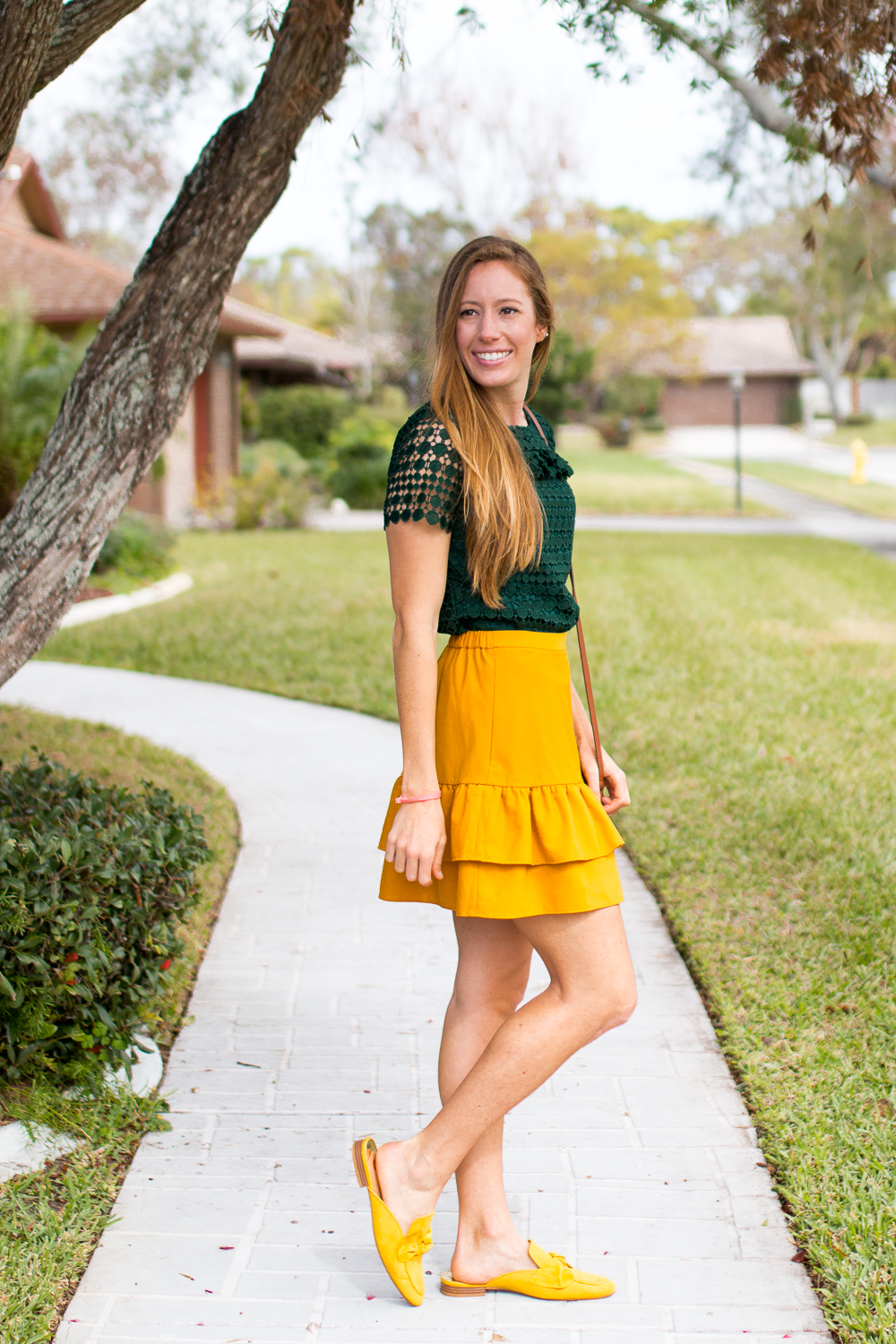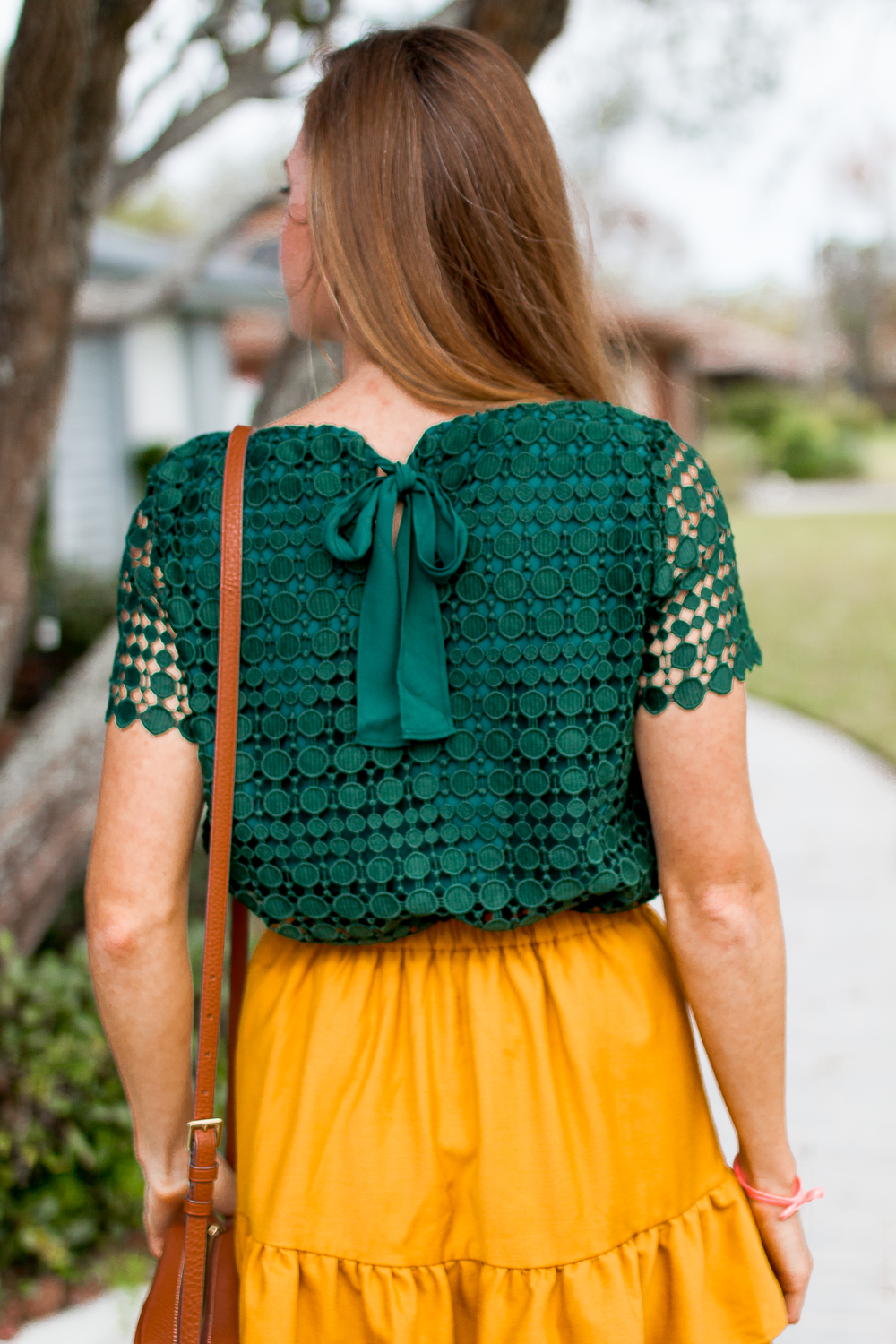 Color is something I am not afraid of or tend to shy away. I welcome it with open arms in my wardrobe. Since I re-branded my fashion blog (read the full post here), I've started to ask myself questions like, "why do I wear what I wear" or "how exactly do these colors mix well together". Us fashion bloggers can give you a clickable link and telly you to go buy something because it's oh so cute. BUT, thats just the start. I'm here to give you more than that.
The biggest question I get asked constantly by my friends is, "Katie, I want you to style me and go shopping with me." Fashion is an art I have perfected over the years (and am still learning). I started as a tiny girl watching how others dress, reading books and magazines and memorizing photos of how colors pair together. Now, it comes second nature to me. Honestly, I think it also has to do to largely with my lack of seasons. Since I don't really experience seasons living in Florida, I have learned to dress like them!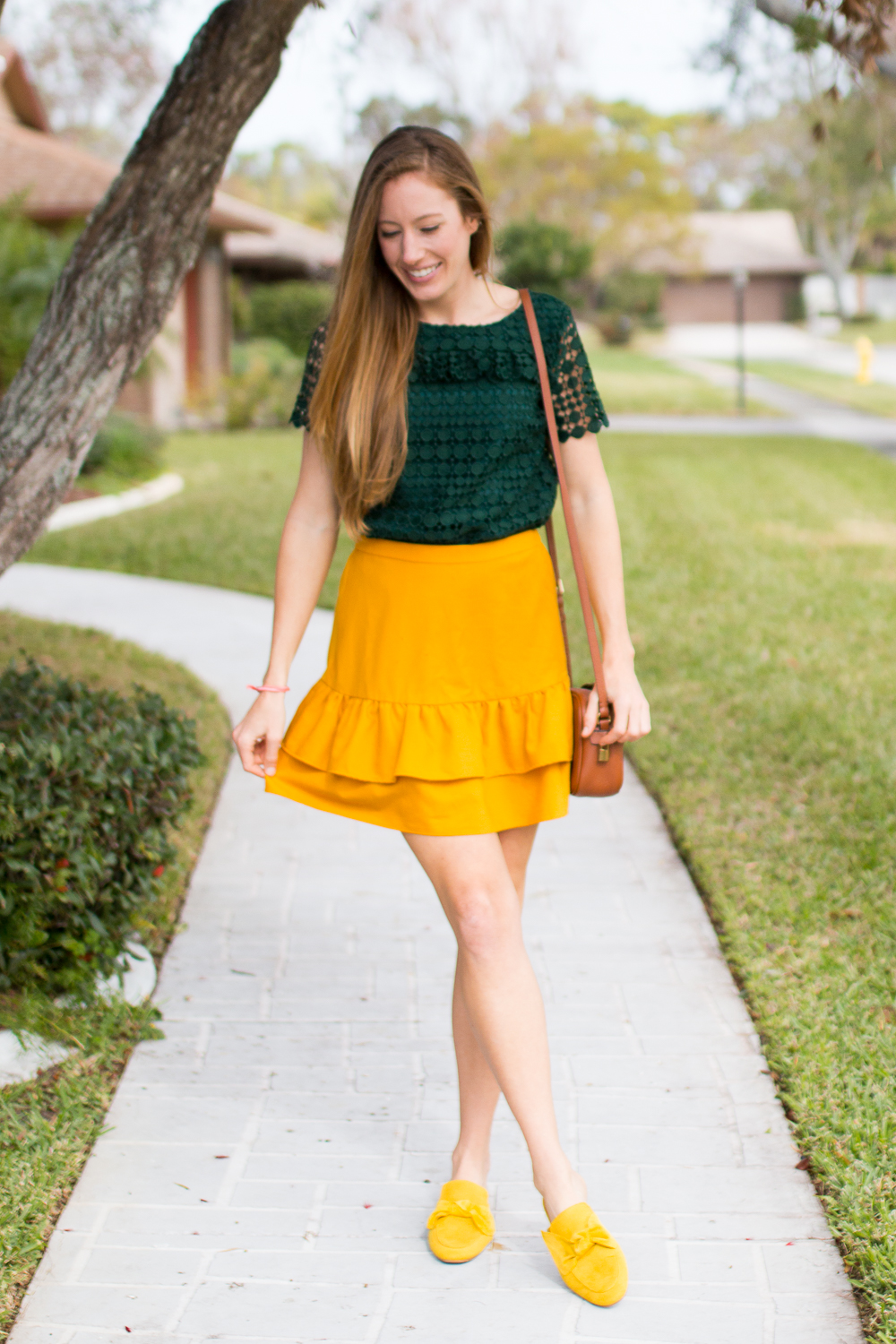 Without boring you to death about color theory and the science behind why colors work well together, I'm going to do my best to explain the quickest way I can. I could talk about color forever! Before I explain why my outfit colors work, I'm going to give a quick lesson on colors:
What are Seasonal Colors?
Let's take a look at what colors are seasonal before we jump in. I want you to visualize yourself in each season. Think of the colors you see or would technically see if you were fortunate enough to experience all four seasons (I unfortunately am not ha). Also, try and think of what holidays or events happen in each season because color is heavily influenced by them.
As a person who has never really lived in a true "fall/winter" I really think I've learned to adapt to my warm weather Florida life by wearing specific colors even though it's not cold out. Because I experience such short seasons in Florida, I'm going to pair fall/winter and spring/summer together.
Fall/Winter Colors:
In the winter I think of snow, frozen lakes, Christmas, and dead grass. These colors translate to several cool + a few warm colors. Fall makes me think of leaves changing colors and eventually empty trees. In fall and winter I wear lots of orange, burgundy and yellow.
Winter: wintergreen, jade, ruby red, teal, navy blue, violet
Fall: mustard yellow, emerald green, deep burgundy, burnt orange
Mix and match both fall and winter colors together or add neutrals.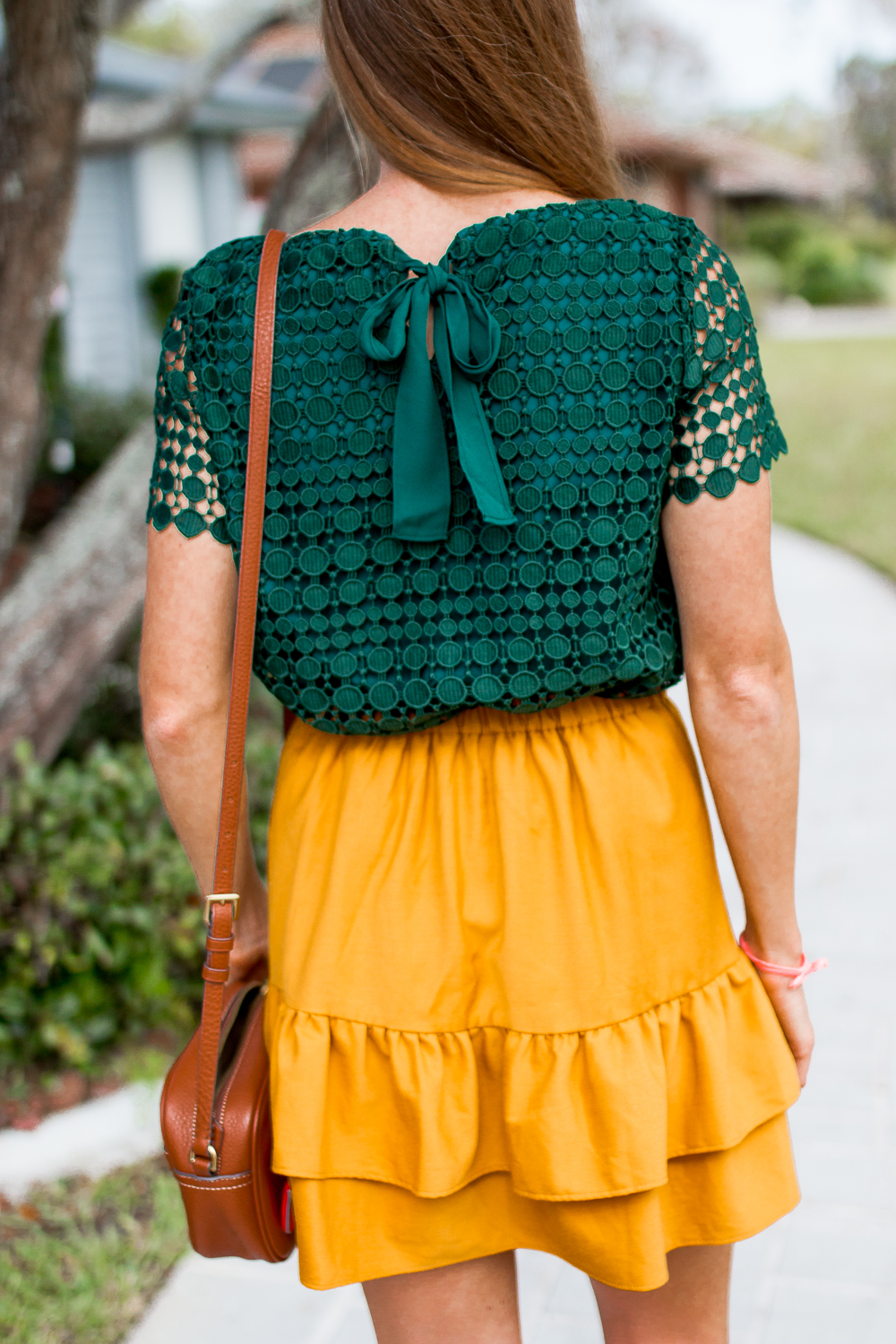 Spring/Summer Colors:
Come Spring, the joy of Easter, millions of flowers blooming (hello allergies) and the sun peeking out more brings a significant amount of pastel colors. I don't care what Spring color trend is out there or how many times companies will make pastel colors seem new, Spring will always = pastel.  Summer is my favorite season and the one I experience almost 8 months out of the entire year. I often think of sun, the ocean, and lots of bright happy colors. My whole wardrobe is heavily influenced by summer + spring colors.
Spring: pastel colors (yellow, pink, blue, green)
Summer: highlighter colors (yellow, pink), blues (light and dark) , white
Why My Colors Work Well Together
Now onto the good stuff. First off, yellow is a color I wear all of the time and would consider it a "neutral" in my wardrobe. Although you would find not valid source telling you yellow is neutral ha! Sunshine Style is my blog name for a reason!
Let's step back into Elementary School for a short bit. All primary colors (red, blue, yellow) pair well with secondary colors (orange, violet, green). For all those visual people, here's a color wheel that shows you all of the colors I just mentioned. My yellow skirt pairs well with green because green is a secondary color and yellow is a primary color.
To me, the J.Crew skirt in this look steals the show with it's super cute ruffles! It also comes in grey, blue, and green and is under $50! Don't judge me, but I own this skirt in three colors because I LOVE it so much. It's super flattering and still classic yet girly!
Coming in at a close second is the adorable bow detail on my green top. I found a similar top that comes in white here and green here! I would categorize this outfit as fall/winter because of the colors. The top was purchased on major end of winter clearance. Emerald green is a winter color and reminds me of a Christmas tree. Since I wear yellow way more than green, I used the yellow skirt as my base color and decided to add green when I styled my outfit.
What other colors to pair with yellow: navy, burnt orange, white, cream, red, dark and light denim
Fall/Winter Color Combos: yellow and green, yellow and orange, yellow and blue, yellow + dark denim
Spring/Summer Color Combos: yellow and blue, yellow + neutral, yellow + light denim, yellow + white
What Are Neutrals?
Last but not least are neutral colors. One, they match with anything and are super easy to style. Two, you can wear neutrals during all seasons and they never go out of style. Neutral colors can be worn year round with pops of color. They make getting dressed easy and why so many people love wearing jeans and a colorful top. I'm wearing a neutral top and colored skirt pictured above. Last worn here.
Neutral Colors to wear year round: white, ivory, nude, chambray (denim), tan, grey and black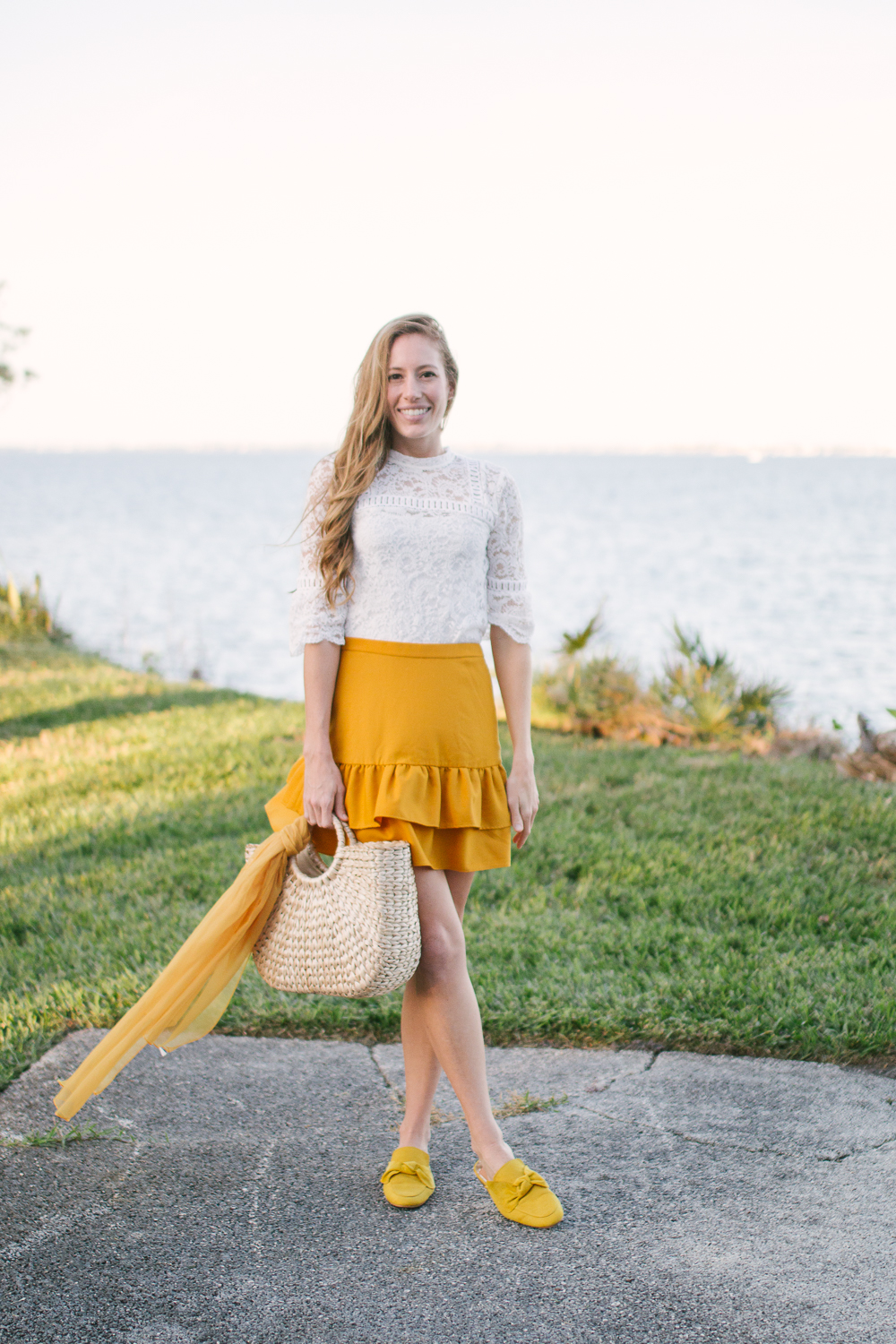 Outfit Details:
Talbots Top (similar here) | J.Crew Skirt | Simialar Backless Mules | J.Crew Bag
How to Mix and Match Colors for Each Season
To make the outfit more summery, I would add a white top with the yellow skirt and pair it with neutral accessories or add a pop of color using just one color, like I did above with my yellow shoes.
For winter or a more Christmas look, I would pair the emerald top with a pair of white jeans, darker accessories like my trusty J.Crew bag and glittery boots. In the summer I would stick with white shorts and white or light neutral accessories.
There's so much good info that can go into this post regarding color and how to style it correctly. I am going to make a free printable worksheet in the coming months that will help you get dressed and make it easy for you to pair different colors together. Talking about color gets me so excited!
Golden Rule: You can never go wrong mixing a neutral with a color! Don't be afraid of color! Instead of mixing two vivid colors, pick one color and one neutral and pair the two together with neutral accessories. Start small and slowly ease into a more colorful wardrobe!
Do you love adding color to your wardrobe or prefer more of a neutral wardrobe? What is your favorite color to wear?
Shop the Look:
Don't forget to pin this image to Pinterest: