Christmas is in full swing! There's also tons of cute "swing" dresses in today's post. No pun intended, ha. If your shopping for holiday party dresses on a budget like me, you have found the right place! You will find options under $50, $100 and $150 and I also included a few rompers because I just couldn't resist.
There are so many dresses in festive hues like burgundy, blush pink, white and yellow that are perfect for Christmas day, holiday parties and Christmas Eve church services. When your picking out dresses for the holidays, go for velvet, lace and polyester fabrics! Most of these dresses can also be worn into the New Year, for Valentines Day and all throughout spring and summer. I am all about that versatility!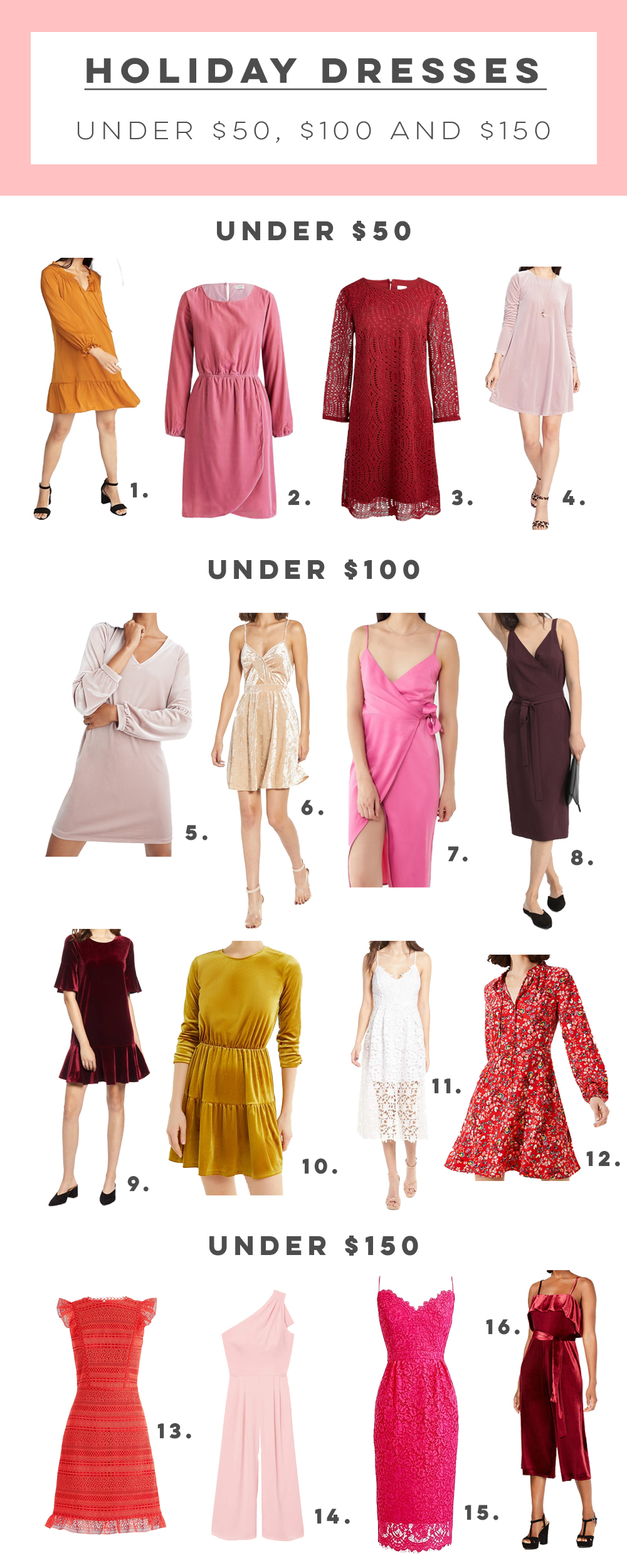 Under $50
1. Old Navy Yellow Swing Dress ($37)
2. J.Crew Factory Pink Velvet Dress ($50)
3. Red Lace Shift Dress ($50, comes in black also!)
4. Light Pink Velvet Swing Dress ($33, comes in four colors)
Under $100
5. Madewell Velvet Balloon Sleeve Dress ($79)
6. Cutout Velvet Dress ($55)
7. Urban Outfitters Pink Wrap Dress ($79)
8. Everlane Plum Wrap Dress ($100)
9. Burgundy Ruffle Trip Velvet Dress ($79)
10. Urban Outfitters Tiered Yellow Velvet Dress ($69)
11. White Lace Spaghetti Strap Midi Dress ($90, comes in 10 colors!)
12. LOFT Red Flair Dress ($90)
Under $150
13. J.Crew Red Ruffle Sleeve Dress ($150 – use code 48HOURS for 48% off until 12/5)
14. Gal Meets Glam Jumpsuit (under $198, just couldn't leave this beauty off the list!)
15. J.Crew Pink Lace Spaghetti Strap Dress ($100 – use code 48HOURS for 48% off, comes in four colors!)
16. Red Velvet Jumpsuit ($116)
My absolute favorite's are this pink velvet J.Crew Factory tulip dress ($50), this burgundy velvet shift dress with a ruffle on the bottom ($79), and this hot pink J.Crew lace dress (on sale for $100!). I kind of have this thing for velvet during the holidays! If I wasn't on a tight budget this year, this Gal Meets Glam Jumpsuit would already be hanging in my closet. It's so classic and elegant and a piece I would pull out for years to come!
Shop 16 Holiday Dresses for a Girl on a Budget
Which dress is your absolute favorite?! Let me know in the comments!
Recent Posts
Sweaters to Wear During the Holiday Season
The Secret to Styling Faux-Leather Leggings