Happy Friday sunny friends! Today's post is all about how to style a lace top for fall. I wear my lace top non-stop! It's on constant rotation in my wardrobe and I'd even consider it a fall staple. Years ago, I would have never pictured myself wearing a lace top but it's so versatile and elegant! I decided to show you three ways how I typically style my lace top. Lets get started!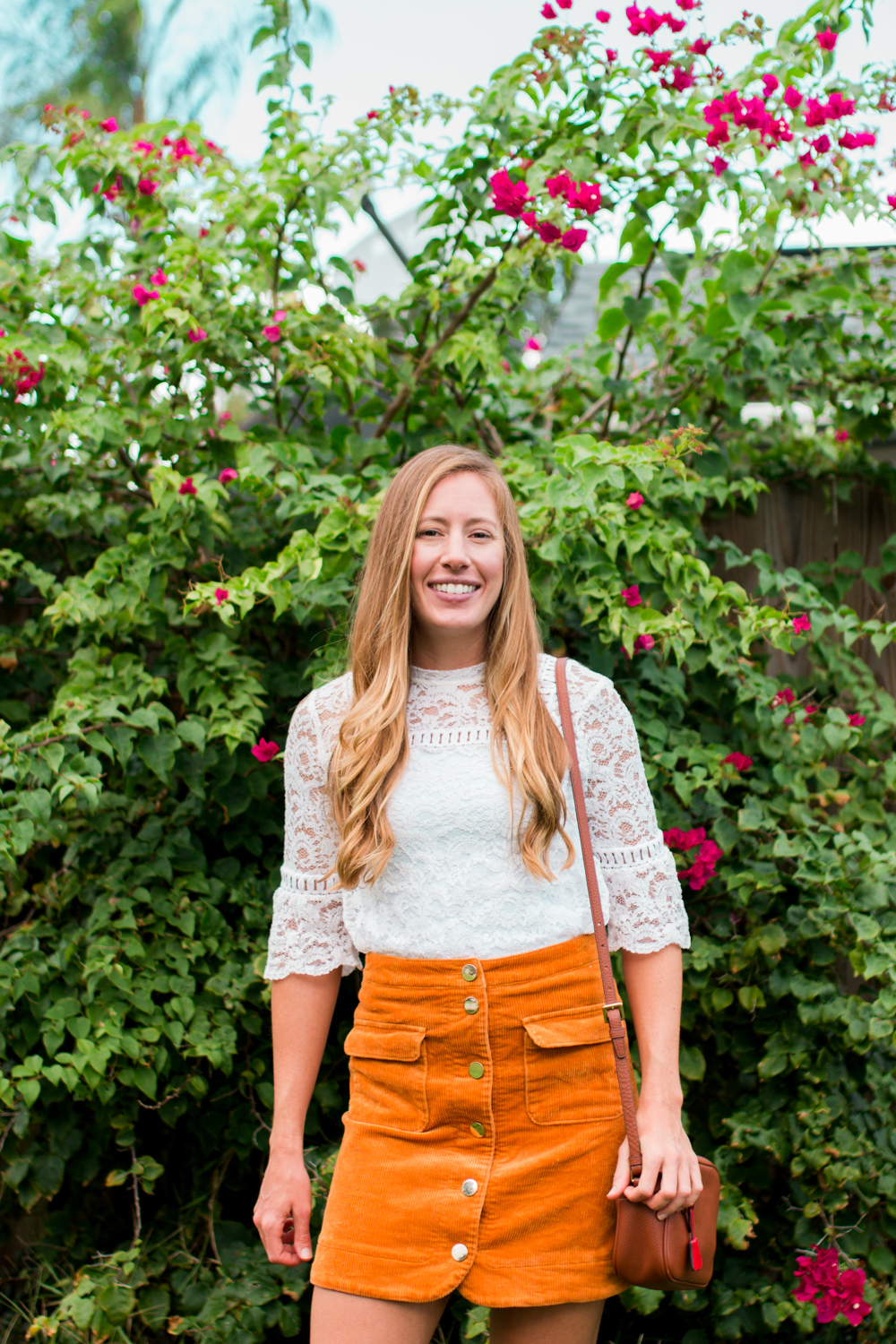 Outfit Details:
LOFT Lace Top (similar top here, on sale under $40!) / LOFT Corduroy Skirt (similar skirt here) / J.Crew Bag
Lace tops are the best because they have so much texture! They pair best with leather, corduroy, suede, wool and denim material for fall! See how I last styled the top I'm wearing with a wool skirt here. Is it just me or does lace remind you of an old school table setting that a grandma would have…HA! The more I stare at these photos,the more that thought crosses my mind. Clothing photographs so differently than when you look at an outfit in the mirror! Most likely I just stared at these photos way to long because I love this top, especially with the elegant high neck line!"
The top I'm wearing is from last year but I am loving this long sleeve lace top for under $70! J.Crew always has really beautiful lace pieces for the fall and winter including this sleeveless top that comes in seven colors and this short sleeve lace top in pink (comes in four other colors and is also 25% off with code READYTOPARTY)! Lots of color options are always good in my opinion! If your on a budget like I am right now, this simple lace top comes in four colors and is on sale under $40!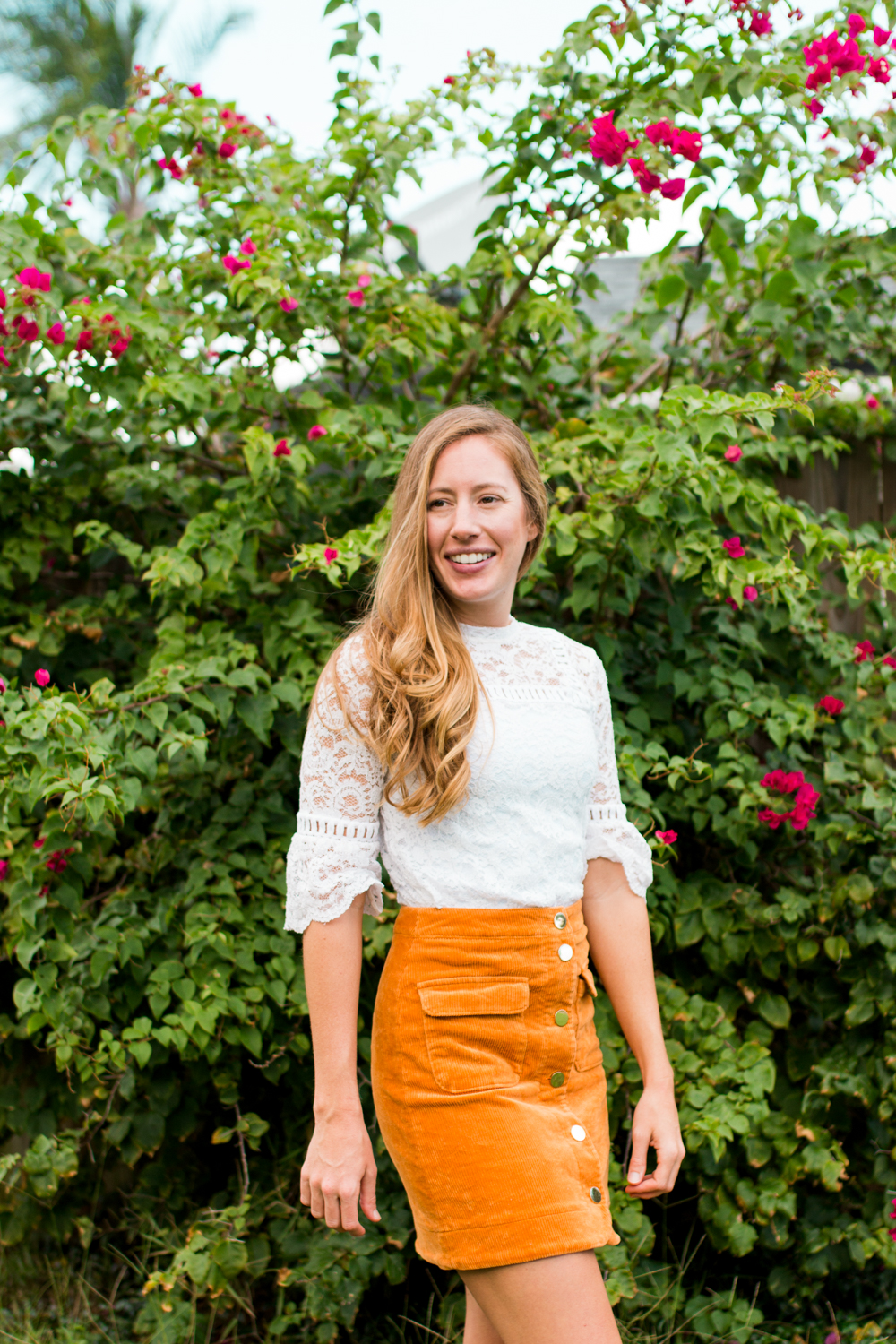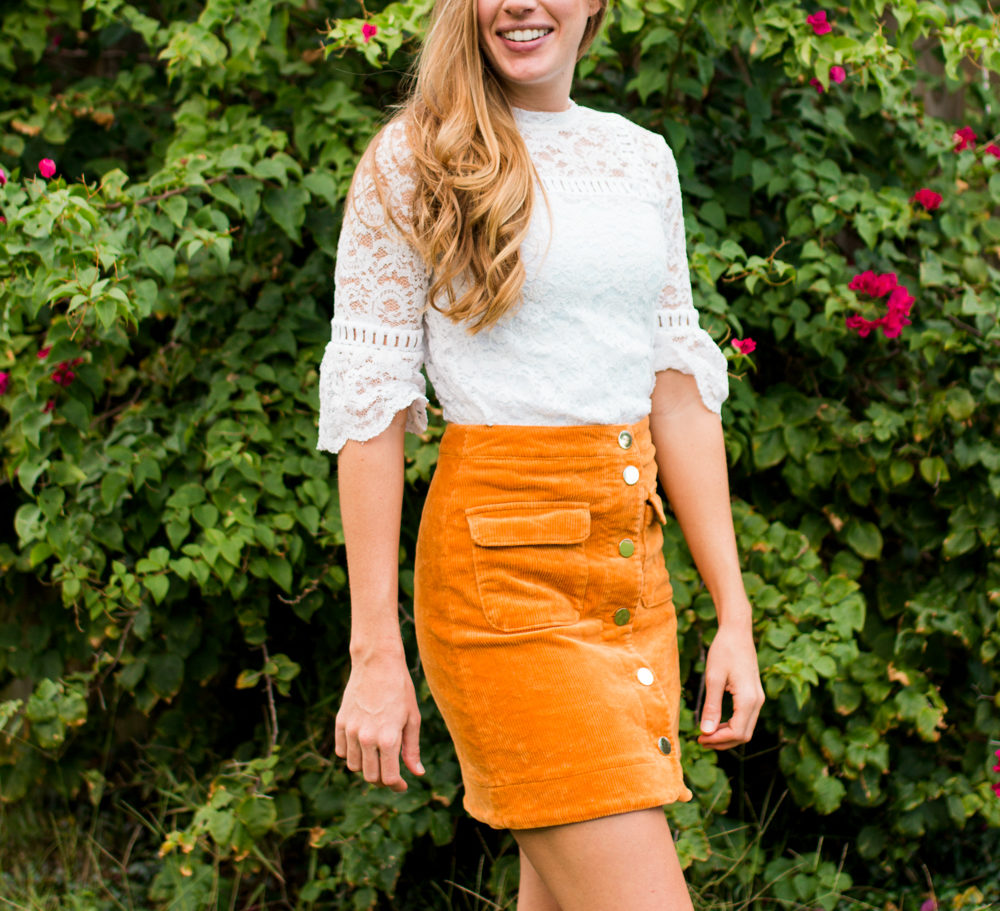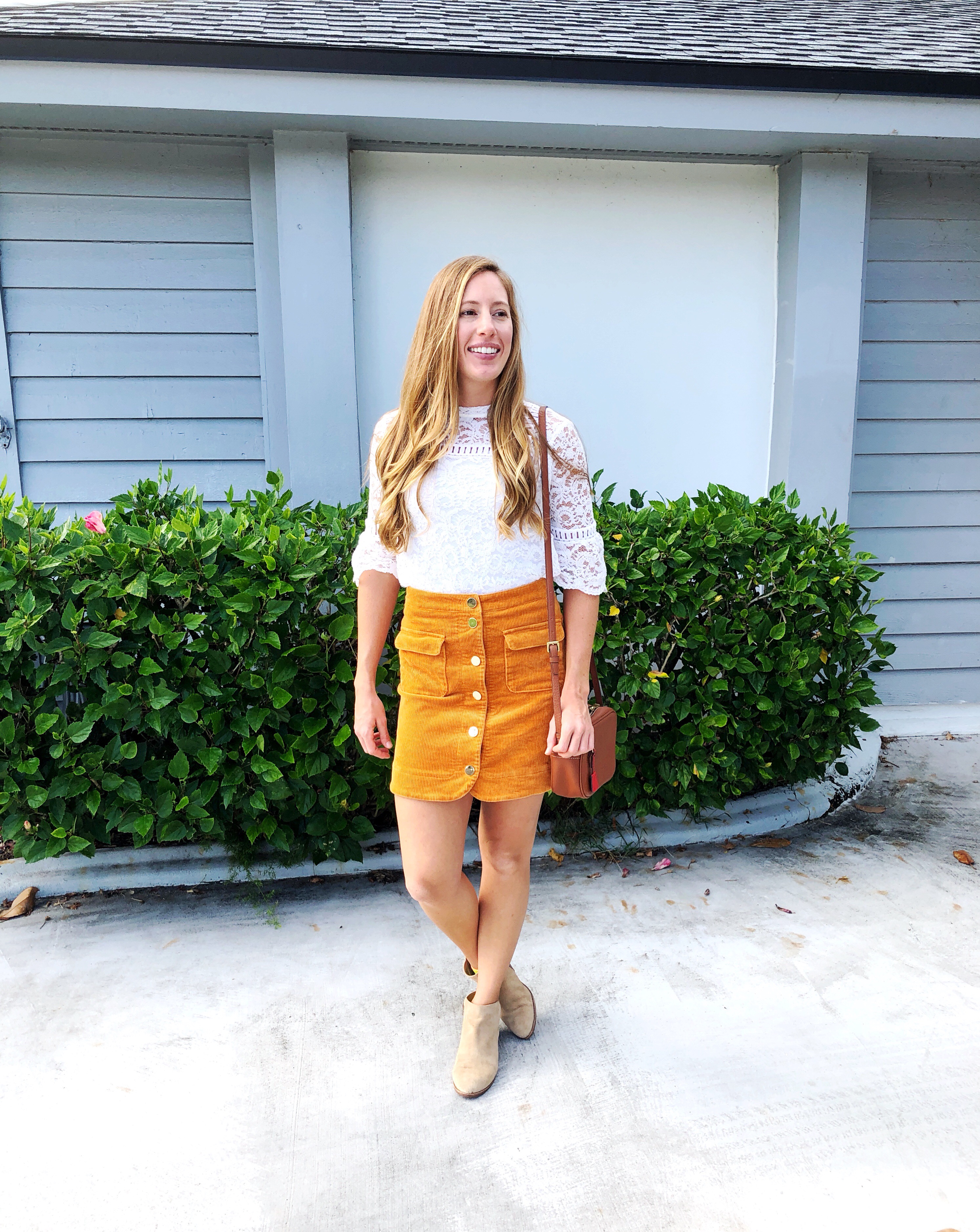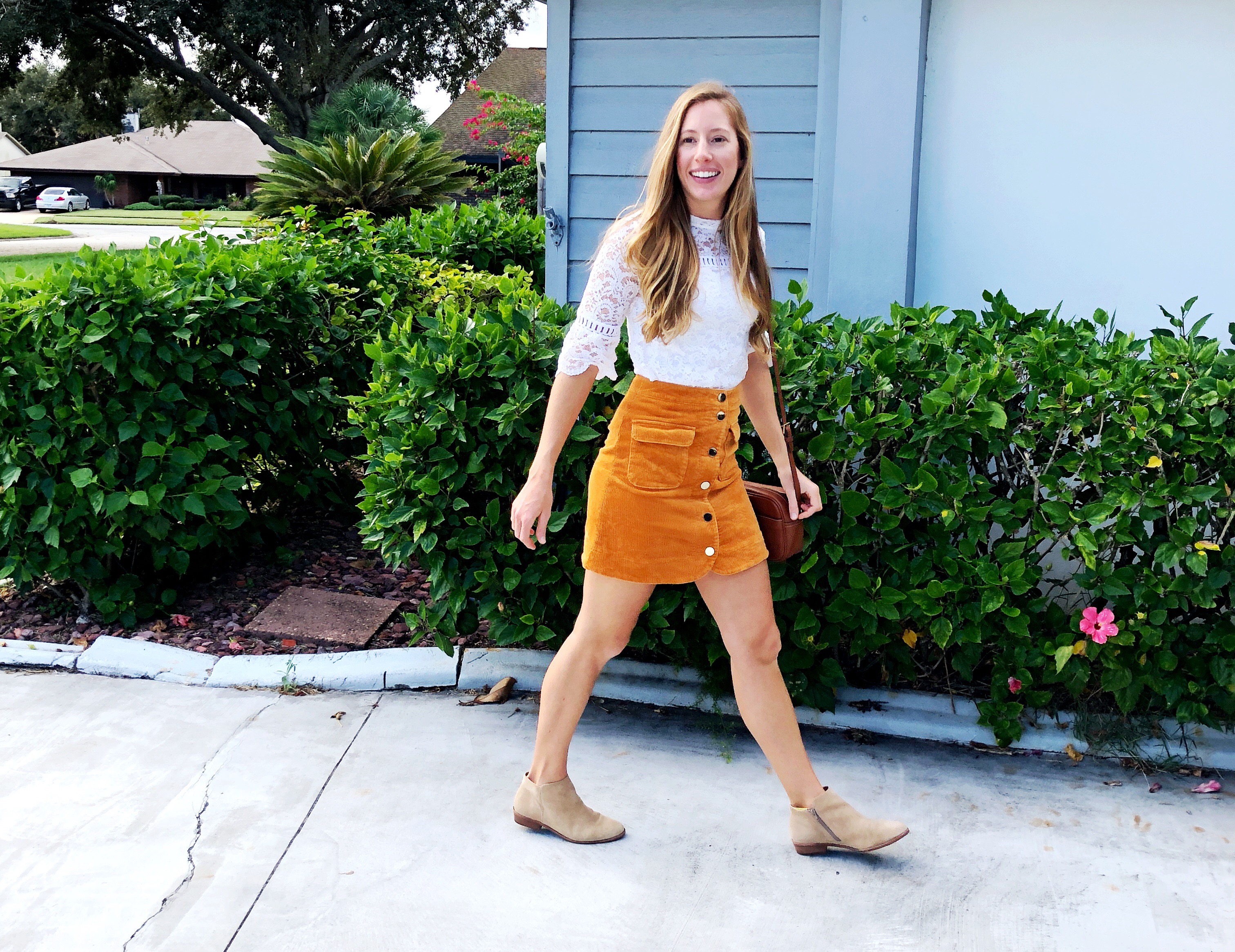 Three Ways to Style A Lace Top
1) Tuck It into A Corduroy Skirt
Typically, I usually tuck this shirt into a skirt. My favorite way to style it at the moment is with a corduroy skirt. If you do not currently own a corduroy skirt, what are you waiting for? There's SO many cute options out there right now like this blue skirt from AE, this corduroy skirt in my fav color yellow and this navy skirt for only $20!
For fall, I added neutral booties and my favorite leather bag I wear exclusively during the months of November-March. I'd say this outfit right here is my typical fall/winter go-to look. I call it my, "fake it till you make it" outfit because it helps me feel like I'm dressed for fall when it's 90 out in mid-November.
Shop Corduroy Skirts for Fall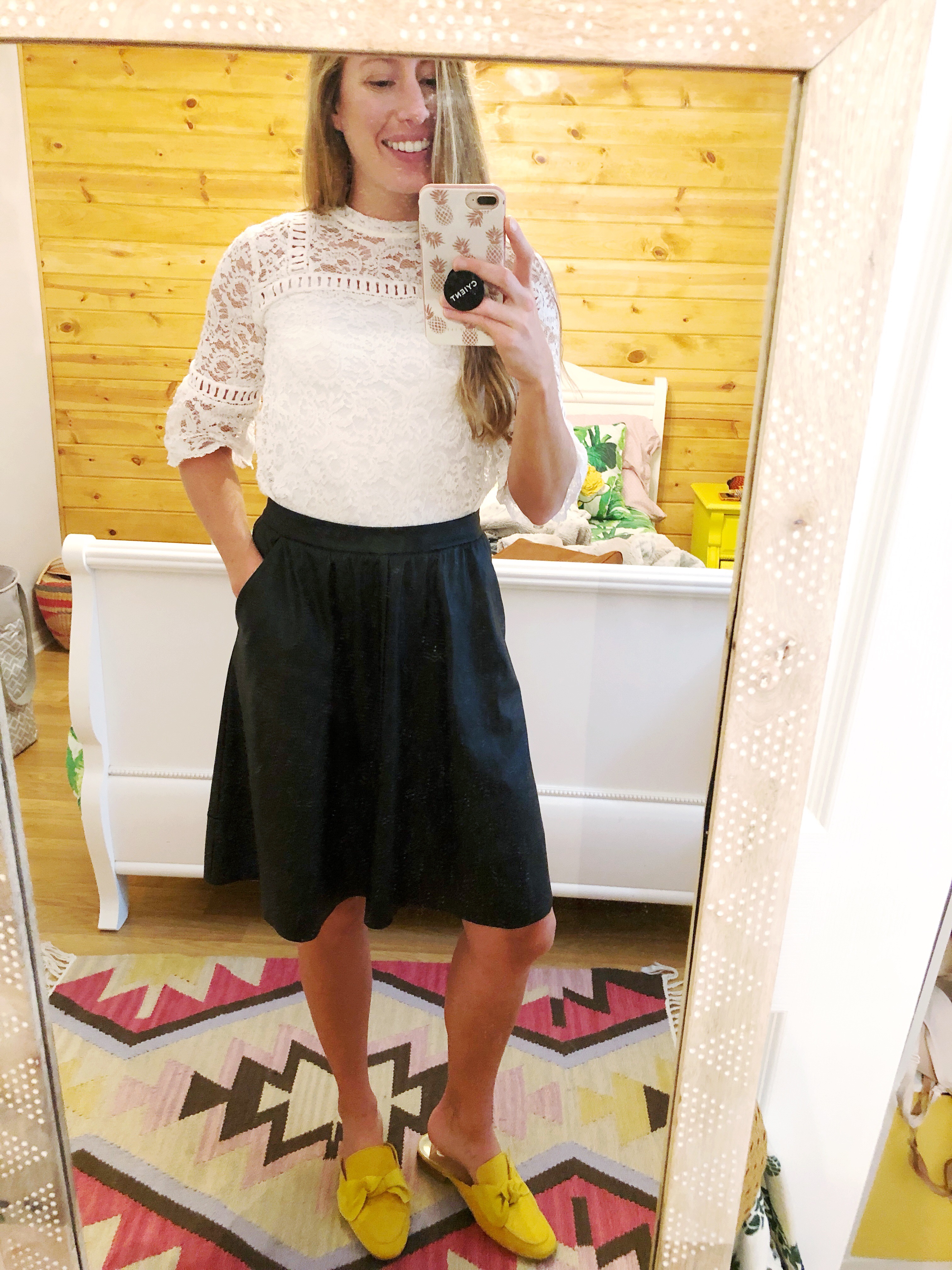 2) Pair with A Leather Skirt
Normally when I want an easy outfit for work, I'll style my lace top with my black leather skirt. Black is not a color I typically gravitate towards but I do love wearing leather during the fall and winter months (see how I styled my faux-leather leggings for winter here). I love adding a pop of color with jewelry or in this case, yellow loafers.
LOFT always releases a few faux-leather skirts every fall that are very popular and they tend to sell out super quick. I found this one under $60 with the prettiest wrap detail that comes in regular, petite and tall! So if you are on the hunt for a black skirt, grab it before you have to wait until next season. I learned that the hard way and had to wait a year since leather items are not typically sold during other seasons. Now have a collection of leather items I love for fall/winter.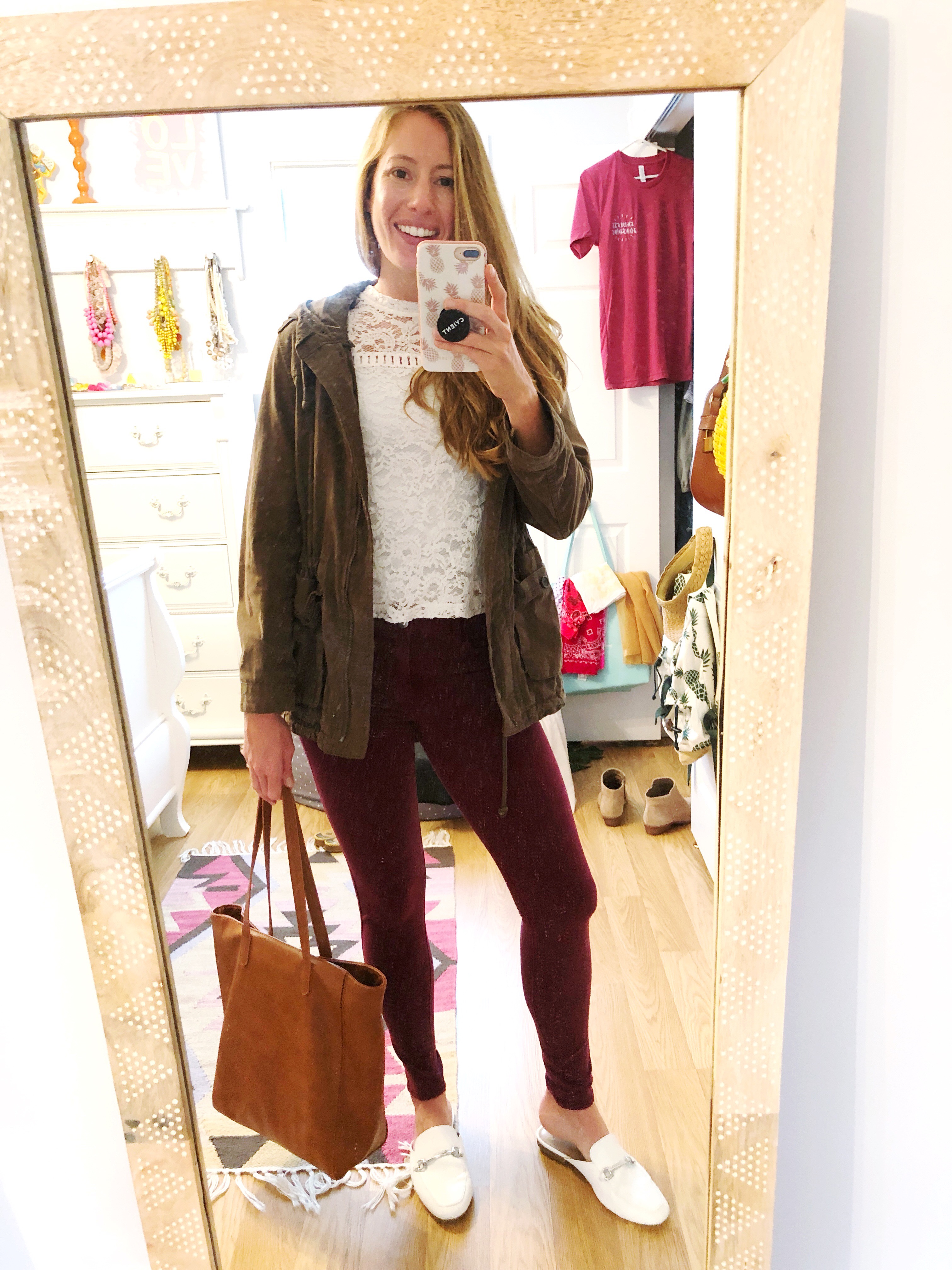 3) Style it Causally with Skinny Jeans and a Utility Jacket
Yay to a casual weekend look. As much as I love getting dressed up, I equally love exploring and spending the entire weekend outside. Usually I opt for skinny jeans and a utility jacket when the weathers nice. I like styling lace tops with skinny jeans to dress up the look a bit and the texture adds a fun element to a usually simple outfit. I also borrowed my sisters Universal Thread bag from Target and it makes me want my own! Anyone else love Target's new clothing lines lately!? Especially A New Day and Universal Thread, such cute pieces at affordable prices.
Shop 10 Lace Tops for Fall
Hope you all have a super fun weekend! I'll be spending mine relaxing, resting up from feeling sick and hopefully going to a hot air balloon event in Orlando with friends. I've never seen an air balloon in person before, so I'm super excited for that. This week I subbed with little kiddies and they were all sick…so hopefully after tons of echinacea, Vitamin C, colloidal silver and gargling salt water my sore throat will be gone by Monday. I need to feel well for Thanksgiving!
Something else I am super excited for is that my fam and I are going to have a gingerbread building contest over Thanksgiving! It's just us 4, so I convinced them we should make teams (mom + dad vs. me + sister) and have a contest to see who can make the best gingerbread house. My fam is always up for fun, so now I just have to decide the rules, buy all the candy and figure out what theme my sis and I are going to go with. We're thinking carnival! This weekend I need to buy all our supplies to help us win!!! I will keep you updated on Insta stories. If you don't follow me on Insta yet, you need to right now!
Recent Posts:
How to Style Faux-Leather Leggings for the Winter
How to Style and Wear Boots to Wear in the Winter