Fall is officially here!! Well, technically it's fall but it sure doesn't feel like it yet. Every fall season when the air does finally cool down, I have go-to classic essentials that I wear over and over again. The pieces that I wear to death are striped tops, white skinny jeans, and loafers to name a few. Classic pieces for me are ones I find myself reaching for over and over each season, year after year. They are usually timeless, simple and high quality. This post is all about my fav classic fall wardrobe essentials.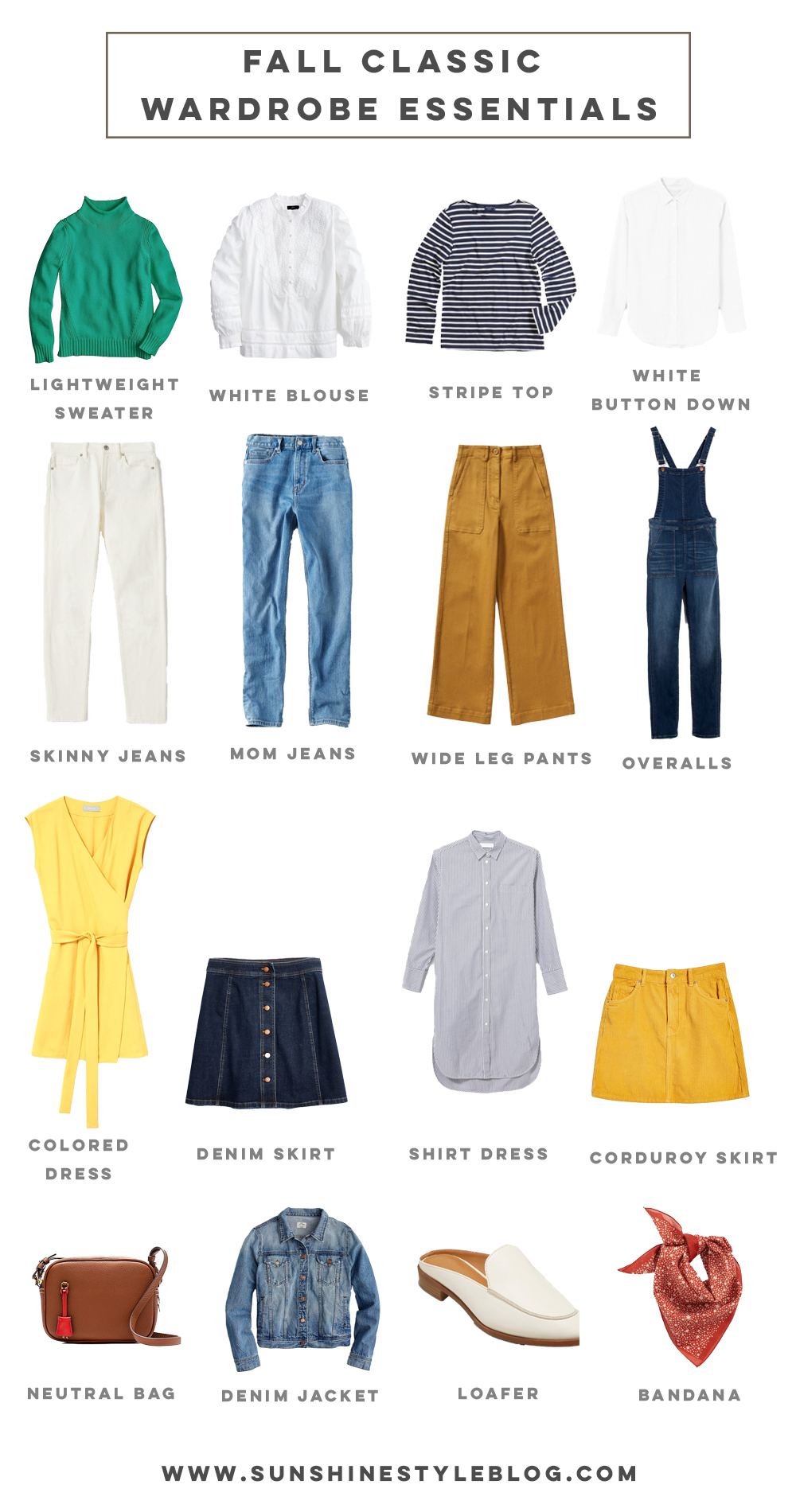 For me, classics are pieces that match with just about anything and can easily move from season to season. I actually have almost all these pieces in my closet at the moment (working on finding cute mom jeans – if you watch my Insta stories, I did a try on at American Eagle with them!). I usually build my wardrobe off all of these pieces each season. Then I buy fun or more trendy pieces that I can wear with my classic essentials!
Take white skinny jeans for example. I wear those almost year round. I'd totally recommend everyone to find a pair of great skinnies. That way you can buy really colorful shoes, tops, sweaters or coats, knowing you always have your essentials to style with. I never feel bad if I buy an item that is seasonal because I can always rely on my trusty classic wardrobe essentials to never go out of style.
I'd almost consider this similar to a capsule wardrobe. That word is so popular and all over the Pinterest world. Except, I personally find capsule wardrobes way to restricting. Just the thought of wearing only 30 pieces for an entire season feels suffocating – I need freedom! I want fashion to be fun so this is a classics girl's version of a capsule wardrobe.
16 Classic Essentials for Fall
Tops
Lightweight Sweater (comes in 8 colors!) – a colorful lightweight sweater is a must! You can pair this with jeans, skirts, overalls and layer over dresses! Plus, even if it's not super cold out yet, you can usually get away with wearing a lightweight sweater and be a-ok!
White Blouse (comes in 3 colors!) – Not even joking, I wear my white blouse year round. This is a great piece to add to your wardrobe, especially if you work in an office. A white top is so easy because it literally looks amazing styled with any bottom. It would look especially cute with a denim skirt!
Striped Long Sleeve Top – Just like I wear a striped tank in the summer, I could never go without a striped long sleeve top. Stripes are perfect for a casual weekend outfit. My fav way to wear it is with white skinny jeans or tucking it into a skirt.
White Button Down – Similar to a white blouse, it also matches with so many items you probably already own. I prefer to wear white button downs with skirts and trousers or tucking it into denim pants for a casual look.
Bottoms
White Skinny Jeans – Ahhh white skinny jeans. These are the easiest pair of pants to style for fall and winter! Plus, I love that I can wear bright colors and stripes with them or dress them up or down.
Denim Pants (mom jeans) – This is the only piece of clothing on the list that I don't already own. I totally want a cute pair of mom jeans to wear for fall! I've been subbing for extra income until I find a new job. Some of the high school students I subbed for had on mom jeans from American Eagle. She looked so super cute in them and the fit was so flattering. Now I want a pair!
Wide Leg Pants (comes in 5 colors) – Now, I know these pants are not for everyone. But I personally love how they make you feel sophisticated and pulled together. They pair best with fitted tops or feminine blouses.
Overalls – My love of overalls goes way back to when I was just a little babe. I've loved any type of jumpsuit or overalls since I was a little girl and our love is still going strong. If you want the easiest of outfits, overalls are the way to go! They look best with more fitted tops or bodysuits!
Dresses/Skirts
Wrap Dress – A wrap dress can be worn to weddings, work or dressed casually with a denim jacket. This is such a timeless piece, a solid color or print would last for years to come!
Denim Skirt – I am lovin denim skirts, especially the darker wash! They are so versatile and look cute with blouses, slightly oversized sweater and booties.
Shirt Dress – Nothing says fall like a great shirt dress. Pair with booties, loafers, a cardigan or sweater and you have the perfect casual weekend look.
Corduroy Skirt – Probably my most worn item last fall! If you live in a place that doesn't experience a chilly fall, a corduroy skirt will still give you the fall feel with it's soft texture. Lace also pairs really well with corduroy!
Shoes/Accessories
Loafers (comes in 3 colors)- A good loafer is always a great idea! You look and feel sophisticated the moment you slip on these shoes. White is my color of choicebecause I prefer a bright and cheery wardrobe, even in the fall months.
Denim Jacket – I've owned the same denim jacket for over 10 years and have not needed to invest in a new one. Denim is so durable, once you buy a jacket, it will last for years and never go out of style.
Neutral Bag – J.Crew makes the best cross body bags and I use this bag daily during fall. I love how the neutral color matches with everything.
Bandana – A bandana is the easiest and cheapest accessory for fall. For anyone who lives where they experience a much milder fall, I recommend you buy a bandana. Tie it around your neck, a purse or in your hair to add a bit of fall color to any outfit.
What are you favorite classic essentials for fall?! I'd love to know the timeless pieces you use each season!