I love editing photos just as much as taking them! One of my most frequently asked questions is, "How do I edit my Instagram photos and get a consistent looking feed?". So, I wanted to share the process I use! My absolute favorite app to edit all of my photos and plan my Instagram feed is The Color Story App. If you are familiar with the blog, A Beautiful Mess, they are the awesome people who designed the app. There are so many amazing features on this app, I cannot say enough great things about it!
I'm going to break it up into two separate posts. This one will explain how I edit my photos and the second followup post will talk about how to create a pretty and consistent Instagram feed. Both are easier than it seems and you don't have to be a photographer or pro to achieve bright photos and a pretty feed! Most of my learning has come from trial and error and having fun. =)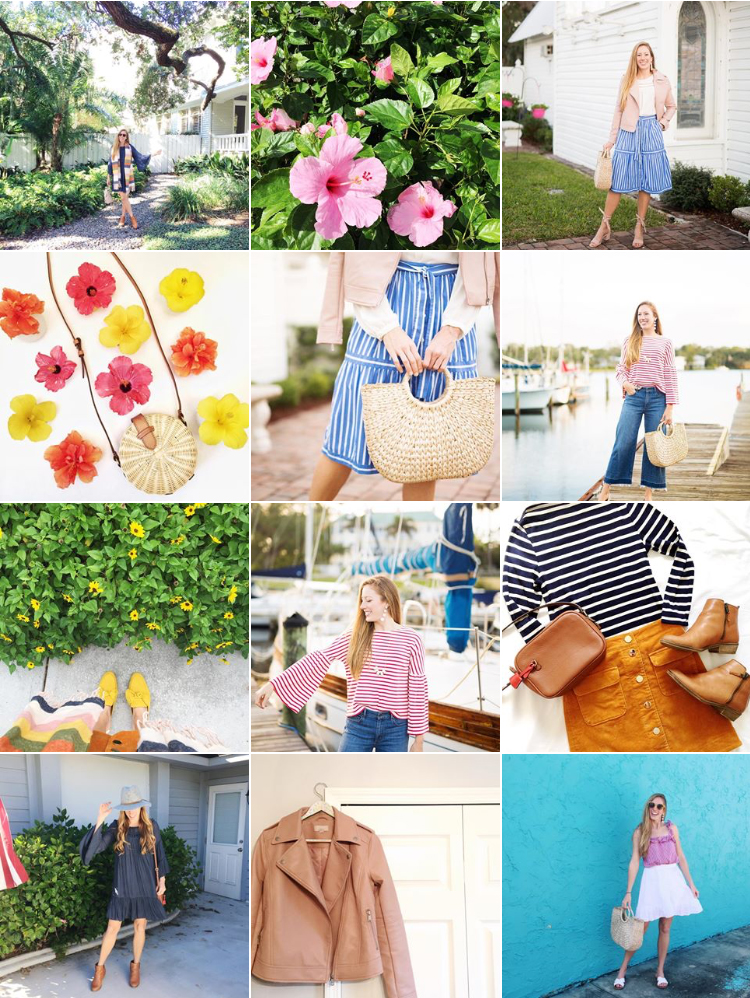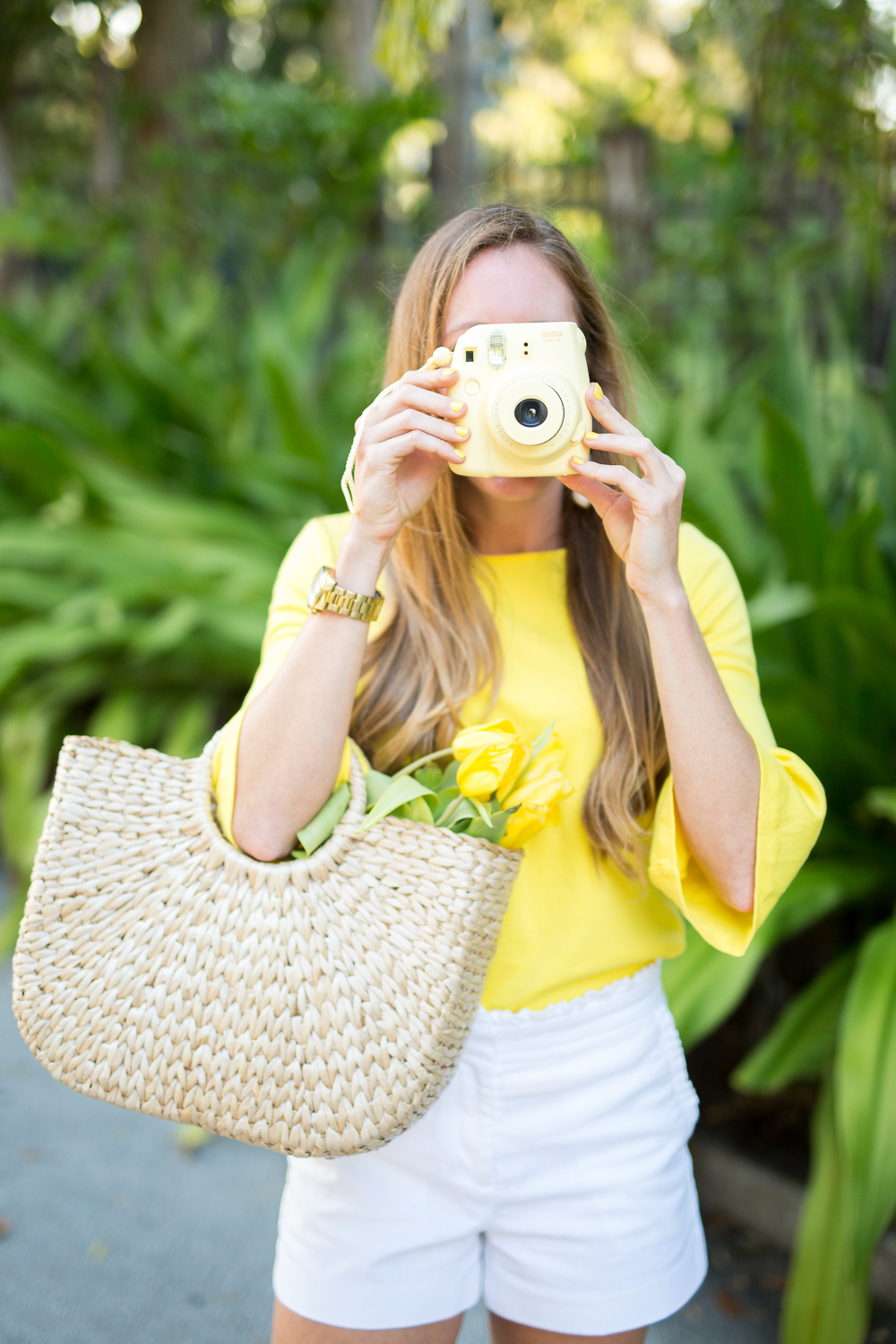 I Use the Color Story App to Edit Photos
First you need to download the, A Color Story, app in the Itunes App Store (if you don't have an iPhone you need to get on that because this app is THAT amazing). In the photo grid above, 8/12 of the photos were taken on an iPhone. There is no need for a fancy camera to get great photos. Sure, a DSLR helps, but I can honestly say, some of my most liked photos on Instagram are taken with an iPhone.
You will see there's over 100 filters to purchase and some for free. I use the Essentials and Blush filters the most. My favorite from the Essentials pack is "Everyday" and I use this one 90% of the time. My other favorite is "Pop". Often I have to alternate between these two to get the desired coloring in the photo I want. Sometimes I'll use Sharp or Light Bright if I need to brighten an image a tad. For Blush, I use Punch or Summer Day the most.
The Filters I Use Most:
Essentials (Pop and Everyday)
Blush (Punch and Summer Day)
The filter is what will make your feed look consistent and have the same coloring which I'll explain in more detail in my next post. Adding a filter is like painting a clear coat on top of colorful nail polish to make it pop. Is there a better explanation? Probably, but to me that's the best way to describe it.
Get Your Free PDF of My Fav Editing Apps for Instagram!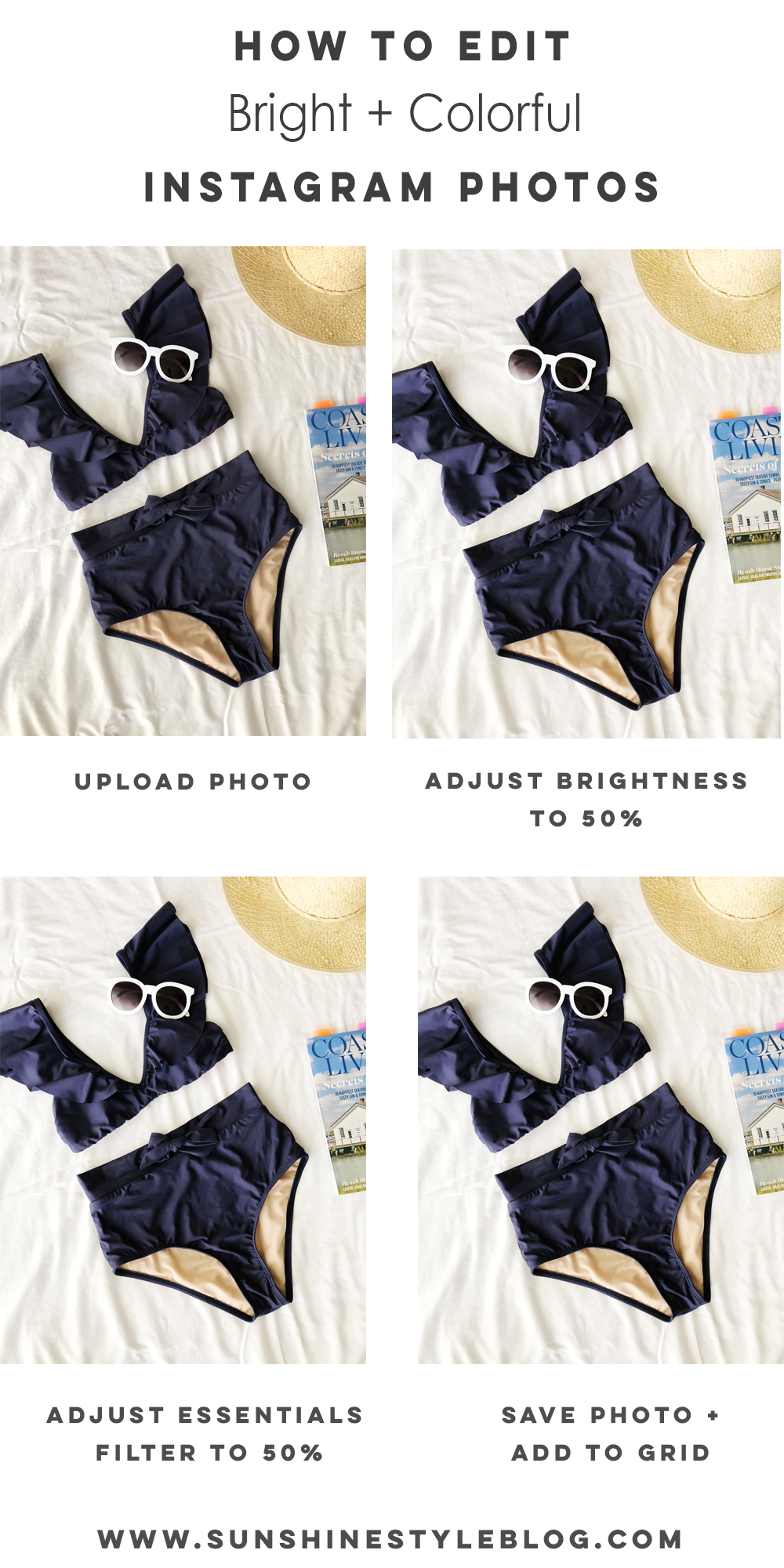 The Process I Use to Edit Bright and Colorful Instagram Photos
Step 1: Upload Photo
Step 2: Go to Tools > Adjust > Brightness > Adjust Brightness to 50%
Step 3: Go to Filters > Essentials > Pop > Adjust to 50%
Step 4: Save Photo + Add to Grid
This is almost the exact process I use on all my Instagram photos. If the photo itself is already very colorful and contrasted, the % of the filter and brightness I use is less. Other than that, I use the Essentials (Pop and Everyday) and Blush (Punch and Summer Day) pack exclusively on all my photos. Sometimes I also crop the photo, adjust the tilt and will adjust the temp if it's to orange, red or yellow.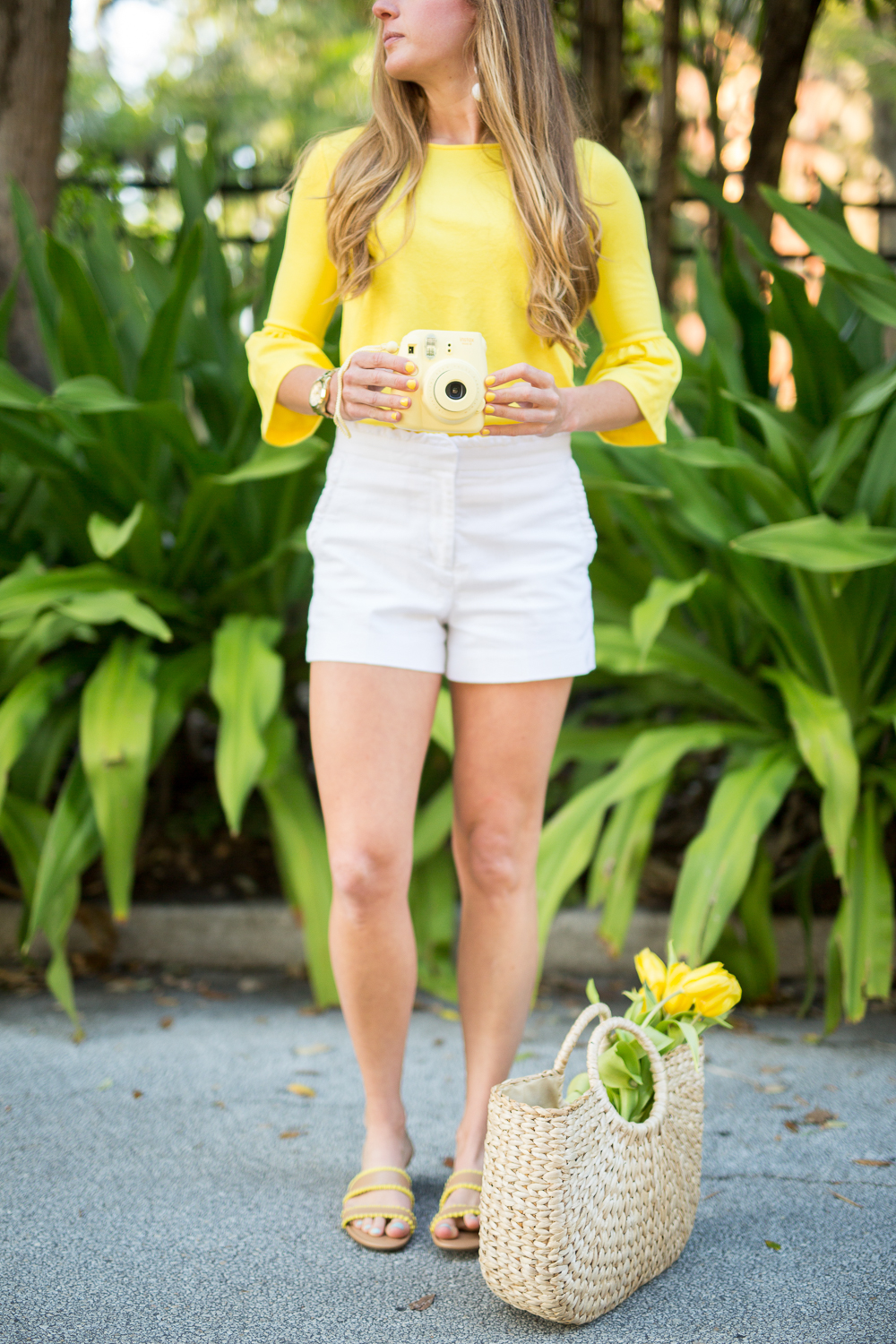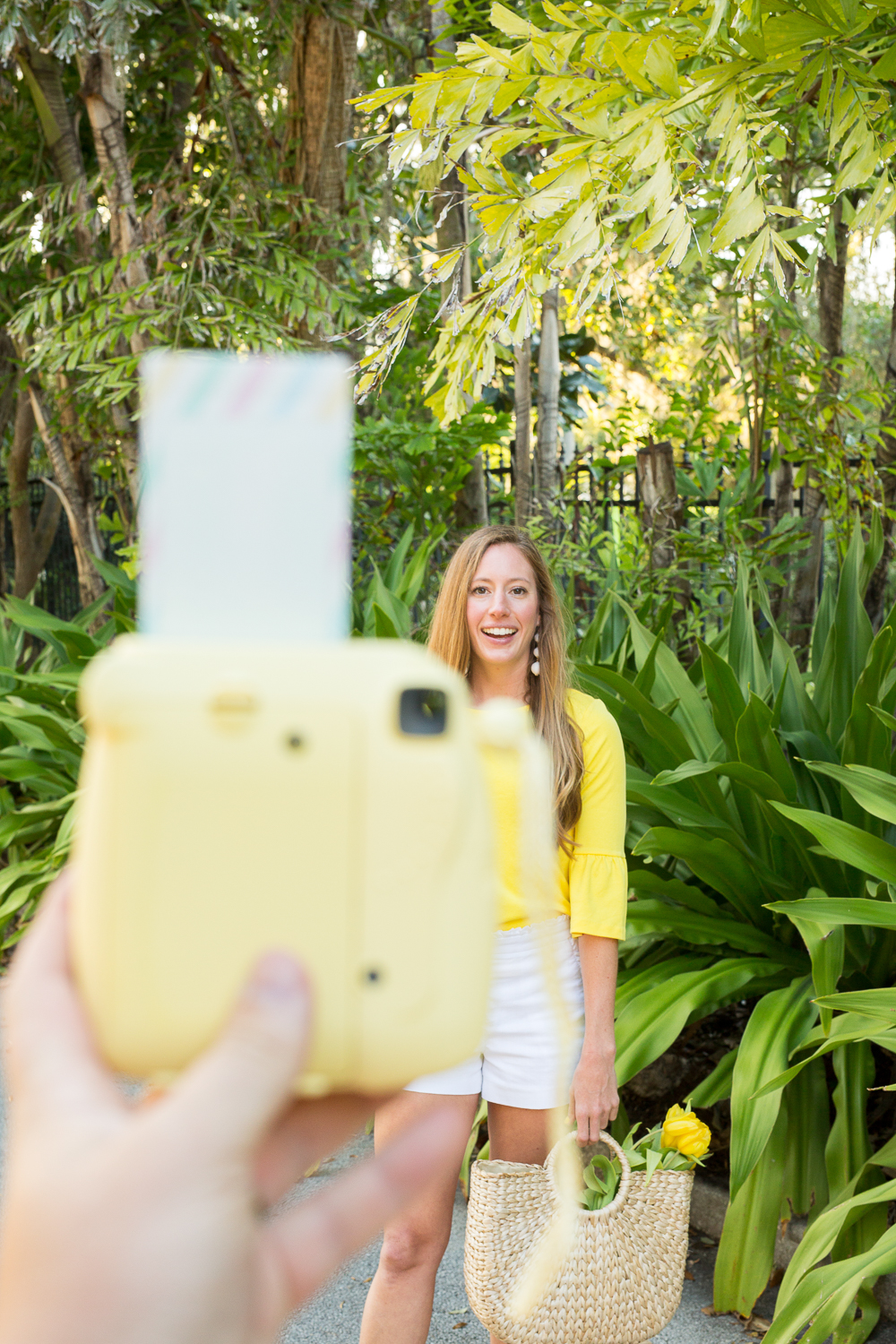 The Look I'm Going for is Bright and Colorful
When I take photos, I almost always shoot in direct sunshine or midday and about two hours before sunset. It's the look I prefer and helps me get the brightness I need and want in my photos. The only hard part about shooting when the suns full out and shining are harsh shadows. I try to stand in the shade to help this if I'm the subject!
All of the flay lay photos I take are shot at the sunniest part of the day when my house has the most natural light. The swimsuit photo above was shot around 11 AM. If I shoot to early, mostly before 10 AM, or after 4 PM, I get very dark, grey or super yellow photos. When I go to edit them, it makes it hard to get a "white" photo and looks washed out.
You will be able to see the most drastic changes when I edit my iPhone photos because the ones taken on my DSLR have already been edited in Lightroom (that's another post for another day). When I edit all of my photos I'm going looking for two things, that they are bright and colorful. Bright as in light and airy and colorful as in different hues and drastic contrast without turning my skin orange or very dark brown! I'll go more in depth into this my next post where I share exactly how I get a consistent and colorful Instagram feed!
What I Love About The Color Story App
The best thing about the app is that it's FREE. The only thing I've ever paid for is filters. My two fav filters I purchased are Essentials and Blush and cost $.99 each.
Batch Editing (for FREE!)
Free Planning GRID – New-ish Feature
Ability to customize and save filters
You can access your Recent Edits
New filter releases all the time
Recent Posts:
What to Wear in the Fall When It's Warm Out
16 Classic Fall Essentials You Need for Your Wardrobe