A few weeks ago I got out of work super early and booked it straight to LOFT! I decided to snap photos of what I tried on and the items I would purchase. Since I'm only subbing right now and can't afford to really shop, I thought a try on would be the next best alternative to an outfit post! Hope you love these looks as much as I do.
Keep in mind that I wear a XS-S in tops at LOFT and a 2-4 in bottoms. Their sizing does tend to run on the larger side, so if something catches your eye, I would size down one from your usual size and if your really on the fence, check the review. Those are always the most helpful for me if I'm not quite sure how an item fits.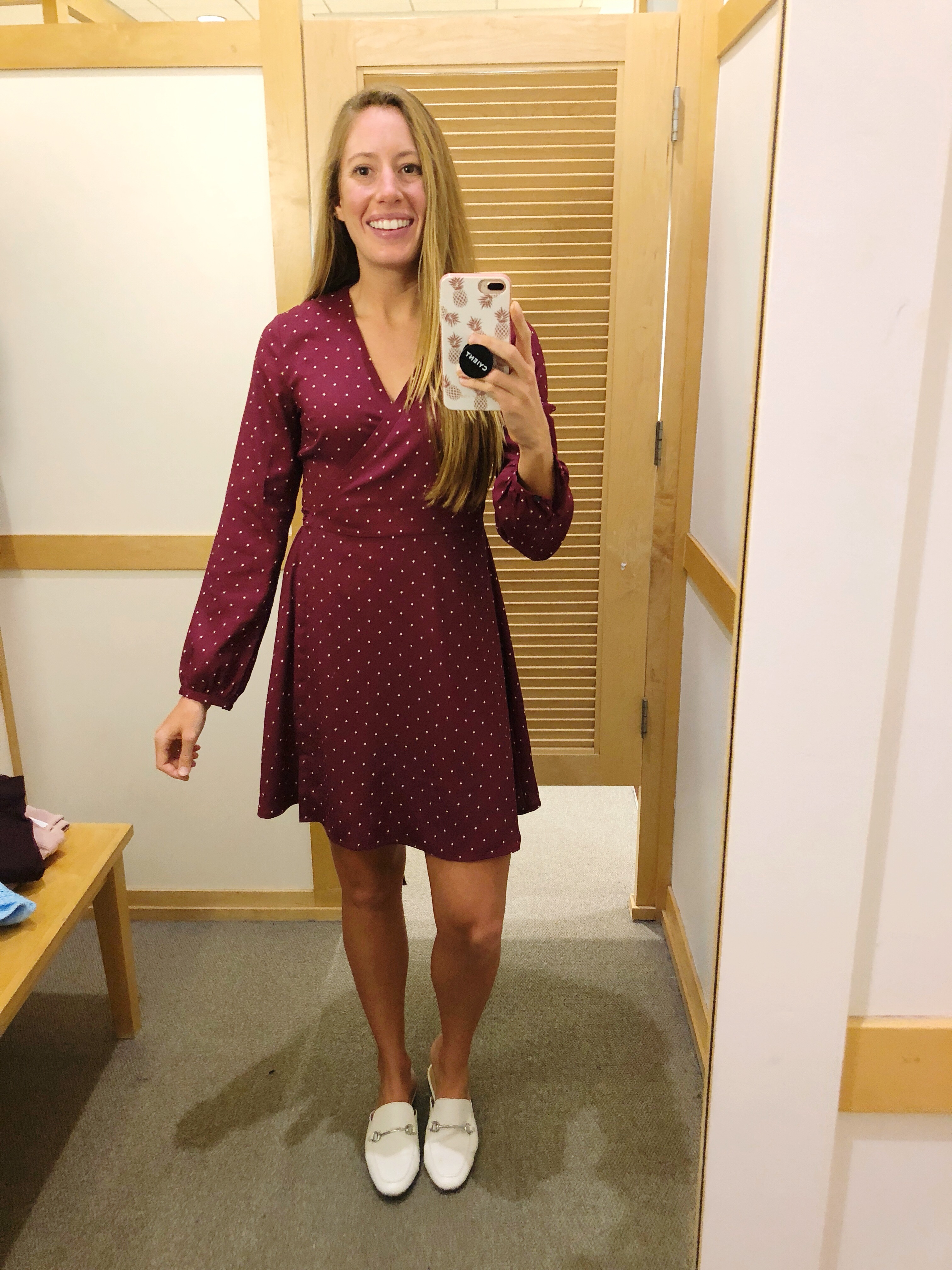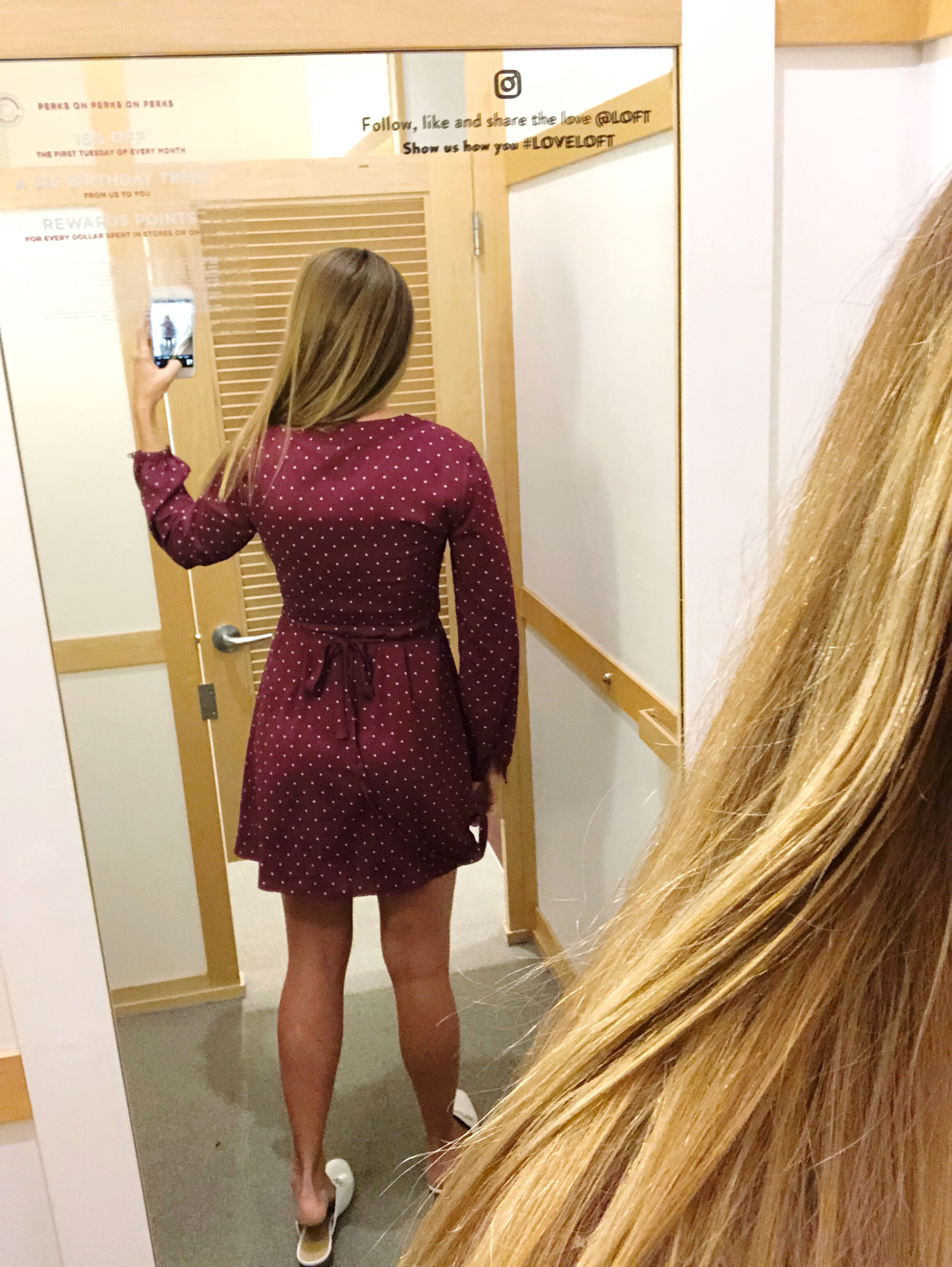 First up is my favorite item from my try on session!!! This wrap dress is such a dream and makes all my non-Florida fall wishes come true. The wrap detailing is so beautiful and it comes in a perfect burgundy color for fall! If I lived somewhere where fall leaves fell from trees, I could see myself wearing this dress twirling in the crisp weather throwing leaves. This is the secret to fall in a warm climate, wear fall colors!
I tired on my usual LOFT dress size, XS, and it fit perfectly. The fabric is so silky and soft and I love the way it ties in the back. When it cools down, I would wear a nude color bootie but my other favorite choice of shoe is my white loafers because they match perfectly with the white polka dots.
Normally I would not gravitate towards this color blue but I instantly fell in love with the cable twist detail in the back of this sweater. A colored sweater is a fun way to add a pop of color to your fall/winter wardrobe. I think it would look especially cute with white skinny jeans! Wearing a small.

This floral shirt dress is another burgundy piece to add to your fall/winter wardrobe! Noticing a pattern?! I absolutely love the hue and again, I would pair it with flats or low booties. I am wearing an XS in the dress! Adding a cute knit cardigan like the neutral sweater vest is a great way to layer when it's still to warm for a long sleeve cardigan but cool enough you need an light layer. Wearing a XS/S.
I adore this ruffled chambray top and would consider this as a classic staple that you can wear all year long. Style it with pants in the Fall/Winter and shorts or skirts in the Spring/Summer. It was the perfect length on my taller frame and I am wearing an XS.
Corduroy pants for fall are a must have! These particular blush pair have a frayed hem which I love. They are also the perfect length and can still be worn with booties when it's cold. I'm wearing my regular size 4 in these pants.
Now, camel is not the usual color I gravitate towards but wanted to try something new. I am so glad I picked up the mockneck sweater because I love the warmth it gives off and is such a fall classic! I would style this with darker jeans like the burgundy ones I'm wearing, white skinnies or a burgundy skirt. A mockneck sweater is perfect because it gives the look of a turtle neck without the added warmth and it's the cool new trend for fall. Wearing a Small in the sweater and a 2 in the pants.
Aw, I adore this denim dress and think it's the perfect work and casual weekend item. It's an XS and fits perfect to my shape! The tie waist is what really drew me to this dress and I love the billow sleeves and how you can roll the arms! I can picture wearing cardigans and boots with this dress for fall and brighter accessories in the springtime. I usually try to buy items like this dress because it's timeless and I can wear them year round.
OMG, this chambray peplum top is my second favorite item I tried on. Just like the denim dress above, a chambray shirt is timeless and a classic piece. The button up back is what sold me on this piece. I like how the sleeves are not super tight (one pet peeve – I do not like winter clothes that are to tight, makes my skin cringe), is loose but still gives you a shape and is so soft.
In these photos I'm wearing a Small and need to size down to an XS because it's to large in the shoulders as you can see. I have not bought this top yet, but I 100% need to! It's the perfect casual piece to wear with skinny jeans.

These pants make me LOL. I do not love the sweatpants at all because of the funky wider bottom, but I adore the yellow sweater I'm wearing. All their Lou and Grey fall lounge collection makes me want to live in a warm place, snuggle up by a fire and wrap myself in a blanket. The sweater is insanely soft, comfy and long enough for faux-leather leggings. I'm not a big leggings fan but leather ones are my only exception ha and when I wear them, I need tops that cover the booty!
LOFT is having a big sale right now and everything is 50% off, using the code MYSTERY50. This is such a good sale. If you miss this one, be sure to sign up for their emails because they are always having amazing sales! Especially with Thanksgiving and Christmas coming up.
Shop My Favorite Fall Arrivals from LOFT