Hallelujah, it was 83 today, "nice" out and not humid. There is an end in sight to the endless summer. Today I'm dishing out all my tips on how to dress for fall when it feels like summer. Because we all know, if you live someplace warm, this is way more of a challenge. Can anyone else relate?! When it's a brisk 83 out in mid October and I see everyone and their mom on Instagram wearing cute sweaters, boots and jackets, I get so jealous. Then my brain starts spinning and I literally start to create cute "fall" outfits in my head that don't require heavy knit sweaters or layering.
So what's a girl to do in the meantime? Keep on reading to find out!
Outfit Details:
LOFT Top / LOFT Skirt / Yellow Mules / J.Crew Bag
Fall Colored Blouses
Dressing for fall is a bit easier when it's actually cool. Since we're not quite to that point of #sweaterweather, blouses and feminine long sleeve tops are my next choice! Specifically blouses that are fall colors! Think burgundy, navy, ivory, and mustard. You all know I love yellow, so when October finally comes, I switch to mustard yellow clothes instead of highlighter yellow.
This top is a recent purchase from LOFT and I adore the button details and slight ruffle sleeve so much! I know this top will get so much use during fall. I plan on wearing it with white skinny jeans, wide leg pants and skirts. I'm wearing my normal LOFT size which is an XS!
My mom actually ordered this top for me as a Christmas present. As soon as the package arrived I took it straight out of the bag to take photos with it. Then I had to give the whole outfit back until December ha.
I know many of you despise the color yellow on yourself and that's okay. Just pick your favorite color and find a blouse in a fall hue. This burgundy eyelet top is on my wish list and super adorable! I would pair it with a casual denim skirt and then eventually white jeans when it cools down! You look like fall, just less layered!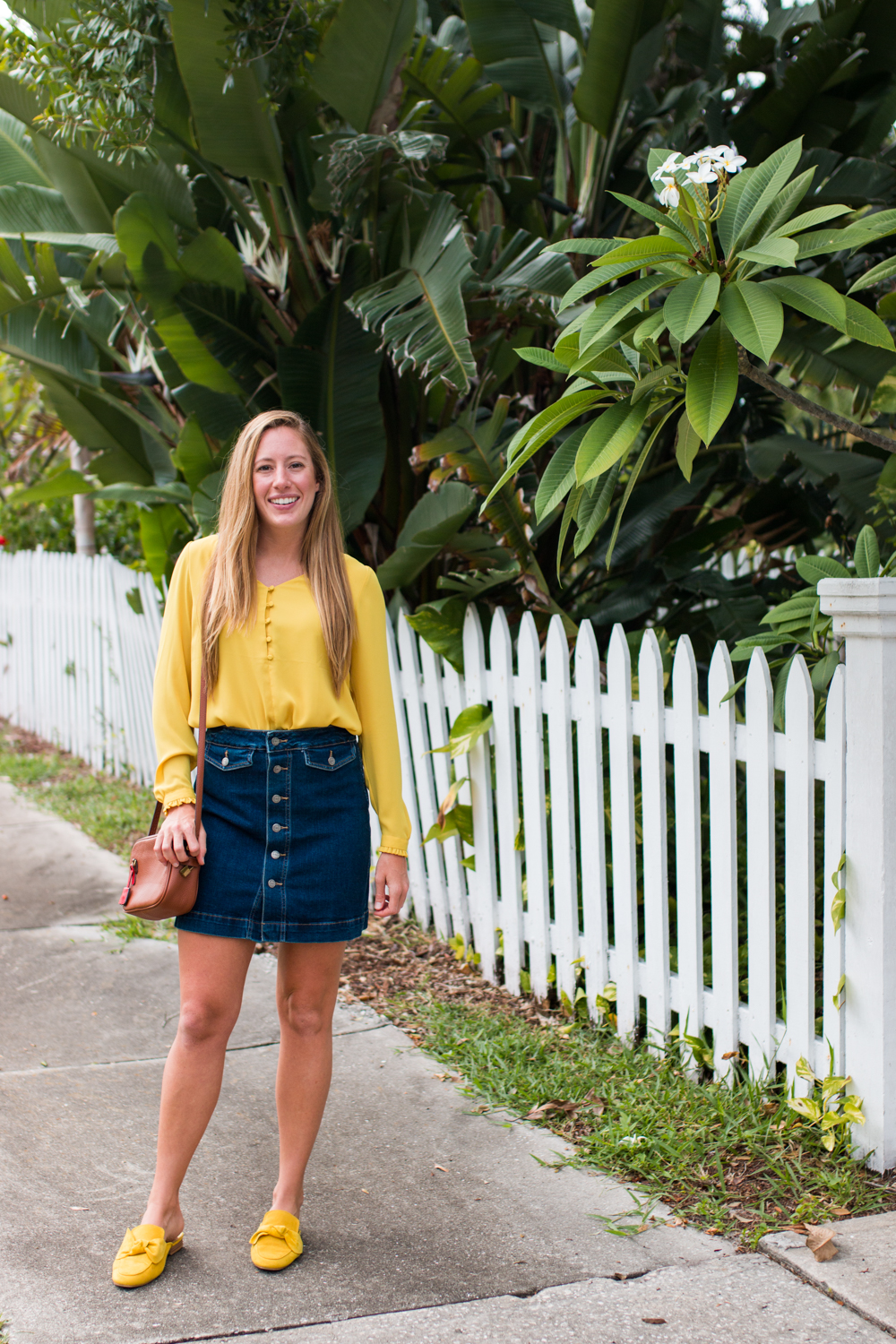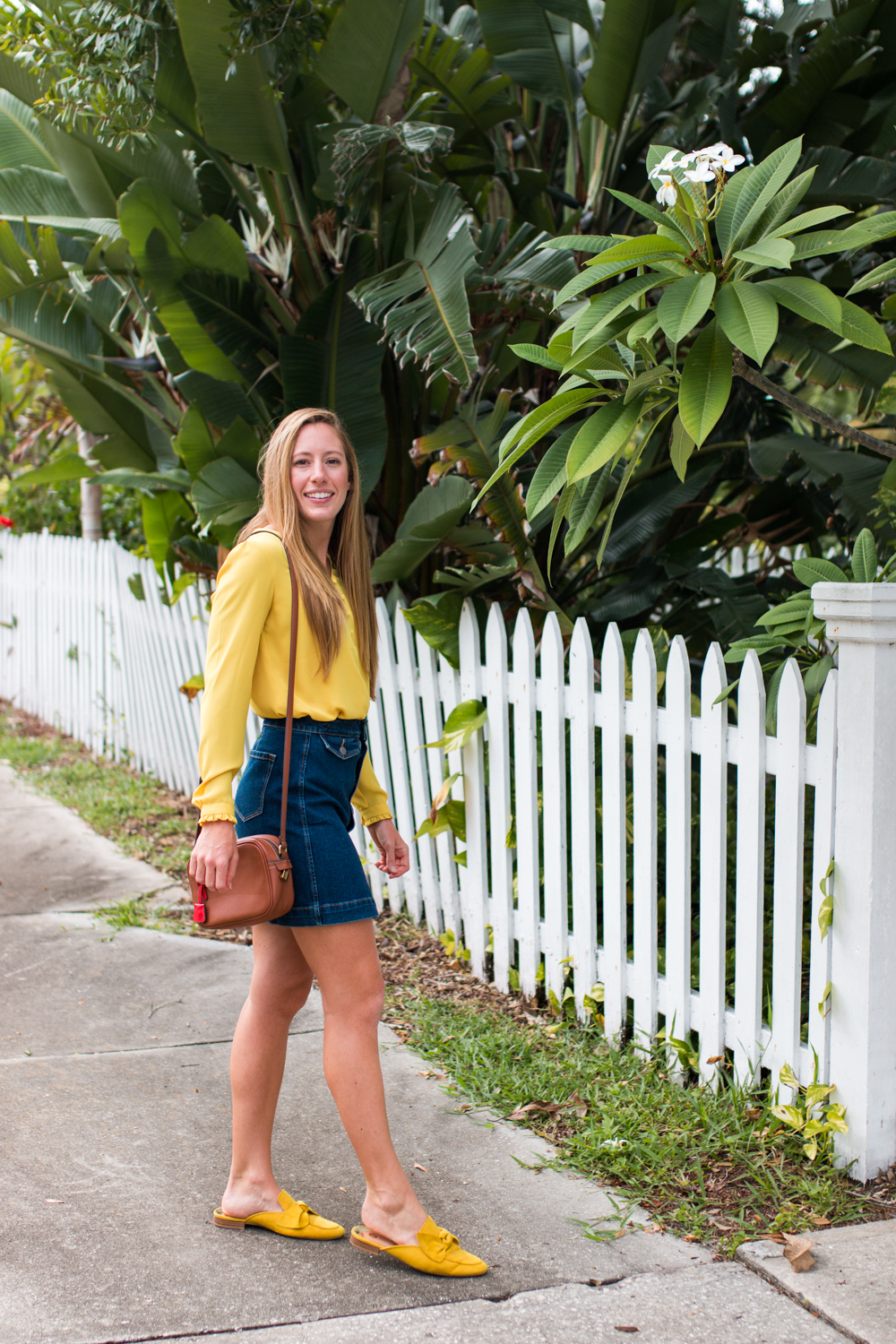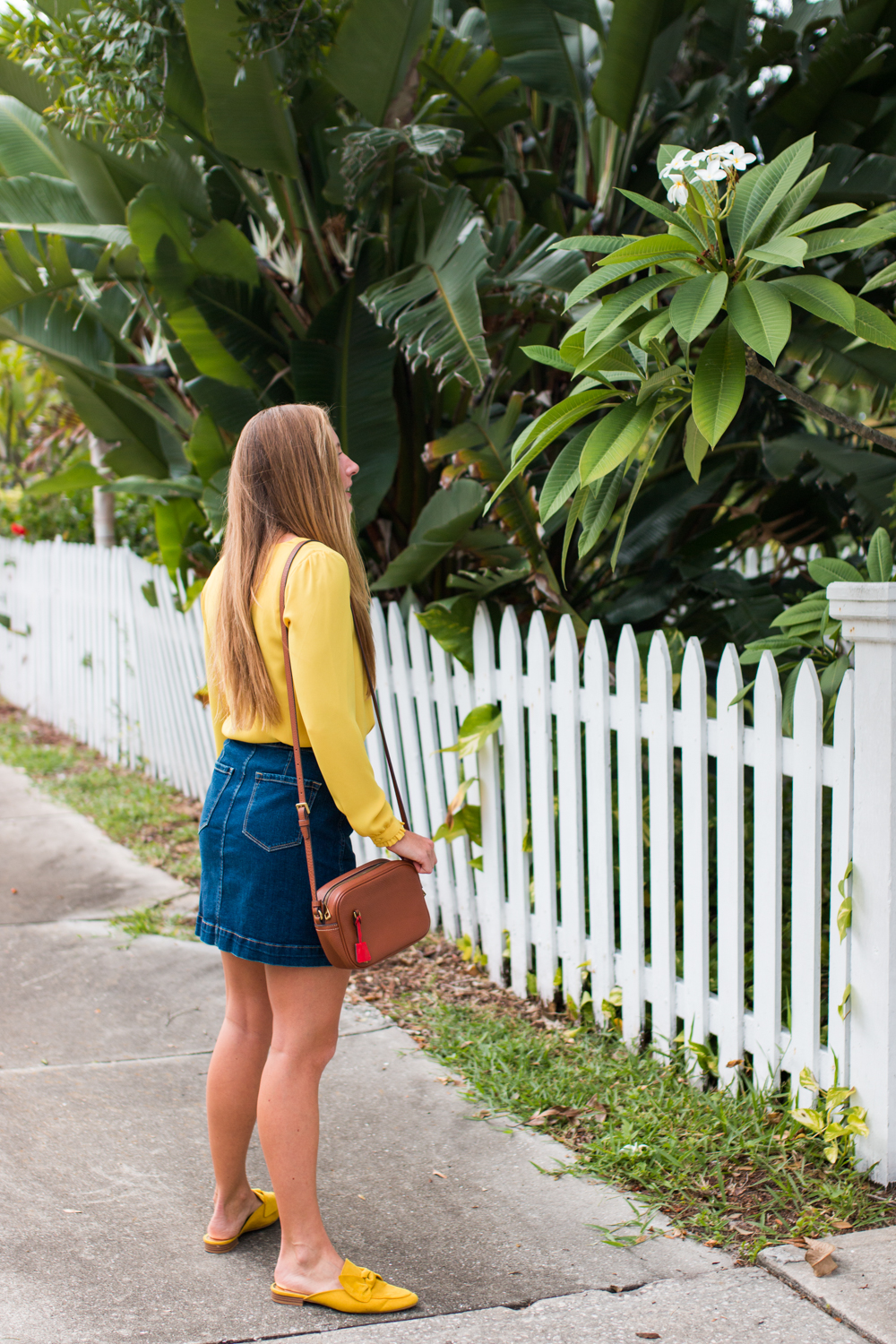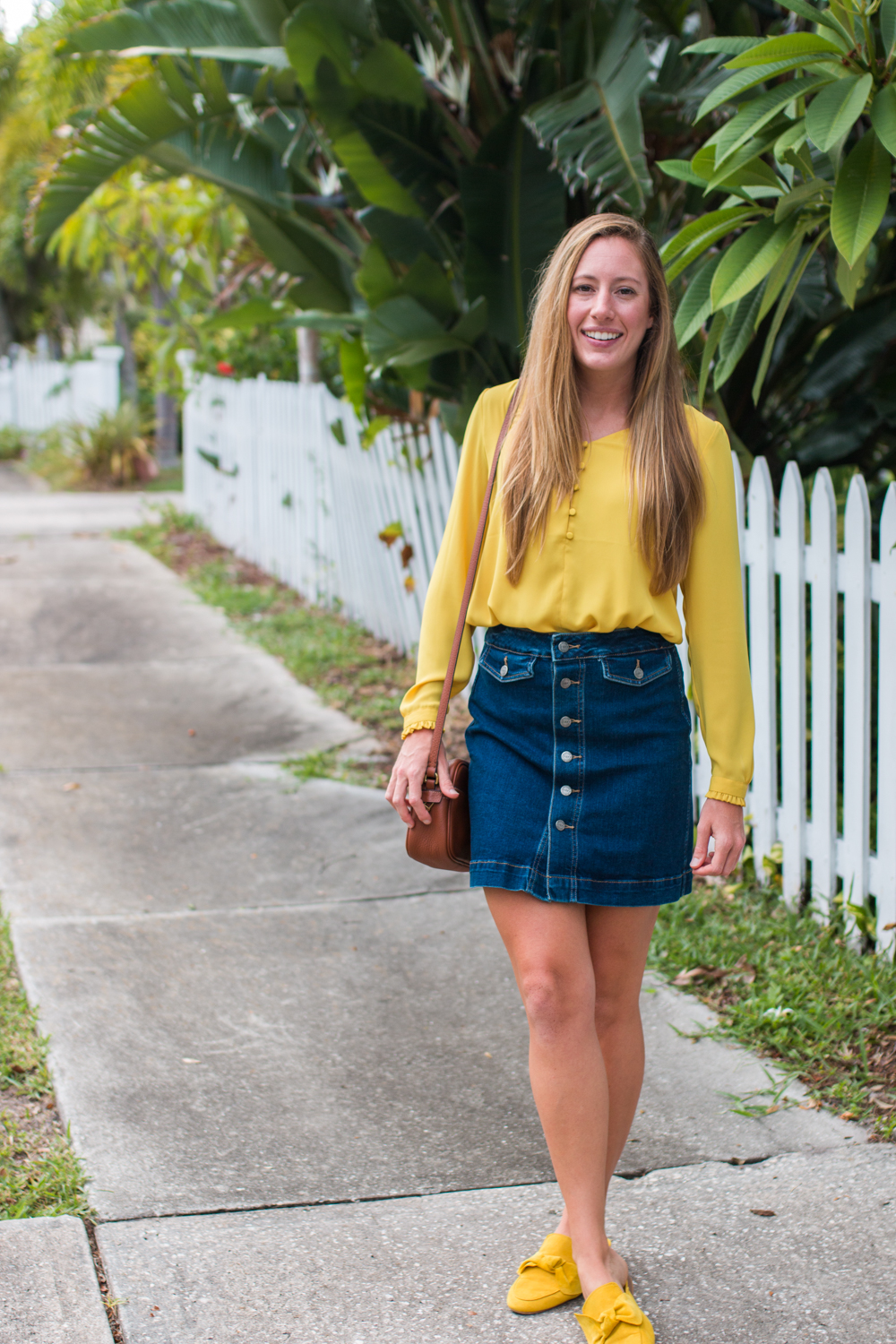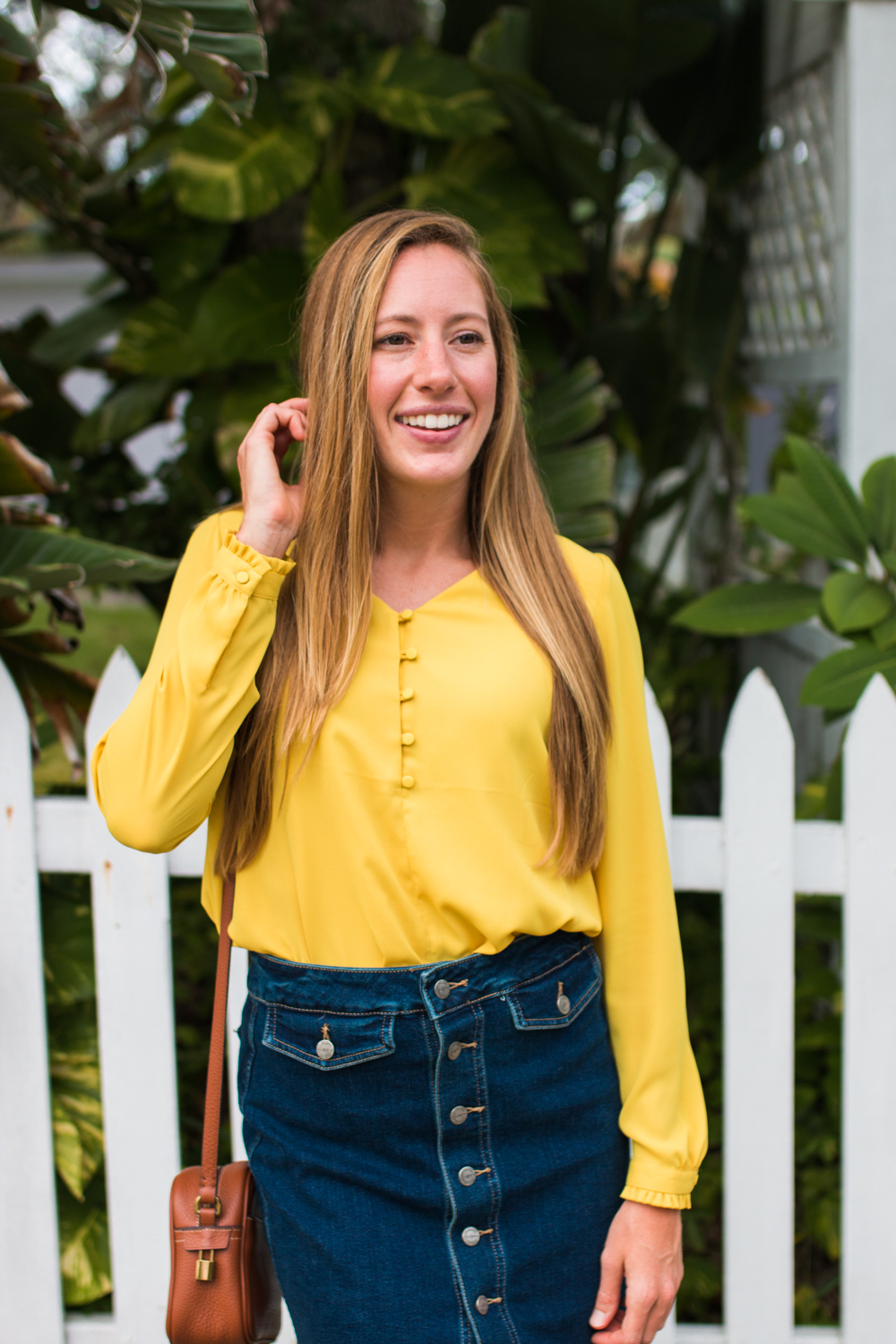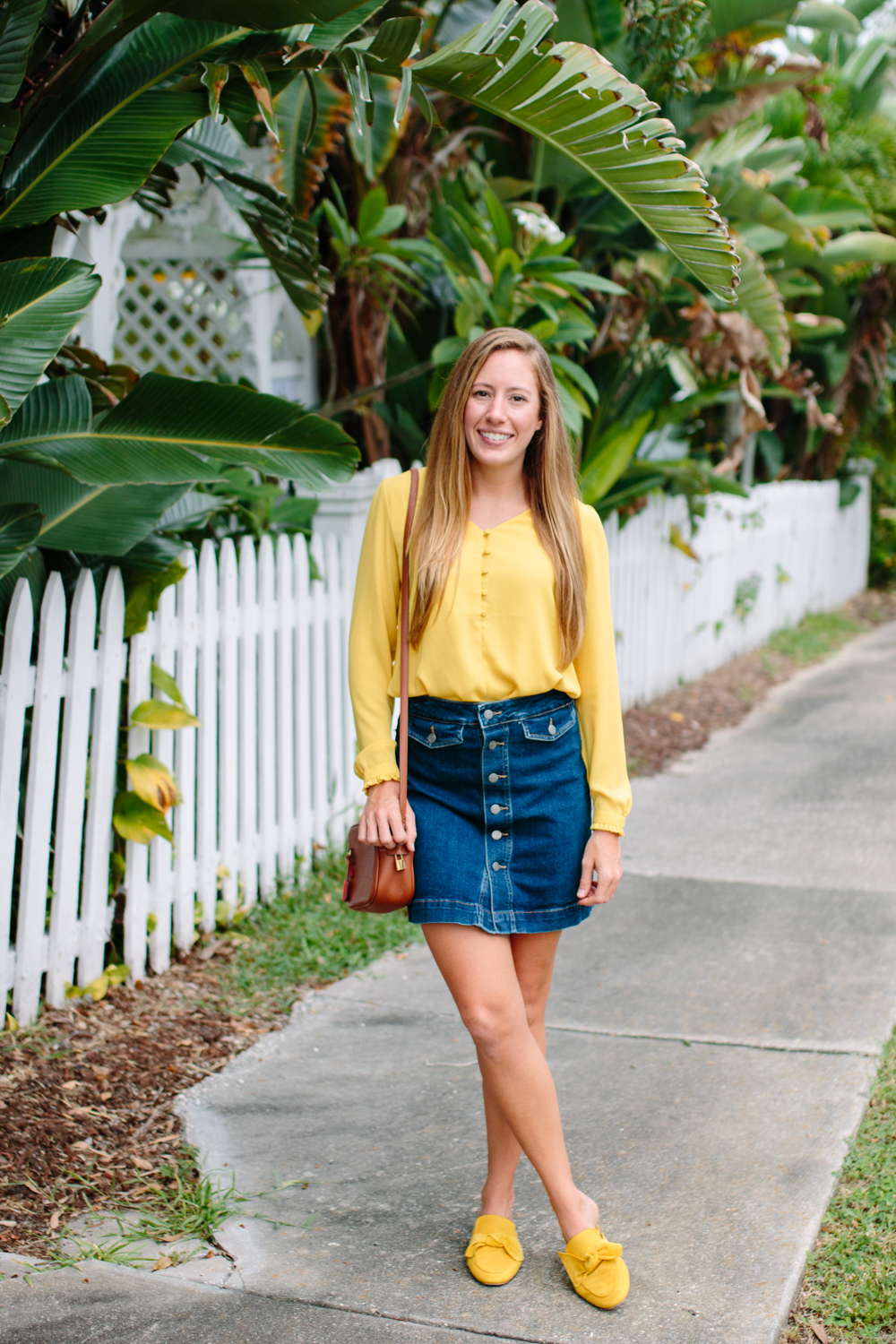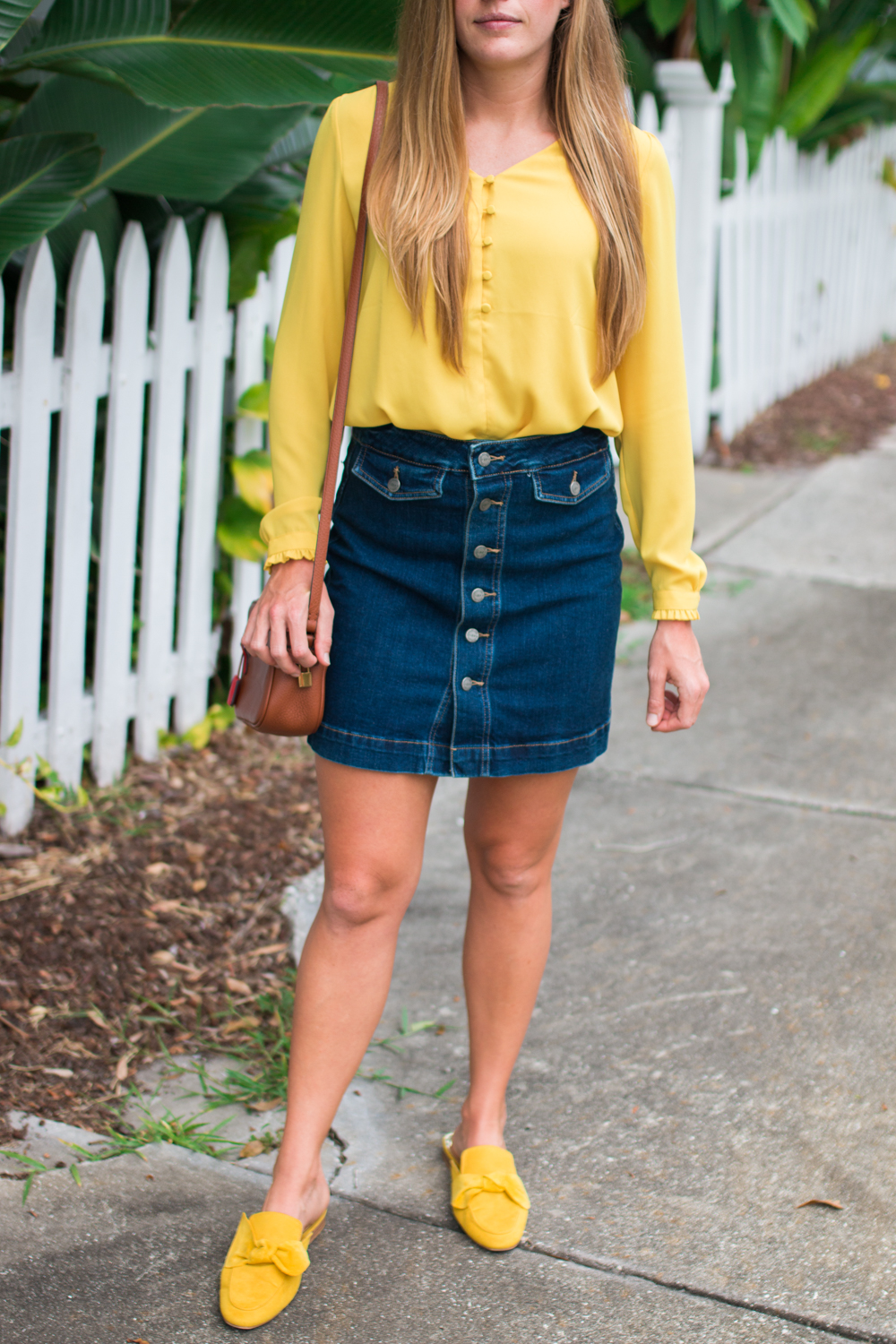 Denim Skirts
Right now I am totally into denim skirts. This one, also from LOFT and under $50 is the absolute perfect length. Not to short, not to long and I'm on the taller side. I feel 100% comfortable wearing this skirt on a casual day at work. I'm wearing my normal size 2.
Seriously though, if you live in a warmer climate, a denim skirt is the perfect piece for fall. It's actually a piece I added on my recent fall essentials post. As it starts to cool down more, I am so excited to style my denim skirts with colorful knit sweaters and ankle booties. Some of my other favorite denim skirts styles under $100 is this cute skirt from J.Crew and this Everlane one!
I saw a student today wearing that exact outfit when I was subbing this week and she looked so adorable! I love watching all the teens and their unique style! I also love when they comment on my style and tell me I'm stylish haha. Kind words can go a long way and they make my day! Be on the lookout for different ways to style this skirt in the coming months. Remember it's a Christmas present, so I have to wait until after December ha.
Mules or Loafers
Don't even get me started on mules. I absolutely love the loafer shoe turned backless! These are the perfect shoe to ease into fall dressing. I would say to buy a mule in a natural color like white or bone and then a pair in your most worn fall color. For me that would be mustard yellow or blush pink! Style them with denim skirts, trousers, wide leg pants and skinny jeans!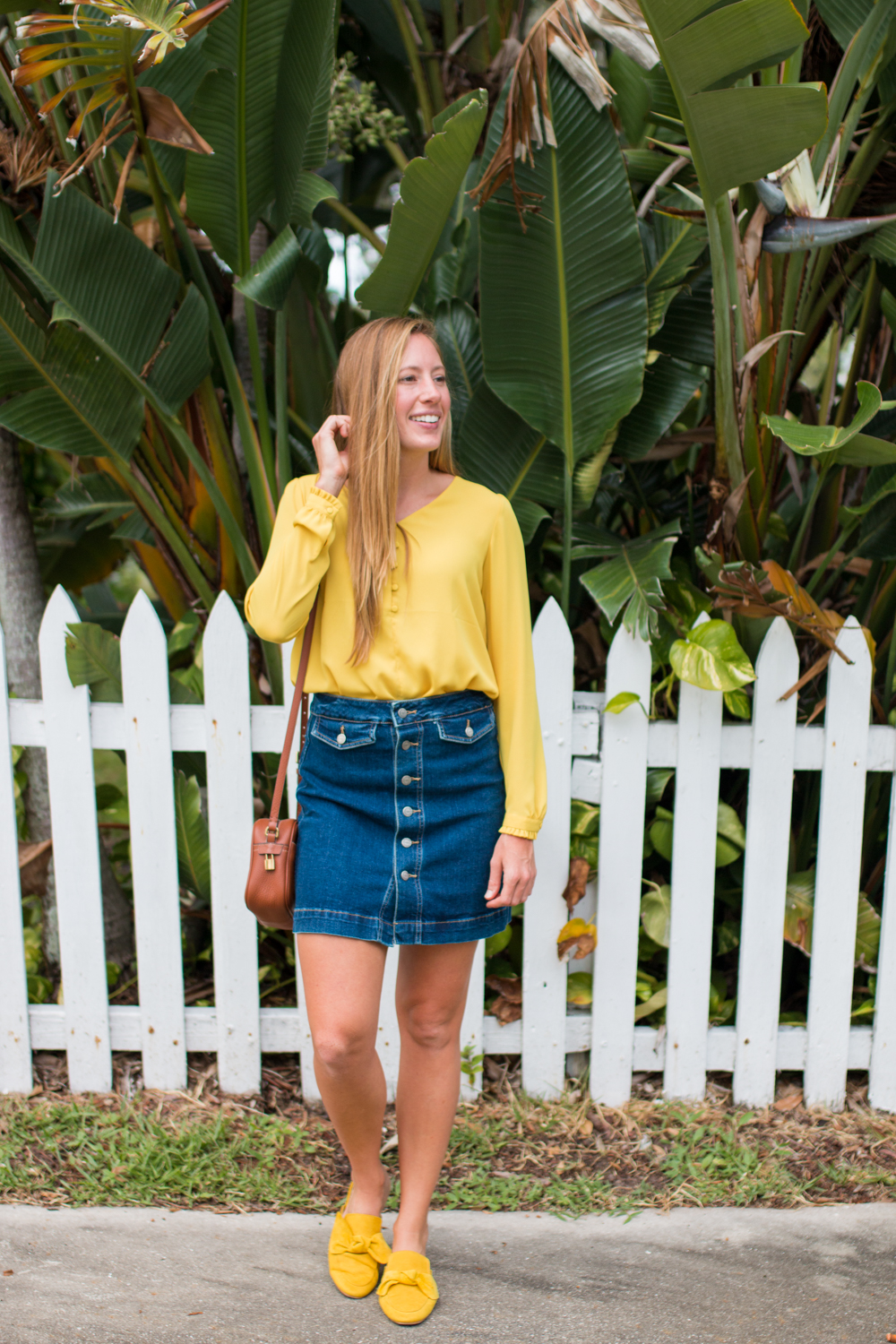 Outfit Details:
LOFT Top / LOFT Skirt / Yellow Mules / J.Crew Bag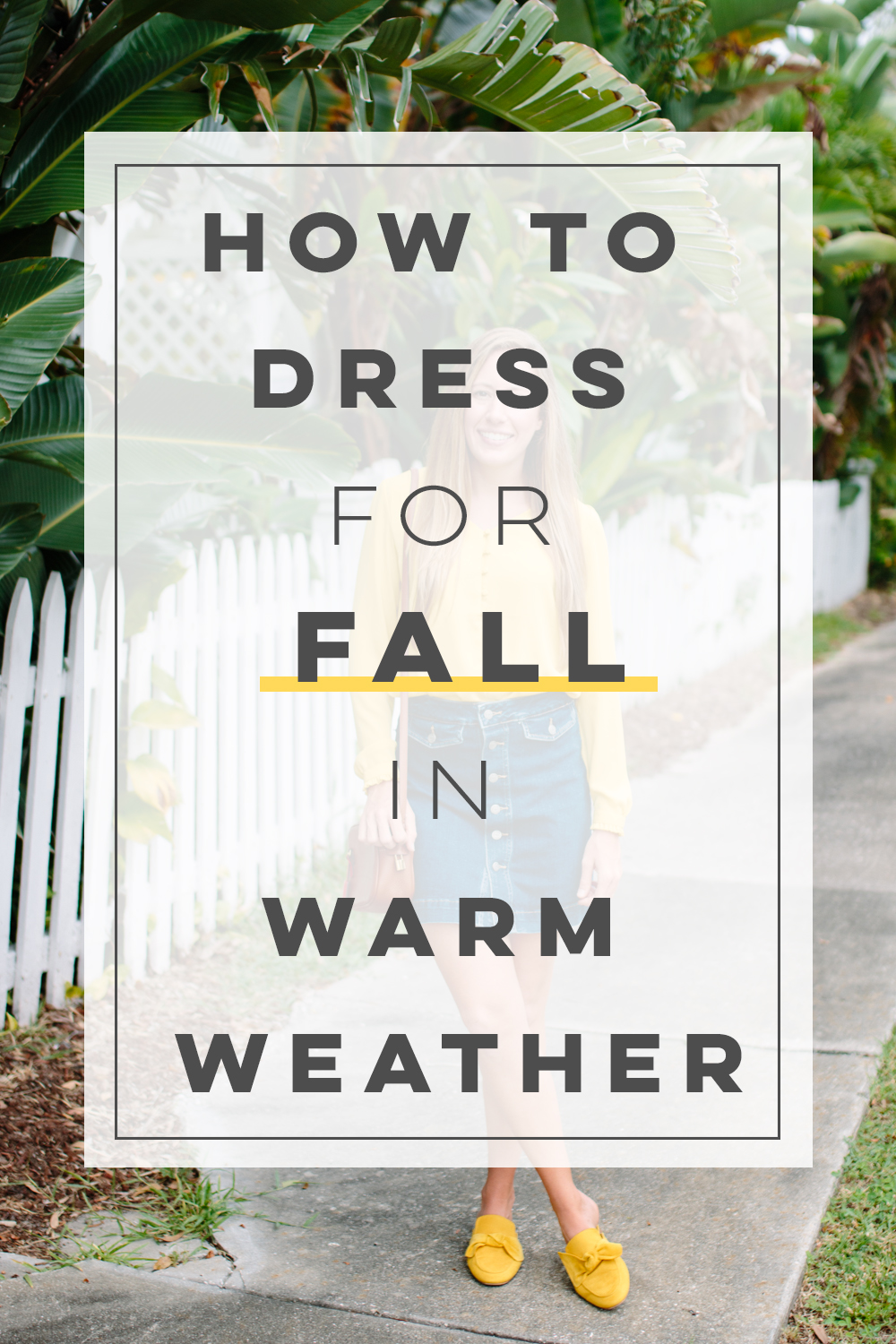 Recent Posts:
Floral Dresses to Wear to Fall Weddings