Thought it would be a fun idea to show you how I curl my long hair super fast with an IGTV!!! This tutorial takes me less than 20 minutes every.single.time! A few weeks back I was brainstorming for non-fashion related content and asked you all if you'd like to see this hair curling tutorial and some said yes. If you know me or have only followed me for a little while, I am not a beauty expert or queen. Makeup and hair is not my forte at all. That's why I find the quickest and easiest ways to do anything to speed up my getting ready process!
Leave it to me to get ready at the very last minute possible. I am extremely low maintenance when it comes to anything beauty. In middle school, I would spend two hours blow drying my hair and straightening it, just for it to get especially disgusting in our Florida humidity. My hormones then made my hair horribly frizzy and nothing helped. Ever since then, I never spend more than 30 minutes on my hair.
Especially now that I've been working from home, it's air dried hair and no makeup. Even for this hair tutorial, I only use Moroccan oil on my hair and no hairspray. If you ever see my hair curled on the blog, I 100% used this easy tutorial. Even if you have semi-short hair, you should still be able to curl your hair the same way!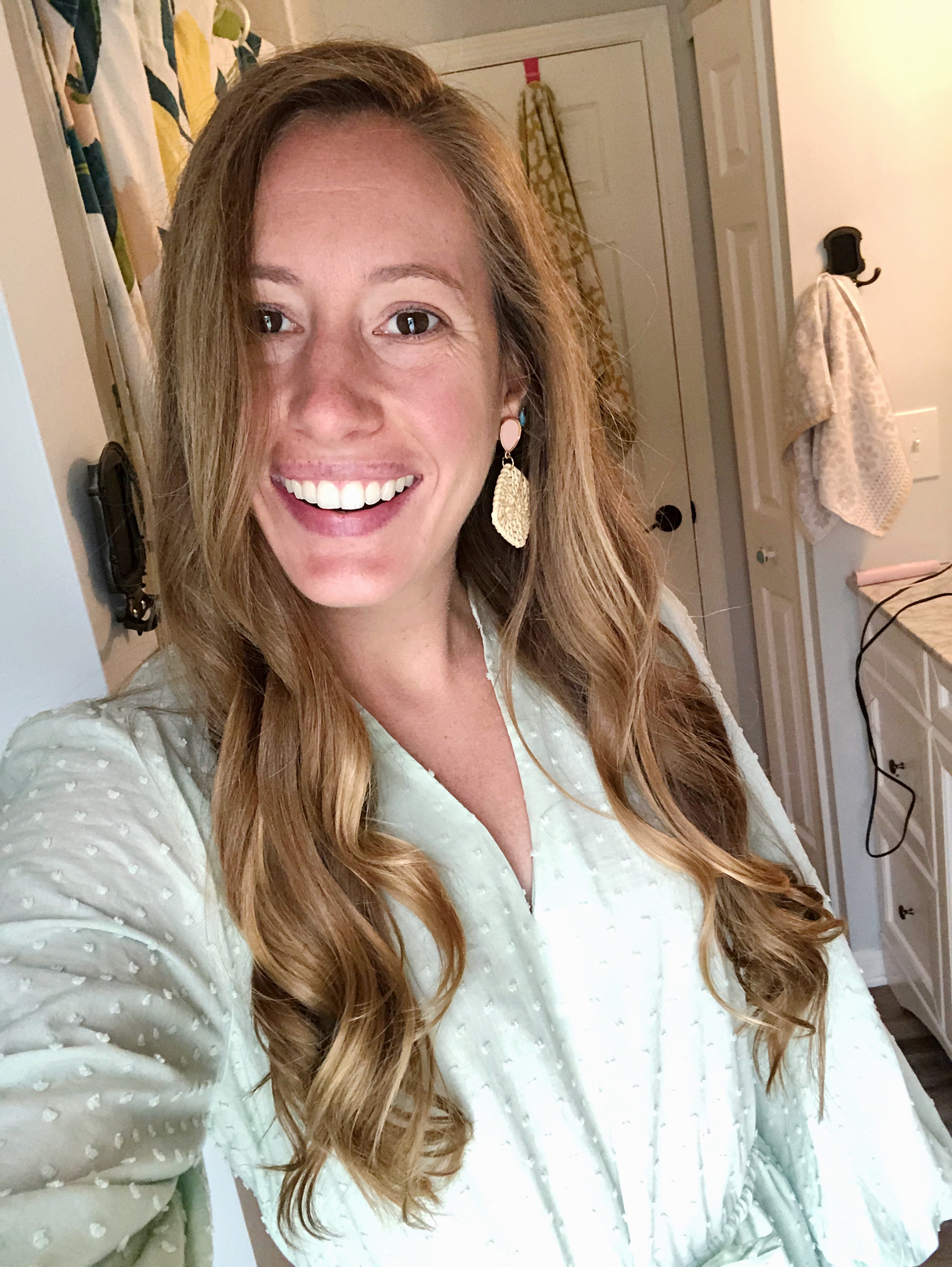 The Tools I Use to Curl My Hair
Remington Pro Curling 1″ to 1.5″ Wand ($29.99)
Bedhead Curlipops 1″ Wand ($29.99)
Moroccanoil ($34.00)
How I Curl My Long Hair with a Ponytail
Put Your Hair in A Ponytail. I usually gather my hair on the bottom of my neck and loosely twist my hair tie so I have a really long ponytail to curl. If you put a "high" pony in like cheerleading style, you won't have as much hair to work with.
Section Your Hair into 1 Inch Sections. Next I will section and grab an inch of my hair and wrap it around the wand.
Once Finished Curling Entire Ponytail, Let Hair Cool Off. I usually will walk around my house and get ready or iron my clothes if I need. Because lets me real, if I am taking the time to curl my hair, it's usually for something fancy.
Take Out Your Ponytail and Curl The Front Sections. This is probably the most important part. Grab about 1-2 inches of hair and wrap around the wand. I will curl these pieces longer to make sure the curl holds really well.
Run Your Fingers Through Your Hair. I am really going for the carefree, sexy, Victoria's Secret, beachy curls. I am a chill/laid-back person and I want my hair to reflect that. Once it's cooled off, I comb my fingers through my hair to relax the curls.
A Little Tip: If you have a fancy wedding, event or photo shoot, curl your hair tight with your 1″ wand and don't touch it until you arrive to your location. Then, right before you get out of the car, run your fingers through your hair.The curls will last much longer!
When I drive down to West Palm to take blog photos (2 hours south of me) or have a wedding, I will purposely curl my hair and leave it in very tight curls until the very last second. If I do it to soon and I need to have it look good for photos, my hair will fall a bunch. Most days I am A-OK with wavy curls but in this case, the longer they "set" the longer the curls will last.
Have you curled your hair in a ponytail before? Do you have any tips for curling long hair? Leave a comment!