Hey guys! Long time no talk! The other day I stepped into LOFT and literally loved everything they had for fall! You can bet I grabbed so many good things to bring you all this try on! I carefully chose 6 pieces that would be perfect for pre-fall dressing! Everything is really perfect for easing slowly into those cooler months or slightly *less hot* if you live in Florida like me. Really hope you love these pieces as much as I do!
FYI! Everything at LOFT right now is 40% off using the code, NEWNOW! LOFT runs a bit on the bigger size, so I normally wear a 2 in dresses, a XS in tops and a 27/28 in jeans. Lets get started!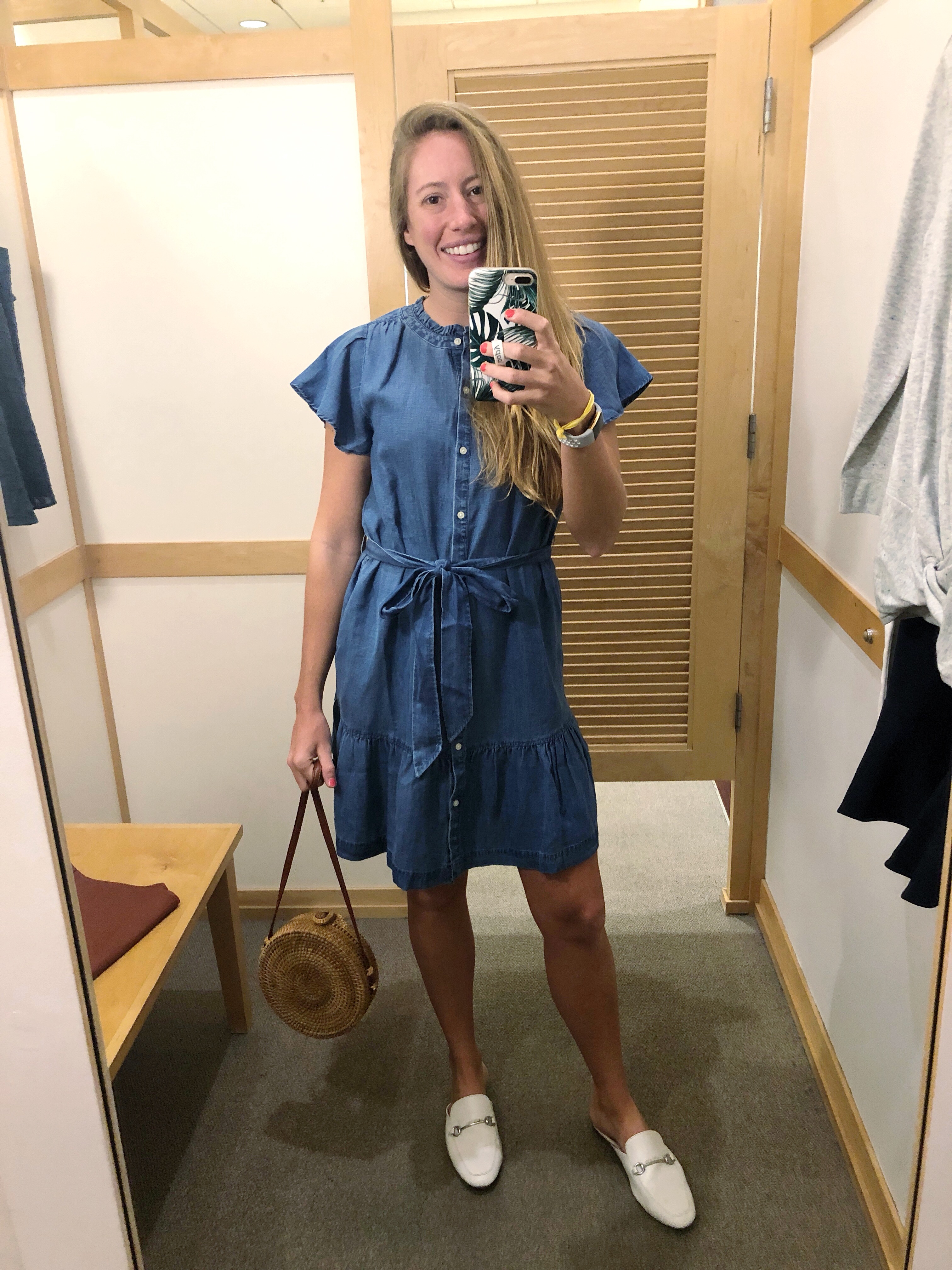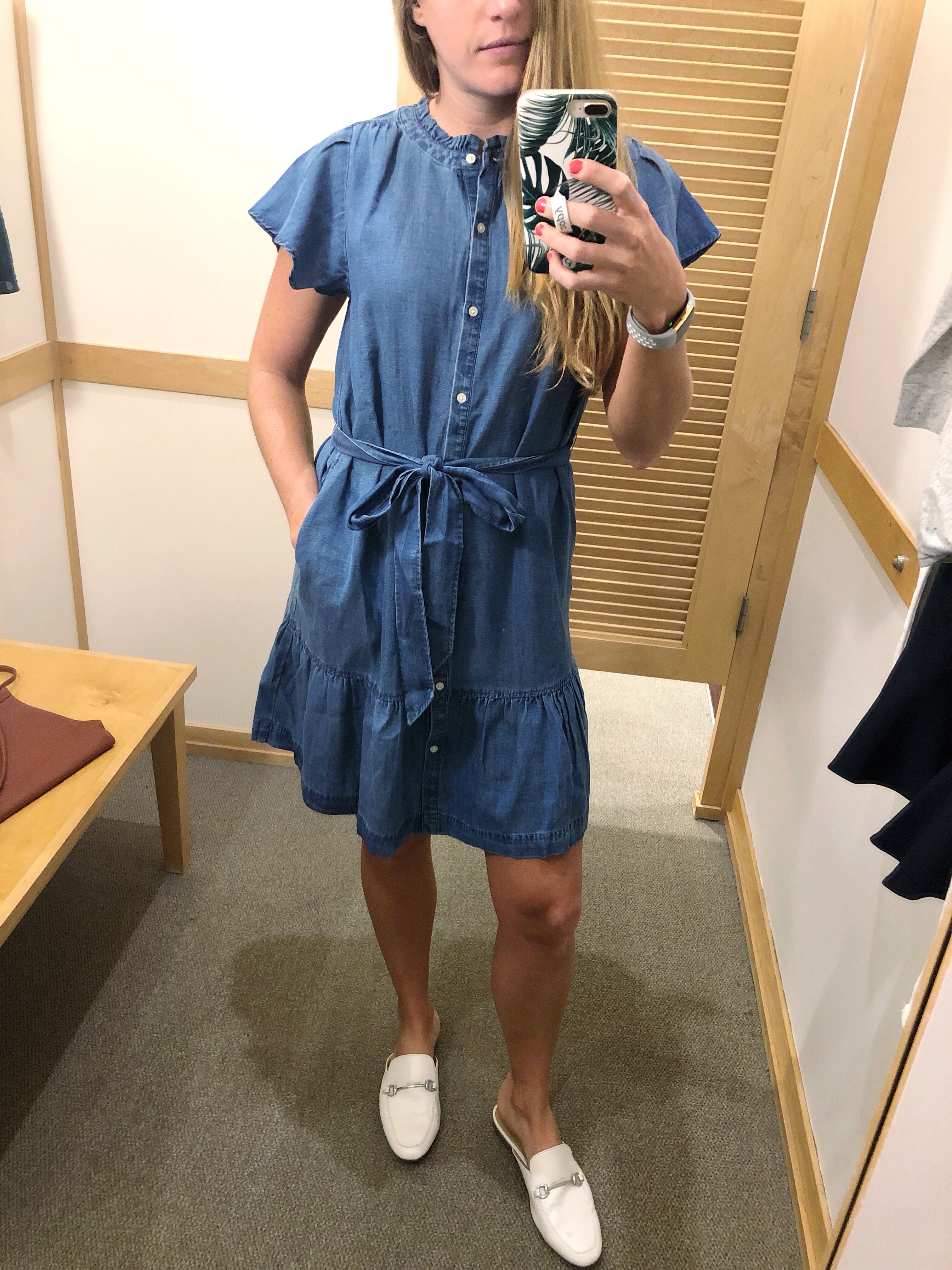 I ADORE this dress so so much. The flouncy hem is the best! Just picture it with some booties and a light jacket for all your fall shenanigans! Or just running around town doing errands and wanting to look cute! I tried on a size 4 but would size down to a 2 for a better fit!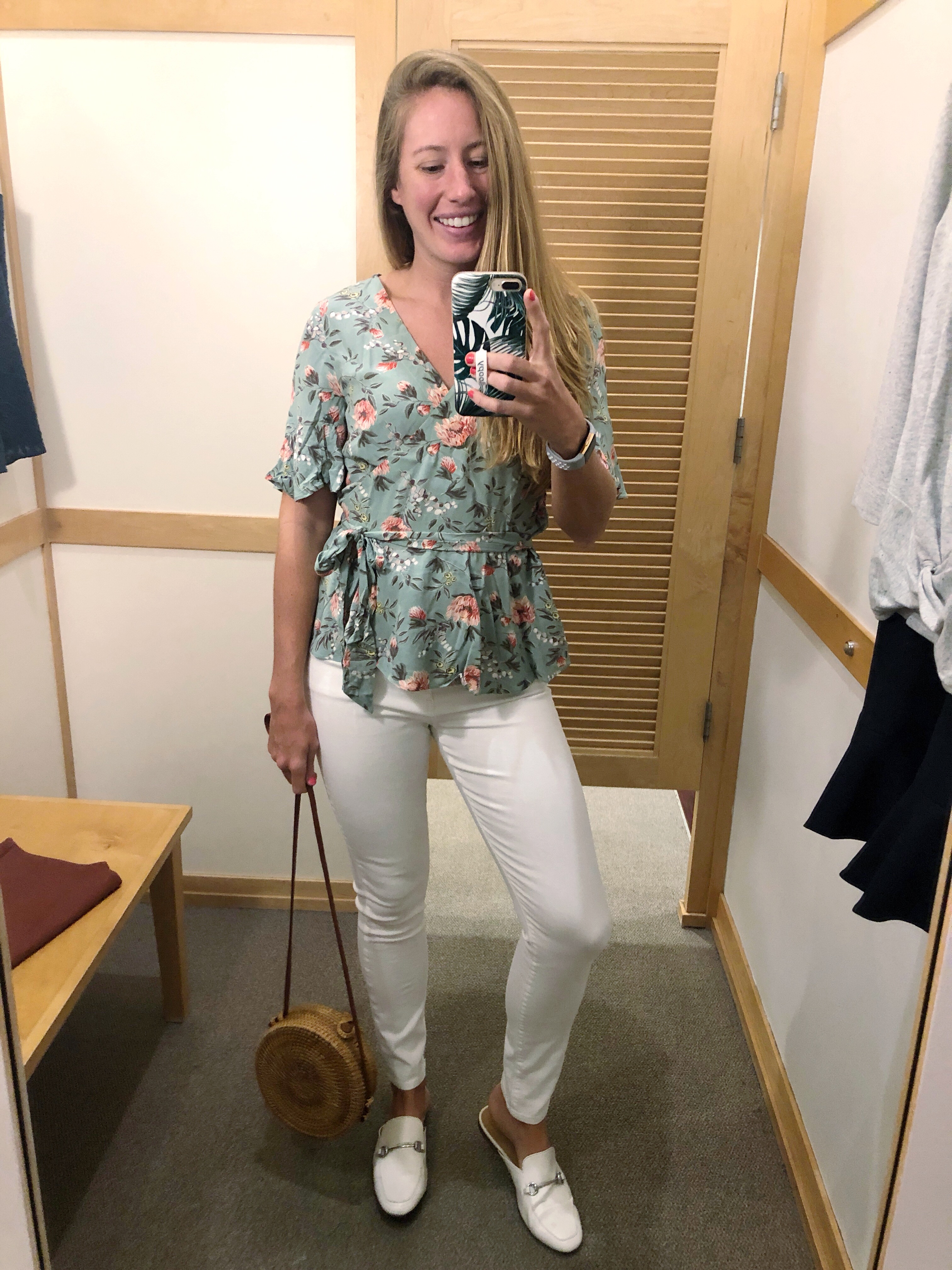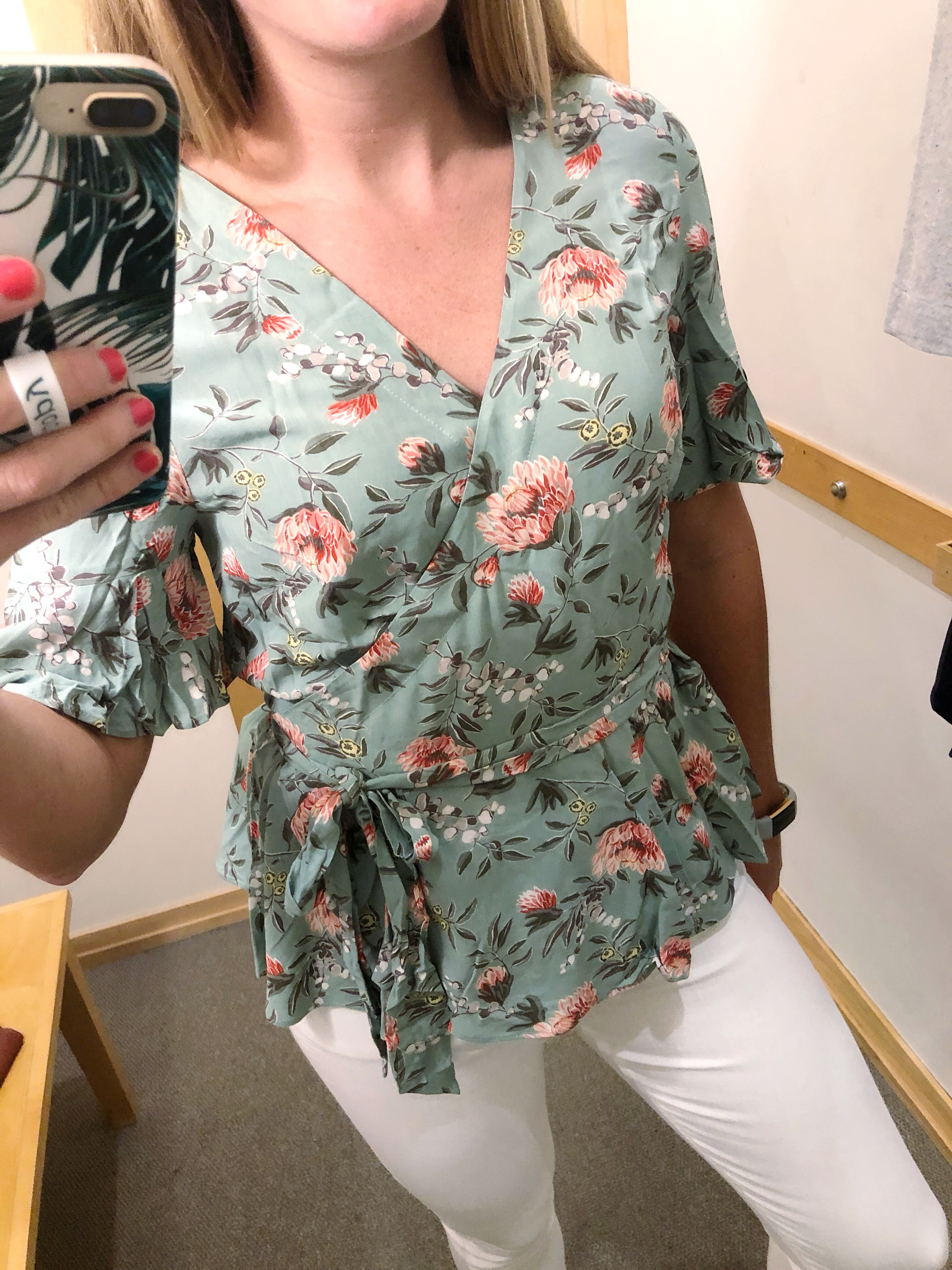 FLORAL WRAP TOP ($59.50)
Now, how fun and fall is this top?! Wrap tops are my new fav! Their so elegant and I like the peplum look it gives on the bottom! The green color is also a nice transition into the holiday months! I want to wear it with my white wide leg pants for sure! A small fit me perfectly!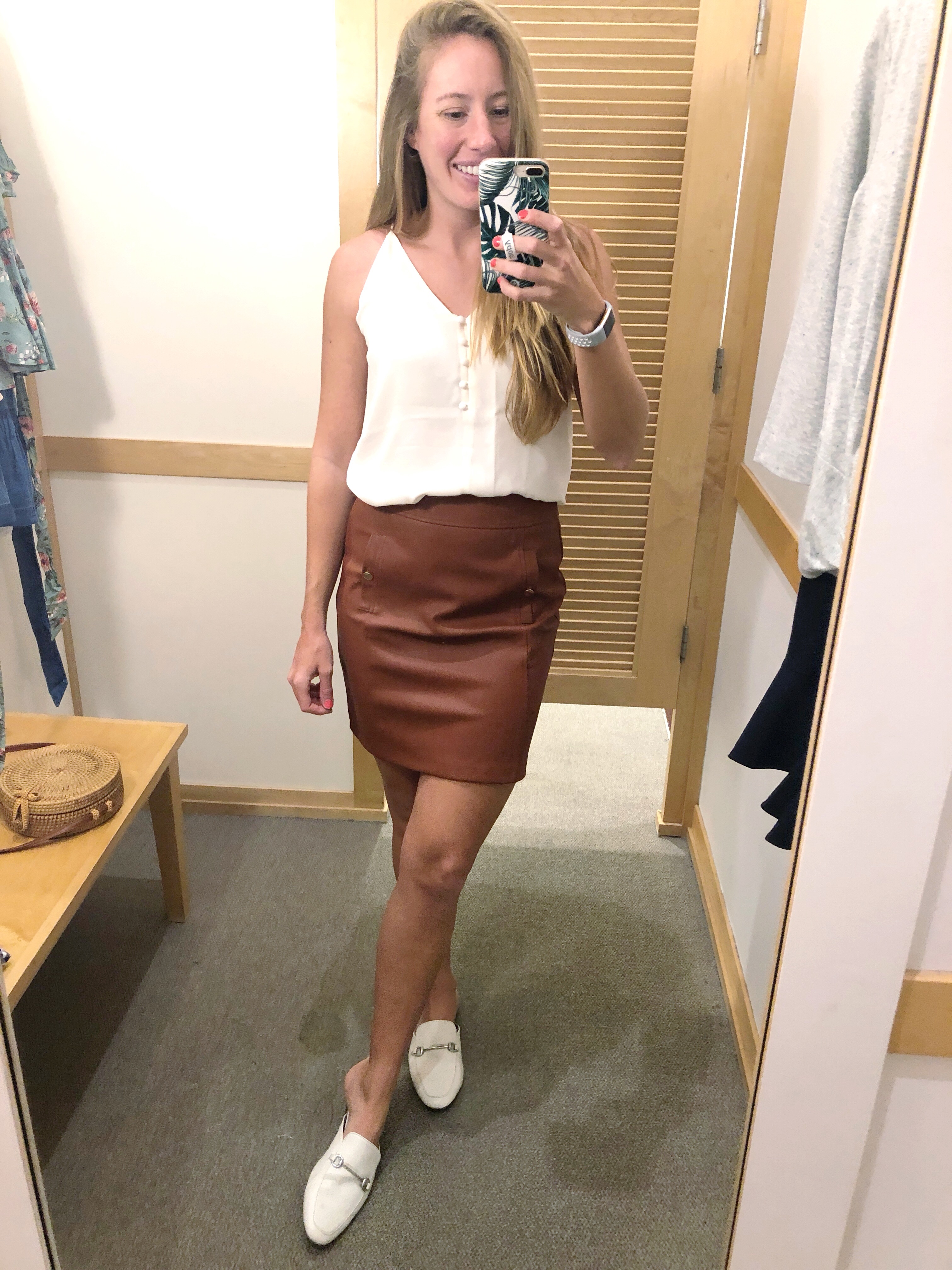 STRAPPY BUTTON TANK TOP ($42)/ FAUX-LEATHER SKIRT
Oh how I love faux-leather skirts. If your like me and live in a Southern state where it's still very much warm and your just dying to dress for fall. This is your go-to fall outfit! Still has all the fall hues and unique textures! Wearing a size 2 in the skirt!
I also have a super similar tank top like this one from LOFT that I'm wearing and it's one of my most worn tops! The buttons on the tank are extra cute and I love the v-cut! Wearing XS!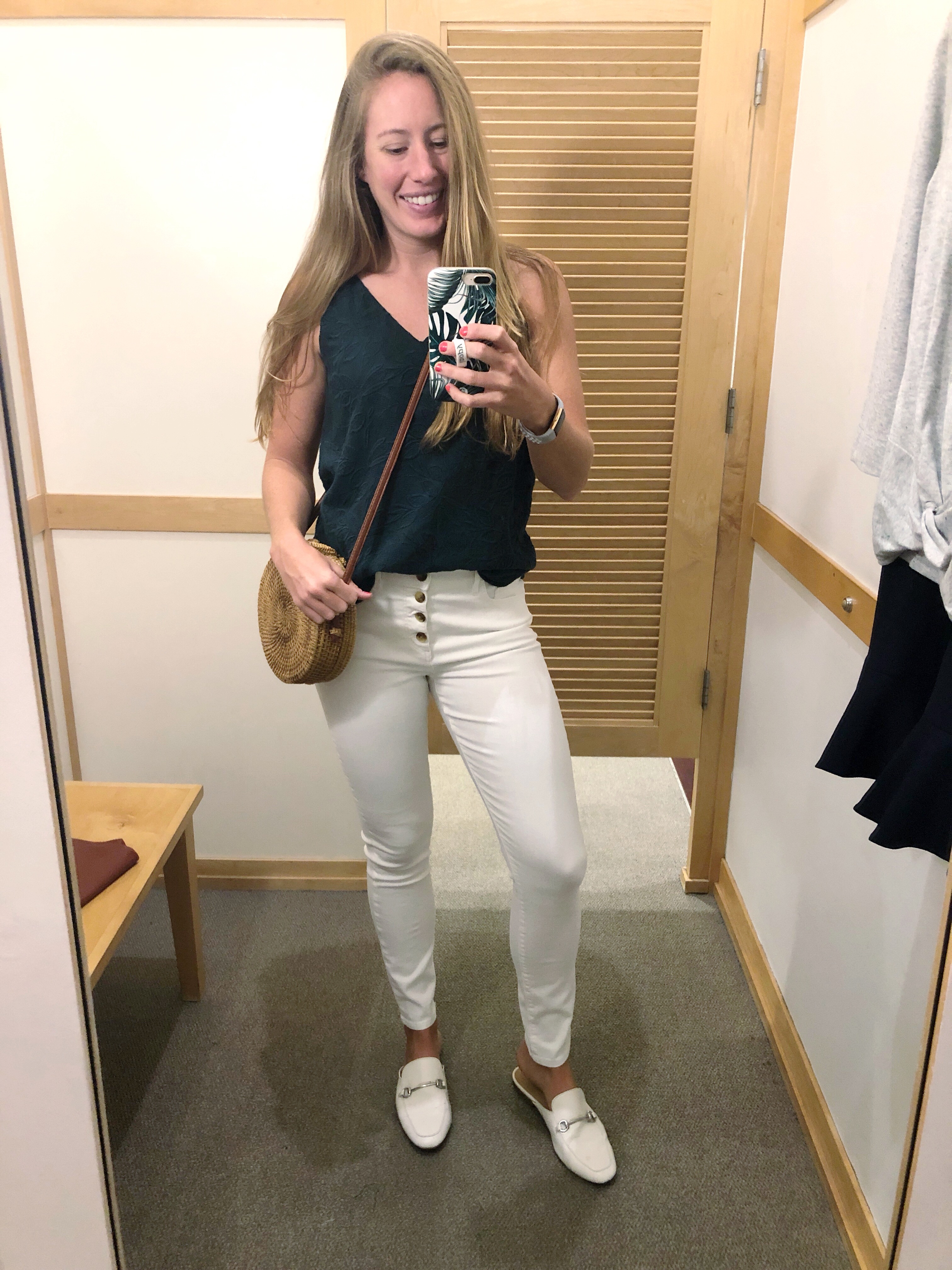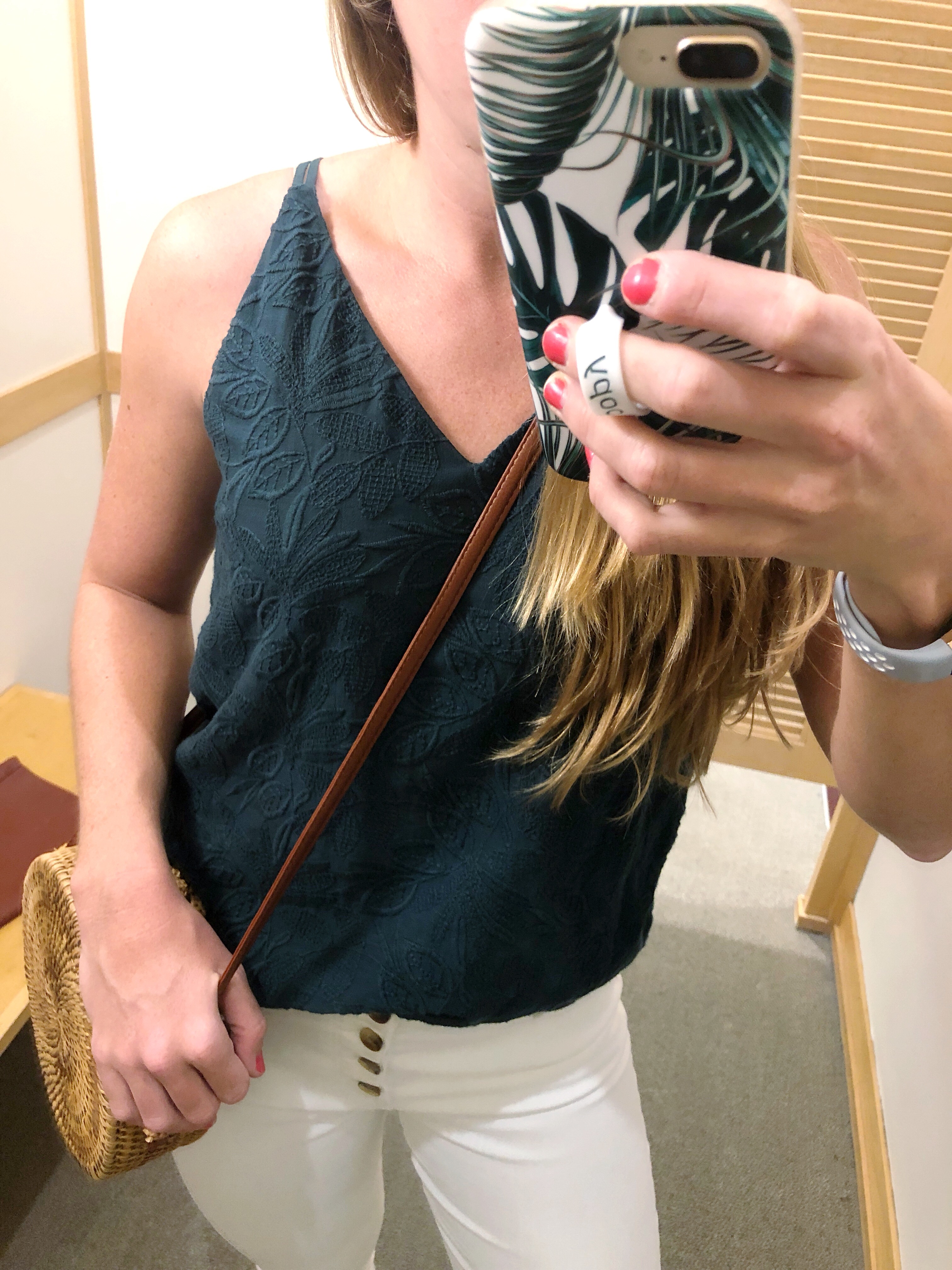 GREEN TANK TOP ($43.99) / WHITE PANTS
Hello Christmas?! Really though, it is never cold here by Christmas and this strappy top is so jolly, it's giving me all the joy! The embroidery is really beautiful and there's pretty detailing in the back. I also liked the thickness of the fabric since it wasn't as silky as the button down tank top. Tops runs big, XS fit perfect!
When I tried these pants on in store, they were not my favorite. Now that I am re-looking at them in the photos, I kind love the fit! They are high-wasited, but not to high. Can't remember if I tried on a 27 or 28 but with LOFT it was most likely a 27!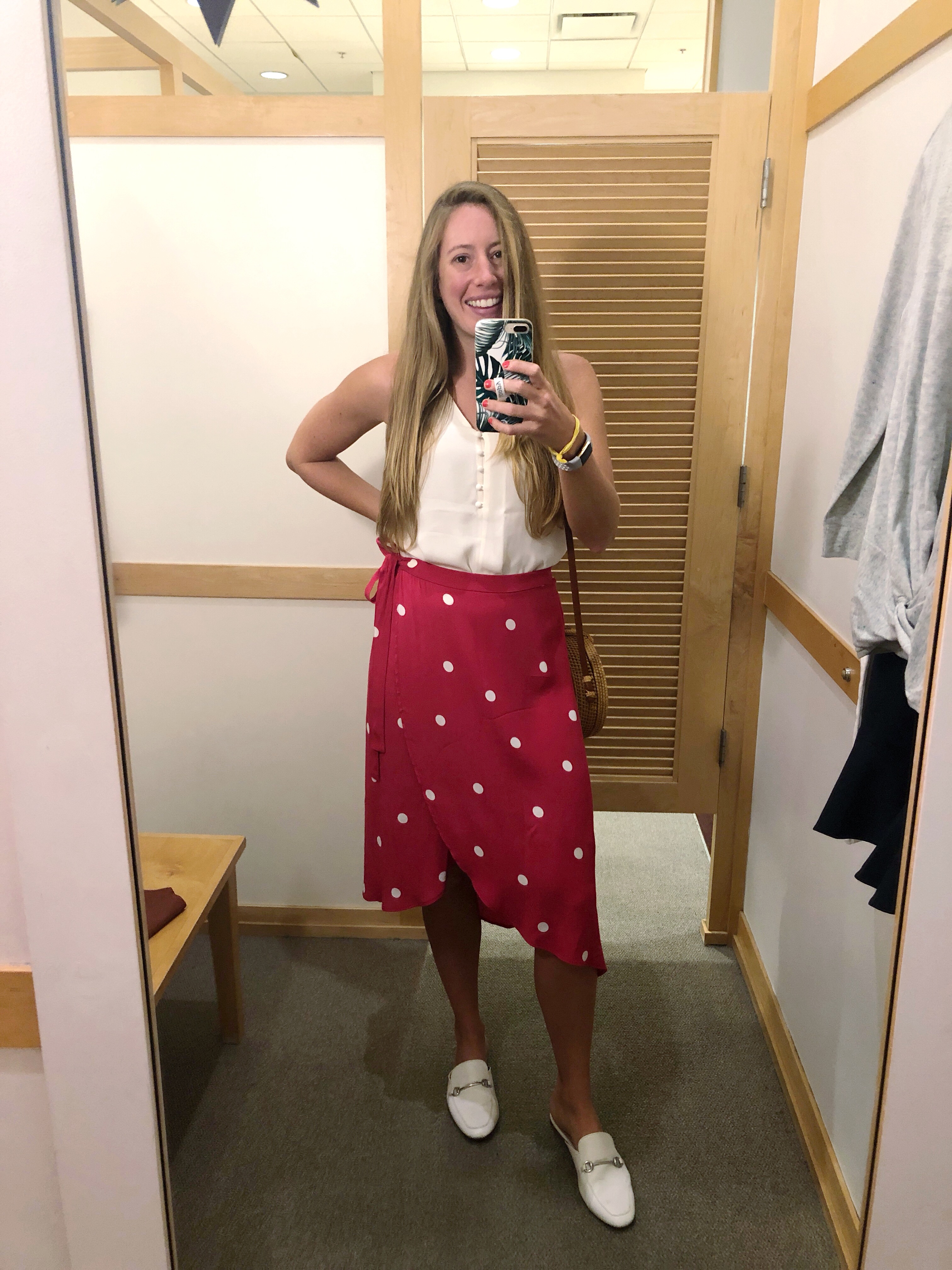 TANK TOP / POLKA DOT SKIRT ($24.88)
So this skirt is on mega sale and literally so cute! Not only are wrap tops amazing, so are wrap skirts! Red is not a color my wardrobe is filled with and this top is telling me I may need to fix that! For fall, it would look adorable with a chunky off-white sweater tucked in! I tried on a 4 in this skirt and it was really really big. A 2 would have been the better option.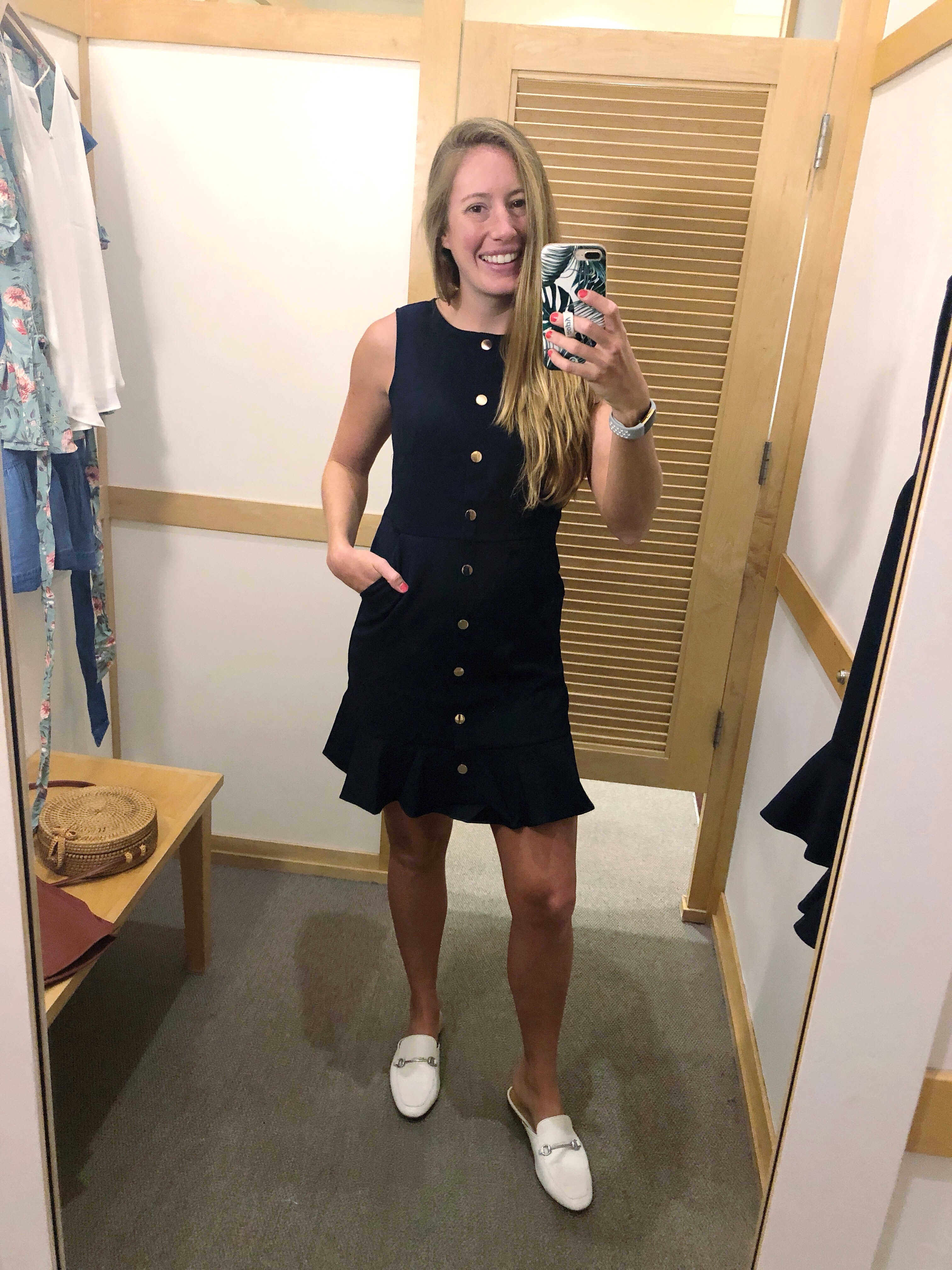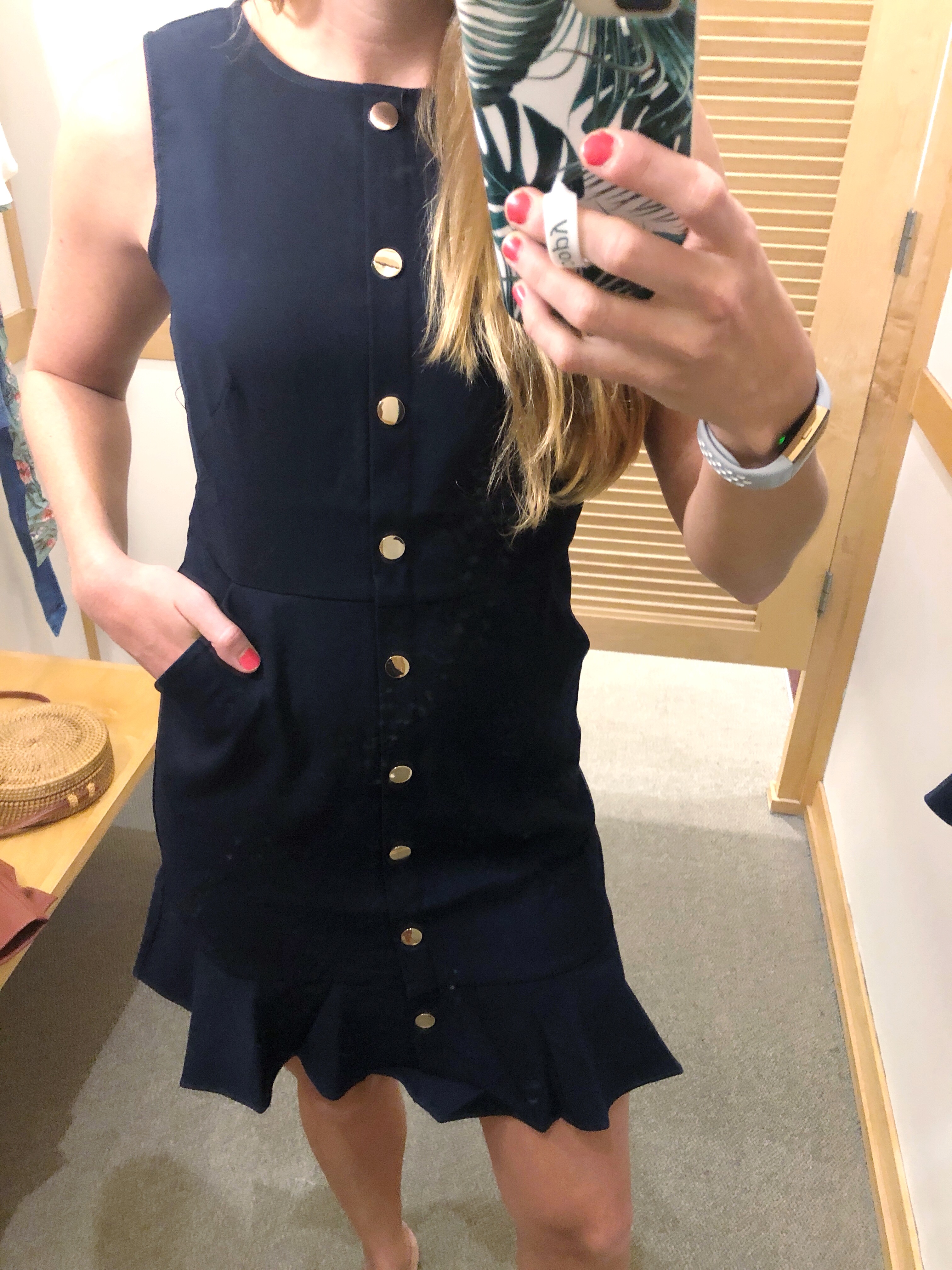 Feelin so classy and professional in this dress! It's actually navy if you can't tell through the photos! The fit is perfect and it's made so well! The gold buttons are also a super nice touch! It feels very business appropriate for meetings, dinner or networking events! Wearing a size 2!
Remember, before you shop, everything at LOFT right now is 40% off using the code, NEWNOW!
Shop the Fall Try-On
Did you all have a great week!? I mentioned on Monday's fall transition post how I had some rocky days last week that shook me pretty bad. This week has been muchhhhh better! Our Florida weather has been AH-MA-ZING the past day or two. Yay, for sure taking full advantage of that! Thanks to all you Northern people for sending a "cold front" to us!
I rearranged my schedule this week so I could have Fri-Yay off. Which is the best. I slept in, had a networking ZOOM call that I took outside on the porch, went on a walk with my mom, swam, worked on bunch of behind the scenes blog stuff and some personal stuff I needed to get off my to-do list. Why doesn't every office have Fridays off?! That should really be a thing! Productivity would skyrocket!
Lots of Sunshine,

Katie
Recent Sunny Posts