Nothing says summer like a classic blue and white all-American outfit. All I need is a flag and I'm all ready for end of summer festivities and Labor Day. My typical summer outfit that's not a dress is usually some type of girly top with white denim. Before I pull out my fall colored skirts, dresses, and tops, I am all about squeezing in my favorite summer finds, like this pretty gingham wrap top. There's still a few weeks of summer left and I plan on soaking it up as much as possible. That might be an oxymoron if you live in the south like me!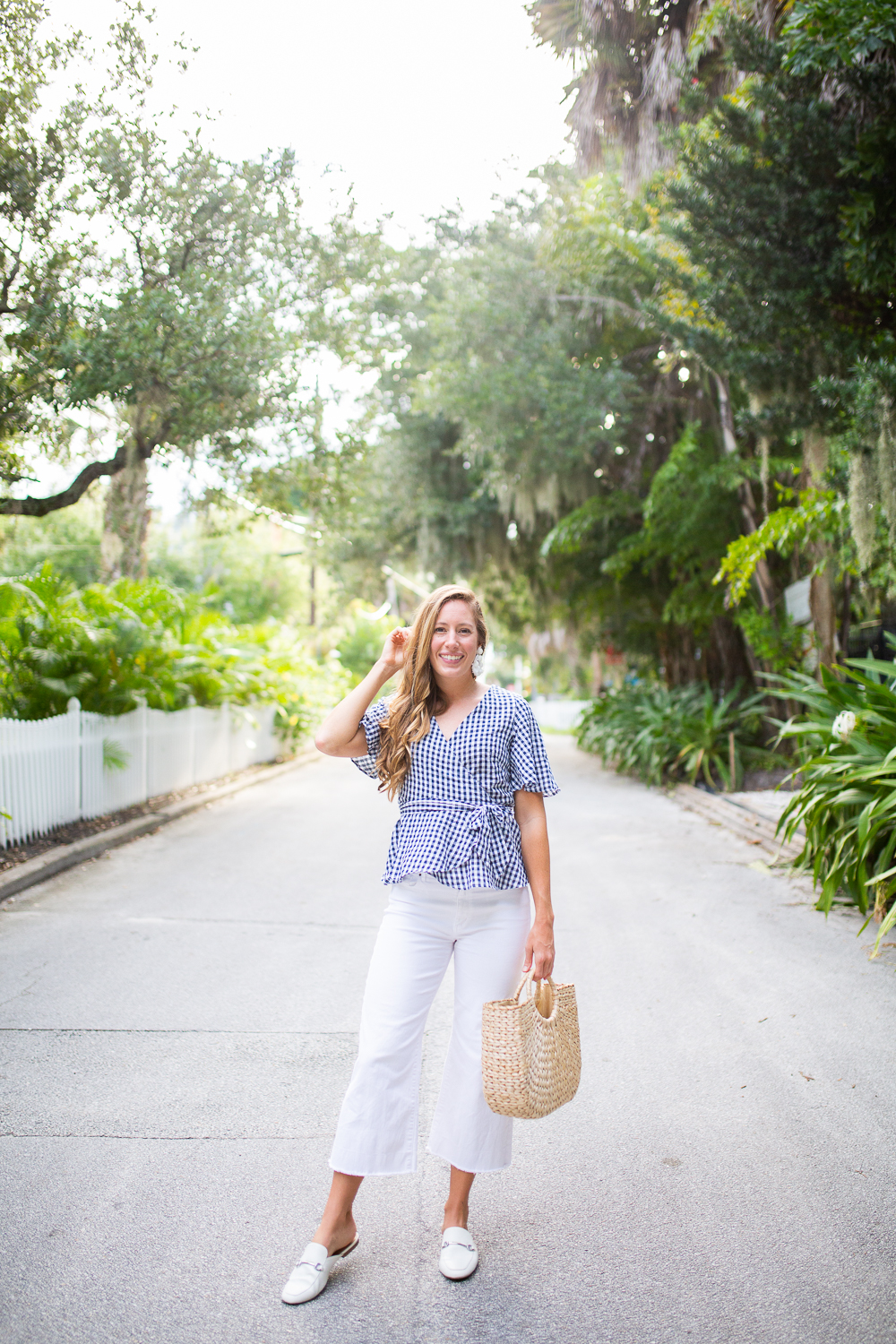 Sunny Outfit Details
LOFT Top (on sale under $20 and comes in petite and plus size!) / Ann Taylor Wide Leg Pants (similar) / Target Loafers (similar) / Straw Bag
Wrap tops have really caught my eye lately! Is this a sign I'm closer to my 30's?! Just five years ago, I would have never even thought to buy a wrap top, nor would I have wanted to. Remember when I wore a sustainable wrap dress on here for the first time this year?! Times and my style have sure changed! This gingham wrap top from LOFT is my absolute favorite find of the summer! Let's just say it's so flattering and instantly makes you feel put together in a casual summery kind of way. Currently, it's on sale for under $20, so if you love it, I'd scoop it up fast! Then save it for next summer!
As much as I love the girls who can pull of the Cali boho and flowy style so well, structured pieces will always have my heart. I just feel me in this outfit. Polished, put together, and fun! In case your wondering, I bought a size XS and it fit like a glove. I did alter the top and added a snap at the chest area because the V neckline was a tad lower than I am comfortable with. If you are blessed in that department more than I am, you should be A-OK!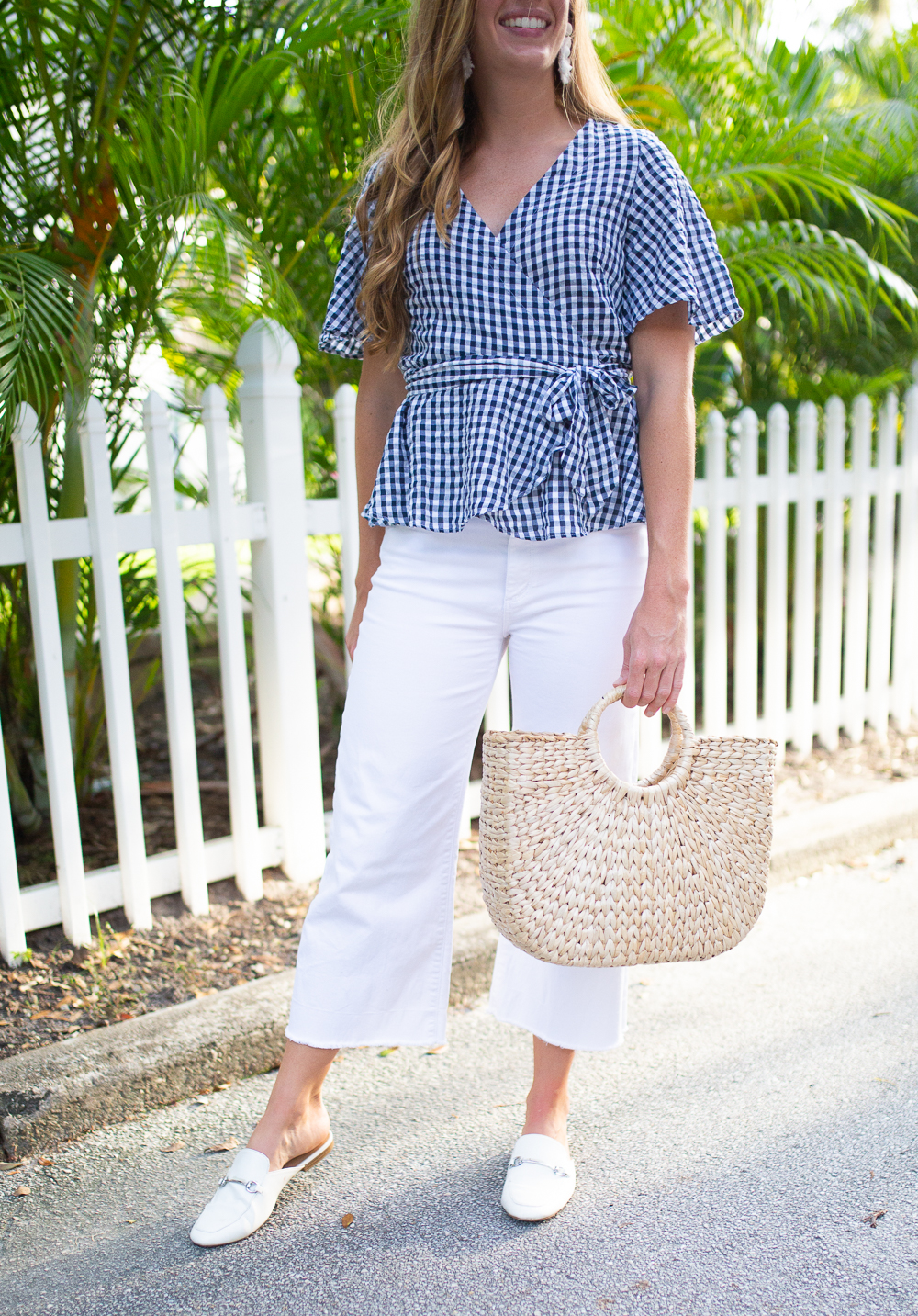 If your looking for a versatile shoe that matches with your entire summer, spring, fall and winter wardrobe, I've found it! Backless mules are just the best! The neutral color and classic style makes it easy to pair with everything from dresses, skirts, shorts and wide leg pants! They also make a great transitional shoe for fall. Just imagine sweaters, wide leg pants and mules all styled together! Oh, the possibilities are endless!
When I was teaching, I wore these white wide-leg pants at least once a week. They weren't considered denim, so I could get away with wearing them on any day of the week! Technically they are denim, just not blue jean material, no one ever said otherwise and I never asked!
First off, if you are hesitant about trying high-waisted pants, I would totally recommend them! You can pull them off if your tall like me or on the Petite side. Everlane makes the most beautiful wide leg cropped pants in multiple colors. I'm dying to get my hands on a navy pair for fall! I actually ordered a cute pink pair in a size 2 last year around this time and they ended up being a tad to snug. Go with your normal size since they run very TTS.
Second, they are truly a flattering and fun pant! Ask any of my friends, I legit hate wearing pants and avoid them at all costs. Living in Florida makes it easy but these pants make it even easier! Madewell also makes a really structured pair that are almost identical to the pair I am wearing! The crop and slight flair adds a fun element and the waist is just high enough but not cut off your circulation high. Makes sure whatever pair you buy has elastane or spandex for stretch and you will never want to wear a different style pant again.
Sunny Outfit Details
LOFT Top (on sale under $20 and comes in petite and plus size!) / Ann Taylor Wide Leg Pants (similar) / Target Loafers (similar) / Straw Bag
Happy Labor Day sunny friends! Hurricane Dorian is making it's way to Florida and now the entire East Coast of the US. She's kind of taken over everyone's fun weekend plans. Instead of a beach filled Labor Day weekend, everyone has been spending their days boarding up and preparing for a major hurricane. This hurricane has been lingering out in the Atlantic for almost a week now. All of us East Coast people are in this weird waiting game and full of anticipation for it to finally get here.
We can normally tell where it's going to hit to let us know if we need to evacuate or not but Dorian is keeping everyone on their toes. It seems like all of Florida is on standstill asking, "Where and when will it hit?!"
The days are starting to blur together and if the hurricane gets any closer, my fam and I will be heading more inland to be on the safe side. We live about 20 miles off the coast and are already feeling the effects of the storm. Follow along on my storm updates on Instagram!
If you live on the East Coast of Florida or up the East Cost of the US (yes Dorian has been that unpredictable), know I am praying for all of you! We prepare for the worst but hope for the best!
Lots of Sunshine,
Katie
Recent Sunny Posts
An Easy Way to Add Happiness to Someones Day
My Workout Routine + Favorite Activewear Brands