If there is a popular style dress this season, it's smocked dresses! You've probably seen me rave about my favorite smocked Nap dress here and on Instagram. They are truly the best dresses for hot summer days. Some styles you can even wear without a bra. ? I know dresses can get pricey. To keep these budget friendly, I rounded up 6 smocked dresses all under $100.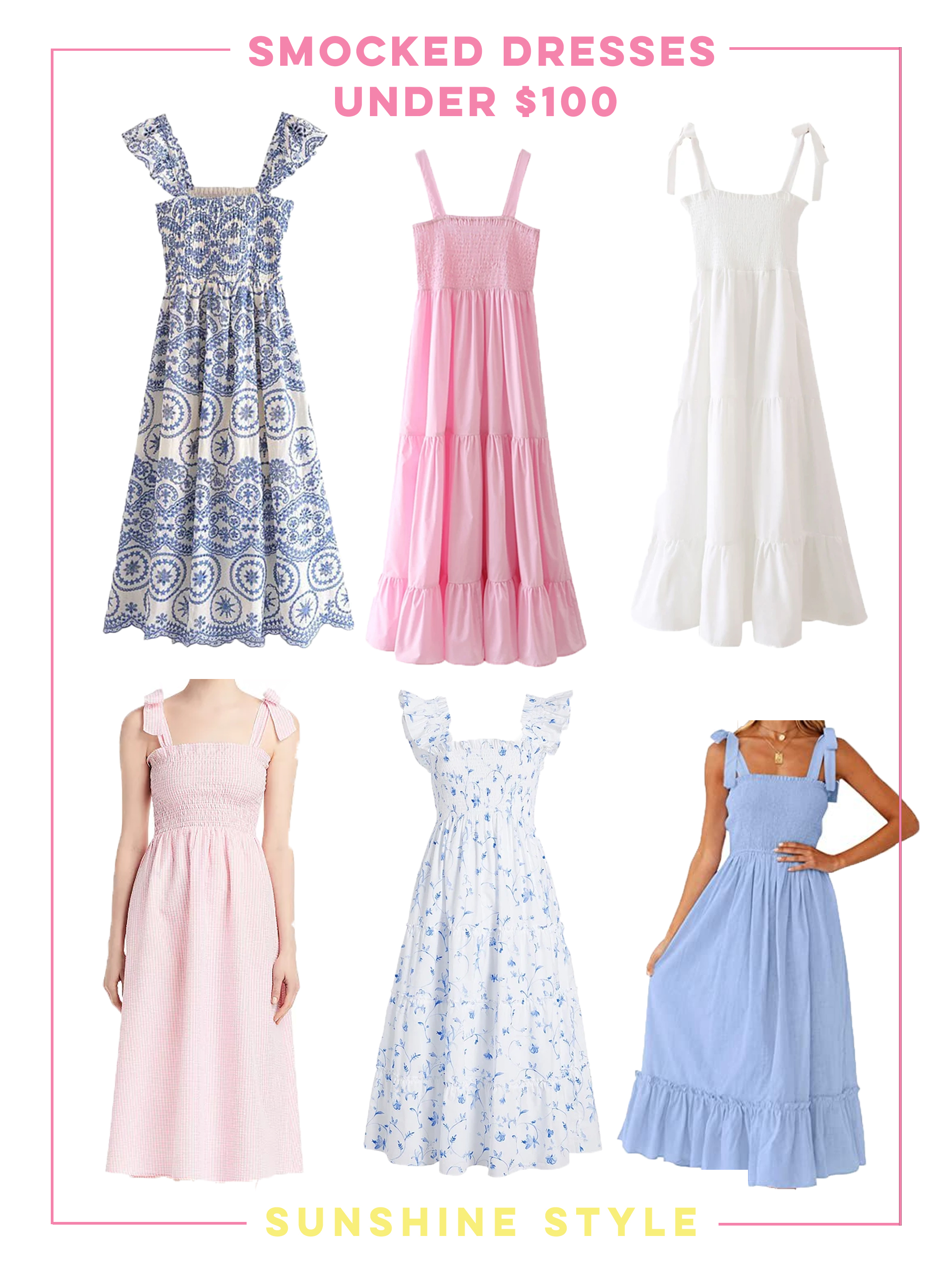 Top: Blue Embroidered Dress / Pink Tiered Dress / White Maxi Dress (all 3 dresses are 30% off with code SUMMER2021)
Bottom: Pink Midi Dress (Under $50) / Botanical Nap Dress / Blue Tie Strap Dress (under $40)
Smocked Dresses Under $100
Like I mentioned above, I love wearing my Nap dress, especially during the work week. It's really easy to throw on without a bra and add sandals to take quick morning walks in. Plus I can be comfy working at a desk all day. Get $20 off your first order of $100 or more here!
Goodnight Macroon is a new to me store and they have the cutest smoked dresses. I am a major sucker for blue and white anything, especially if it has beautiful details like this embroidered cut out dress. Would be really cute for a summer wedding! I also love this girly pink tiered dress and this classic white tie strap dress. Their entire site is 30% off with code SUMMER2021!
Dresses in my opinion can get really pricey. The limit I give myself for buying dresses is usually $100. Even that can be steep sometimes. My sweet spot is to find amazing, high quality dresses between $40-$80. This blue tie strap dress is under $40 and would make such a cute lunch with friends outfit! Also, give me all the preppy vibes with this pink seersucker print dress under $50!
All of these dresses can be worn working from home (if your not back in the office yet), on summer trips, as a beach cover up, dinner with friends or running errands! My style is so casual, 90% of the time, I style my dresses with sandals, earrings or a headband and a basket bag! You can dress these up for weddings or nights out with friends with espadrilles or block heels, statement earrings and a small clutch or bag!
Lots of Sunshine,
Katie