My thoughts this morning as I write this post. Why do I not own/wear more t-shirt dresses?! They are literally the easiest piece of clothing to throw on, are super soft and can be worn so many different ways! I thought it would be fun to share 3 ways to wear a t-shirt dress for this hot summer weather!
I woke up early to get this post written and then I realized that after I updated some stuff for my website, it messed up my Instagram feed and is now not showing up. So, I spent a little time trying to fix it then gave up for now. Troubleshooting tech errors is so not my calling in life. Send help ha!
J.Crew Factory T-shirt Dress (under $25) / Denim Hat / White Shoes (under $30) / Basket Bag / Earrings
My T-Shirt Dress
Wow wow wow, just checked and my lobster dress has been re-stocked in most sizes and is on sale for only $13! That's even cheaper than what I bought it for and feels like stealing almost! The dress comes in blue and white stripe, red stripe and 4 solid colors! I just love the lobster print and just ordered some lobster fabric to test out for a possible new headband!
Usually t-shirt dresses can be super short. Not the case with this one! The cotton is really lightweight and it's roomy without being a giant bag! It's such a funny concept when you think about it, t-shirt dresses are just a giant and long t-shirt! If your looking for a t-shirt dress with slightly higher quality and thicker cotton, J.Crew has their own non-factory version for under $30!
Sizing: I am 5'8 and am wearing a Small. Fits TTS! Usually I wear an XS at J.Crew Factory but t-shirt dresses usually shrink in length to much for my tall frame.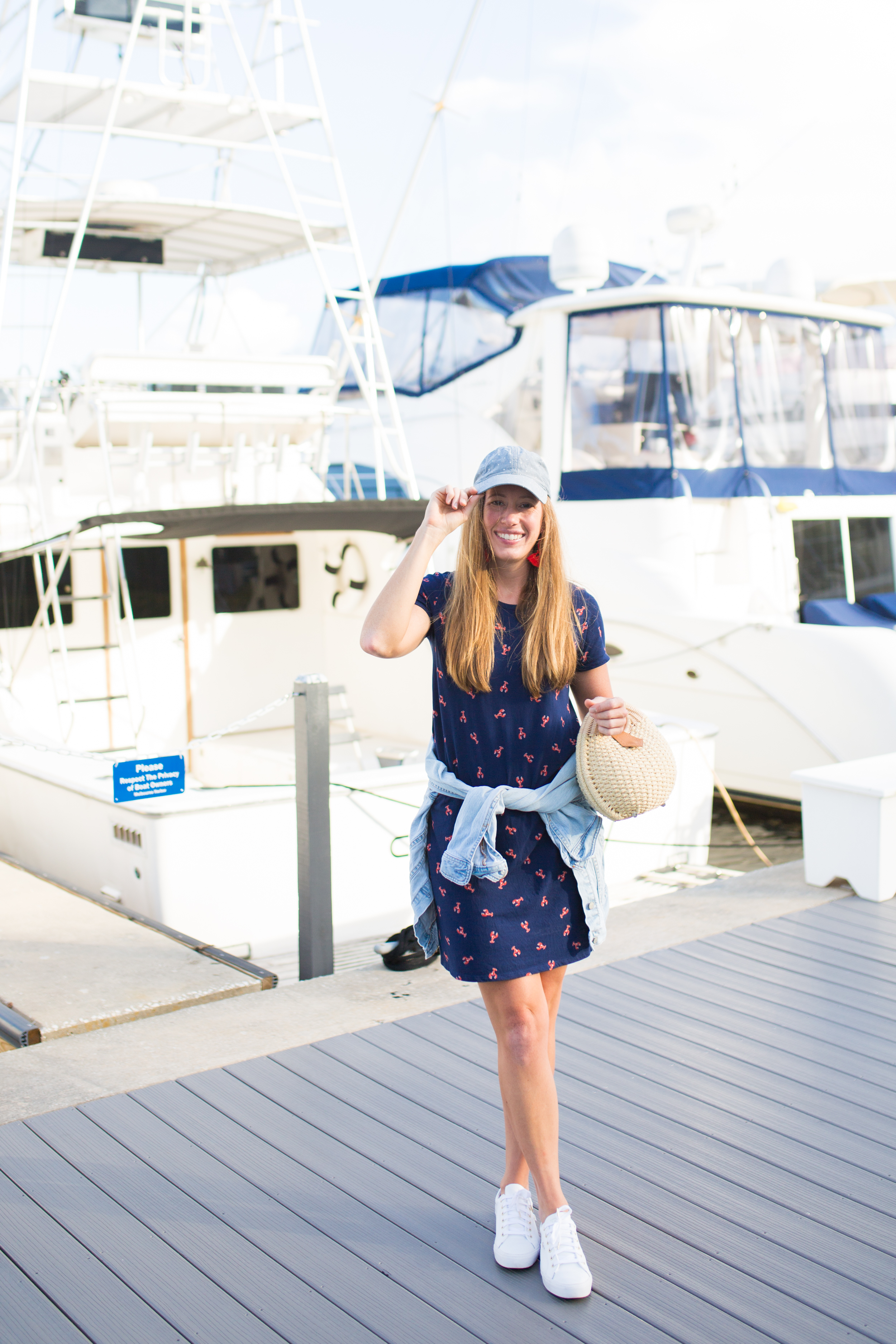 3 Ways to Wear a T-shirt Dress
All of these different ways to wear a t-shirt dress are on the casual side. Yes, I think you can wear them with espadrilles or wedges but I prefer to style them casually and keep it simple since it's pretty much just a giant t-shirt! And it's summer, so simple and easy is best!
White Sneakers and a Denim Jacket
As A Beach Cover Up
Sandals and Statement Earrings
How's your week going?! Aunt Flo came to visit and that just always completely throws me off schedule. I worked from bed all day Tuesday and was supposed to celebrate my ETSY shop, Sunshine Style Co., 1 Year Anniversary and had to put that on pause. So today I am celebrating it! See a few behind the scenes and a recap of my first year in business over on Insta!
Lots of Sunshine,
Katie