Today I wanted to talk about something I don't normally chat about on here and that's my workout routine! And also what I really wear to workout in! Working out is a huge part of my life and I probably wear activewear as much as cute fashion-y clothes. ? Unless you follow me on Instagram, you might be pleasantly surprised by that!
Why have I not talked about something I'm so passionate about on here before?! Really, I wanted to selfishly keep it to myself. My workouts are what help me de-stress after a long day and truly keep me sane! I always thought of my blog and working out as two very separate things. If I was ever stressed about blog stuff, I would relieve all my stress at the gym. So writing about the workout or what I was wearing just didn't mix if that makes sense?! Then I just thought, what the heck, I need to finally talk about it!
I also don't own fancy workout clothes and figured you guys would be bored to tears with my same four compression shorts and cotton tank tops. ? Don't worry though, of course I'm going to provide some cute workout gear options in case this post inspires you to get up and get moving!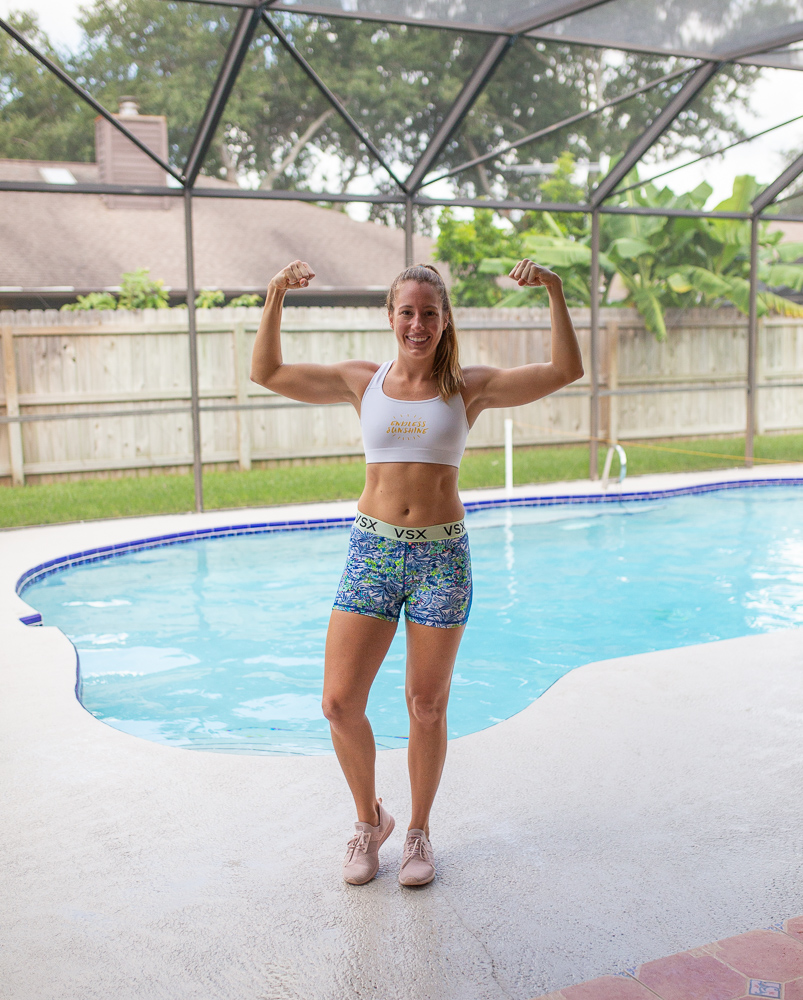 Activewear Details
Sunshine Style Co. Sports Bra (coming soon, similar here) / Victoria Secret Compression Shorts (similar) / New Balance Sneakers (under $45!)
What I Really Wear to Workout In
Typically when I workout, I wear compression shorts, which are basically colorful tight spandex shorts, fitted tank tops and comfy and cute athletic sneakers. There are SO many cute workout clothes out there like high waist leggings with cropped sports bras. The truth?! I don't wear any of those cute outfits. Oh I want to, I just find them…well, impractical.
I need to invest in some more quality activewear pieces one of these days! I get so much use out of my gear. Out of everything I own, this is what I spend the least amount of money on and well…the reason I thought it wouldn't be a very interesting subject to share about on my fashion blog. I can't even remember the last time I bought new workout clothes. Yet, here I am.
Anyways, I did want to give you practical tips on what I really do wear vs. what just looks cute on the internet. Let's be real, crop tops with high waisted leggings look so cute on every Instagrammer out there. At the gym I workout at, no one wears just a sports bra and I think high waisted anything activewear related is super uncomfortable. Anyone else?! Super curious on your opinions / preference on this! If I lived somewhere where hiking was more popular like Cali, Hawaii or Colorado, I think that would be a super practical outfit to wear. Or, if I was a yogi…I would totally rock the matching crop top and leggings!
Tank Tops
Hate to break it to you but this is probably the most boring item I wear. Like I said, I am the worst at investing in new workout gear. Almost all of the tank tops I wear were either free or are very very basic in shape and color. This might be the only time I ever say this, but when it comes to workout clothes it's more about performance than fashion. I do really love the tie back tank tops style tanks and own a few pairs of those. They are a little more fun than just a regular old tank top and give your more of a shape which I like. Plus, I the tie is just extremely cute!
The main brands I love for workout clothes are Nike and Gap. They fit the best on my athletic body and are very affordable for the cost vs. wear. If I could magically make a wish come true, this Lululemon tie tank top would pop up in my closet instantly! A few other Lululemon faves on my wish list are this one and this one.
Sports Bras
For me, the simpler the better. As a girl who has a small chest, I really just need a sports bra that's light and covers whats needed. Typically I gravitate towards sports bras that are strappy, padded and have pretty detailing in the back.
You will always catch me in a colorful or fun printed sports bra for sure, even if no one ever sees it. My favorite sports bras are from Gap and Target! I own this Gap one that has the cutest strappy criss cross back. It's not padded but does the job for this small chested girl! One active wear brand that has really caught my eye and want to try is Outdoor Voices. They make super affordable sustainable pieces from recycled plastics. I love this basic sports bra of theirs. It looks very supportive and comes in 6 colors!
Compression / Running Shorts
When it comes to shorts, the shorter the better. ? I'm talking about exercise shorts people! Really though, I love my compression shorts. They are basically a pair of thick colored non see-through spandex. When I workout, I workout hard. Like dripping sweat off my entire body hard. I do tons of squats, burpees, jumping and heavy lifting which is why I prefer these shorts! One thing I don't ever want to have to do is constantly adjust my clothes. I never have to fuss with my Nike shorts at all. They also have a dry FIT technology that helps wick sweat. Wick means "absorb" just in case you got stuck on that word like I did. ? . So yes, these shorts are great at sucking up all your body sweat.
On days when I run or take long walks (usually much more walking than running), I love a good pair of running shorts. This pair from Outdoor Voices comes in 10 colors and has a comfortable wide elastic waistband! Looser fitted shorts are perfect for activities where your not jumping or doing lots of floor exercises. If I'm on the ground doing sit ups, planks, stretching or squatting a ton, I don't want to give everyone a show if you know what I mean. ? So that's when I choose to wear my compression shorts!
Running/Athletic Shoes
Surprise, my favorite brand for athletic sneakers is Nike. The Nike Zoom or Free Run is usually the most comfortable shoe for my foot. Recently I bought these cute pink New Balance sneakers because I needed new shoes and these fit my budget. Their under $50 and offer free shipping! I absolutely love them! Their so light and I can slip them on quickly when I'm running late for work.
When I was into running more, I invested in a pair of Brooks. Brooks are known for long distance running and offer amazing support and cushion. Since I do more heavy lifting and strength exercises, I don't need a shoe with so much support but these sprinkled pair of Brooks with multi-colored laces might just change my mind. These are the cutest pair of sneakers I have seen all year! It's an investment but is worth it if your an avid runner / walker or just need a great shoe with support.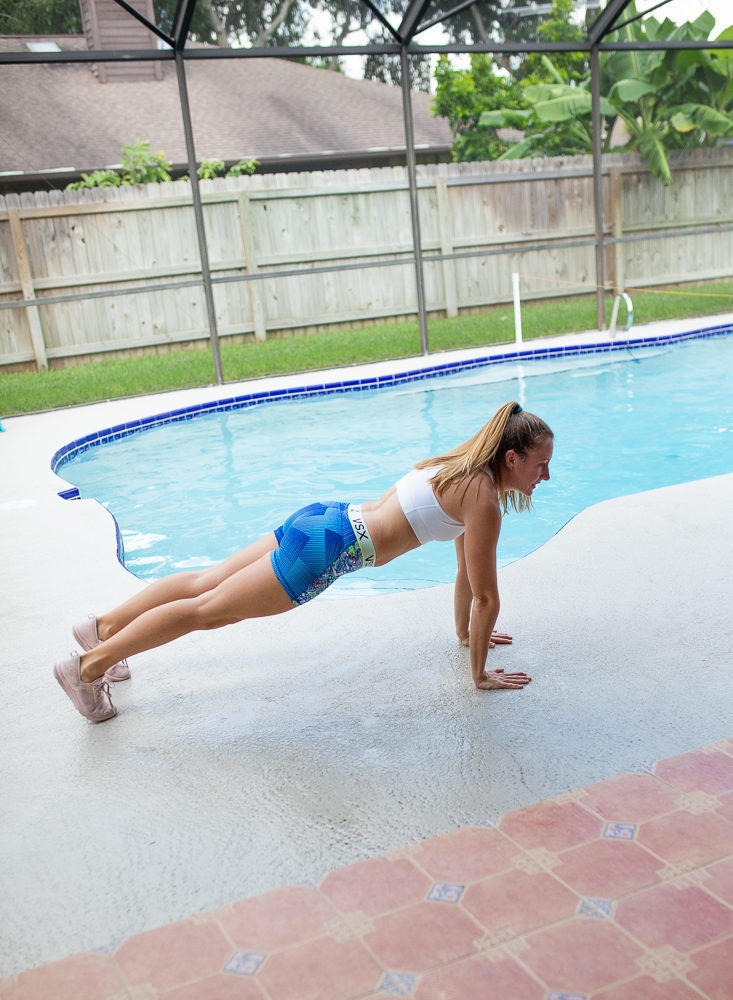 My Fitness Journey
Finding a workout routine that I LOVE has been a longggg journey! As a kid, I was super active. From the time I was 5, I always remember being in some type of sport or activity. I tried gymnastics, tennis, and ballet in elementary school. Ballet didn't last because I hated tights and had no rhythm but tennis stuck! My sister and I took lessons every Saturday for a few years. We absolutely loved it and I even had dreams of being like Serena and Venus Williams…ha!
Once I hit middle school, I discovered the magic of competitive cheerleading. Bring It On fueled my obsession and I cheered from 8th grade up until 11th. It was pretty intense and required constant practice and lots of physical strength. During my senior year of high school I stopped competitive cheerleading and cheered on my high school Varsity squad.
Then after high school ended, I felt so lost. From the time I was a kid, I always had some kind of team sport or group to rely on to stay active. Coaches were always there to tell me what to do and push me. After almost 18 years of being on some type of team, I found myself looking for new ways to workout.
Once I graduated high school, I had no idea how to really workout by myself, so I signed up for the ladies gym my mom went to and fancy Planet Fitness. I would use the elliptical for cardio and do a few machines for strength. Then my parents bought a treadmill so I would also walk/run on a treadmill while watching trashy TV shows. ? I'm talking to you Housewives of Orange County.
When I got to college, I hit the same dilemma. What do I do to keep active?! I went to Florida State and the gym was part of your tuition, so you can bet I took advantage of that. The gym though….was so boring. I could die being stuck inside running in place or doing the same movement on a machine over and over. Thank goodness for group classes. FSU offered tons, so I tried yoga, Pilates, core and step type classes. Sometimes I would take a run around campus even though I just never loved running. It was something that I knew was a great workout though.
Still though, I found working out by myself so boring. Once I moved home from college, I was still in a weird workout funk. Running and ab video tapes became my go-to. Then one glorious day, my friends introduced me to Trinity Fitness. TF is a faith based gym that focuses on high intensity workout with short intervals. That means I am in and out with less than an hour. ? You could compare the workouts to Crossfit although they are not affiliated with each other. We do tons of squats, push ups, pull ups, chin ups, heavy lifting, weights, burpees, box jumps, and short runs.
When I first started, I was terrible. No joke, for the first year I did push ups against two giant monster truck tires basically in a stand up position before I ever moved to the floor. I literally could not even fathom doing a pull up or chin up and all the fancy lifting that all the strong people did terrified me. But I stuck with it. Now I can do all those things and it's the best feeling in the world to know how far I've come!
Lets just say, Trinity Fitness truly changed my life. I have gone there for almost 6 years and I have never felt stronger in my entire life. Even after gymnastics, tennis or competitive cheerleading, my body has never felt or looked stronger. I've made some lifelong friends there and I always look forward to working out, no matter what!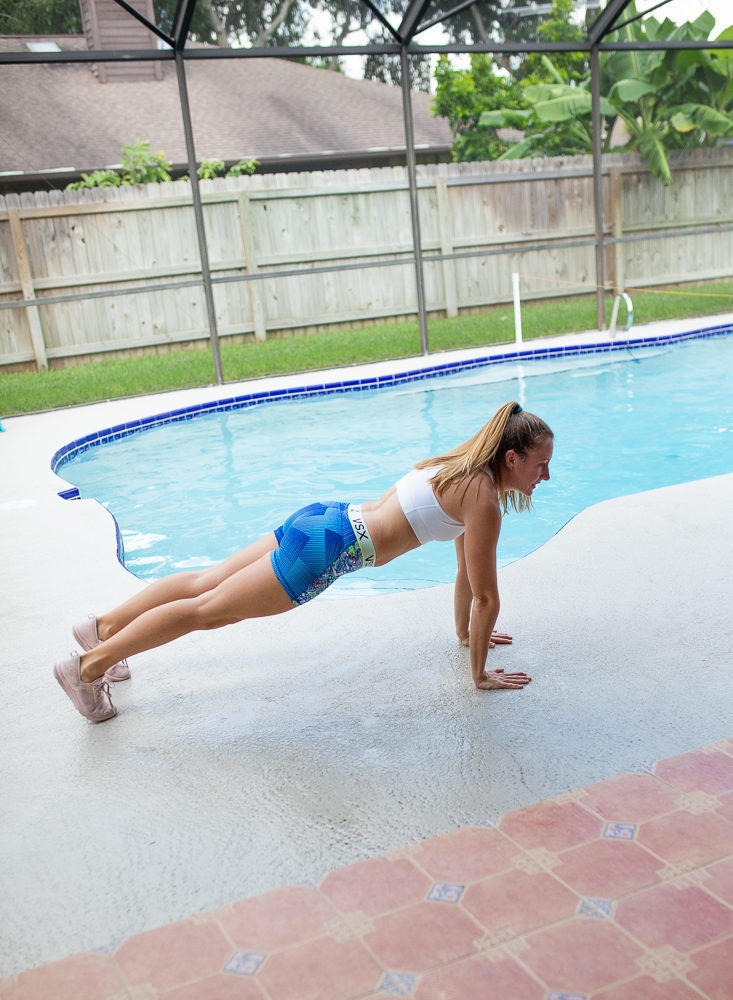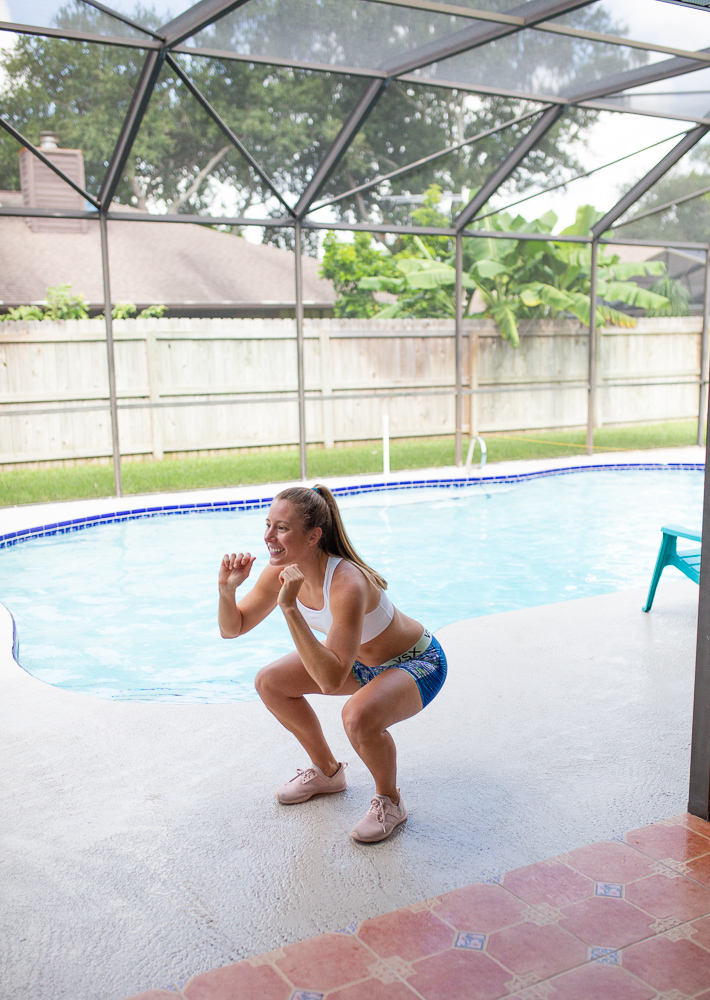 A Typical Type of Weekly Workout
I actually went on the Trinity Fitness Facebook page for the location I work out at and copied the exact workout for this week. Right now, I only workout at the gym 2 days a week, so I chose the two workouts that I completed!
The workouts are all timed and done in a big group. It's literally the best thing ever!!! Sometimes there will be 50 people, other times there will be 10 and it feels like a private lesson! Never will I ever go back to an gym where I have to workout alone. If your confused by the lingo below, don't worry, I was to once I first started. That's the great thing about TF and gyms like Crossfit. They teach you everything you need to know and you aren't left stranded trying to use a machine you have no idea how to even sit on.
You can check out all of the Trinity Fitness locations here, there's 16 total.
Monday 8/19 CRUSH – 25 min cap
7 Rounds AFAP
9 box jumps
10 RKB swings
11 Wall balls (20/14)
*Starting at 1 minute, at the top of every odd minute perform 5 burpees (1,3,5,7…)
Rest 2 minutes at 11 minute mark
extra mile: a)max calorie ride/ row, b)deep squat hold, c)cheer on your friends.
Wednesday 8/21 – 26 minutes (2 minute rest at 12 mins)
Strength:Shoulder or push press 4×6 @60%
AMC- jerks
9 minutes
Battle: AMRAP in 16 minutes
200 m run / 250 m row
5 SDHP (AMC- Power clean) (75/45)
7 Chest 2 bar pull ups (AMC-3 muscle ups)
9 Floor wipers
**Rest 2 minutes at 7 minute mark
10 Different Workouts to Try
Trinity Fitness and high intensity group workouts are what I prefer but there's literally tons of ways to be active. There's something for everyone no matter what budget, where you live or how old you are. Keep your mind open and try new things! Remember, it's more about moving your body! Here's 10 different type of workouts, some free, some that have membership fees, that you can try! I've actually tried all of these and got a great workout from them all!
Crossfit
Yoga/Pilates
Running
Orange Theory
Dance classes at a local studio
Beach Body Guide
Check Pinterest for at home workouts…there's TONS!
Paddleboard/Kayak
Swimming
Hike or walk a local park
Lots of Sunshine,
Katie
Recent Sunny Posts
What to Wear on a Hot and Humid Summer Day