Raise your hand if you live in the South or experience super hot and humid summers. ? Finding an outfit where you can bear the heat while still feeling cute can be a challenge. When the late August/September heat hits…you know, the same time a bazillion sweaters overtake all the stores for early-fall releases, all I want to wear are shorts and breathable cotton tops.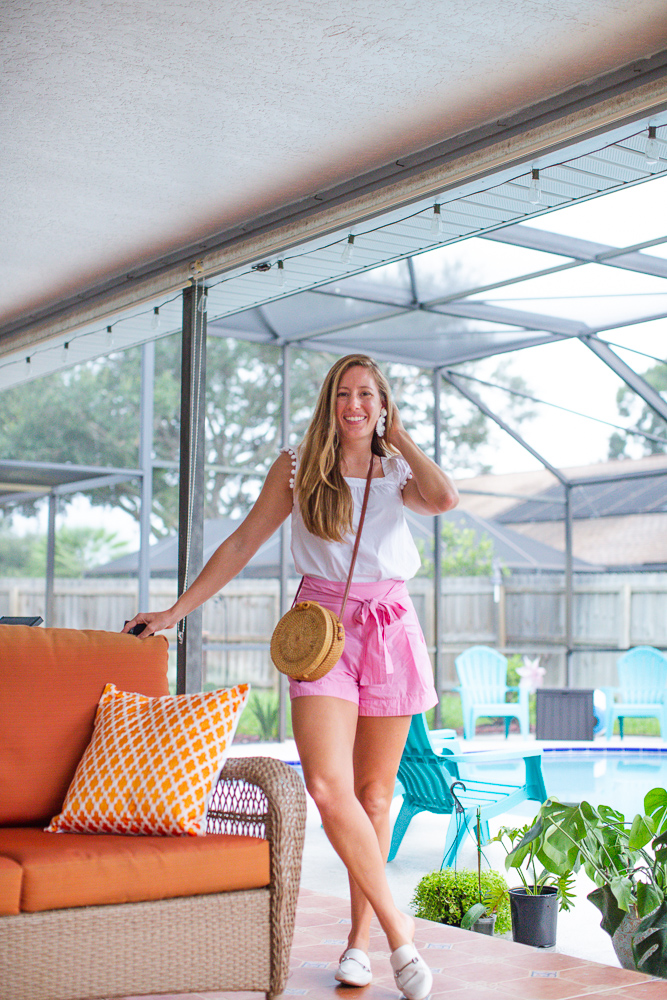 Outfit Details
J.Crew Factory Top / J.Crew Shorts (similar here) / Target Shoes (similar) / Amazon Bag / Target Statement Earrings
Instead of being upset about the heat, you just have to learn to embrace it! Says the girl who works inside a 72 degree dental office 4 days a week! On the weekends when I'm not wearing scrubs, I like to dress as summery as possible. A a pair of colorful shorts and cotton tops are my "go-to's".
For those of you who don't love wearing shorts, bear with me! While tight high-waisted denim shorts (that all the cool kids are wearing these days) may not be your thing, these tie waist classic shorts might change your mind!
There is an art to finding the perfect pair of shorts. Ones with a higher waist, longer length and non-denim material will be a total game changer. Last Sunday I wore this outfit to church (I know gasp, I wear shorts to church and feel no shame!) and felt that my J.Crew bow shorts were just dressy enough for what I like to wear to church. I found a few similar pairs with a pretty bow tie here, here and here.
Shop Shorts
Now, once you find an amazing pair of shorts with a higher rise, you need a breathable top to tuck into them! I prefer cotton, silk or polyester fabrics for the summertime. Never ever forget the power of a simple white top. They literally match with eve-ry-thing.
You might remember when I wore this top in yellow last month and then loved it so much I bought it in white! It's on final sale right now for under $30 and the sizes are limited, so I would jump on it if your looking for a pretty white top! J.Crew Factory tends to run 1-2 sizes bigger than your average size. I am a regular 4 have a 0 in the top and it's a perfect fit. In case it does sell out, LOFT also makes a similar cotton top that's at the same price point!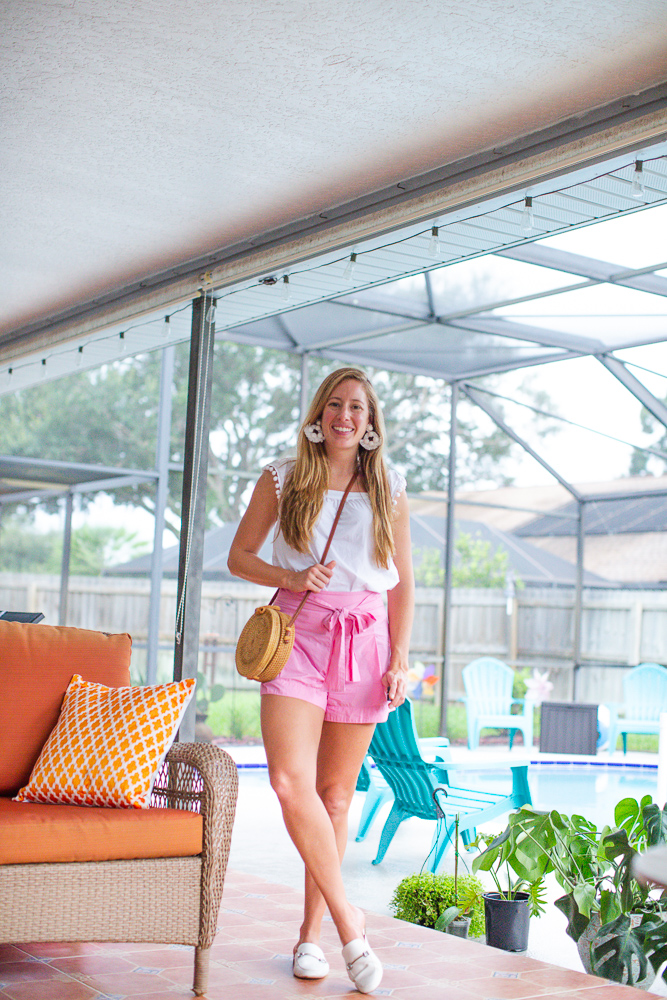 Sunny Outfit Deets
J.Crew Factory Top / J.Crew Shorts (similar here) / Target Shoes (similar) / Amazon Bag / Target Statement Earrings
Do you notice the remote in my hand?! It's seriously SO hard to hide that thing! My photographer friend let me borrow his fancy Canon Mark III camera and I made sure to take full advantage!!!
On Sunday after church, I grabbed my tripod, remote, camera and headed out on my back porch to take photos. Let's just say I took way to long taking "selfies" when I was supposed to be meeting my sister to hang out.
Seriously, just look at those colors, so bright and shooting on a full-frame camera is super exciting because it creates more of a "lifestyle" photo that I prefer. My camera I have is cropped, so it doesn't quite capture what the eye sees. It's sort of like snapping a photo, then seeing it shrunk when uploaded to Instgram. I had a blast and hope to save up for a new camera one of these days!
Well, it's now 11 PM, and my brain is pretty much done. I worked all day, had a tough workout and have been writing this blog post ever since. So that's my que to head to bed! Hope you enjoyed this post and got some good ideas for end of summer dressing! I have an exciting post about my workout routine coming on Friday, so be sure to tune back in! See you then!
Shop the Hot and Humid Summer Outfit
Lots of Sunshine,
Katie

Recent Posts
How I Landed My First Style Client