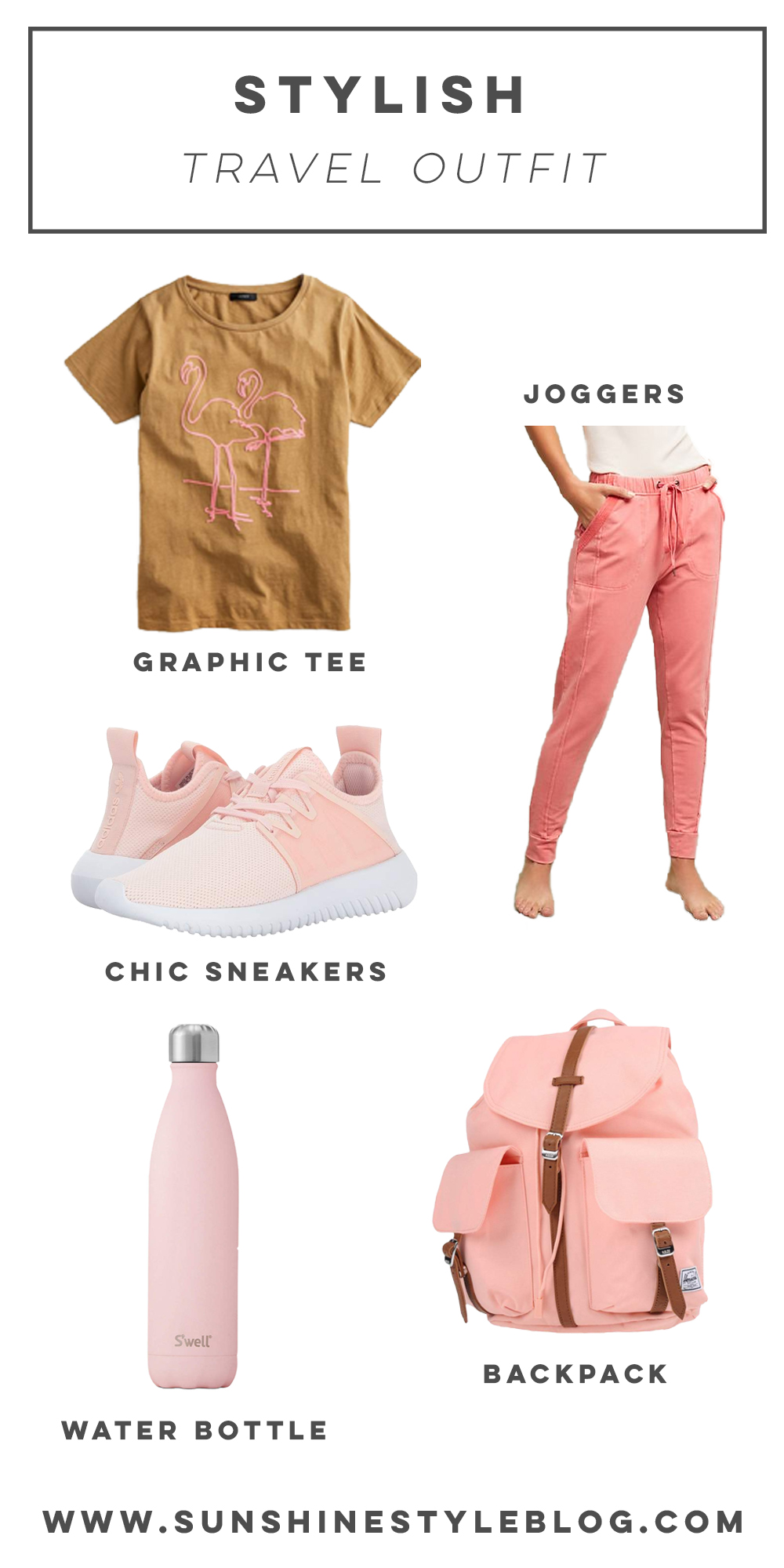 T-Shirt / Joggers (come in 11 colors, including pink!) / Sneakers / Backpack / Water Bottle
After traveling this summer for almost 6 weeks straight, I felt this sense that I needed to invest in cute and casual travel clothes. The majority of my travel in Hawaii was by plane or bus but even if your traveling by car or train, you still want to be comfortable, especially for long trips. I have been told by many people that it's always better to dress up when you fly which I agree with but I still believe you can mix style with comfort and look pulled together.
Dresses are my favorite to wear to feel cool and keep comfortable but I much prefer pants when I am traveling. It always seems that there is some type of luggage to be opened up, packing adjustments made in the car (anyone else feel it's like Tetris trying to fit everyone bags perfectly in the trunk?!) or the need to bend over a ton when traveling which is why I so love these joggers I found online!
I for one packed two giant suitcases for the month I was in Hawaii and one reached well over the allowed weight limit. I'm so glad I had pants on because I had to drop all my bags, open up the two suitcases and transfer weird items like a 5 pound bag of quinoa, a full bag of dried oats and 5 bottles of sunscreen to evenly distribute the weight. Yep, I was that girl holding up the airline bag check in line with all eyes on me. Super glad I did not have a dress on in that moment.
Since I plan on traveling more in the future, I started dreaming up the perfect travel outfit I'd like to wear with a backpack from my travel backpack list. Below are the 6 items I'd wear when traveling to look stylish, casual and comfortable.
What To Wear When Traveling
Comfy T-Shirt: Who doesn't love a good t-shirt?! I love the cute flamingo's on this shirt and its under $40. Personally, I'd front tuck it so I could see the pockets on the joggers and give it that casual vibe I'm going for. What's great about a t-shirt is that you can re-wear it multiple times on your trip. Wear it as PJ's or tie a front knot and pair it with shorts for a casual day look.
Joggers: First off, these joggers come in 11 colors!!! They are a little bit of a splurge at $68 but a good pair of joggers can be hard to find, especially colorful ones! The reviews on these joggers are all super positive and say they run a tad big but can be worn dressy or casual. I love styling joggers with a slouchy t-shirt. Joggers are the best for travel because they allow you to move easy, are comfortable and super cute.
I saw that Anthropologie has a new interest free payment plan called After Pay which is super cool! You can buy these joggers and just pay 4 payments of $17. I'm not one to charge clothes on a credit card but I do like the option when I want to buy more pricier items!
Chic Sneakers: I first tried a pair of pink sneakers on in the store and instantly fell in love with how much they dress up an outfit. If you already own sneakers, they can also just double as your workout shoe. When I go on longer trips, I tend to always bring a pair or sneakers for working out or in case I have outdoor excursions planned. For long layovers in an airport, I like to walk around the terminals to stretch and sneakers are the perfect shoe to do that. Don't be like me and wear uncomfortable sandals that rub and give you blisters. Lesson learned. Next time it's these sneakers!
Sweatshirt: When I traveled to Hawaii, I packed a sweatshirt in my backpack to double as a pillow. I always bring an oversized sweatshirt because it keeps you warm, you can easily throw it over what you are already wearing and it's a nice neck support. Aerie has such cute and affordable casual sweatshirts and this style is under $35. And guess what!? They are legging friendly, meaning their long in the back! Also comes in 8 colors! Love when companies have so many color options, it makes it so much more easy to match with items you already own in your closet!
Backpack: Last week when I wrote a post about 12 backpacks for travel and everyday, it's actually what inspired this travel outfit. A backpack is a must for travel. My favorite travel backpacks at the moment are Herschel and I adore this pink one that's under $70! Perfect for holding a laptop, snacks, camera, etc.

Waterbottle: I absolutely love my Swell water bottle and use it every single day. This summer when I traveled, someone gave me the some of the best advice I have ever gotten. They told me to bring an empty refillable water bottle and have them fill it up on the plane. I used this water bottle more than anything on my summer travels, even my clothes. Nothing is worse than being thirsty and not having water to drink. It's compact enough it fits into a cup holder and keeps my water super cold. In most airports, they have filtered water bottle filling stations attached to a water fountain where you can fill it up. Most of the time I would just ask the barista at Starbucks or a cafe to fill up my cup and they were more than happy to. Just make sure you clearly tell them you only want water or they make look at you a bit funny.

Hope you enjoyed this travel post! I hope to start incorporating more travel and style posts, especially travel guides! Be sure to check back Friday to see my Ultimate Oahu Travel Guide!
What is your go-to travel outfit?! Let me know in the comments!
Recent Posts You Will Love:
12 Stylish Backpacks for Travel & Everyday
The One-Piece Swimsuit I Wore in Hawaii