I'M GOING ON A TRIP TO HAWAII FOR A MONTH! It feels surreal to even type it out! I will be traveling to Hawaii for the whole month of June and staying in Oahu! Going to Hawaii has been a dream of mine (specifically the North Shore) for as long as I can remember and that dream is coming true right before my eyes! Never in my wildest dreams did I ever think I would be going to my dream destination this summer! I'M SO EXCITED!
Why I Am Going to Hawaii for a Month
Now, I bet your wondering, how on earth are you going to visit Hawaii for a whole month and why. Short story? The opportunity presented itself and I swept it up in a heartbeat! Long story? Keep reading!
Well, I have wanted to travel to Hawaii since I was little. It's always been my dream travel destination (specifically my honeymoon, HA!). I love the beach, I love the idea of mountains mixed with crystal blue water and I have always wanted to experience the huge waves on the North Shore (although the giant waves only come in the Winter). In the past, the only thing stopping me from going was money, the courage to go and the right timing. I seriously just thought I had to wait until I went on vacation with my family or to go on a bit trip like my honeymoon which was no where in the near future.
Since I'm a teacher and have the summer off, I started to dream up fun vacations I could take during my two months off. The past year was just an overall tough season in general. I also did not pass a test to teach again next year, so I knew deep down, I may never have two months off in the summer again. I thought of traveling to the Keys or visiting friends in Tampa/St. Pete or just finding random beaches around Florida I could explore.
Hawaii was always in the back of my mind, I just never thought I could afford it or that the timing to go would work out. One night I just started researching Airbnb's in Hawaii for fun and played around with the idea of just going to Hawaii alone for a week and staying in a treehouse on the North Shore.
After a few nights of researching, I started telling friends about my week summer trip idea to Hawaii. The only problem was that it was just really expensive to stay for only a week. But I kept the thought in my mind, prayed and just really felt I still wanted to go if at all possible. I knew once I verbalized my thoughts, and having faith and hope, my dream could turn into reality and that scared the heck out of me. What was this girl who used to play it safe doing? Being courageous and daring thats what!
Fast forward a week or two, I was on Instagram one morning in early April and I saw an Oahu, Hawaii based photographer I follow posted on her Instagram stories that her and her husband were looking to rent out their place for a potion of the summer. This was my big break! I had been praying, voiced my dream and desire of going to Hawaii this summer and here it was starring me right in the face. THIS OPPORTUNITY WAS EVEN BETTER THAN A WEEK! Within a few hours I had messaged her about being interested in renting her place, the next day we talked on Facetime and within about two weeks I had booked my one month trip to Oahu, Hawaii!
Also, once I started telling people about my possible trip and actually booked it, it's like God opened the doors wide open. People left and right started giving me advice. Everyone including people who have previously traveled to the island, friends and family telling me about friends who currently live on the island and these random connections that would never have been possible unless I spoke it out loud!
God gave me confidence this was a good choice and that He would provide for me. God is just so awesome! I get to go on my dream trip. Like GOD JUST ANSWERED MY PRAYER AND ONE OF MY TOP 5 BIGGEST DREAMS IS COMING TRUE! The possibilities in life feel endless at the moment! I don't ever want to stop dreaming!
I'm Flying to Hawaii Alone
Let me just tell you. Purchasing a place ticket and booking my own place was absolutely the most nerve wracking choice I have ever made. I booked this trip not 100% sure I'd have any friends or people to explore the island with. I am flying almost 5,000 miles away to a foreign place alone. It also dips into my very hard earned savings and the cost of Hawaii life is not cheap. Also, there's no guarantee I will be coming back to a job for the 2018 school year which is a tad unsettling. But I knew when I was making the decision on weather or not to go, I did not want to look back in ten years and wish I would have taken the risk.
Now, I do have some friends who are adventurous, courageous and are planning to come and visit! But it's still so completely out of my comfort zone. Yet once I pushed back the sickening fear, I just feel free and over the moon excited! I MEAN C'MON, IM GOING TO HAWAII FOR A MONTH.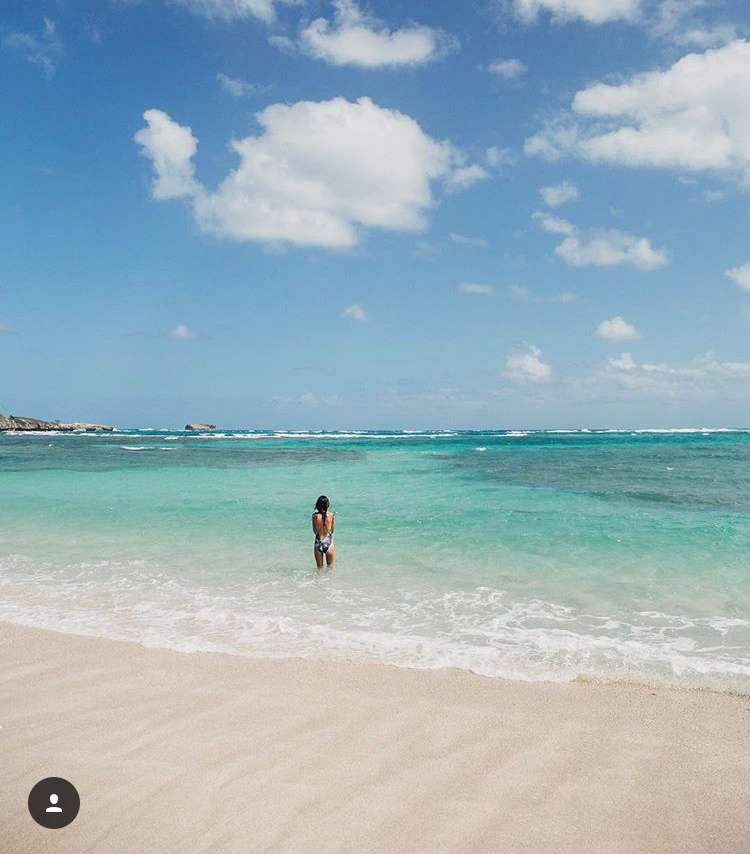 This is the beach I have access to! Photo courtesy of @ockeydockey.
Where Am I Staying in Hawaii
I will be staying in Oahu, Hawaii, specifically in the town of Laie. It's super close to the North Shore and I am renting a house that overlooks the beach off a cliff! Did I seriously just type that out? I think I need to pinch myself. The island itself is fairly small and I plan on getting around by bus, bike and longboard!
What I Plan on Doing in Hawaii
BECOME THE BIGGEST BEACH BUM EVER! There's still a ton of logistics I have to figure out, but there's so much to do there I am excel spreadsheeting it out like crazy! I want to LIVE IN A SWIMSUIT CAUSE DUH, hike, explore the North Shore, surf, find waterfalls, jump off cliff's, camp on the beach, eno, watch a million sunsets, eat lots of acai bowls, take millions of photos, bike ride, meet new friends and just live like a local.
People keep telling me it's a slower pace of life and all you need is flip flops and a swimsuit. I live in Florida and feel our pace is already slow but I've been warned Florida is like NYC compared to Oahu. We shall see. I'm just so excited and can't wait to share my journey with you guys! Honestly, I'm almost afraid I may never want to move back home. THIS IS MY DREAM DESTINATION GUYS!
Since I am there a month and will have plenty of time on my hands, I do plan on praying and talking to my friend God a ton. With the possibility of not coming back to a job in August for the next school year, I may have to do a bit of job searching. Years ago I would have been anxious and fearful of what the future holds. Right now though, I totally trust my Father. He led me to Hawaii, to become a teacher and he will lead me into the next season whatever that may be. But for now I'm going to enjoy my vacation in Oahu, Hawaii!
See yah in one month Hawaii!
Anyone else have any fun summer trips planned? What's the craziest trip or opportunity you have ever taken in life?