Brittany from Bleu Bee Designs reached out to me asking if I would like to collaborate and of course I said yes! We both have a love for coastal design, fashion and live in Florida! She is a interior stylist and designer, lives in Jacksonville and actually grew up in my hometown! I'm excited to meet her in person for lunch next week. =)
We decided to dive full into summer mode and combine our love of the Florida coast with summer style and home decor tips. I created two summer outfit collages and she created a casual coastal home design setup with one of the summer dresses as her inspiration! I love how you can combine style and decor together and make beautiful spaces! This is totally getting me in the mood for summer and I hope it does the same to you!
Coastal Style with Sunshine Style X Blue Bee Designs
Embroidered Kaftan & Swim Ready Resort Wear:
H&M Dress / Sunshine Tienda Hat / Earrings / Sunglasses / Sandals / Bag / Swimsuit Top + Bottoms
How beautiful is that embroidered kaftan dress?! Sadly it's since sold out but check your local stores, they always have a big in store selection! Brittany used this blue and white dress as her coastal home decor inspiration!
This is an outfit that can be worn to a resort poolside or a warm weather beach vacation! It's also one of those outfits that can go from day to night. Beach cover up during the day, casual dress with espadrilles at night! If it's snowing by you, this should give you plenty of summer vibes to look forward to.
Blue Gingham Dress With White & Raffia Details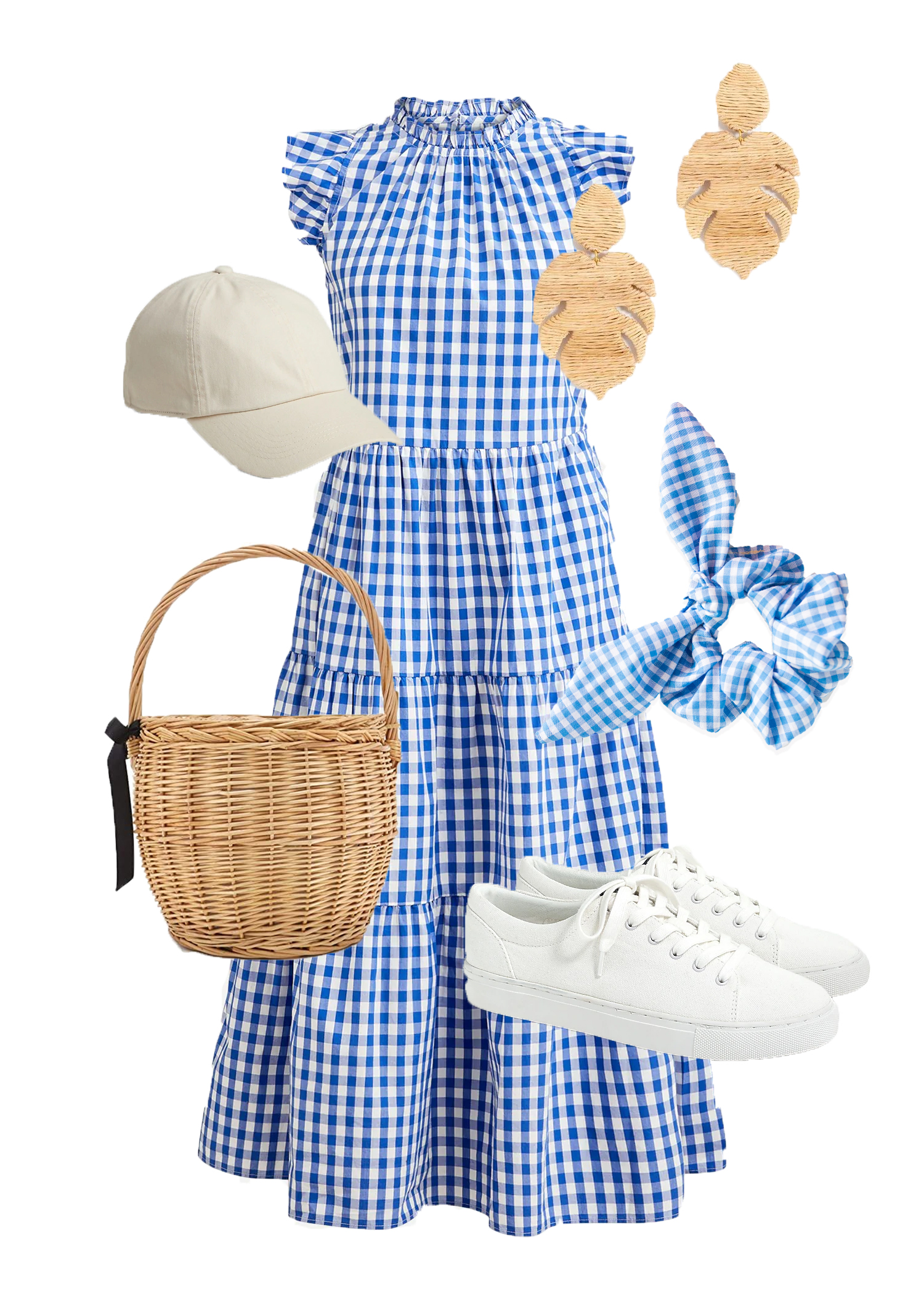 J.Crew Gingham Dress / Hat / Earrings / Scrunchie / Bag / Sneakers
Gingham has been calling my name lately. Just yesterday, I released a new Gingham collection including this blue scrunchie. So I ordered this dress during J.Crews big 40% off sale (really hoping I don't regret not waiting till Easter weekend to shop the sales). There's been tons of new dresses that I have not truly loved. This gingham one caught my heart right away though. Everything from the ruffled sleeves to the three tiers. It makes the most amazing spring to summer dress that I would style with sneakers or sandals and lots of raffia accessories.
Coastal Style Home Decor With Blue Bee Designs
Pink Marsh Scene Painting / Coral Table / Cane Back Armchairs / Green and Blue Throw Pillows / Tan and White Throw Pillow / Faux Fiddle Leaf Vase / Chandelier / Navy Blue Buffet / Abstract Neon Art / Beach Cottage Paint Pallette by Sherwin Williams
Brittany designed the most beautiful coastal inspired space. I can totally picture wearing that dress relaxing with a good book, cup of tea and feet up while relaxing in the rattan chairs with the prettiest beach in the background!
Be sure to follow Brittan on Instagram for more design inspiration at @bleubeedesigns_!
Also for more coastal inspired style, see my favorite beach outfits and coastal travel guides HERE.
Lots of Sunshine,
Katie