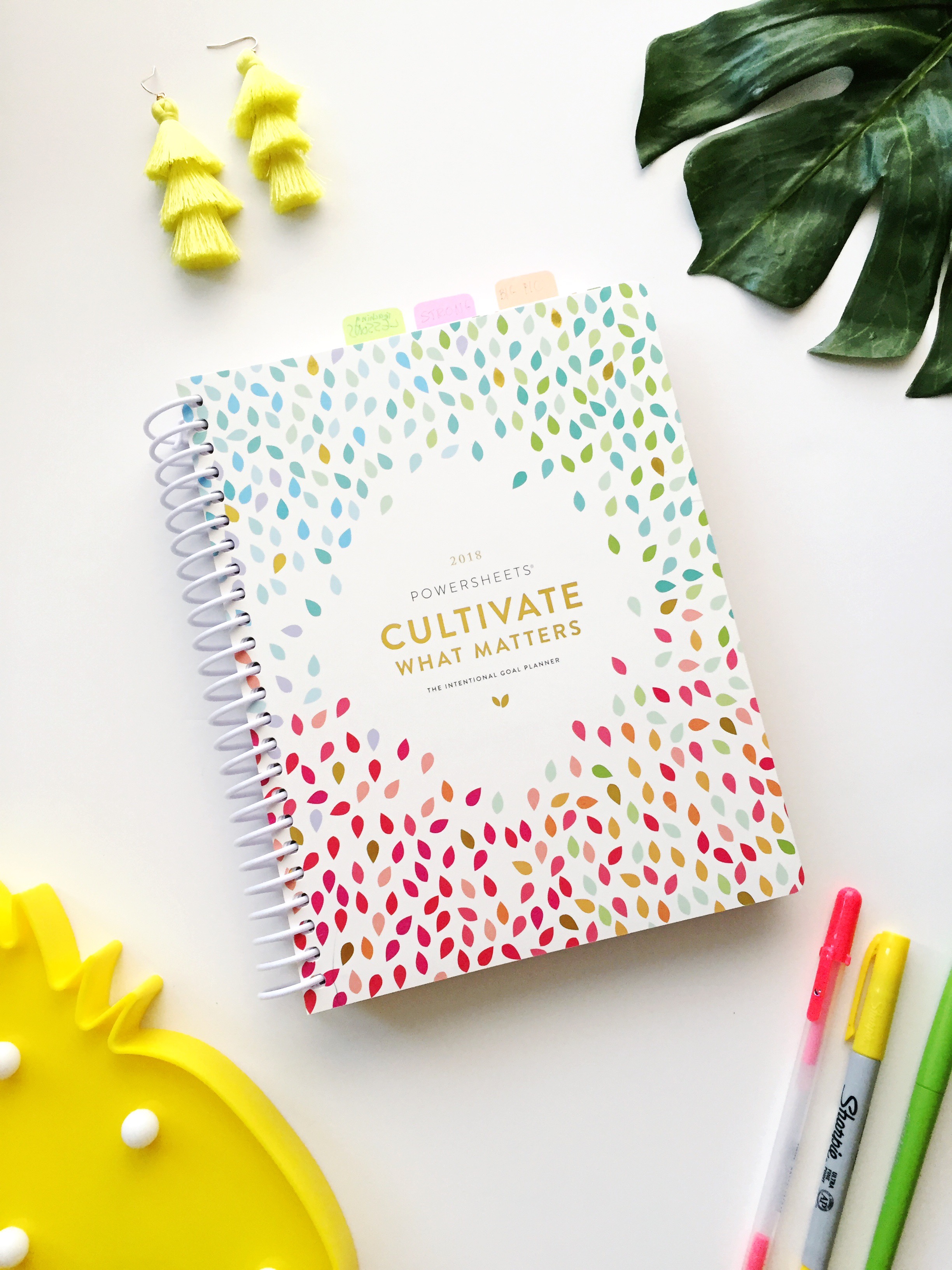 Goals. Goals. Goals. That used to be a word I purely hated. Have you ever been in the same boat? I thought goals were for Type A weirdos who wanted to control every ounce of their life. Goals always felt so suffocating. Just the thought of writing down my goals, or not achieving them, I felt I couldn't be my adventurous and spontaneous self. I had the mindset that goals tethered me down.
That was until I stumbled upon Lara Casey on Instagram. Lara owns Cultivate What Matters. Their company helps women just like me and you live intentional lives through goal planning. They make goal panning fun, creative and easy. Seriously, they encourage you to use stickers, draw and color code! Count me in!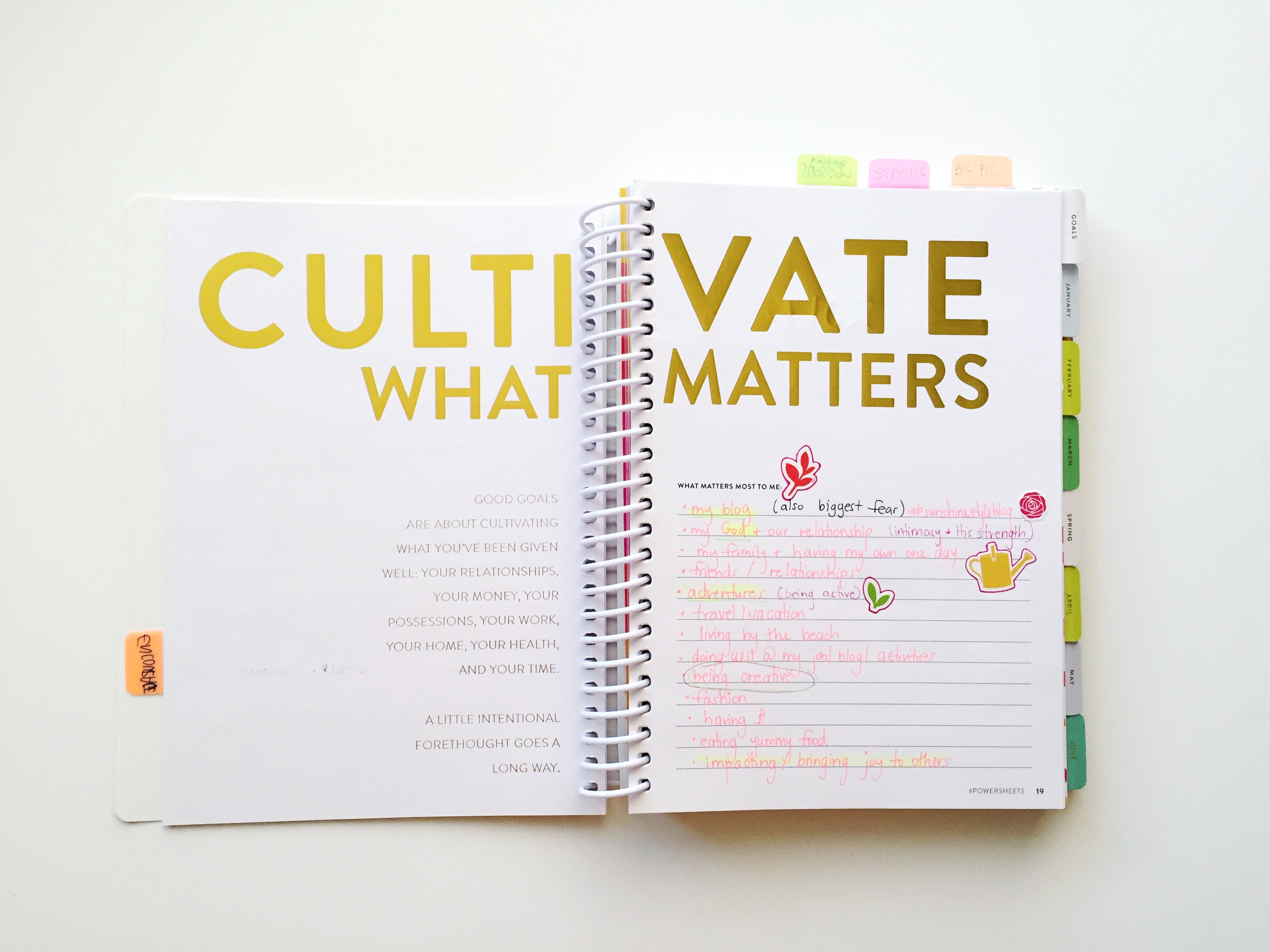 I recently started my goal planning adventure and use their 2018 Powersheets One-Year Intentional Goal Planner (sold out but you can buy the Six-Month Undated Power Sheets in the Spring). This post is all about how I created my first set of goals ever using the Intentional Goal Planner. I'll explain the easiest way to break them up month by month and the steps I took to start achieving my goals. At the end I explain how you can to!
Lara and her faith driven team have helped changed my life and I wanted to share with you how the whole process works! If you can't tell by now, I love love love my goal planner! I can promise you one thing. You will leave loving goal planning and want to start your journey right away!
Lets get started!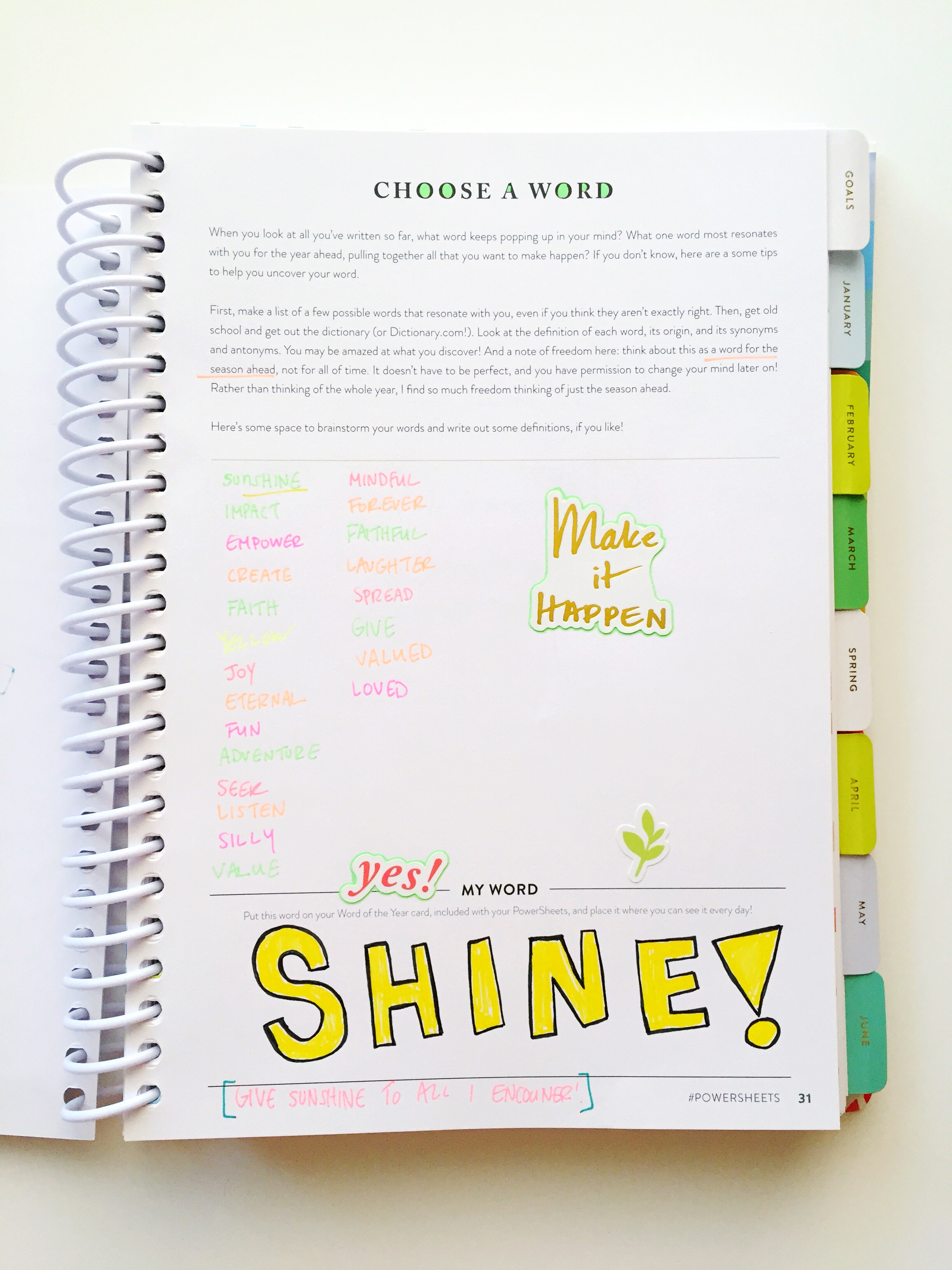 What exactly is the Intentional Goal Planner I Keep Raving About?
The Intentional Goal Planner is a huge and might I add adorable spiral book that is beyond beautiful and full of color. Lara and her team at Cultivate What Matters created a system that gives you the ins and outs of how to not only create goals but to make them happen. They make goal planning so fun.
My mom gifted me the planner for Christmas and I can honestly say it's been life changing and has started to help push my life in the direction I want it to go.
How Exactly Do You Use the Intentional Goal Planner?
Before you start any goal planning, they take you through a bit of a personal process where you write down all your 2018 ideas, evaluate where you are at in life, what your fears are, what challenges you had in 2017 and basically ask you to dig deep to find our what truly matters to you. My favorite page is called, "What fires me up" page (pictured above). It's so colorful and they actually encourage you to do all the things you wrote down. Then after all that good stuff, it's finally time for goal planning!
As you can tell I am a very complex person. Ice Cream, laughing with friends, being silly, flamingo pool floats, eating acai bowls, swimming in the ocean and shopping. Doesn't take much to make me happy.
I took two very restful weeks in December to fill out all the pages, pray and look deep into my own heart before I set any goals. I encourage you, go slow. It's not a race and the clarity of mind will be worth it!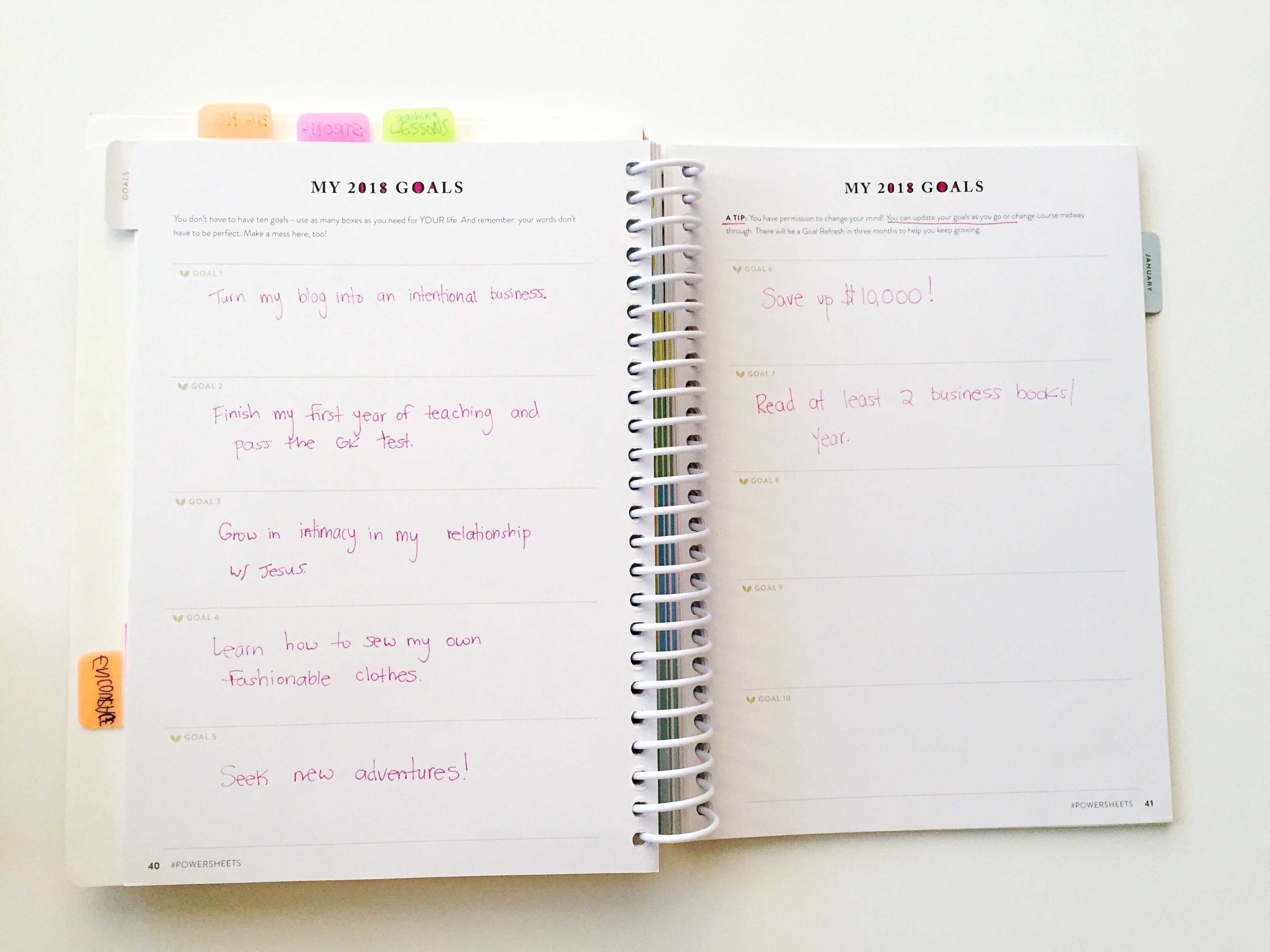 Goals can sometimes seem so personal and invasive. The goals listed below are things I truly desire and let's you really see into the person I am and the person I want to be. There's so much depth into the goals. I feel like I could go on and on into the specifics of each goal and make this post the longest post ever but I will try and refrain.
My 2018 Goals
Turn my blog into an intentional business. My biggest goal (last mentioned here) and the one I will gladly be concentrating and spending the most time on this year. There's so much that goes into this one goal it needs it's own blog post. In a nutshell it's filing my blog as an LLC, creating a marketing/business plan for revenue and to create content that is both awesome and helpful for you, my sunny readers!
 Courageously finish my first year of teaching and pass my GK Test. Currently, this is the main goal I am focusing on. One, it's my job and brings in the income. Teaching is a 24/7 job and I spend many nights and weekends lesson planning and prepping for my days ahead. Second, I have to pass a test called the General Knowledge test by March 2. So any free time I have is being dedicated to this goal right now.
Get to know God better as a friend. My relationship with God is always at the forefront. Everything I do in my life is rooted in my faith. He's most important and I talk with Him and read His word on a daily basis. I don't need that as a goal because it's already part of my everyday (just like eating ha). While I don't necessarily want to make my relationship with God a checklist, I do want to focus on getting to know God better as a friend. This goal constantly reminds me to talk to him like I would a friend, look to him for advice or just do things with him as a friend. Our first friend date is to go on a picnic together!
Practice sewing my own clothes. Super excited to get started on this one. As a teacher I get two whole months off during the summer. You can bet I will be spending that free time practicing sewing! I want to make pajamas, crop tops and pretty summer dresses! Maybe even try embroidery a bit!
Seek new adventures! Gosh I love this goal so much! Doing and discovering new things make me feel alive, excites me and gives me so much energy! During the school year I want to go on at least one new adventure per month. Most of these involve some type of physical activity and getting outside! This year I plan on taking an adult gymnastics class during the summer, exploring new parks around town, going to Sea World, visiting friends in Tampa, camping on an island surrounded by water and trying out a local ropes course. Others include making my own macaroons, finding new locations to shoot photos, go on an awesome Summer Vacation, and stay in a Tiny House AirBnb. Last but not least and my absolute favorite adventures involve water. First is to finding new locations to paddleboard, taking my giant flamingo float to the beach, trying to become a better surfer and lastly, visiting Devils Den.
Save $10,000. YAY! I never thought I'd ever write those words down or see over a few thousand dollars in my savings account. Actually I am already half way there and may need to up it to $15,000 because there's still 10 months left in the year! This is only possible because I still live at home with my parents, eat out only once/week and limit any unnecessary spending like random trips to Target. Once I pay all my monthly bills, I put almost everything else into my savings and never touch it. I hope to buy a new Macbook and eventually move out into my own place with my saved $.
Read at least 2 business books/year. Now that I am re-looking at this goal, 2 business books is super low. This may need to bump up to 3-4 depending on how fast I read them. I also want to add in other categories of books like faith and fiction. In conjunction with the books, listening to Podcasts on my drive to and from work is also something I want to add to this goal.

These are my goals for all of 2018. Because I am a human and can't possibly accomplish all of these goals at one time, I have narrowed my goals down by month. The best thing Lara and her team encourage is that each quarter we take a look at all of our goals and make adjustments as needed. If something is not working, we are allowed to make changes and give ourselves grace. I will most likely be making changes to Goal #6 and #7 come March when we re-look at our Quarter 1 Goals.

How to Break Down Your Goals
Lara and her team shows us how to start an action plan for each individual goal. They start with the goal and the why, ask a few questions pertaining to the specific goal, then they list the starting steps, and field notes. Here's the process for each individual goal they walk you through called the Action Plan:
Write down the Goal
Define the Why
Starting Steps
Field Notes
From here you split them into Monthly, Weekly and then Daily Goals.
How I Broke Down My Goal #2
A little background into before we get started. As you may know, I am a middle school fashion/culinary teacher by day and am in my first year of teaching. This semester I am teaching culinary and have to cook with my students. There's also a test I have to pass by March 2nd called the General Knowledge test. If I fail, I risk loosing my job next year. Right now, this goal is top priority until I pass my test and the semester ends.
Goal #2: Courageously finish my first year of teaching and pass the General Knowledge Test.
Why: Because it's my job and I make $. Also, because I overcame the impossible, taught crazy kids for the first time and survived a ghetto school. All while studying for a test to show anything is possible with God.
When I re-read what I originally wrote for my why I actually laughed out loud. Sometimes you don't recognize your true feelings until you write them out and read them later.
What is my favorite part about goal planning besides getting to use to many pretty colors!? The fact that Lara and her team actually encourage us to celebrate our progress or completion of our goals. A whole new world has opened up for me. I get to reward myself for each goal, say what!? That makes goal planning ten times for exciting for me! When I reach this goal, I want to buy myself the new Desktop Presents from A Color Story (my fav photo editing app) as a reward!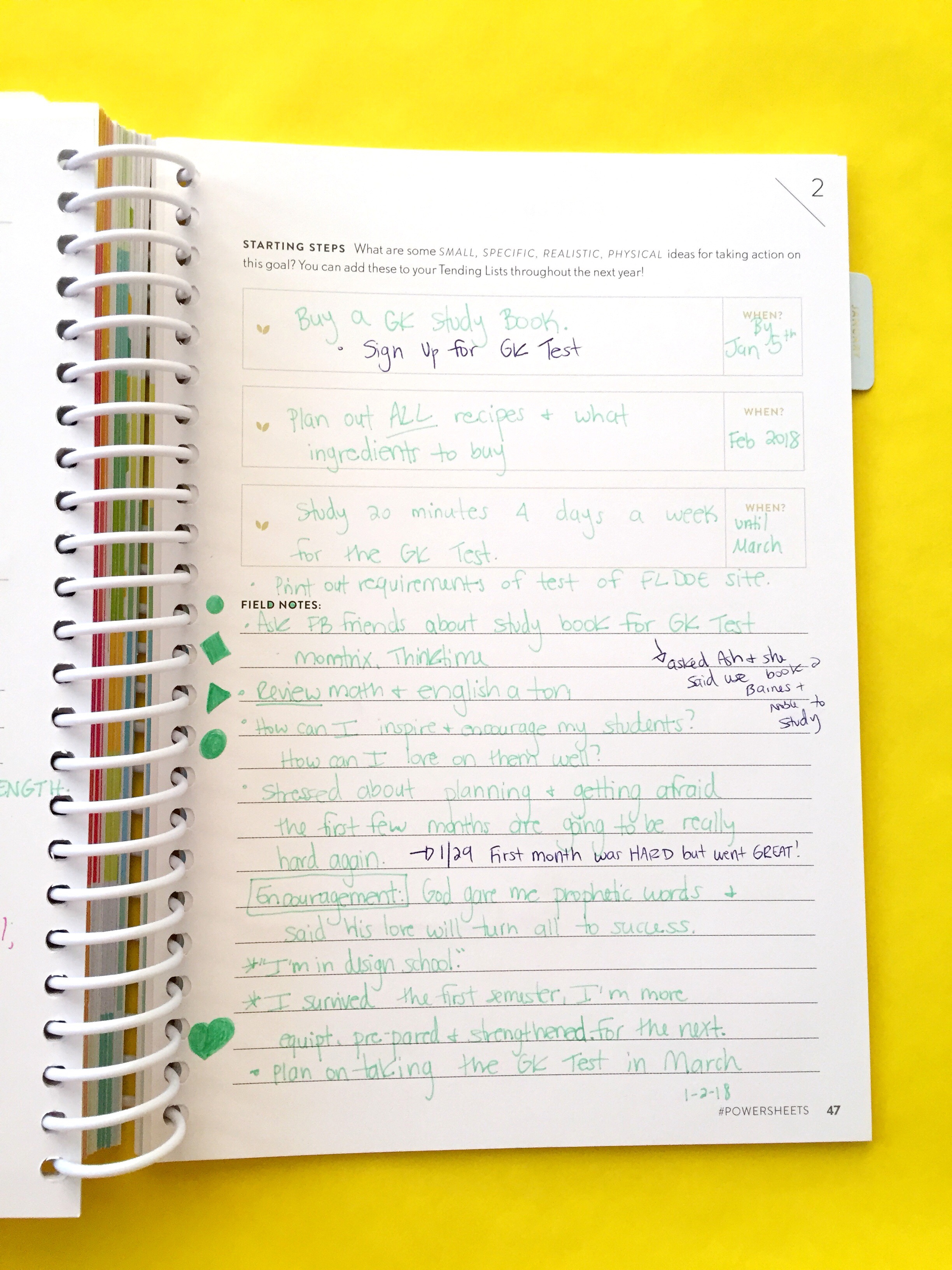 My Starting Steps:

Buy a General Knowledge Study Book
Sign up for the GK Test (duh!!!!)
Study for 20 minutes, 4 days a week
Plan out ALL recipes and what ingredients to buy for cooking days
These steps are exactly what they say, a starting point. You are physically writing down something so you can proactively begin to take steps to achieve your goal. Holding yourself accountable with a specific date is helpful and amazing! Even if it's simple like, "buy a study book", it's important to write it out. I can't pass my test if I don't study, especially if I have no clue what to study. I also can't take the test if I don't sign up for it.
Obviously looking at this I had no clue that 20 minutes to practice high school math, reading and english skills was not enough time. I changed that starting step to studying 7 days a week for 1-2 hours per night for an entire month.
Field Notes:
This is the area where you basically jot everything down that's on your mind, other starting steps, a to do list, or anything you need to complete your goal. Here's some of my initial thoughts after writing out the starting steps:
"Ask FB teacher friends about study book"
"Review Math and English a ton"
Print out GK Test Requirements
"Stressed about planning and getting afraid the first few months are going to be really hard again."
Encouragement to myself: "God gave me a prophetic word and said, His love will turn all to success."
"I survived the first semester. I'm more equipped, prepared and strengthened for the second semester."
When I wrote this goal in December, I was super nervous about starting the new semester in anticipation of how it would go. My first few months of teaching were horrendous, and this time I had to study on top of teach a subject I am not as knowledgeable in nor as fond of. Turns out I had nothing to worry about and everything went surprisingly smooth.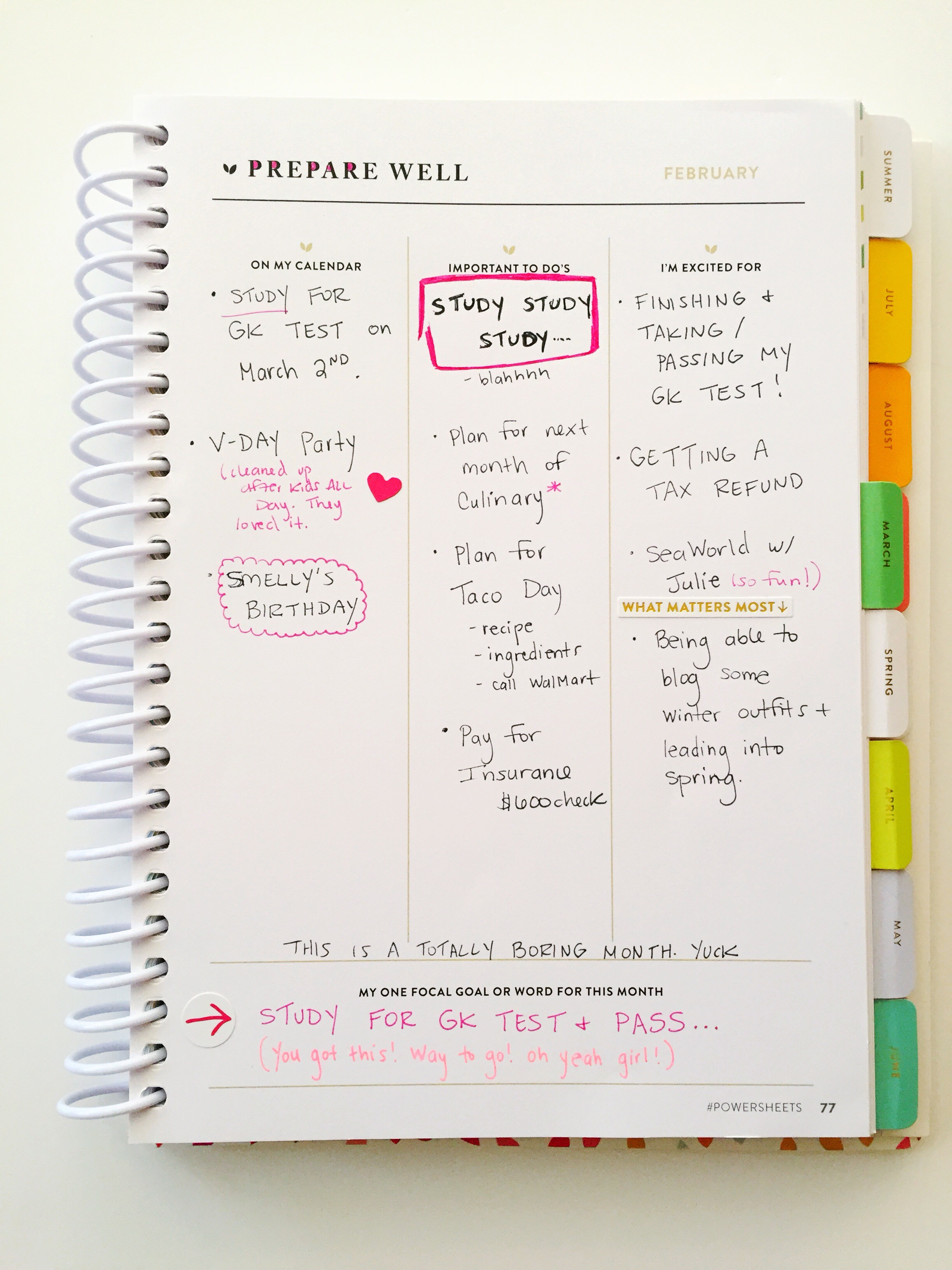 This list is the first page they have you fill out for a new month. I really like how they break it up into three sections: on my calendar, to do's and what I'm excited for. Since I was not super thrilled about the month of February, I loved writing down what I was actually excited for. Obviously Sea World, blogging and money made me a bit happier.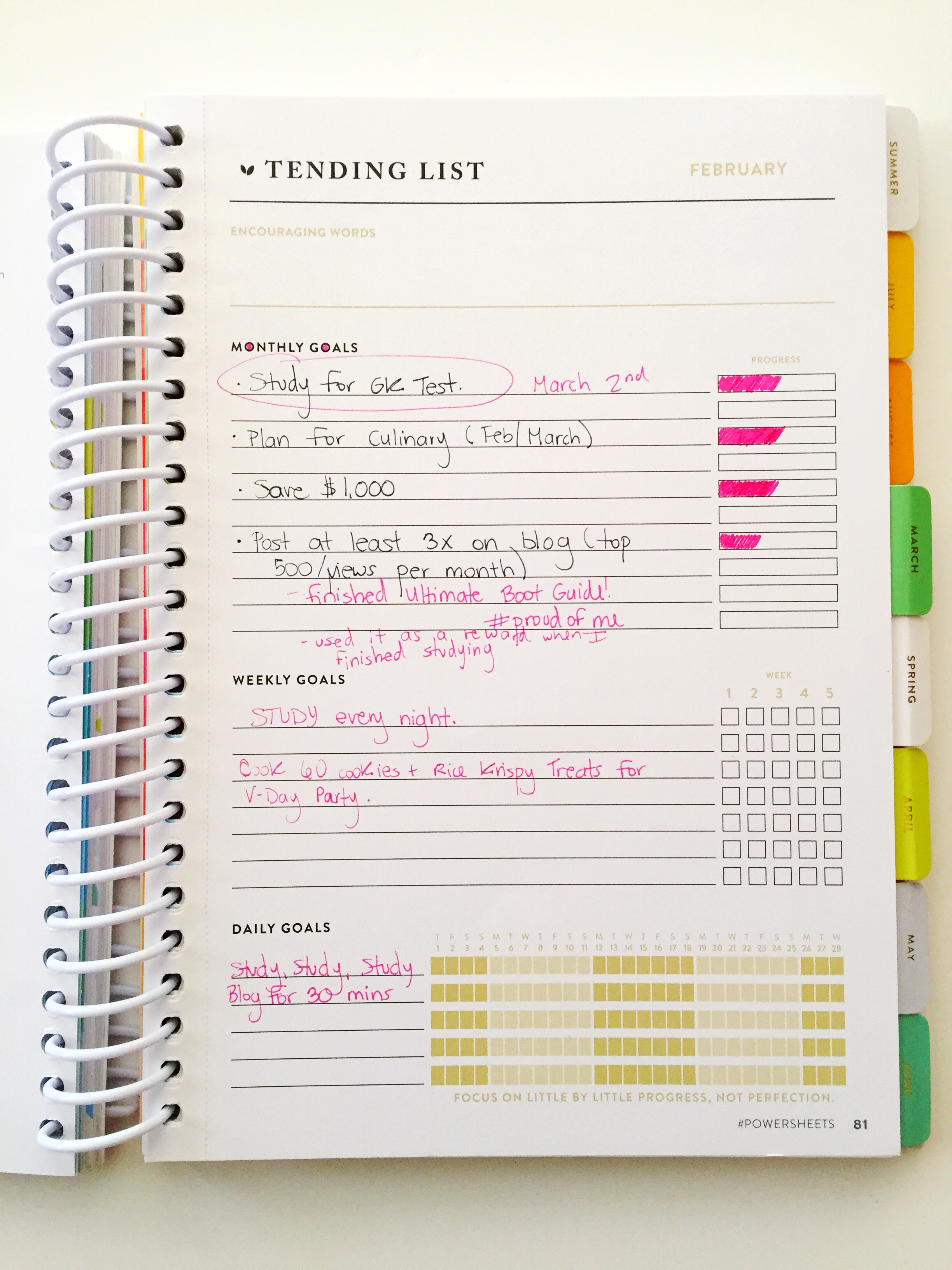 Breaking Down the Goals into Monthly, Weekly and Daily
Breaking down my goals in monthly and weekly chunks is great, but daily just stresses me out. I feel to confined like I have to finish the task just to draw a check mark and make myself feel better. Honestly, I knew I had to study everyday for the month of February. This never left my mind, so it was not necessary to check off daily.
Maybe after I get more in the routine and really focus and zone down I can do daily, but for now I find more freedom in looking at monthly and weekly. Instead of daily goals, I keep a running to do-list at my desk at work and on a notebook at home and just cross them off as I complete the task. This process works better for me in the current season I am in.
How to Get Started On Your Own Goal Planning
Now that I shared my first goal planning story with you all, I'm going to let the goal experts help you now! Lara Casey and the Cultivate What Matters Team has put together a 5 part series where they tell you everything you need to know on how to get started with goal planning. Here's the 5 posts on 2018 Goal Setting:
Pin this image to Pinterest  for Reference: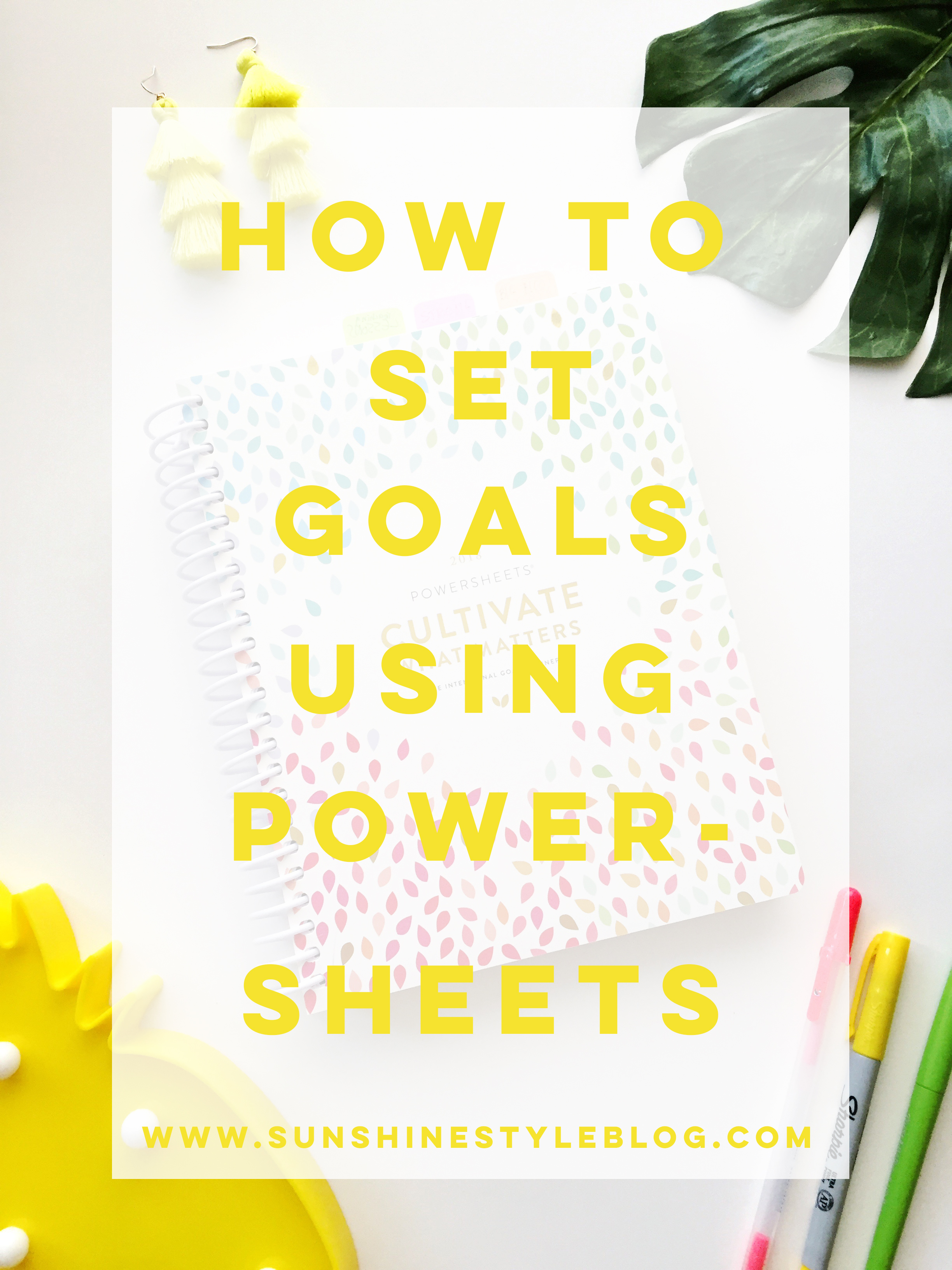 Recent Posts:
The Ultimate Winter Boot Guide: How to Style and Wear Winter Boots
Cute and Comfortable Two Piece Pajama Sets Under $100
Look for Less: Valentines Day Look Under $120
What are your goals for 2018? Do you use Powersheets or another system to keep track of your goals? Let me know in the comments below! I'm excited to start on this goal setting journey with you!