Happy Spring! Today is all about classic pieces to enhance your Spring wardrobe. Now that it's officially March, it's acceptable to talk about everything floral, pink, pretty and raffia. No matter where you live, Spring is the perfect opportunity to put your darker shades away like burgundy and emerald greens and pull out all the pastel pieces!
I am seriously having a pink moment. Just look at my past posts in the last week, a pink skirt, coral leggings and a pink floral skirt in my Spring finds. Usually I gravitate towards yellow, so maybe the subconscious portion of my brain is wanting to feel extra girly?! Dressing for your mood is totally a thing and I have actually been wondering if that has anything to do with the pink craze.
All of these pieces are classic and meant to inspire and enhance your current Spring wardrobe, not to make you feel the need to have it all or own brand new things all the time. I do love the mix of seasons (not quite hot enough for summer but warmer than winter) and being able to wear long sleeved pieces like blouses with a great pair of white jeans! Bonus, all the items on this list are under $100!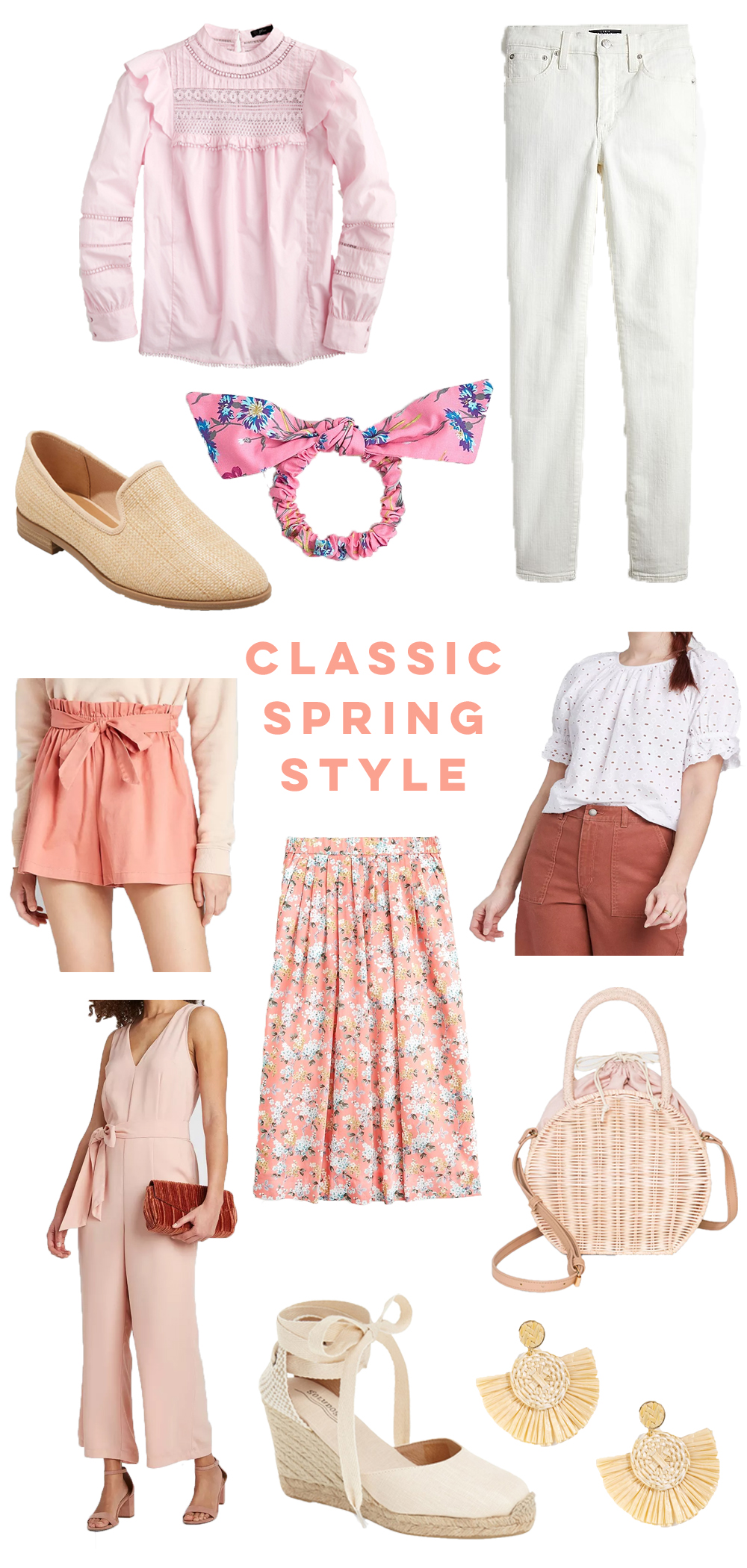 What To Buy for Spring
Ruffled Tops: Okay, a ruffled top just screams Spring! You can find ruffles on all sort of tops like blouses, short sleeved and tanks! I personally love the J.Crew pink blouse to tuck into jeans, skirts or shorts. My mom bought me this adorable eyelet top for my birthday that's under $25!
White Denim: Never go without white jeans. If I'm going to tell you to buy something, it would be white denim! Personally, I wear white denim all throughout winter and spring. Summer gets to hot but if your one of those crazy people who loves jeans in summer, then you really need a pair! I like these under $50! You can style any colored or printed top with them and it's a super easy and classic outfit.
Espadrilles: I have one pair of yellow espadrilles and would love to invest in a neutral pair like these ivory ones. They are a bit of an investment. I'm willing to spend around $100 because I wear them so much during the spring and summer months with dresses or cropped pants! I'll keep an eye out for a more affordable pair as spring kicks into full gear!
Raffia Accessories: Love, love, love all my raffia accessories. Now that warm temps are on their way, their perfectly acceptable to wear! I love this straw bag, these raffia loafer and these statement earrings that are all under $30! The ones I linked are not the exact ones I own but just as amazing. I wear mine with dresses, casual outfits, floral pieces and anytime I need a neutral with a bright outfit.
Hair Accessories: Hairties and headbands are having a moment! If your on a tight budget, you can add hints of spring to your outfit with accessories like this bow scrunchie instead of buying large ticket items like jeans or blouses.
Floral Pieces: This is kind of a given. Florals are meant for spring! My favorite floral pieces are skirts, tops, shorts and accessories like this bow hair tie. The floral skirt above is currently 40% off with code GETAWAY. Making it under $40!
Can we believe it's already Wednesday! Now that I am not going into work everyday, I can hardly keep track of the day / date. Just the other day I was texting my blogger friends and I freaked out a little about a date. Turns out I just totally got my days confused. Thanks goodness for old school paper planners or my brain would really be turning to mush.
I wish I had more interesting "life stuff" to chat about. Getting dressed lately is a MUST and also a big win. Haha! It helps me get inspired, excited and ready to take on the day…which is mostly sitting behind a computer job hunting and blogging when I finish my tasks for the day. Last week I mentioned this on Insta stories and many of you seemed to relate! For me, getting dressed is SO important and truly helps me not sink into depression.
Right now, I am craving a specific classic Spring outfit and keep picturing how cute I'd look it it. It's a floral blouse with high-waist button front denim jeans and backless mules. I think when I feel "put together", it helps me feel like I have it together. Yet, if you read how my mind cannot keep track of dates, I feel anything but put together on the inside. 🤪
I know it's just a season, yet my thoughts seem so scrambled and going in every single direction a million miles an hour. So if it looks like I have it all together on here…I absolutely feel like a big ole mess. Do any of us really have it all together?!
I did start a new business venture, The Sunshine Studio. Now that I have more time on my hands, I was able to design a website and promote it! I am offering social media management and photography services. This dream had been in my heart for at least a year. I just sat on it and never did anything to make it a reality.
Actually…I spent about a year shooting photos and creating a portfolio until I felt comfortable enough to offer my services. I think it was based more in fear and not being good enough but oh well, I'm proud of the website and am hoping to bring on monthly clients!
Lots of Sunshine,

Katie
Recent Posts