Can I just say, if there is a dress to invest in for fall, it's the Navy Ellie Nap Dress! There is no faking it here, we are still in full on summer mode with a crisp morning here or there. I wanted a timeless and classic dress that I could still style for fall and feel comfortable in at the same time (not to hot). I love the navy Nap dress because you can wear it every season and it's really versatile!
Right now, it's still to warm for layering which is why I created this collage with 4 different ways to style a nap dress for a warm-weather fall. The top two looks are perfect for when it cools down and the bottom two are ways you can wear it right now.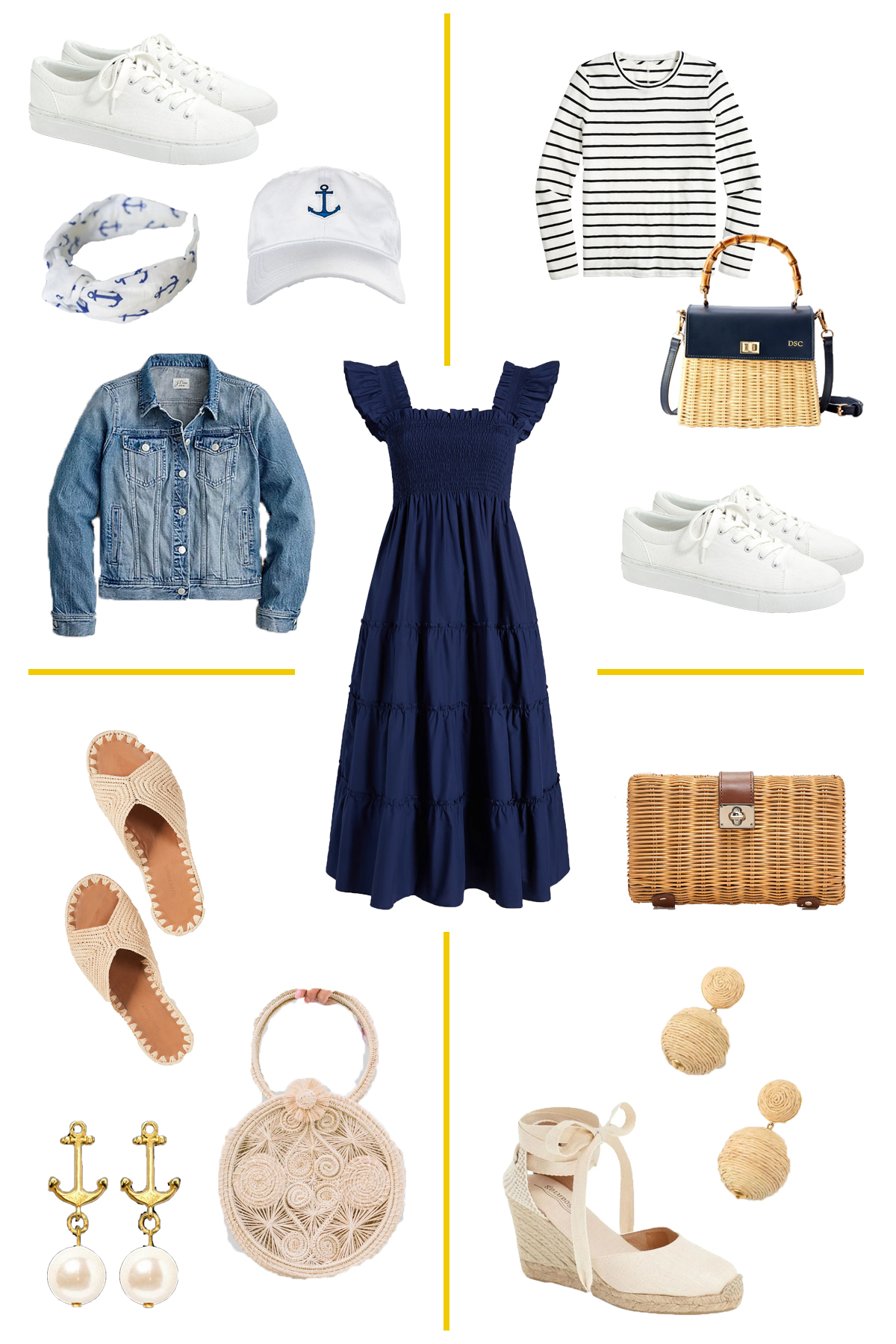 TOP LEFT / Jacket, Hat, Sunshine Style Co. Headband, Sneakers
TOP RIGHT / Striped Top, Straw Bag, Sneakers
BOTTOM LEFT / Sandals, Pearl Earrings, Bag
BOTTOM RIGHT / Clutch, Statement Earrings, Tie Espadrilles
4 Ways to Style a Nap Dress for A Warm-Weather Fall
Casual Day Look With Sneakers
I love sneakers with dresses and the casual feel it gives. This is how I have been styling the dress when I wear it to work from home! Minus the jean jacket because it's way to warm. You can pair it with a hat or a Sunshine Style Co. headband to complete the outfit!
Layered With a Long Sleeve Shirt
Not going to lie, I did not love this dress styled with a long sleeve shirt underneath at first. The more I saw a few bloggers style it this way, it grew on me. You could always wear an oversized long sleeve top or sweater over the dress and knot it when you need an extra layer (I prefer this option!).
Everyday Outfit with Sandals
Okay, this is the exact outfit I wear over and over with all my Nap dresses! I will slip on sandals, my everyday basket bag and my nautical earrings I wear every day. There is almost no effort required and you still feel like a million bucks!
Girls Night Out
When I go to church, I love dressing up and wearing a variation of this outfit. If I had a man, I would wear this on a date night too! For those of us who are single, it's the perfect girls night out ensemble.
You can read my review of the Nap dress with fit and sizing details here!
How's your week going?! I dog sat over the weekend and lets just say…it was an adventure. Right before I left, one of the dogs ate some animal. I am not sure what it was, did not want to look to that close, ha! She needed to be hosed off and I gave her parents a phone call letting them know her bad doggie behavior, ha! If she was in school, I would have given her an N (needs improvement). Anyone remember that on a report card?!
Over on Instagram, I took a poll asking if you had started your Christmas shopping yet. More than half of you said yes! I will be working on gift guides for the blog soon! With everything going on and the weird supply chain issues, I have a feeling the earlier you shop, the better and less stressful it will be!
Lots of Sunshine,

Katie