Well, here we are people! It's skipped straight to summer here in Florida and I am READY! Doing my part to #socialdistance (does that word annoy anyone else?!) has given me extra time to spend at the pool and beach. BTW, extra grateful for this, I know not everyone has the luxury to swim or step outside in an open space right now!
Once it really warms up for good, I basically live in swimsuits. There's honestly almost no point to even shower. Today I worked and actually put on clothes (shock, I know) then changed right into my swimsuit once I was done to tan and swim. It's always so exciting to choose which swimsuit to wear and I really like options.
Since I live in swimsuits for almost 6 months of the year, I figured I would share my favorite brands, scour the internet for budget friendly and quality suits over the next few weeks. Sunshine Style really thrives in the summer! I thought about doing it by prices and styles and I might organize some of them like that but it made most sense to do it by colors. If you like a suit, just bookmark this page and refer back to it when shopping!
Similar Swimsuit Top + Bottom (sold in store)
Red swimsuits have always caught my eye! This one give a little bit of a Baywatch vibe, don't yah think?! I do my absolute best to keep my swimsuits like new as long as possible. They have about a 2-3 season span depending on how high of quality the material is. When I buy swimsuits, I usually shop for swimsuits for under $50 that are made really well.
I stopped in LOFT before the coronavirus really took over and bought this cute swimsuit for under $30 in store. The swimsuit was such high quality and I LOVED the fit as soon as I tried it on. Right now with LOFT stores closed, it is probably best to shop online. It's not available online, but I found a similar top and bottom (under $35).
The high waist trend really has my heart right now. Every time I see someone wearing them, I want to go and buy a million pairs. Make sure the bottoms are stretchy enough and you can pull them down a bit so you don't get an awkward tan line when sun bathing. The ONLY downfall to high waisted bottoms in my opinion.
Even if it's not warm yet where you live, it will be eventually and now is actually the perfect time to stock up and buy swimmies! They typically sell out or sizes are super limited by early/mid May. If were going to be quarantined for who knows how long, we might as well get tan!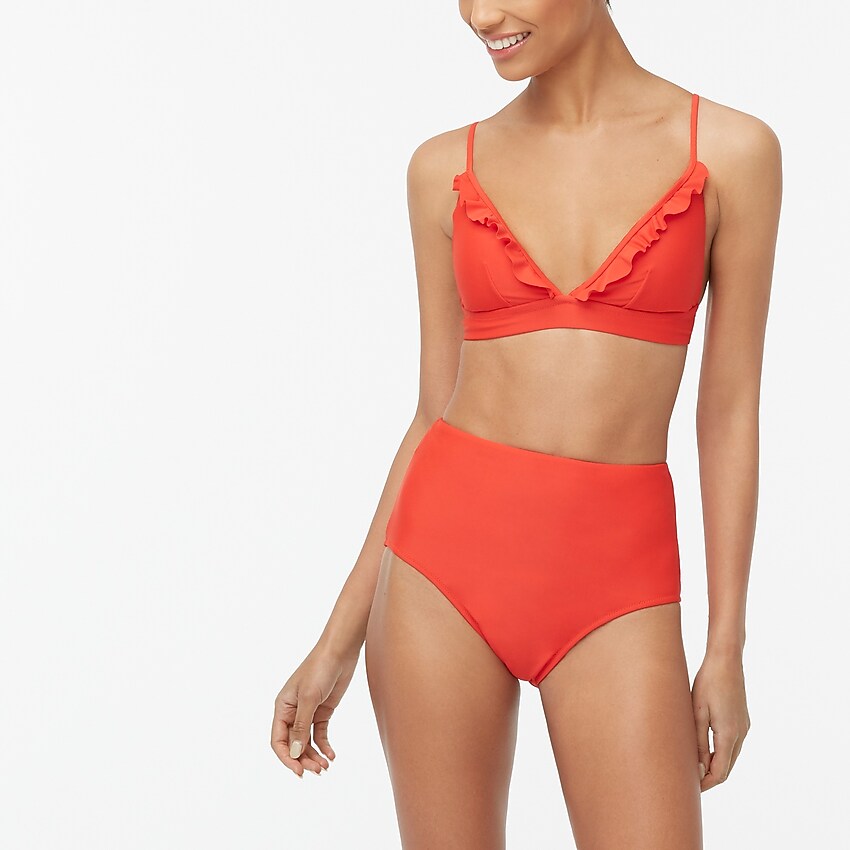 Shop Red Swimsuits Under $50
1. J.Crew Factory Top + Bottom, Under $35
2. Amazon Scalloped High-Waist Swimsuit, Under $25
3. Amazon Scalloped High-Waist Swimsuit, Under $25
4. Aerie High-Waist Red Swimsuit Top + Bottom
Red One-Piece Swimsuit Under $50
Lots of Sunshine,
Katie