Dress season is here and I am here for it! Okay, maybe it never really ended here in Florida. All of the florals, pastel colors and details like puff sleeves are making me so excited for warm Spring days and the perfect excuse to wear a dress!
When I go out with my friends to dinner or to hang out, they usually will ask me what I am wearing and I will always say, "Oh, something casual". Then I will show up wearing a dress and well…I always get "the look". It's the, they are wearing leggings look and you look like your ready for a party look ha! Which friend are you, the dressed up one or leggings one?!
Spring Dresses Under $100
In my defense, dresses are casual in my mind and they just easily make you looked more dressed up than you actually are! Honestly, no thought goes into throwing on a pretty dress and some sandals! In 2 seconds you have a cute outfit! I thought all of these dresses would be so perfect for Easter, casual work from home days, running errands and everything in between.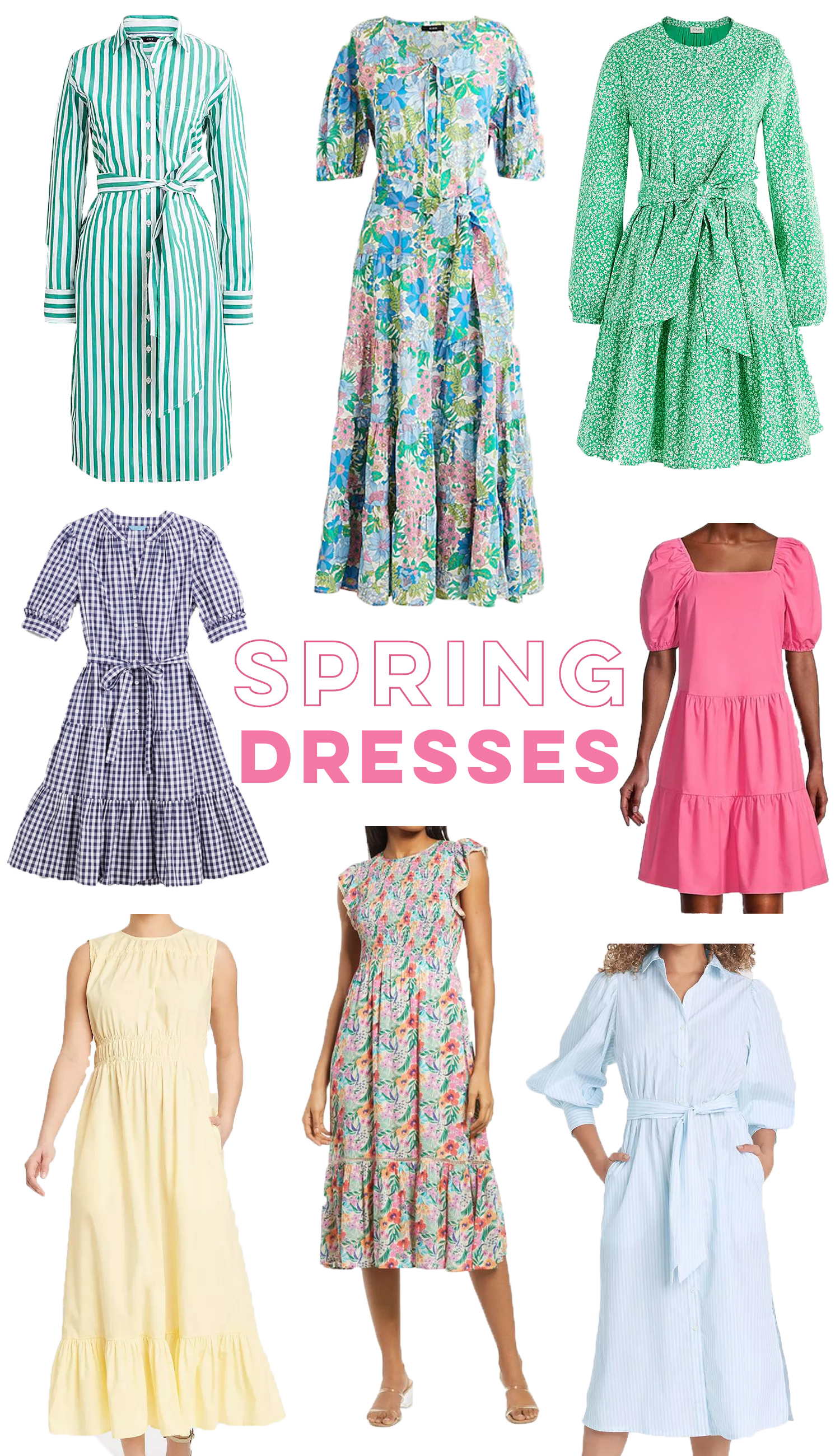 Green Stripe Dress / Floral Maxi Dress / Green Floral Tie Waist Dress / Gingham Dress / Pink Puff Sleeve Dress / Yellow Midi Dress / Floral Ruffle Sleeved Dress / Blue Long Sleeve Midi Dress
If I had to pick a favorite for my Spring Dresses Under $100 list, it would be this gingham print dress! Such a classic silhouette and I am so for any dress that has a tie waist in the sea of mumu's at the moment. I feel inspired to make a matching gingham headband for my ETSY shop ASAP!
Target has some amazing dress selections right now. I recently picked up this puff sleeve shirt dress for under $30! And this midi dress in pink (under $30). I have a new headband coming next week that I plan on styling with the dress!
Tonight, J.Crew Factory has 40% offf the entire store + an extra 25% off spring styles and I might just pull the trigger and order this floral green dress. You can never go wrong with a shirtdress and I think this striped one would be so cute styled with sandals!
Dresses for Spring
It is spring, so how could I have not included a few floral options! I am picky when it comes to florals. There's a point where it's cute and then just completely overdone. This smocked dress has a pretty pastel floral print that is just right and I love it's girly ruffled sleeves!
Tonight I had my usually Monday workout and at the end of the workout, I literally thought it was Wednesday! Stay tuned to Instagram tomorrow, I will be showing some photos of baby Katie and if I can find them, awkward old embarrassing photos as a teen and me in high school. I will also be reviewing this Target dress that's under $30 later in the week.
Lots of Sunshine,
Katie