Aloha again! I don't think I'll ever tire of saying that! Today's all about wide leg pants you can wear all summer. These babies have been on heavy rotation here in Hawaii. During my flight here I wore them for my two 5 hour plane rides and plan on wearing them when I travel back to Florida. I purchased my first wide-leg pants back in August when I first became a teacher and they have been a closet staple ever since. They are the easiest piece of clothing to style. Think skinny jeans or denim shorts, except with a cropped wide leg.
What I'm Wearing
J.Crew Factory Body Suit (similar sleeveless bodysuit) / J.Crew Factory Chambray Wide Leg Pants (similar option here with more sizes available) / White Sandal / Bandana Scarf / Woven Bag
To style these pants, all you really need is to keep it pretty basic. For the summer, they look adorable with a an off-the-shoulder top, a tank top or basic t-shirt. To add a fun pop, try tucking in a printed silky tank top. Add a neck scarf like I did (you can easily just purchase a bandana at a local craft store for super cheap), or a wide brim hat!
The red top I'm wearing is actually a body suit – see how I styled it for the summer heat here. Body suits are amazing because you never have to worry about tucking in your top again! They come in a few styles like a tank top, one with a ruffled neckline and a t-shirt in all different colors!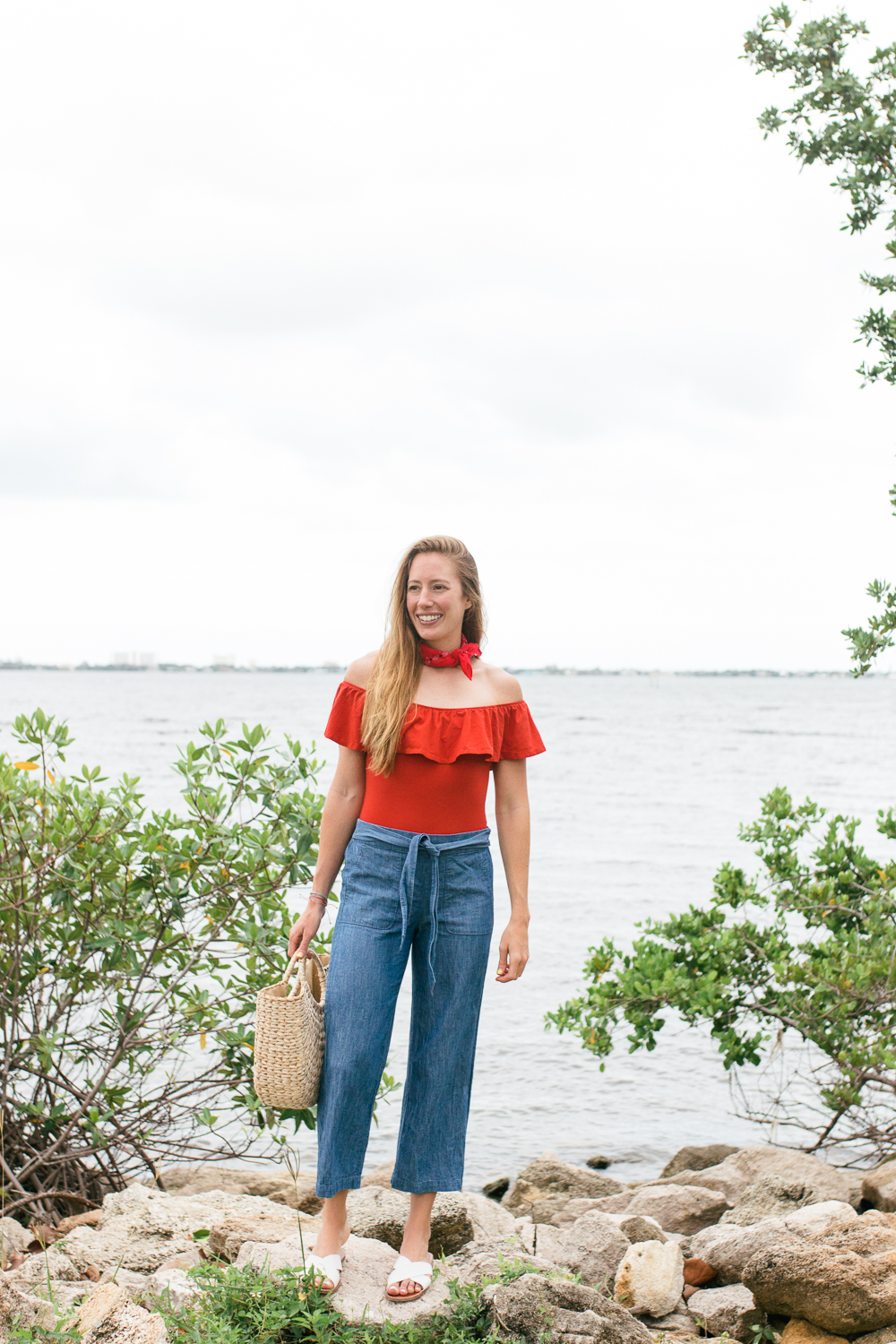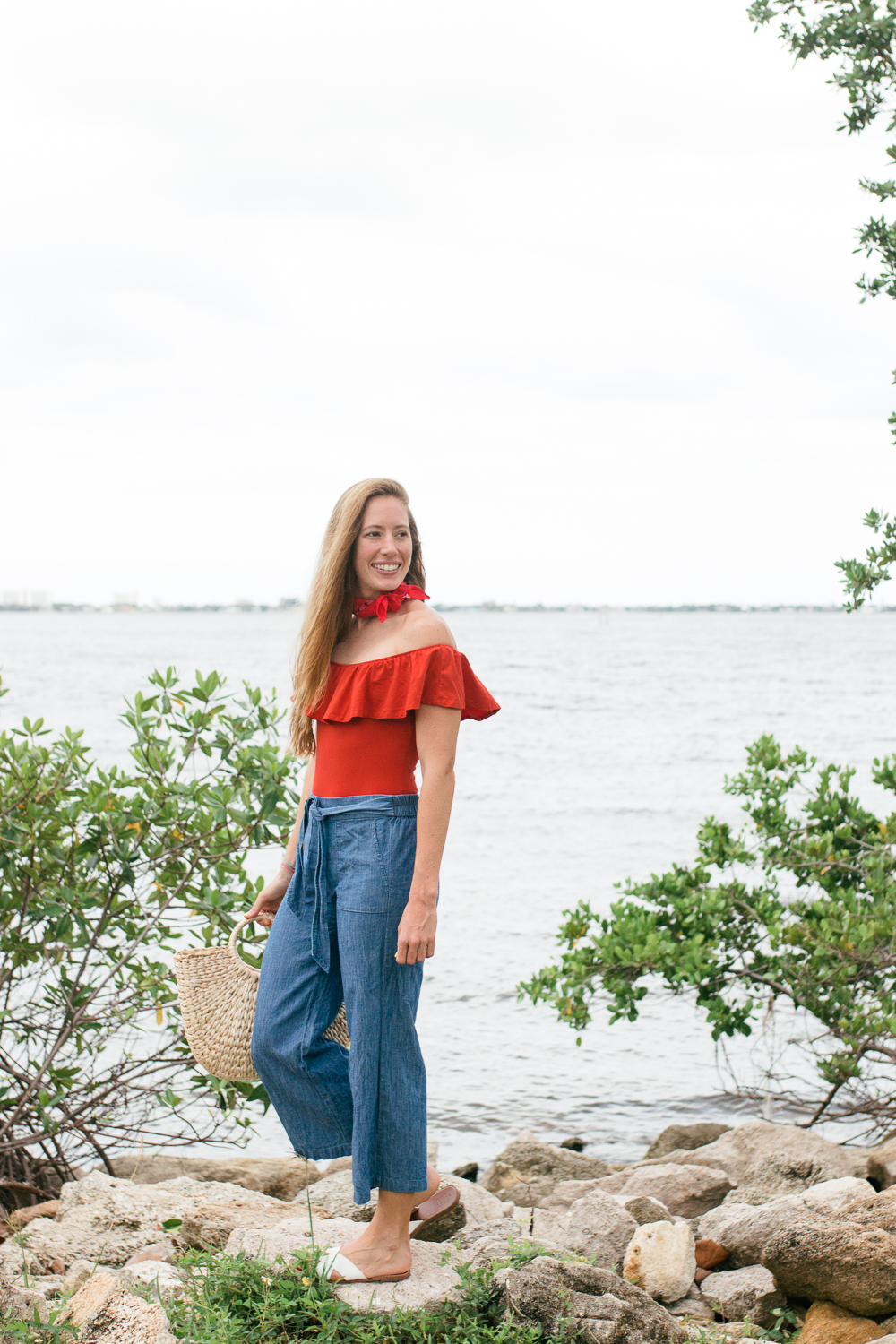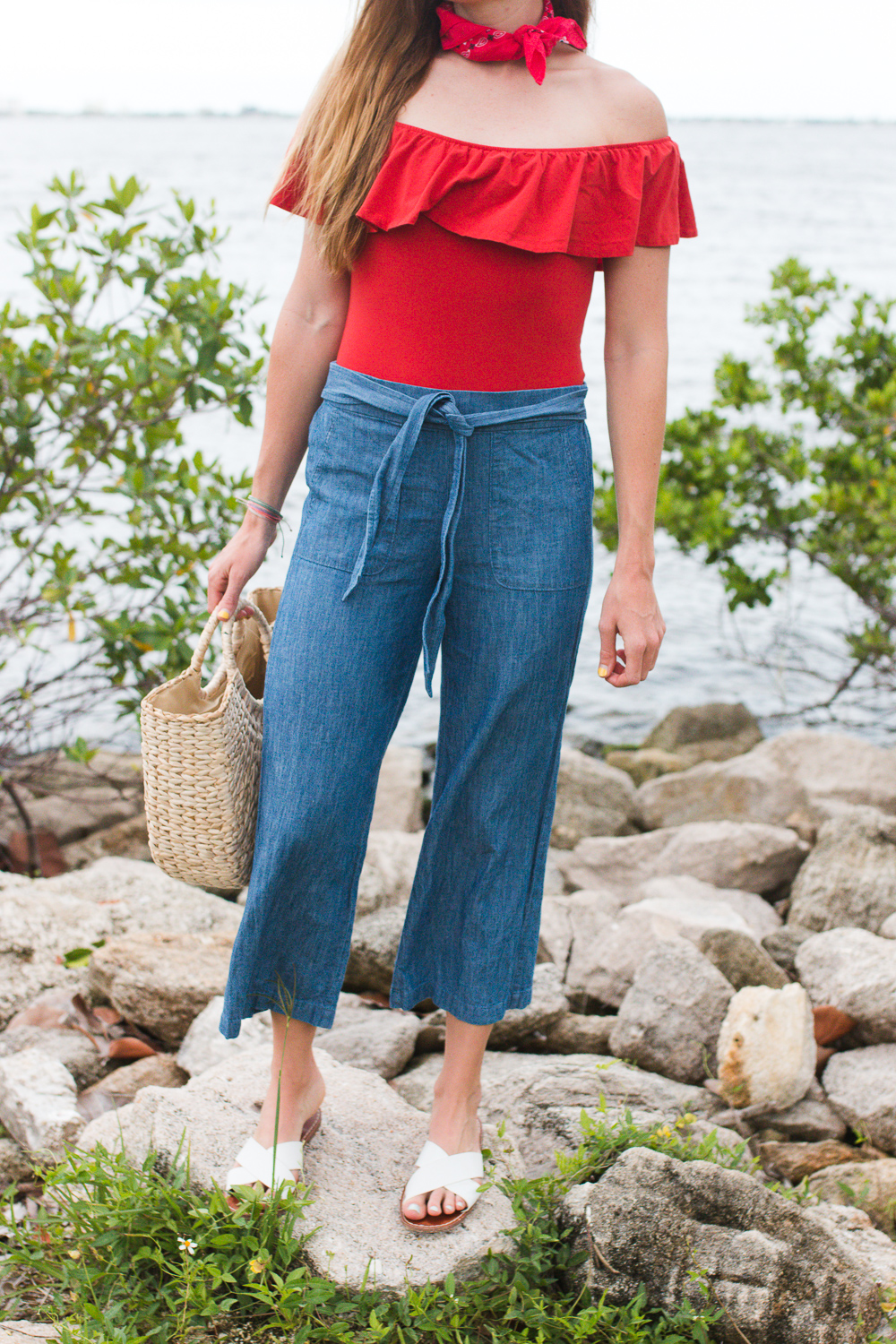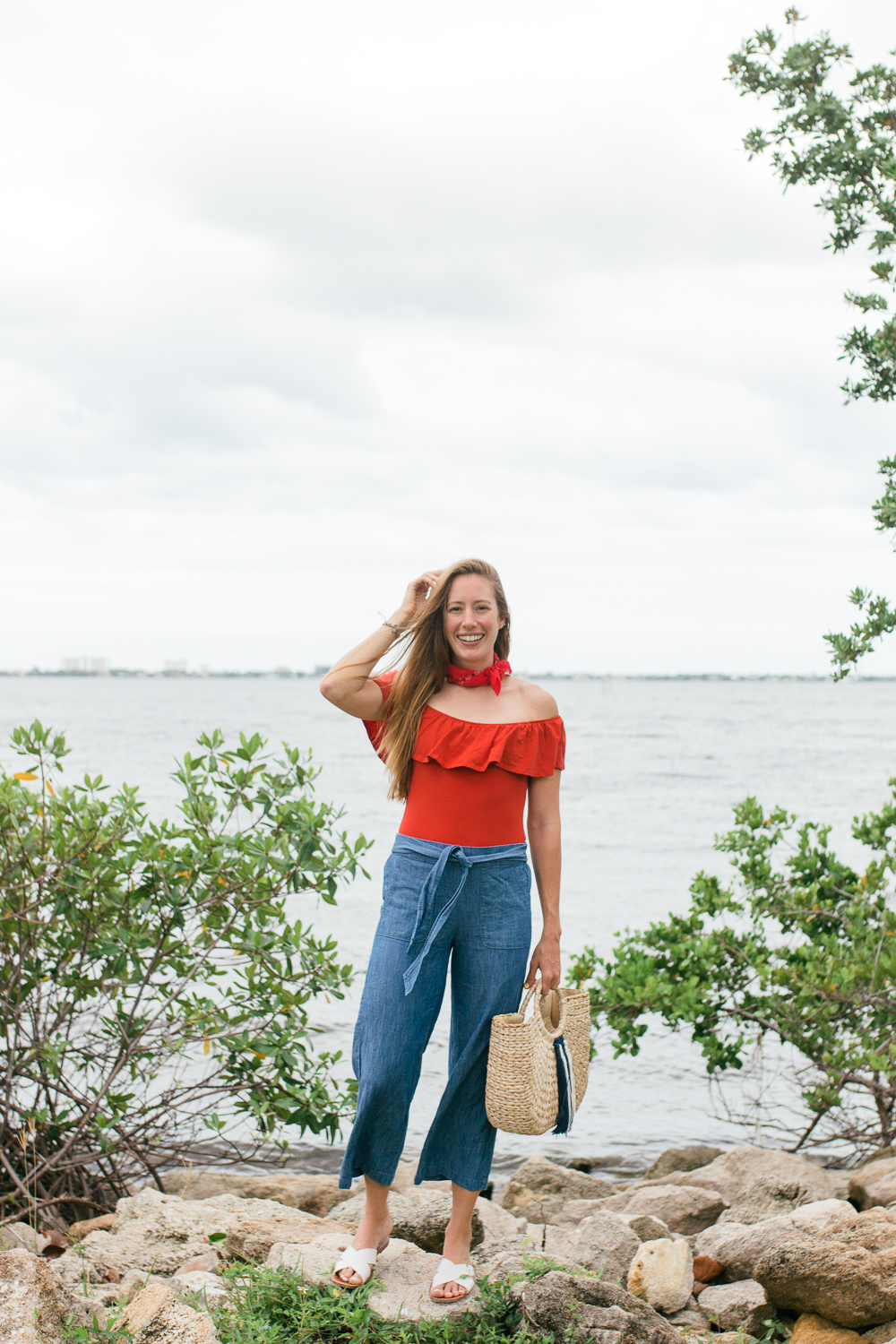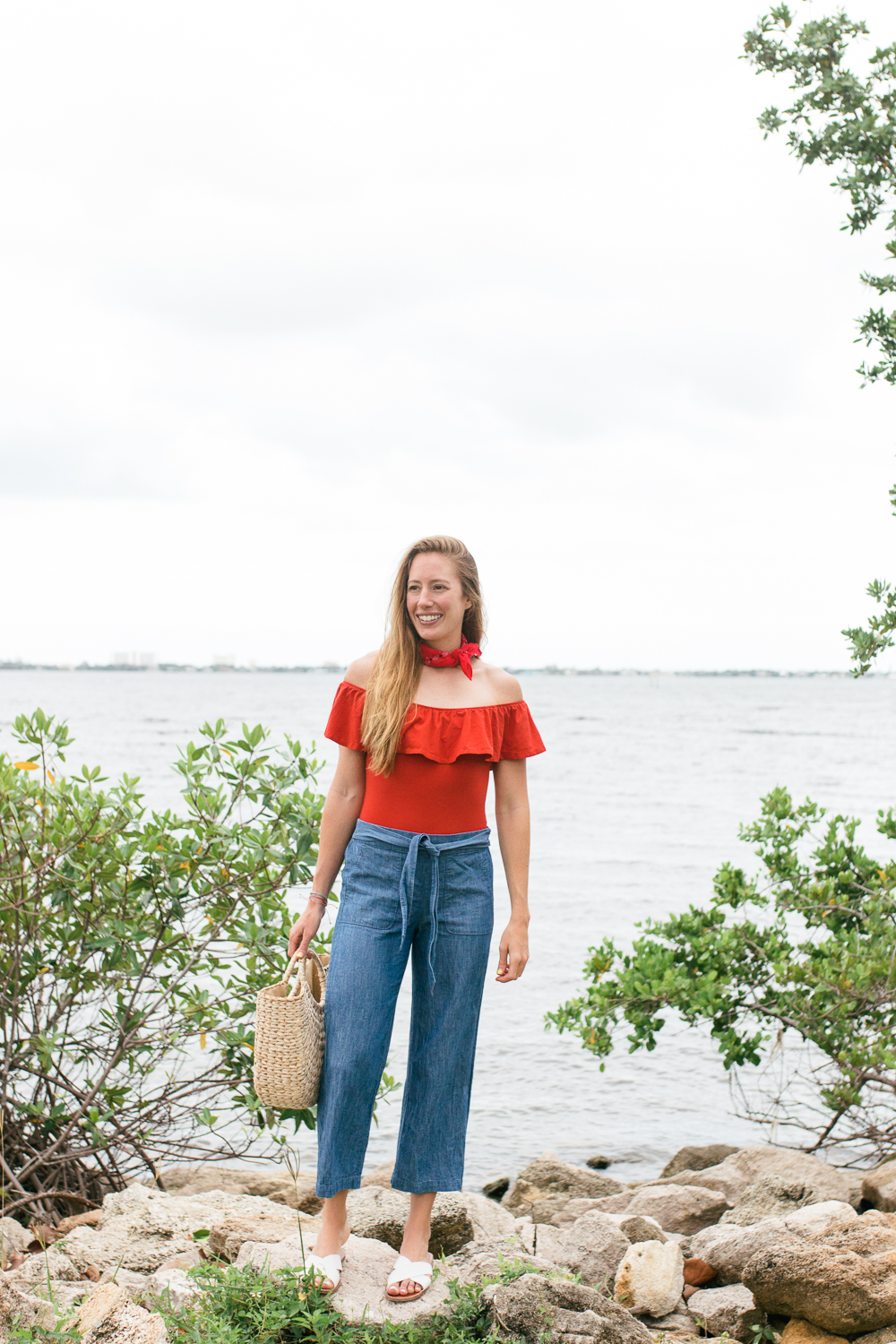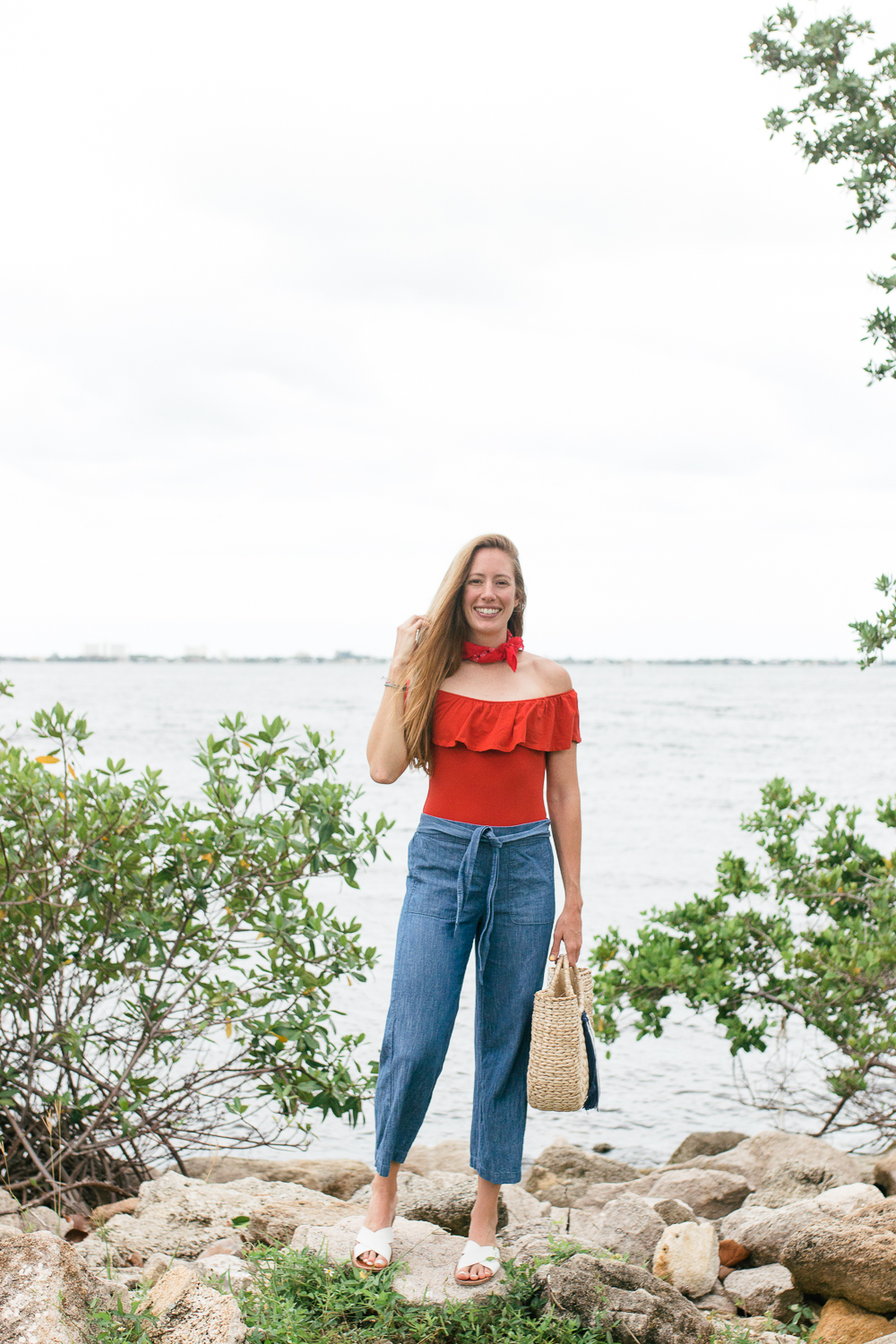 Shop My Casual Wide Leg Pant Outfit:
Hawaii has been so amazing! I can barely keep track of what day it is or everything I have done here. Seriously, I had to start an excel spreadsheet just to remember what I did or ate the day before. There's sooo much to do on the island from hiking, to snorkling, to shopping in Honolulu, you can never be bored. It's a beach lover and adventurers heaven for sure!
The first two weeks I had a friend come and visit and now I have a few days by myself before my other three friends join me! At first I was super bummed thinking I'd be bored all alone for a while but it turned out to be such a fun day. In the Am I found a nearby hike I felt comfortably to do by myself, met so many people on the hike – some even offered to take a photo of me, saw the most beautiful ocean view and then bonded with a girl at the bus stop over the most delicious acai bowls we got at Banzai Bowls (seriously the best in town so far). Afterwards, I was so hot and sweaty, I swam at the beach the rest of the day with the most gorgeous blue water. Tomorrow I'm heading to Honolulu to meet my friend and stay in an air-conditioned Air BnB. I'm so excited for AC! You have no idea.
Do you have any exciting summer trips planned? What's you go-to travel outfit? Let me know in the comments!
Recent Posts:
How to Beat the Summer Heat While Looking Stylish