Now that the summer heat is here, it means way more ocean swims! We truly had the best month of May in high 70's and 80's then all of the sudden, poof, the June rain and humidity hit. This weekend I was so happy it was sunny for a few hours! I purposely made no plans Sunday afternoon and went to the beach with a special someone and packed all the normal essentials in my bag for the afternoon!
Us girls love to pack our bags full of all the things, right?! I hope I'm not the only one. On a normal day it's okay if I forget something small like chapstick because I can just run to the store if I really need it. Going to the beach is totally different. Sunscreen is a must and if I get all the way down to the beach, unpack, sit down and realize I forgot it, there's just no way I am walking back to my car for a quick Target run!
What to Pack In Your Beach Bag
Below are all of my main beach bag must haves and random items to pack that you might forget! This list is especially helpful if your going on a trip and don't wan to make any extra runs to the store.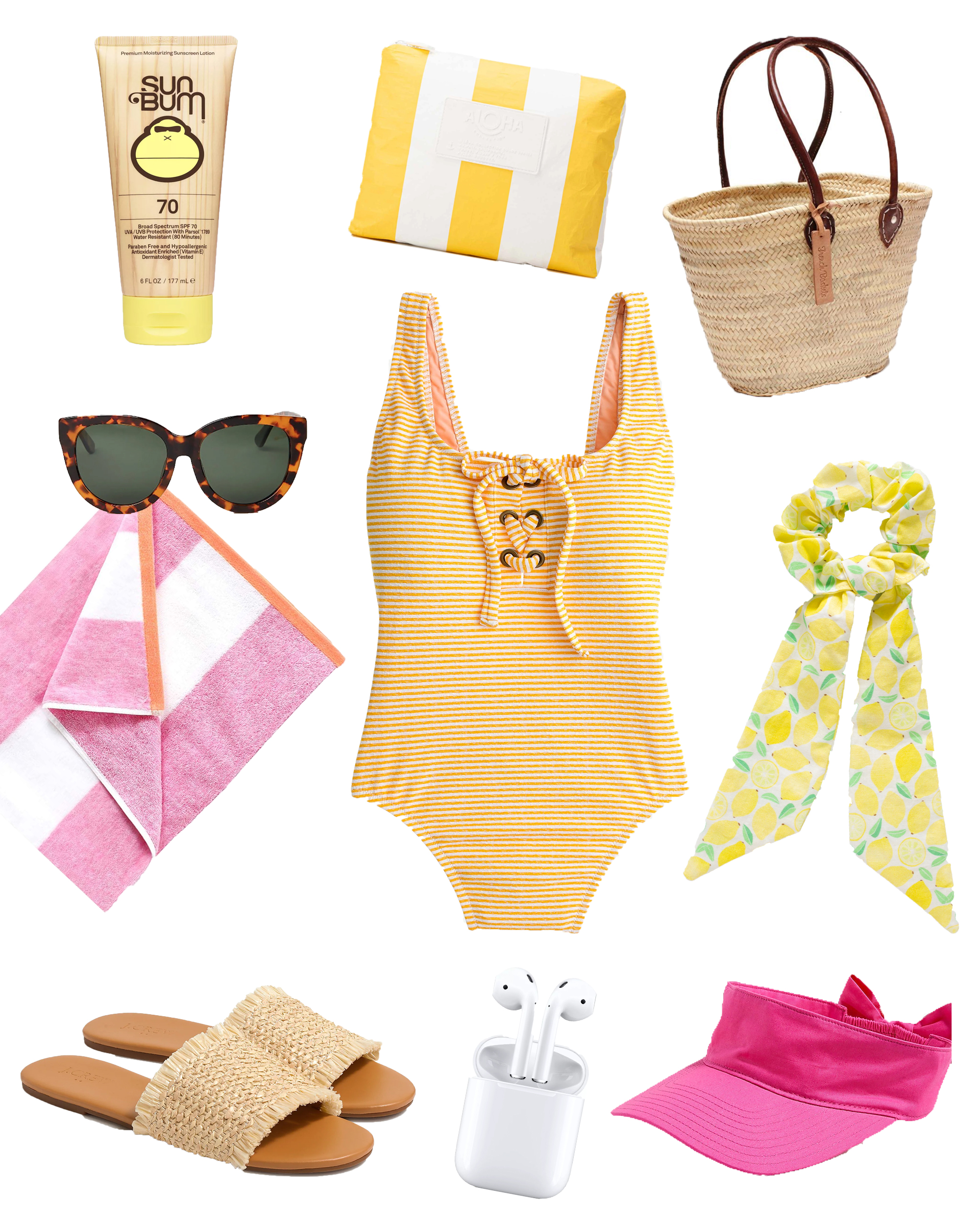 Sun Bum Sunscreen / Striped Waterproof Bag / Beach Bag / Sunglasses / Striped Towel / J.Crew Swimsuit / Sunshine Style Co. Ribbon Scrunchie (coming Weds, 7/7!) / Sandals / AirPods / Pink Bow Visor (sold out, similar here and here)
This might be a no brainer but a swimsuit is a must! If you prefer to get changed when you get to the beach, make sure to pack your swimsuit. Also, set it on top of your beach bag. I love bringing a large plush towel to make sure none of my body is touching sand. So, I can apply sunscreen without getting gritty!
I cannot tell you how many times I have gone to the beach and forgot a hat or a hair tie. Both I truly cannot do without! My fair skin always needs a hat on at all moment or I am a lobster. An easy way to always make sure you have hair ties is to buy a large pack and keep the entire thing in your bag or car! I use this little trick for the gym too! Other necessities are sunglasses, AirPods and sandals for the hot sand!
Other random items to pack in your beach bag:
Tylenol (you never know when a headache will pop up), feminine products, a water bottle, Rash Guard (on sale under $75), a waterproof phone bag, plastic bags, a change of clothes (and undies ha), and an umbrella.
Did you see the new reel I posted?! Over the weekend I recorded this reel on my back porch, 5 Random Items to Pack In Your Beach Bag. I have been trying to grow my Instagram in new ways. Reels are the hot thing right now for growth. Video is my biggest weakness. I have been trying to be more creative with reels. All of the practice is helping me improve with videos!
Lots of Sunshine,

Katie