Heading on a tropical beach vacation soon?! Today I have 4 beach vacation outfit ideas under $30! Everything in this post today is from Shein. I thought it would be super fun to do a try on "haul" with all of the beachy pieces! There are 3 dresses and a tropical two piece set that I am obsessed with that are all under $25!
Thinking of it, I don't normally do hauls, this might be my first! Be sure to check out my new reel to see the fit and movement of the clothes! I recorded this reel a few weeks back and am sure glad I did because my porch is being renovated and now under construction!
4 Warm Weather Beach Vacation Outfit Ideas Under $25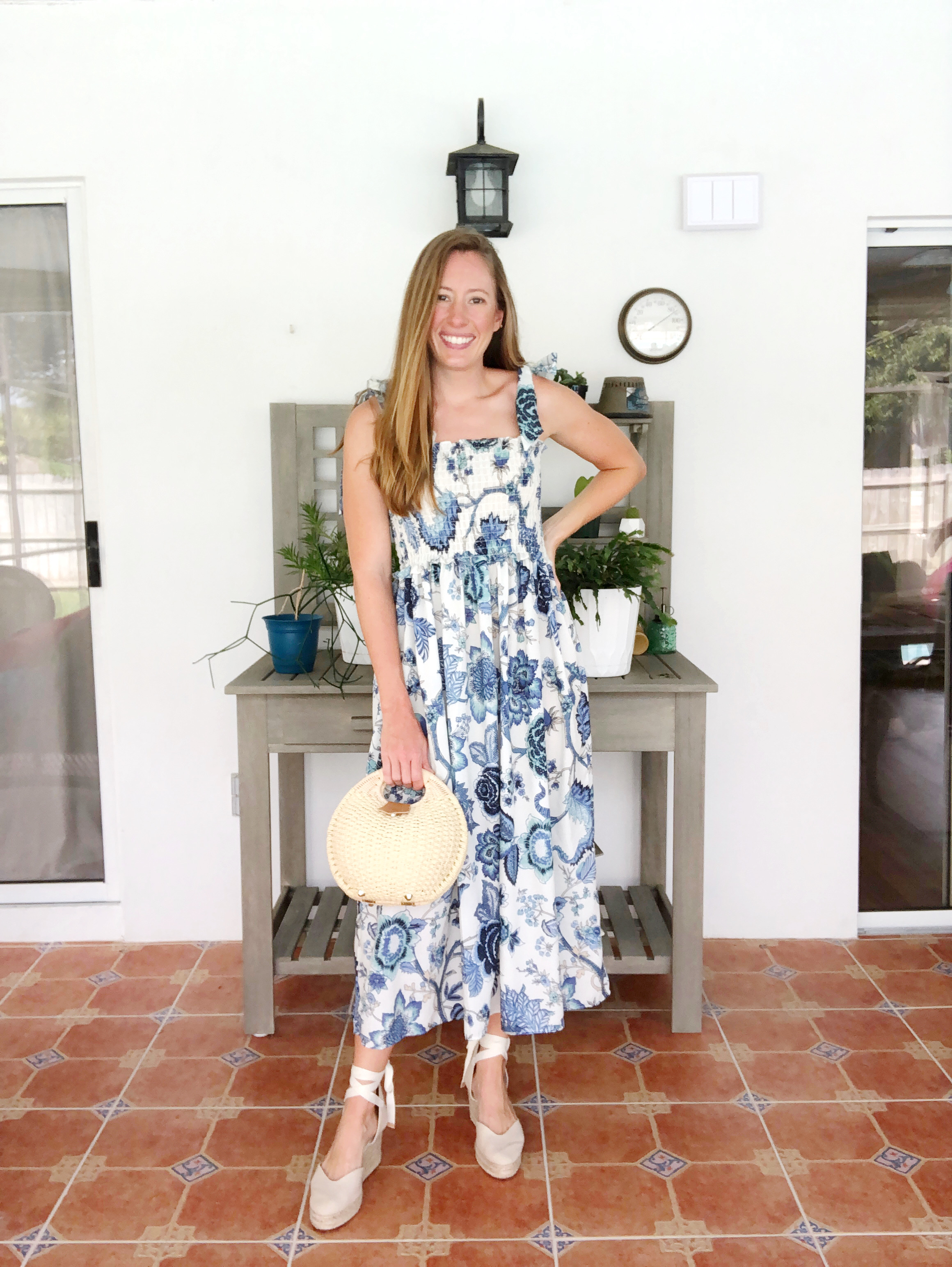 Shein Floral Tie Strap Dress, $23.00
Floral Dress
My absolutely favorite piece I ordered is this floral blue and cream dress. So, the straps tie at the shoulder and there is ruching on the top! I styled it with espadrilles for a fancy dinner after a long day in the sun. Can also be worn casually with sandals and a sun hat.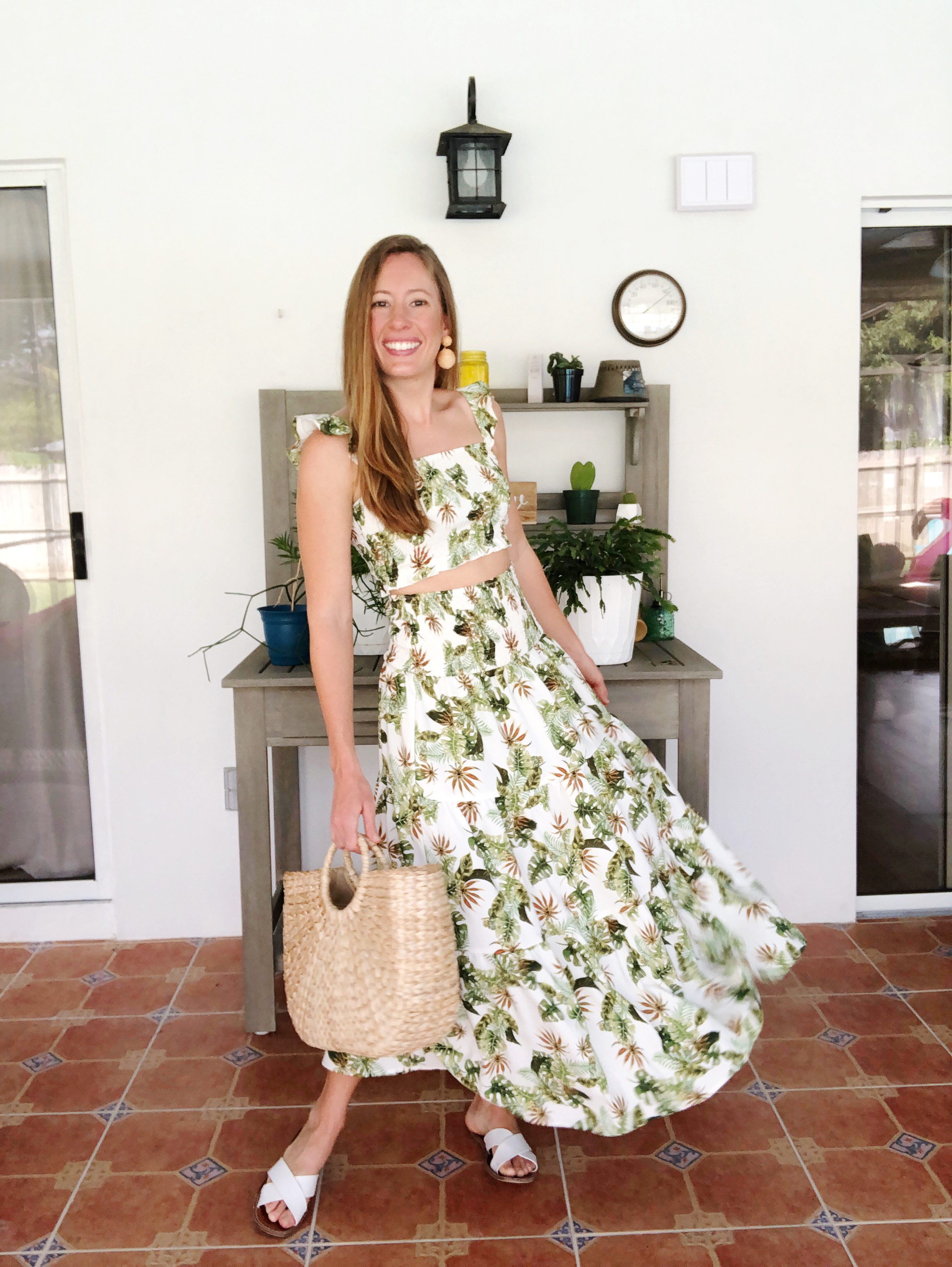 Two Piece Tropical Set, $12.49
Two-Piece Tropical Dress Beach Vacation Outfit
Hello, two piece tropical sets and only $13?! This little outfit is adorable on and just as pretty in person as in the photos. The crop top has a small ruffle on the strap and is ruched, so it's very stretchy. At first I was worried the crop top would be waaaaayyy to small. Also, I am happy to report it fits just right with the high waisted skirt! Personally, I would wear this to the beach as a cover up or a day spent exploring a cute town.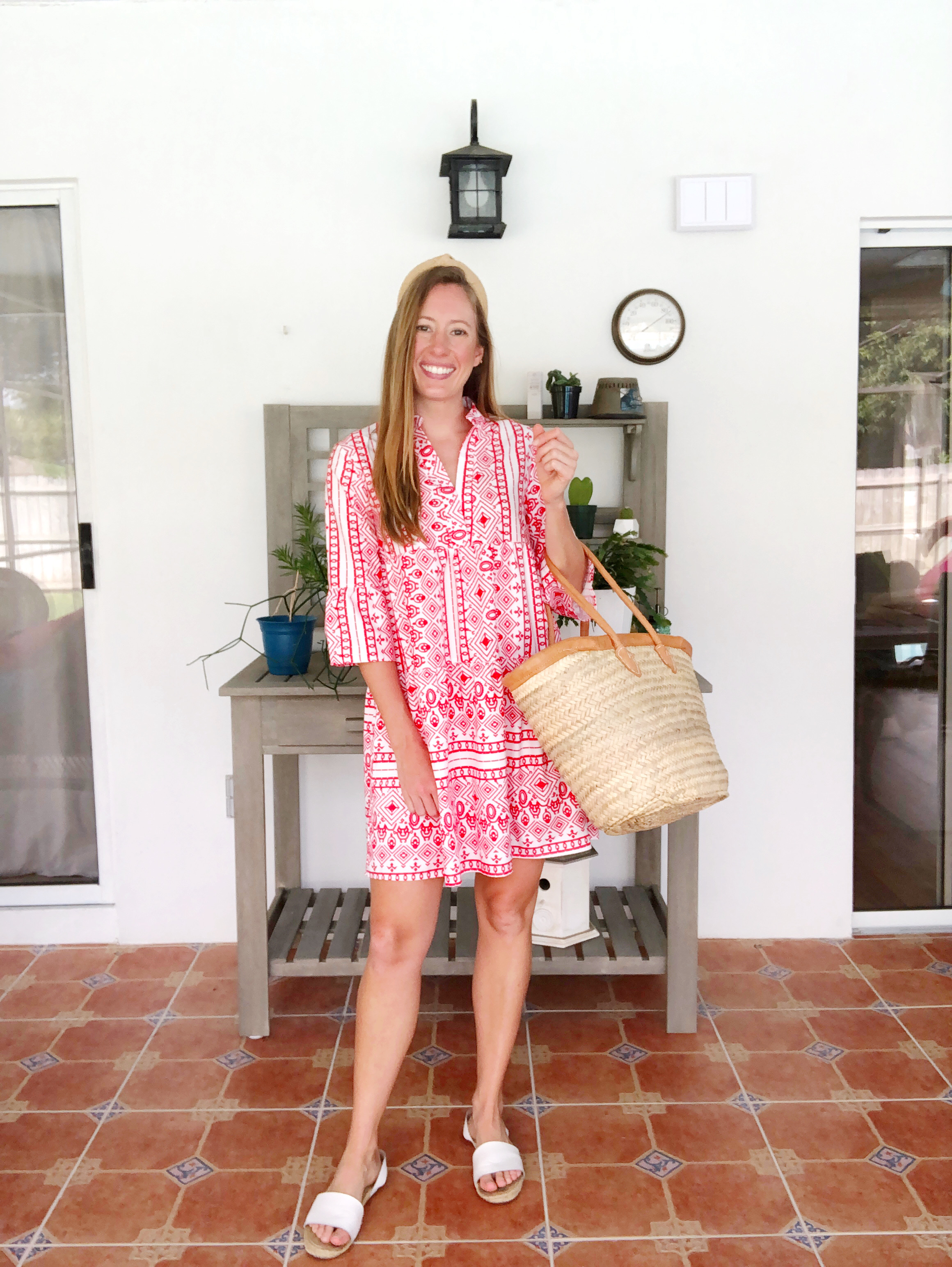 Red and White Printed Dress, $18.00
Red and White Printed Dress
This dress was one of those, "I am not sure if it's going to work" purchases. Turns out, it is such cute dress and works perfect for a beach cover up. So, keep in mind, the material is more silky and might not be as breathable for a super hot day in the sun as lets say linen or cotton. I love the v-neck and the fun Moroccan type print.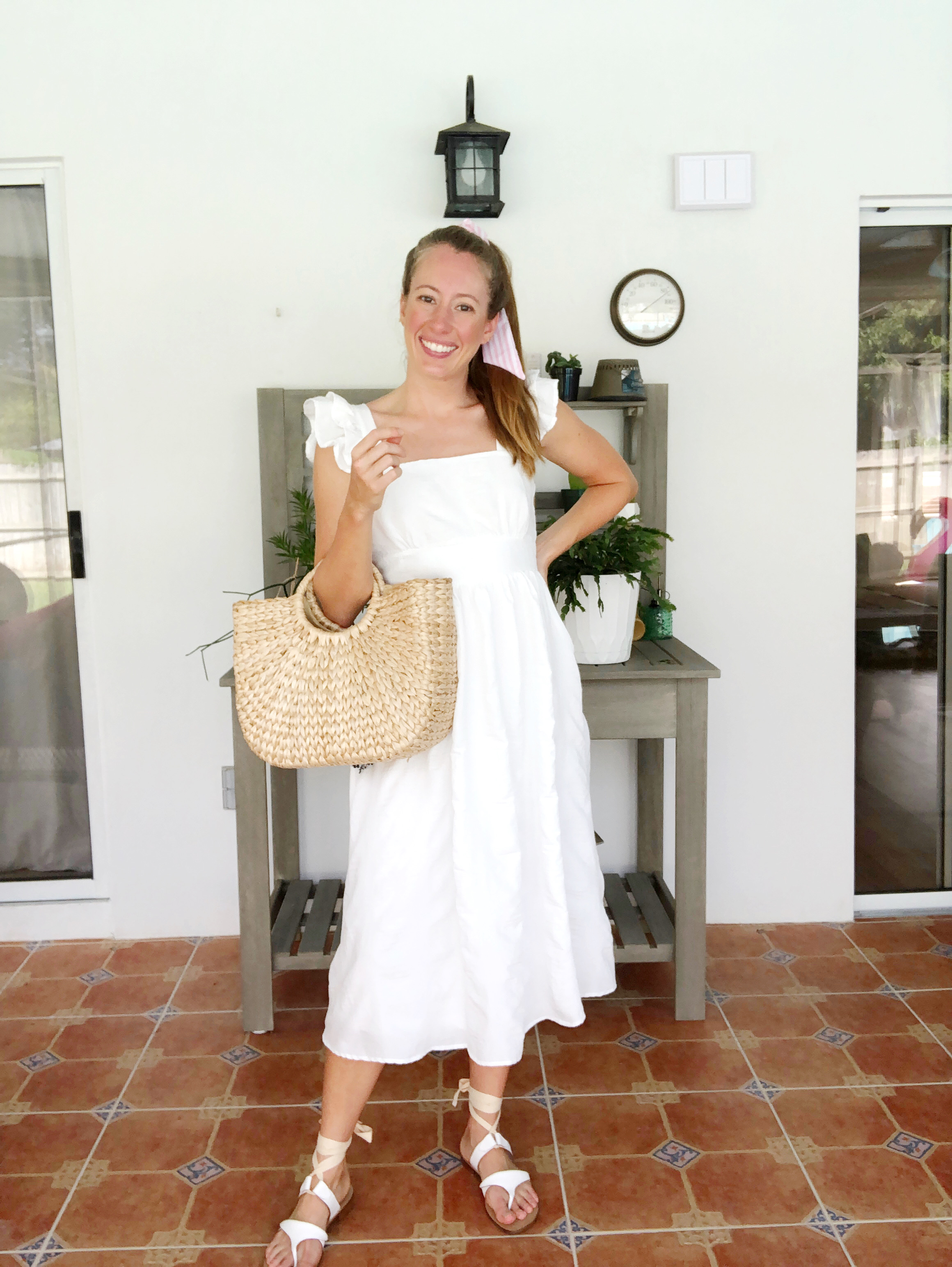 Ruffle Backless Dress, $22.00
White Summer Dress Beach Vacation Outfit
First, I'm stating the obvious – white dresses are pretty much a summer staple. So, do you agree?! What sold me on this piece was the cutout back! It's really the perfect little white dress for summer! Also, I styled it with a new scrunchie in the Cabana Collection, coming to Sunshine Style Co. Really hoping to be releasing these next week!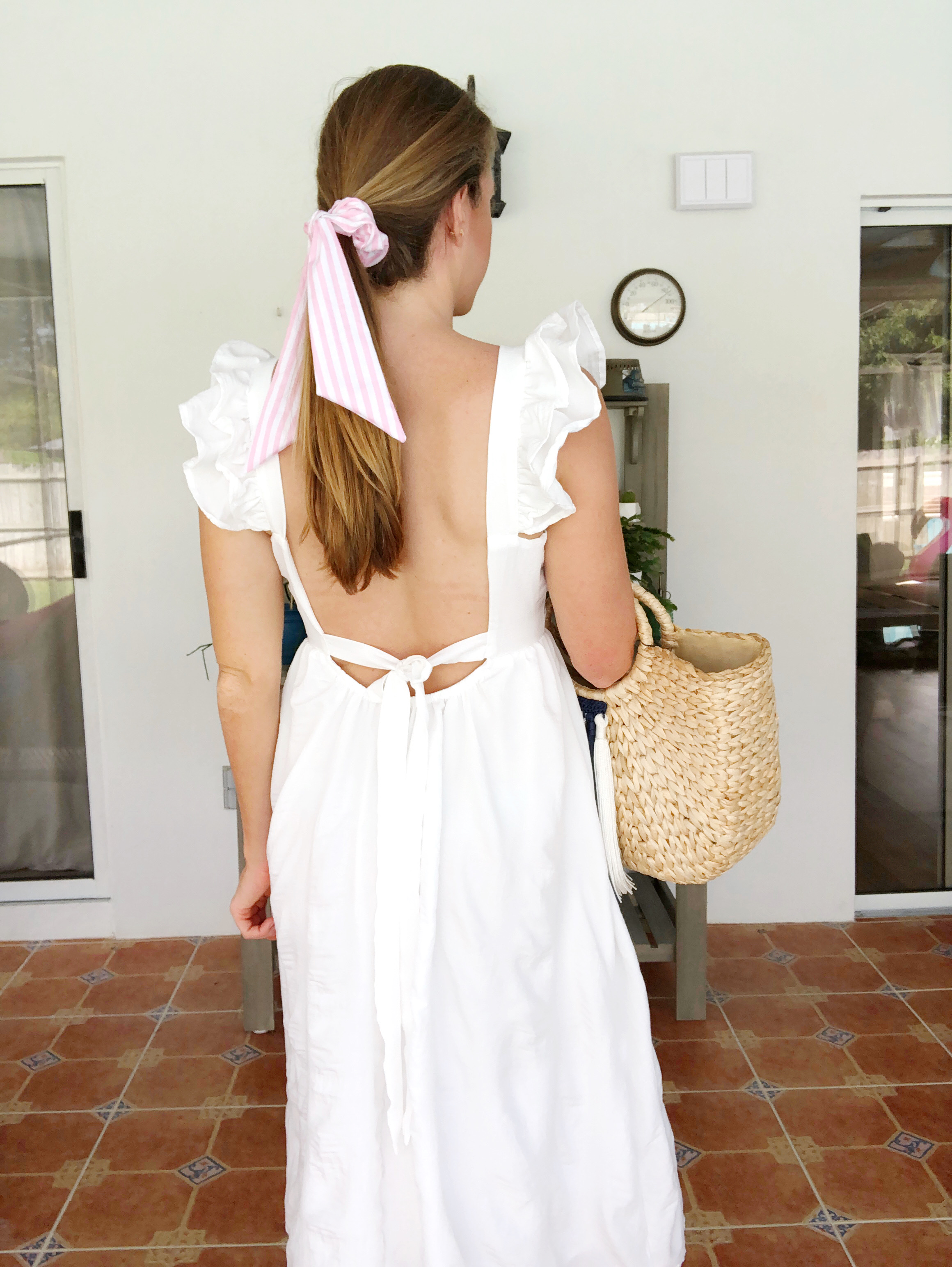 Keep in mind, all of these dresses and two piece sets, I am wearing a size Small. So, the Shein pieces do run on the smaller size (mostly). I took a few minutes and read all of the reviews and decided the Smalls in these items were going to fit me best! Also, if you are ever on the fence about choosing a size, read through all of the reviews and find customers with similar body types! It's exactly what I did and it worked out perfect.
Lots of Sunshine,
Katie
Which beachy outfit is your favorite?!