Gaylord Palms is one of the most incredible hotels ever! I have been visiting the Gaylord since I was a little kid and lets just say there is something for every age to do. The first time I went was either to see their awesome ICE display during Christmas time or for a cheerleading competition in their convention center. Every time I go, there is always some fun activity going on!
If you are ever in Orlando, the Gaylord is a total must see! The moment you step into the lobby, it looks like a magical giant greenhouse made up of all your childhood dreams. If your not excited before you get there, you will be once you walk in! There's luscious tropical plants around every corner, live gators, a castle, different "towns" to explore and the best pool ever with giant water slides!
September is usually the hottest month for us here in Florida, so my mom and I decided to escape the heat and walk around the hotel on a Friday afternoon. Actually I was the mastermind and came up with the idea, but she happily said yes! Usually when we go for the day, we walk around and visit all the different towns in the atrium and then eat at our favorite buffet restaurant for lunch called Villa de Flora.
This was just a day trip but a month ago I had a girls stay-cation here with my BFF, Alyssa and sister, Michelle. We stayed over one night, went to Disney Springsand hung out at the pools all day. On our girls trip I made sure I was present, not glued to my phone and didn't snap any photos besides a few outfits I wore. That's why I was so excited to come back for the day and capture the fun hotel in all of it's magic!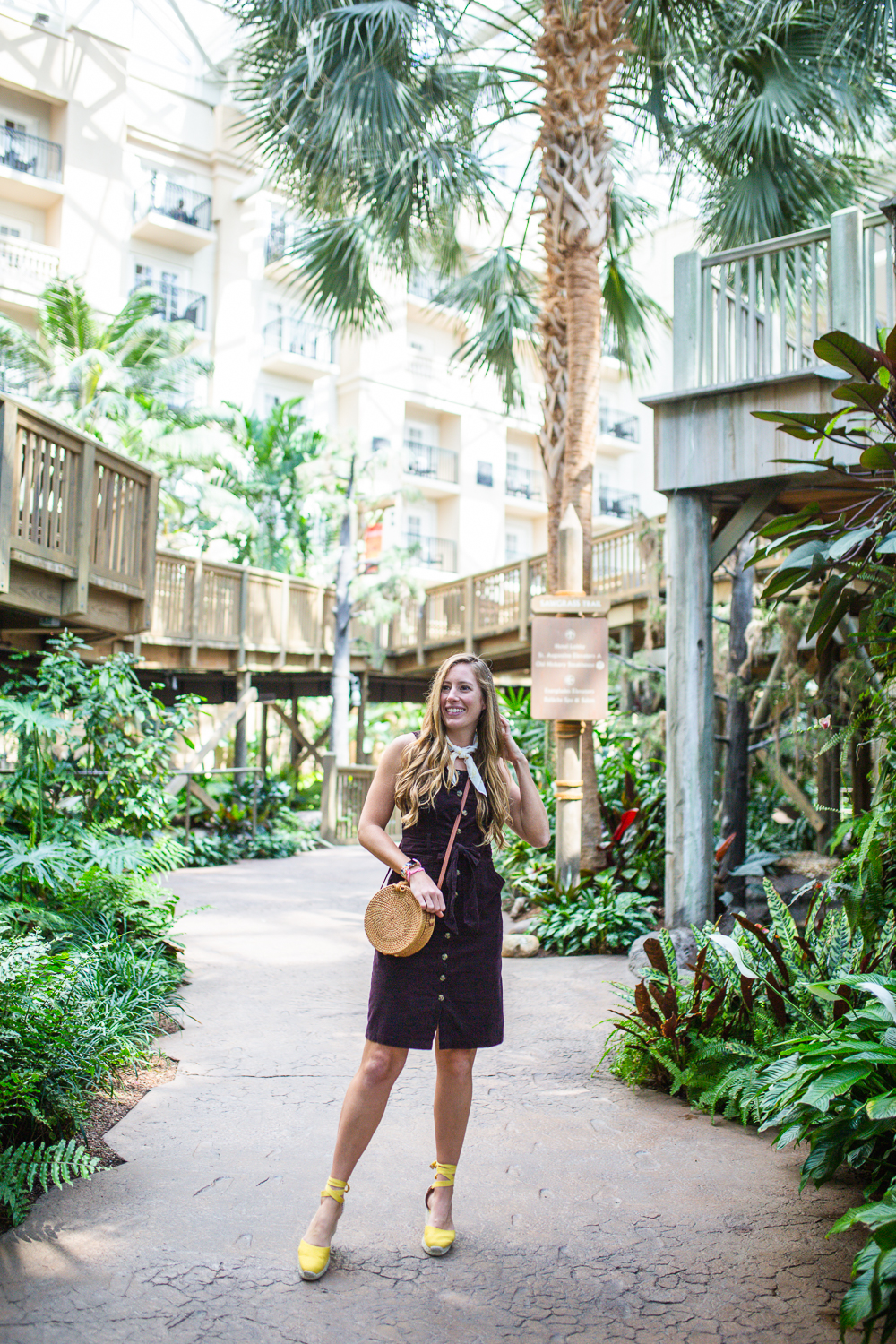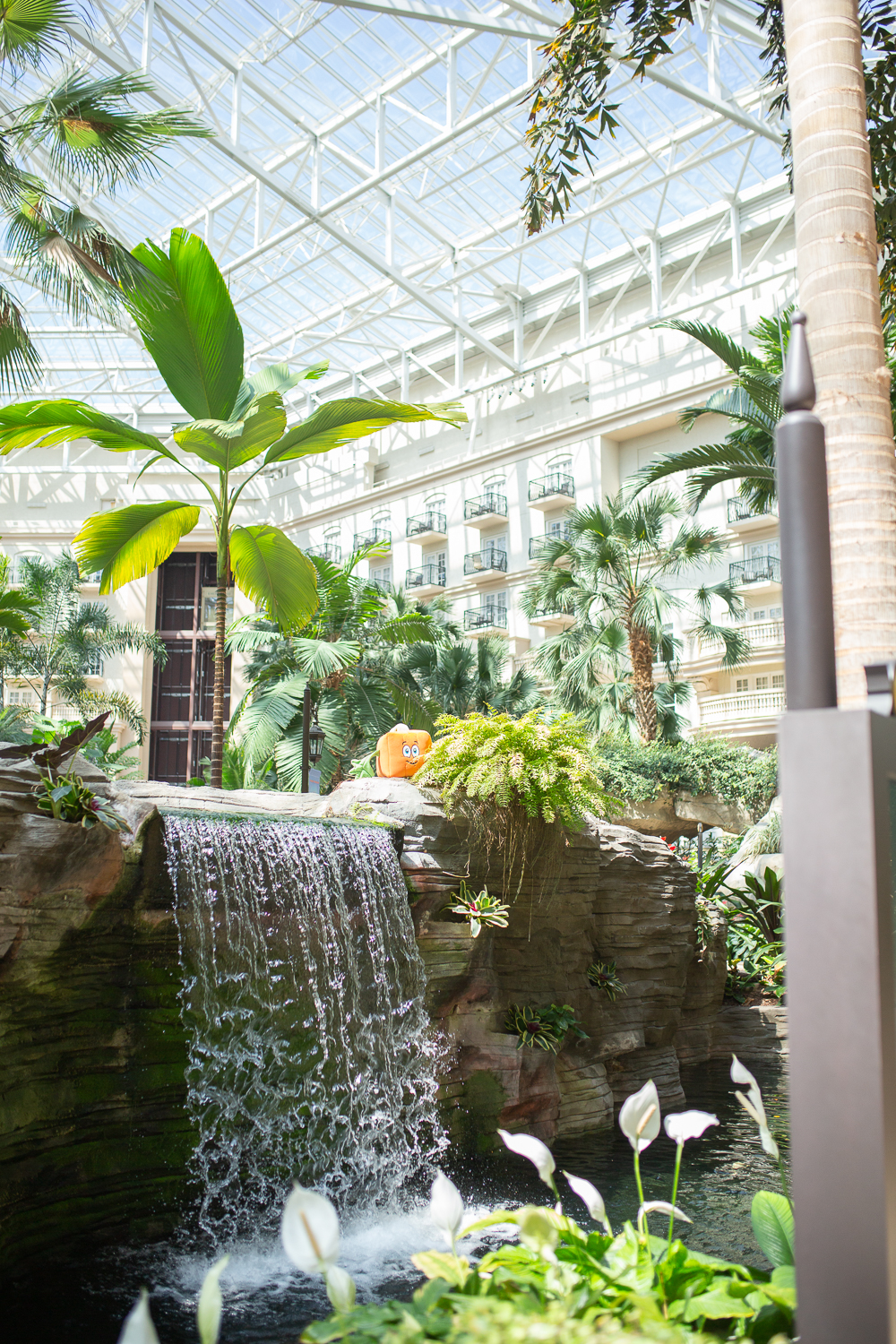 Outfit Details
Target Dress (under $21!) / Castaner Wedges / Amazon Bag / Target Scarf
We were so excited to see what events they had going on. Usually they will give a pamphlet and send you on some type of scavenger hunt. A few years back when my family and I visited during Christmas, we had to find gnomes hidden around the hotel. This time everything was Halloween themed and there were 8 pumpkins hidden around the hotel! Nothing like pumpkins and air conditioning to get in the fall spirit. It's really an awesome hotel for both adults and kids! Maybe I'm just a giant kid at heart and get more excited than the average person ha, but there is truly always something exciting going on!
The moment we walked in, we saw a pumpkin in the revolving lobby door and also on the fountain. He's hidden to the right if you can see him in the photo above! As soon as we knew what we were searching for, my mom and I set off with our pamphlet in hand ready to explore the towns.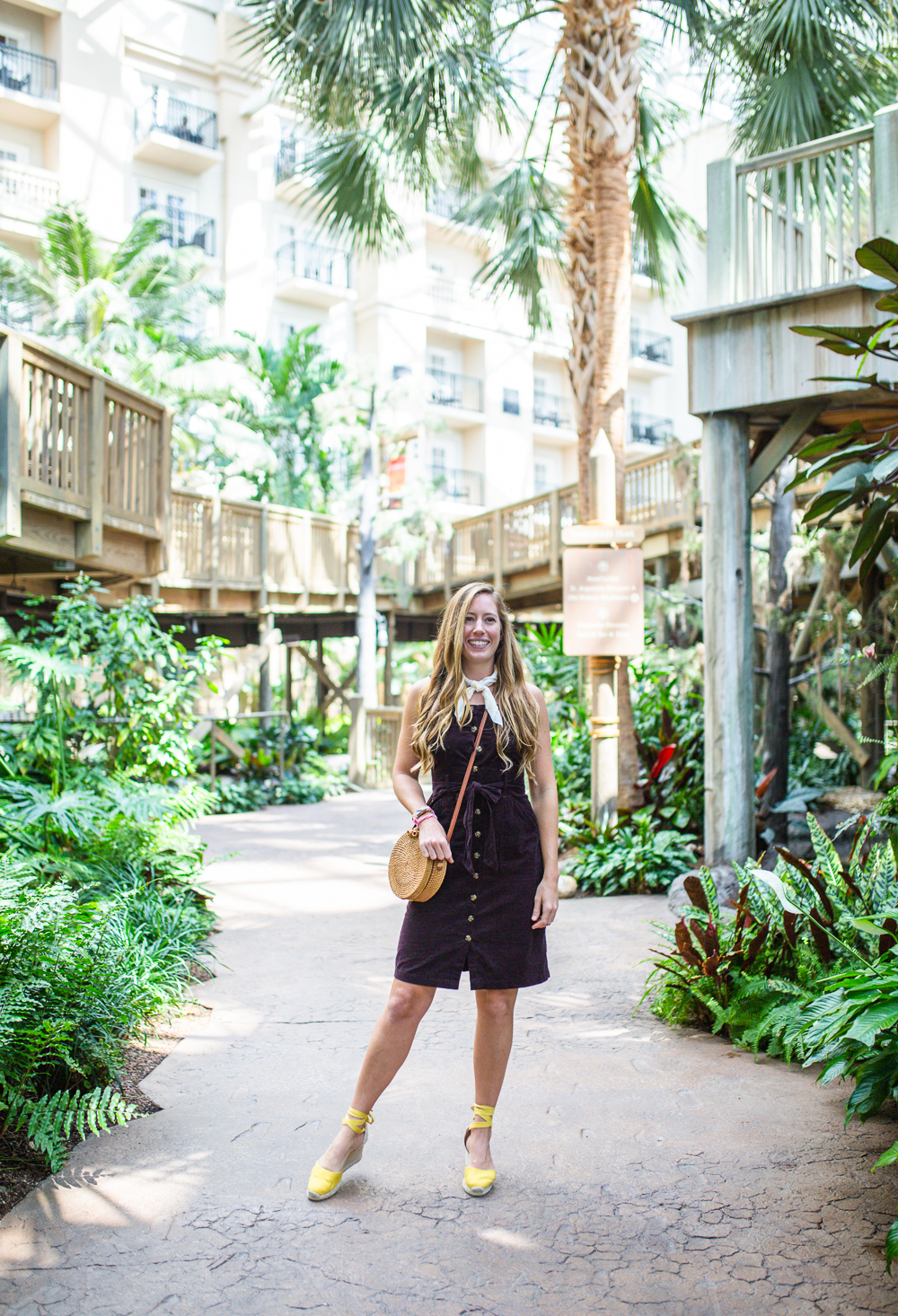 I ended up wearing this super cute burgundy corduroy dress with my favorite wedges! They were totally comfortable to wear all day walking around for a few hours. I knew the background wasn't super fall-ish but I still wanted to dress for fall! This outfit is the epitome of fall in Florida or the South. Sleeveless dresses with mustard colored accessories and a dark colored straw bag from Amazon. Once it cools off a bit more I plan on styling the dress with a long sleeve blouse!
St. Augustine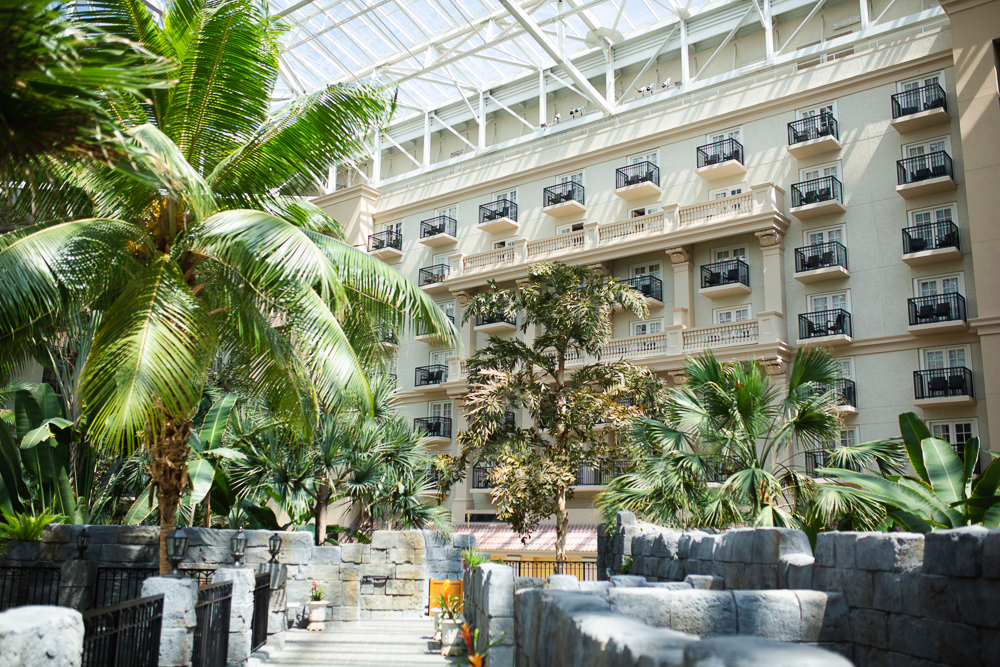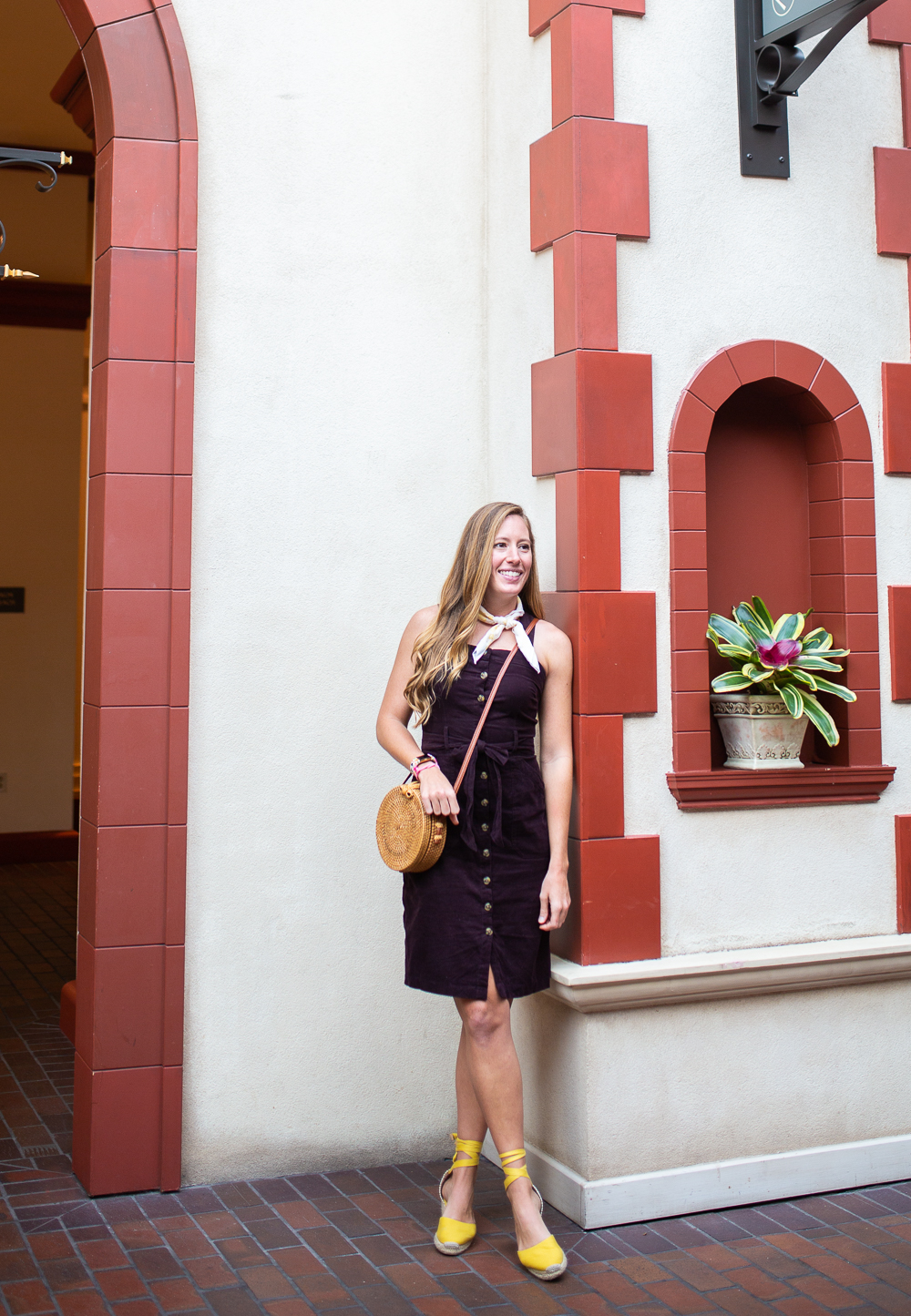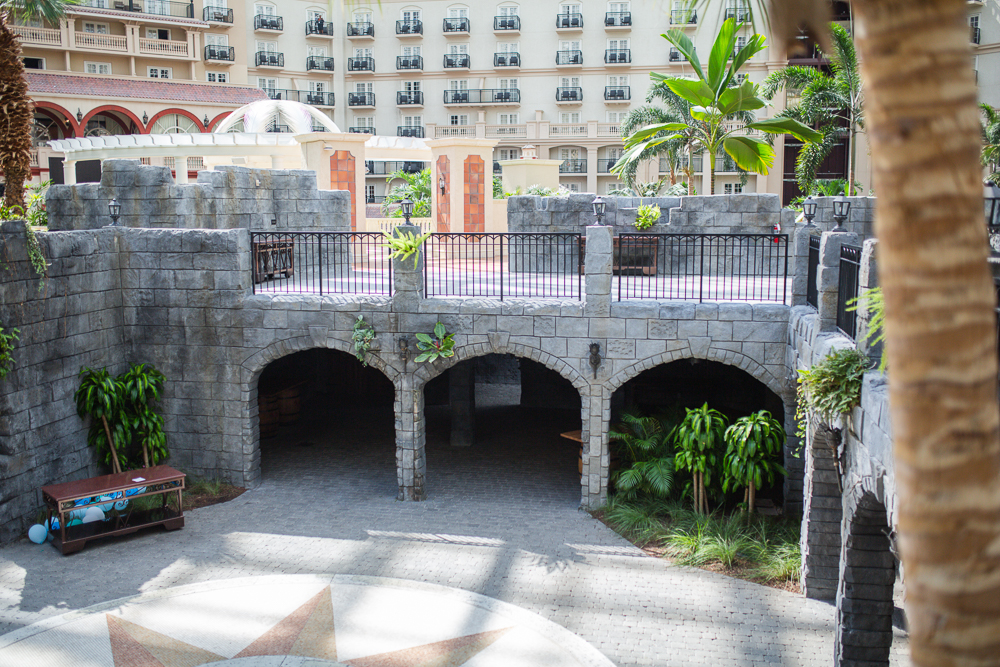 First we set off to St. Augustine. When I was a kid, this was my favorite town because it had the Castillo de San Marcos castle in the middle! Every year as a kid, we would always take field trips to St. Augustine and visit the real castle and it was always cool to see the replica.
I can remember so clearly how truly excited I was when I first saw the giant castle in the middle of the huge hotel. Before and after competitions, my cheer friends, sister and I spent hours running up and down the stairs and all the fun castle side doors playing for hours. You can actually walk inside and on top of it. People get married in the castle and they have lots events held in it to!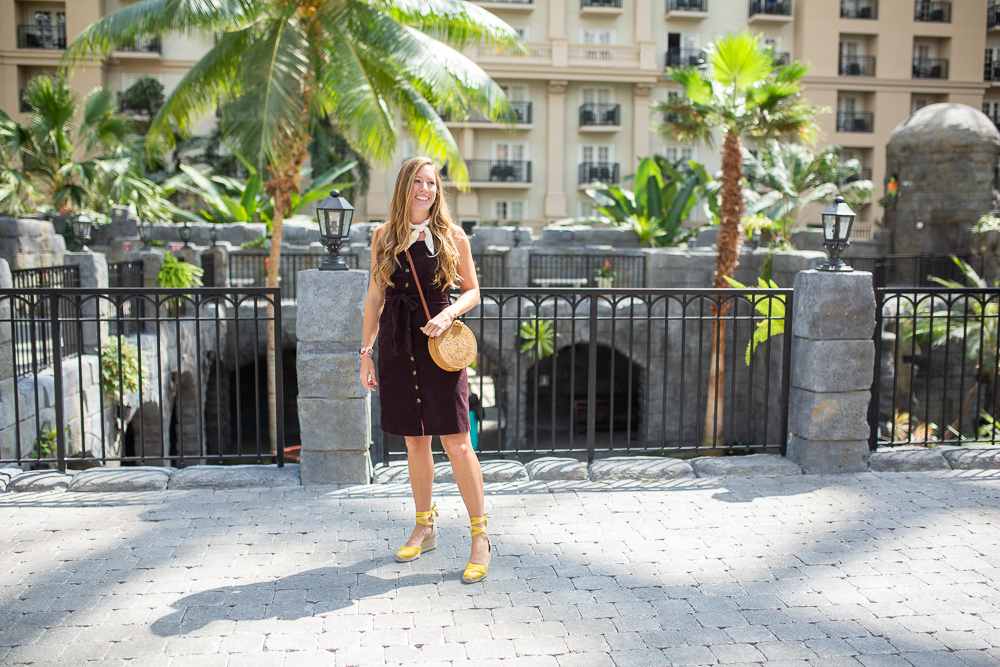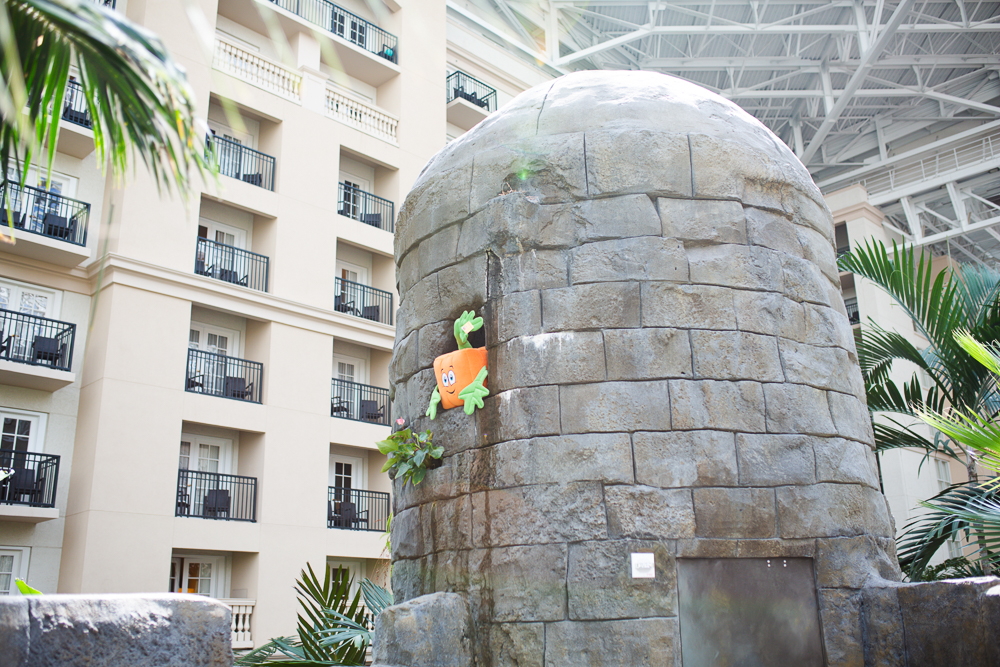 Spotted pumpkin #3!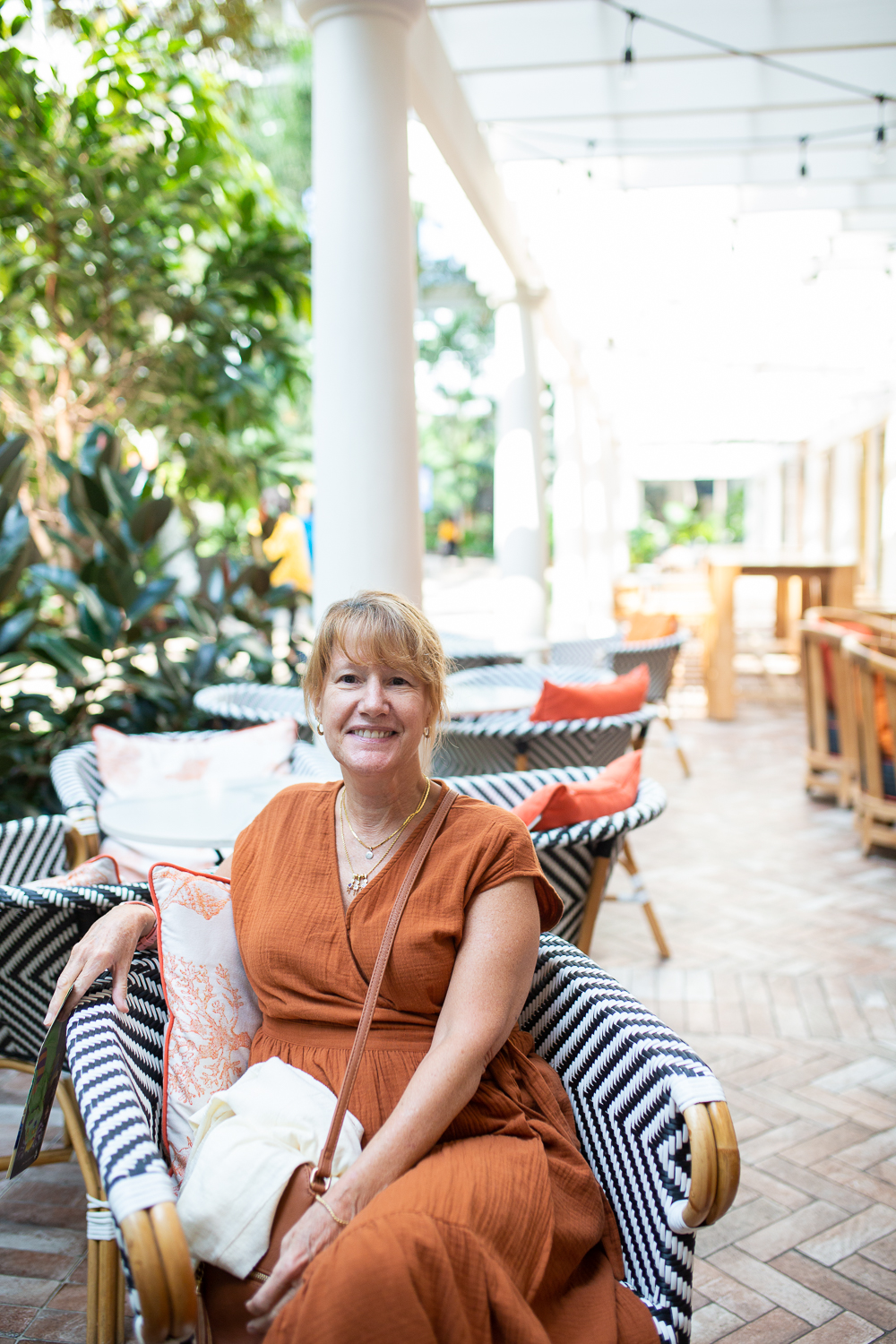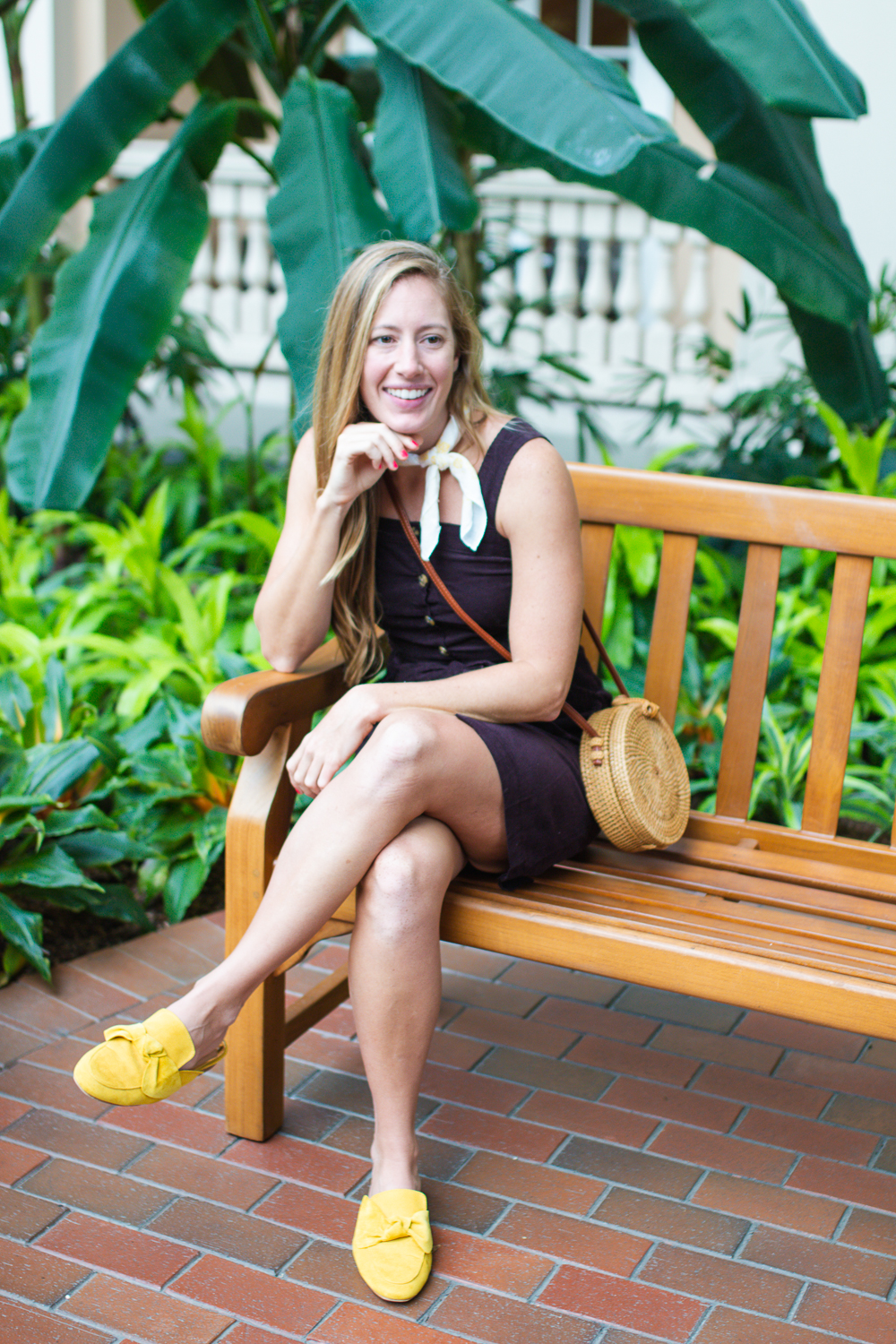 The Florida Keys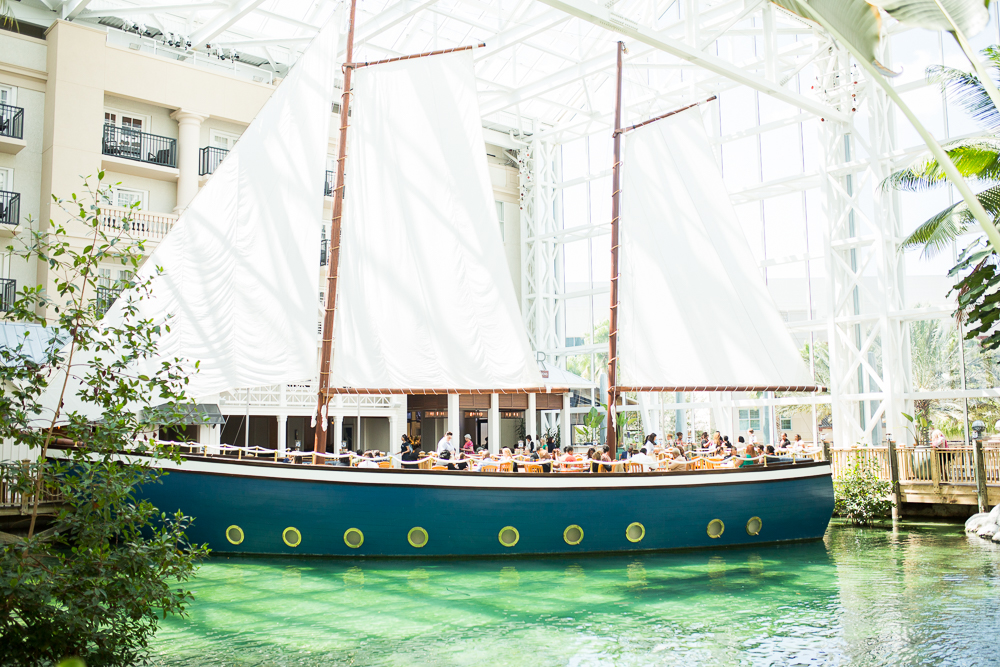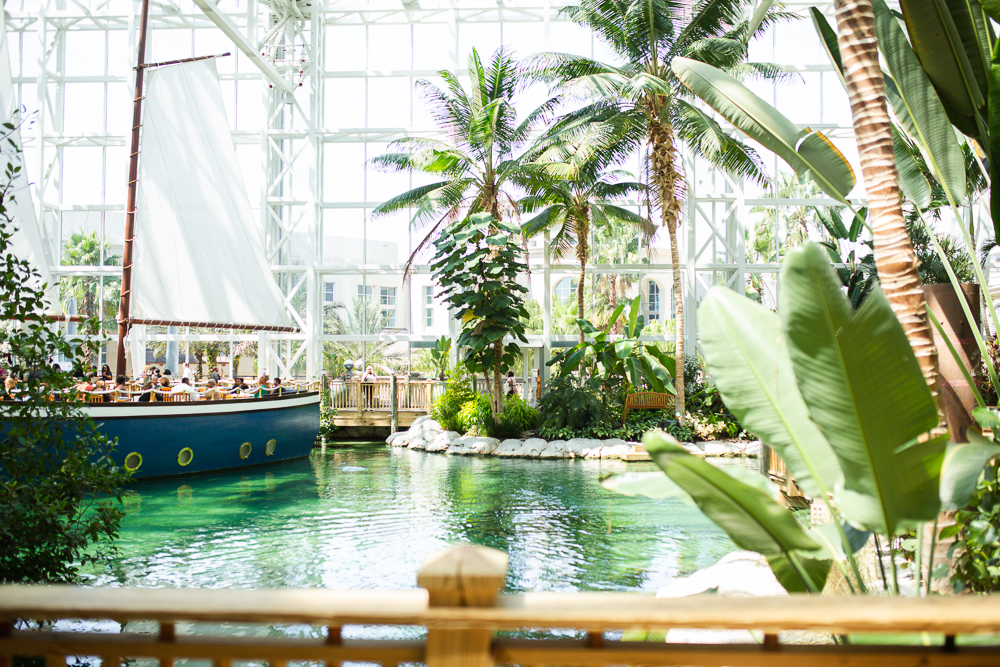 The Keys was actually the town my sister, friend and I stayed in during out girls trip. I had never got to stay in that part before and it was so fun. It's a bit isolated from the other towns and gives a little more privacy. We were also super close to the parking lot which really won us over ha! Now that I'm older I love this town. You can eat on the boat at MOOR! It's a seafood restaurant and I'm a weirdo who doesn't like seafood, so I have never actually eaten there! We spotted a pumpkin in here, watched the fish swim around and had worked up an appetite at this point for lunch.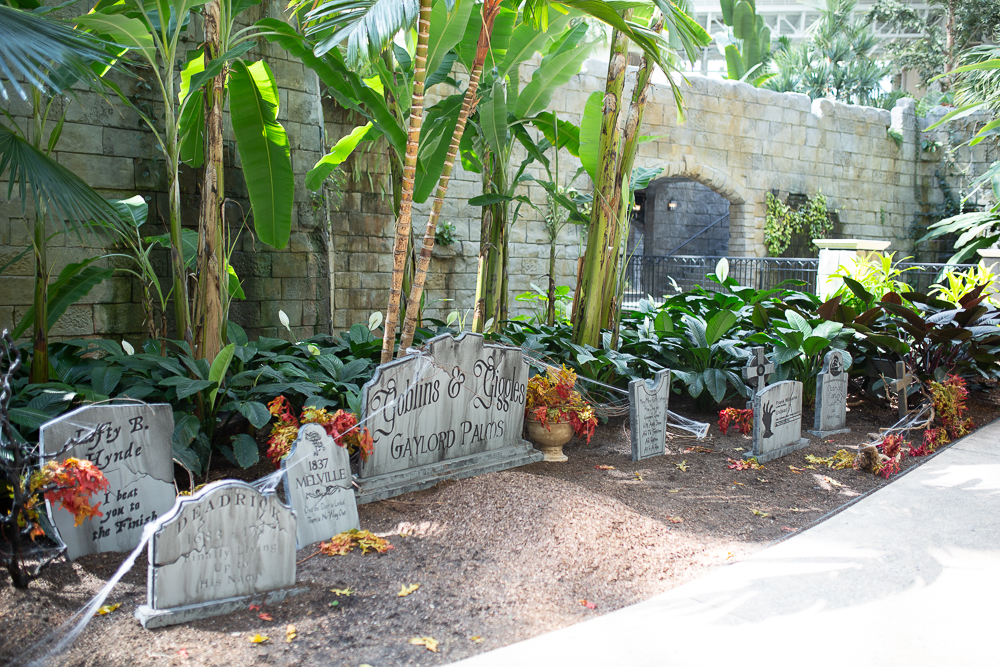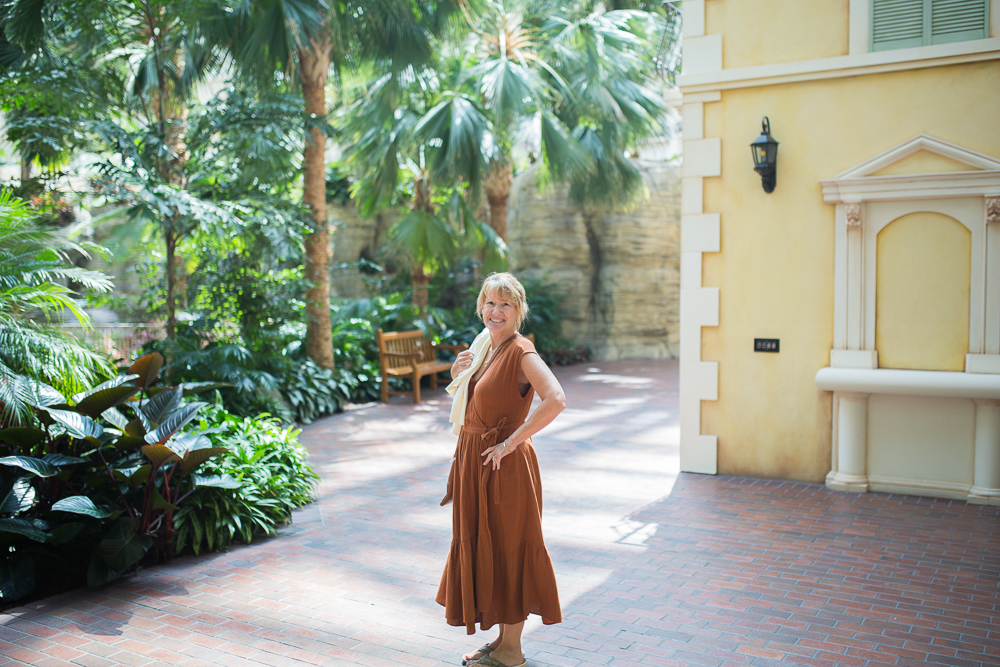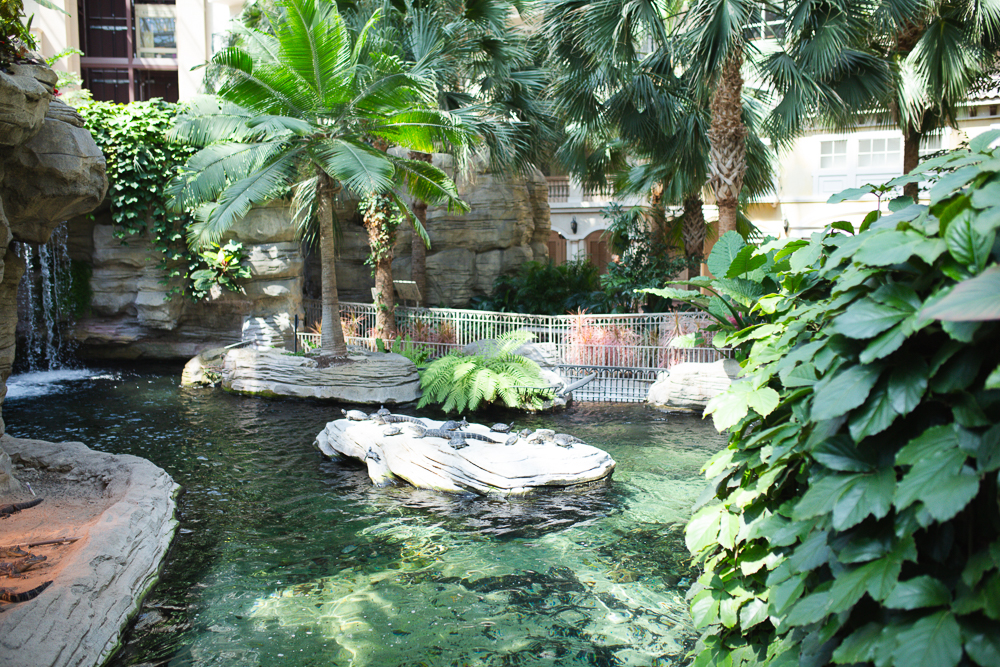 After lunch we walked around more, shopped the cute boutiques, explored the castle again and tried to find the last few pumpkins.
The Everglades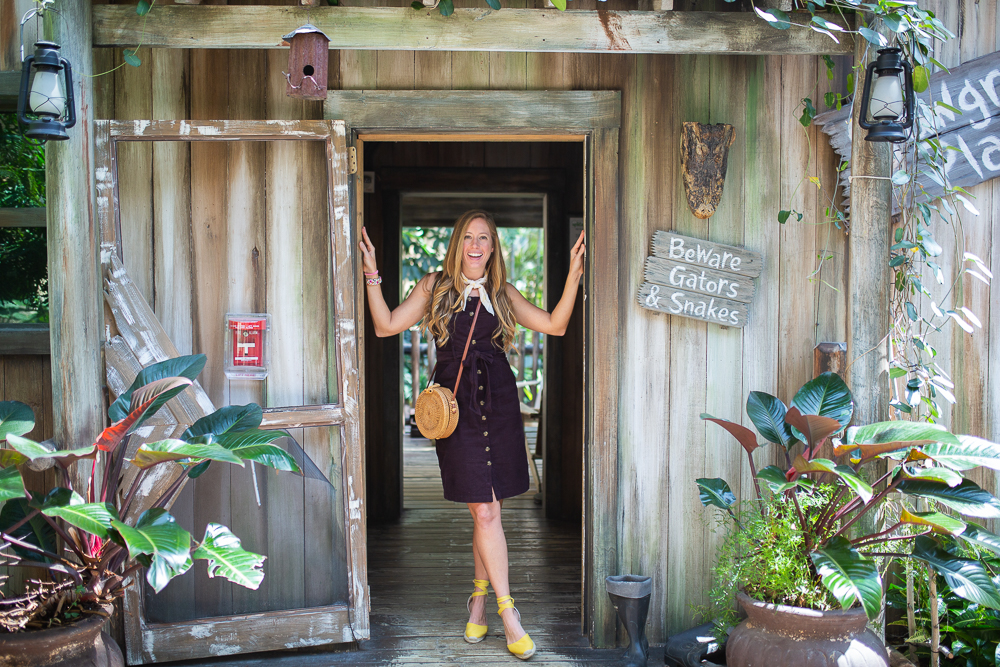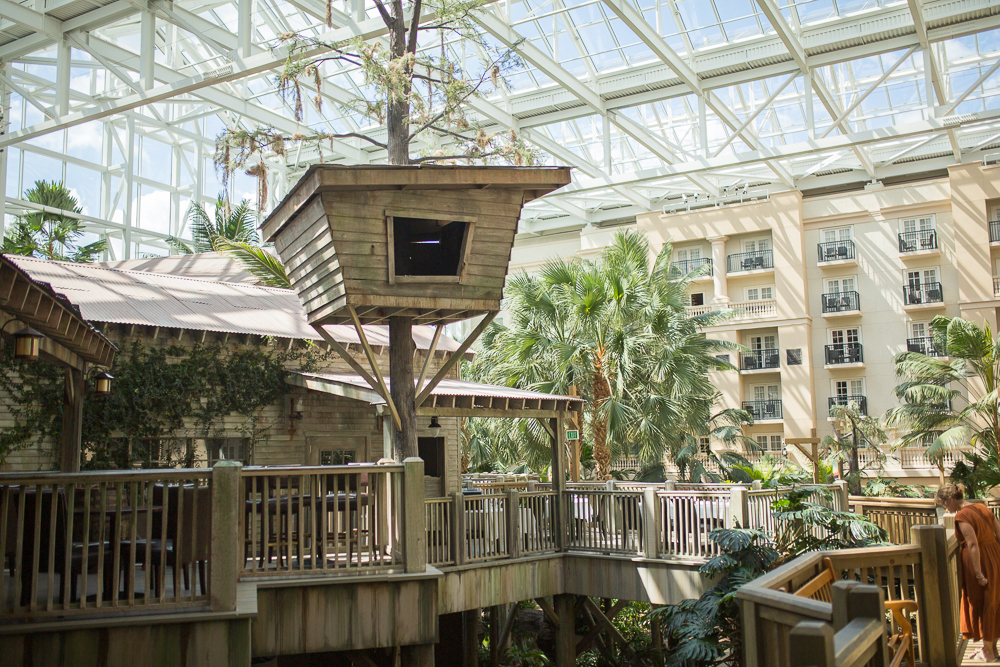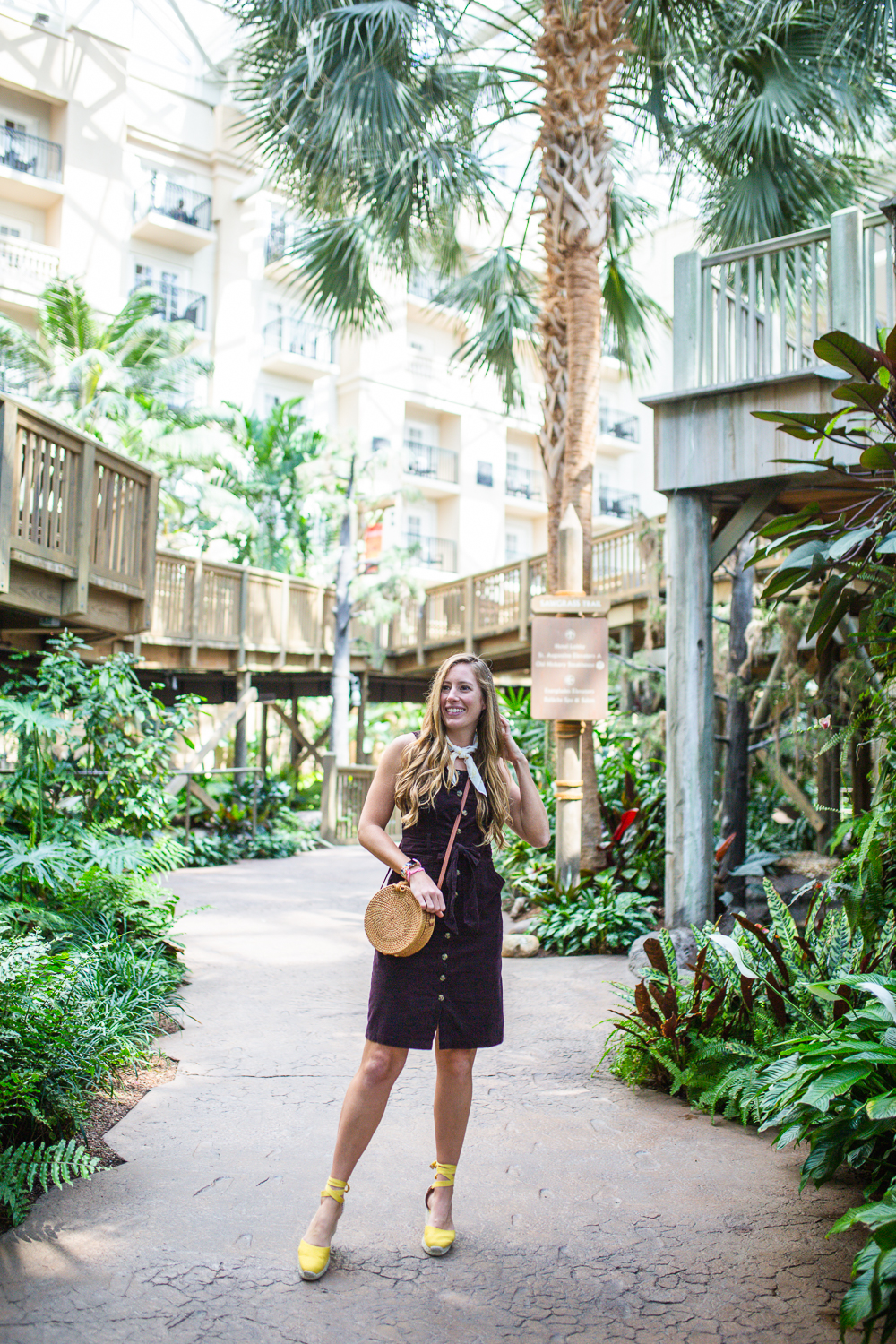 It's so hard to choose just one town that's my favorite. As a kid I really loved the castle so much. Now it's a tie between the Everglades and Key West. Both are so unique and have different features. In the Everglades, you can see snakes, baby gators and other critters in tanks, there's a restaurant with a tree house and it's more moody and has the true swamp feeling! I'd really love to go explore the real everglades in South Florida once the weather cools down and the bugs go away! Once we hit the Everglades, we were ready to head home for dinner! It was a super fun day and an easy place to escape the midday heat.
So, I really hope you all loved this post! These travel posts are my absolute favorite to write if you can't tell! They bring me so much joy and I love matching my outfits to my locations when possible! If you think Gaylord in Orlando is awesome, I hear that the Gaylord Opryland in Nashville is 5x's the size and even more amazing!
Lots of Sunshine,
Katie
Do you love these travel posts?! Have any questions about the Gaylord?! I'm an open book. Be sure to leave a comment and I'll do my best to answer!
Latest Sunny Posts