Spring is here in Florida (and online) and I am super excited for my second favorite season! You truly don't need any of these New Spring Arrivals but I can guarantee you will love them and want them! If you need a pick me up, something to help you look forward to Spring or if your like me and want to start matching all of the flowers blooming outside, there is something here for you!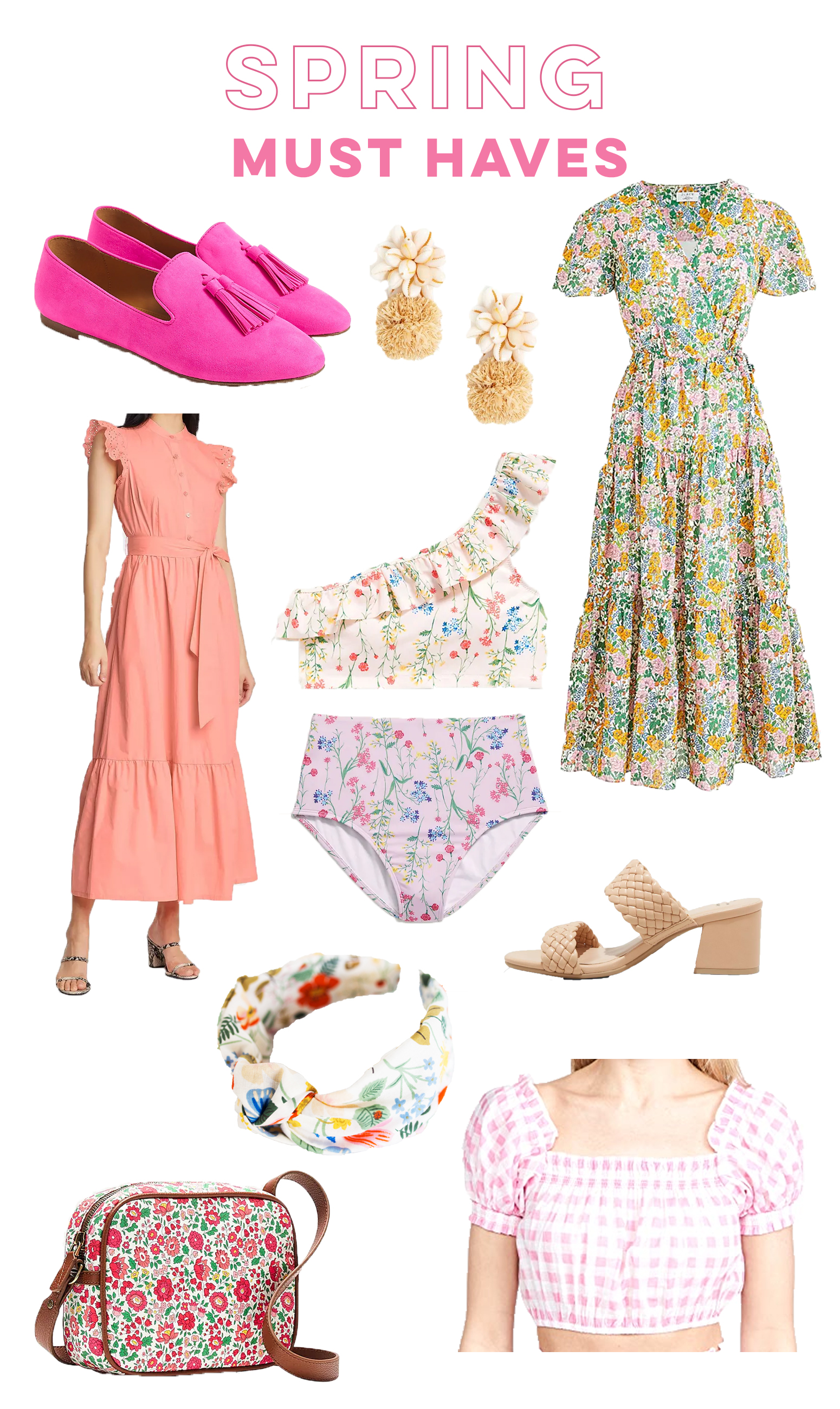 Pink Loafers // Pom Earrings // J.Crew Floral Dress // Floral Swim Top and Bottom // Ruffled Sleeve Dress // Woven Block Heel // Sunshine Style Co. Headband // Floral Bag // Gingham Top
I had so much fun putting together this collage. All of the new floral, gingham prints and bright colored pieces are perfect to wear in the spring time! Swimsuit season is right around the corner and if you have a warm weather trip soon, this high waist floral swimsuit is adorable! On the website, the matching one shoulder top says it's the same color as the high waisted bottom. Not 100% sure why the photos are showing different colors though.
Gingham is such a fun print to wear and this cropped top with puff sleeves is just adorable to style with a white skirt or high waist denim shorts for a bike ride! On my ETSY shop, I just released a new floral print knot headband! It looks extra cute styled with pastel colored dresses!
Speaking of dresses, this ruffle sleeved dress comes in 4 spring colors (under $40) and would look so cute paired with these block heels! I'm obsessed with this tiered floral dress from J.Crew and love the mix of the green, pink and yellow pattern.
On Instagram, I had asked you what is making you excited for Spring and the responses got me even more excited! So many of you (up North) mentioned your excited for the sun to shine, Easter egg hunts, dresses, swimsuit season, wearing white jeans, Target trips and getting sun kissed!
Personally, I cannot wait to jump into my pool for the first time, Easter candy, maybe doing an adult Easter egg hunt, wearing tons of floral prints, my birthday in April and taking a few weeks to visit my sister and niece and nephew in North Carolina!
Lots of Sunshine,
Katie
What are you most excited about for Spring?