I'm back with a new colorful outfit post! Winter is when I really embrace wearing bright colors the most! I am a big believer in clothes making your mood better, especially bright colors in the winter. Even though I work from home, I love getting dressed everyday and always feel such a difference in my mood, energy and productivity.
You know what fun holiday is super soon?! Valentine's Day! When I shot these photos, I did not even think of wearing this outfit for V-Day. This post is kind of a 2-for-1! A winter outfit you can also wear on Valentine's Day. A pink monochromatic skirt and sweater combo would be the cutest Valentine's Day outfit!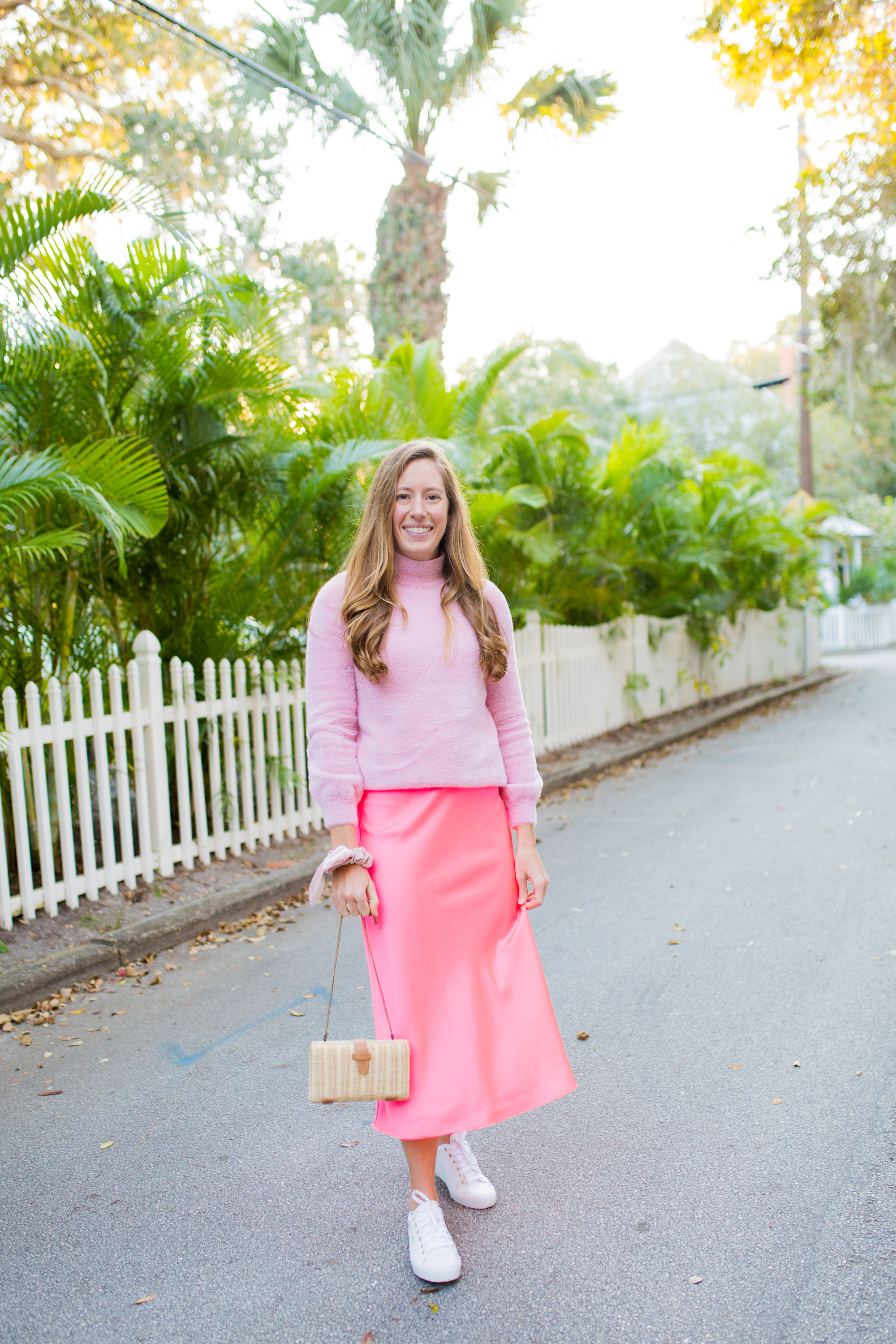 Lands End Sweater (similar here) / J.Crew Skirt / J.Crew Straw Bag / J.Crew Factory Sneakers / Sunshine Style Co. Scrunchies (only 2 left!)
Florida this year has had the prettiest weather this winter! Almost every single day, we can wear sweaters and pants! It's amazing! This particular day I opted for a puff sleeve sweater and silk skirt combo once it warmed up. Is anyone else super excited that fashion turned casual during 2020?! You can pretty much dress anything down with a pair of white sneakers and still feel cute. I added my favorite pink velvet scrunchie as an accessory and use it to tie my hair back when I'm working from home!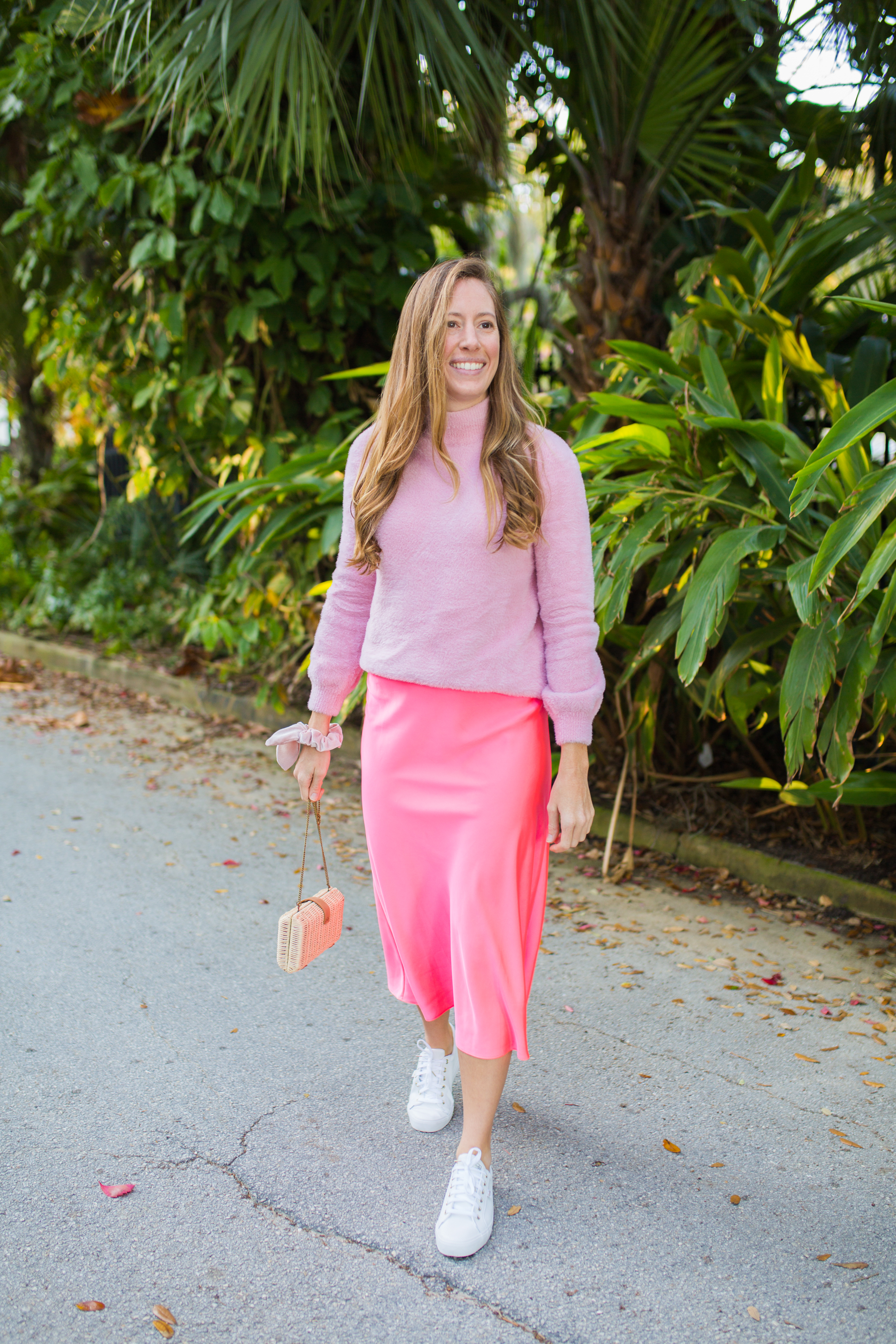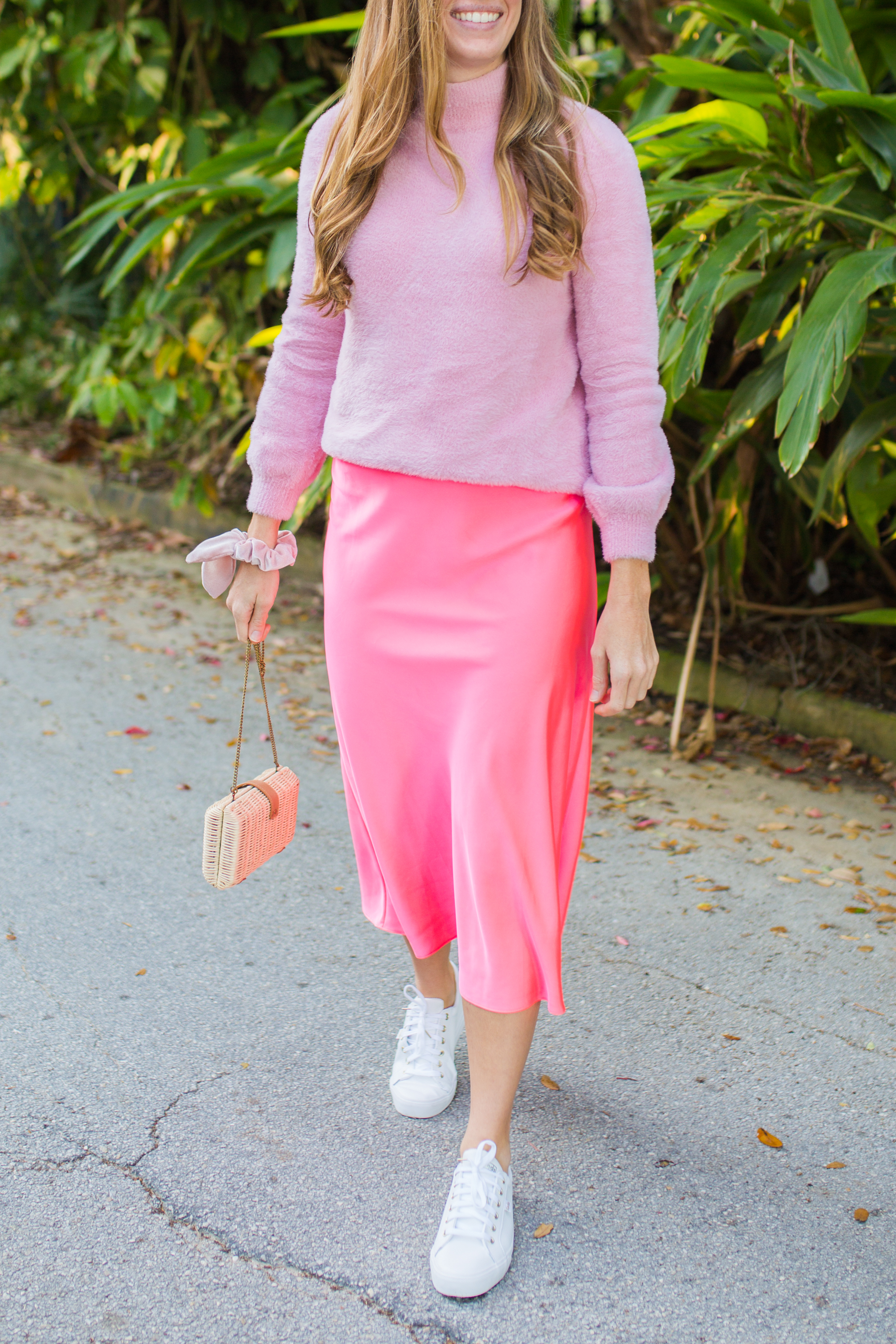 Colorful Monochromatic Winter Outfit
For a monochromatic look, try pairing your favorite color together in different hues! For example, this skirt I ordered online and it ended up being way brighter (like neon bright) that I expected. When I opened the bag, I was like "WHOA, that product photo was misleading!". It was even bright for me, a color loving girl, but when I paired it with a blush pink sweater, I loved how to 2 tones compliment each other.
I personally like wearing the lighter color on top and having an ombre like affect with the brighter color on the bottom. A monochromatic palate is not limited to just skirts or sweaters. Try it with blouses, pants, dresses and accessories or even layering with brightly colored matching coats!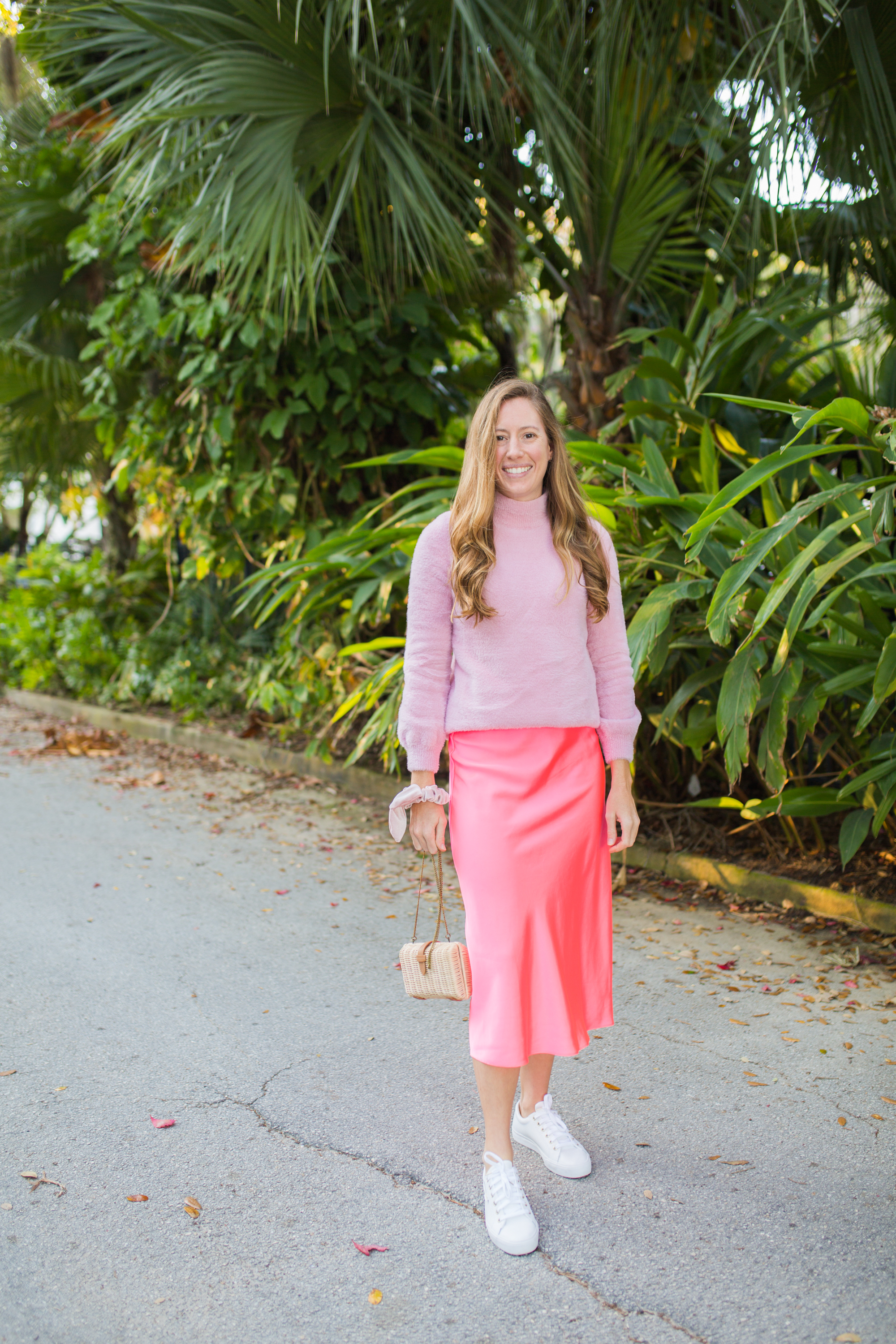 Shop the Monochromatic Winter Outfit
Get excited for some new citrus inspired Sunshine Style Co. products coming this week! This new collection is one I started working on in December with the hope that it will bring some excitement to your winter wardrobe and can be worn during spring and into summer! I'm wearing the pink velvet scrunchie with the monochromatic outfit above from my shop. There's only 2 left and only $10.50! Once their gone, their gone!
Wow, it's been a few weeks since I last wrote up a blog post. My sister is getting married in less than 20 days! Most of my time has been spent helping to prep for her wedding. Saturday we had a low key Bachelorette party for her and we made the cutest pinch pots at a local ceramic place then watched Bridesmaids!
This week I will have a few new posts so be on the lookout! Running an ETSY shop is the best and I get to be my most creative self. It does take discipline and I have to manage my time well. If I focus on my blog, that grows well and my ETSY shop gets less attention and vice versa. Like last Sunday I sewed and perfected my newest product coming for about 5 hours then never got to writing blog posts. If anyone has good time management magic skills let me know! So far I have not figured out how to balance the 2 evenly and have to divide my time on the weekends between one or the other!
Lots of Sunshine,
Katie