Yellow and white has to be my favorite color combo ever for Spring! Blue and white stripes come in at a close second. This bright outfit and these tropical photos make me soooo happy. You just can't go wrong with a bright colored top like yellow for Spring and a great structured white short! Pair the two together and BAM, you have the perfect Spring outfit that looks extra classy.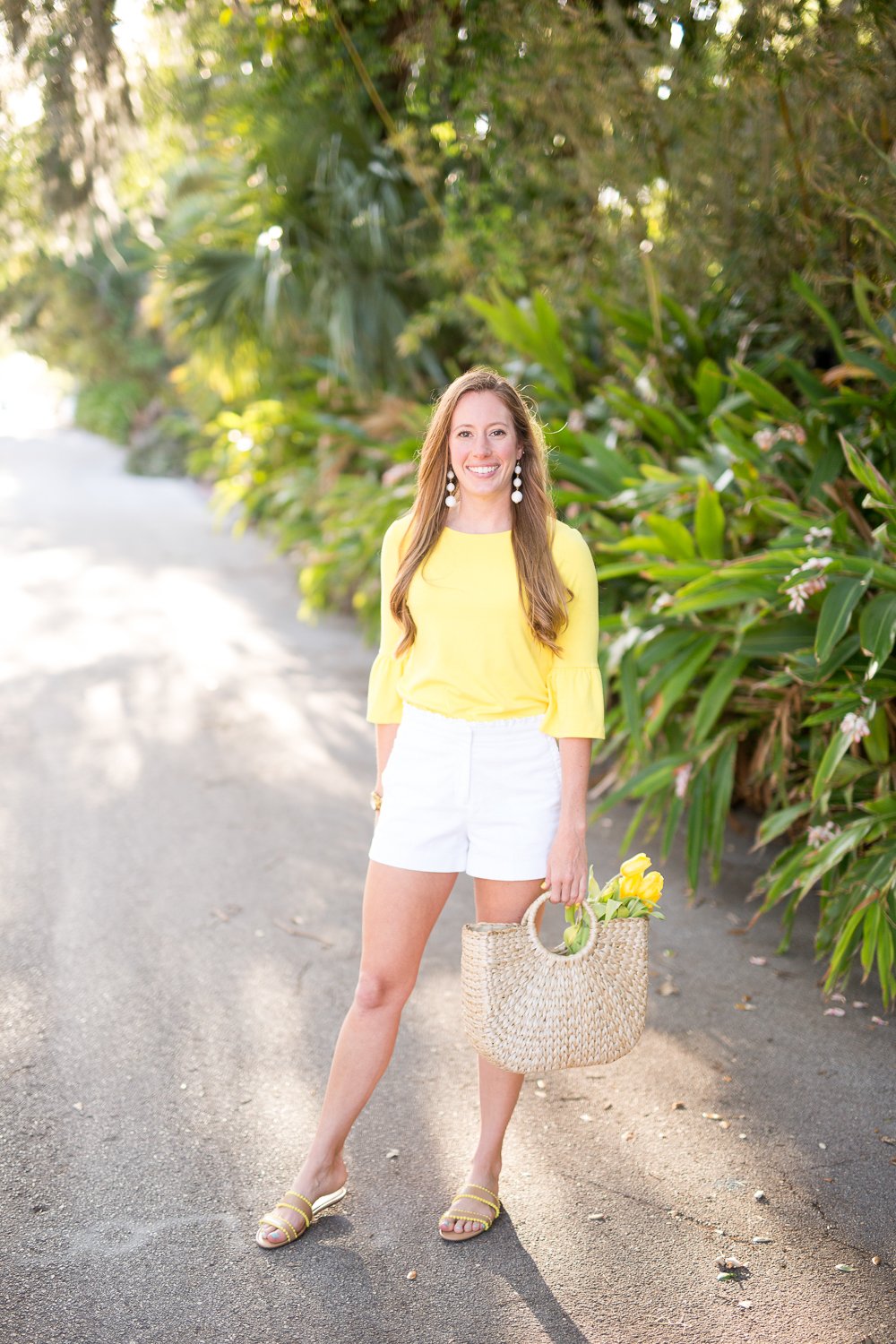 Outfit Details
Talbots Yellow Top | J.Crew Shorts | Talbots Pom Pom Sandals | Straw Bag | White Statement Earrings
Let me tell you, this adorable yellow top is from Talbots and I feel so classy wearing it with shorts. It's not a store I normally shop at but that is changing. I love almost everything they are designing! I used to think their clothing was marketed towards an older age group but OMG, there's items for girls' in their 20's just like me. What I love most about their clothes is that they are classic and colorful but still very modern.
This slight bell sleeve top is on sale for under $50 and comes in four colors! It's yellow, extremely fitted and the sleeves add a bit of fun to a somewhat structured top. I've worn this yellow top both casually and dressed up with these Madewell overalls, white skinny jeans, tucked into a skirt for work and of course, with these white J.Crew Factory shorts.
At first I thought the shirt would only be good to wear during the cooler spring months but turns out it's a really lightweight cotton material that's great quality. This top can be worn well into the summer after a full day in the sun, for a sunset on the beach or walking outside around town. In tropical, warm climates like Florida, I am really picky when it comes to purchasing Summer/Spring clothing. When buying clothes for warm-weather, especially tops or dresses, a cotton or a cotton-spandex blend is the way to go!
Shop Yellow Tops Under $50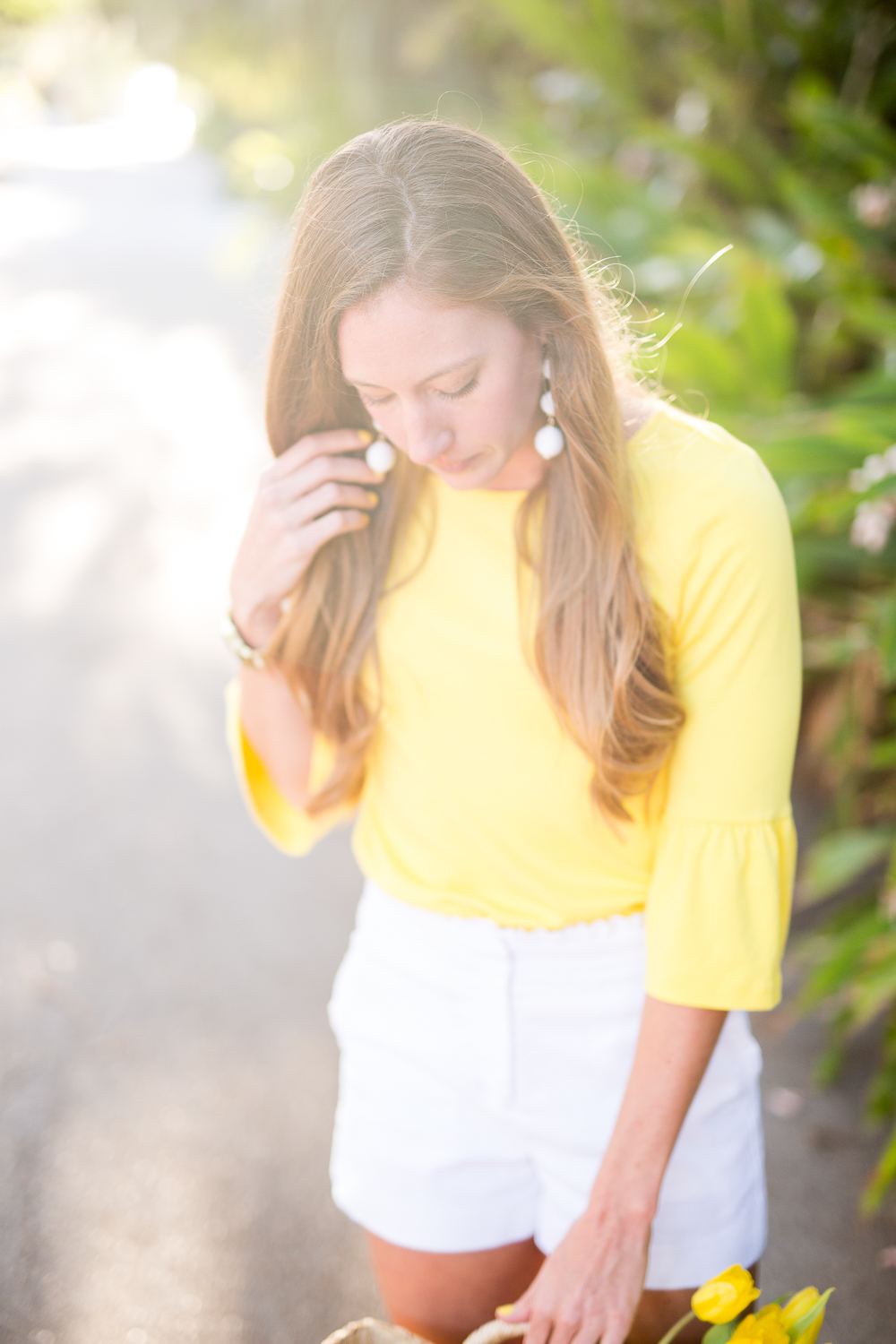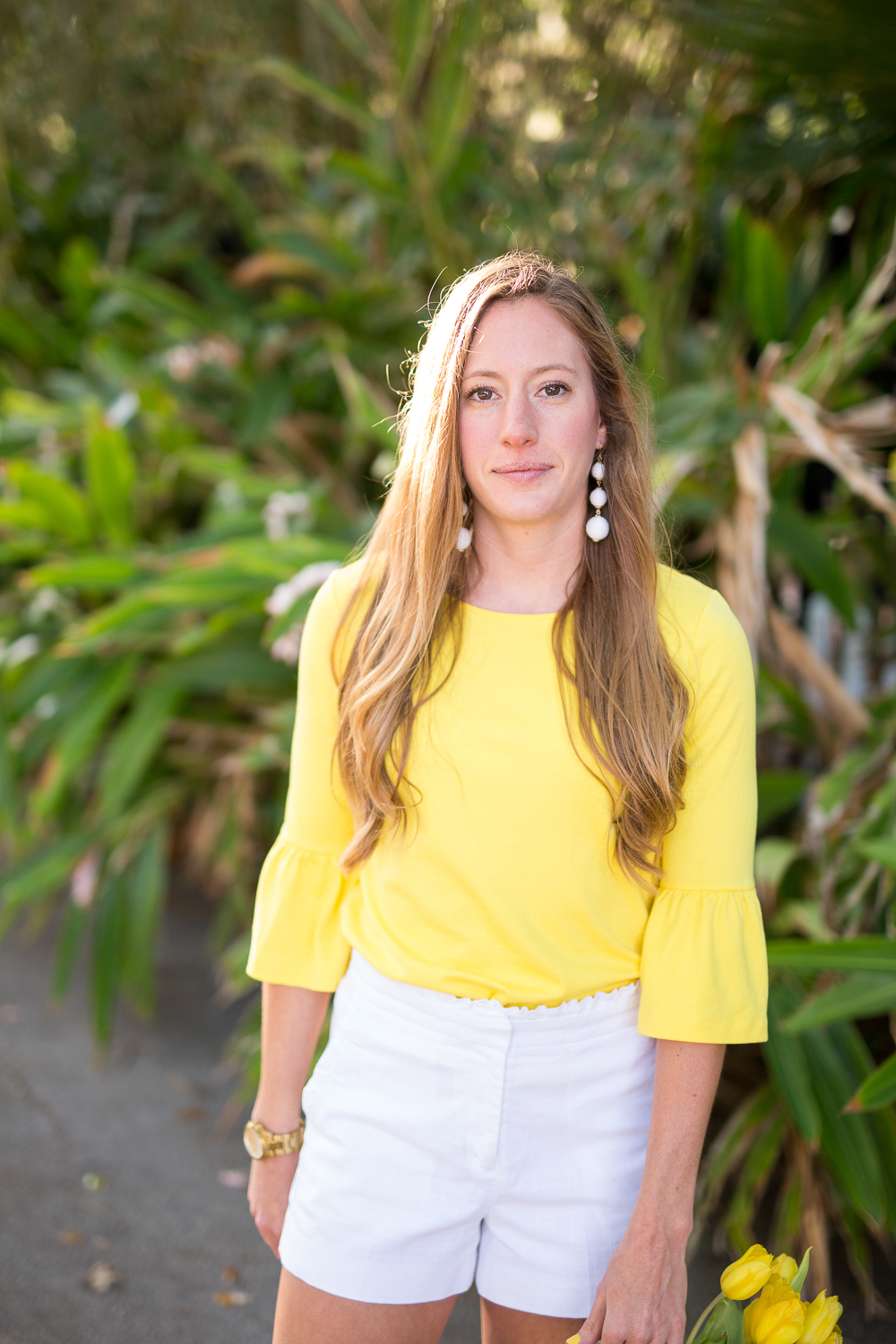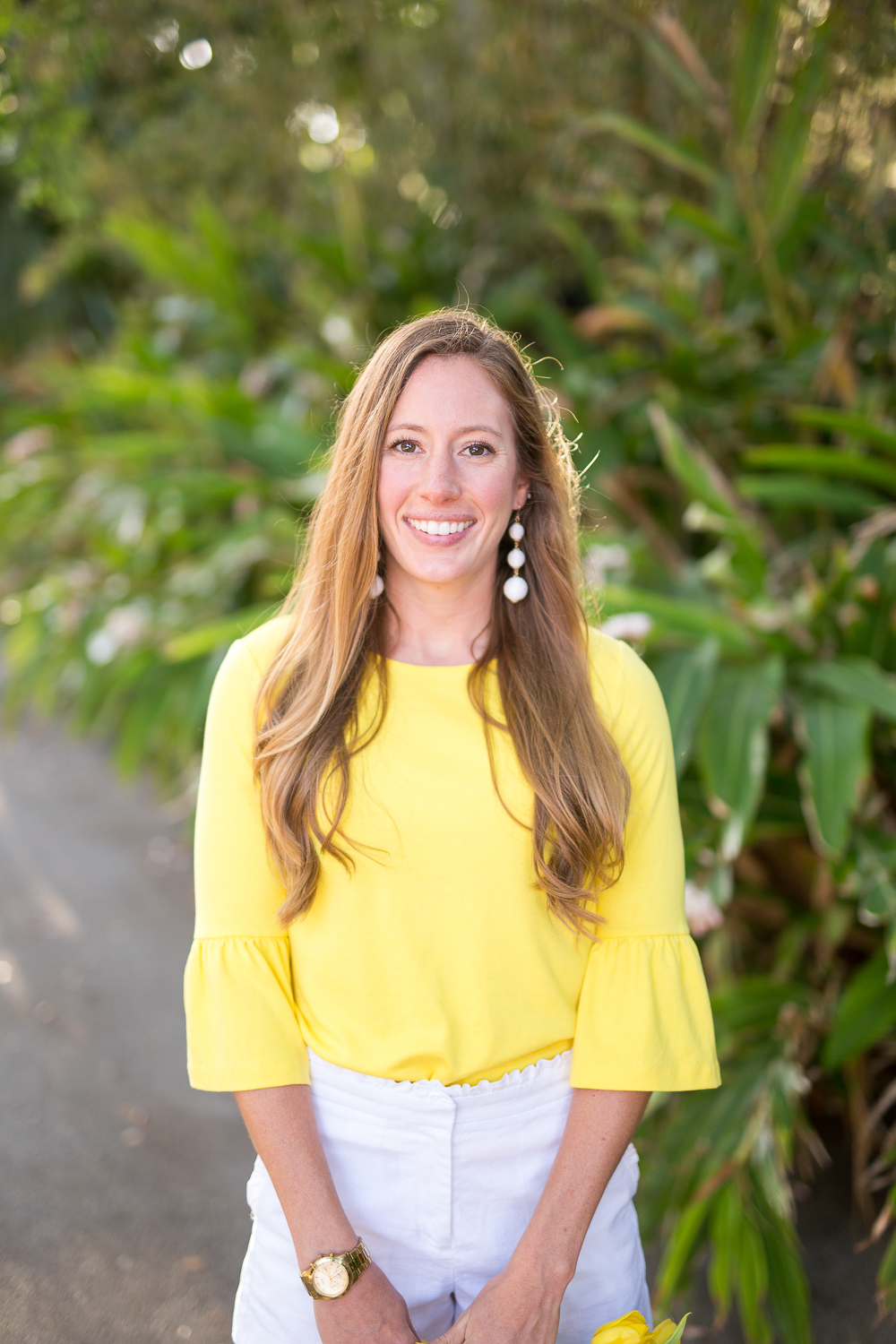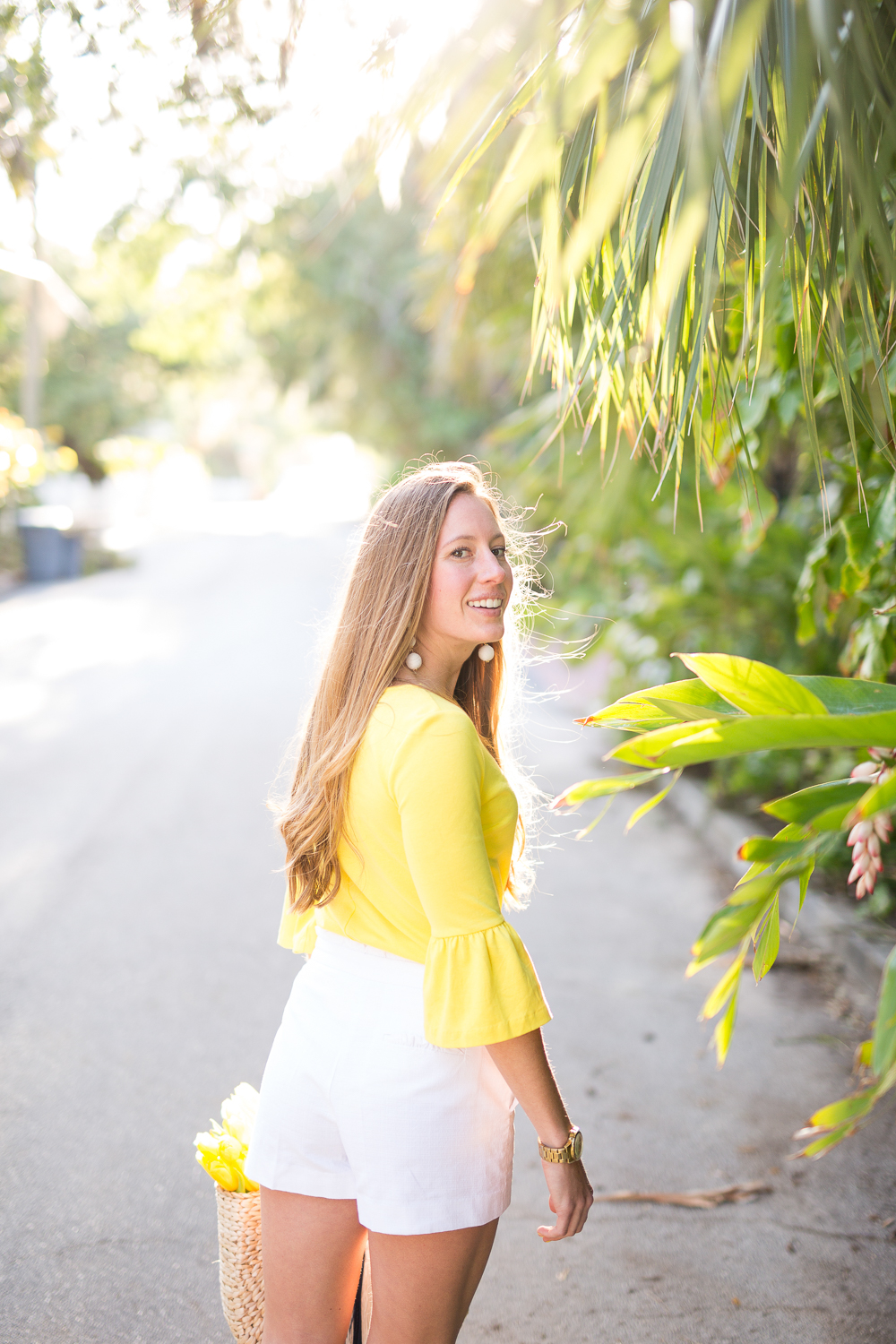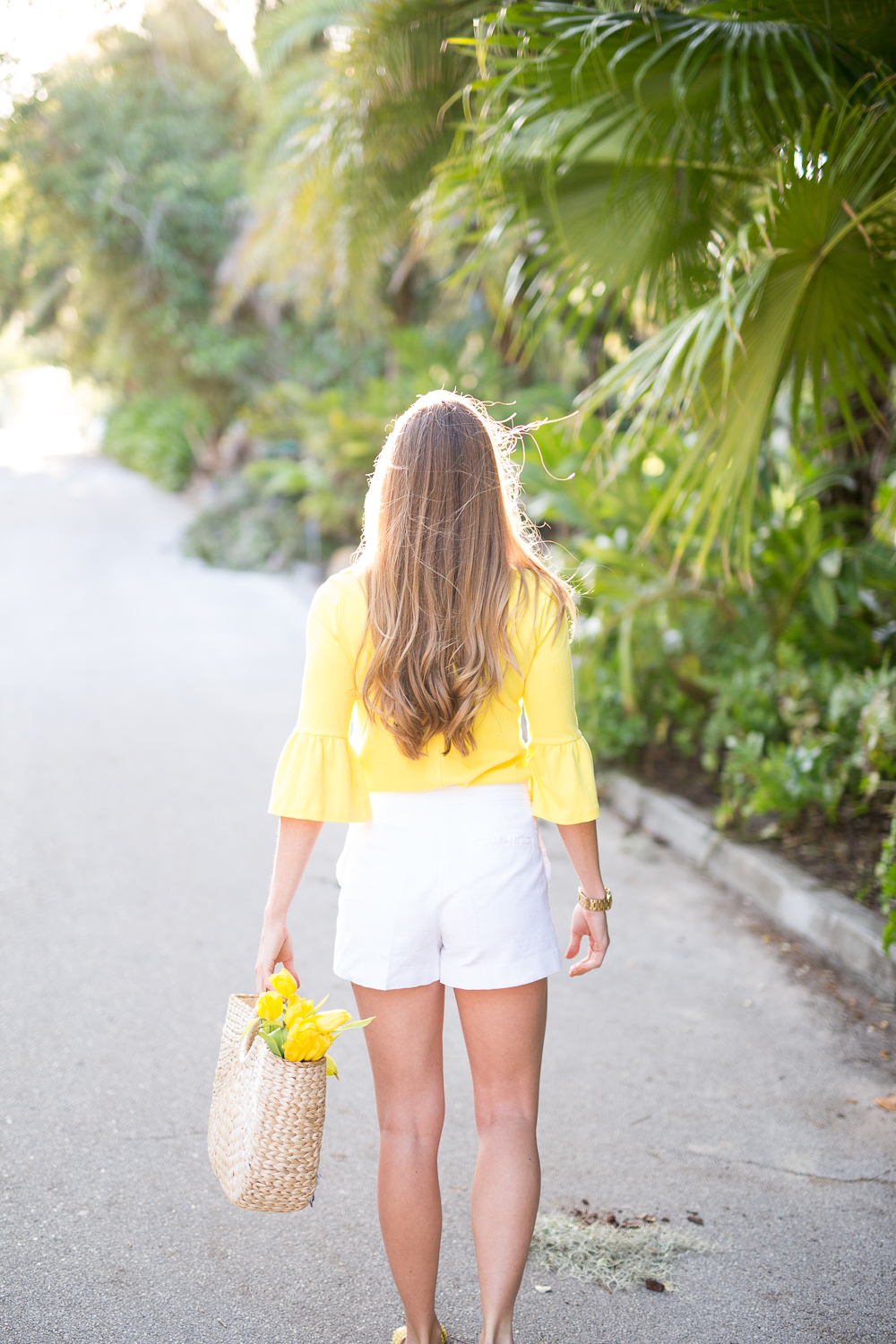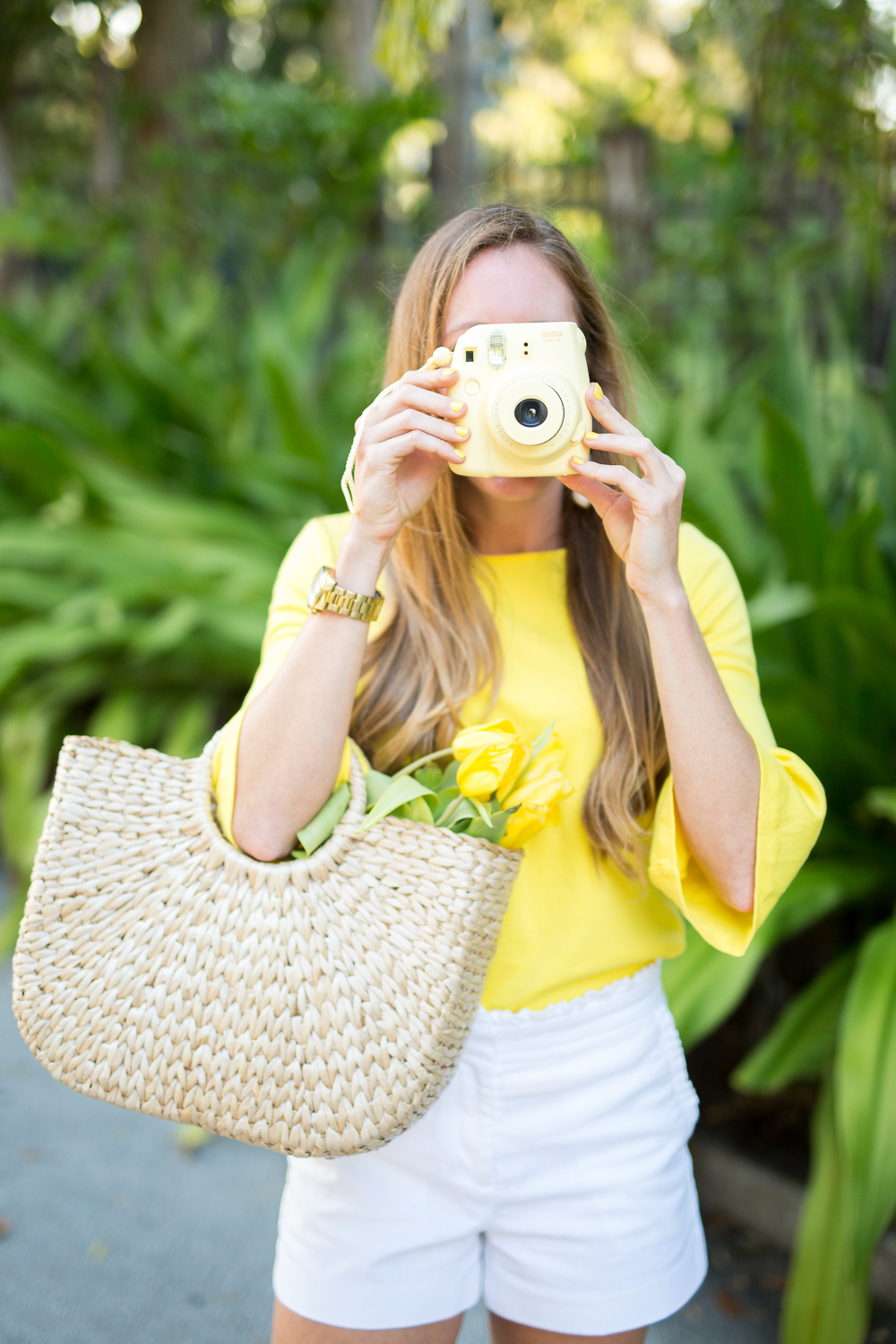 Is this not the cutest instant camera?! My BFF and sis bought it for me for my Birthday and I couldn't resist bringing my new yellow camera with to match my bright yellow spring outfit! Yah gotta add fun to the average day. Wanna know a little secret? When my photographer friend Isaac and I shot these photos, I stepped in nasty dog poop and legit almost slipped and fell on my butt. HA! We laughed about it for a good while!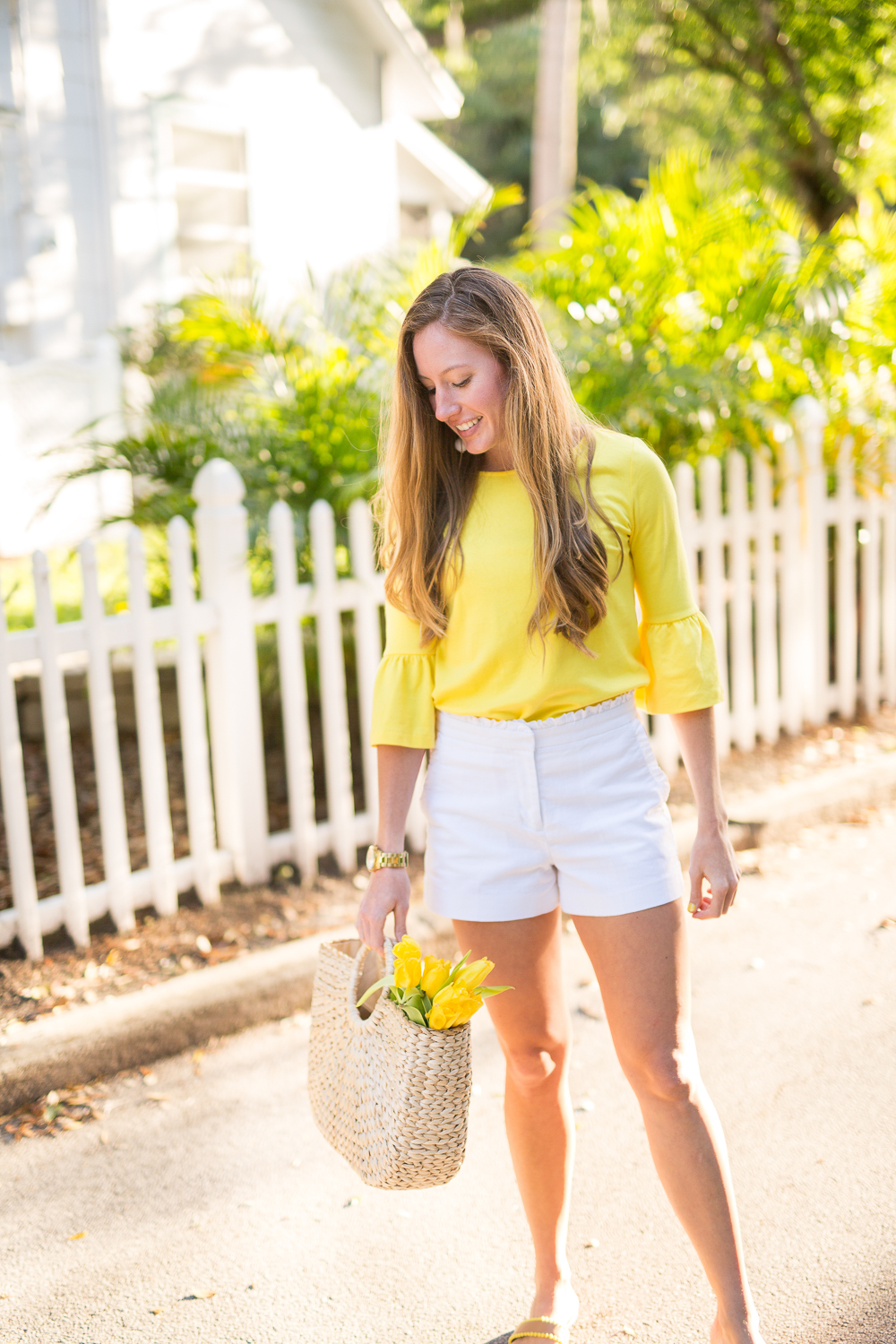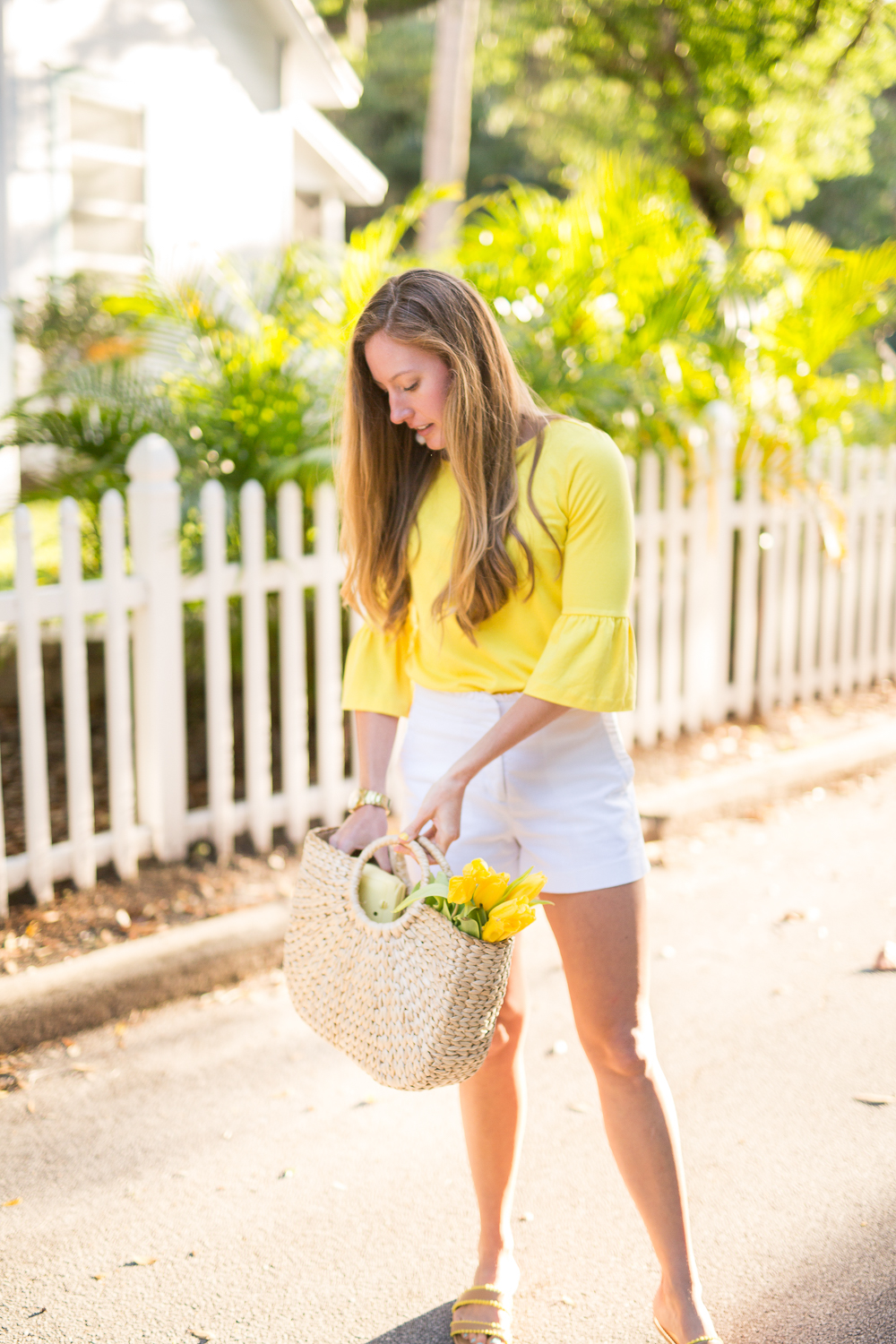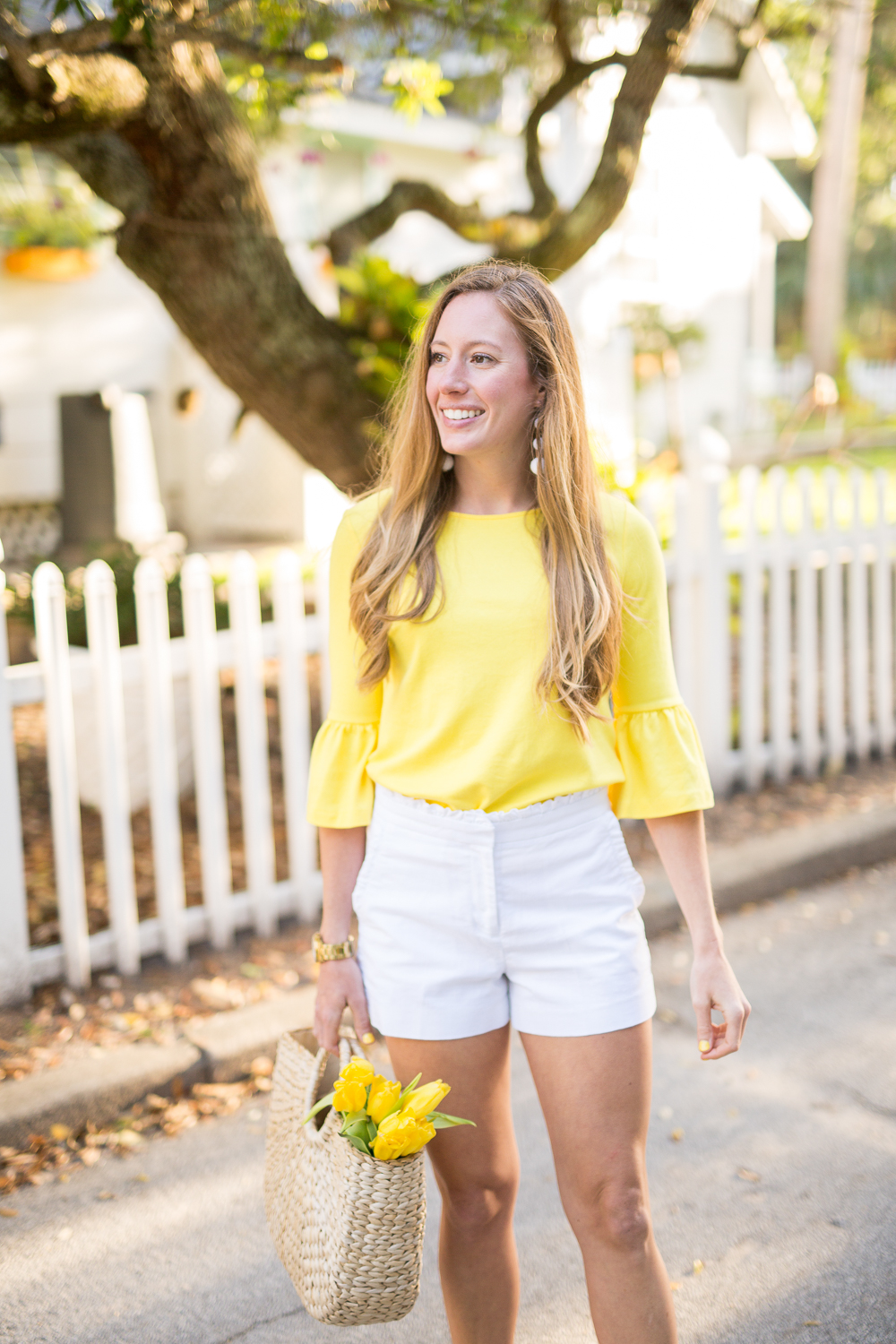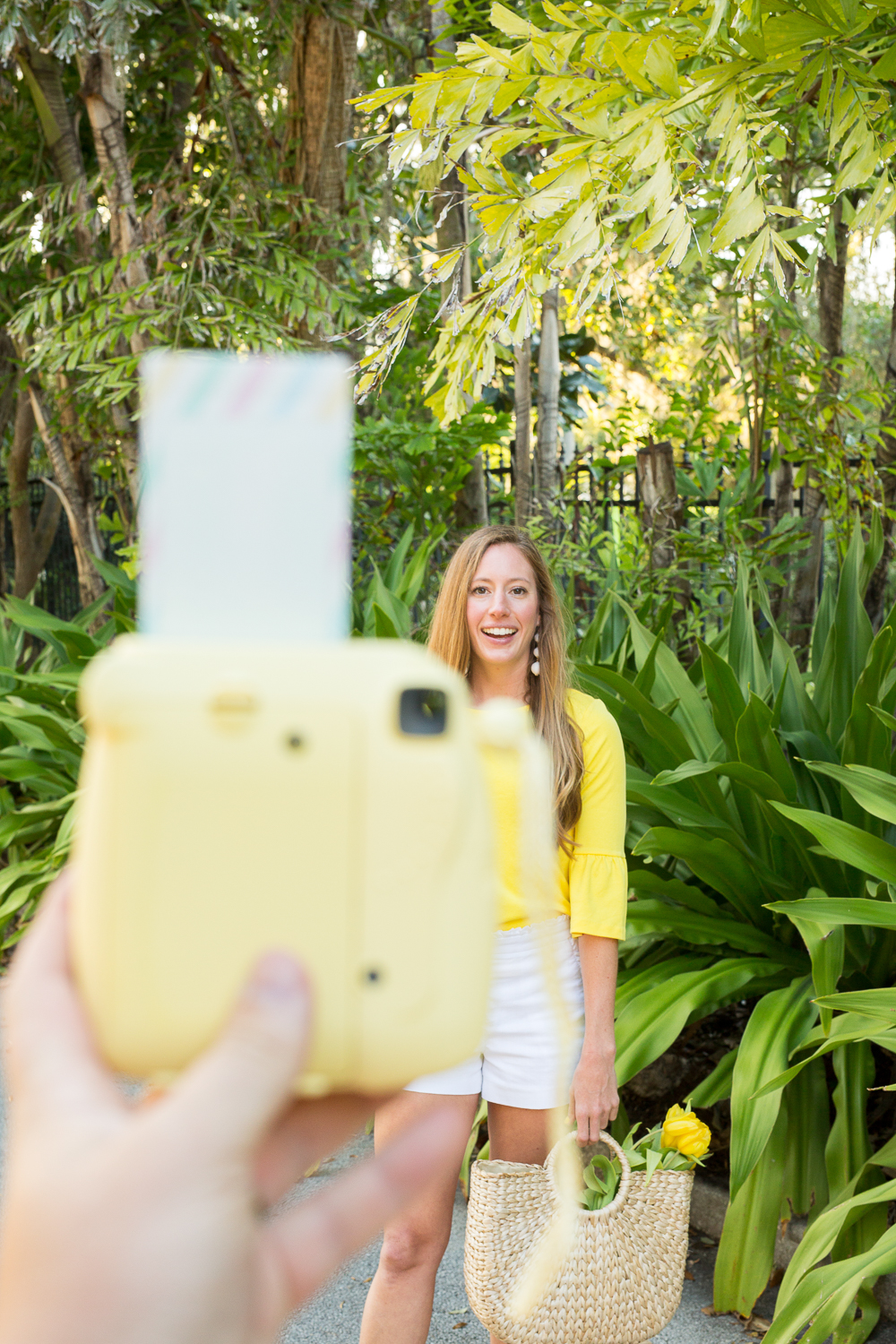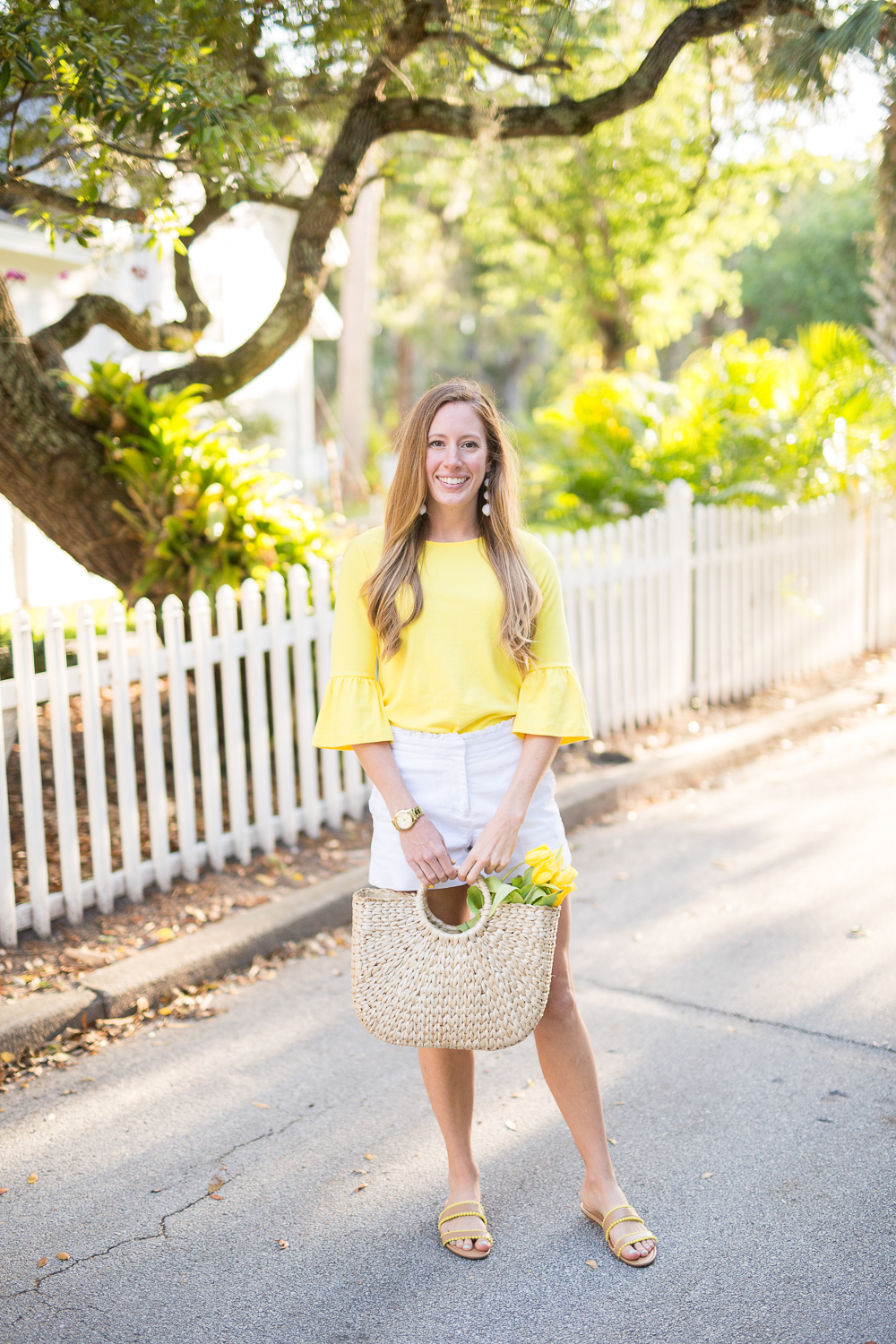 Talbots Yellow Top | J.Crew Shorts | Talbots Pom Pom Sandals | Straw Bag | White Statement Earrings
Speaking of the store I never normally shop at, these sandals are also a recent purchase from Talbots. I swear, this post isn't sponsored. I just have found some really great pieces from there and plan on making it one of my regular stores I shop! The shoes are under $30, come in three other colors: pink, blue and white. What sold me on the sandals though were the small yellow pom pom detail. Since I wear yellow so much, purchasing the yellow sandals were a no-brainier but if I ordered more, I'd totally buy the white pair because they would match with literally everything!
Hope you all had a great weekend! I spent mine doing a super fun Marine Core ropes/obstacle course as a yearly fundraiser for the gym I work out at. For the longest time I had wanted to do the obstacle course, prayed about it and my prayer finally came true! At least 200 people came to the event, 31 team competed and we raised over $100,000. We got muddy, sweaty and had a great workout. I want to go back because it was so much fun. The best part was hanging with all my close friends for the day!
Other than that I rested up for my last week of the school year. Then it's two glorious months of summer break. I'm a super fun teacher and for my students final exam they are making Instagram brownies (check out my Insta stories if you wanna see their brownie creations). I truly can't believe after the hardest 10 months of my life, the season is finally coming to a close. It's very bittersweet. I wouldn't trade my experience for the world but guys, the past year was just plain hard! I'll write a post soon cluing you all in on why it was so difficult for me as a first year teacher and what I learned personally from the past year. It's to lengthy for a fun outfit post, but I do desire to share with you all!
Thanks for the amazing photos Isaac Dean Photography!
What are your favorite tops to wear with shorts in balmy spring weather vs. the summer heat? Do you prefer to dress up shorts or go the more casual route? Let me know in the comments!