Hey guys! Christmas day is just around the corner and I am beyond excited. First, because I have off two full weeks of school (let all the teachers shout hooray) and second, I have the perfect casual Christmas Day outfit for you!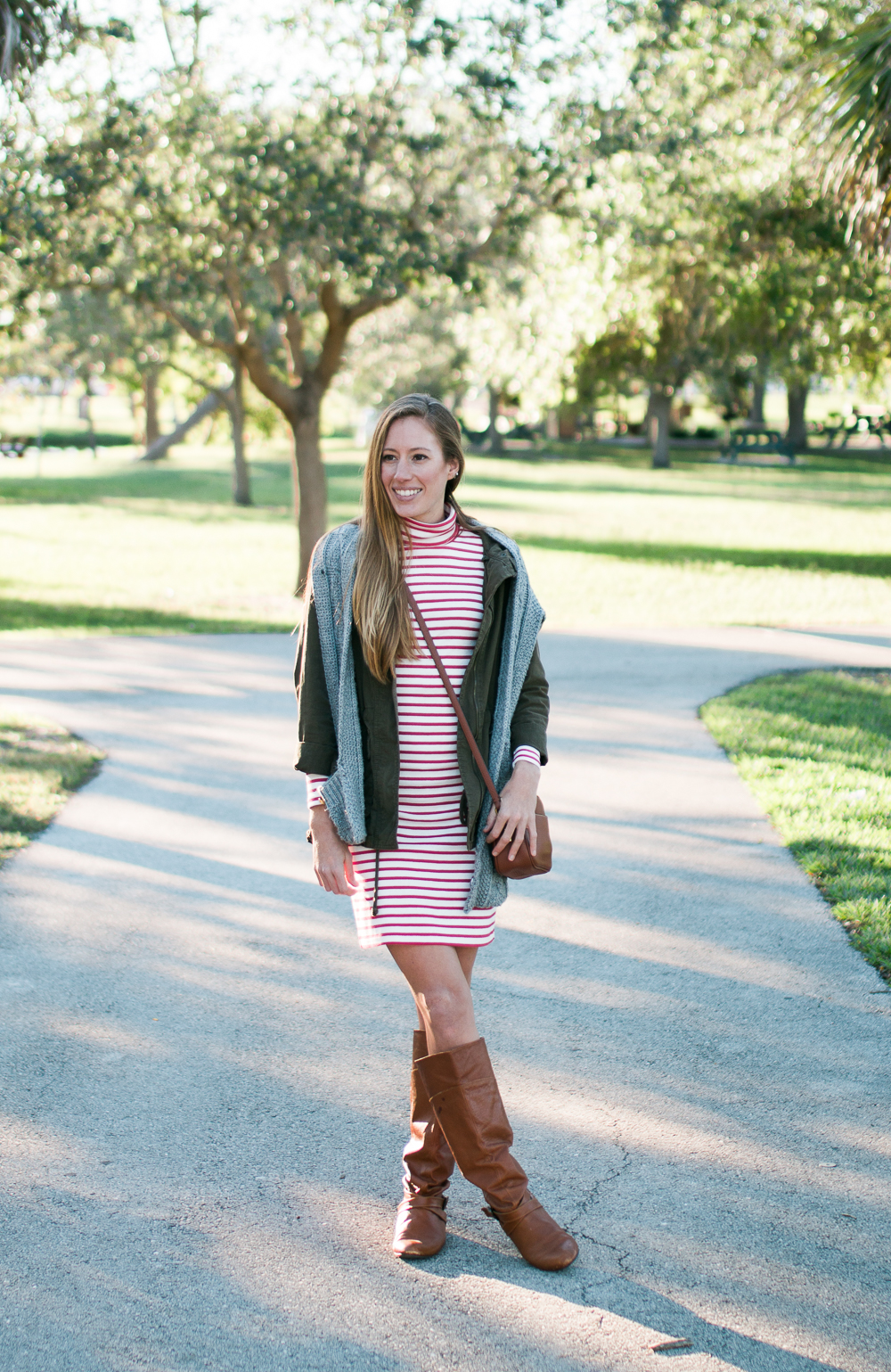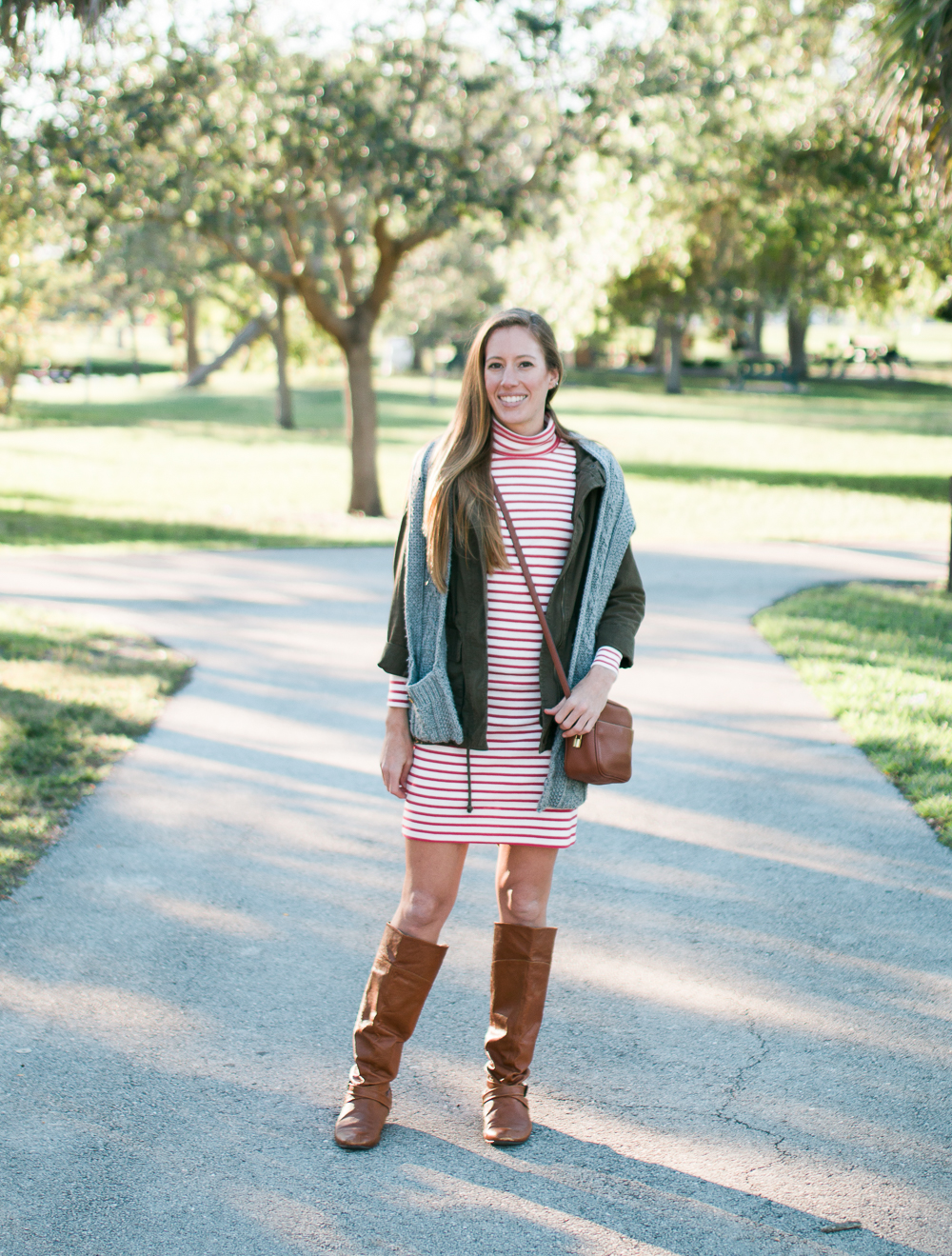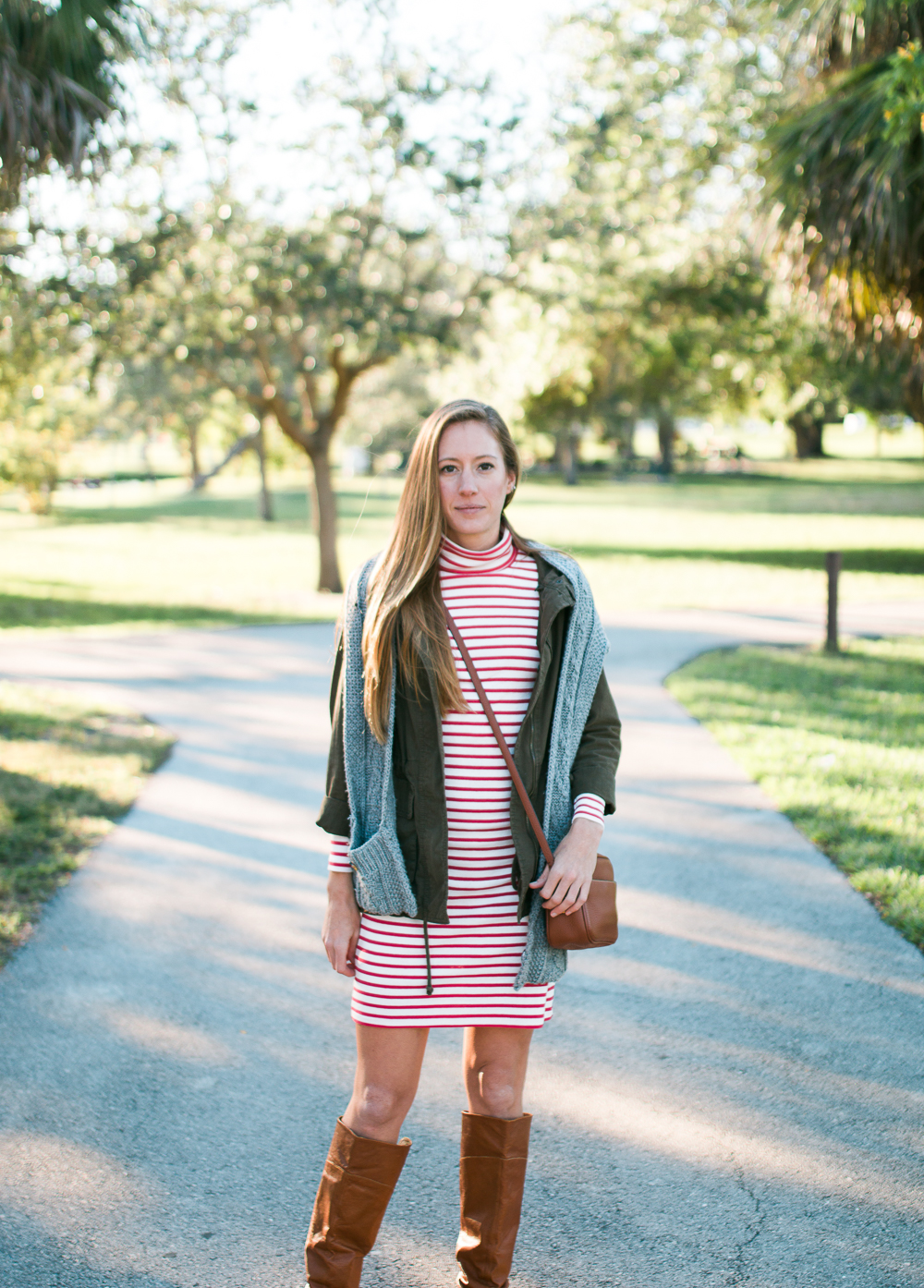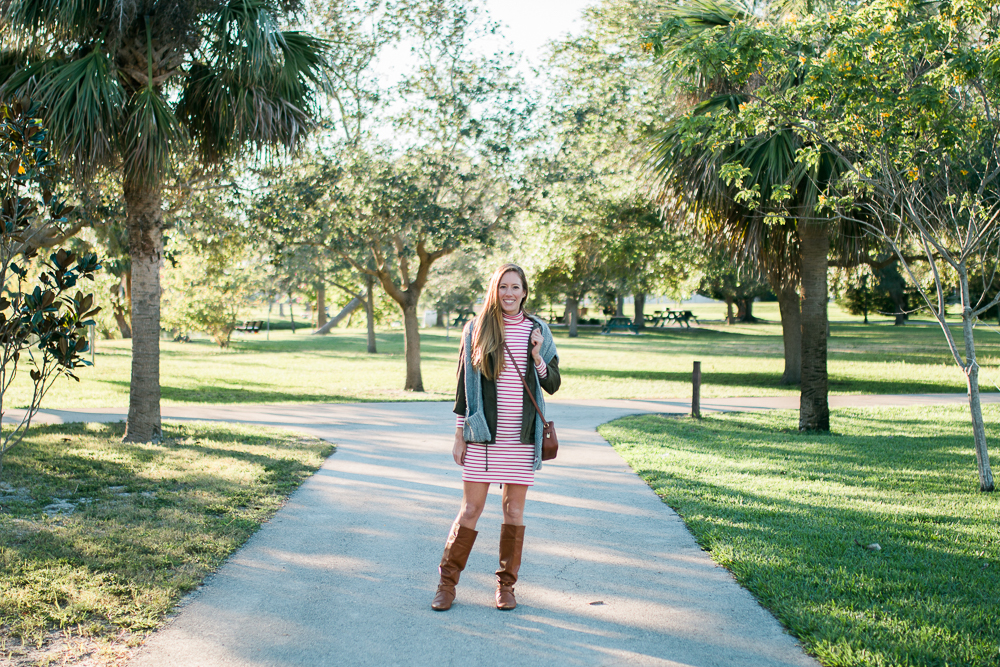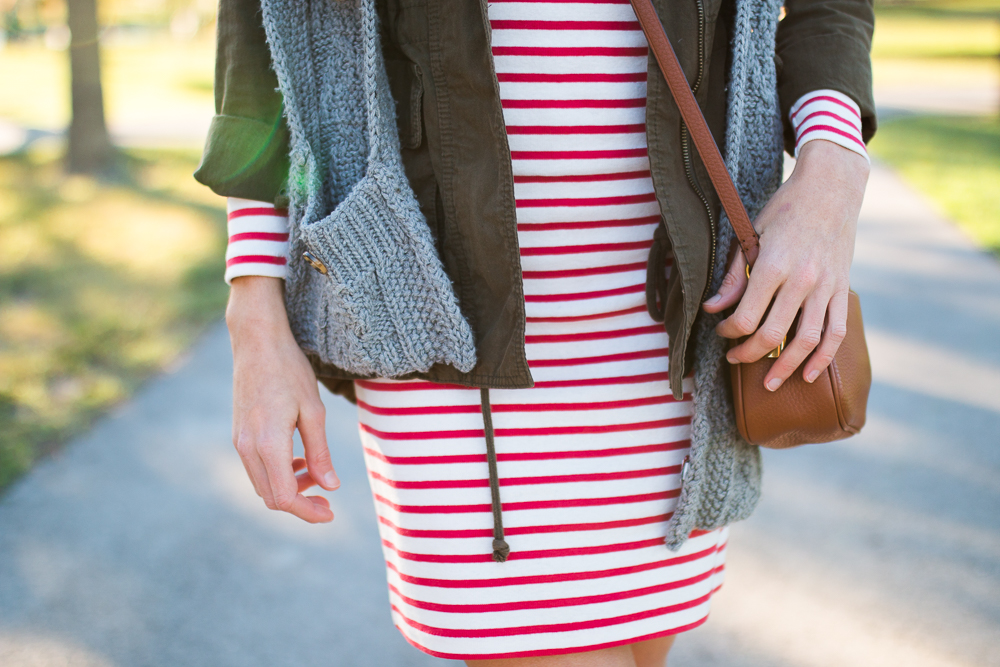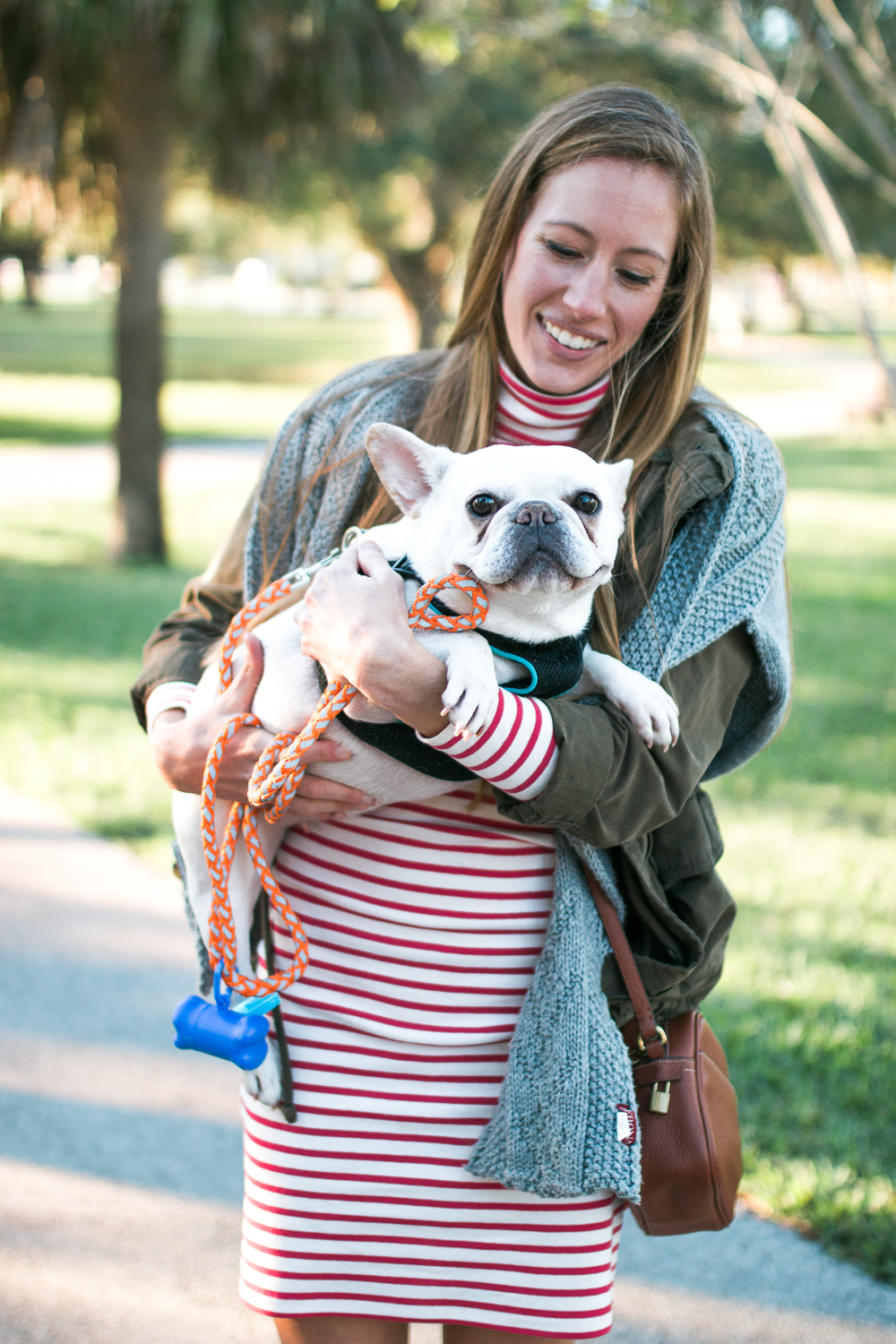 My sister recently dog sat the cutest named Chloe. We took her to the park one afternoon for a super long walk when the weather was gorgeous outside.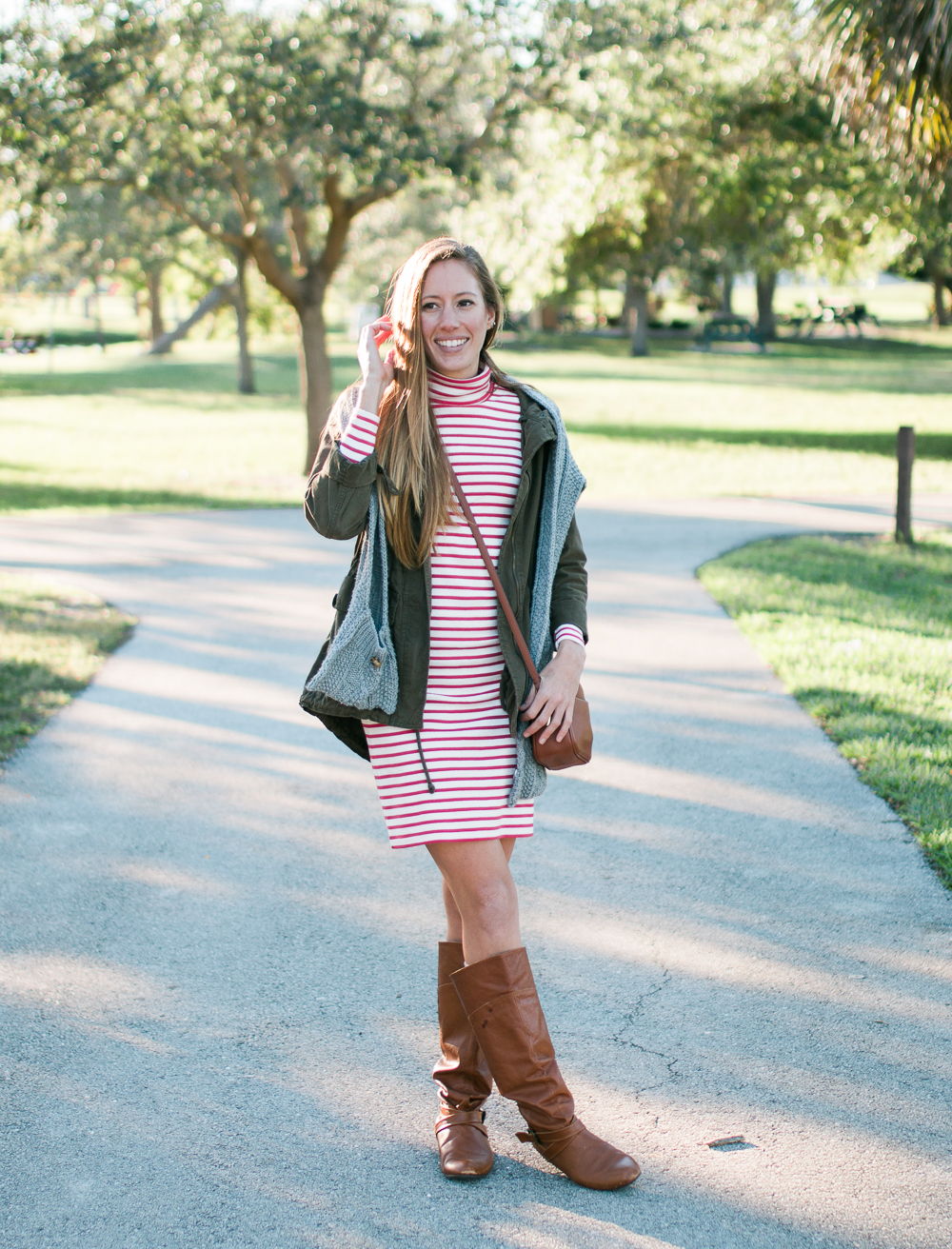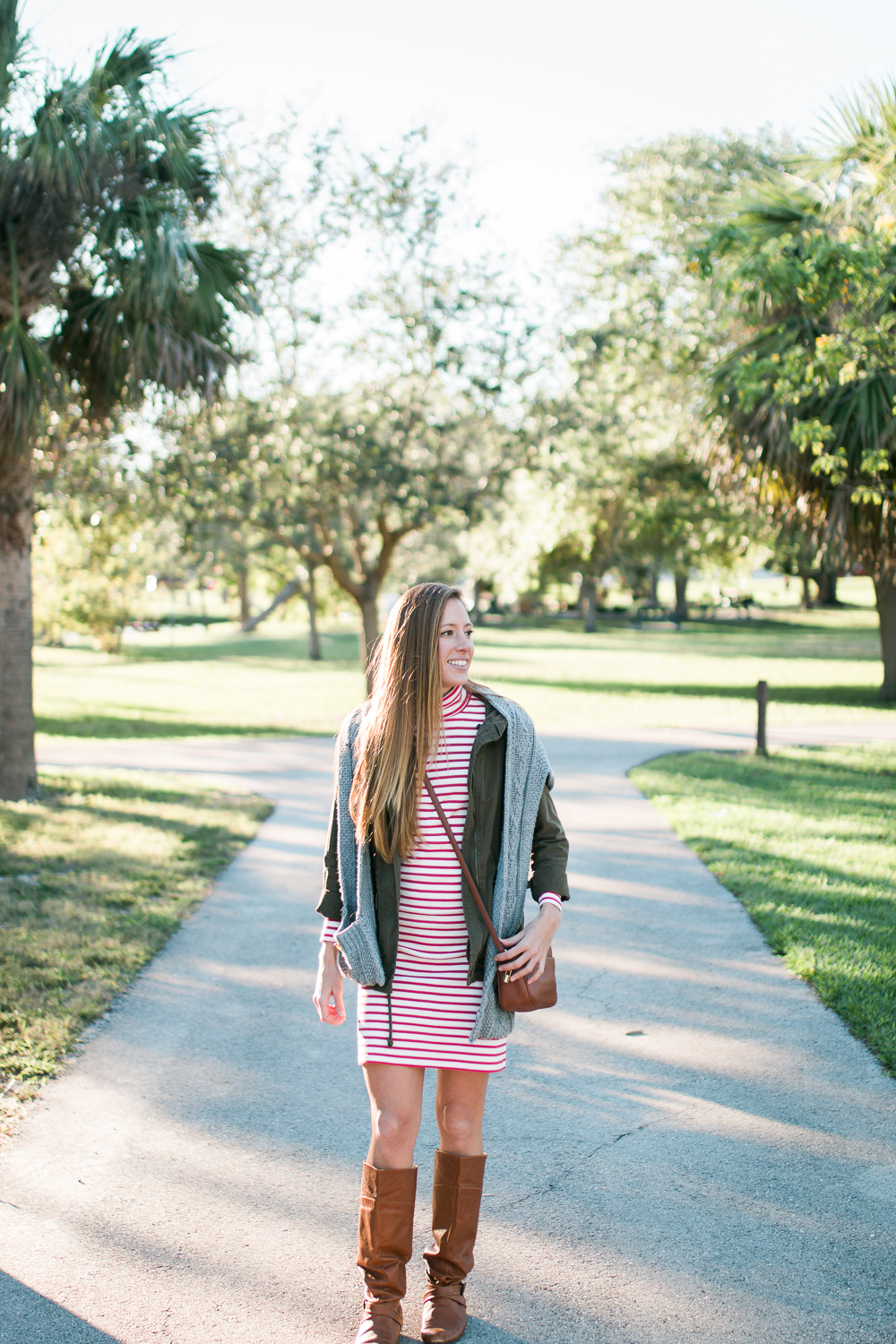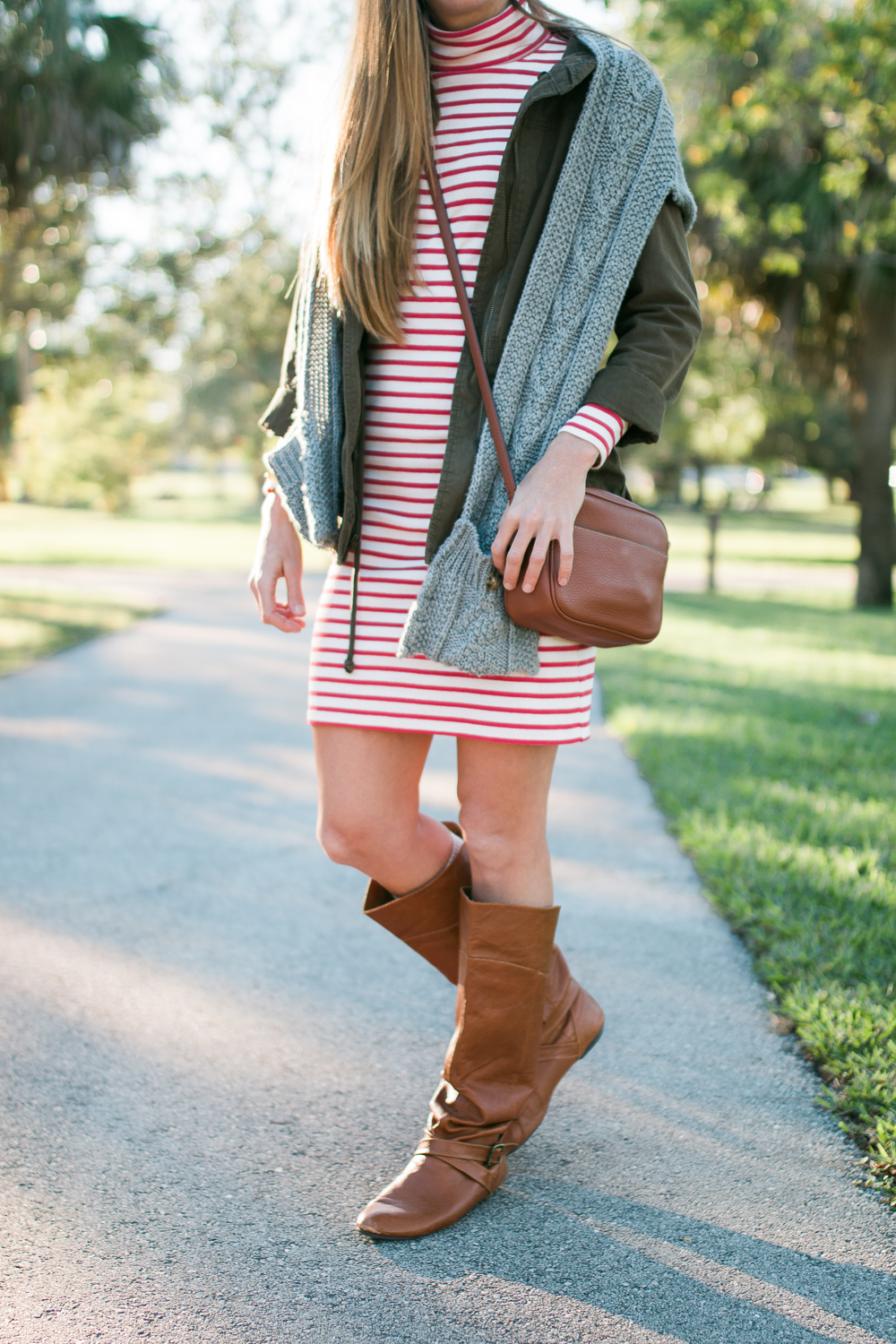 Can I be real for a second? Okay, cool. Just look at my spider fingers holding my leather purse. I'm not sure why but I was born with freakishly long arms and fingers. I could never pass the shorts dress code check! Their so long, sometimes when I take photos I have absolutely no idea what to do with them. I often hold purses or put them in pockets because it's just awkward if they have no place to go and just kind of hang there. Any other bloggers or people who model have any tips? I'll try anything ha.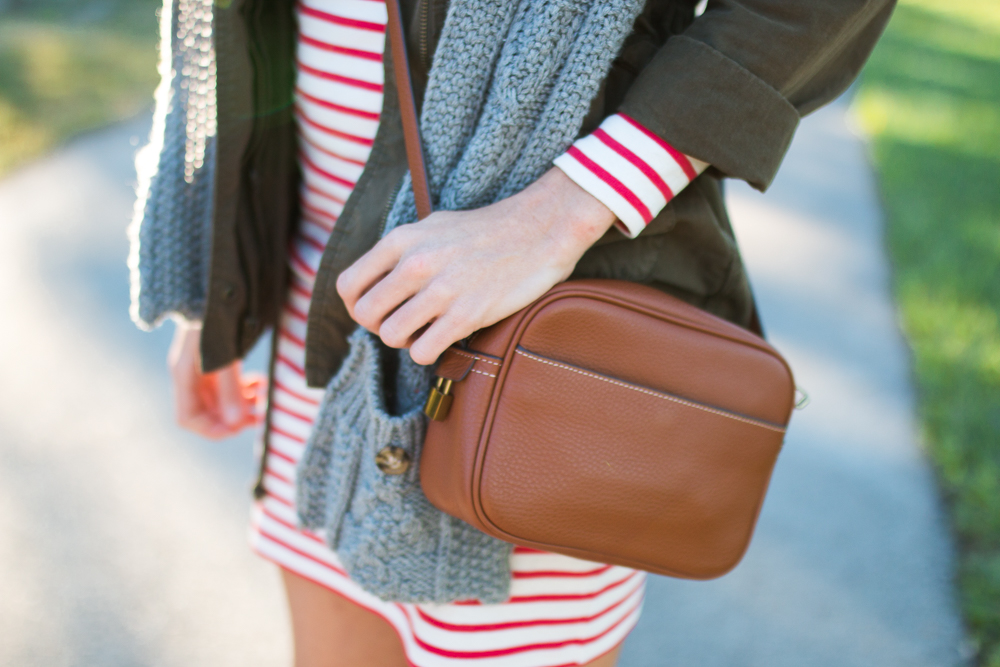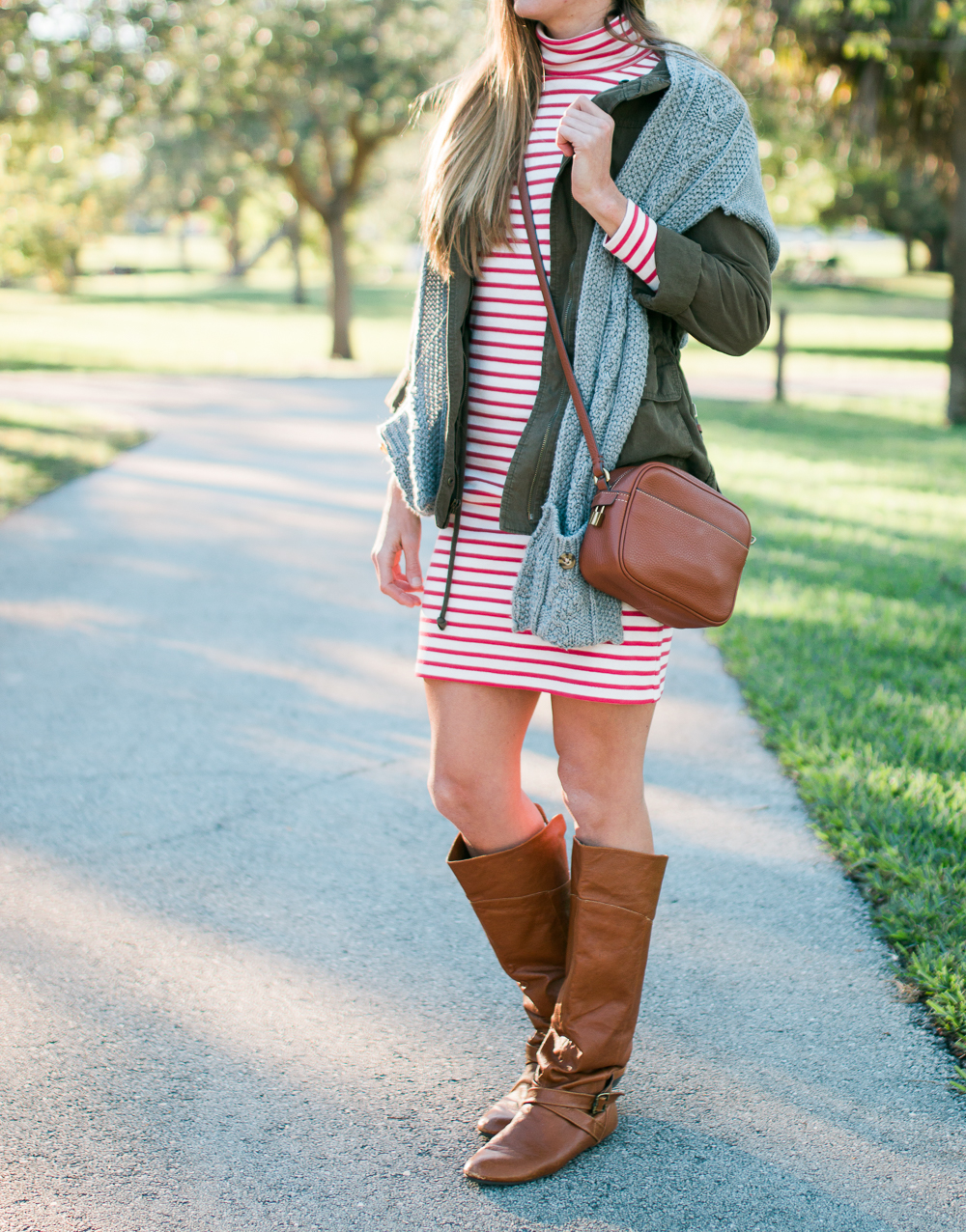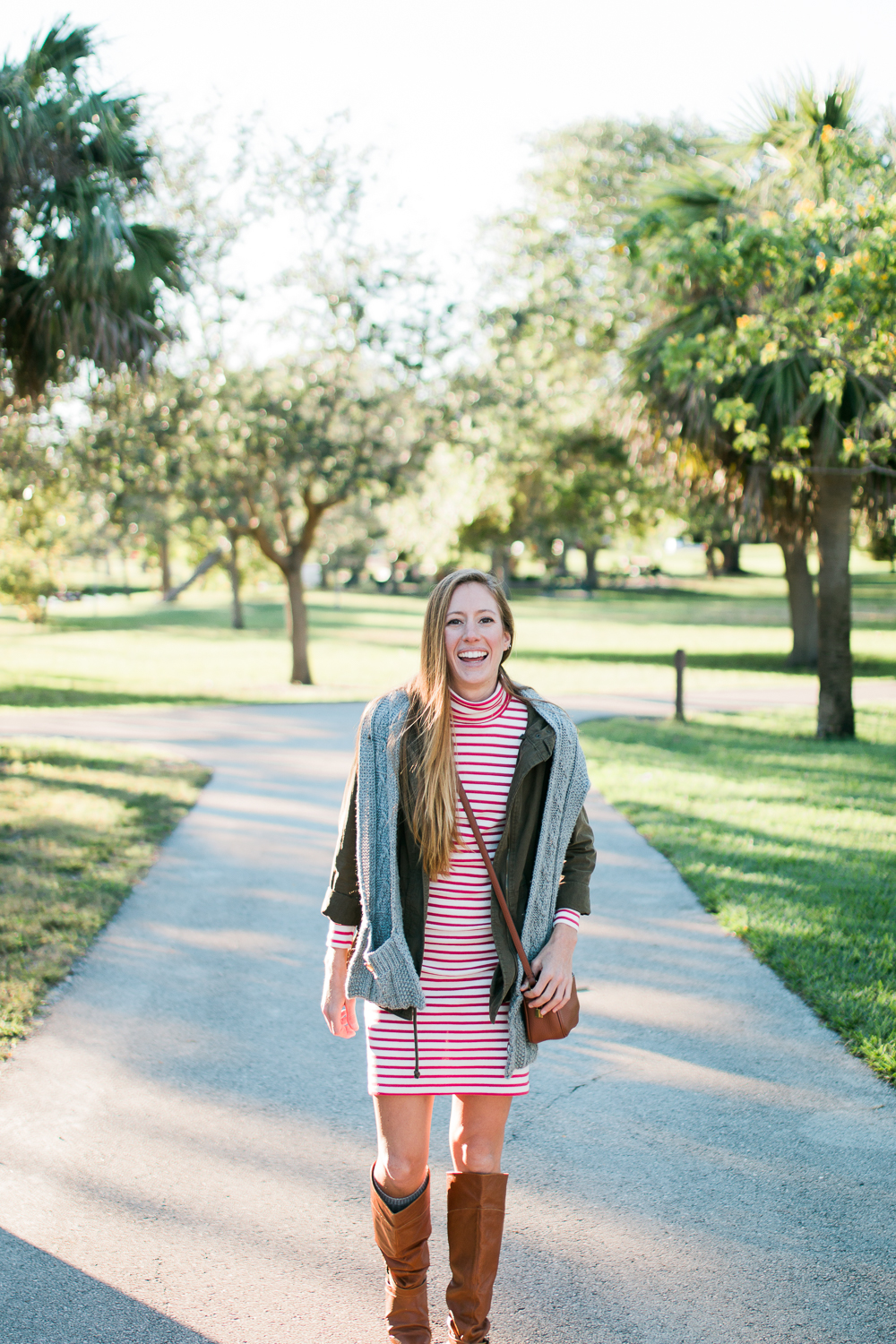 Christmas Day Outfit:
Striped Dress | Hooded Scarf | Utility Jacket | J.Crew Bag | Knee High Boots Boots | Boot Socks
I don't know about you but on Christmas I want to be cozy and comfortable. My family usually has a really casual Christmas. We stay in our pajamas all morning and then chill around the house all afternoon. The last thing I want to do is dress up. Normally I just wear a t-shirt and shorts or jeans because it's always so warm out.
To break away from the cycle, I found this really casual striped dress from J.Crew. It still gives the "I'm so comfy" vibe but is still really cute and a step above pajamas. What to know a secret? This is the first turtleneck item I have owned since I was in chorus in 6th grade ha! There may have been a bit of a turtleneck phobia going on and I never had a desire to wear one again up until now. I was really afraid I was going to feel strangled but it's not tight at all. It keeps my body warm and allows me to keep my legs exposed in the winter.
The shape of the striped dress is formfitting, has a slight stretch and is a classic. It's fitted but not tight if you know what I mean. My goal is not to look like I am going to the club but to show off my shape a bit more. To be honest, this dress is very out of my comfort zone. I don't know why I am so self conscious to show off my body. Even fashion bloggers need to step out of their style bubble sometimes.
How to style a casual Christmas Day outfit
To complete the look, pair a striped dress with knee high booties and then layer with a utility jacket and scarf. There are so many great sales on jackets right now like this navy blue one under $50! Not a dress girl? Pick a striped top instead. You can really never go wrong with stripes. See some of my other striped looks here, here and here.
Shop 10 Casual Dresses Under $100:
In case you missed it, here's a recap of posts from the last month:
Are you guys interested in a "How to Get this look for under $100"? I would link items or make a collage at the bottom of each outfit post. I know some of the items I often link to and own are major splurges. I want to help you find the best pieces and at price points you can afford. Let me know if that is something you want in the comments below!
I hope you all have a very Merry Christmas celebrating Jesus birthday!