How on earth is it already May!? I remember counting down the days when I first started my temporary job as a sub in August. Now, looking back, I'm wondering where exactly those last 10 months went. I remember as a kid always thinking adults were so strange saying how the years and days flew by. Now I'm pretty sure I understand. I've always been a take it slow, enjoy the moment kind of girl but every once and a while I see it. They just disappear!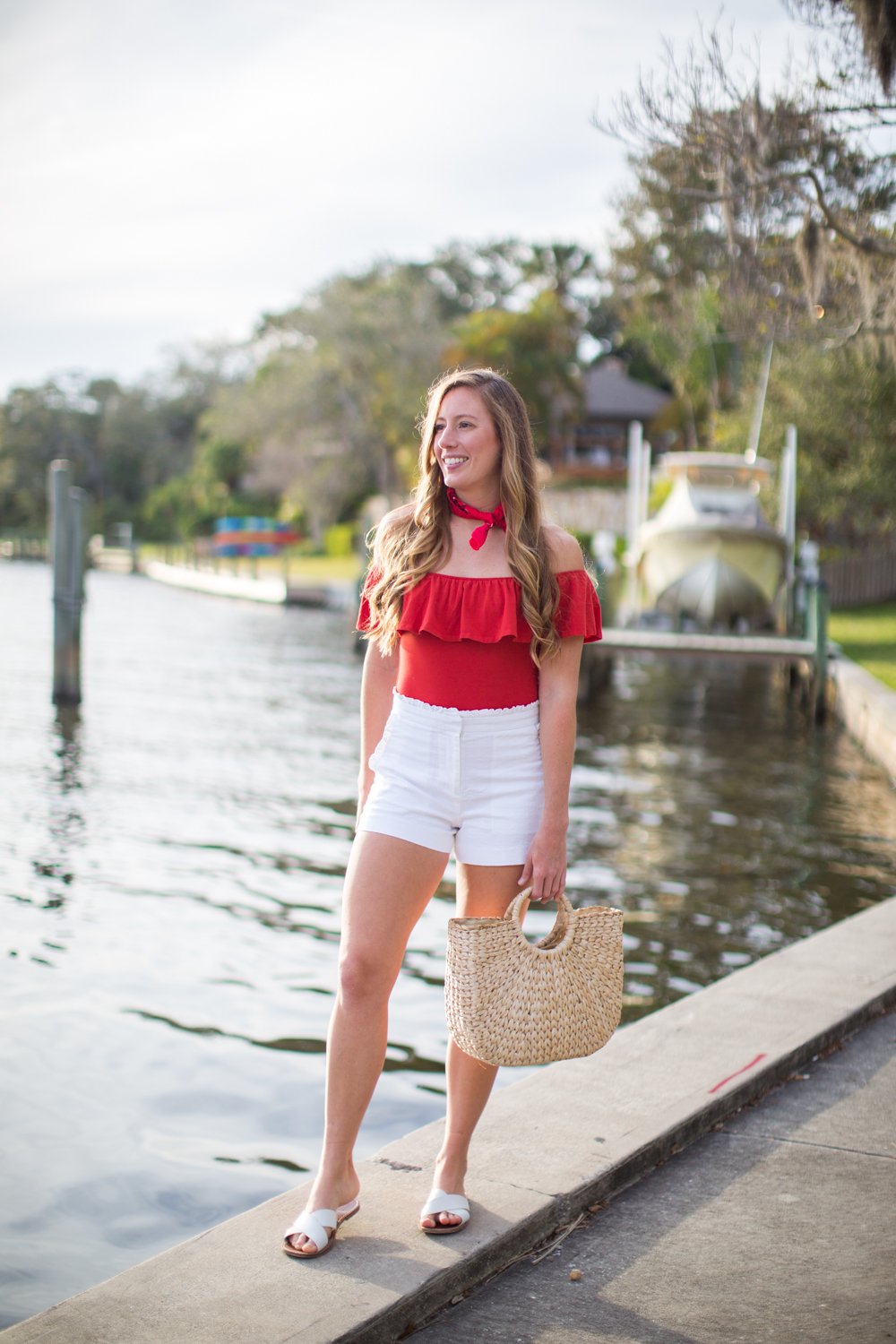 Outfit Details
J.Crew Factory Bodysuit (similar) / J.Crew Shorts (similar) / Gap Sandals (similar) / Similar Straw Bag / Similar Scarf
The school year for 2019 in our county ends the last week of May. I was just looking at my calendar and realized that Memorial Day is in a few weeks. Woohoo for days off! It's weird because the students have off that Monday then go back to school Tues, Weds and Thurs for exams. If I designed the schedule, you can bet the school year would have ended the week before! I guess I'll just leave that one to the experts.
As far as memorial day outfits go, I usually dress really casually. The gym I workout at always has a fun AM workout that I go to. This year I think they're doing the Murph workout…loook it up, it's insane! Then I usually hit the beach or swim with my family all afternoon and change into a cute outfit later in the day for a late lunch/early dinner. Honestly, I would say most holidays I rarely get dressed in normal clothes ha. Is anyone else like this? I just like to take my holidays seriously and enjoy them to their fullest without worrying about being super cute. This red and white outfit that was featured on my guest post on Carly the Prepster is most likely what I will be wearing if I end up wearing anything besides a swimsuit! Hopefully this inspires you to dress cuter than I will be!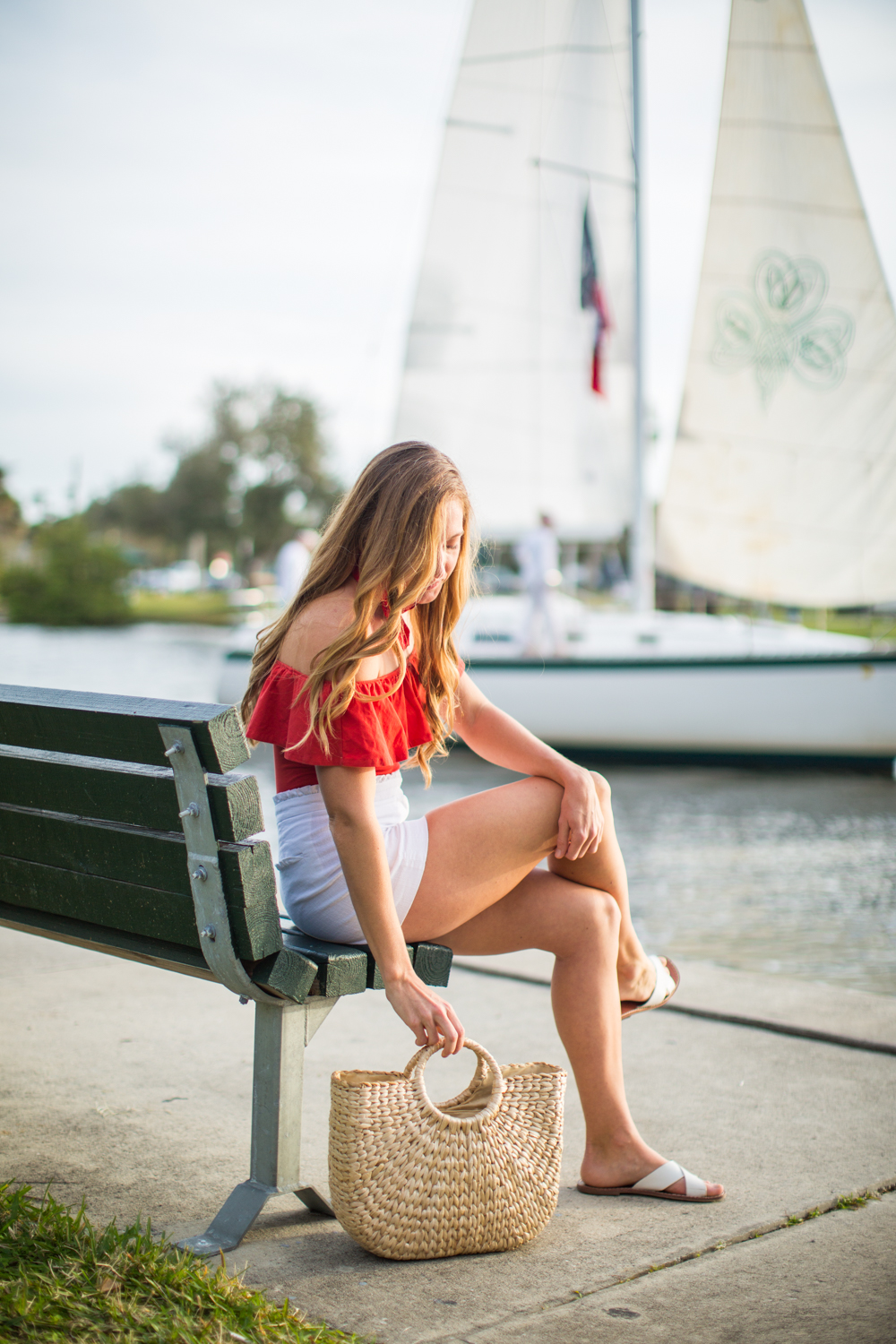 Fun story. When I shot this look for my guest post on Carly the Prepster, my photographer Isaac and I walked down to this super beautiful area by the water. Normally when we shoot, fun things always happen and God always gives us fun surprises. This time this giant sailboat made an appearance and we were able to capture it for the photos. It truly made my day and took the photos to the next level!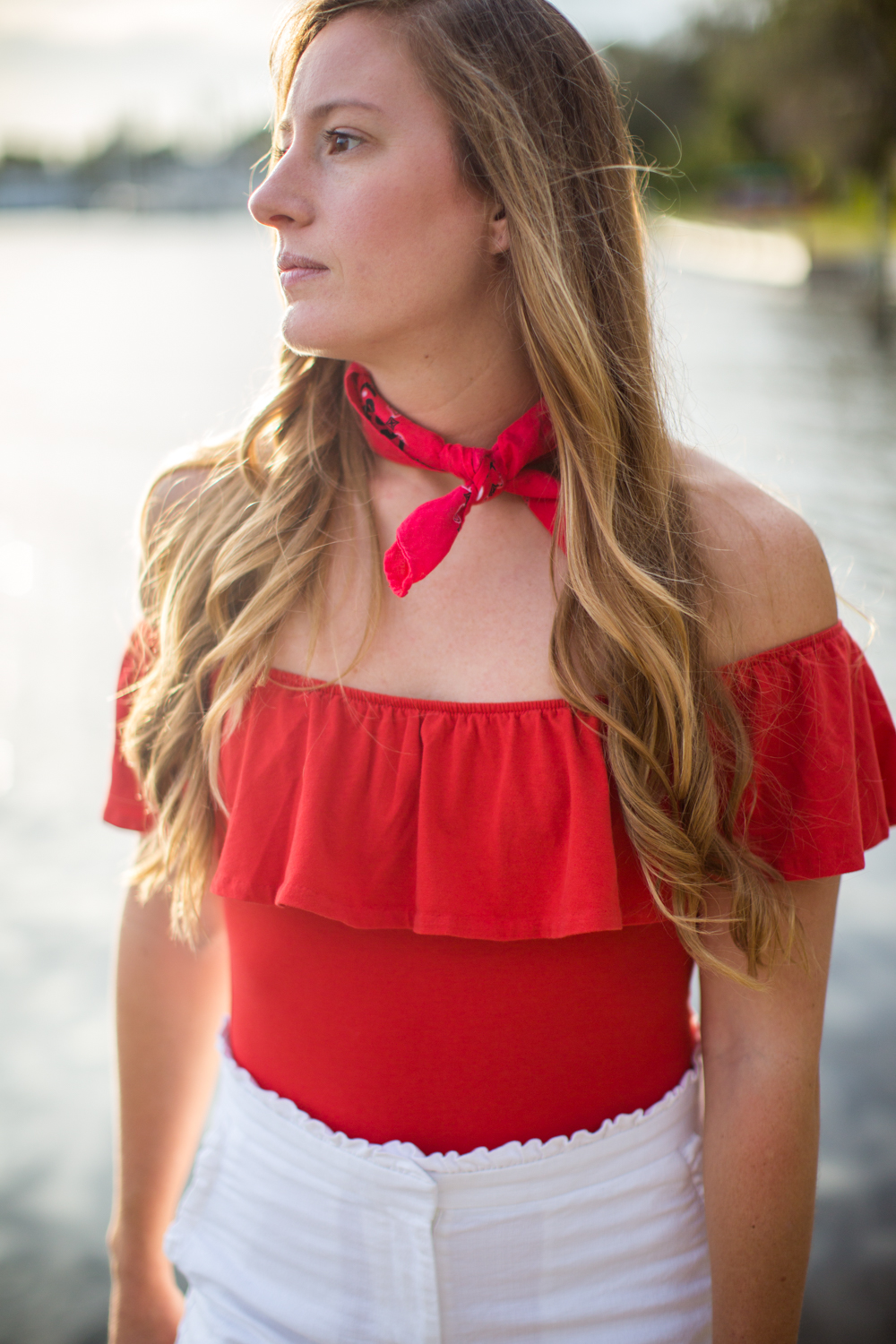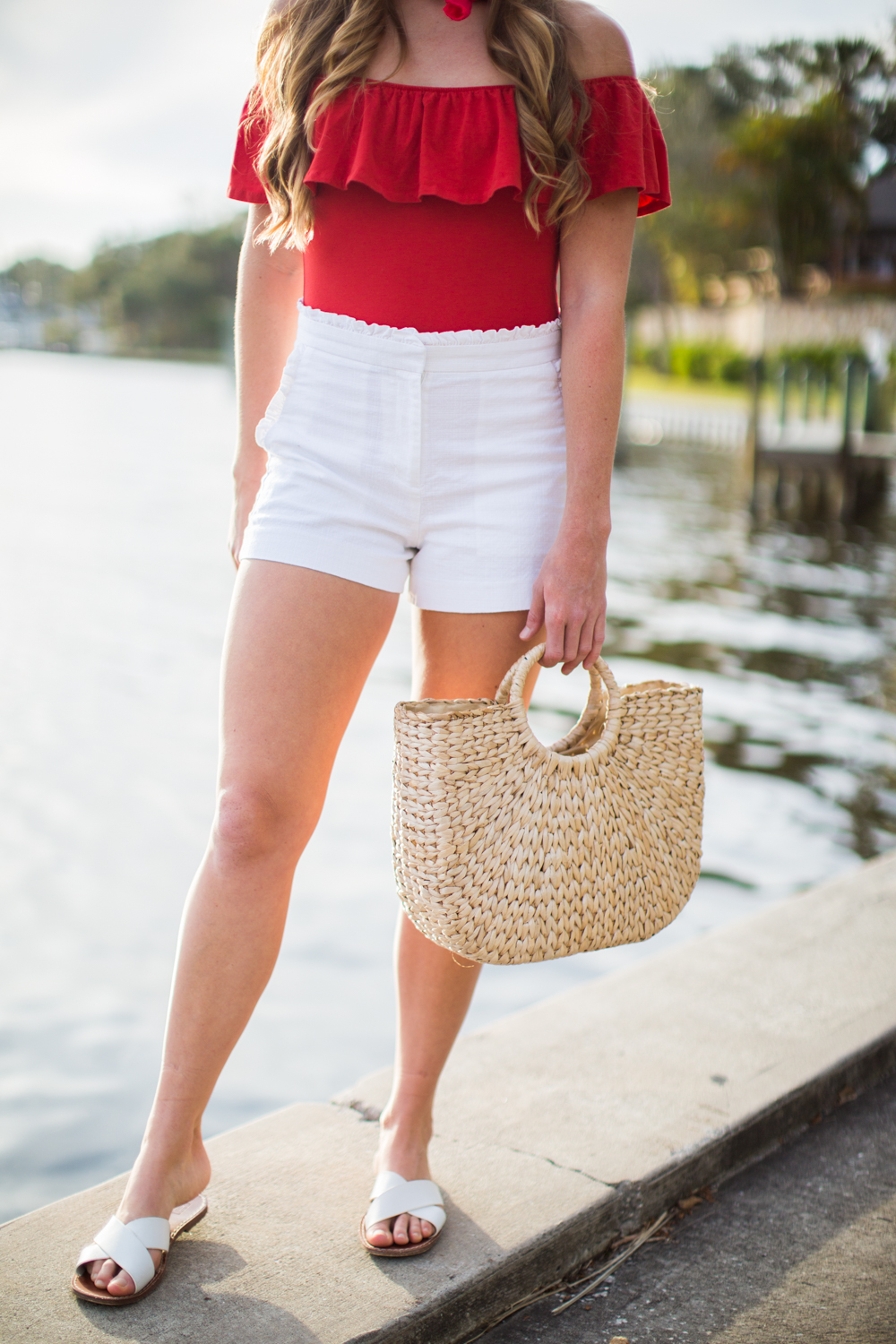 In the summertime, I am all about white shorts. I wear them at least once a week, if not more. See a few other ways how I styled them for summer here and here. This is a perfect example of an item I re-wear all the time. Sometimes I place pressure on myself to always show you all new items when in reality I can't afford to buy 50 brand new pairs of white shorts just to post them my blog. Maybe one day but I live on a tight budget for now! I love a great structured pair but I also love fun detailing like this scalloped pair or this pair with cute buttons up the front. If you want a more relaxed pair, Madewell makes a cute high waisted denim style.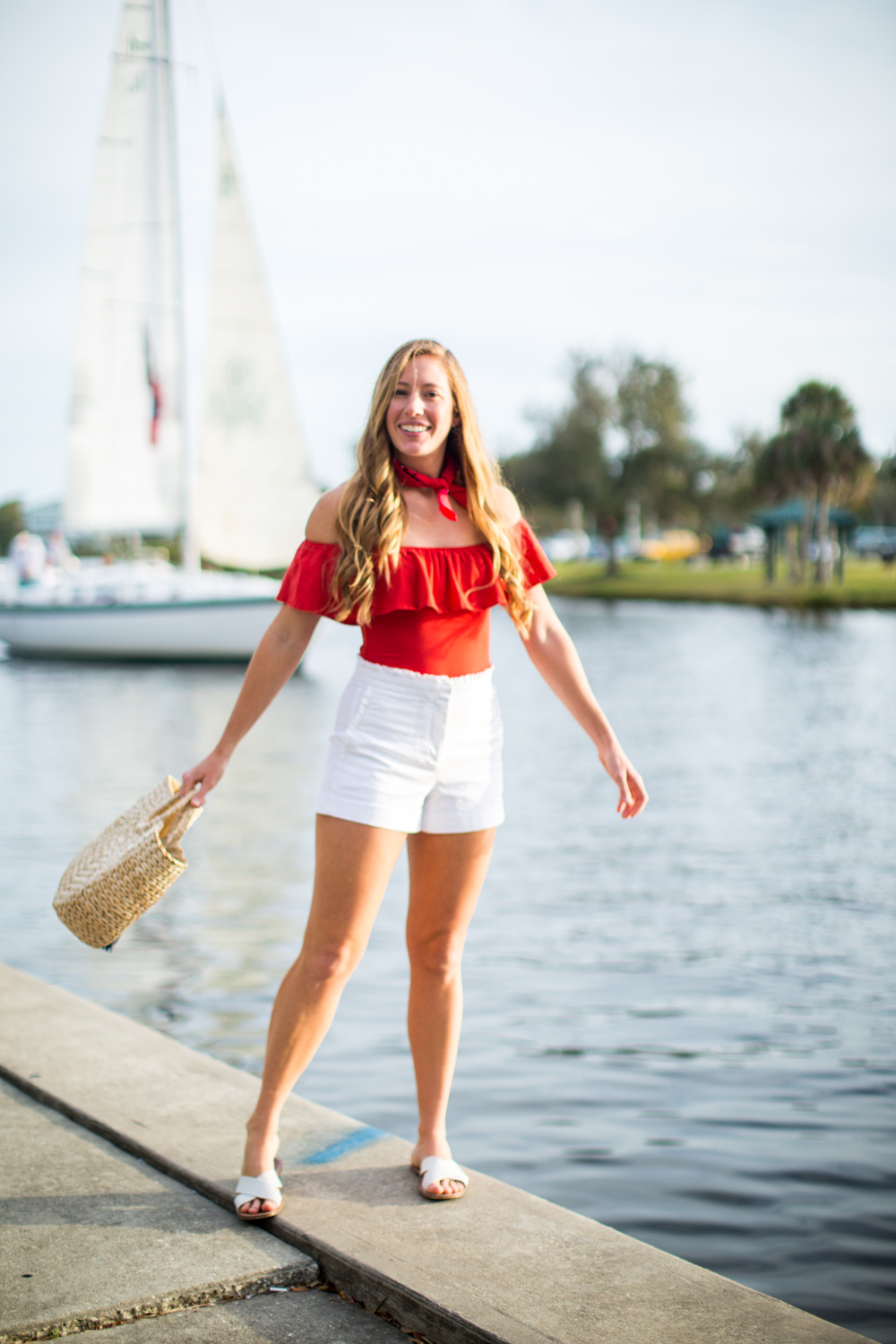 Photos by Isaac Dean Photography
Shop the Look
J.Crew Factory Bodysuit (similar) / J.Crew Shorts (similar) / Gap Sandals (similar) / Similar Straw Bag / Similar Scarf
What is new with you all?! The summer heat has officially hit Florida! It's been high 80's and hit 90 this weekend and the back sweat has officially started. Maybe TMI?! Oh well. Two weekends ago I mentioned how I had visited some blogger friends in West Palm Beach for the first time. I didn't realize how hot it was just 2 hours South of me. The sub-tropical temps are truly no joke. I don't know how any of you in South Florida do it!
If you have ever visited Florida in the summer, you probably know what love bugs are. Well, they have made their first appearance and it's so incredibly nasty! They basically live for 24 hours, eat the paint off your car, stick to anything white and are just gross! If you know you know. This past Saturday I tried to go to our local public library and they were swarming by the river. As soon as I tried to get back in my car they were literally in my hair, on my legs and crawling on my clothes. They don't bite or anything but if you touch them to hard, which it's extremely easy to do, they squish all over you.
Last week and weekend were super busy. My older sister came into town so my fam and I had dinner, I helped second shoot a wedding, went to Palm Beach the next day and had a long work week. More planned than I normally like! So this weekend I took it easy. I had not planned to hang with any friends but my sorority sister ended up coming into town so I met her for a breakfast at Backwater. Other than that I started reading a new mystery book, swam in my pool, cleaned and prepped some blog posts for the coming weeks! Exciting stuff ova here.
Are you doing anything exciting for Memorial Day Weekend!? I always love holidays on Monday because it makes such a short work week! All about the fun!