Handmade Christmas gifts are the best kind of gifts! If you are looking for an easy handmade Christmas gift idea to give to friends and family, look no further! When I asked on Instagram for some blog posts you wanted to see (lol, I am always asking you guys what you want to see!), I got a request for some ideas on some easy beginner gifts that can be sewn!
An Easy Handmade Christmas Gift Idea
After a bit of searching, I knew these DIY bow hair ties would be the easiest and most practical gift! Plus, their super cute! This tutorial can be completed in 15-30 minutes and does not take much skill level. You can be a beginner sewer and should still be able to complete this project.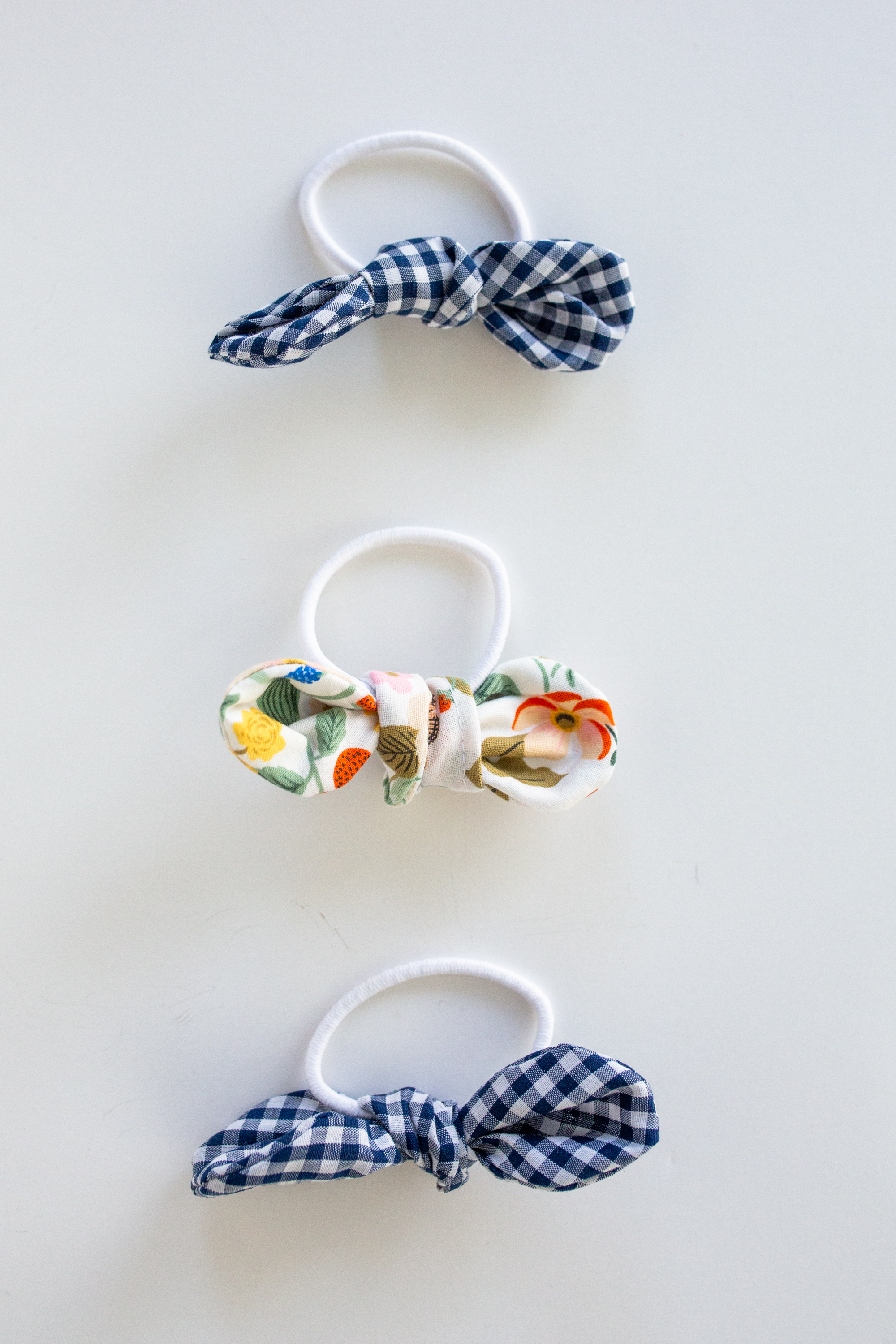 I use these hair ties to workout in, as an everyday hair tie and have given them to mama's as gifts for their toddlers! You can un-tie the bow on the hair tie and wash them. Personally, I get really sweaty working out and wash the bow fabric every few weeks. And if your hair tie breaks you just re-tie it on a new one! If your going to give it to a toddler or kid, you can tie them on a thinner hair tie!
Materials
1/4 quarter of Fabric (I used Rifle Paper Co. Strawberry Fields and a 1/8 navy gingham print)
Fabric Scissors
Thread
Needle
Elastic Hair Ties
Directions
You can follow step by step instructions for the DIY here!
Cut two pieces of fabric using this pattern
Place the 2 pieces right side together and sew using a 1/4 in seam allowance (leave a 2 in open in the center of an edge)
Turn bow right side out and push the edges out (make sure they are rounded)
Stitch the opening closed on the right side of the fabric (I've seen tutorials where you can use hot glue!)
Tie your bow around an elastic hair tie
Start at minute 5:08 for an on how to make the DIY hairtie! If your a visual learner like I am, this video is extremely helpful!
Lots of Sunshine,
Katie
If you make these, please send a photo and tag me @sunshinestyleblog. I would love to see!! And, if you have any other beginner sewing projects, please please share!!! I love new ideas.