Today is all about what to pack in a beach bag! If you know me, you know I LOVE the beach and grew up spending my entire summer there. Over the years I've gotten really good at packing exactly what I need and leaving out what I don't. No one likes a heavy beach bag!!!

Beach Bag / Radio / Waterproof Phone Case / Hair ties / Towel / Swimsuit Top + Bottom / Sunscreen / Coverup / Visor / Kindle / Snorkel Set / Sandals / Snacks / Waterproof Bag / Sunglasses / Water Bottle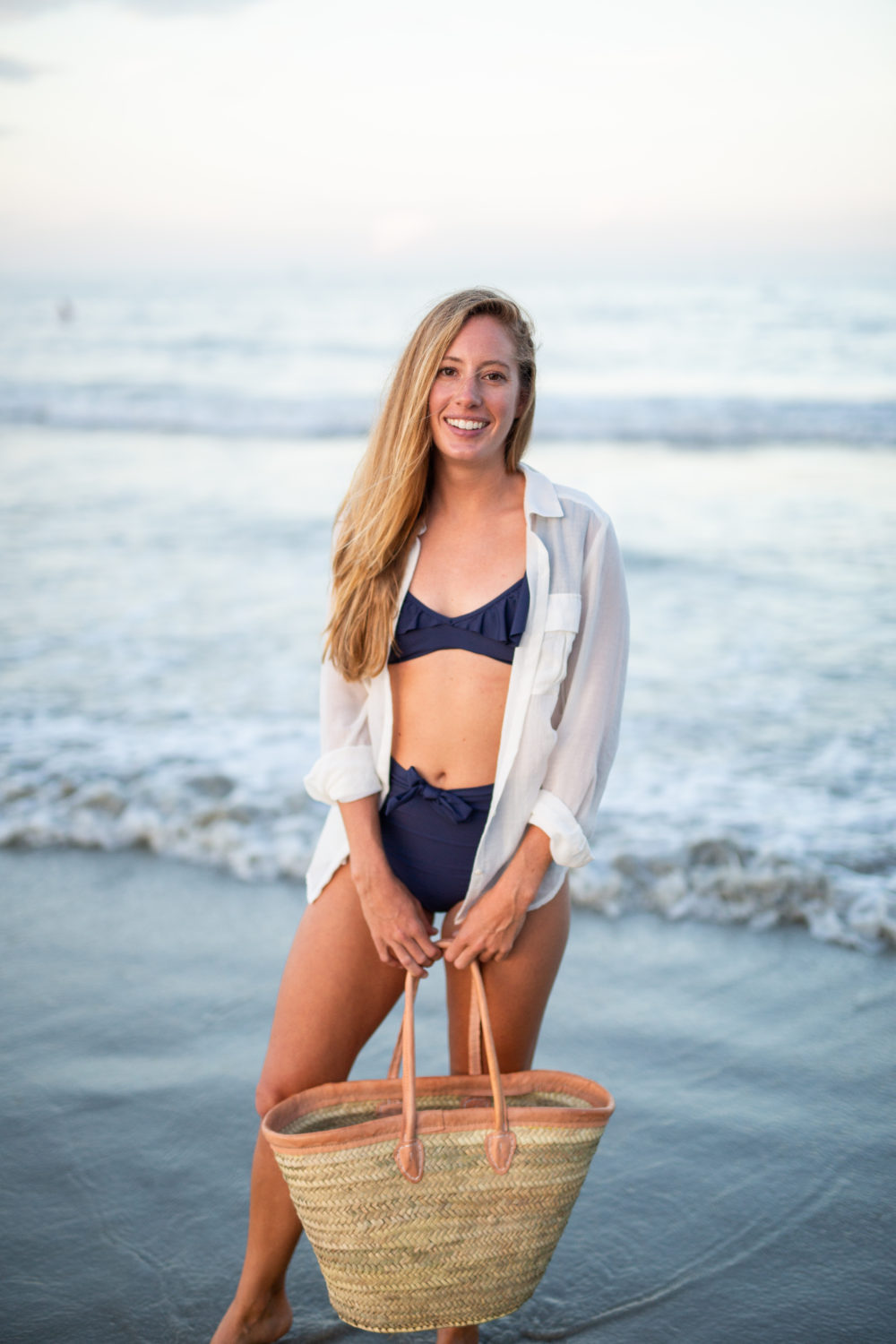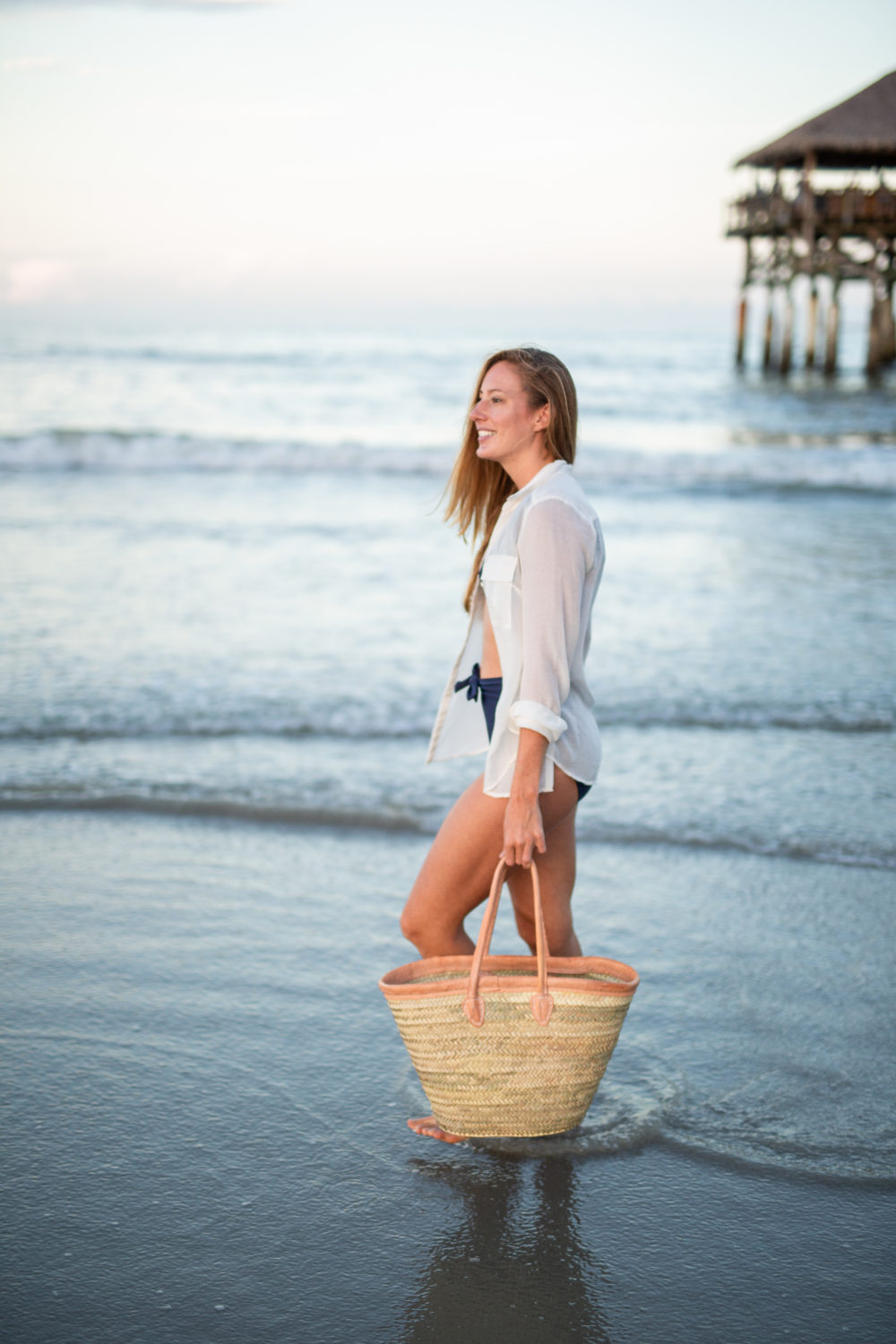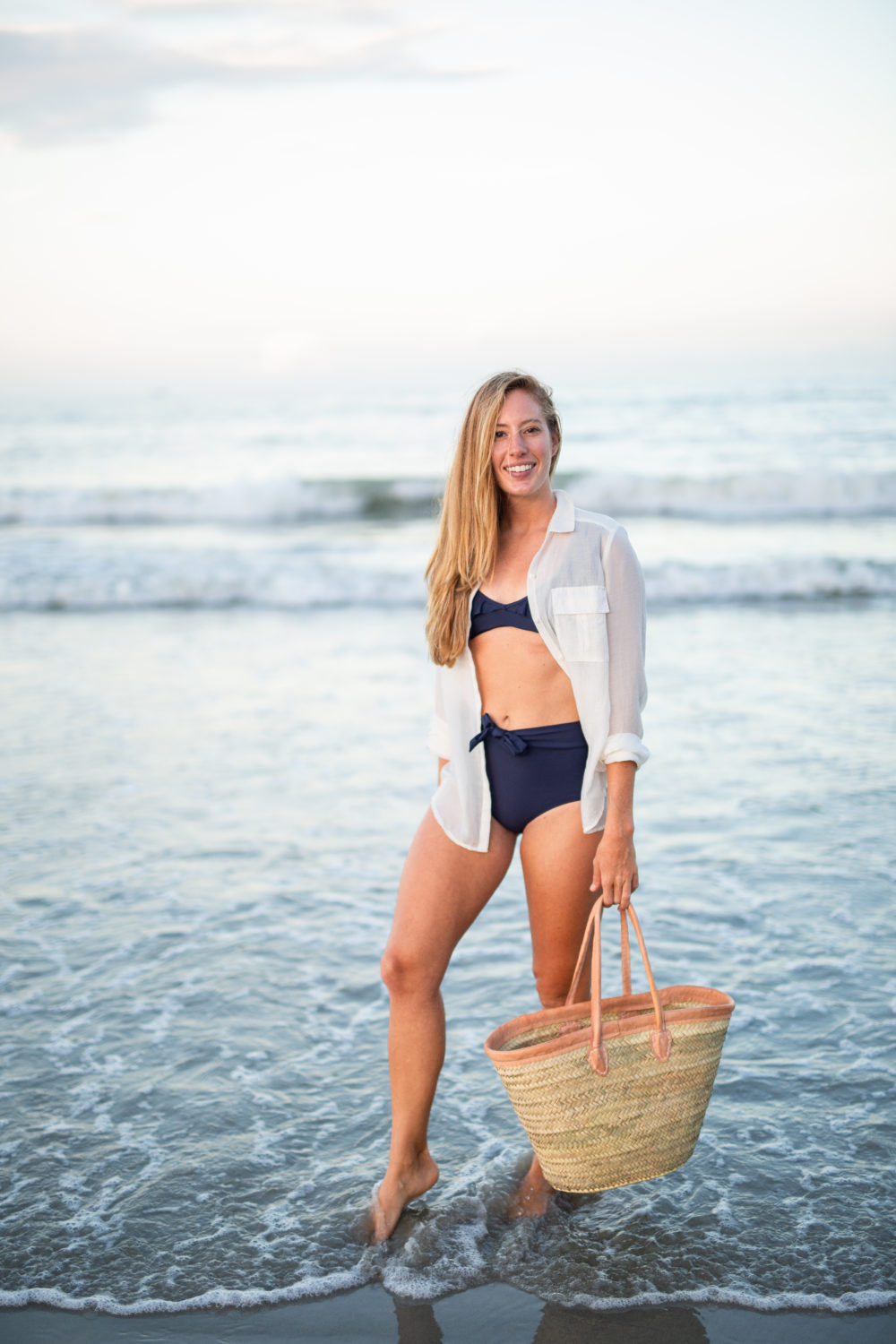 Every time I go to the beach, I try to keep my beach bag as light as possible. Depending on where I am going, I may leave out my Kindle, radio or snorkel set but for the most part I bring everything on the list! And obviously, I am (hopefully) wearing my swimsuit already ha. To have the best beach experience, the 20 items listed below are exactly what I pack in my beach bag.
What to Pack in a Beach Bag
Beach Bag / Finding a beach bag is the most important part! I tend to buy neutral bags so it matches with everything (see how I styled my beach bag here). They key here is to buy a bag big enough that holds a beach towel and one you can easily carry. Been there done, that. A bag that is to big is just annoying which is why I love this bag and this bag with pretty yellow detailing!
Radio / How cute is this radio!? This is one of the items on the list that is not an absolute "must" but I think it's so fun and I also love a beach day with music blasting! It gives off that whole, fun in the sun vibe!
Waterproof Phone Case / OMG, if your taking any vacations in the future where you will be around water, buy one of these water proof bags for your phone. It allows you to still use your phone to take photos, calls and text without taking it out of the bag and keeps it completely dry. The necklace is silly but it's so useful to be hands free!
Hairties / These are my absolute favorite hair ties to use and don't leave a crease in your hair. Do not leave this one off the list. I repeat, make sure you have plenty of hair ties in your bag. I've gone to the beach so many times only to realize I didn't have a hair tie to tie my knotty and wet hair back. More is better in this instance and they don't take up any space.
Towel / I love a soft beach towel. Every year I usually buy a new towel at Target because they are cheap and I use them so much. It's the best feeling to get out of the chilly water and wrap up in a beach towel. The cuter they are, the better photos you can get for Insta!
Swimsuit Top + Bottom / Hopefully you are wearing your swimsuit to the beach, but if your packing for a trip, make sure to bring a suit that will be perfect for all your water activities. I prefer two pieces but I also love a classic one piece when I want to be more active.
Sunscreen / I can't stress this one enough. I never leave my house without sunscreen for a long beach day. My fav is Sun Bum and I love their sunscreen, lip balm and cool down aloe lotion. Make sure to buy the appropriate SPF for your skin! I usually use either 30 or 50 SPF and apply every two hours.
Coverup / When I go to the beach, I usually don't care much about what I wear as long as my swimsuit is cute. A dress is the easiest cover up choice. If it's hot out, you can easily slip into the dress and your ready to go!
Visor / Make sure you pack some type of hat. My favorite to use is a visor because it blocks the sun from my face but still lets the sun naturally lighten my hair.
Kindle / When I go to the beach solo to relax and sunbathe, I always bring my Kindle. I love my Kindle because I can actually read it in the bright sun unlike my iPhone.
Snorkel Set / If your going on a cruise or a really tropical vacation, I would buy a snokel set before hand to save money instead of renting. Masks are great for the beach or pool days. I love wearing my mask swimming in the pool to be able to open my eyes under water.
Sandals / Is there anything else to even wear to the beach? An easy pair of sandals is the best shoe to wear. Make sure you pack a pair you don't mind getting wet and sandy. I totally have separate sandals for the beach/pool and sandals I wear with more dressy outfits.
Snacks / Ahh, I can't tell you how many times I've gotten to the beach and within 5 minutes I am immediately starving. Bring simple foods like Lara Bars that won't melt in the hot sun. They save the day until you can get whole food into your body.
Waterproof Bag / I actually bought this bag in Hawaii when I was there and have used it for every beach trip since. The material keeps the water and sand out, so anything you put inside is safe from outside elements. I keep my sunscreen in here but it's also great for a phone, hairties, sunglasses credit cards and cash.
Sunglasses / If you have a hat you might be okay but I need double protection on my eyes. Usually I just buy cheap pairs of sunglasses from Target because the sun and sand really beats them up. You will not regret packing a good pair of sunnies.
Water Bottle / Besides sunscreen, I'd say a water bottle is the second most important item. I'd die without mass amounts of water at the beach. I actually own the Wood Swell water bottle and it's an item I use every single day, especially at the beach! Swell bottles are the best because they keep your drink cold for a long time. Water bottles are great because you can refill them for free at almost any restaurant or food shack!
Shop Beach Bag Essentials
Other items to pack in a beach bag not included on the list above:
Camera
Feminine Products
Lotion
Medicine
What are you go to beach essentials? Is there anything you pack that isn't on the list? Let me know in the comments!