Swimsuit shopping each year is one of my favorite things to do! Gosh, I get so excited even thinking about it. Every season when stores release all of their colorful, bright and bold prints for Summer (#yestropicalprints), it gets my blood pumping. Living in Florida I am always always always in need of new swimsuits. Since I swim and go to the beach so much during the summer months, my suits get lots of wear and tend to only last a season or two before I need to expire them. I guess you could say I wear my swimsuits out to death.
After years of trial and error I have become an expert in where to shop for the cutest, most affordable and best quality swimsuits. Nothings worse than buying a swimsuit that does not stay on because it stretched out or the color fades after only a few wears. I've seriously bought a swimsuit, jumped in the pool and the color immediately bled out! Shopping for swimsuits should be easy. That's why I have created this Swimsuit Shopping Guide. Hope you enjoy!
Shop Cute and Affordable Swimsuits:
Target Swimsuit | Aerie Swimsuit Top + Bottom | Old Navy Swimsuit Top + Bottom | VS Pink Swimsuit | J.Crew Swimsuit Top + Bottom | Albion Fit Swimsuit | Dillard's Swimsuit | ASOS Swimsuit Top + Bottom | Billabong Swimsuit Top + Bottom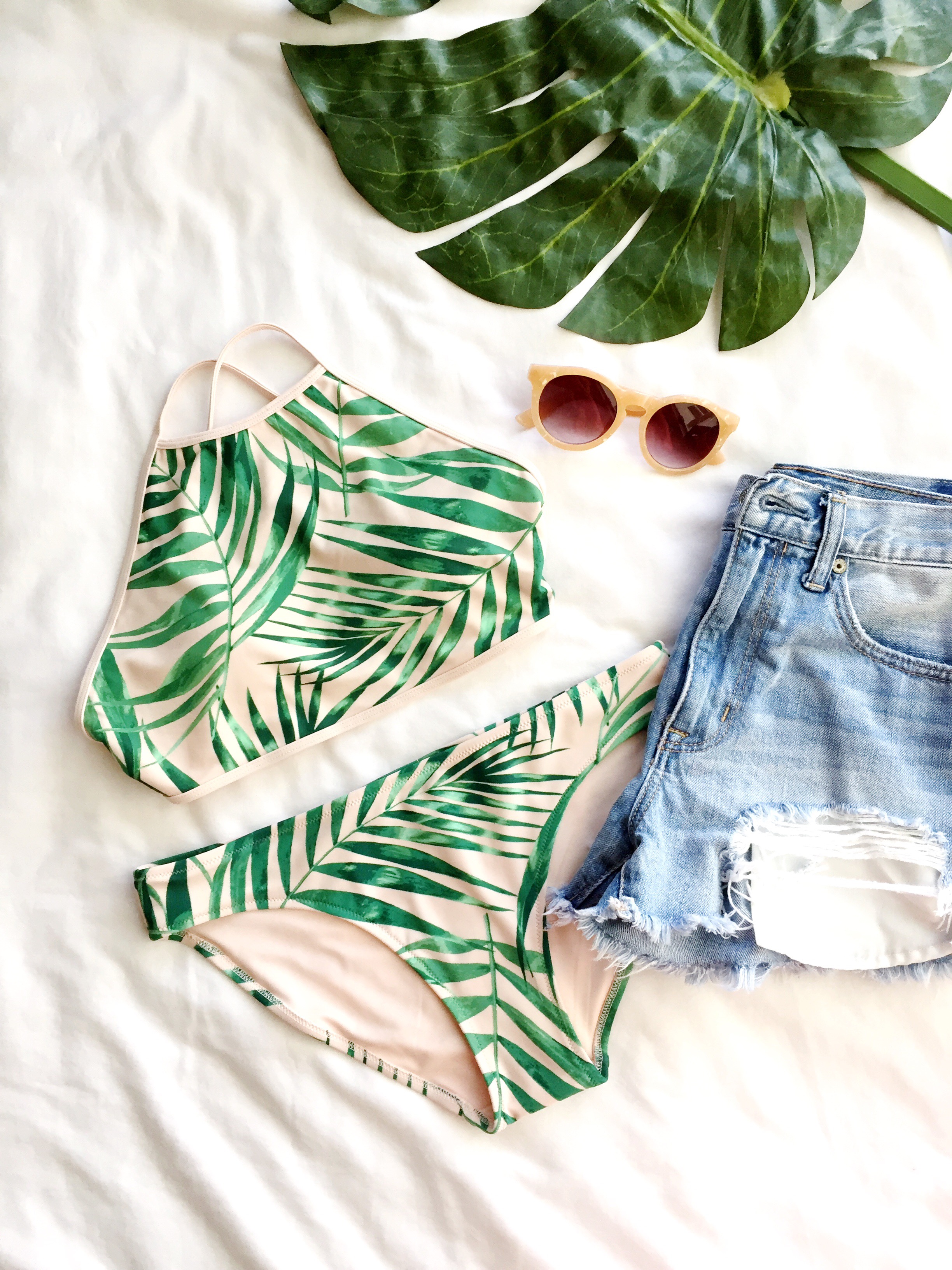 When I buy swimsuits I look for a few things before making a purchase. First they need to be at least under $100, super cute and functional. If you plan on tanning at the pool at a fancy hotel in Miami vs. surfing on the North Shore of Hawaii, it will affect what type of swimsuit you buy and where. I would splurge on a swimsuit that will allow you to do all types of summer activities like swimming, hiking, kayaking and surfing and then find a more affordable and feminine option for pool hopping or tanning on the beach. Or vice versa depending on whst trips, activities and summer plans you have!
The majority of swimsuits I own are from Target and Aerie. To me, they offer the best quality, cutest options and at prices you can't beat. Victoria's Secret used to be the best place to shop for swimsuits when I was in high school and college but sadly they stopped carrying their swim line. You are in luck though because VS Pink still has a small collection of super cute swimsuits that are really affordable! Some of my other faves are J.Crew, Albion Fit and Asos.
Where to Buy Swimsuits Under $50
This is my favorite place at the moment to buy really cute swimsuits at amazing prices. Seriously, I never pay over $40 for a set when I order them online. The prints and colors are always fresh each season and I love their #aeriereal campaign. All of the suits are very minimal, on trend and tend to have really pretty detailing added to enhance the swimsuit.
My fav one pieces are this crochet one here and this two tone dyed scoop back here. If I were to buy a new bikini, I love this yellow ruffled top and would pair it with these tropical bottoms.
Target is the best for last minute swimsuit shopping if you are going on vacation. You will find swimsuits for every size, shape and body type here! There's so many prints, styles and really trendy options. Plus, almost everyone has a Target nearby so it's easy to stop in when you need a swimsuits on the whim that's cute. If you have a RedCard you can get free shipping and 5% if you order online. Seriously, if you go to Target tons and don't own a Red Card, you need to open one!
I recently hopped on the one-piece trend (never thought those words would come out of my mouth) and bought this pink pineapple suit and this palm printed swimsuit. Both were under $40 and check out how cute the scoop backs are on them! I literally love them and can't wait to wear them all summer.
Good ol' Old Navy. They always have the best basics and fun patterns like this cut-out pineapple one piece (comes in three colors) and adorable matching high-neck top under $25.
If you love bold patterns and colors, these swimsuits are for you! They always have unique styles you can't find anywhere else. My faves are this strappy side cut-out piece that comes in six colors, this ruffle bandeau and this strappy high-neck top.
Although I don't own a swimsuit from here, I have ordered many things online (love love love their free shipping and returns) and it's always great quality. They have super cute pieces that are right on trend for Summer. I love this scalloped bandeau swim top, this floral triangle top and this bright yellow scalloped top.
Where to Buy Swimsuits Under $100
I love J.Crew because of their classic styles with pretty details and of course huge selection of striped pieces. My favorite right now is this red striped one piece and this ruffled wrap top and bottom. I think this one shoulder rickrack top and bottom would be so adorable to wear poolside.
This is a brand I have followed on Instagram for the past few years and they pride themselves on modest swimwear. I have never actually bought a pair from them but everything they feature is drool worthy. I love this tropical one piece swimsuit (if you can't tell by now I have a thing for tropical print!), hoping to purchase this yellow high-waisted retro inspired two piece top and bottom and adore this one shoulder top and bottoms!
Something really unique is that they offer swimsuits for people who are pregnant, petite, big busted and tall! If you are tall like me, this is the place to shop for swimsuits!
Roxy, Billabong, RipCurl, O'Neill, Tilly's (Surf Brands)

Every year in junior high it was the coolest thing to buy a surf brand swimsuit like Billabong or Roxy. I remember all my friends and I would beg our moms to buy us an $80 bathing suit each summer. Seriously, it felt like social fashion suicide if we didn't own a Roxy swimsuit. That price doesn't seem so extreme to me now but back then it felt like a million bucks.
What I love about surf brands bathing suits is that the quality is amazing. These swimsuits fit your body like a glove and don't move. Out of any swimsuit I have owned, these brands have also lasted the longest, like years! They have suits that are perfect for the active beach surfer or girl who just wants to sunbathe and look cute while doing so. You almost can't go wrong buying a surf brand swimsuit.
Dillard's is one of my absolute favorite stores to shop at for clothes and swimsuits. I love their brands Cremieux and Gianni Bini and their swim lines are gorgeous! Plus, I usually buy my suits and the end of summer to stock up for next year and get them at amazing sale prices!
The closest Nordstrom to me is about an hour away but they have an incredible selection of swimsuits online. I mean they have everything from cover ups, super cute and girly pieces to sporty suits for the girl on the go. They even sell some J.Crew items and their shipping is usually free, so it's a win win!
I hope this was helpful! Where is your favorite place to buy swimsuits for summer? Are you digging one pieces or high-waisted this season? Let me know in the comments!