On today's Sunny Style Finds feature, I am sharing my favorite straw bags you can wear during Spring and well into summer. Straw bags are so awesome! The natural color and woven details are my favorite and so timeless! You can literally wear them anywhere, to the beach, out to dinner, exploring around town and they look great with anything!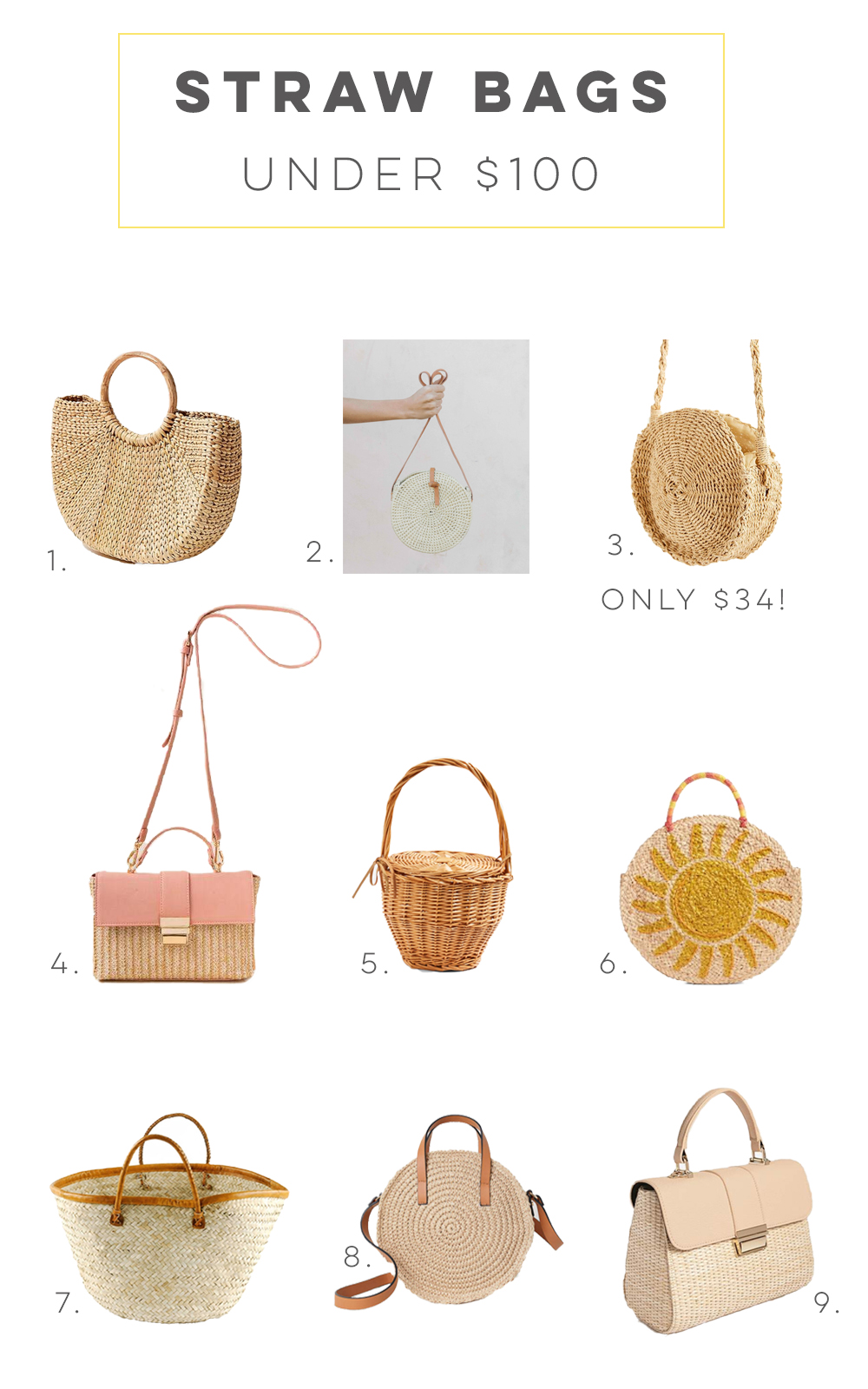 ONE / TWO / THREE / FOUR / FIVE / SIX / SEVEN / EIGHT / NINE
I have a few favorite places to shop for Straw Bags. Soludos, 31 Bits and That Little Market sell really beautiful straw bags year round and many are handmade! Last season, straw bags were very hard to come by and rather expensive but now there's so many affordable options. Other stores that sell straw bags for affordable prices are Nordstrom, Urban Outfitters, Forever 21 and H&M. These bags do seem to sell out fast and are very popular, so if you find a bag online or in store, I'd snatch it up right away.
The neutral color is what makes these bags so easy to style. They also come in several types of weaves such as rattan, straw, raffia, and macrame. It's really hard to choose a favorite but I adore the Soludos hand woven round bag and the Palm Shopper from That Little Market. I already own this bag and this bag and you can see how I styled them last Spring and Summer on the blog here, here and here. For real, you will see me wear these bags alll summer long, one because one I can't afford to buy a million bags and two, they literally match with everything!
Of course I love bright colors and sunshine, so naturally this sunshine bag is to cute for words! It would be perfect to wear at the beach with my pineapple swimsuit I just bought! Also, the pink detailing is adorable on this bag and at a great price to! For those on a budget, this option and this option are super cute and under $20.
All of these bags would be so cute styled with floral dresses for weddings, shorts, rompers and swimsuits during a beach day. I plan on wearing mine with shorts, skirts and lots of stripes!
I also love adding on a colorful scarf to my handle when I want to add a bit of color to my bags! Seriously, the easiest trick ever and one I use often. Adding a scarf to match your outfit will help tie the whole look together and gives your bag a fresh look! Last fall I styled a straw bag with a classic striped outfit and tied the whole look together with a red scarf. See the post here! I usually buy all of my handkerchief paisley scarves at Hobby Lobby and Walmart. You can also buy them on Amazon for around the same price!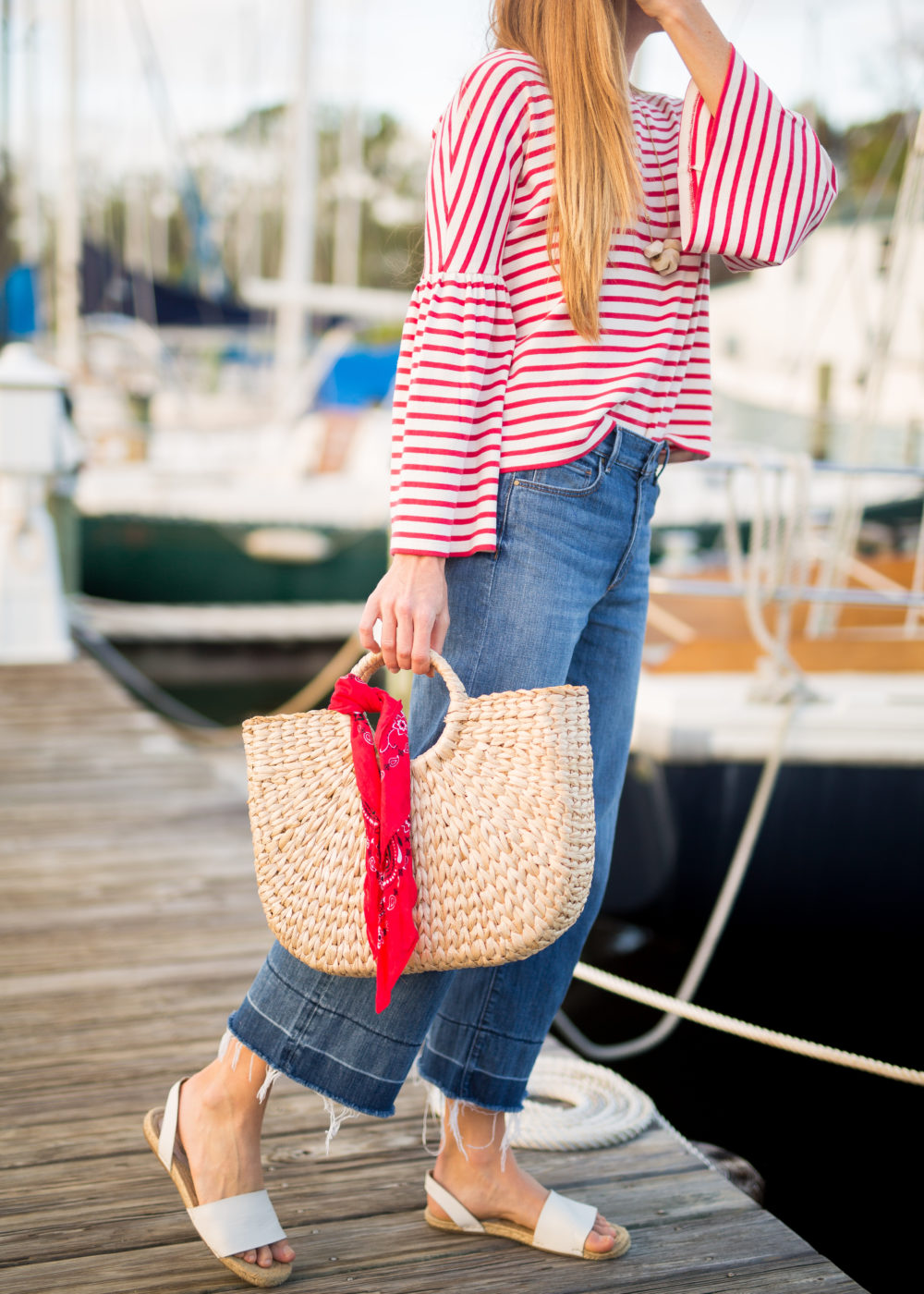 Yay it's Friday! Which means I get the weekend free of middle school kids. I don't have many plans because the Weather app says it's supposed to rain all weekend, boooo! Originally I wanted to go to the beach or tan outside but I may just run to the phone store to try and buy a new phone with a much better camera for an upcoming trip (I still have a 12 gig iPhone 6 that stores NOTHING!). If it is gross and rainy, I want to try and bake some macaroons since I'll be stuck inside. I have been wanting to make them forever!!!
There's only five weeks left of the school year until the summer and I am so excited! Time sure flies. I can't wait for summer break to dedicate more time to my blog and also share more about my teaching experience and everything I have learned. Right now I am not guaranteed a job next year because I did not pass a required test which really stinks. It's a bit stressful but I am trusting God to lead me in my next steps and provide along the way. So this may be my last time as a teacher. We shall see. It's strange not knowing what my life will look like come August but makes me want to appreciate these last few weeks as much as possible.
Do you already own a straw bag? How do you plan on styling them for Spring/Summer? Let me know in the comments!
Recent Posts:
Where to Shop for Jumpsuits for Spring and Summer