If there's one thing I'm really amazing at it's organizing. Growing up I was always that girl in school who loved organizing all of her binders with clear plastic sheets and color coordinated dividers. Yes, I'm one of those strange people who loves things like filing papers, super tedious tasks and an extra clean and organized room. Not to toot my own horn, but as creative as I am, administrative tasks are something I'm also super great at or really love doing. Now, anything that comes to financial planning or money, count me out ha.
To this day I live for a clean, clutter free space. Over the years I have lived in super tiny spaces, including a 10×12 dorm room in college at Florida State. What has always helped keep my small room organized is creating a space for everything. Remember small is not bad, you just have to know how to use it to your advantage. Today I am sharing everything I have used to keep my small room organized, especially my beloved jewelry, accessories and makeup. You also get a peek into my bedroom tour!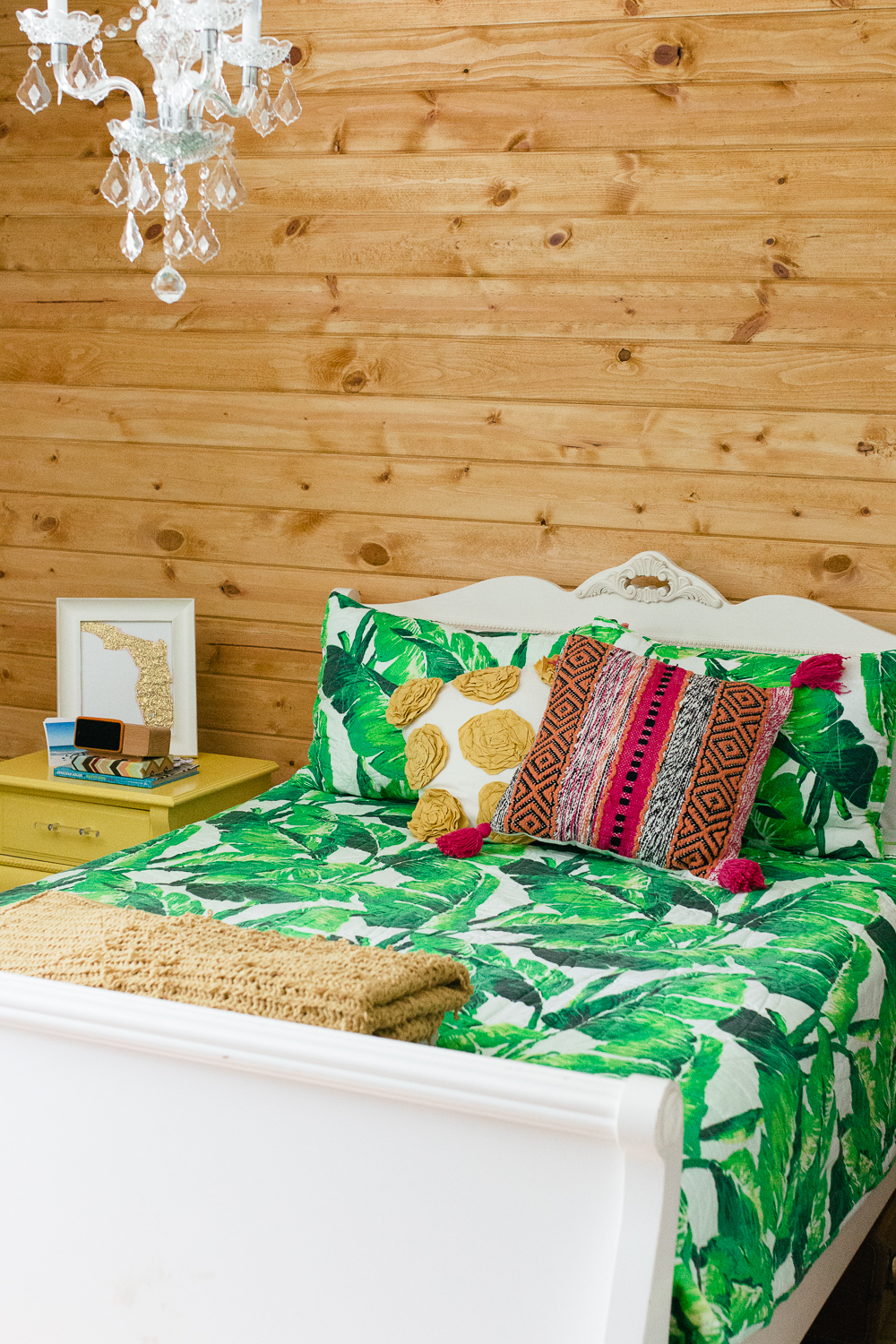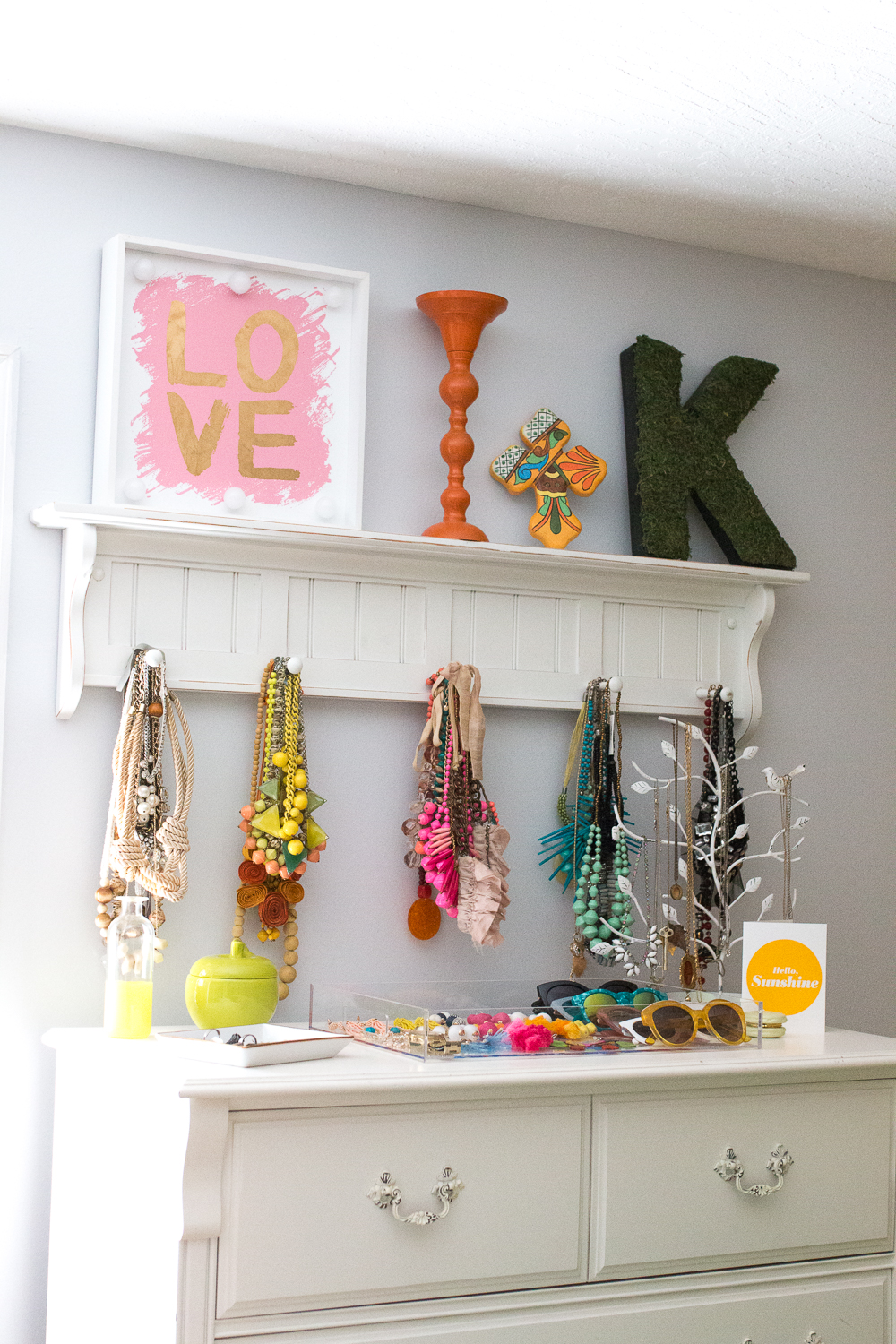 To clear the air, I still live with my parents in a small one story house. My bedroom is small and it's the only place I have to store everything I own besides my car ha! My parents might disagree (I leave journals, notebooks, pens, my computer, charger and blogging stuff all over the living room ha) but they love me! When it comes to being creative and writing, I am sooo extremely messy. HA! I love fashion and highly value making sure everything has a place, so it's obvious that I need a place to store all of my jewelry, bags, hats, etc. Here are my tips for organizing a small space:
5 Tips for Organizing A Small Space
1. Categorize Items
Ahh, this makes the organized person in me so happy. First and foremost, make lists of the items you own the most of and group them into similar categories. Use a notebook or the Notes section on your phone to record the item categories you will be using. Maybe for you that's shoes and nail polish or stud earrings and hats. One of my fav bloggers, Brighton from Brighton the Day has an amazingly organized closet and everything is perfectly categorized if you want to check her out.
My most used categories: Jewelry (earrings and necklaces), Sunglasses, Purses, Hats, Makeup, Beauty Products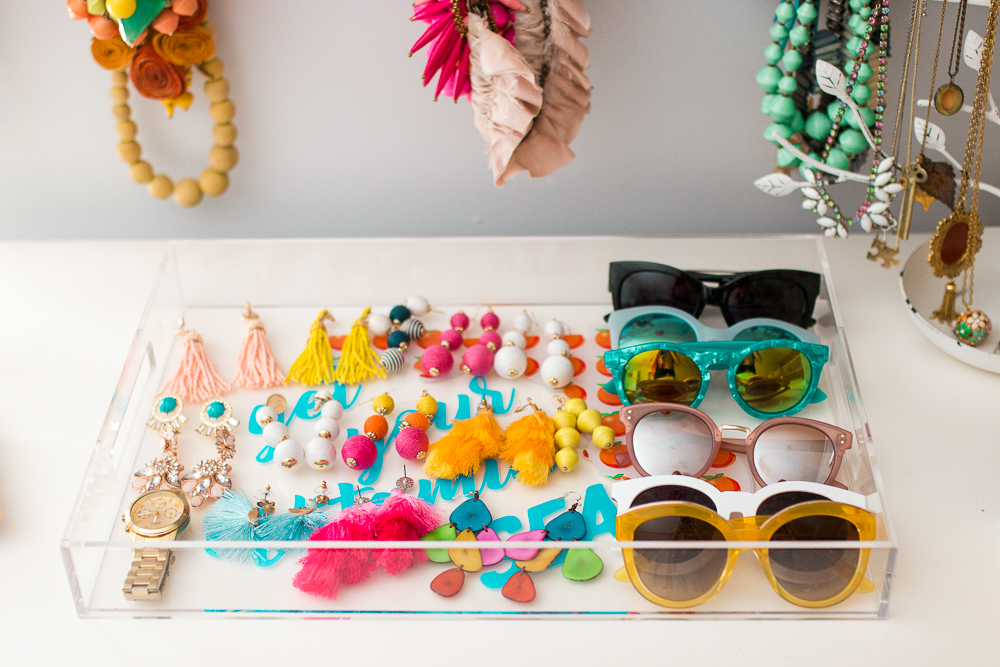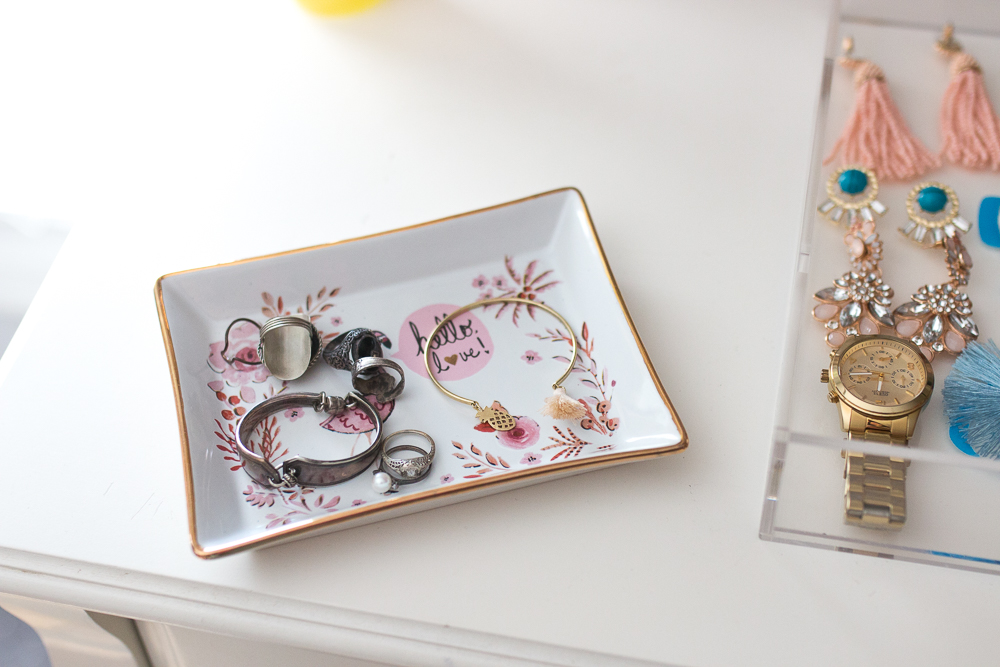 2. Keep the most used items visible.
This is probably my favorite tip! Put on display the items in your room you love and use the most! For me that's my jewelry and accessories. Instead of wanting to hide all of my colorful jewelry, it becomes my decor. I use a 5 peg shelf to hang all of my necklaces. I wear necklaces almost everyday, so it's easy for me to grab one when I get dressed because they literally stare at me in the face. If you don't wear jewelry, display something else of equal importance or value. Natalie who is an amazing California based jewelry designer displays hats instead of jewelry and it really enhances her wall!
Also, I love love love using clear lucite trays to organize and display all of my earrings and sunglasses. I don't know why it's taken me so long to buy these trays because their amazing! I used to think lucite (fancy word for clear plastic or acrylic) trays were super expensive and way out of my price range but there are so many available I found on Amazon for amazing deals, under $30 here, here and here. Some even have dividers which are awesome, like this option here and here. If makeup is more your thing, you will adore this acrylic tray from Target to hold lipstick and makeup brushes. I need more of these trays in every area of my life. HA.
Shop 5 Peg Shelves and Acrylic Trays: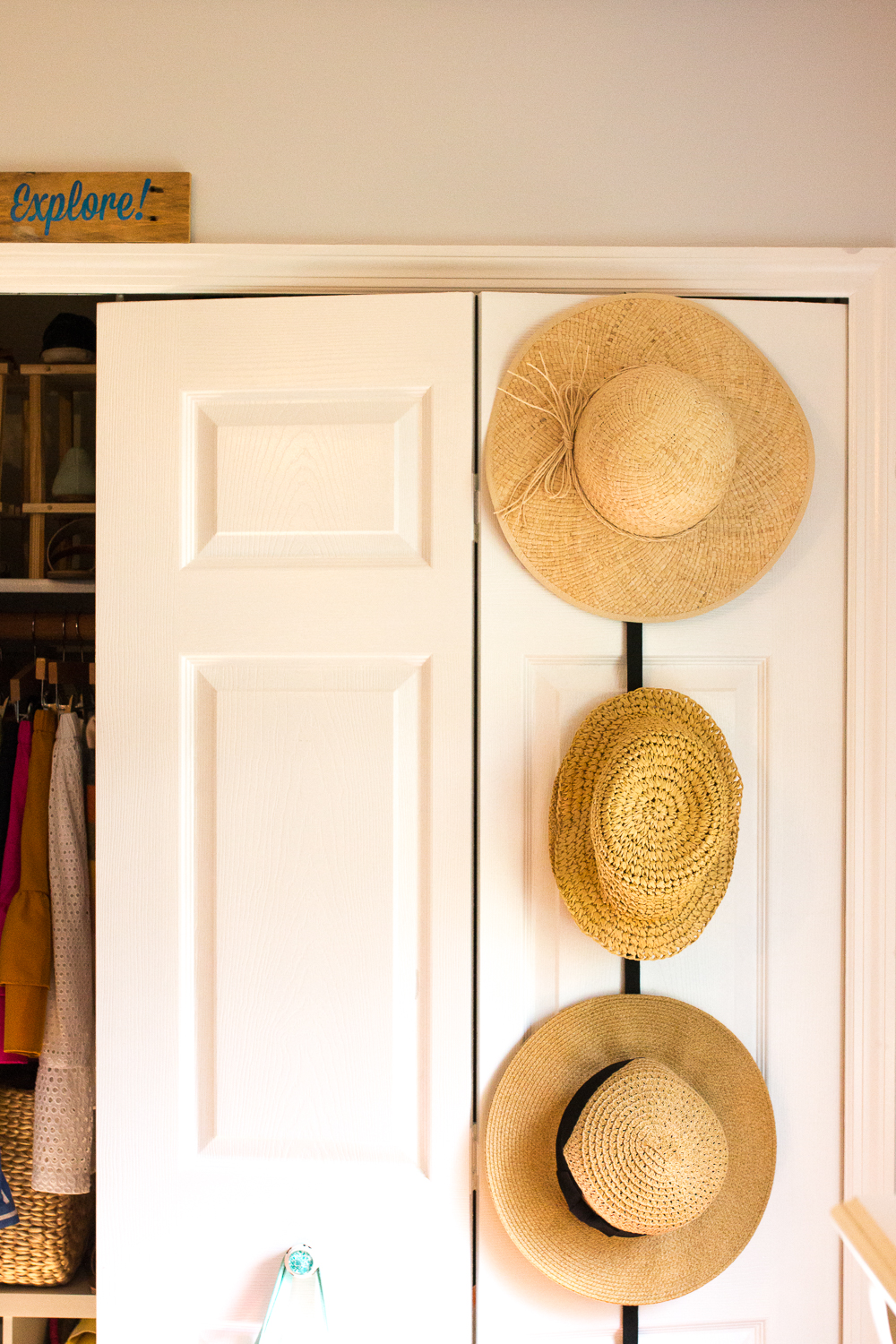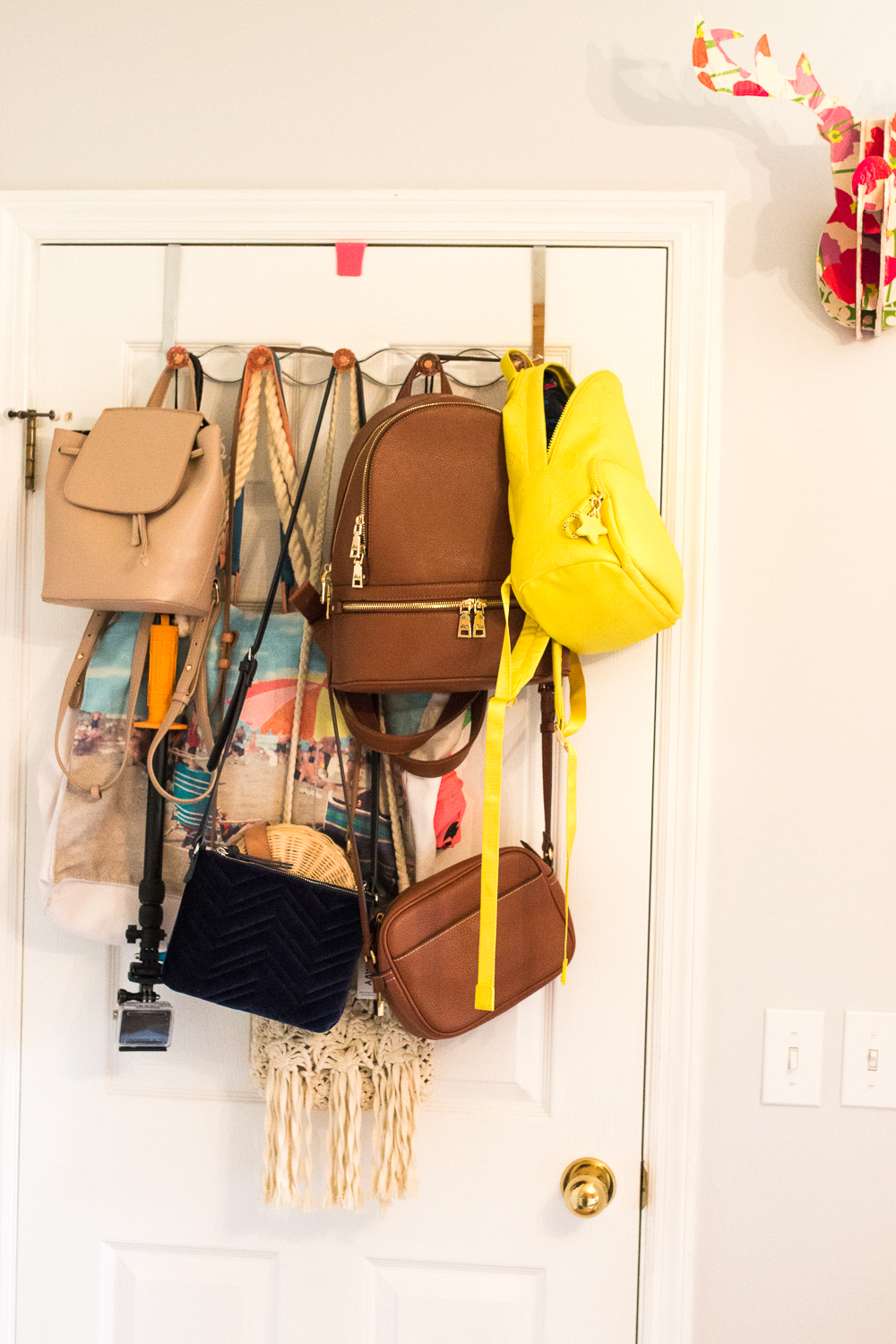 3. Hide Items Your Don't Use Daily
That's right, I'm giving you permission to hide items! Especially the ugly or more messy things. I am totally into this one. Everything looks super organized in my room but what you don't see is my basket of random cords, camera gear and warranties and items that don't fit into a specific category. The specific accessories I hide are hats, stud and small earrings, hair ties, clips, purses and handbags. Then there's completely random items that don't have anything to do with accessories like blankets, beach gear (legit I have a snorkel and mask hidden in these photos!), binders, books, Kindle and iPhone chargers, wrapping paper and Birthday Cards. But I hid them so well, you would never know.
I hide my hats behind my closet door using this hat strap organizer. Yes, if I close my closet door you can see the big black strap (not very cute), but I tend to never close my doors fully where I am able to see it on a consistent basis. If your closet is big enough and you have a regular door, not a sliding door, you can hang it inside of that! Here's a slight more cuter strap that comes in white.
Take a look at all of those purses! They look cluttered and just don't enhance my room decor. Which is why I hide them behind my door using this over the door rack with five hooks. I am in love with this over the door tiered storage rack from Urban Outfitters and would totally buy it if I didn't already own one. There's also a Go Pro and umbrella hidden somewhere in there. This door never closes besides when I am asleep (meaning most people don't even notice the cluttered bags when they walk into my room) and it doesn't bother me because it's my own hidden mess.
Shop over the door shelves: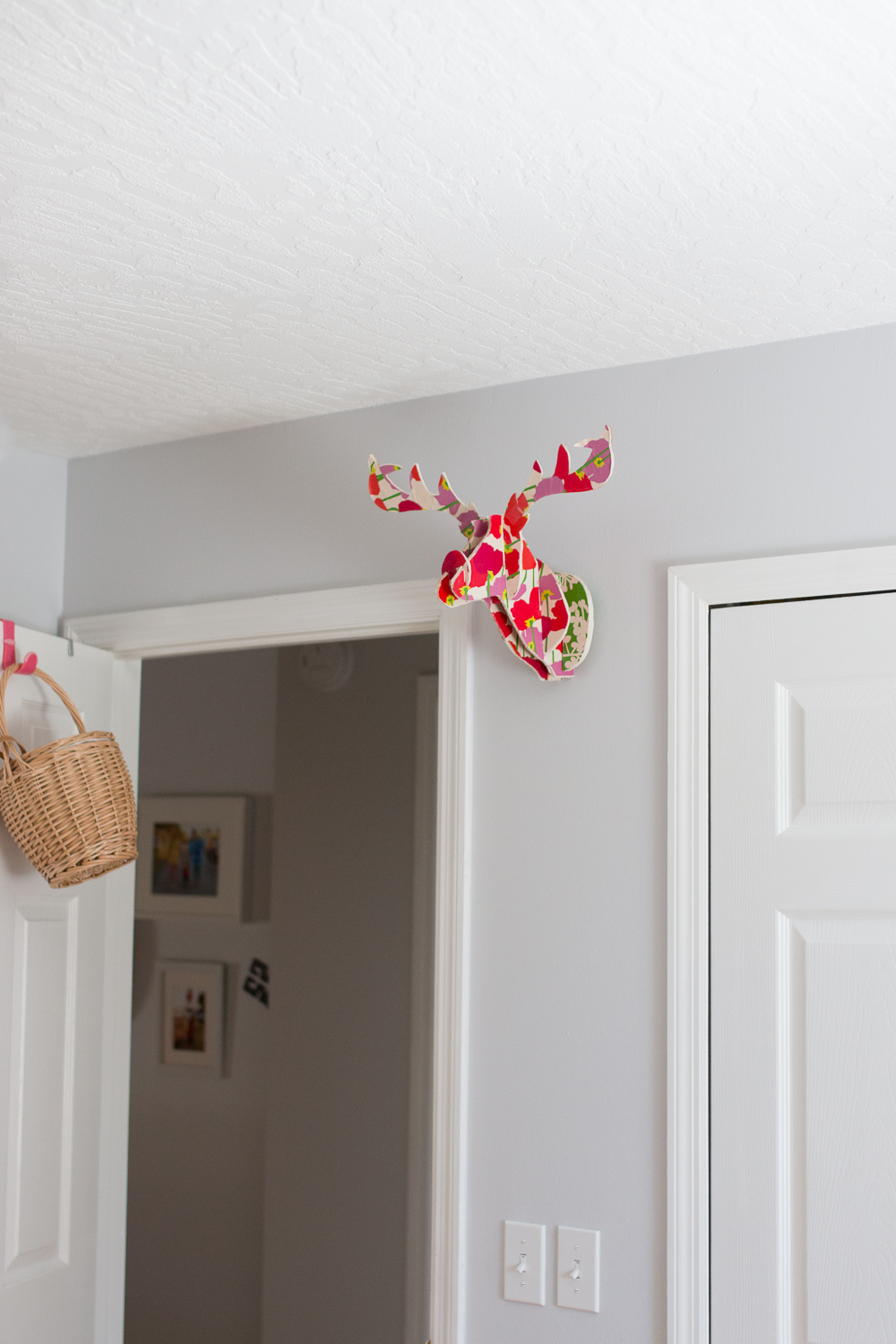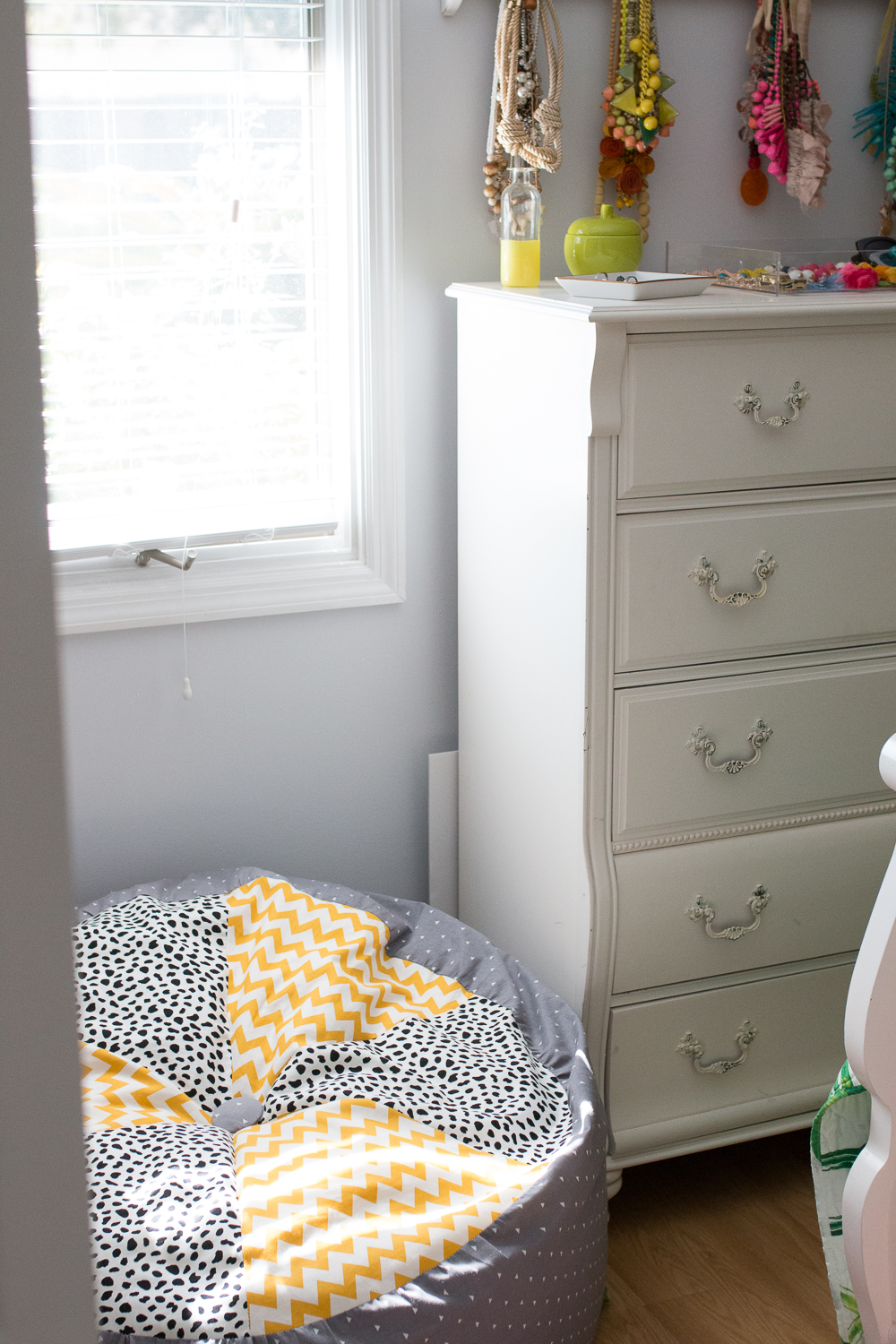 I have to show off my handmade bean bag chair I sewed two summers ago. At the time I broke up with my boyfriend and needed a fun project to tackle and keep my mind occupied. Now it serves as my designated junk holder. HA.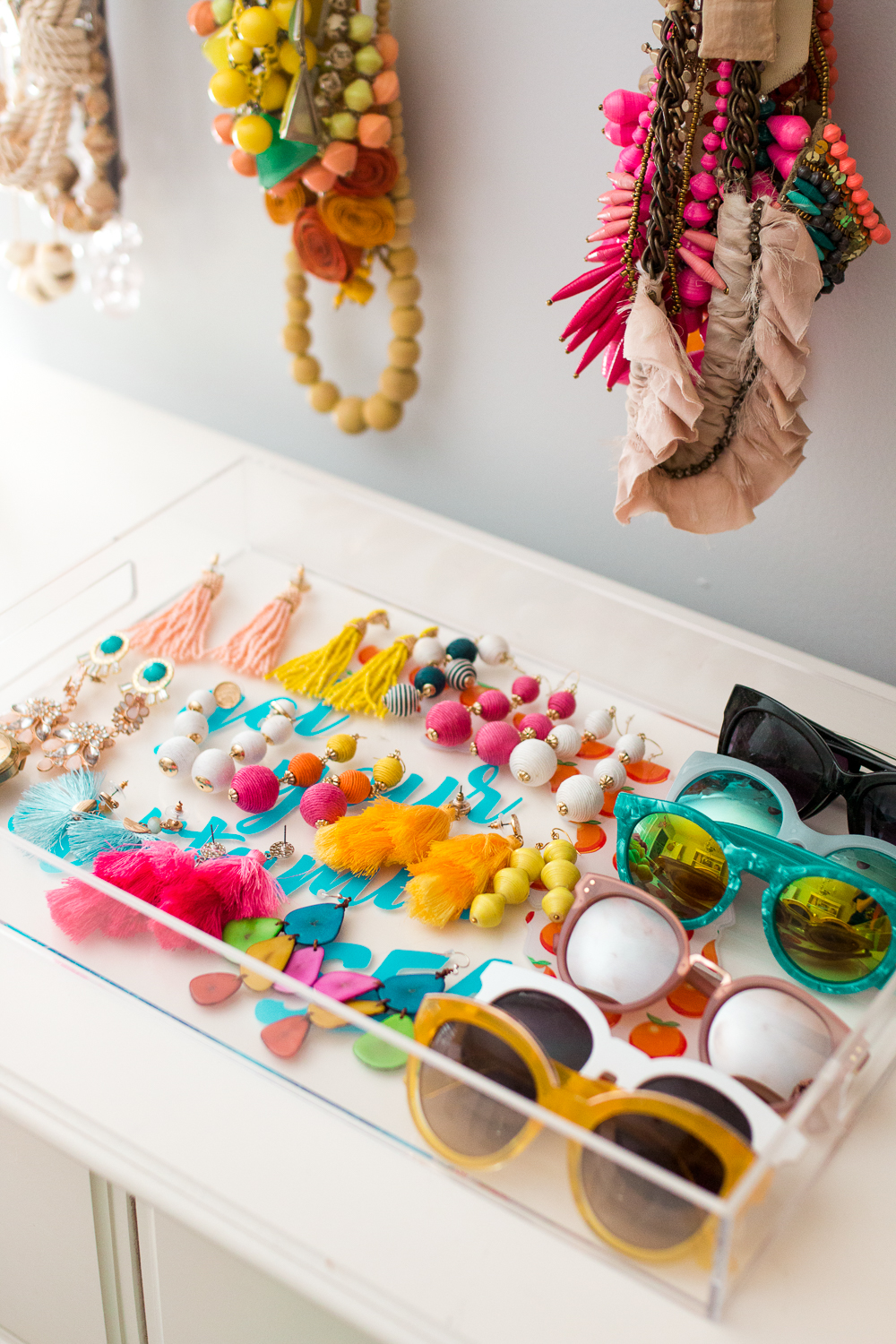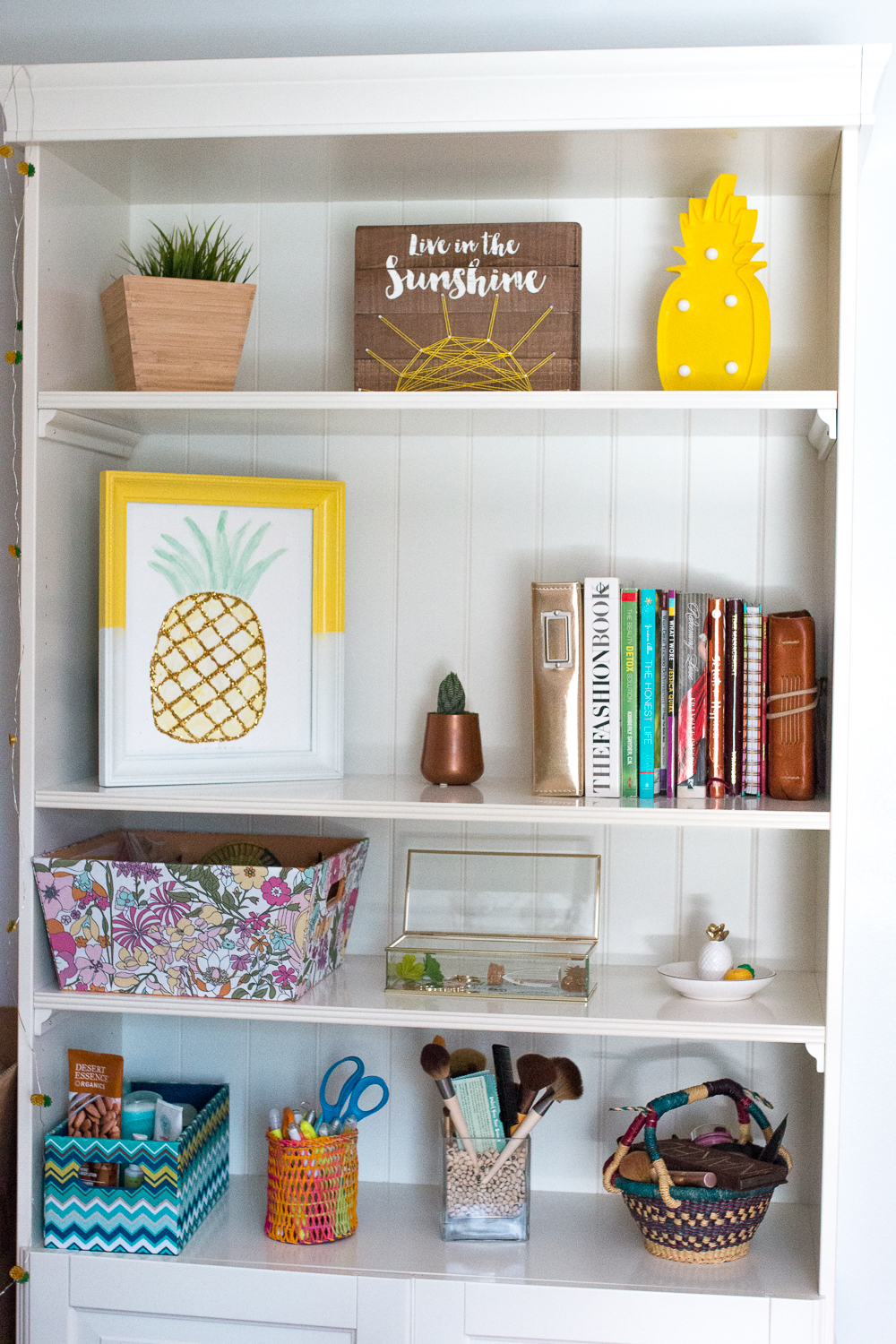 4. Use Every Nook and Cranny
Utilize everything in your current space, like bookshelves, closet and bedroom doors, under your bed and empty space. My bookshelf makes me so happy and is probably the second favorite part of my room! The bottom two shelves on my bookshelf are the easiest to reach and the two I store items I use everyday. Everything located on the top two shelves are used more as pretty decorations.
I store makeup, beauty products, and delicate jewelry in pretty storage bins and baskets. My favorite baskets to use are handmade ones called Bolga Basket bags like this one and this one from That Little Market. You would never know the floral basket above (similar here) is filled to the brim with earrings, hair clips, and necklaces.
You can't tell from the photo but I have pants, journals, binders, link rollers, Books, ribbon, tax folders and blankets stored below my bookshelf in cabinets. Also, under my bed I have two long clear plastic storage containers where I keep all of my keepsake items, old fashion books/binders from college and gently worn Halloween costumes (you know, just in case I have a spur of the moment party). Check out my Instagram stories for some behind the scenes photos of a more real life peek into my small, organized and hidden messy room!
Shop baskets here: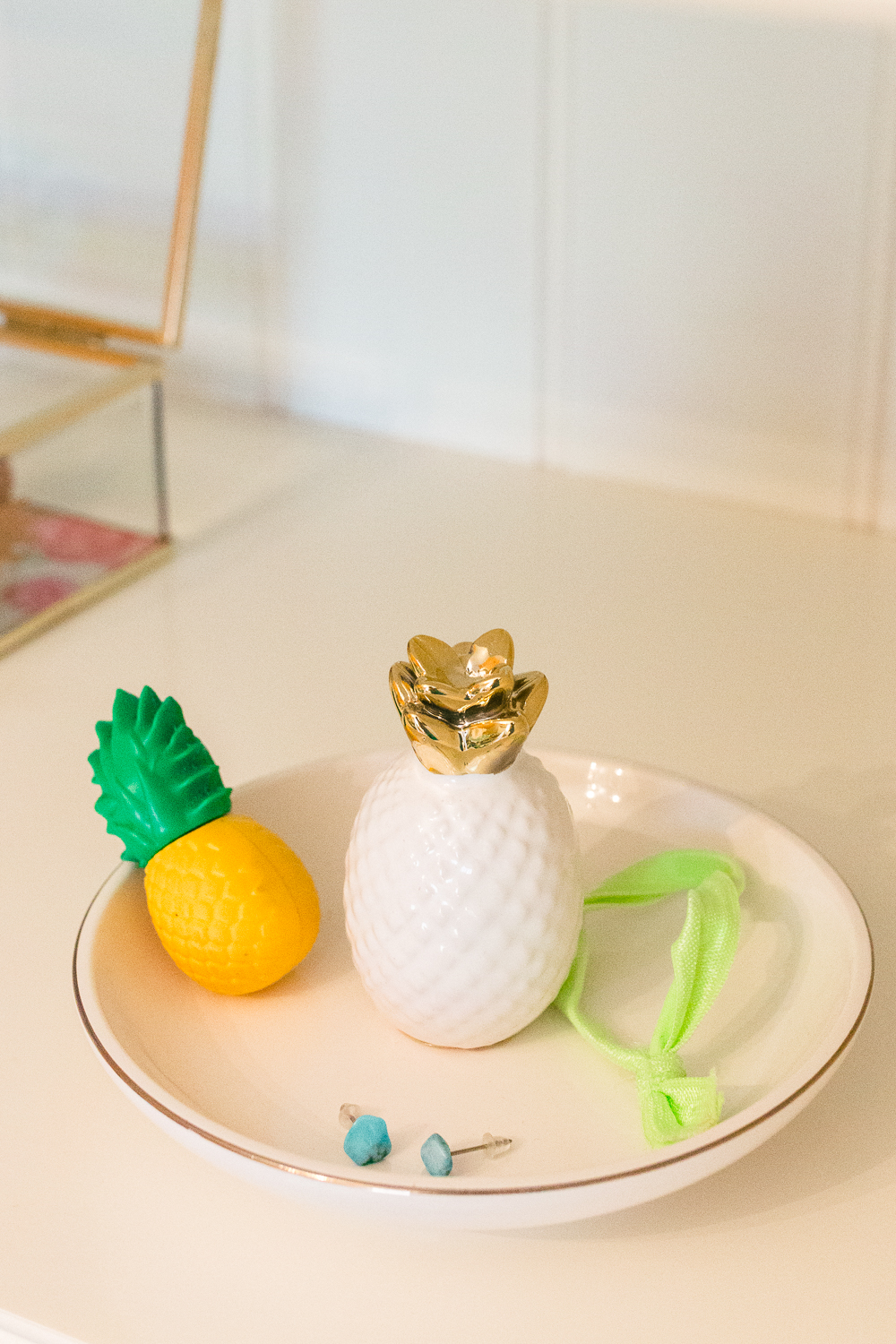 The next few photos are some random items that sit on my bookshelf. Ring trays are the best to place on top of dressers or bookshelves! They hold earrings, rings, keys, small trinkets and hairties! I found the cutest pineapple one under $15!!!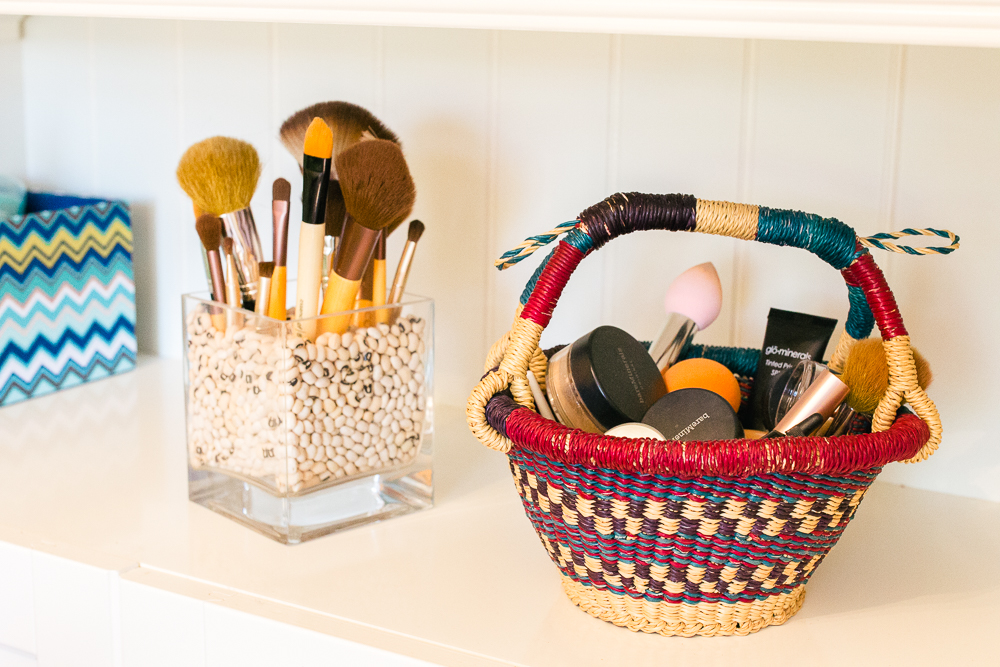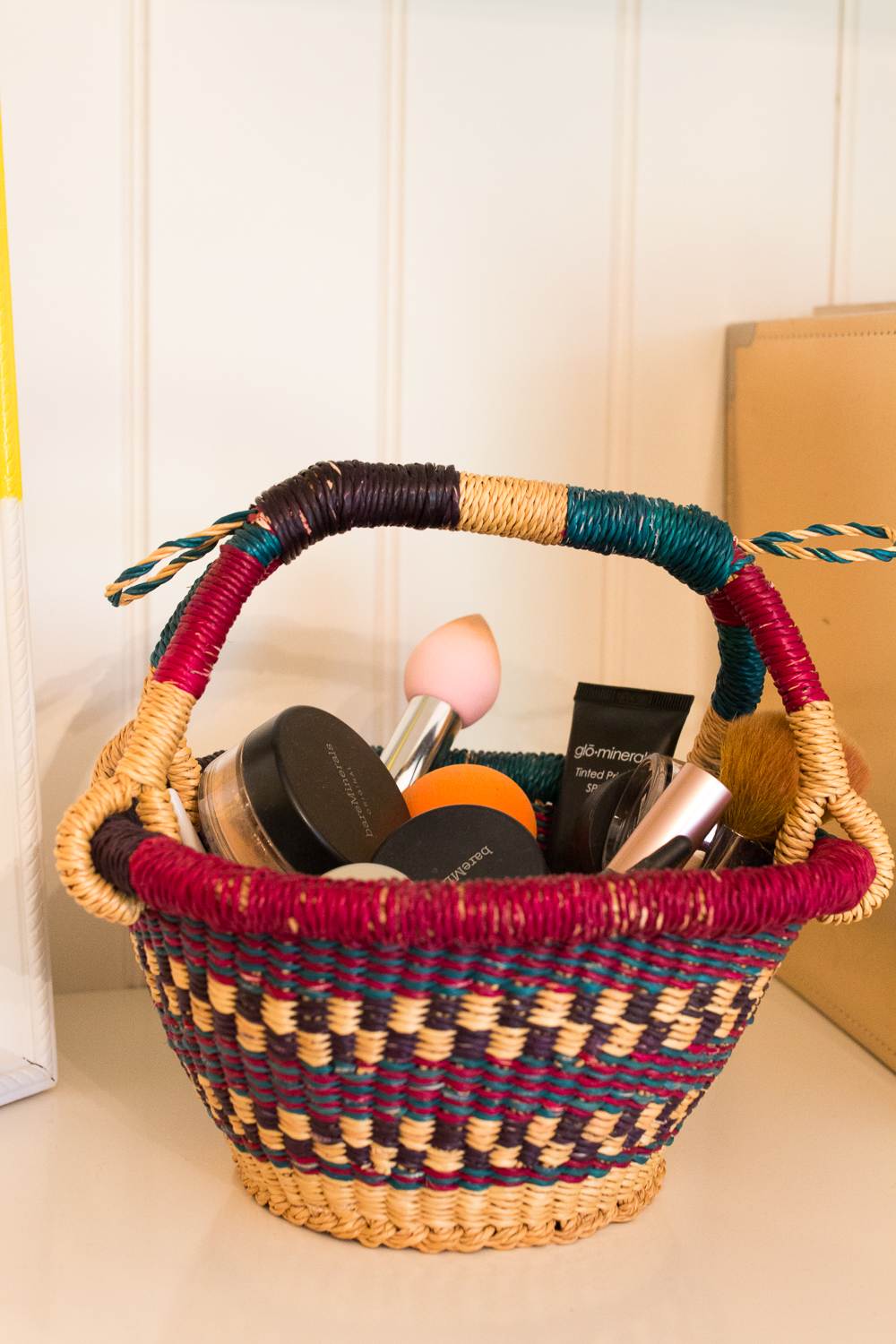 I store all of my makeup on my bookshelf using bloga baskets. The one pictured above is an old bolga basket I purchased online in a local store. That Little Market sells tons of cute bolga baskets if your looking for a bigger selection! In the near future I want to buy a lucite tray to display and organize all of my makeup (which is not a ton) so it makes it easier on me when I get ready. Having it all in the basket often frustrates me and I tend to leave it all over my bookshelf when I am in a rush getting ready in the AM.
Makeup is just not my thing. Clothes I can talk about all day long but when it comes to makeup, I just feel lost and rely on YouTube. I feel more beautiful and free without it but I do love the way it enhances features especially for photographs, so I wear it minimally. To see what is a game changer in my makeup routine keep reading!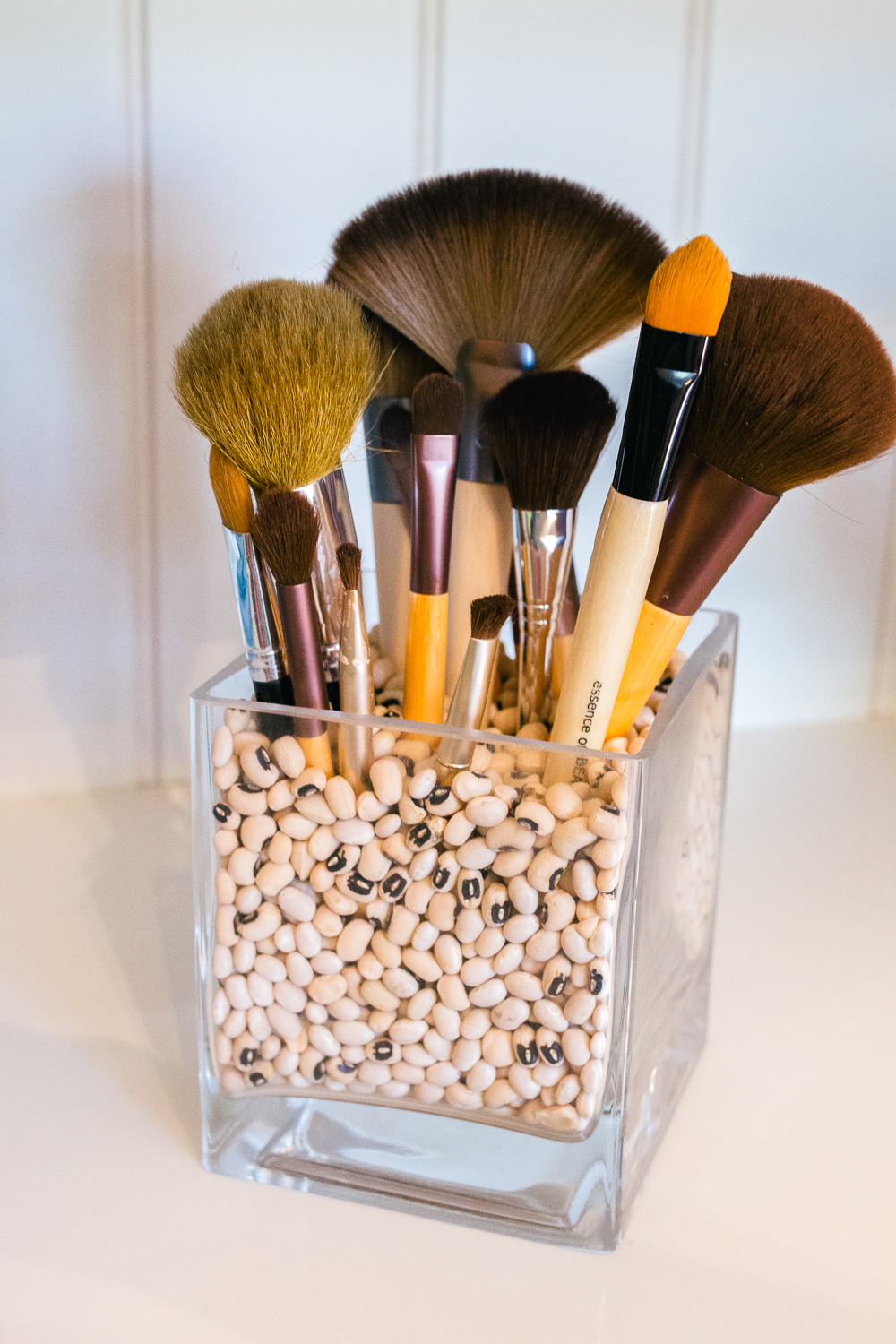 HUGE PSA. If you have not used the bean and glass container trick, you need to ASAP! Use a glass container and beans to store your makeup brushes. Most genius idea ever and it's SO cheap! I'm not even kidding, whoever came up with this is a amazing and I think it looks so pretty! Beans cost less than $2, so there really is no excuse as to why you can't do this! I honestly found this class vase (similar here) in my moms cabinet one day and decided to use it to store all of my makeup. I prefer a square vase but how adorable is this rounded vase!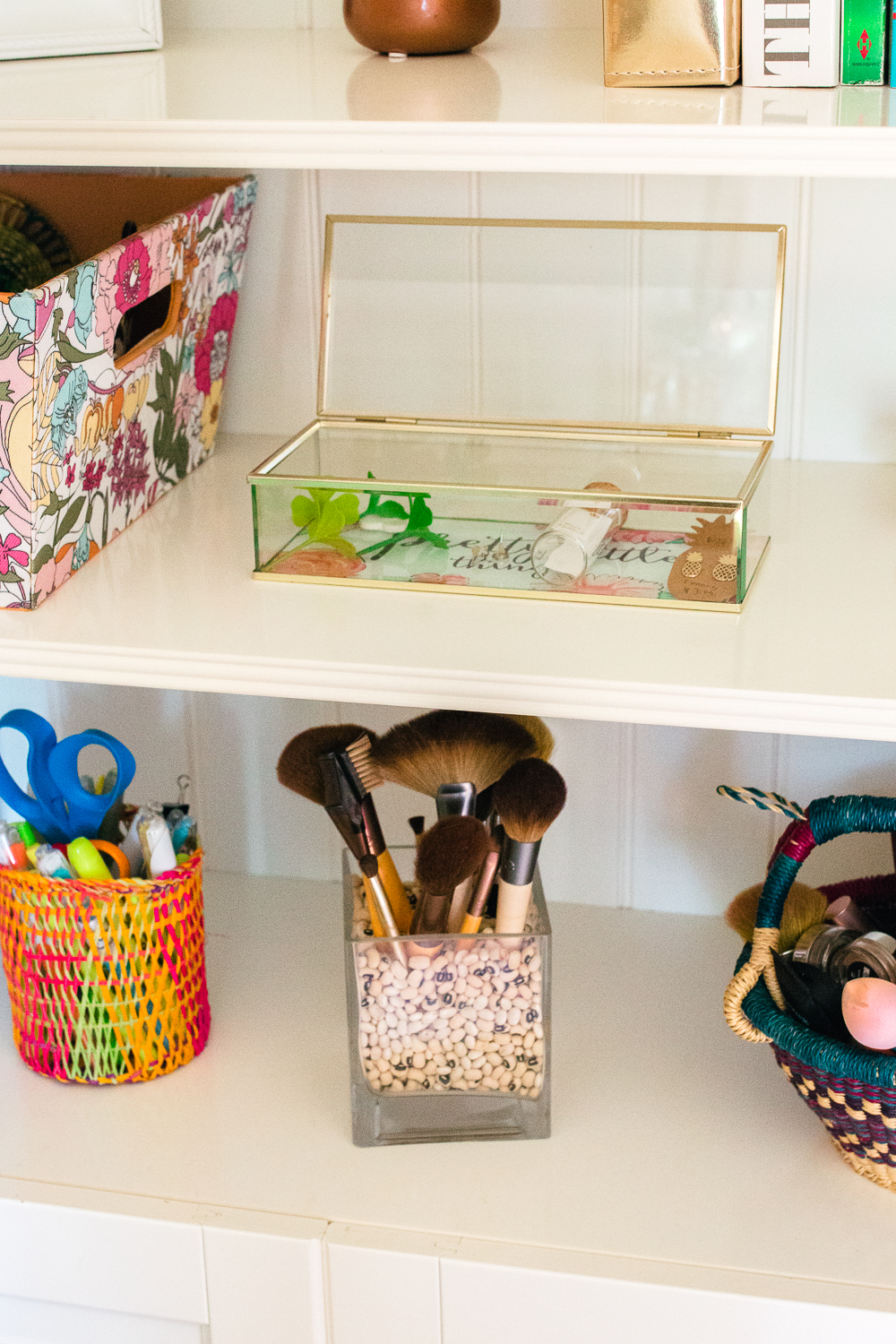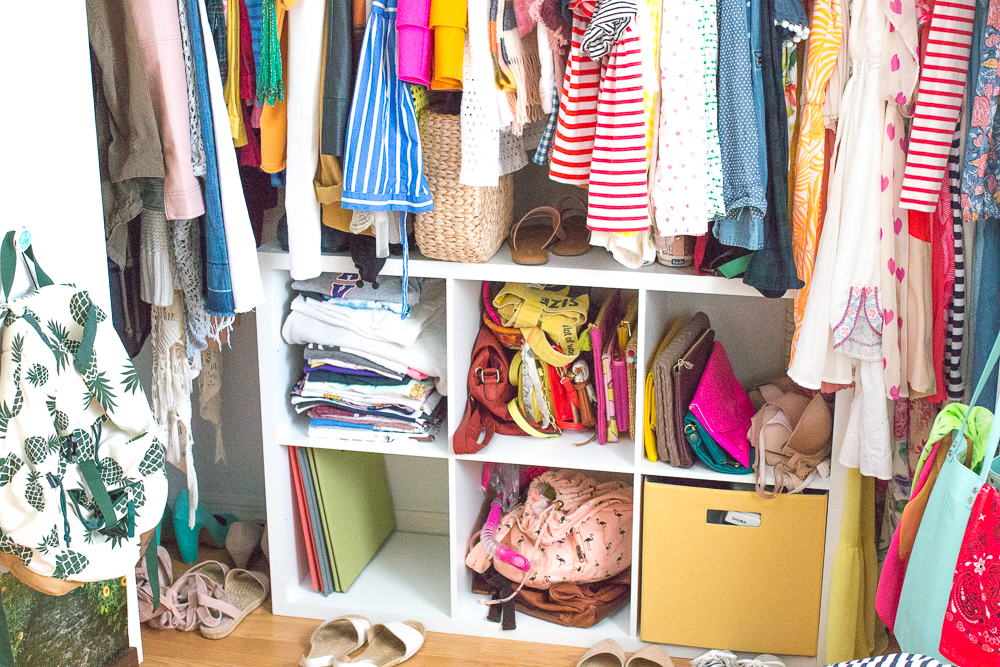 5. Find a place for everything.
If it's an item, make sure it goes somewhere! After you have categorized all of your items, figure out how you want to organize them. For me that means bins, baskets, hooks, shelves, and acrylic trays. In my 6 cube organizer in my closet, I have bins where I put camera SD cards, computer chargers and all of my electronic items like directions and warranties.
Oh man, when I look at this photo of my closet it seems pretty chaotic. My eyes have no where to focus. The lower 6 cube organizer from Target is fairly organized, (hello bras ha and did you spot the snorkel and mask yet?), but I have a teeny closet that has to hold everything including shoes, bags, t-shirts, dresses, pants, jackets and skirts. This closet has exactly one hanging rack and one shelf above it, so I had to create my own storage unit. In case you want to see what my room looked like before it was decorated and organized, click here to see the post.
At my old house my parents had California Closets built personalized custom closets and it is literally the most amazing service ever! Their very expensive but in the end it's 100% worth it if you have the money. I will have to do a completely separate post on how to organize your closet because it's just way to detailed to fit into here. And will also give me motivation to organize and record the process I use to keep my closet in order.
Shop Cube Organizers and Bookshelves:
Now that you know how to organize a small space, shop the items I use to organize everything:
Once you have gone through all the steps, the next part is actually keeping the space clean and free of clutter. I don't like clutter in my room. I can sleep find if it's messy but I just prefer everything to have it's own little space. During the work week (#teacherlife) I tend to throw clothes on my handmade bean bag chair, leave shoes scattered all over the floor and piles of paper and notebooks somehow accumulate on my bed. Then every Friday when I get home I usually wash all my laundry, re-organize my bedroom and put everything back into it's assigned spot. I'm not perfect and some weeks its harder than others. But I tell yah, if you do this once a week, your life will be so much easier and organized!
So tell me, are you an organized person or a messy person? Are you a person who can go to sleep with a messy space or room? Let me know in the comments!