Not sure about you but I am not a huge fan of showing skin when wearing a crop top. I prefer to go the modest route and wear them with high waisted bottoms. Now, I have no shame sporting a bikini to the beach all day but when it comes to styling a crop top I feel so uncomfortable walking around showing my midriff. Go figure!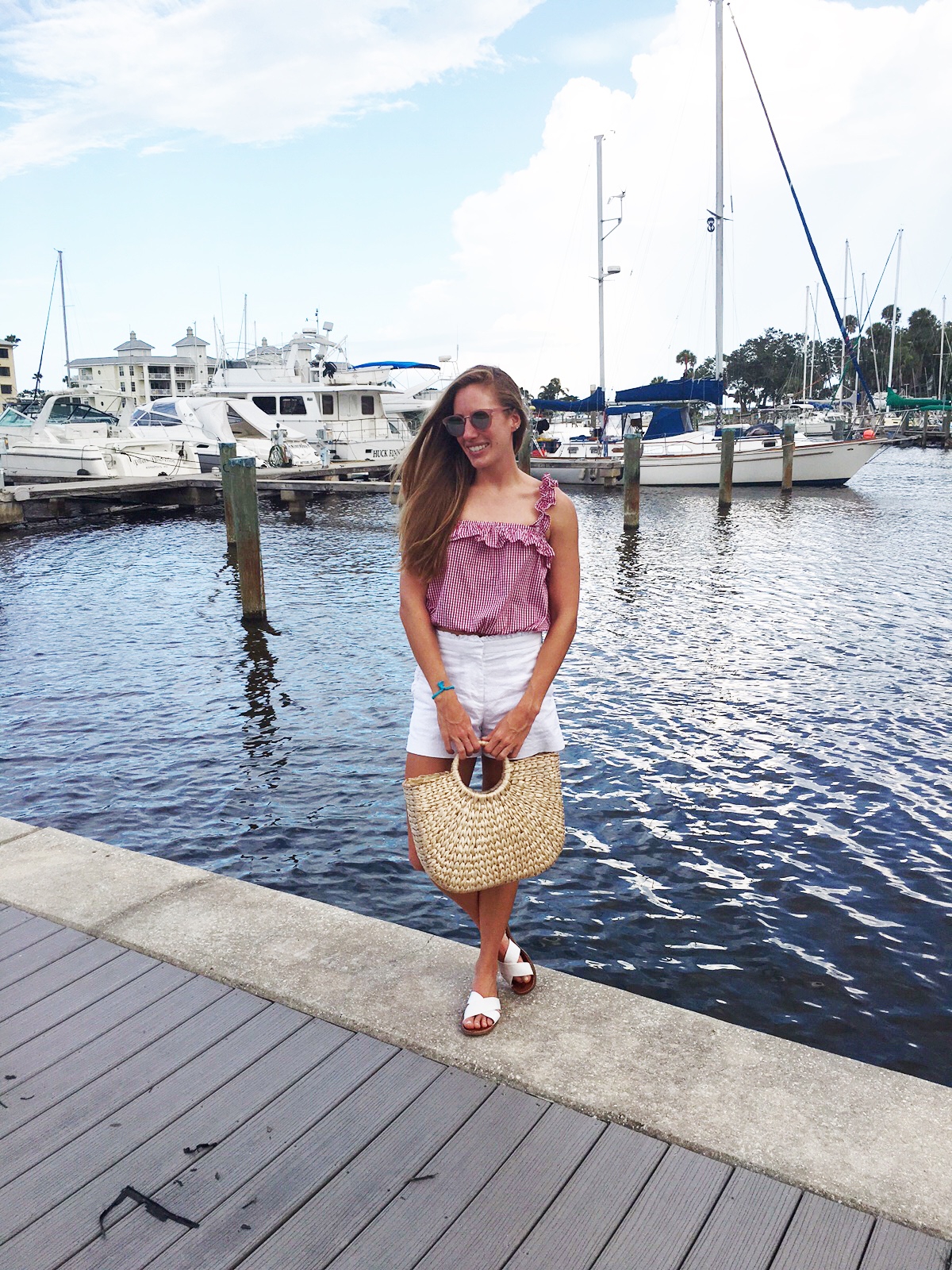 Outfit Details
Charlotte Russe Top, J.Crew Shorts, Gap Shoes (old, similar here), ASOS Straw Bag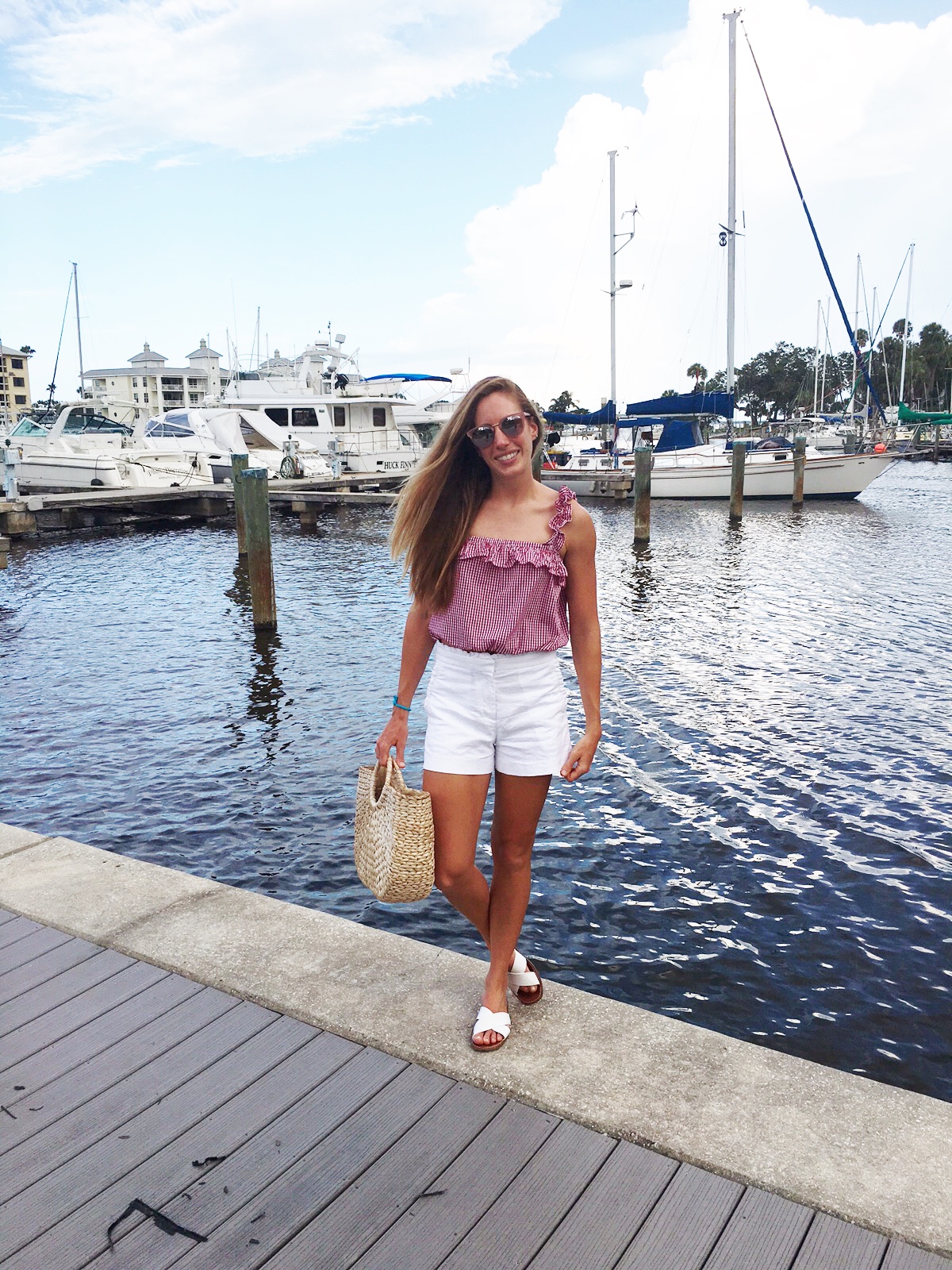 Let's just say this outfit is perfect for the heat. It will keep you as cool as humanly possible without stepping inside air conditioning.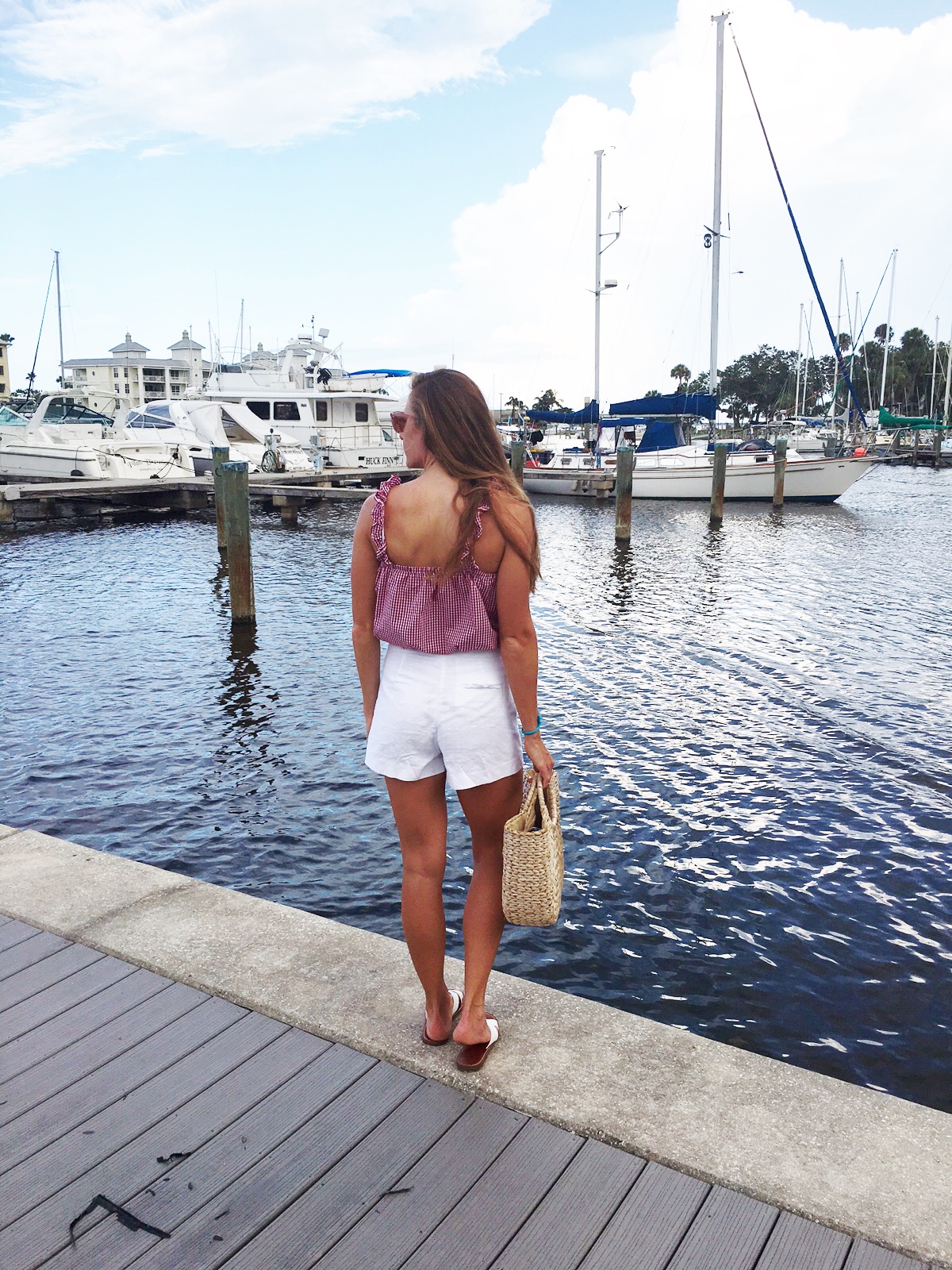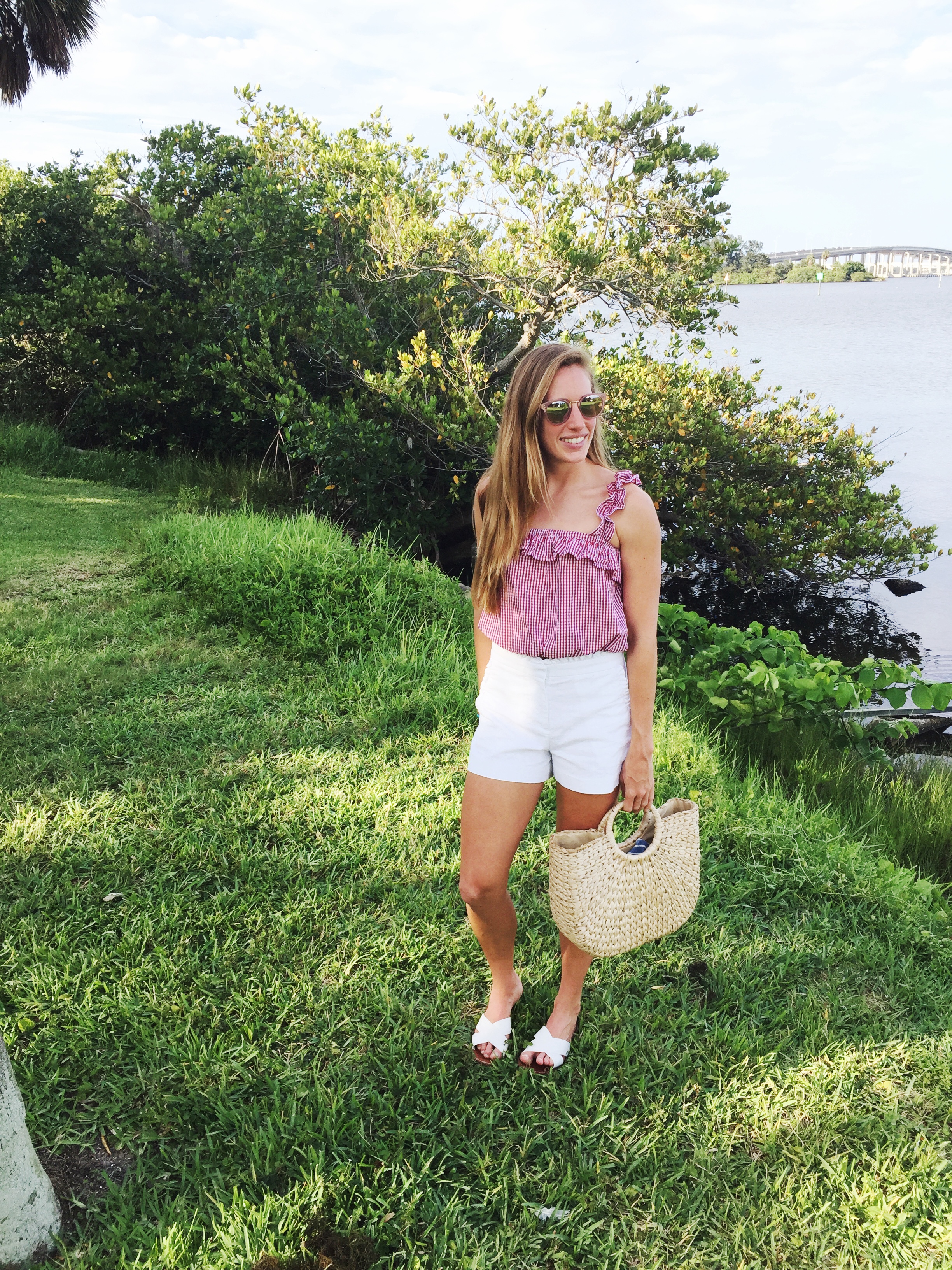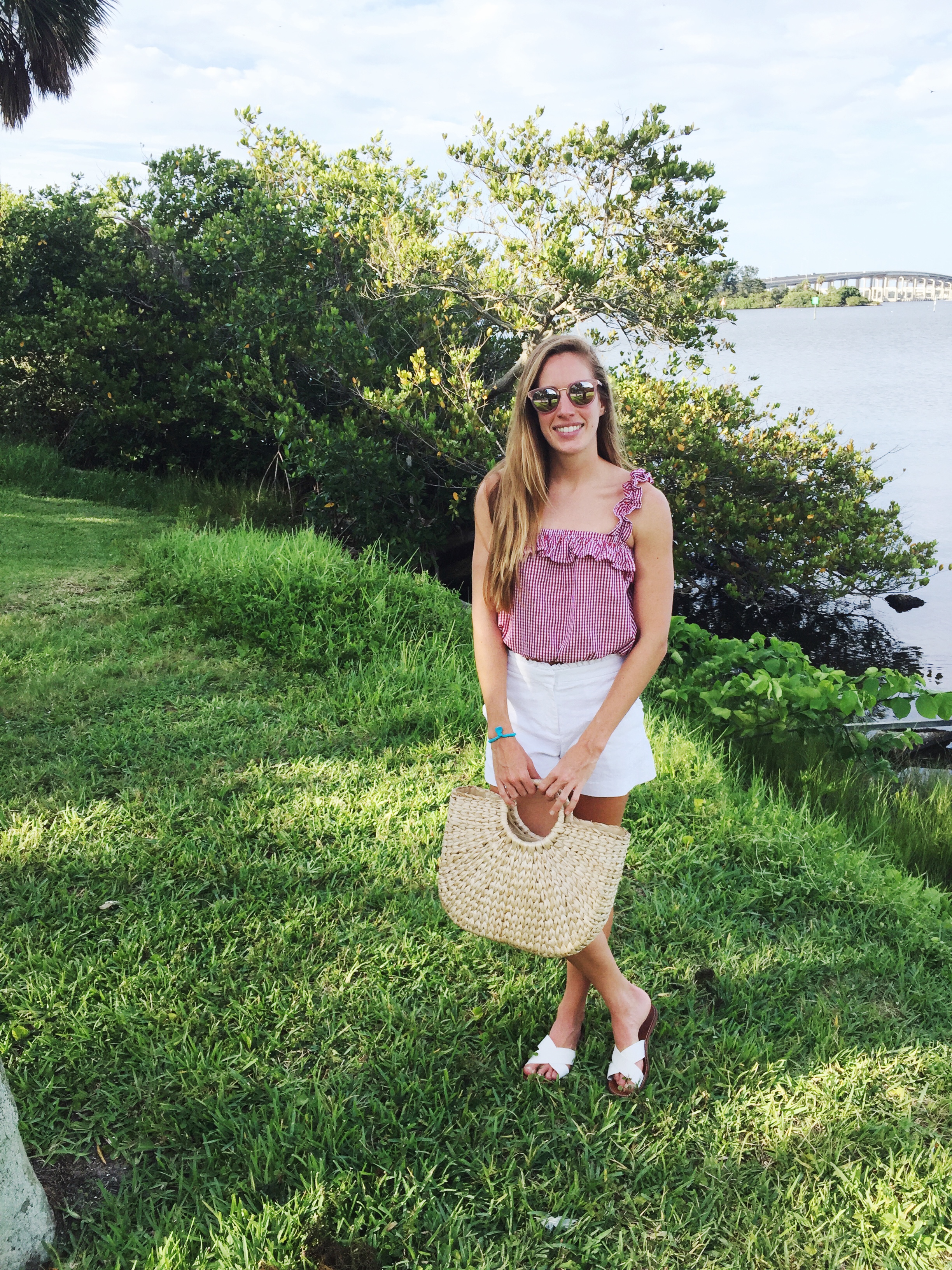 Typically I don't instantly associate ruffles with gingham but I love the feminine detail it adds to the crop top. There's elastic on the hem which helps gives it a blouse like shape. I can place it exactly where I want it on my waist and it doesn't move. Also probably the only time I prefer elastic on my clothes ha. I paired it with my go-to summer shorts and white sandals. The straw bag helped pull the whole look together (hint: to hide the pink tassels just turn the bag around!).
How to style a gingham crop top:
Find a cute crop top // There are so many girly gingham crop tops in stores right now. If your more of a blue gal, this crop top is really cute. As we transition from summer to fall, a gingham top with sleeves is also another great option.
Focus on one piece // With every single outfit I wear I start with a "focus piece". This means there will be one item in your outfit that you want to showcase. In this case, it's my gingham crop top.
Skin or no skin // Decide if you want to show skin or keep the look modest. If you don't mind having a bit of skin showing, pick a pair of low-rise or regular shorts. I prefer to wear a crop top with something a little bit higher waisted like my white shorts. For the fall you can always swap out shorts for white skinny jeans!
Pair with Neutrals // If there's a print/pattern in your outfit, especially if it's my "focus piece" I like to keep the rest of the look fairly minimal. Match the gingham crop top with neutrals like white, denim, black or tan. Here I chose white shorts because they complimented the white check pattern in the gingham crop top.
Dress Up with Accessories // I'm a person who likes to match their accessories to their outfits and keep it in the same color family. This is not for everyone. Blair or Atlantic Pacific is a great example of this. I wore white shoes to match my white shorts. You could also:

Add a bright red bag
Add a bold red lip
Add white sunglasses or a tortoise shell pair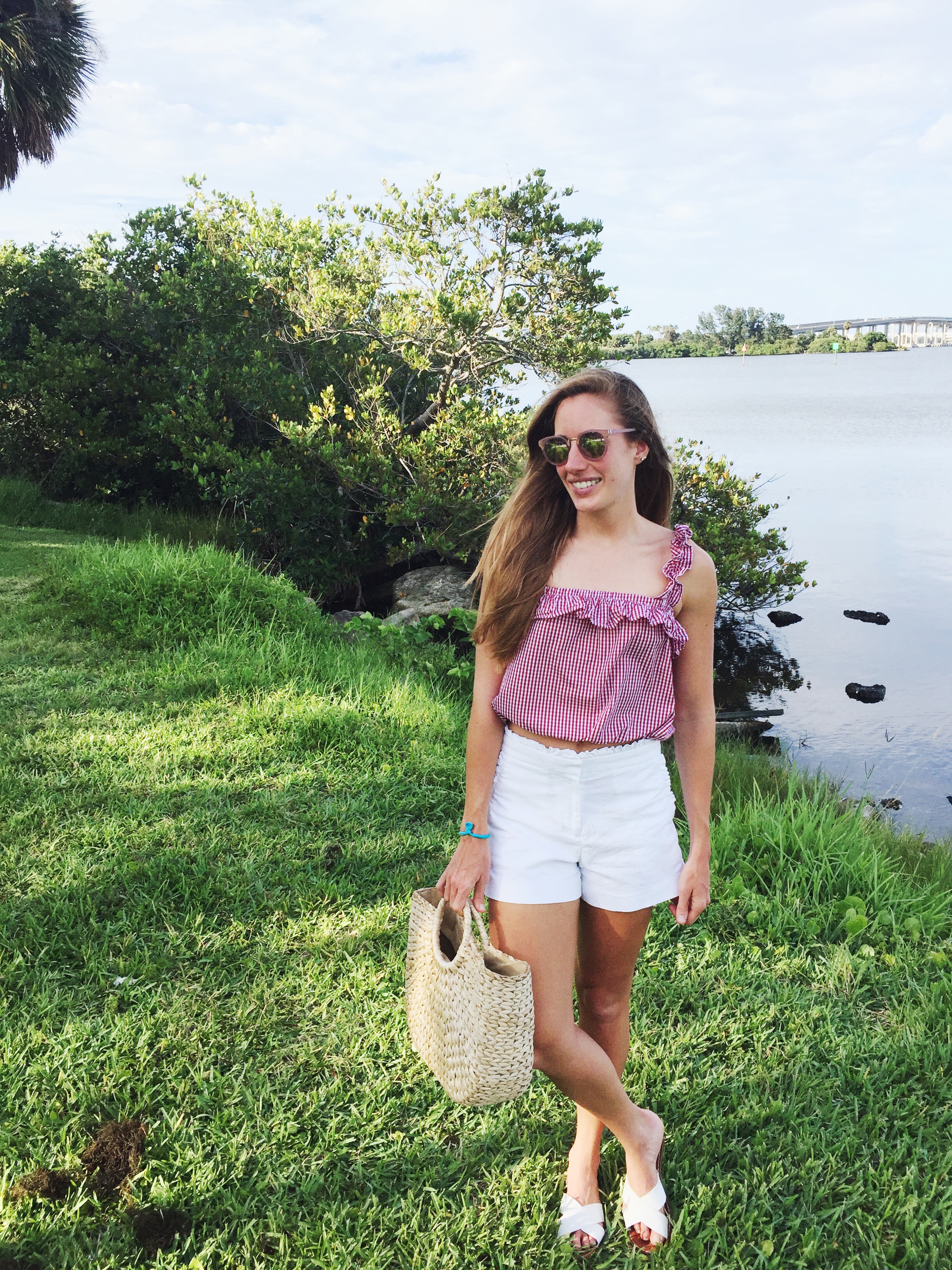 Outfit Details
Charlotte Russe Top, J.Crew Shorts, Gap Shoes (old, here's a similar pair by Soludos!), ASOS Straw Bag
Shop more gingham pieces here:
Do you prefer to show skin when wearing crop tops or go the modest route?
Save
Save
Save
Save
Save
Save
Save