Being quarantined for the past 6 weeks or so has got me really loving anything comfy and cozy. A few weeks in, I started Googling matching pajama sets, blankets and started getting overly excited for something I only wear to bed. ? Then I found the cutest pair of pajamas I had ever laid my eyes on, a 30% J.Crew sale and the rest was history. My pajamas need a major upgrade from the t-shirts I wear 24/7 and there's no time like quarantine time to start.
You all know am a big believer in getting dressed everyday even if your working from home. I feel my best and most confident self if I am in real clothes! It makes a huge difference in productivity. Somehow though, I still wanted all the comfy and cute pajamas more than my fav ratty t-shirt from the 8th grade NJHS club. #truestory Even if I lounged in them until 10 AM to soak up all their comfiness and then change out of them. OR hello, they could also be worn all day Saturday and Sunday to read and do blog work because no place to go!
If there is a pair of pajamas that screams, "me", this is them! Online they look a like they have a bit of spandex in them which I was kind of concerned they wouldn't be as comfy as I hoped. Nope, not at all, their 100% cotton and super comfortable! Striped anything makes me happy but the rainbow stripes tipped me over the edge.
Their also a great length and I can vouch your booty doesn't hang out of them. The bottom's have a v-cut on the bottom similar to a running short which I think is so so flattering. You can find me wrapped up in a blanket wearing these pajams pretty much any time I can. It's pretty much the main reason I get dressed. If I'm not in clothes, I am cuddled on the couch in a big blanket no matter how hot it is outside.
The first time I washed them, I hung them to dry and steamed them because I wanted to take photos and keep them as nice for as long as possible. Am I loosing it during quarantine?! Maybe ha! I'm 5'8 and even after I dried them, the material didn't shrink and my shirt stayed the same length! No crop top pajama tops here.
Shop Matching Pajama Sets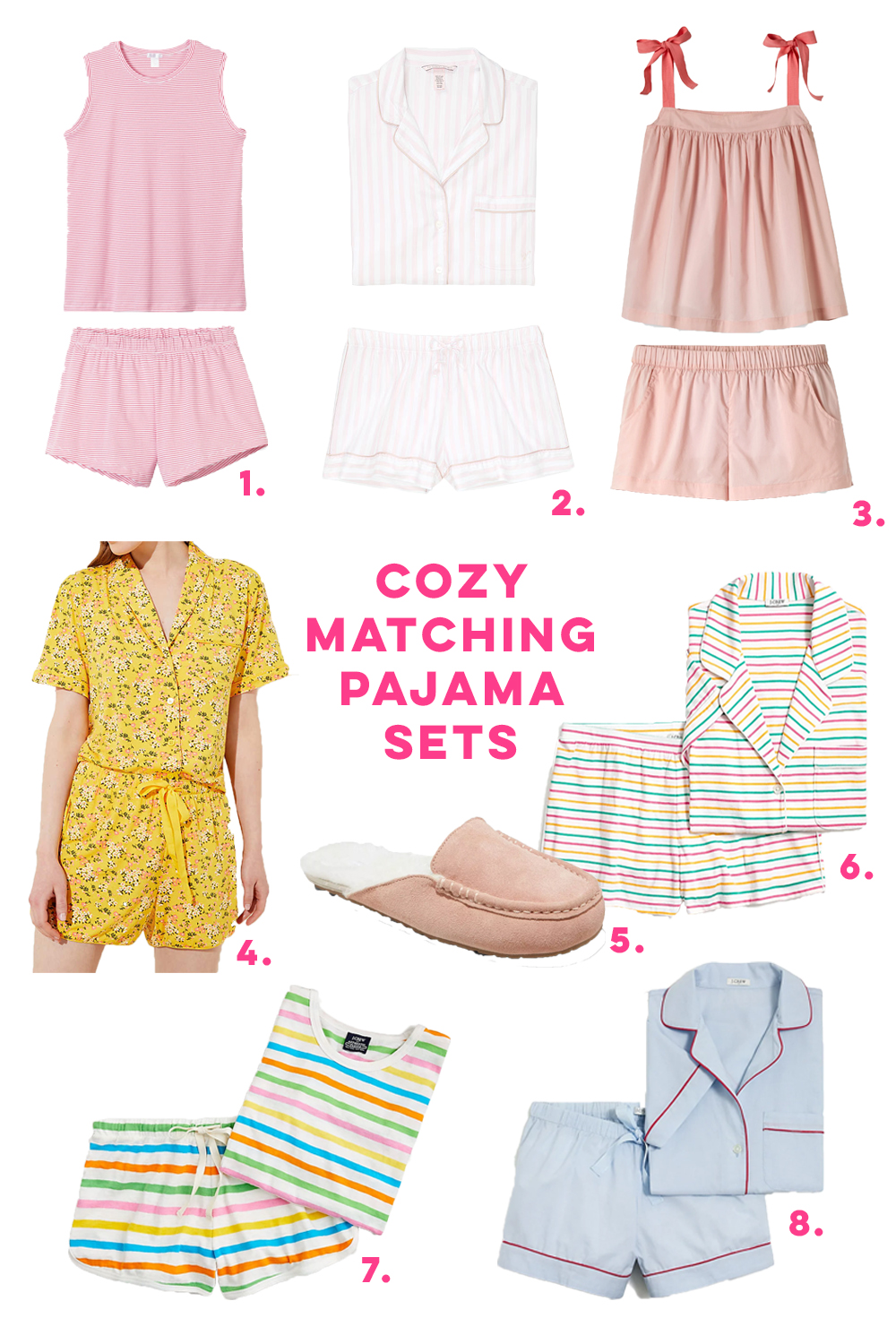 If you haven't heard, J.Crew filed for bankruptcy and now us bloggers are no longer able to link to their products. Luckily, I had linked some of these pajamas sets from their site before and the links will still work in this post. I always want to be super transparent on here. Yes, I can make commission but this blog is not my livelihood and the money I make on here compares to monthly babysitting money, although, it is my dream job one day! Most likely in the future, I will still link to J.Crew even if I don't make commission off of it because it's my fav store!
Now onto the pajamas! Everything in this post is under $100. I do think paying anything above $50 for pajamas sounds pretty crazy but if you catch sales, have a honeymoon or special occasion planned and want a quality pair, it might be worth it in the end! I have been so influenced by Lake Pajamas and other bloggers, it's a little embarrassing but I've heard they live up to their hype. This pink striped set (under $80) and this bow tie solid pink set (under $90) are on my wish list. Maybe when I get married one day I'll splurge ha!
If your like me and want to keep a pajama budget without going overboard, J.Crew and J.Crew Factory always seem to have the most adorable matching sets like this colorful striped set (under $30) and this blue with red piping set (under $40). LOFT also makes really great quality pajamas and I love this yellow floral pair for spring! Phew, now I want to majorly upgrade my pajama drawer from raggy old t-shirt to all the cute sets.
Okay, so I have to ask. Do you have them PJ's, Pajamas, Jammies or Nighties?! Or is there another name I am missing!? I have always called them jammies ha!