This has to be one of my most favorite looks for winter! I am all about looking chic and casual while being 100% comfortable. My favorite part about the outfit? The tie sleeves on the sweatshirt! They give it such a feminine touch while still staying true to a casual sweatshirt style.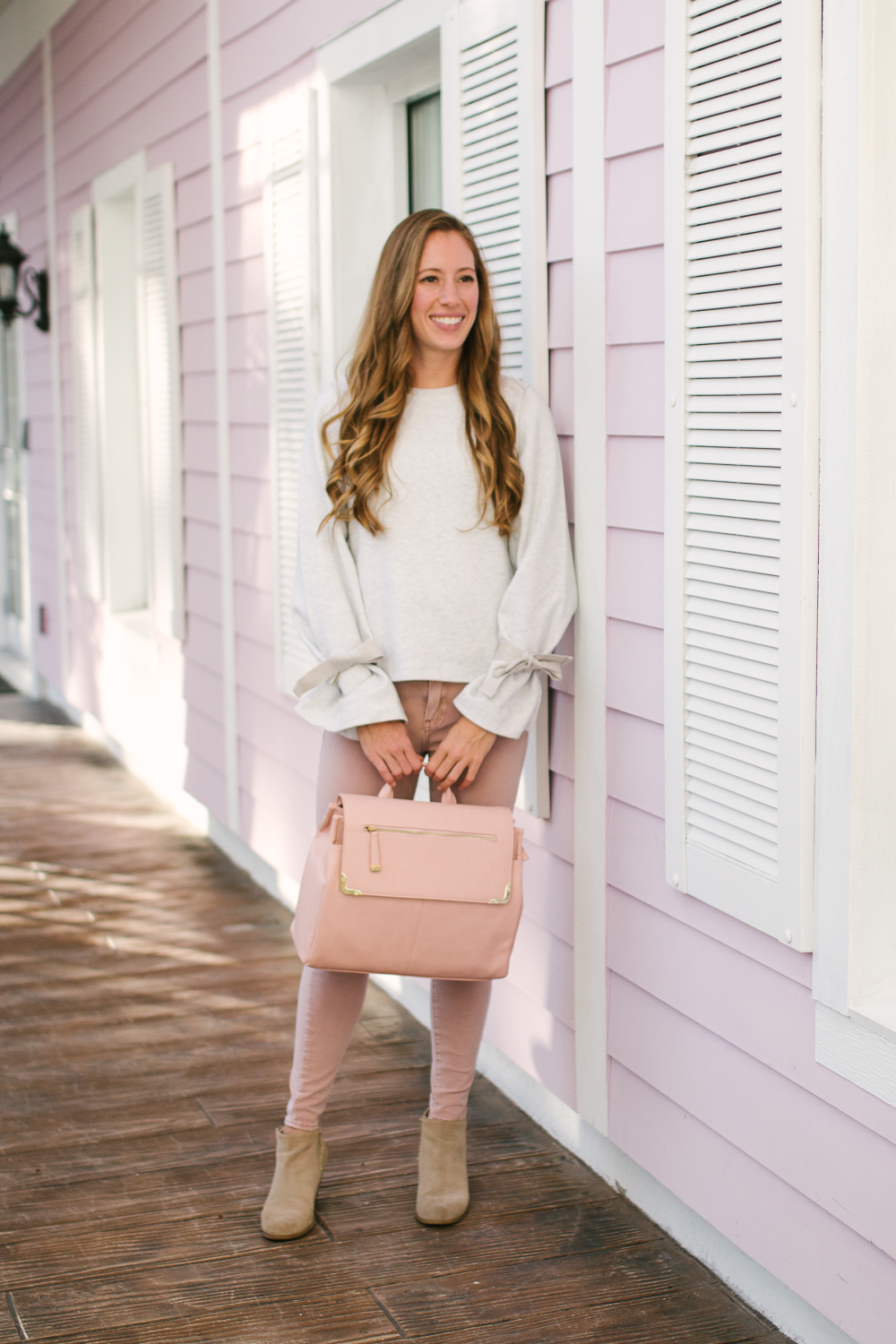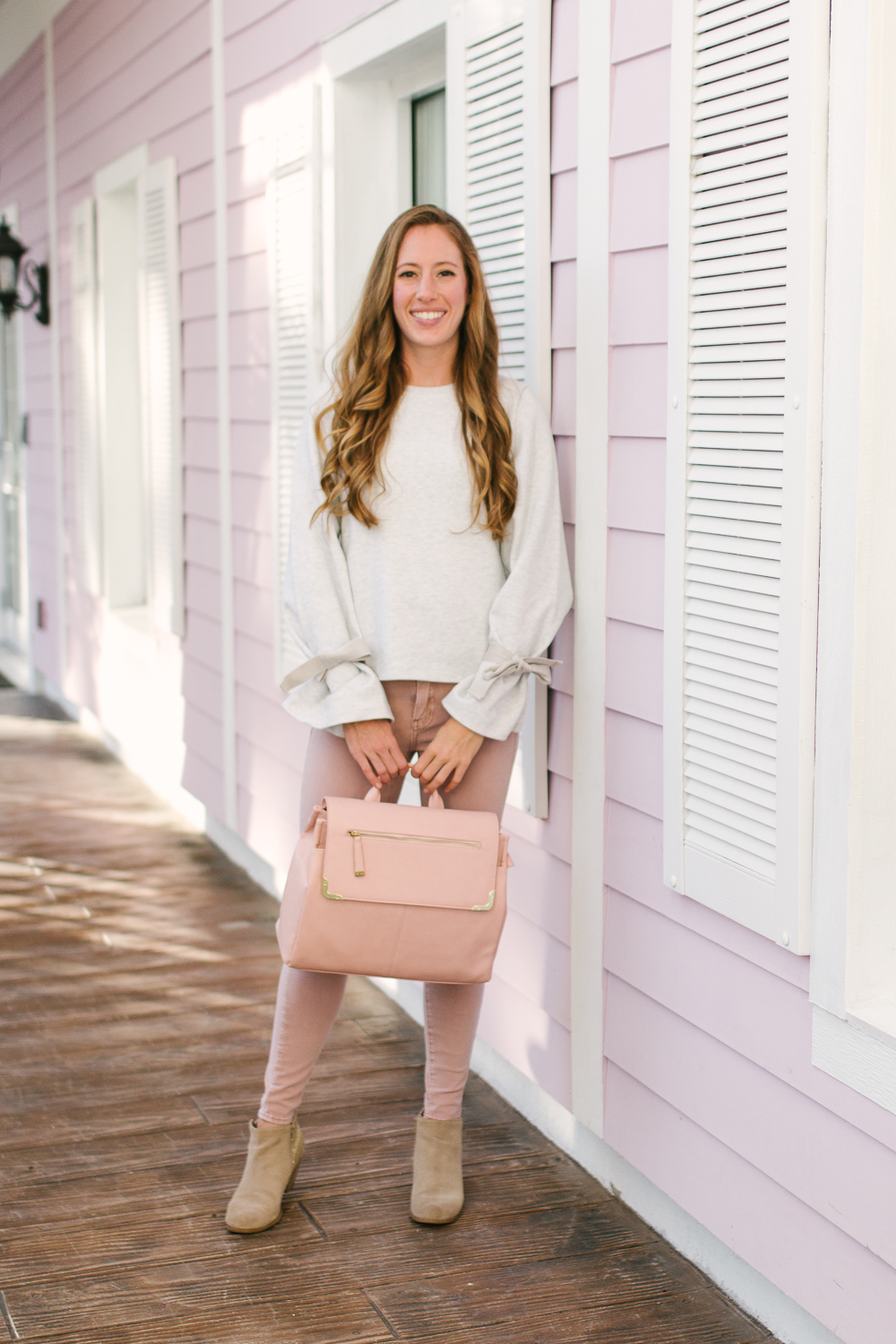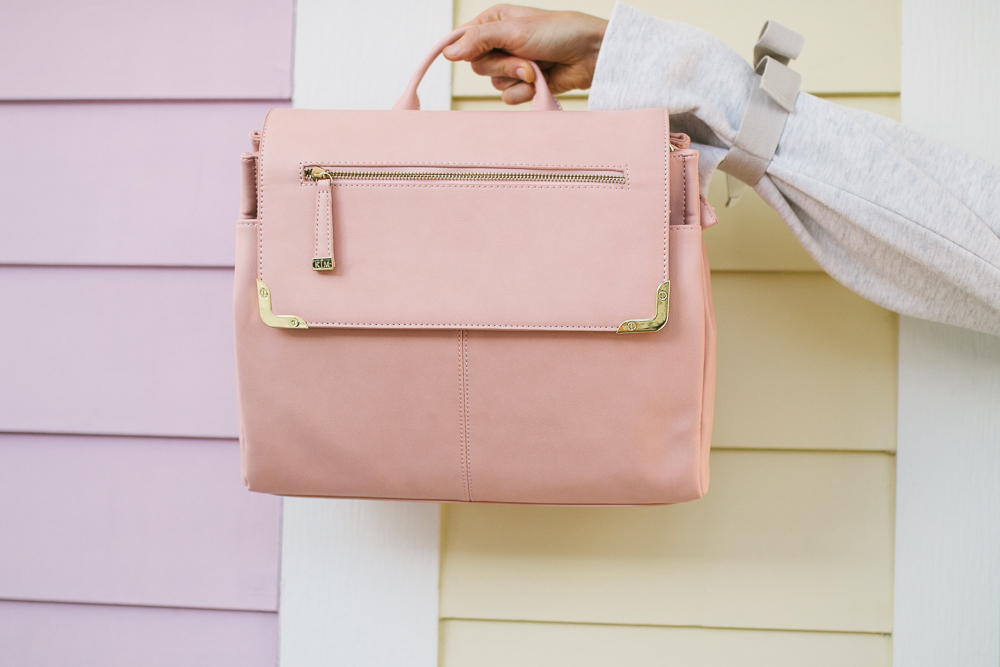 Let's talk a little about the beautiful camera bag I'm wearing above. One it's completely awesome! Two, it can convert to a backpack, crossbody and regular purse (the way I'm wearing it in the photos)! It's amazing and comes in blush pink, black, tan and gold! What more could you ask of a camera bag? Although it's a bit of an investment, the price is worth it since it's so functional and I need it to last a long time.
Fun story behind this bag. My old lens broke because I set it on a bar stool and it fell off. Woopsies. This time when I ordered a new lens, I knew I needed to find the perfect camera bag to house my new lens. I stumbled upon this bag when watching my Instragm stories and saw A Beautiful Mess posted about their camera bag collaboration with Kelly Moore. They were offering the bag at a major Black Friday discount which is when I snatched it up. You can still buy it for under $170!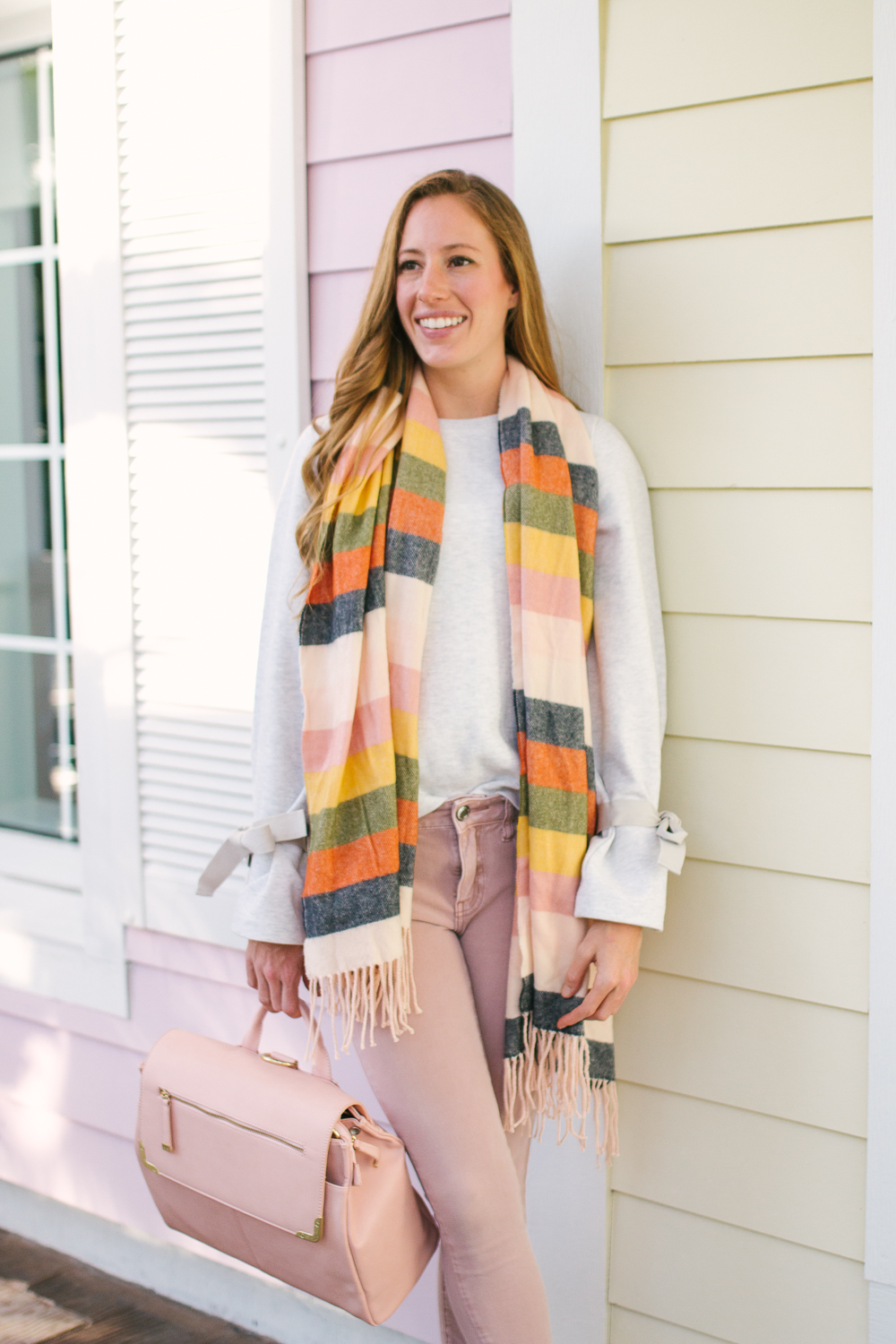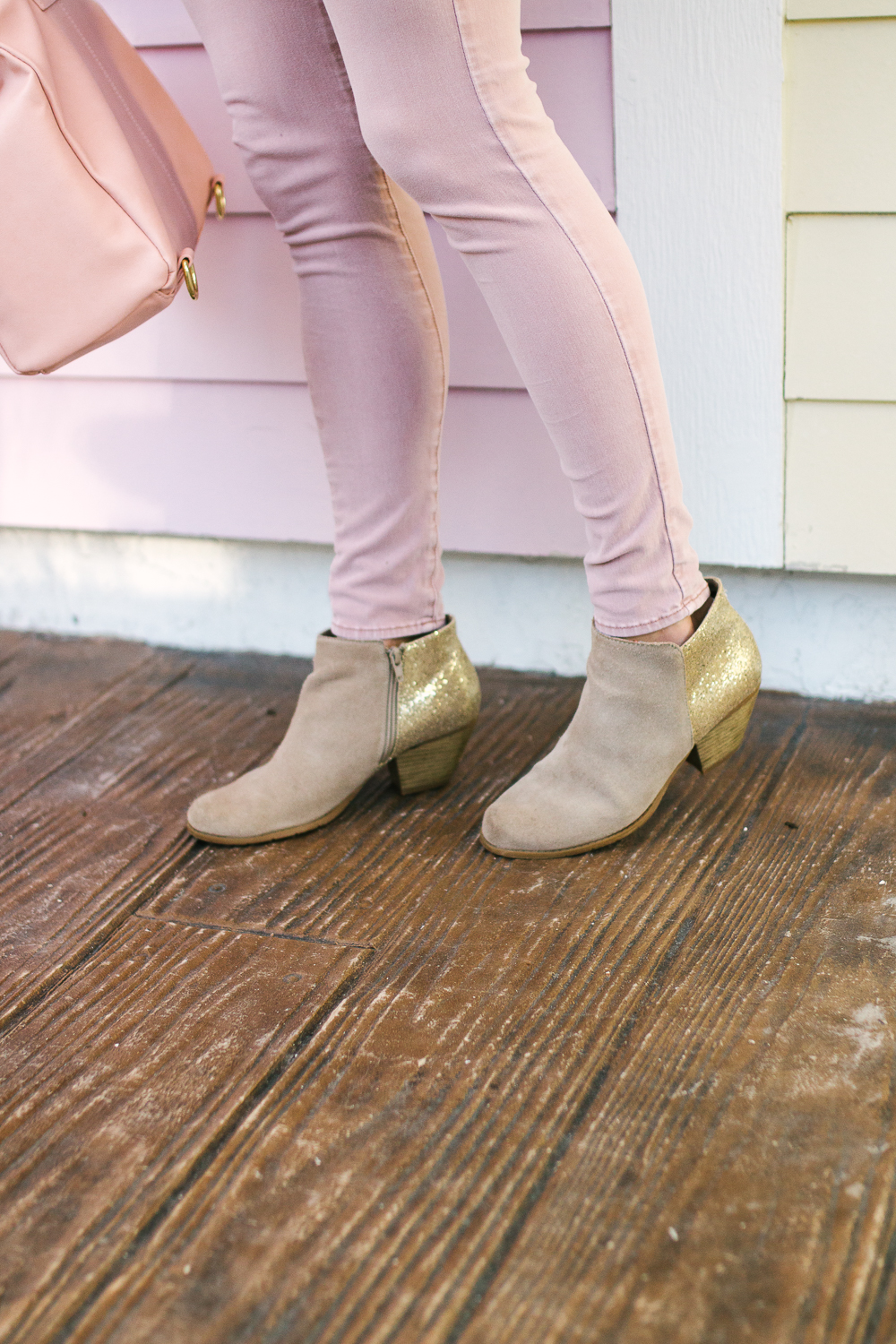 Are these not the most amazing glitter boots ever? I always get so many compliments on them and people asking where I bought them from. Here's a super similar pair under $150 (my fav) and if your on a budget, I found another glittery option under $60!
Within the next few weeks I was thinking about putting together a post about different types of boot styles in several price ranges and where you can buy them from. Is that a post your interested in? Let me know in the comments!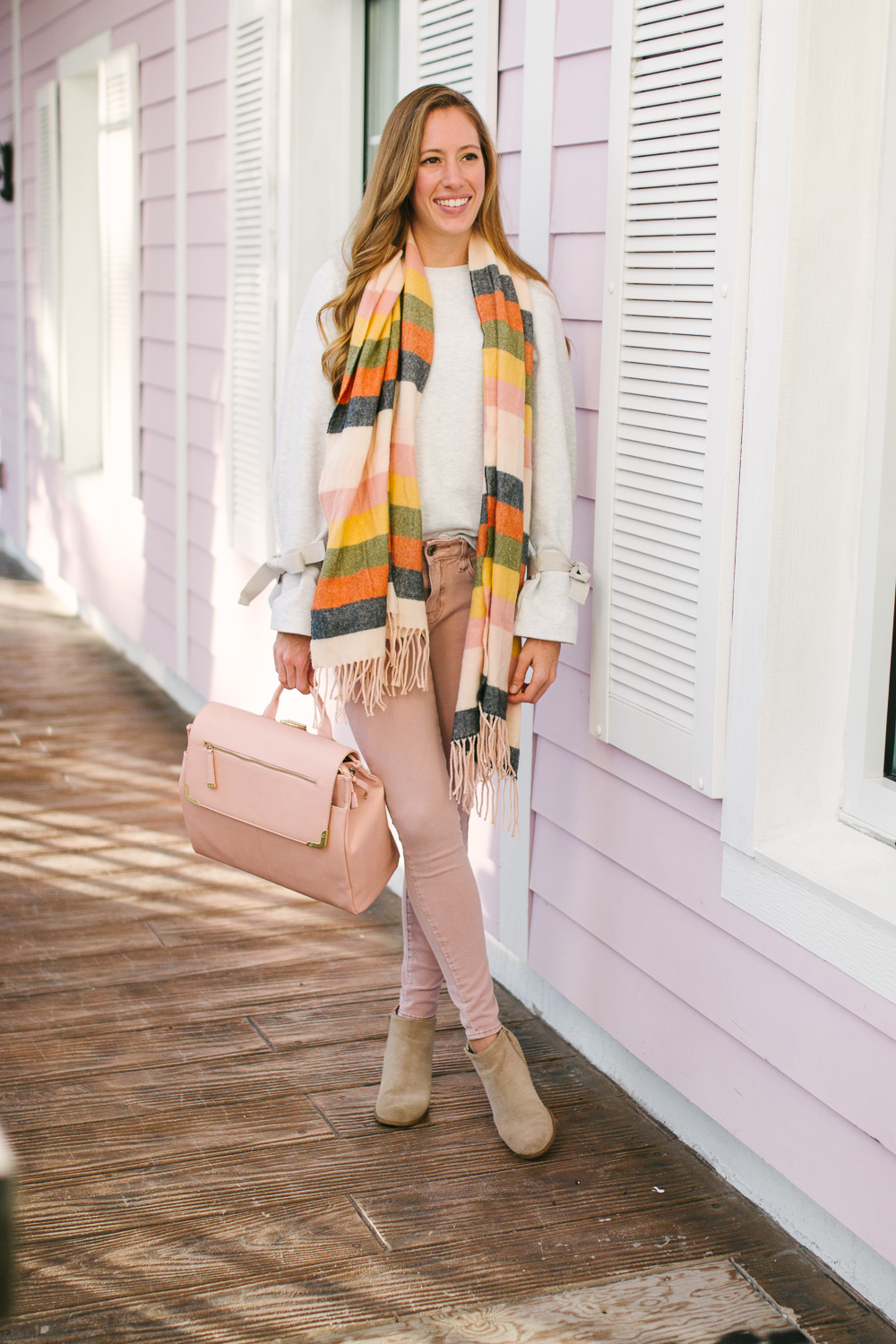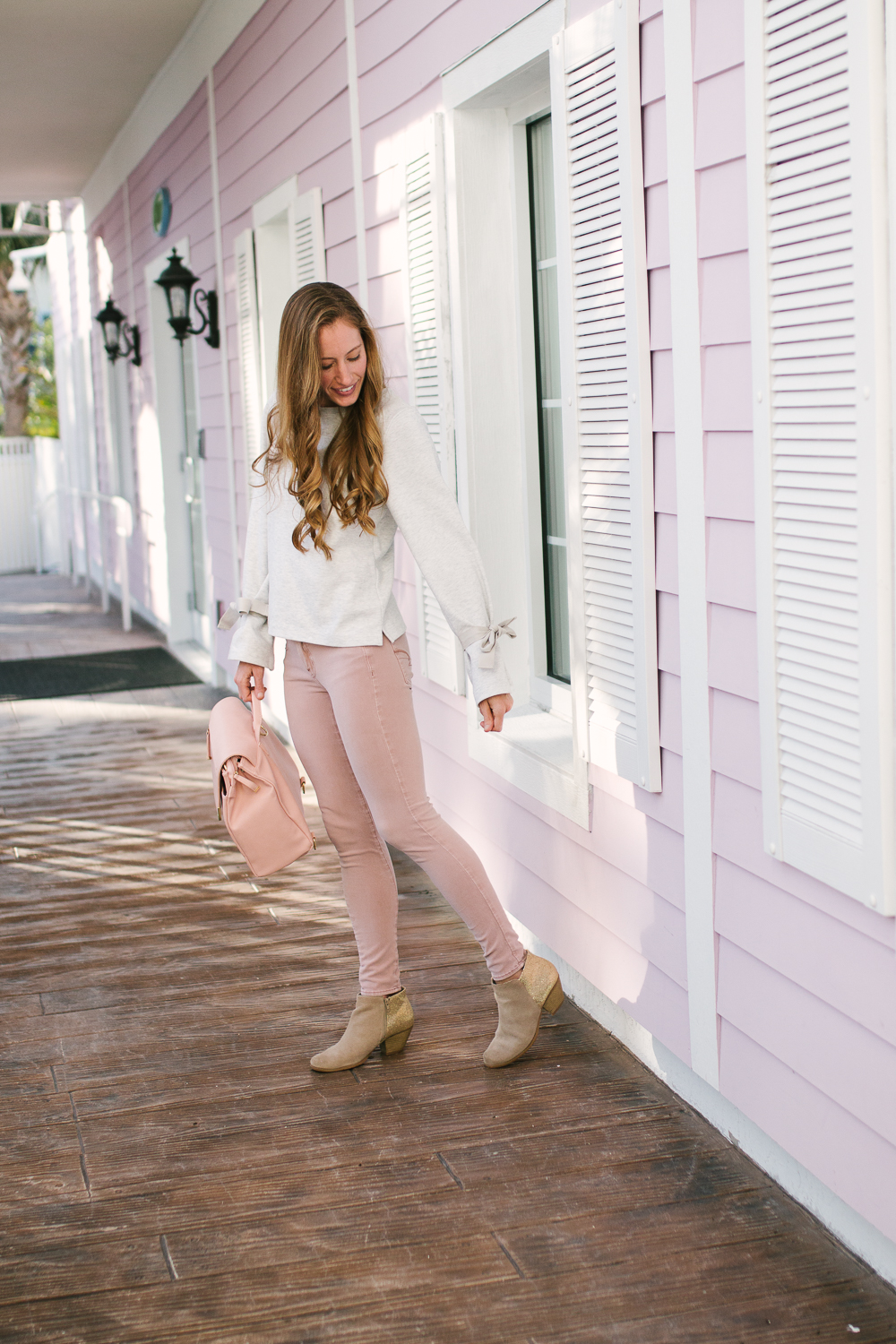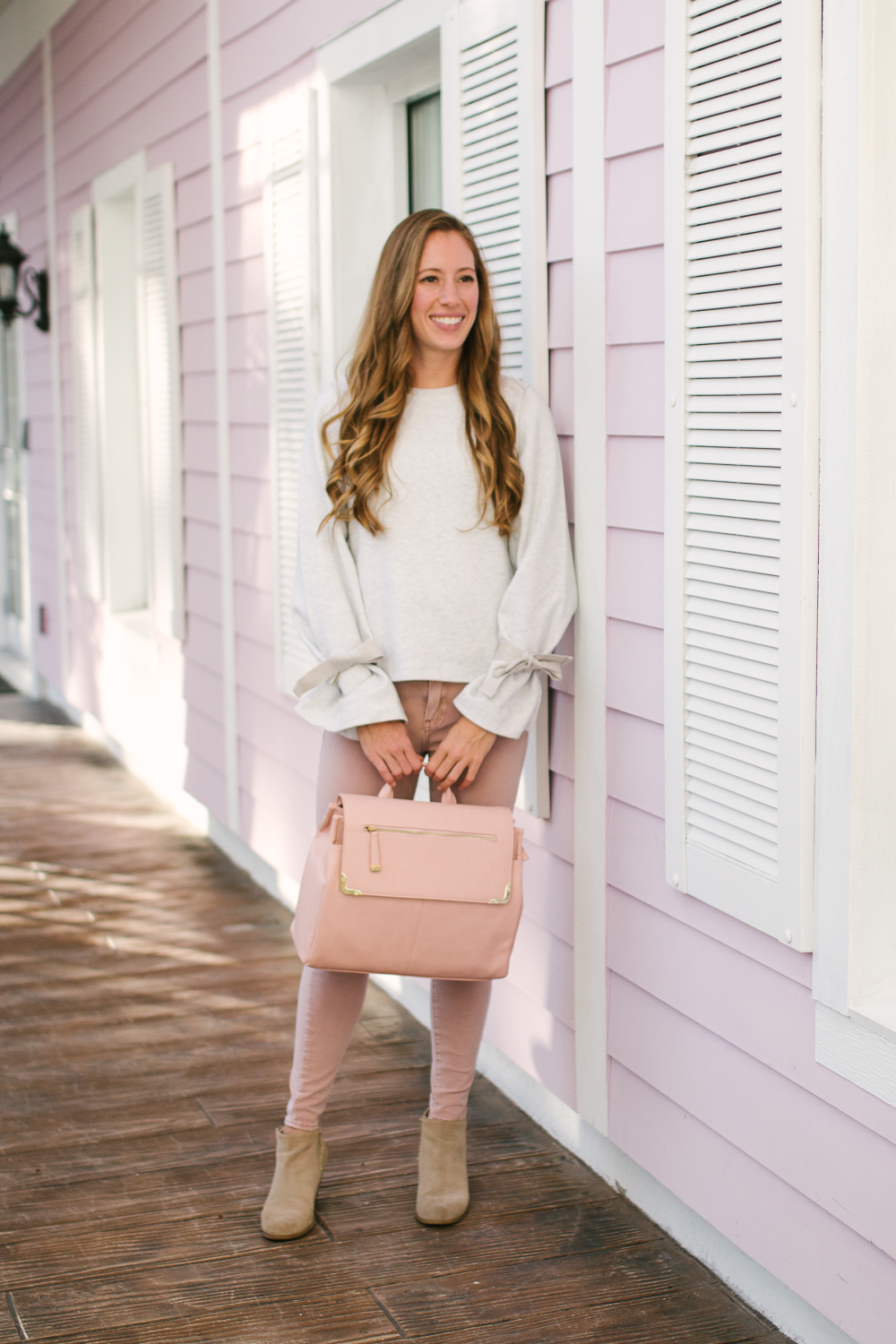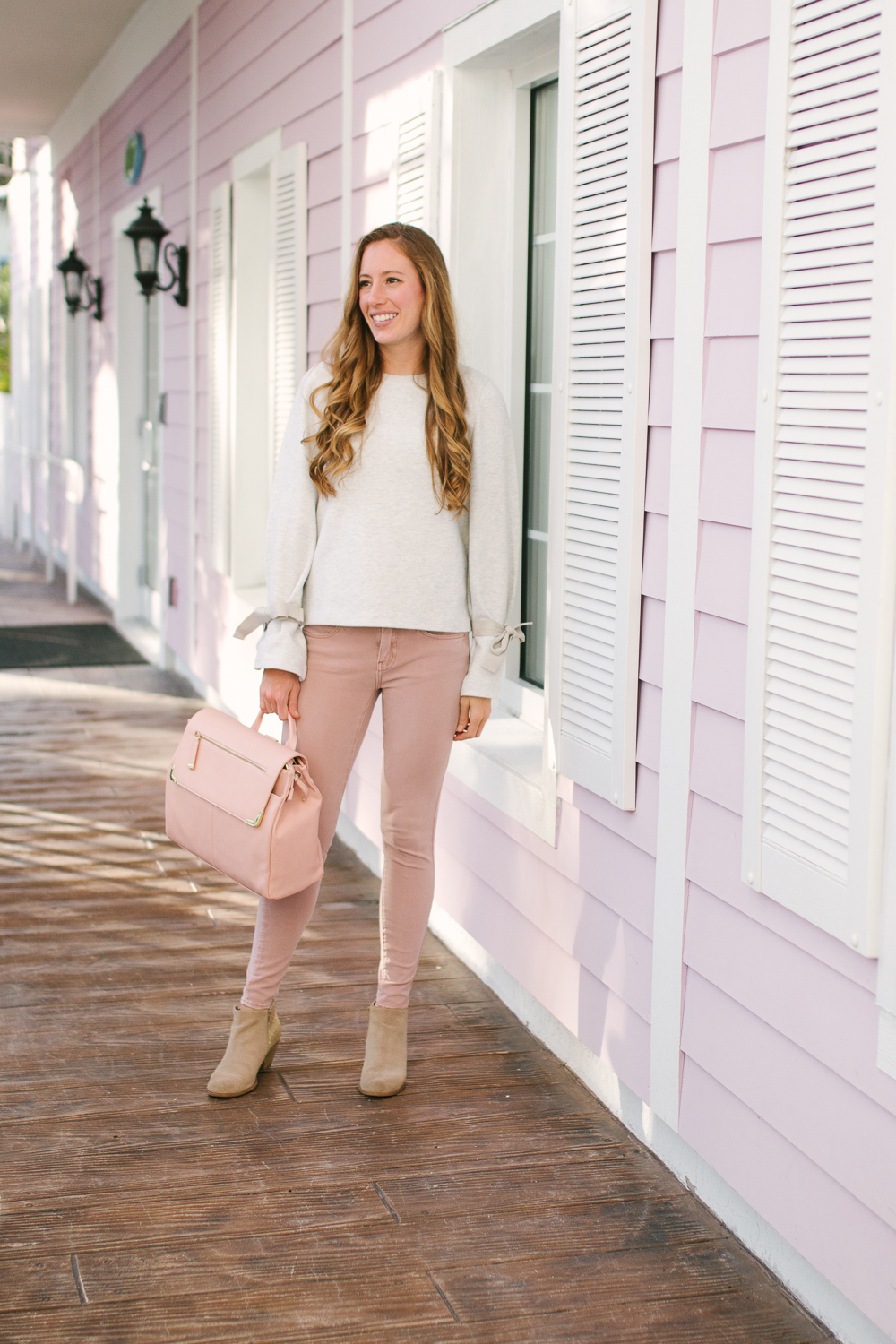 Casual Sweatshirt Outfit Details
Tie Sleeve Sweatshirt | Blush Pink Pants | Target Striped Scarf (under $20!) | Glitter Booties | Pink Camera Bag
How to Dress Up a Casual Sweatshirt
Stick with a neutral top
Pair with a colored bottom
Go with a Neutral Top
Since it's seldom cold here in Florida, I have to get pretty creative when it comes to dressing for winter. Layering is almost non-optional.That's where casual sweatshirts turned fancy come into play.
I ordered this grey one from J.Crew a while ago and fell in love with the tie sleeve detail. It's since sold out but I found similar options all under $40 here, here and here. I like to stick with neutral tops like this grey sweatshirt for winter to mix and match to create more options.
Pair with a Colored Bottom
For this look, I paired the casual grey sweatshirt with blush pink pants. I'd consider them pajama level their that comfortable. Not a pink gal? Try navy blue, white, burnt orange, or mustard yellow! A colorful skirt in a fall/winter color like marigold or burgundy would would also work perfectly with a neutral sweatshirt!
How to Accessorize
To tie the blush together, I added my camera bag turned purse and a Target scarf with a blush accent color.
What's great about this outfit is that anyone can pull it off. If you live someplace warm like me, layer a scarf over the top instead of a jacket. Target has so many great options. The striped one I'm wearing is A New Day x Target and is under $20. Use your Target Card and you can get an extra 5% off!
Shop the Dressy Sweatshirt Winter Look:
Hope everyone is off to a great week! Work has been sort of crazy the past few days due to exam prep. Honestly, as a teacher I am coming to terms with the fact that you just never feel caught up. For those who don't know I am a middle school fashion/culinary teacher. Fashion blogger during my free time, teacher to crazy kiddoes during all my other time.
The past weekend I was at an AVID conference in Orlando for work which was super fun but now I feel so behind schedule. Hopefully this week I can get semi caught up with grading projects and inputting grades so I can relax a bit during winter break. I am so excited for 2 weeks off for Christmas!!! All the pre-work will be worth the vacation time. Fingers crossed.
Do you love wearing comfortable sweatshirts in the winter? Tell me in the comments below!