I am constantly wrapped in a blanket cozy on the couch when I am at home. On most nights, I am in my pajamas by 8PM. Last year, working from home, I got super used to wearing everything comfortable and pretty much never left that mindset. You could say my life revolves around comfort, haha!
If you are anything like me, I know you can relate to the cozy and comfy gift guide! Cozy items really make the perfect gifts! I mean…who doesn't love to be cozy?! Most of the items are under $25 and are super easy gifts when you are unsure what to give!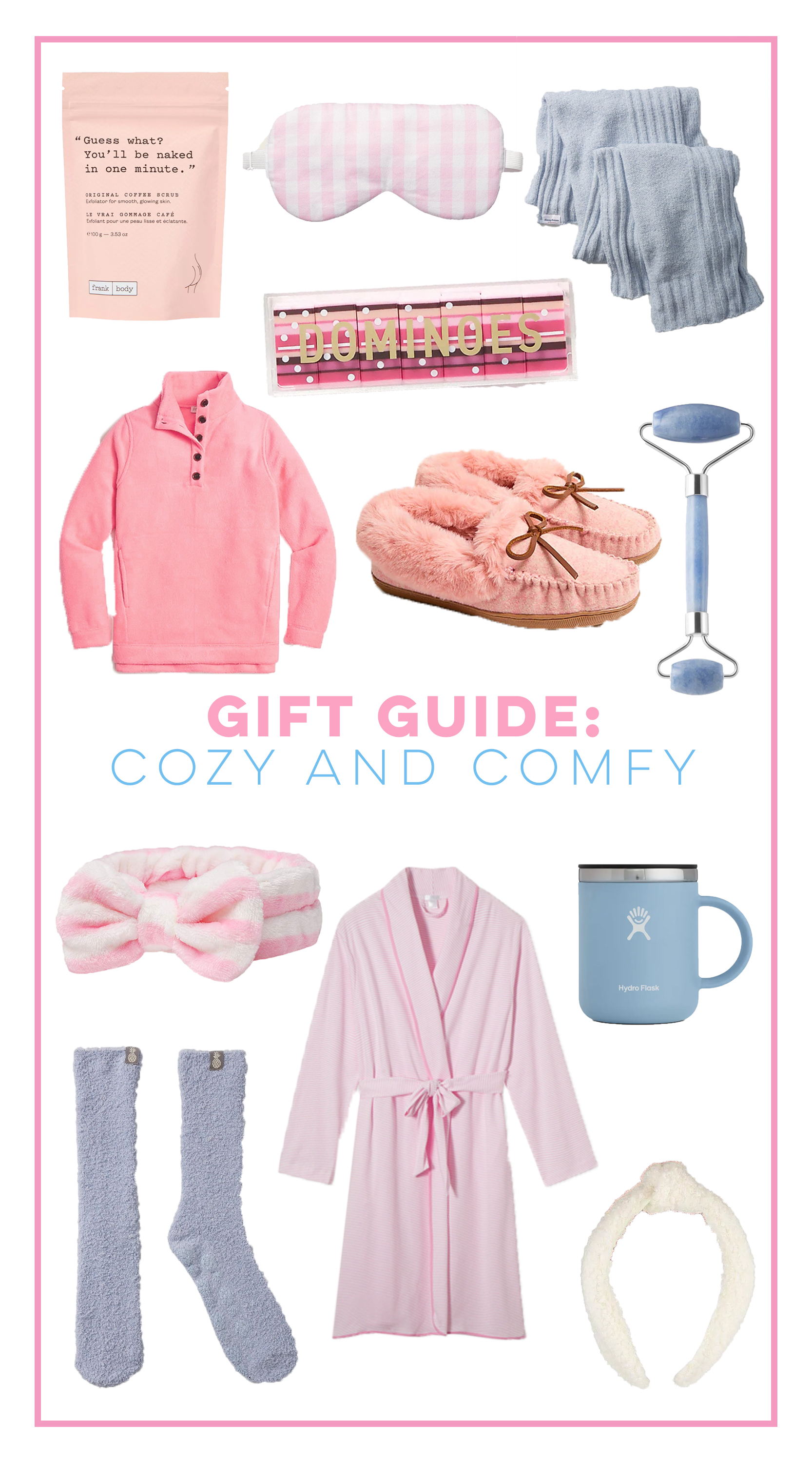 Cozy and Comfy Gift Guide
Mini Coffee Scrub / Gingham Sleeping Mask / Throw Blanket / Dominos Set
Sherpa Button Up Tunic / Fuzzy Slippers / Jade Roller
Spa Bow Headband / Lake Pajama Bathrobe / Hydro Flask Coffee Mug
Fuzzy Socks / Kristin Ess Knot Headband
I pretty much use all of these items on a daily basis. Told you I just love comfort, maybe a little to much, hehe. In the mornings, I started using my jade roller again and it feels super amazing. Does it really make that much of a difference and possibly a gimmick?! I am not totally sure. But it wakes me up and their inexpensive so even if it's a placebo affect, oh well!
This might be really weird but I sleep with a blanket over my head. I think it might be causing some hair loss near my temple area and I might try to switch to wearing an eye mask to see if it helps. This gingham one is adorable and under $20! Does anyone like eye masks for sleeping? Are they comfortable?
During the winter, I love wearing these fuzzy slippers from J.Crew Factory. They have a solid rubber bottom so you can wear them outside for grabbing mail and not worry about ruining them.
All over TikTok I have seen other creators wearing these cute bow spa headbands when they wash their faces or apply makeup. Yes, they might be trendy and not cool in a few months but I think they make tedious tasks most exciting and decided to ask my Secret Santa for the set for Christmas! The 4 pack is only $9.99. You could divide it up and give 4 friends the same gift in different colors!
Lots of Sunshine,

Katie