Last year in 2019 when I set my goals, they were so broad and some were pretty un-realistic. Instead of getting excited by them, by the end of the year I was just mad and also like "KT, what were you thinking?! You made it way to hard on yourself." So this year my goals are much much more measurable and ones I know I can actually accomplish if I put in effort.
I keep track of all my goals using the Cultivate What Matters Goal planner! When I posted my 2019 goal planner on Instagram stories last year, I probably got the most DM's I've ever had about a product. I had so many questions about the notebook and where to buy it. Like way more than anything fashion related that I post. 😂
The goal planner is seriously the best. It helps me keep track of my month to month accomplishments, high and low moments and really break down my goals into easy steps I can focus on. Using the planner has really helped me take action and see results! I need something tangible or I don't want to do it ha!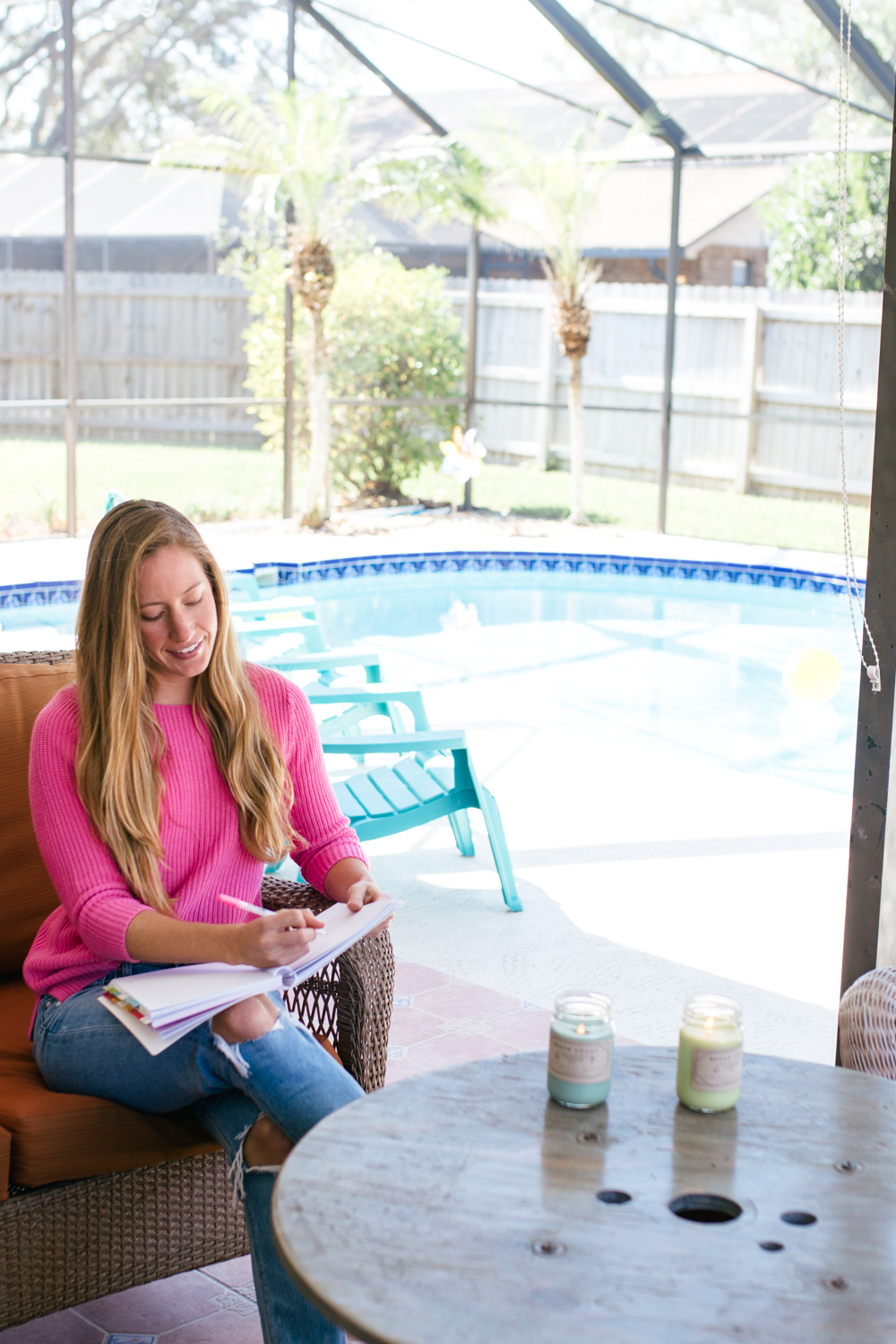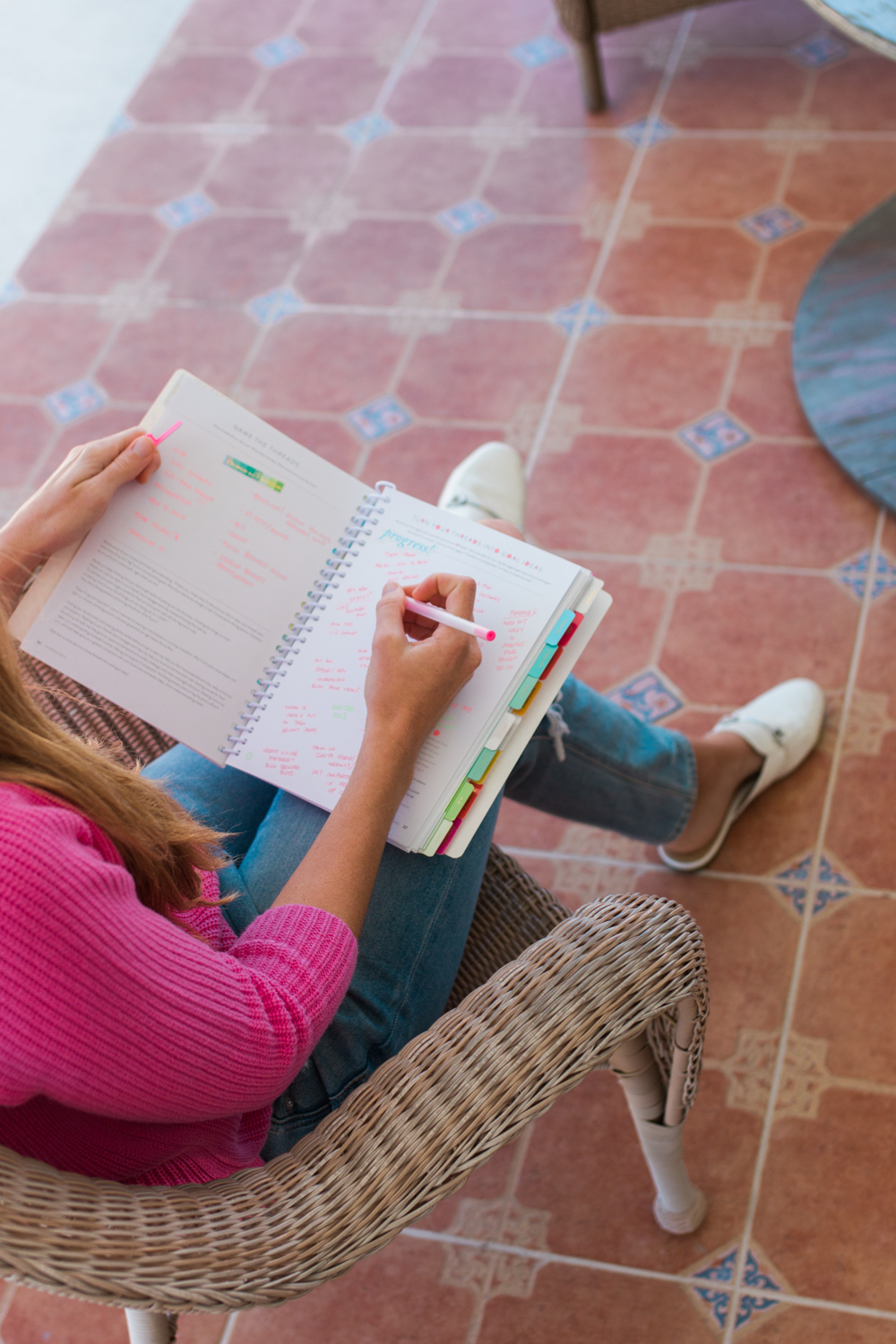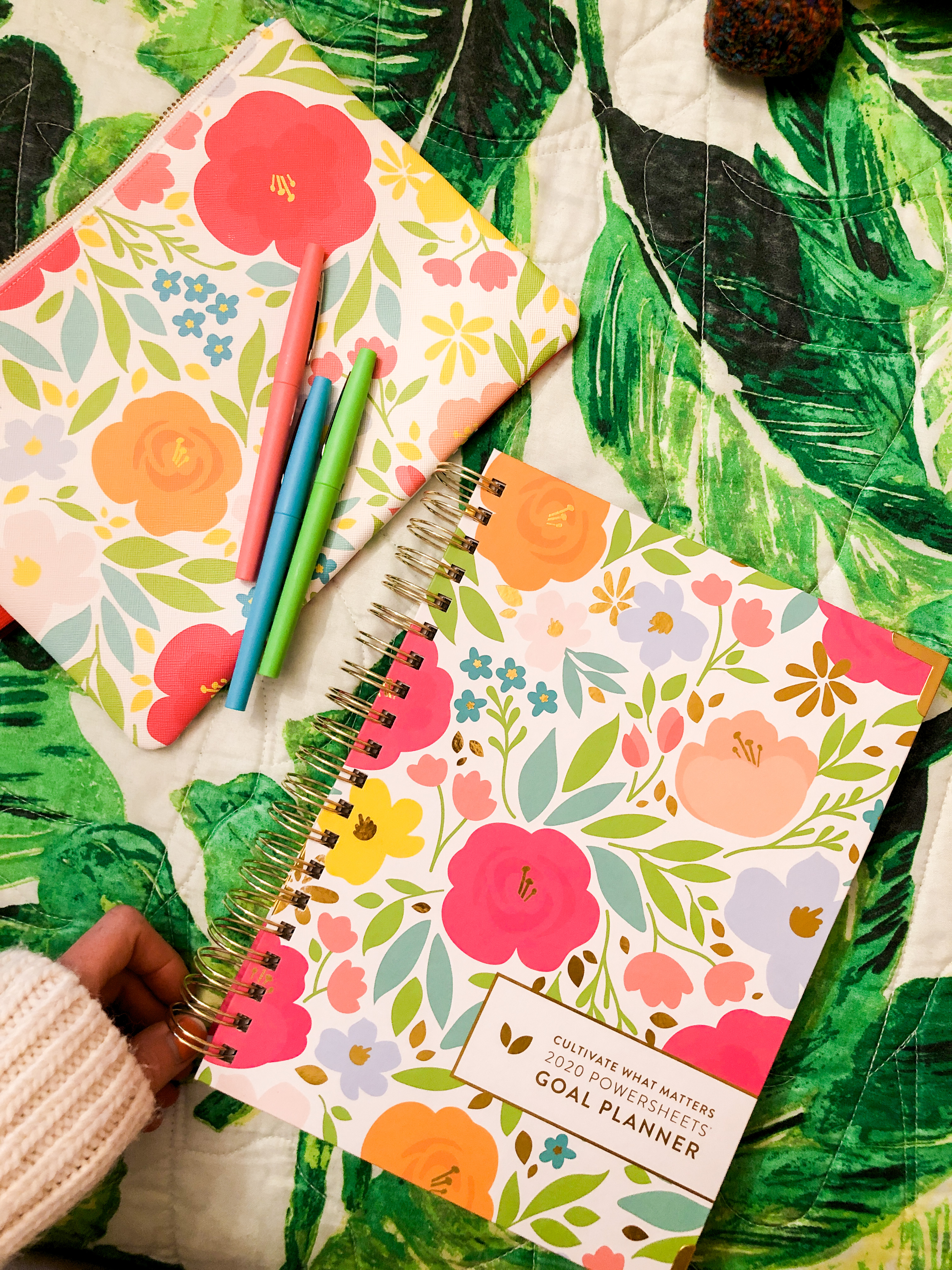 How I Keep Track of My Goals
2020 Cultivate What Matters Goal Planner
(currently on sale for under $50 – they do sell out pretty quick once on sale!!!)
Paper Mate Colorful Felt Tip Pens
Personal Goals
1.Find a new gentle form of exercise that is easy on my back. I absolutely love exercise. Growing up I did gymnastics, tennis, constantly jumped on my trampoline like it was my job, was and competitive cheered throughout high school. This year I somehow hurt my back and completely had to stop working out at my gym. I normally do tons of heavy lifting and very high intensity workouts and it got to jarring on my back. I've started weekly chiro appointments and have been working out again at my gym after a 2 month hiatus but I still want to try a few new forms of exercise that are gentler and stretch out my back like Arial yoga or HIIT workouts. Once I try a few new ones that I like, I will keep you updated! The hardest part for me is that more "gentle" exercises bore me.
2. Travel to the Florida Keys and Boca Grande, Florida! This is by far the goal I am most excited for and "want" to happen the most. Your girl just wants to travel ALL the time! Traveling to tropical places could not make me any more excited. My friend Makayla and I were talking about hope and keeping a positive and excited mindset and we both agreed future planned trips make us excited and hopeful for the future, so we both agreed the trip needed to the Keys needs to happen!
3. Find a new creative, fashion focused job! My contract ended for my teaching position this past Friday, so now it's onto the next. Funny story…my contract was supposed to end in December right before Christmas break but was extended two more weeks. I did semi-like my job (aka the $, schedule, creating lesson and *most* of the kids, ha!), I just truly knew in the long run teaching is not what I am passionate about. Now that the door for teaching has closed, it feels like the sky is the limit. My dream job would be super creative and involve photography, social media, fashion, people and a colorful office. A big dream would be to move down south to an area like West Palm or in live in a coastal town somewhere on the East Coast like Charleston! I'd love to live in a place that is more fashion focused!
4. Build a photography/portfolio website. This is something that I've been scheming and planning in my mind for about a year or so. Taking photos is something I absolutely love doing and have really loved the art since I was a teen. Blogging takes a huge amount of work with very little in return money wise the first few years. My entrepreneurial mind is always thinking of new ways to make money or businesses to start. I figured since I enjoyed photography enough, it might be smart to make a lucrative business out of it. So, I started shooting more people and objects to create a portfolio where I could show my work. Now the next step is to build a website to make it legit!
5. Shop more sustainable and reduce my waste. Did you know that a trending word for 2020 is sustainability?! I have a huge heart for ethically produced clothing and eco-friendly products. If you saw, I already posted about one of my favorite ethical brands, Everlane and reviewed their corduroy pants. My plan is to save up for classic pieces and buy ones that are ethically made instead of just buying things that I think are cute and on sale. I'd love to try a few new to me swimwear brands that are made of recycled fabrics as well as athletic brands!
Last year I also started carrying two Swell water bottles with me to work. One was 60 oz and another 17 oz. I never used any plastic water bottles and know just that small change makes a huge difference! I also bought biodegradable trash bags for my bathroom instead of using plastic bags from Target and Publix! What I do need to get better at is bringing my reusable woven bags with me to grocery shop and places like Target.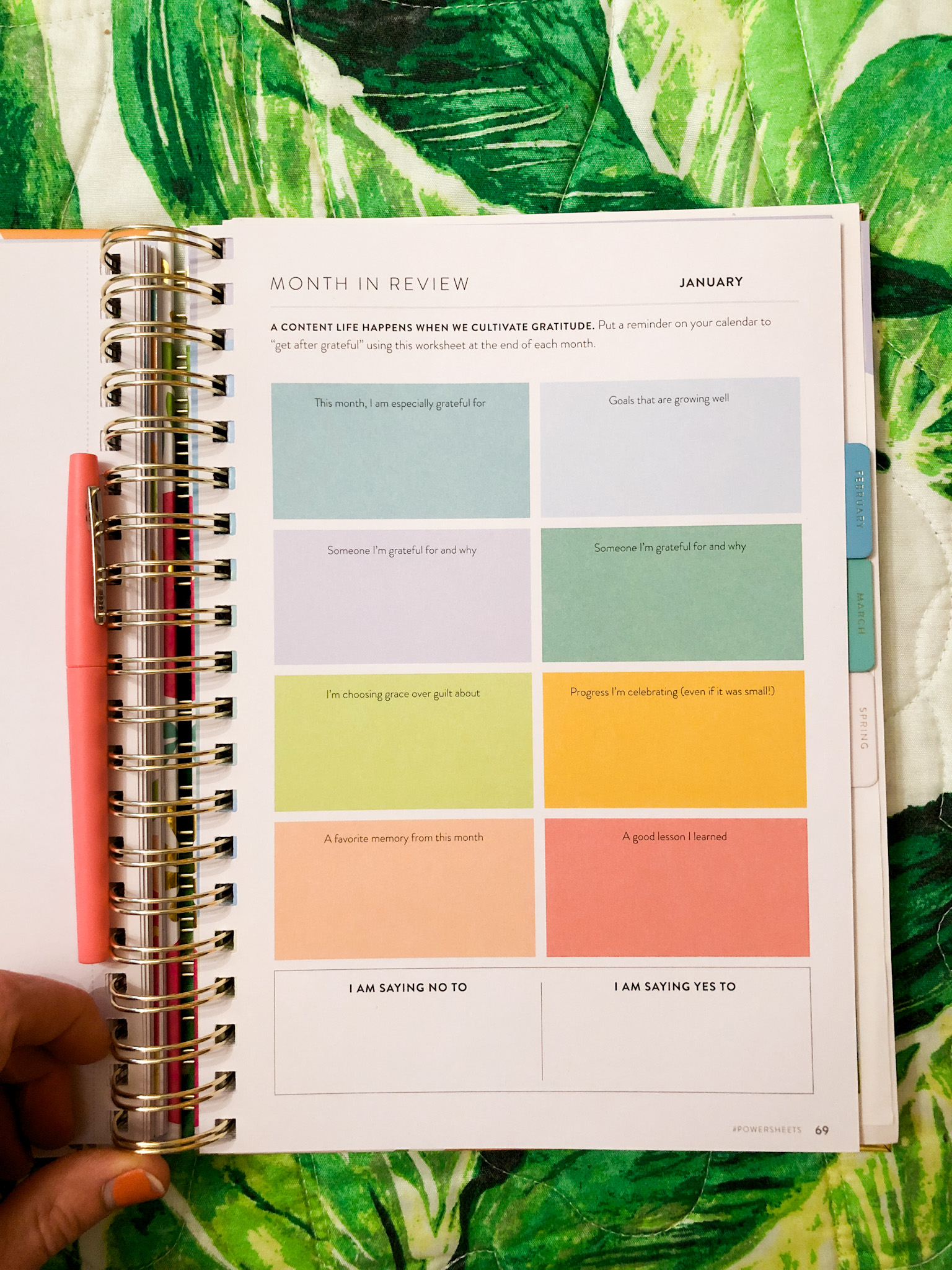 Blog Goals
1. Increase page views to 50,000/month. This might be a pretty lofty goal since my monthly page views right now are around 10,000. I may not accomplish it in a month or so but I know if I step up my Pinterest game and get strategic, I can increase my views! I'd love to invest in some SEO help as well! Good help can be pricey! It's so not my area of expertise and I really think getting more Google action would really help my blog grow and help people find my blog with very specific style questions.
2. Land 5 Paid Brand/Sponsored Posts by May 2020. So far I have one in the works! Pitching to brands is so time consuming. I really need to set aside time to research and email brands! A huge reason why I started to take my blog seriously was the desire to work with brands!
3. Launch a YouTube Channel. Well, I did it! I started a Sunshine Style YouTube channel and made my first vlog!! It only took me ALL day Sunday to learn how to set it up, edit my video, make sure it was high quality and all the stuff. Why have I never made videos before?! 1) Bring on camera is so scary to me, even though I am outgoing and bubbly in person, I don't feel very confident in front of a camera. The fear monsters are real. 2) Creating, planning and editing videos is very time consuming. It's hard enough blogging and working full-time. I may just have fun with it right now while I am job hunting and use it as a creative outlet. Maybe I should document my day to day, how I prioritize my time or my job hunt journey. My expectations are really low. It's mainly to build confidence, get better at video, share realistic style tips and stir a desire for adventure in you!
4.Get featured in a major magazine! When I was featured last year on Carly the Prepster, it was so exciting! I feel like my reach increased, I was able to meet some lifelong blogging friends and readers and it was just so fun! I also got to write two fashion articles for a local magazine, Space Coast Living! I am absolutely so grateful for everyone who reads my blog, but I know to be successful in this industry, you need a solid readership and I don't feel like mine is built up enough or at least to make a sustainable income. I know I have great content, a solid voice and brand, amazing readers like you, I just desire to have more reach with this space! Whatever that means in order to do this full time!
One thing I keep reminding myself is that I can't do it all and do it well. Famous words of Lara Casey! So, while these goals are important, it's equally as important for me to enjoy each day and not stress the small stuff! What is one of your goals for 2020!?
Recent Posts