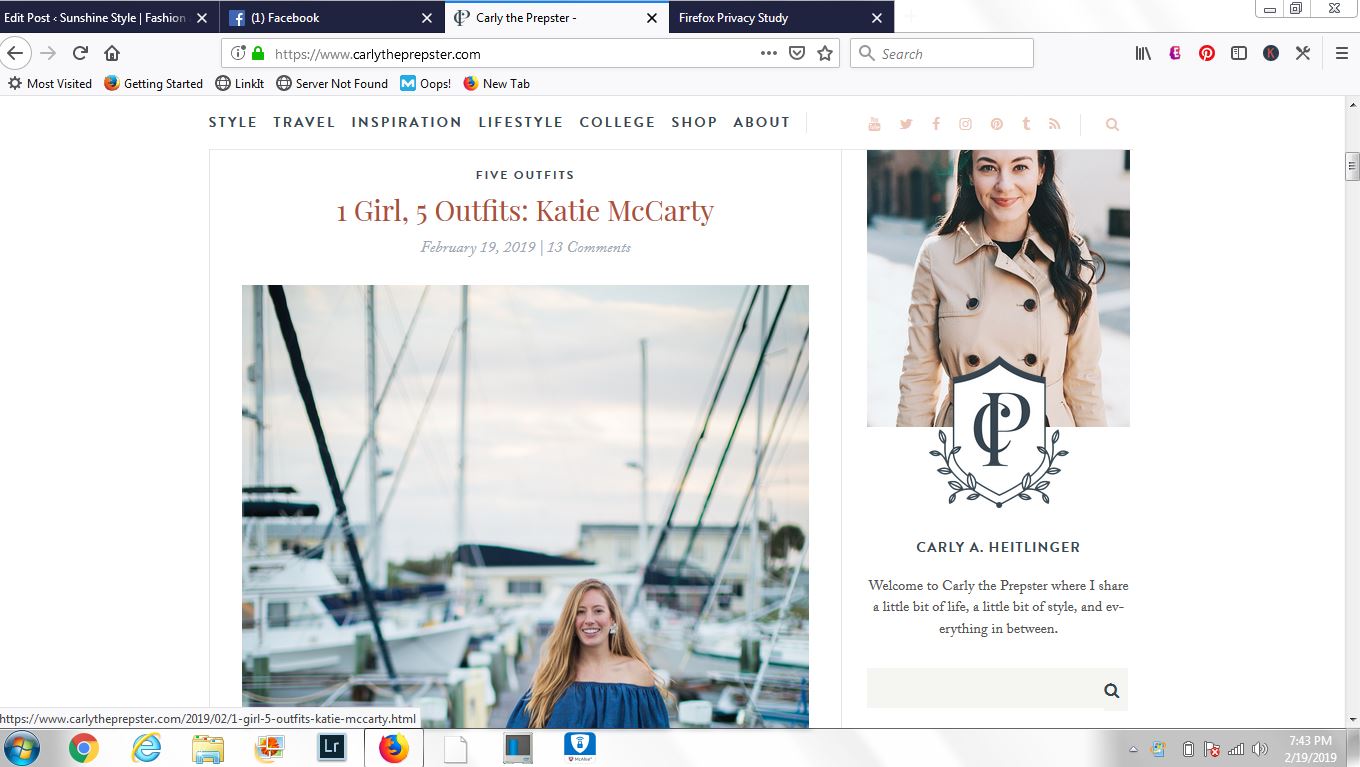 I've been a CTP reader for as long as she's been blogging! She started when she was in college and I was also in college when I started reading! Everything she was referring to was like music to my ears. I could relate to her on so many levels. She also had so much knowledge to share and was so different than I was. It has been so much fun following along on her college journey all the way to full-time blogging.
After taking a course by Julie Solomon called TIA, it taught us a ton about taking our influence serious and treating your business like a business from the very beginning. I really wanted to guest post on bigger blogs and give people something valuable that I was good at.
In December during my winter break, I spent lots of time blogging and planning out my content calendar for the first two quarters. After being so fearful and afraid of rejection, I finally decided to get over that and reach out to Carly about being featured on her blog series called, 1 Girl 5 Outfits.
I remember I emailed her through her contact form during the end of December and was so excited to hear back. Also a bit afraid I never would. After giving it about two weeks, I still had not heard back. This is where I could have given up and told myself it would never work out and dig myself into a hole of self-rejection.
I decided to try and email her again in January through my actual email so I could document the send date. It was during Christmas and I knew she was very on top of her email, so I figured my first email might not have gone through or everyone was just swamped after the Christmas madness.
Then at the middle of January, I heard back from her and we both agreed on a Spring Break packing list with 5 outfits. I was beyond excited the post would go live in mid February. Especially since it was a goal of mine to guest post on a fashion blog that I actually read!
The actual post took about 15 hours total to write and photograph. I had about a month to plan it and took my time. I know blogging looks easy and you just snap a photo but it actually takes tons of work! I love the work and thrive off of it!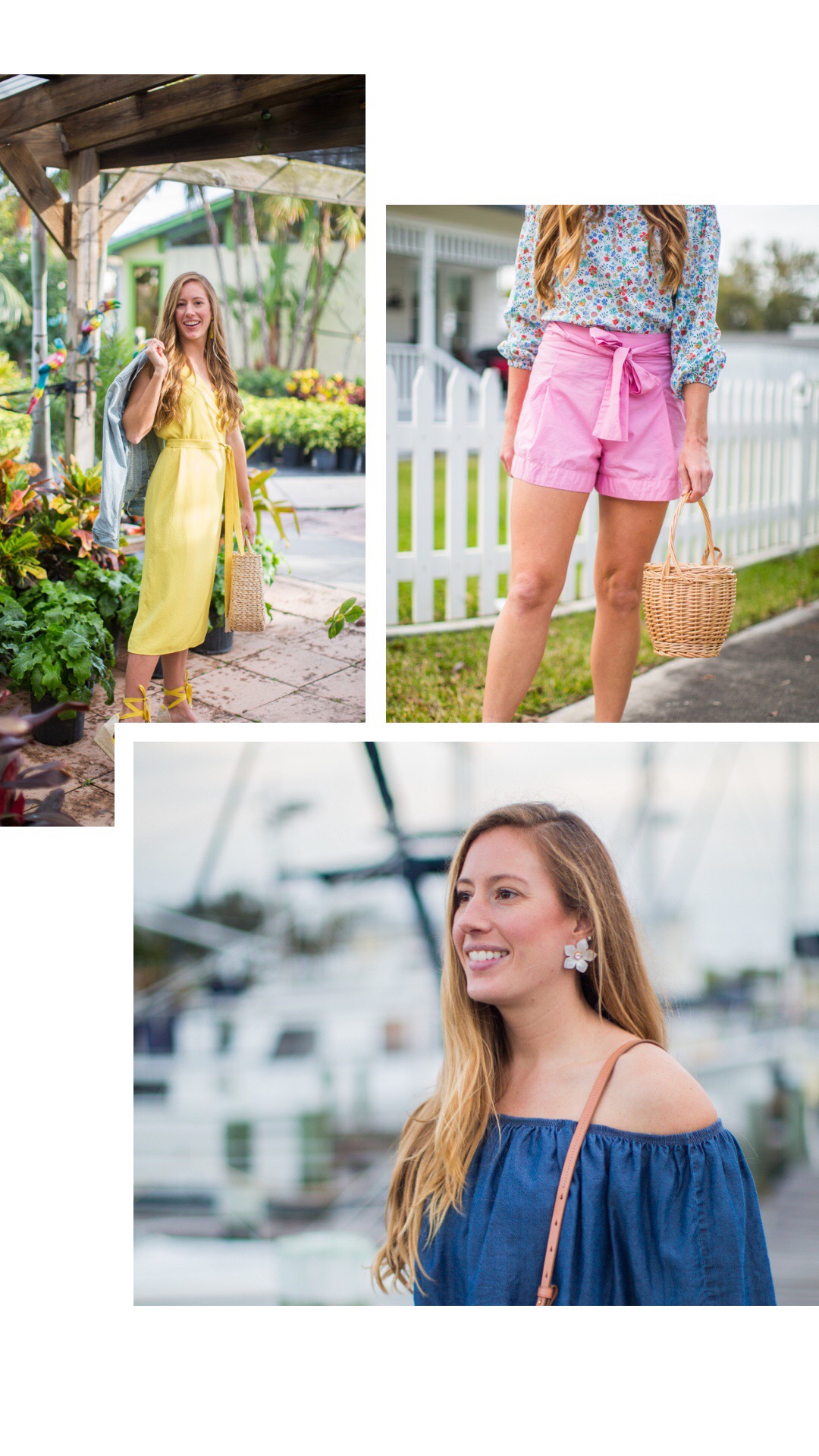 This was a big deal to me, so I wanted to do a good job and really out do myself. I treated it like I would a brand sponsorship as good "practice". Meaning, I acted like a company was paying me for all my work. If you don't take care of the small things, there's no way your going to take care of the big things (Luke 16:10). I gave myself a "deadline date", made sure I sent in my post a week early, had it perfectly organized and created the kind of quality content I like to see on blogs.
I had to take photos of 5 outfits which is fun but you also have to change in your car all sweaty 5 different times at 5 different places around town. In my first outfit (wearing this yellow dress), my hair was curled to perfection. By the end of the night I looked like a hot mess in my maxi dress with windblown salty river hair. Really should have just worn my hair straight now that I think back on that shoot ha.
This is the part of blogging or life where I think people get a false idea. My feature of Carly's blog was more strategic than it looks. The opportunity didn't just fall in my lap. Carly did not email me and say, "man girl, I just love you, your so cool, you have the most amazing style, can I be like you?" Who knows, maybe she had no idea I existed. I had to reach out and do actual work. No it wasn't a 10 step grueling interview but if I never tried, I might never know what could have happened. I knew I had great content to share and I really wanted to show my warm-weather and tropical style off. If you want something in life, just go for it! Don't hold back.
It's no secret that I want more than anything in life right now than to turn Sunshine Style into a full-time gig. I've shared that goal a few different times on the blog here and here. By this point I don't doubt I will. My doubt has taken a long time to fully turn into absolute confidence. I still have my days. But I repeat to myself all the time, not if but when I blog full-time. It's ingrained in my mind. Nothing can stop me at this point!
Carly saying yes to me meant more than anything. It's something I can always look back on and use it as encouragement to push myself forward when I start to wonder why I spend so much time on this space. Or when I doubt. Or when I think my dreams are crazy and unreachable.
There's so much more to the story but my blog means more than fashion. It's about showing people their confident, capable, able to shine wherever they go, are bold and can fully go after their dreams. I want my dreams to be able to come true so I can share with others that theirs can come true to.
I'm thankful for Carly more than shell ever know. I'm incredibly grateful for anyone who's read just one blog post, commented an encouraging word (FYI: I'm a words of affirmation girl all the way) or all of you who have DM'd me to have a casual conversation or send over something funny. I'm especially greateful for my family who never complains when I ask for photos, my photographer friend Isaac who is always selfless and offers to snap amazing photos for free and by BFF who always makes me laugh and remember life isn't so serious. You are the reason I keep going after my dreams. Please never stop going after your own.